How many days to spend in Luang Prabang?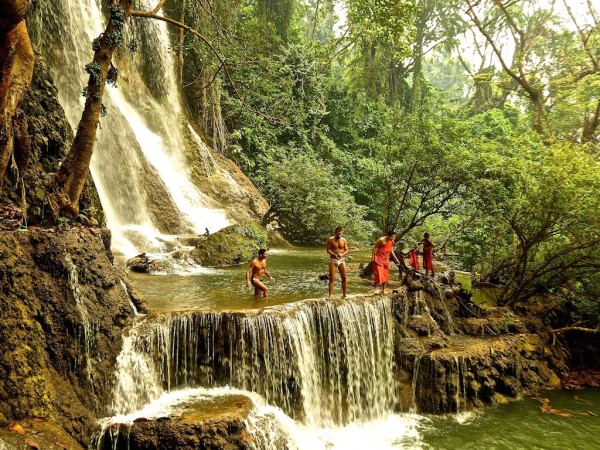 We spent over a week in Luang Prabang during our trip to Laos, but most of this time was spent catching up with our blog. It's a great base in Laos for working: Wi-Fi works quite well and is a little bit cheaper than Vientiane.
We stayed at Singharat Guesthouse, paying $23 a night, which included a hearty breakfast. For those with a higher budget, treat yourself to a romantic boutique hotel such as Satri Secret House.
To make the most of this beautiful city, you should try to dedicate 4 days for it. We've put together a 4 days detailed itinerary to Luang Prabang which will allow you to hit the main sights and attractions. If you're tight with time, you could do it in 3 days but keep in mind that there will be very little time for relaxation…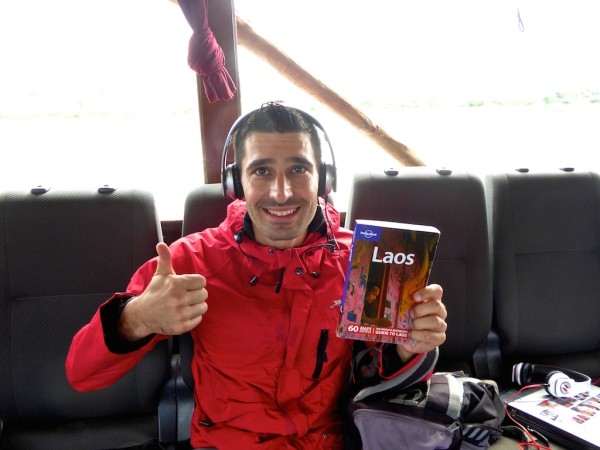 Day 1: visit the Kuang Si Falls
The Kuang Si Falls were the highlight of our stay in Luang Prabang. This is a series of waterfalls around 23km from the town centre.
You can swim and dive at the waterfall made even more special by the surrounding jungle and the young monks who join in: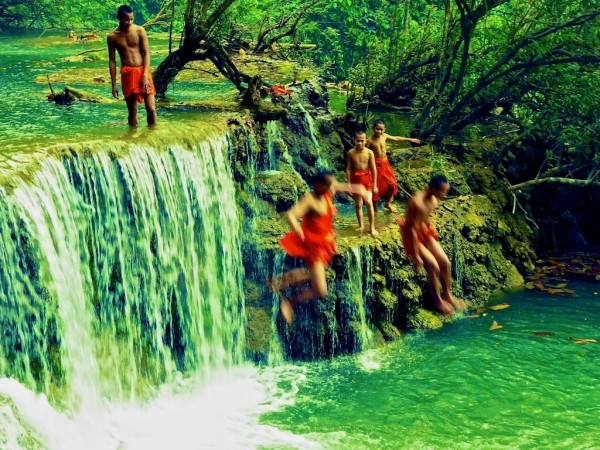 The Kuang Si Falls are located around 45 minutes tuk tuk ride away and a round trip costs around 200,000 kips (around £17 / $25).
The cost can be split between a group of people.
The tuk tuk driver will wait there for you.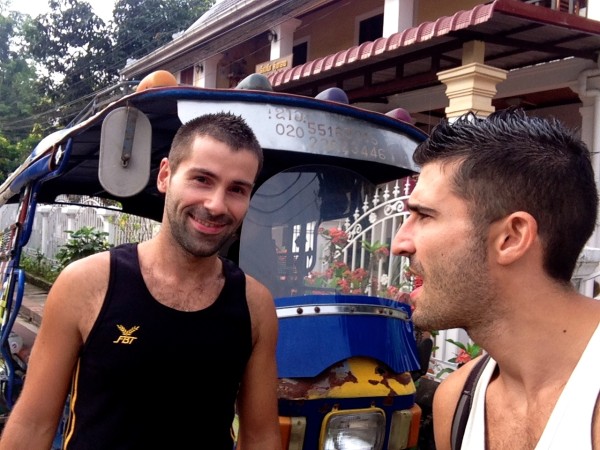 You can also arrange minivans to take you to the Kuang Si Falls via travel agencies (upwards of 60,000 kips (£5 / $7) per person, but you have to wait for a particular time before they depart and departure time from the falls is set, minimising your time there.
Entrance fee at the Kuang Si Falls is 20,000 kips (around £1.60 / $2.50) and it is open from 9am.
There are places in the nearby village to eat an inexpensive lunch or take a packed lunch.
The bear rescue park you pass along the way is really nice to stop and visit and it is included in the entrance fee.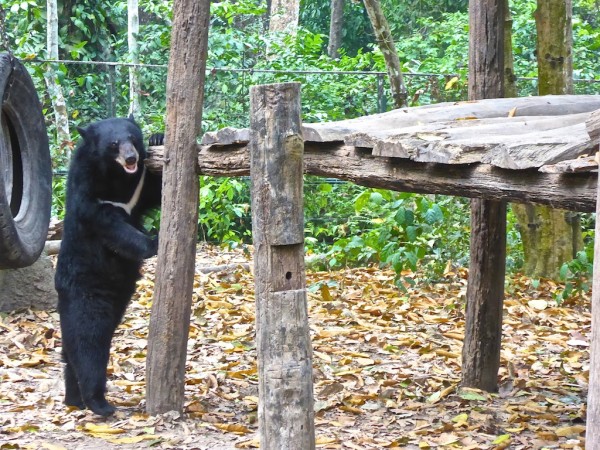 At the Kuang Si Falls, you can also visit the Butterfly Park, which is around 300m before the entry to the waterfalls. Entry to the park is 30,000 kips (around £2.50 / $3.70).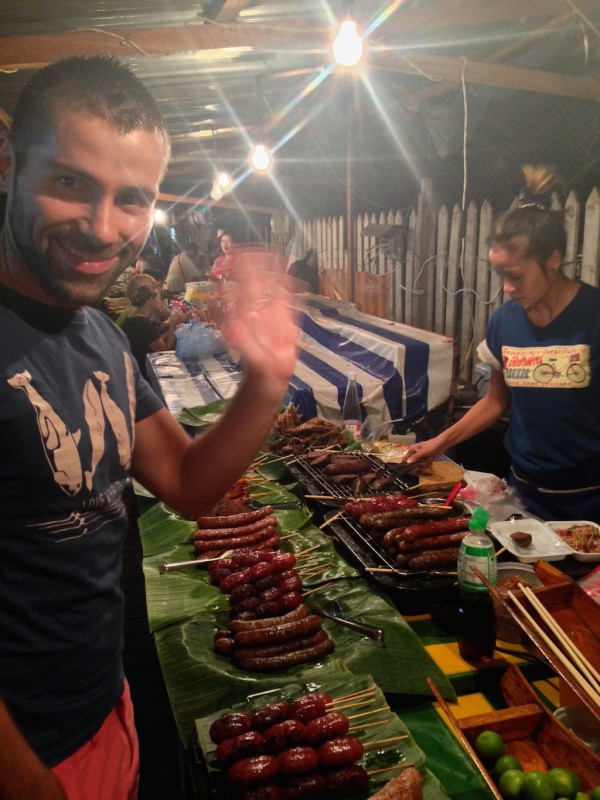 Day 2: harvest rice at the Living Land Farm
Sticky rice is one of the most distinctive things about Laos. One of the unique facts about Laos is that they are the highest consumers of sticky rice in the world.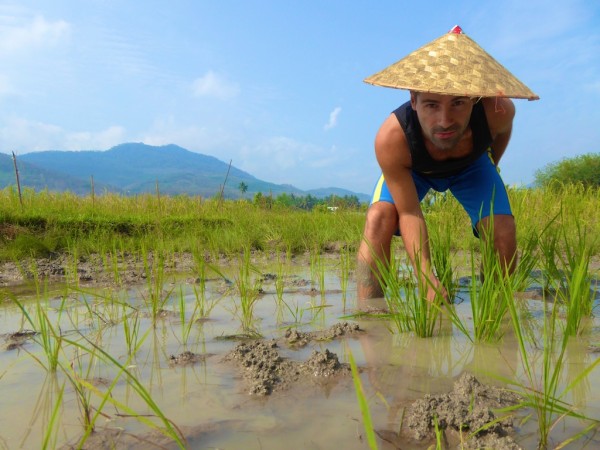 The best part of this tour is that you eat the rice produce for lunch, which includes the yummy sweet rice wine!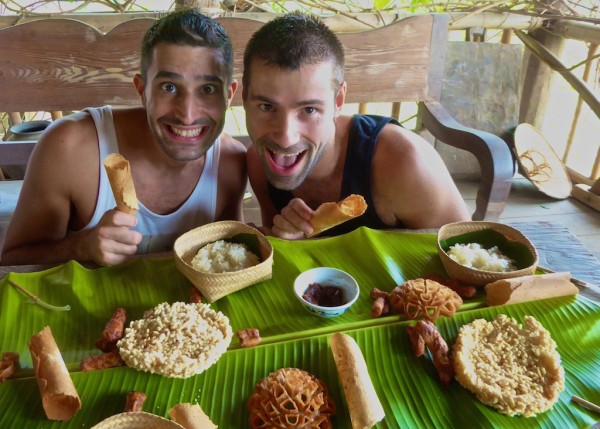 The tour at the Living Land Farm costs 344,000 kips (around £28 / $42) per person and they pick you up and return you to your hotel.
The farm is around 20 minutes drive from the city centre.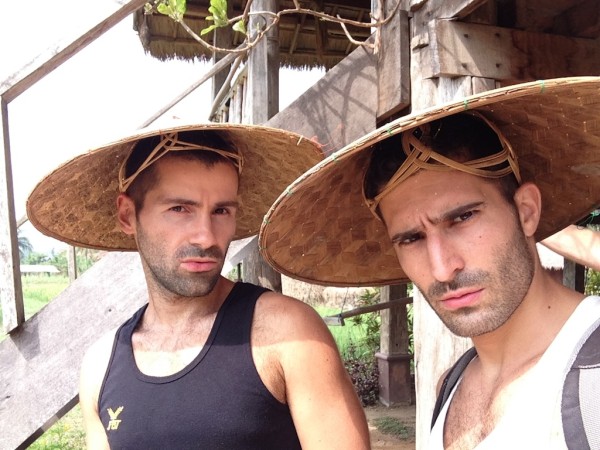 An evening spent at the night market and street food dinner can never be repeated too many times in our opinion!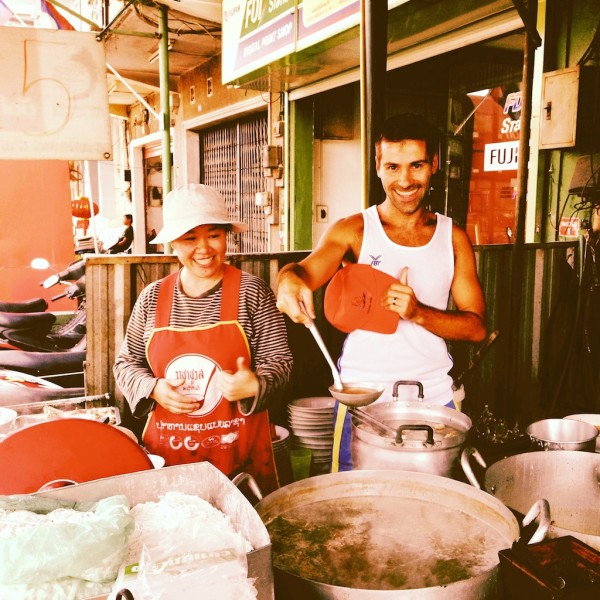 Day 3: sightseeing in Luang Prabang
One day should be set aside for general sightseeing in this UNESCO city.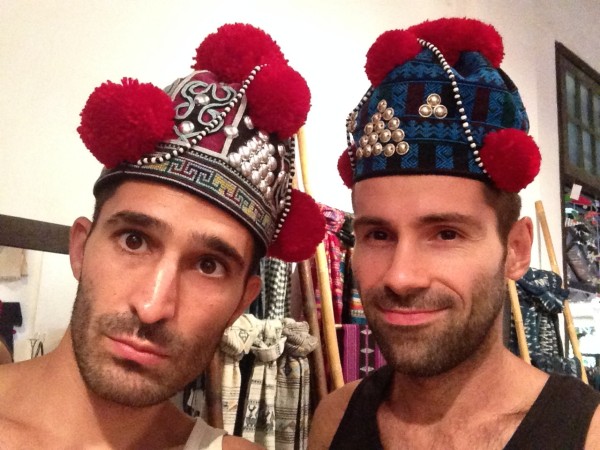 The entrance fee is 25,000 kips (£2 / $3) per person and opening hours are 9am-6pm, Tuesdays to Sundays.
Although a small museum, it is extremely interesting. The highlight was the documentaries you can watch about various aspects of Laotian village life.
We spent hours there and think it's one of the best ways to get a feel for Laos.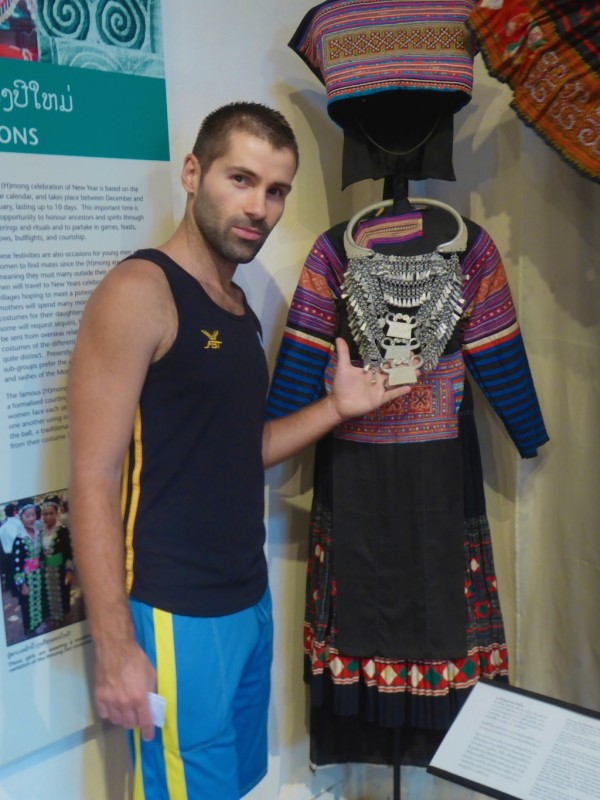 The Haw Kham is the former royal palace and now a museum. Entrance is 30,000 kips (around £2.50 / $4), Wednesdays to Mondays. It gets very busy here, so come as early as you can to avoid the crowds.
Lunch can be taken at the nearby night market, which during the day has numerous colourful stalls each selling a variety of yummy baguette sandwiches (from around 10,000 kips (£83p / $1) as well as a variety of fruit juice and iced coffee.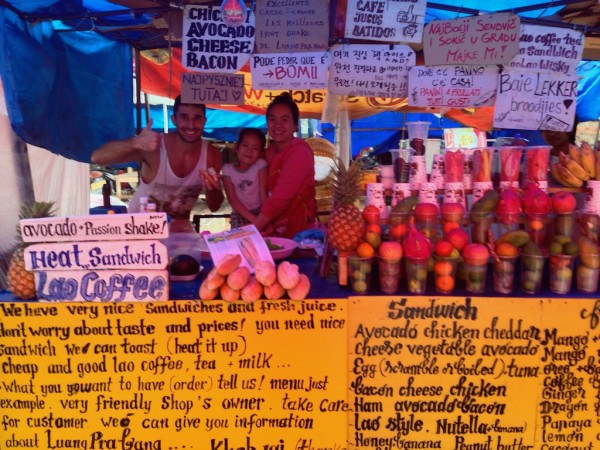 The entrance is free (donations are welcome) and it is open 8-11:45am and 2-4pm Monday to Fridays.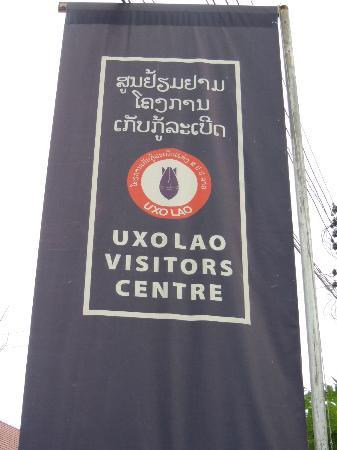 The small hike up the Phou Si / Chomsy Hill near the night market is worthwhile for the beautiful views over the city, particularly at sunset. The entrance fee is 20,000 kips (around £1.70 / $2.50) per person.
For dinner, if you're fed up with street food, check out the excellent (and very gay friendly) Lao Lao Garden and try their delicious buffalo Or Lahm stew.
We buddied up with the charismatic owner called Somphorn, who told us about gay life in Laos.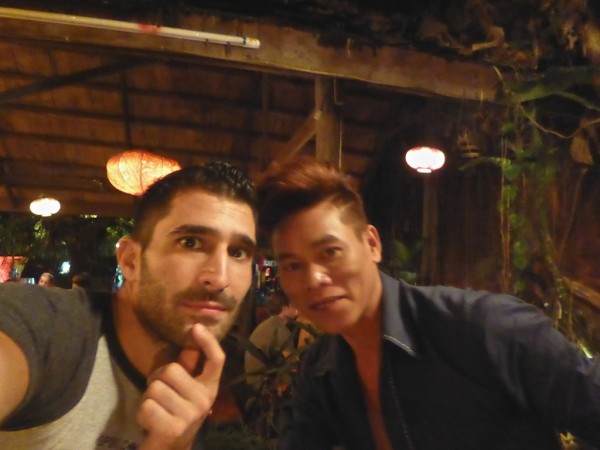 Day 4: Cooking course
We did a cooking course with the Tamarind Cooking School and learnt to make the Laotian staples of sticky rice, laap, jeow pastes and a few other yummy prizes.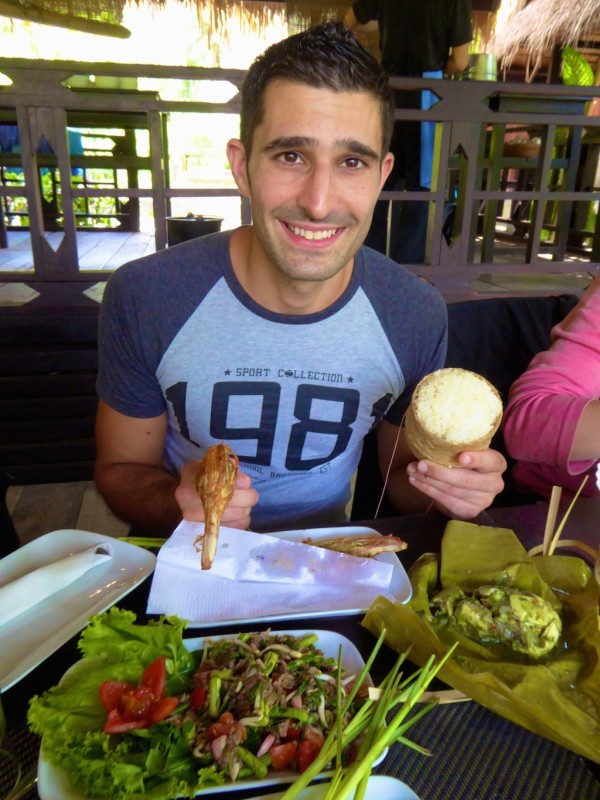 This coursre is incredibly popular and gets booked up really quickly, so we advise booking as soon as you arrive in Luang Prabang to avoid disappointment.
We paid 285,000 kips (around £24 / $35) per person and the food you prepare you eat for lunch. This also included a tour of the local market.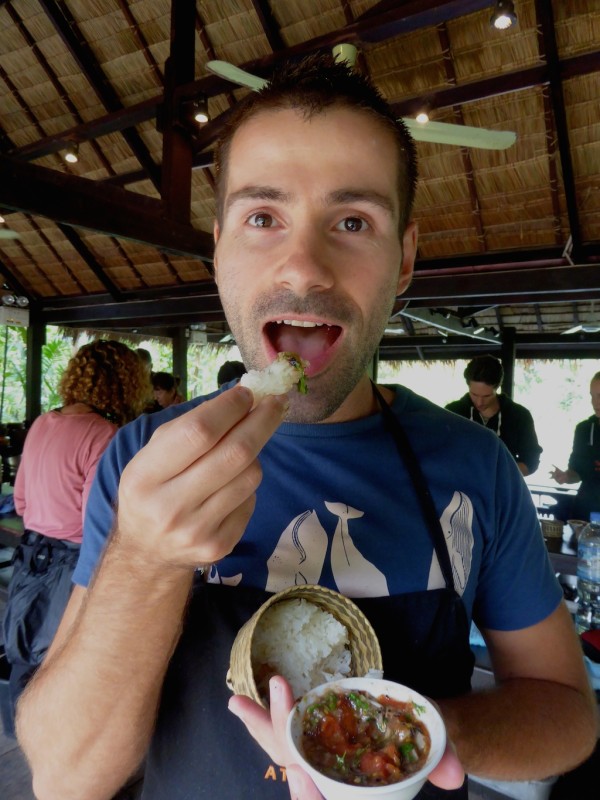 The afternoon is best spent relaxing at the swimming pools of La Pistoche at Ban Phong Pheng Village (open 10am to 10pm, entrance: 30,000 kips – £2.50 / $3.70).
For dinner, another favourite restaurant we recommend is the highly rated Phang Luang who do excellent pizzas. It is located across the river via the Southern bamboo bridge.
A final walk through the night market for some souvenirs to take home is a nice way to burn off the day's large food intake!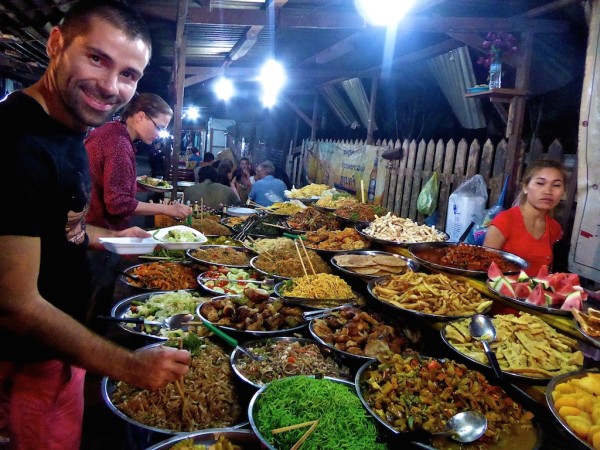 You can read more about our experiences discovering food in Laos and watch our Laos travel video.
OUR FAVORITE TRAVEL RECOMMENDATIONS
⭐️ TRAVEL INSURANCE — We recommend you always take out travel insurance before your next vacation. What happens if you suffer from illness, injury, theft or a cancellation? With travel insurance, you can have peace of mind and not worry. We love World Nomads travel insurance and have been using it for years. Their comprehensive coverage is second to none and their online claims process is very user friendly.
⭐️ SAFETY & SECURITY — All travelers can sometimes encounter danger when traveling. CloseCircle is your "virtual body guard" mobile app which provides security alerts and support wherever you are in the world. They have a 24/7 emergency response team monitoring their users who will contact you immediately if the SOS swipe button is activated. Support can include anything from practical advice, to free evacuation from areas with extreme weather or security risks. You can read more about CloseCircle in our article about how to stay safe whilst traveling.
⭐️ ONLINE ANONYMITY — A VPN (Virtual Private Network) is a must in many countries: it allows you to surf anonymously and maintain your privacy whilst traveling. You'll particularly need it in countries where dating apps are blocked by the government. We recommend ExpressVPN, a reliable and cost effective service which we used and loved during our travels.
⭐️ HOTELS or APARTMENTS — When we plan a trip, we always look for the best hotel deals. We love Booking.com because not only do they have a comprehensive listing of accommodation options, they also offer the best prices. Added bonus: they provide 24/7 support and free cancellation for most listings.
⭐️ SIGHTSEEING and ADVENTURES — When we travel somewhere, we like to seek out the best experiences, whether it is cooking with locals in Bangkok, hiking on a glacier in Patagonia, or going on a wildlife safari in Sri Lanka. Our favorite place to look is GetYourGuide because they have over 30,000 highly rated activities, a user-friendly booking process with free cancellation and a 24 hour customer support.
This article contains affiliate links. If you click on them, we may receive compensation which keeps our website alive and helps us bring you to more destinations.