TERMS OF USE: There is a chance that some of the content on this page has changed since it was last updated. By reading this article, you consent to our Terms of Use and Disclaimer. Happy Travels!
DISCLOSURE: Some of our posts may contain affiliate links which we may receive a commission if you choose to book something through one of our links.
This is our Luang Prabang itinerary for you to work out how many days you will need to see the top sights in this magnificent city in Laos.
Are you planning a trip to Luang Prabang but are not sure how many days to stay there? Look no further – we've got you covered with our full itinerary to Luang Prabang!
Luang Prabang, a cutesy UNESCO listed city in northern Laos, filled with loads of magnificent temples, an impressive Golden Buddha statue, surrounded by lush green jungle and lots of mountains.
We loved it here. Luang Prabang was the best part of our trip to Laos. We initially planned to stay here just for 4 days but ended up staying for almost two weeks. From the impressive temples to the bustling markets, there's plenty to keep you busy here. However, the real highlight for us was the stunning scenery around the Kuang Si Falls just outside the city. We'd return here just for that!
To make the most of this beautiful city, you should try to dedicate 4 days / 3 nights for it – which is what we initially planned! Even if you're pressed for time we think this is a very reasonable estimate to get the most out of your trip to Luang Prabang. If you're super tight with time, you could squeeze this itinerary it into 3 days but this really would be pushing things, leaving very little time for relaxation.
Top experiences in Luang Prabang
When is the best time to visit Luang Prabang?
The best time to visit Luang Prabang is during the months between November and March as this is the dry season and not too hot. However, the months of December and January are also the peak season, when hotel prices are at their highest and the city gets pretty busy. The same also applies during the Chinese New Year in February.
March to May is dry in Luang Prabang but also the hottest months of the year here – temperatures hitting a daily high of around 95°F (35°C) and a low of around 71°F (22°C) in the evening. The rainy season in Luang Prabang is between May and October, which is when the Monsoon hits. It's worth considering visiting Luang Prabang during these low season months because whilst there may be some rain, hotel prices will be lower and crowds will be fewer.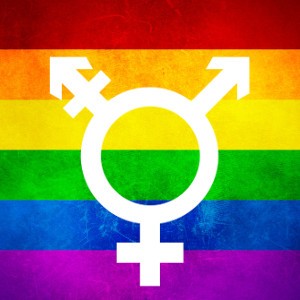 Advice for LGBTQ travelers to Luang Prabang
Laos is generally a safe country for LGBTQ travelers. The Laotians are very welcoming and curious towards all foreigners, particularly in Luang Prabang, which is the most touristic place in the country. The guesthouse we stayed at knew we were a gay couple and had no qualms about us sharing a double bed.
How to get around Luang Prabang?
The main way most people get around in Luang Prabang is via tuk-tuk. It's a super fun way to travel in the city and also pretty inexpensive. We also recommend renting bikes and cycling around the city. It's a safe and rewarding way to discover the local streets of Luang Prabang.
To get to the famous Kuang Si Falls, tuk-tuk is the most common mode of transport. It's a journey of around 14.5 miles (23km) costing around $25 for the round trip. Minivan is another common way to get to the famous falls (see more about this below).
For longer distances, such as to the airport, or even further in Laos like Vang Vieng or Vientiane, a taxi is your best bet. It's more efficient to arrange it privately with your hotel. In terms of taxi-hailing apps, we found that Grab and Uber didn't really work in Luang Prabang but there is an excellent alternative called LOCA.
How to get from the airport to Luang Prabang
The Luang Prabang Airport is located about 2.5 miles (4km) away from the city, so taxis are your best bet for heading to your accommodation when you arrive. They charge a fixed fee of $7 to get you from the taxi stand to the center of town. We usually prefer to pre-book a private transfer so we know our driver will be waiting for us even if we arrive late at night.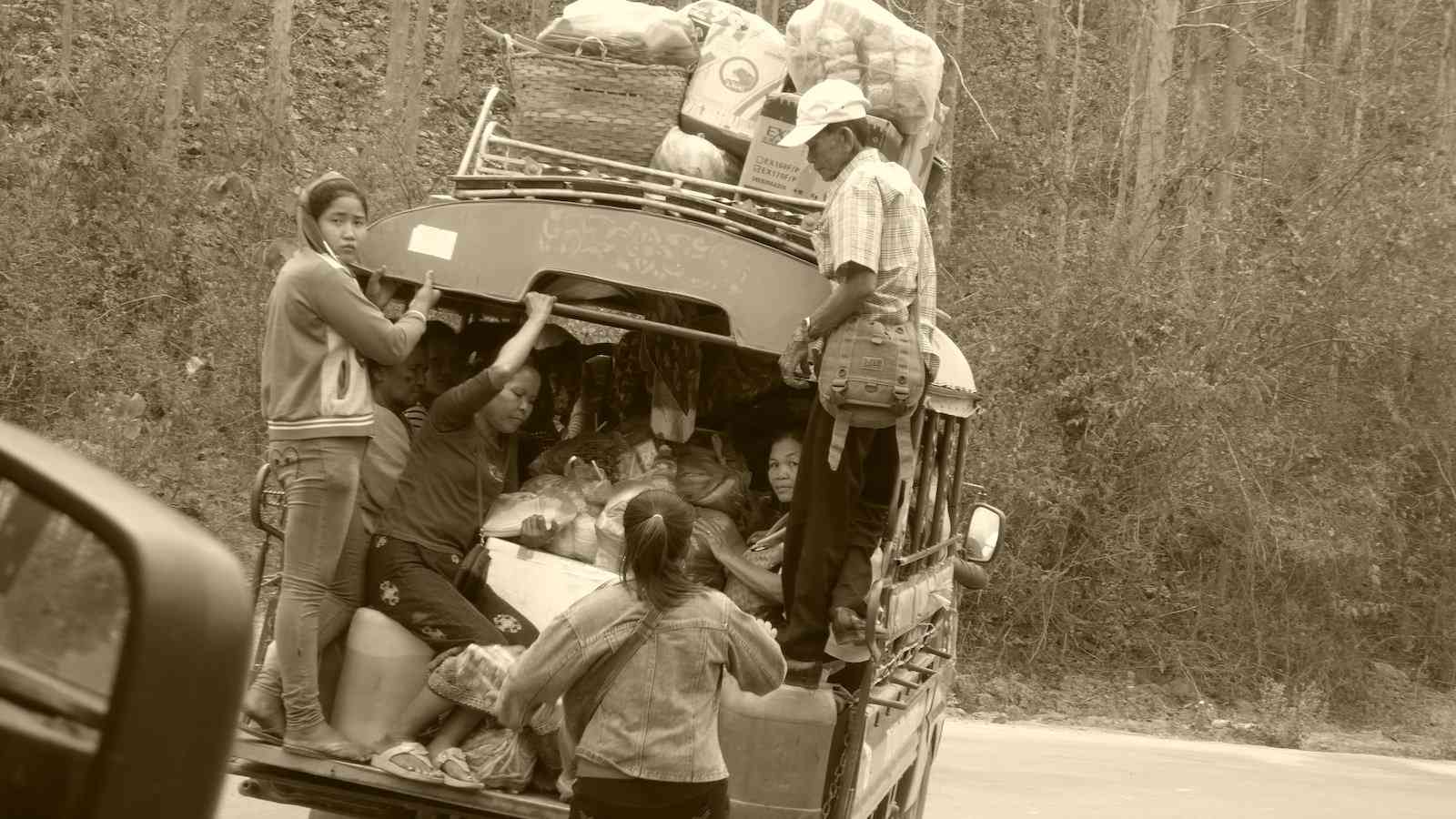 Where to stay in Luang Prabang
Luang Prabang is one of the most touristic places in Laos, so there is no problem finding a good place to stay to suit your budget. We stayed here for two weeks and tried out several places. We've set out some of our favorites below.
01
The Luang Say Residence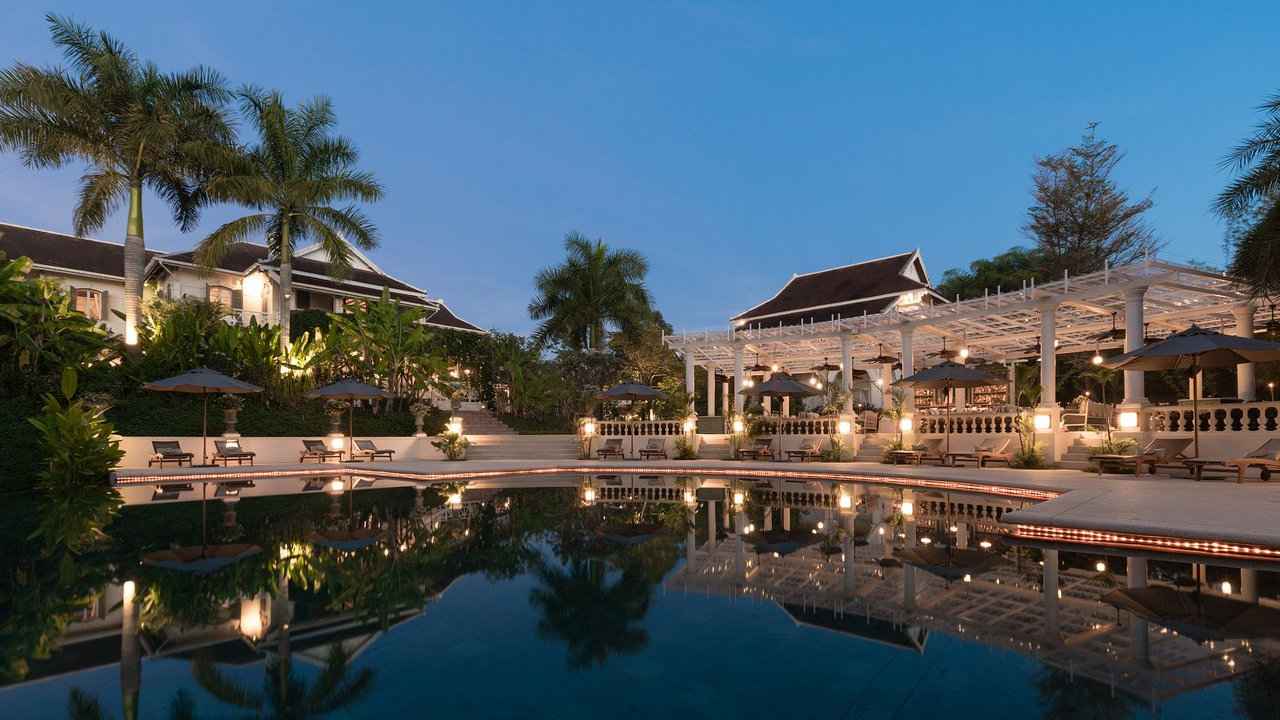 In a nutshell
---
Incredibly luxurious hotel 10 minutes from Luang Prabang
Excellent restaurant and two bars on-site
Gorgeous swimming pool in tropical gardens
Free bikes and tuk-tuk service to get into Luang Prabang
The Luang Say Residence is one of the most luxurious hotels in all of Luang Prabang. The property consists of 9 French-colonial-style pavilions, nestled within stunning tropical gardens.
Inside the pavilions are 20 gorgeous and spacious pioneer suites, decorated with items to bring to mind the French explorers, along with large four-poster beds draped with mosquito netting. We recommend checking out one of the four "Explorator" suites. They are absolutely gorgeous! We particularly love them because they feature pretty grand bathtubs.
Obviously, my Frenchman was in heaven here, especially when he found the French press in the room, along with gourmet coffee to use in it. We adored sitting on our balcony and watching the sunrise over the lush gardens while we woke up over steaming freshly brewed coffee. Breakfast is included in the rate and served a la carte (we had some delicious eggs Benedict!), with options for western or Laotian cuisine. The Luang Say residence also serves a divine afternoon tea (also included in the rate) consisting of home made pastries, sandwiches, desserts and fresh fruit.
La Belle Epoque is the main restaurant where you can enjoy breakfast or dinner. It's airy and white, looking out over the gardens. Dishes served range from French foie gras to traditional Lao delicacies. There's also a bar/lounge in the main building decked out with leather furniture and dark tones, which is the perfect spot for a nightcap. The swimming pool is lovely and large, with space for lounging beside it as well as a poolside bar called Terrasse des Colonies where you can enjoy a drink or snack in between dips in the water.
If you can tear yourself away from all the gorgeousness at the residence, it's about a ten minute walk into Luang Prabang, or you can make use of the hotel's free bicycles and free tuk-tuk shuttle service.
Prices at The Luang Say Residence start from $201 per night:
---
02
Le Sen Boutique Hotel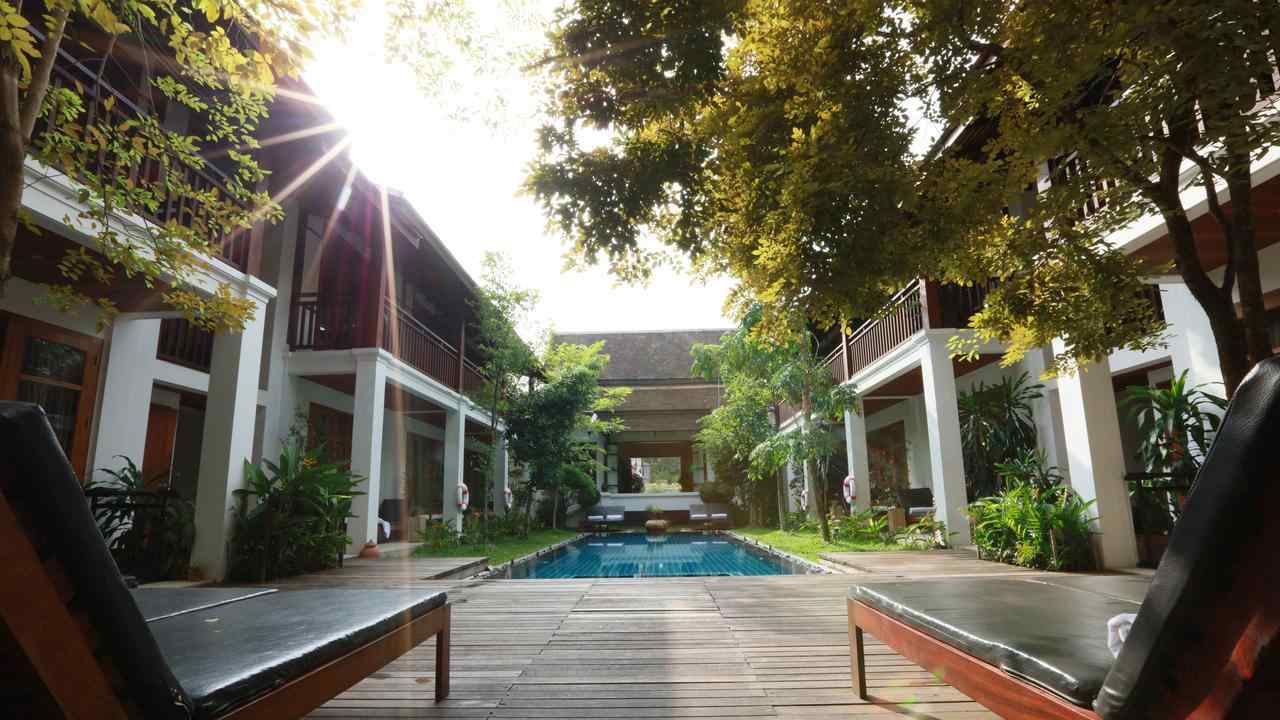 In a nutshell
---
Romantic and intimate
Lovely swimming pool and gardens
On-site restaurant and bar
Free shuttle bus into city center
We had a very romantic stay at Le Sen Boutique Hotel – which is located in the heart of Luang Prabang, walking distance from the UXO visitor center, Wat Manorom and Wat That Luang.
The rooms have either a balcony or terrace, which is perfect for watching the sun go down. Some have views over the secluded swimming pool, where we enjoyed having a cooling splash around in between exploring Luang Prabang.
The best rooms here we recommend are the suites and villas, which are furnished with traditional yet modern, minimal décor. There are only 19 rooms in total here, making it feels super intimate. We found the staff to be welcoming, attentive, and willing to do anything to make our stay feel unforgettable!
The restaurant and bar are situated at the end of the swimming pool, surrounded by the gardens. Breakfast is served here buffet-style, with eggs made to order, plus you can have Laotian, Thai and western dishes for dinner. We personally liked having a drink beside the pool, and made use of the free shuttle bus into the city center to try out all the (many) local restaurants.
Prices at Le Sen Boutique Hotel start from $71 per night:
---
STAY WITH A GAY LOCAL
Misterb&b is the Airbnb equivalent for the LGBTQ community. Unlike on Airbnb, you know your host is gay, voiding any nasty surprises when you check-in. It is also a great way to meet gay locals and discover the underground gay scene. Click below to get 10 € (or $10) off our first booking.
03
Singharat Guesthouse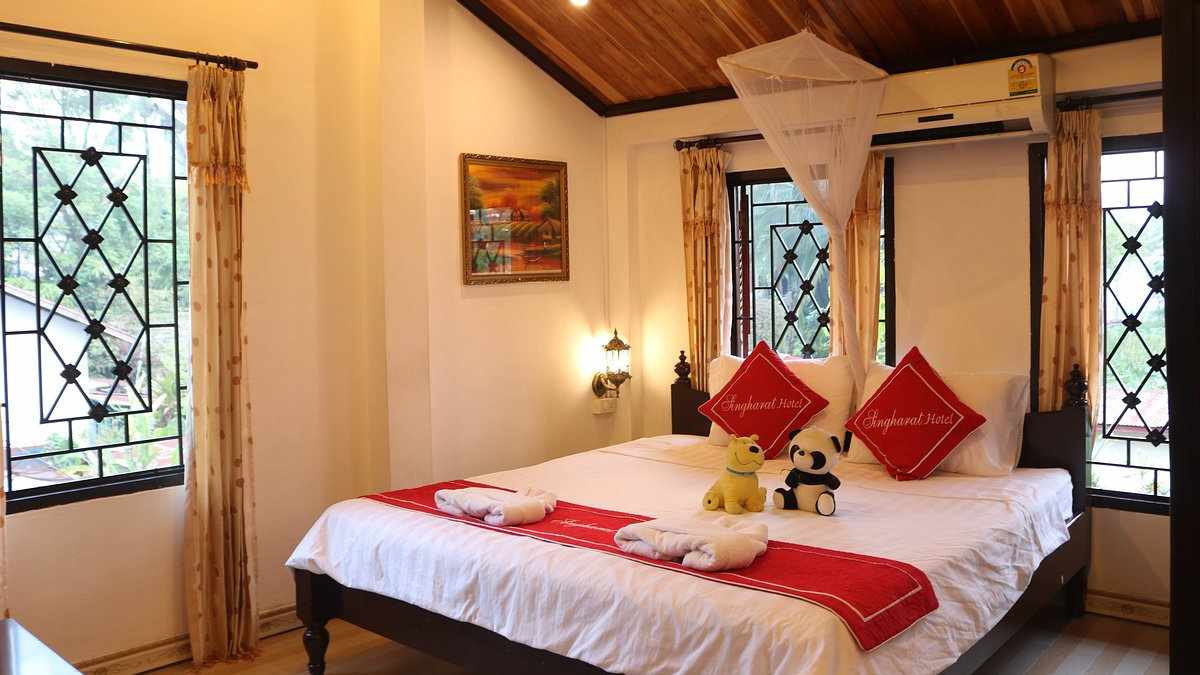 In a nutshell
---
Great budget option
Yummy breakfast included
Walking distance to many Luang Prabang attractions
Friendly and helpful staff
Whether you're traveling on a budget, or just prefer not to spend bundles of money on a room you won't spend much time in any way, you'll find the Singharat Guesthouse the ideal choice in Luang Prabang.
For the price of a hostel, you can stay in a clean and comfy private room, with a private bathroom. We do sometimes like to save money but we're also getting to that fine age where we don't always want to share a dorm room with 15 others (especially if they snore), and forget sharing a bathroom – Seby needs all the space for his many beauty products!
The Singharat Guesthouse is the perfect option if you just want somewhere clean, comfortable and private to sleep each night after a busy day exploring. It's also right in the heart of Luang Prabang, so you can easily walk to all the main attractions and restaurants, but the street is quiet so you'll still get a good night's sleep. A yummy breakfast is included in the rate (the banana pancakes were our fave), so you don't have to go looking for food in the morning with a hangry Frenchman grumbling at you…
Staff at the Singharat Guesthouse are lovely and gay friendly, happy to help book tours or tuk-tuks for you during your stay. There are just 19 rooms at the guesthouse, try and get one with a balcony if you can, so that you can enjoy people-watching on the street below or have a cheeky drink at sunset. The Singharat Guesthouse is also called the Singharat Place Hotel, so don't get confused, they're both the same place!
Prices at Singharat Guesthouse start from $23 per night:
---
Day 1: Visit the Kuang Si Falls
We recommend dedicating the first day to the stunning Kuang Si Falls and the nearby area which includes a butterfly park and the bear rescue park. The earlier in the day you start the better – before all the crowds start to arrive. We suggest aiming for an 8 am start.
1. How to get to the Kuang Si Falls
The most common way to reach the Kuang Si Falls is by tuk tuk. It takes around 40 minutes each way and costs around $25 for a roundtrip. If you want to cut costs, you can go by shared tuk-tuk, but you'll have to wait around a bit for it to fill up with more people – easy during peak season!
We recommend you pre-book a minivan to take you to the Kuang Si Falls. It costs around $7 per person but you have to wait for a particular time before they depart, which limits your time at the Falls.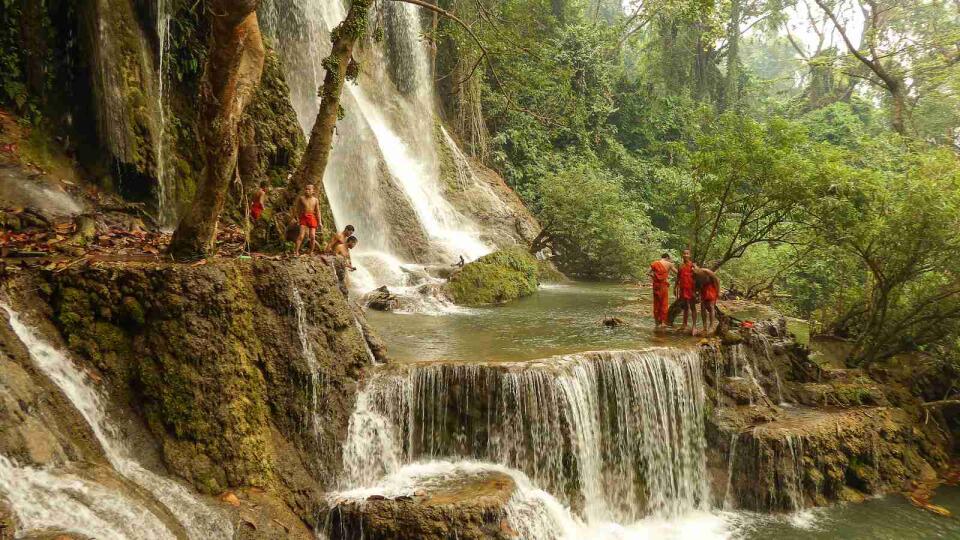 2. Visit the Kuang Si Falls
One of the most visually exciting moments of all our travels!
Located around 18 miles (29km) south of Luang Prabang, the Kuang Si Falls is a 3-layered waterfall nestled amongst a thick jungle that you have to trek through to reach. The swim in the pool water surrounding the fall is a rewarding treat after that sweaty jungle trek! We highly recommend climbing up 200 feet (60m) to the main waterfall and then jumping down into the pool below.
We came here on a Sunday when there was a group of young monk boys visiting and also braving the 200ft drop! We also hihgly recommend heading to the Kuang Si Falls on a guided tour with an expert local guide to get the most out of it and visit hidden spots you wouldn't otherwise know about.
The views across the jungle and mountains beyond is one of our favorite memories from our day trip in Kuang Si – a camera is an absolute must for this trip!
Open: The falls are open daily from 8:30 am to 5:30 pm
Cost: The entrance fee at the Kuang Si Falls is 20,000 kips (around $2.50)
Location: About 30 km (18 miles) outside of Luang Prabang
Getting there: Either join a tour or hire a tuk-tuk driver or minivan to take you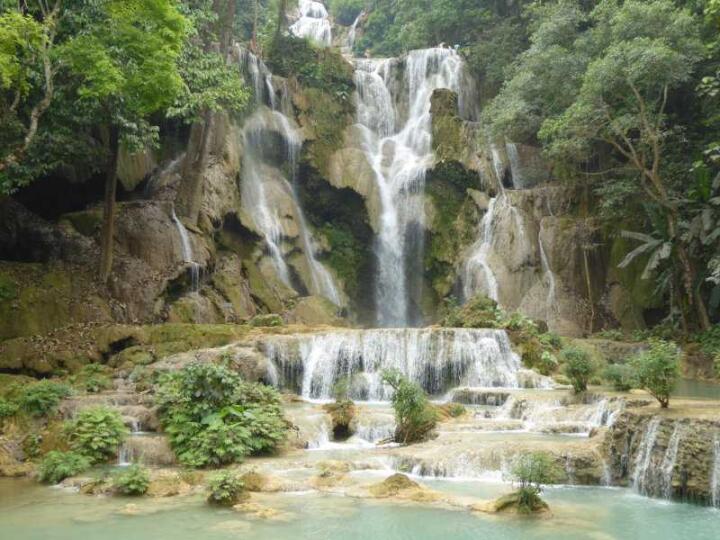 3. Lunch in a local restaurant
There are a number of inexpensive and local places in the nearby village to eat. As you arrive in Luang Prabang there is also a local market where you can stock up on fruit and other snacks.
When we visited we brought a packed lunch with us in order to maximize our time in the Falls, which we recommend doing. Otherwise, there are a handful of highly-rated restaurants to check out which are around half a mile away from the Falls such as Carpe Diem Restaurant, Fasay Garden, Lao Green, and YUNA.
Open: Most are open between 9am and 5pm every day
Cost: Varies, depending on what you order, but not expensive
Location: Lao Green is right next to the falls, the others are further back near the parking lot
Getting there: You can walk to any of them from the falls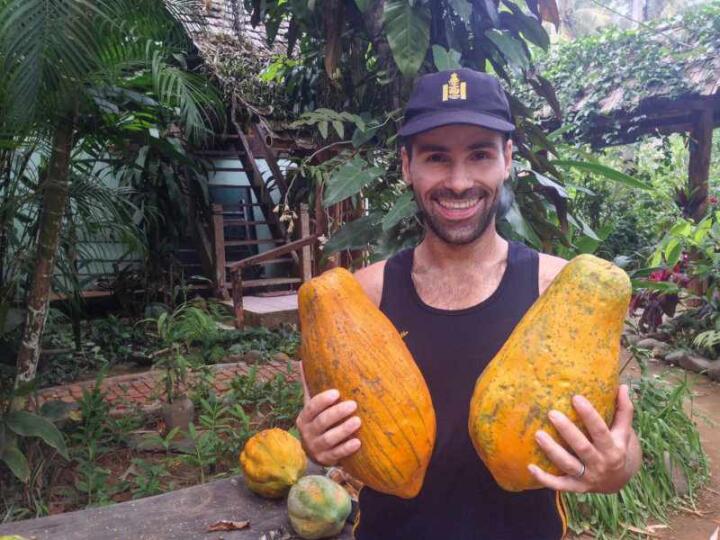 4. Visit the Butterfly Park
As you arrive at the Falls, there is a remarkable Butterfly Park around 1,000 feet (300m) before the entrance to the Falls. We highly recommend visiting.
There are hundreds of stunning Laos butterflies here all happily fluttering around in the landscaped garden. Handy tip – use the slow-mo feature on your phone's camera to get an impressive video of the butterflies taking off.
The Butterfly Park also includes a visit to a natural fish spa where you sit, dip your feet into the water, and have them cleaned by the fish! At the entrance when buying your ticket they offer a coffee and cake bundle as part of this, which we also recommend getting.
Open: Daily from 10am to 4:30pm
Cost: Entry to the Butterfly Park is 30,000 kips ($3.50)
Location: Further down the entrance road to the falls
Getting there: You can walk from the falls or get your driver to drop you off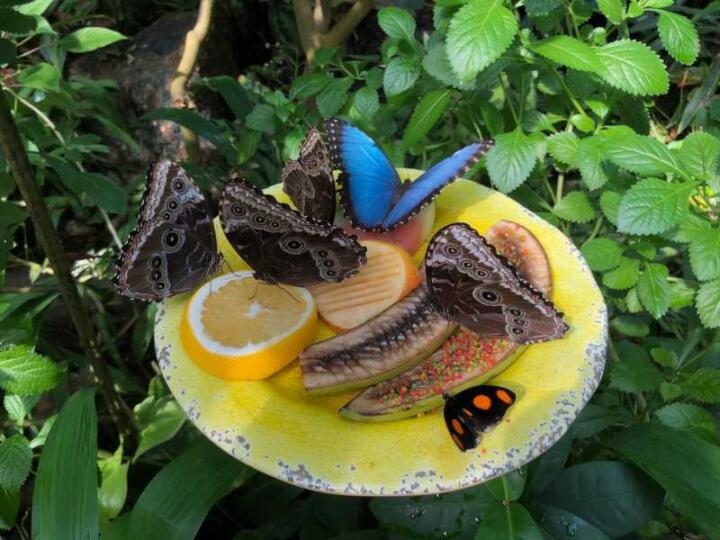 5. The Tat Kuang Si Bear Rescue Centre
Once you've bought your entry ticket for the Kuang Si Falls and have entered the park, you pass a bear rescue park en route to the Falls. The Free The Bears Rescue Sanctuary was set up in 2003 and is a fantastic initiative by the Laos Department of Forestry to help bears rescued from various illegal trades.
A wildlife sanctuary was opened in 2017 a bit outside of Luang Prabang, which also houses other rescued and endangered wildlife including macaques, leopard cats, tortoises, birds, civets, and even endangered red pandas intercepted after being smuggled from China into Laos.
At the falls there's an interesting discovery trail for you to look at and learn about the bears, as well as plenty of opportunities to take photos of all the cuties!
Open: It is open daily from 8:30 am to 5:30 pm
Cost: Entry to the bear rescue park included in the price of the Kuang Si Falls ticket
Location: On the way in to the falls
Getting there: You can easily walk once you are in the falls area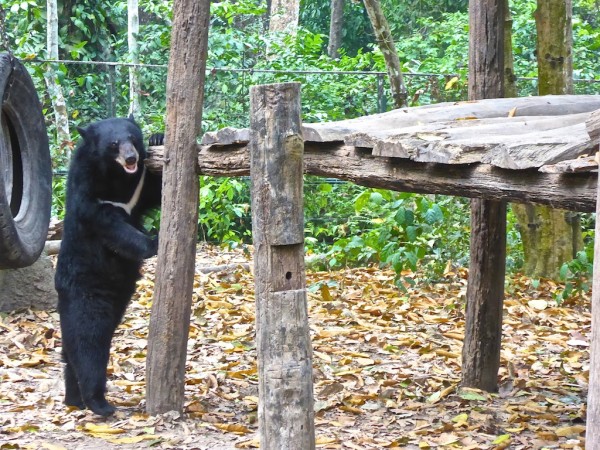 6. The night market of Luang Prabang
For dinner, we recommend heading out to try some of the excellent street food of Laos at the Luang Prabang night market. We loved coming here just for the atmosphere. It's full of locals and tourists all mixing together to create an exciting buzzy atmosphere. The street food is delicious. One row of stalls was dedicated to barbecued meats, another to fish – each marinated, salted, and cooked right before your eyes. Baguette sandwiches are also super popular here – thanks to the influence of the French back when Laos was a colony.
Open: The night market is open from 5-10 pm every day
Cost: Varies, depending on what you order, but not expensive
Location: It is located along Sisavangvong Road from the Tourism office and heads towards the Royal Palace Museum.
Getting there: It's an 11 – 25 minute walk from any of the three hotels we recommend, or you can grab a tuk-tuk!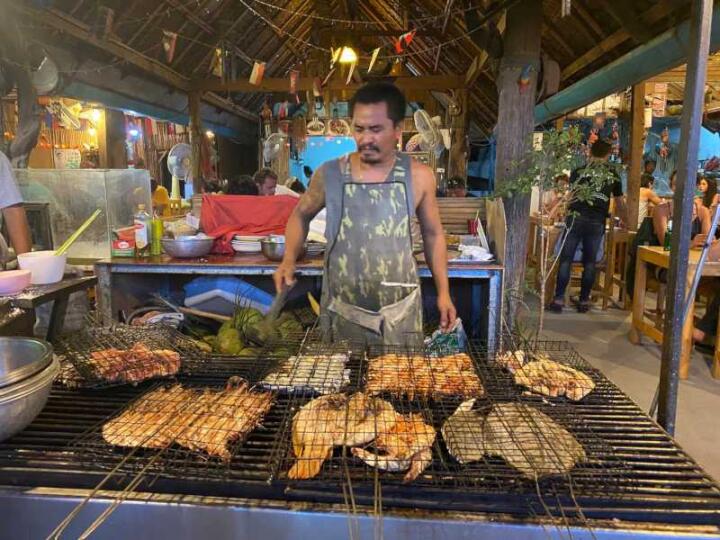 Day 2: Learn how to harvest rice
Rice to Laos is what bread is to French people…If you do just one tour during your trip to Laos then make sure it's this! The Living Farm Experience gives you a fascinating insight into what Lao agricultural life is like. Therefore, we devote Day 2 to this.
Our pro tip – pre-book the Living Land Farm experience as part of a joint package with the Kuang Si Falls.
1. The Living Land Farm Experience
This experience takes you through each stage of rice production, from plowing the ground with help from "Mercedes" the buffalo, to the sowing of the seeds, harvesting them to finally creating the different rice products. The last part was our favorite – trying out all the different rice cakes and rice wine. Let's just say that after this tour, you won't look at a box of Uncle Ben's in the same way again!
The entire experience is led by local farmers who give you a fascinating insight into agricultural life in Laos. It's not an easy life so we love the fact that they are using tourism to support the local farming community and for this reason alone we strongly advise all travelers to Luang Prabang to book this experience!
Open: The experience happens every morning from around 9 am
Cost: The tour costs around $49 per person or $124 if booked as part of the Kuang Si Falls tour package
Location: It's about 6km (3 miles) out of Luang Prabang
Getting there: Tour includes pick up and return to your hotel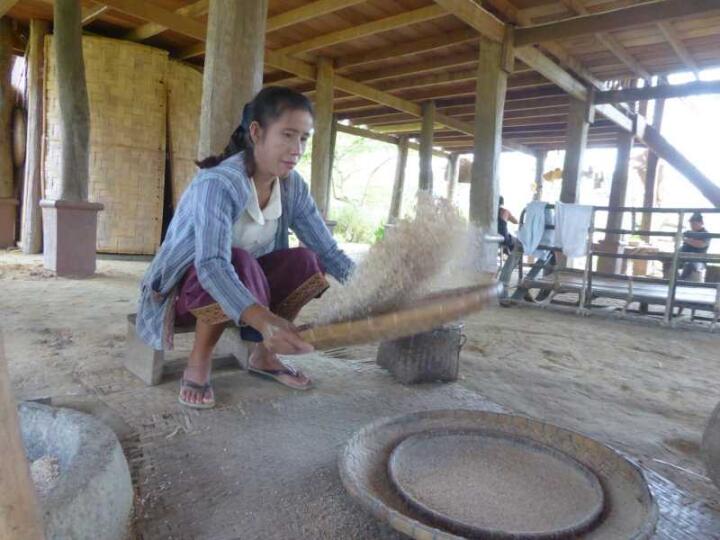 2. Romantic dinner at Tamarind
Often lauded as the best restaurant in Luang Prabang, Tamarind is quite the treat! As well as being romantic, it focuses on local Laotian food. We got the taster menu, which changes every day. It included a platter of different local flavors and salads.
Our favorites were the crispy rice paper rolls with chicken, the aromatic pork stew with egg, and the chicken stuffed with lemongrass. Tamarind also runs a popular cooking school – more on this below. Big warning about Tamarind, it's so famous that you do need to book beforehand to avoid disappointment!
Open: Every day from 11am until 10pm
Cost: From $2 for individual dishes and $25 for set menus for 2 people
Location: Tamarind is on Kingkitsarath Road in the center of Luang Prabang
Getting there: You'll probably want to get a tuk-tuk from your accommodation or it's between a 20-30 minute walk from each of our recommended hotels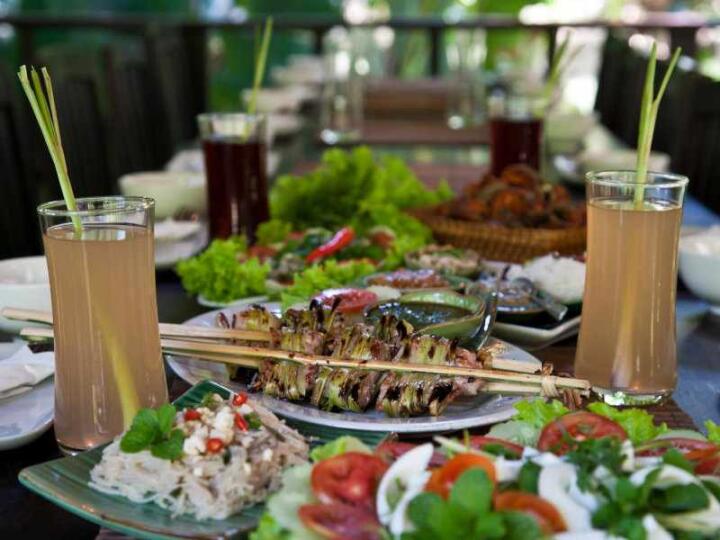 Day 3: Hit Luang Prabang's main attractions
Today, we focus on Luang Prabang's best things to do and see. We recommend starting the day around 9 am-ish to maximize your time in this gorg UNESCO-listed town. We also suggest booking yourself on a tour of Luang Prabang's sites to learn more about each building and the rich cultural traditions of Laos.
1. The Traditional Arts and Ethnology Centre
The Traditional Arts and Ethnology Centre was our favourite museum in Luang Prabang where you gain an insight into all the different ethnic cultures of Laos, particularly from the perspective of ethnic minority women. Although a small museum, it is extremely interesting, with displays of beautiful traditional handmade clothing, textiles, jewellery, and other handicrafts.
The highlight for us were the documentaries you can watch about various aspects of Laos village life, from interviews with Hmong medicine women and shamans, to in-depth looks at Tai Lue weaving, Hmong embroidery and early childcare in Laos.
We spent hours there and think it's one of the best ways to get a feel for Laos and its people. There's also an attached shop where you can buy fair trade handicrafts from all over the country and support those ethnic communities.
Open: It's open 9am-6pm, Tuesdays to Sundays
Cost: The entrance fee is 25,000 kips (£2 / $3) per person
Location: In the center of Luang Prabang at the foot of Phousi Hill
Getting there: A short walk or tuk-tuk ride from your accommodation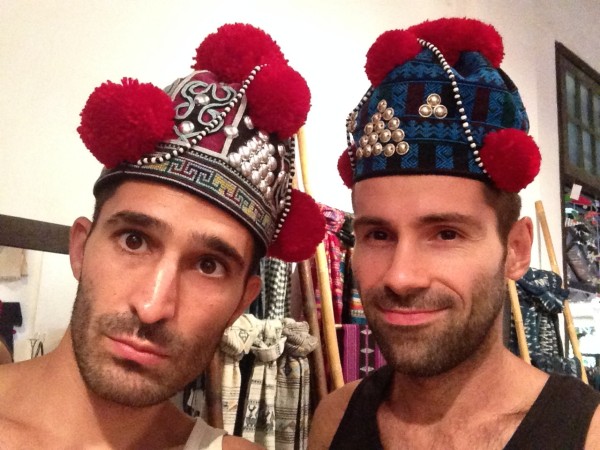 2. The Haw Kham/National Museum
The Haw Kham (also called the Golden Palace, Royal Palace, and the National Museum) is the former royal palace, now a museum. It was built between 1904-1909 to symbolize the relationship between Laos and France.
As you can imagine, the beautiful architecture combines French and Lao styles. Inside you can view the stunning Royal Palace reception rooms, conference hall, theater, library, ballroom, throne room, along with displays of the crown jewels and old cars that were used by the royal family.
There are also many beautiful traditional decorations and statues to check out. We found this museum to be a terrific way to learn more about Laos' history.
Open: It's open every day except Sunday from 8am-11.30 am and then from 1.30pm until 4pm, except Thursday when it closes at 3pm
Cost: Entrance is 30,000 kips (around £2.50 / $4)
Location: 27 Ounheun Road
Getting there: Just a couple of streets away from the Traditional Arts and Ethnology Centre so you can easily walk or get a tuk-tuk
3. Baguette sandwich for lunch
You haven't been to Luang Prabang if you haven't tried one of the famous fresh baguette sandwiches! Baguettes were brought to Laos when it was a part of French Indochina in the 1800s.
We found that when you're traveling through Asia you really start to miss good bread – since the main starch staple is rice and noodles. We recommend having lunch at the market near the royal palace (where the night market usually takes place) on this day.
There are numerous colorful stalls each selling a variety of yummy baguette sandwiches as well as fruit juices and iced coffee. They normally have on display big cups of fresh fruit which you can just buy to eat as is, or get the friendly vendors to put it into one of the freshest smoothies you'll ever have!
Open: No set times but we were able to find plenty of stalls operating from early in the morning until at least dinner time
Cost: Sandwiches cost around 10,000 kips (£83p / $1)
Location: Along Sisavangvong Road in between the Royal Palace and Traditional Arts and Ethnology Centre
Getting there: Very close to the palace so you can just walk back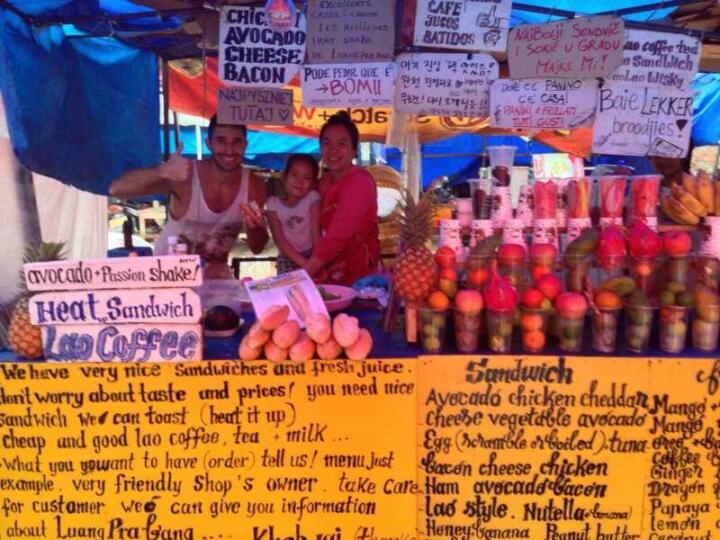 4. The UXO Laos Visitor Centre
Visiting the UXO Laos Visitor Centre (or its equivalent COPE Centre in Vientiane) is a harrowing experience. However, we think it's important to learn about all the many unexploded bσmbs in Laos and how the population have had to adapt to live with it.
As we learned during our travels in Laos, between 1964-1973 more bσmbs were dropped on Laos than were dropped throughout the entirety of WWII, many of which remain on the earth unexploded, to this day! Casualties and injuries are common, but the UXO (Unexploded Ordinance Programme) is working to clear the land to make it safer for ordinary Laos civilians.
It's definitely worth visiting the UXO Laos Visitor Centre to learn more and support the work they are doing across the country.
Open: It is open 8-11:45am and 2-4pm Monday to Fridays
Cost: Entrance is free (donations are welcome)
Location: Behind the President Souphanouvong Monument
Getting there: It's about a 20-minute walk from where you had lunch or get a tuk-tuk!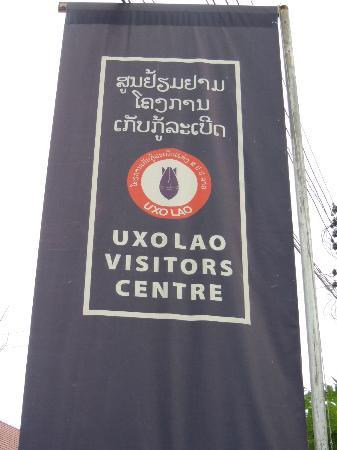 5. Watch the sunset from Phousi Hill
The small hike up Phousi Hill near the night market is worthwhile for the beautiful views over the city, particularly at sunset. There are stairs leading all the way to the top, which is only about 328 feet (100m) high, so it's not too taxing. Near the top is a ticket booth where you buy your ticket and can visit the That Chomsi Temple, some smaller temples, and Buddhist shrines.
It gets quite crowded close to sunset as tourists jostle for the best position to photograph the sky. But you can visit at any time if you just want to explore and enjoy the views over Luang Prabang. The photo here shows the view you will enjoy.
Open: It's open from 5.30 am until 6 pm
Cost: The entrance fee is 20,000 kips (around £1.70 / $2.50) per person
Location: The main entrance is directly opposite the National Museum
Getting there: Either walk back from the UXO Laos Visitor Centre or get a tuk-tuk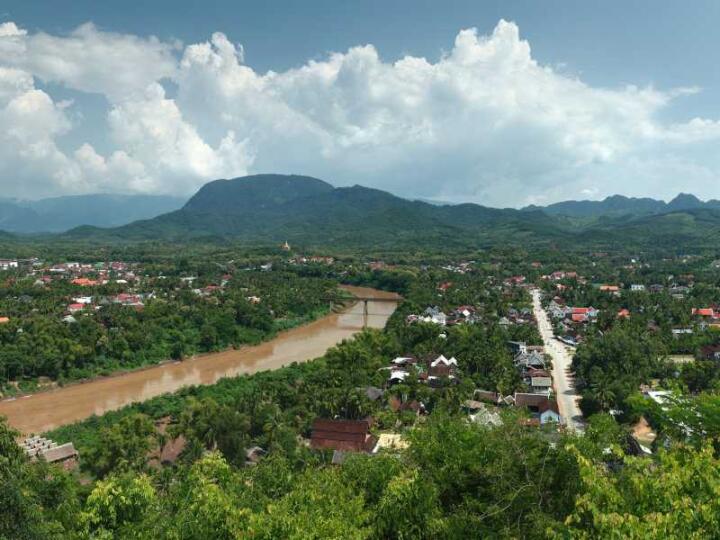 6. Dinner at Tangor
Tangor is one of the best restaurants in Luang Prabang, with delicious food and a really pretty design. The outdoor terrace is the best spot for people-watching and a romantic drink, especially since they have one of the best cocktail lists in town!
The food is French cuisine influenced by Asian culture, so you can expect delicious classic western dishes as well as typical Asian ones. We tried their signature dish of ceviche (so good!) as well as ratatouille bruschetta and divine burgers.
Open: Friday – Wednesday from 10.30am until 11pm
Cost: Tapas from 28,000 kips (about $3) and the most expensive dish on the menu is 100,00 kips (about $10)
Location: It's on Sisavangvong Road just a little further up from the Royal Palace
Getting there: Easily walkable from Phousi Hill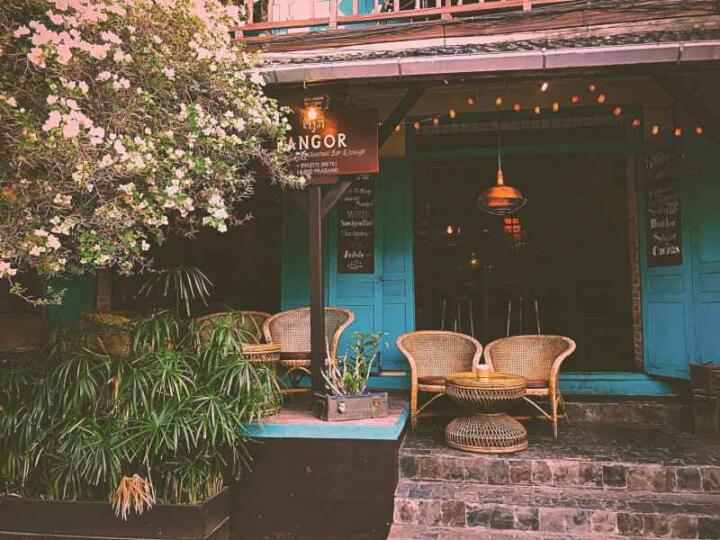 Day 4: Cook and chill
There are many excellent cooking classes to try out in Luang Prabang. We did ours at the Tamarind Cooking School, recommend to us by fellow travelers we met – confirmed by the excellent reviews on Tripadvisor! We therefore devote Day 4 to a culinary journey into Laotian food!
1. Cooking class at the Tamarind Cooking school
We did a cooking course with the Tamarind Cooking School where we learnt to make the Lao staples of sticky rice, laap, jeow pastes and a few other yummy dishes. This course is incredibly popular and gets booked up really quickly, so we advise booking as soon as possible!
Yes, it's organized by the Tamarind which is also the restaurant we recommended for dinner on the second night in Luang Prabang, so if you've been craving more of their food then you know you'll be learning to cook the best dishes here!
The classes take place just outside of Luang Prabang in these beautiful pavilions overlooking lily ponds, which are delightful to sit and eat the fruits of your labor in.
Open: Daytime classes take place between 8.30am – 1.30pm and evening classes from 4pm – 8.30pm
Cost: We paid 285,000 kips (around £24 / $35) per person. Book your cooking lesson here.
Location: The Tamarind cooking school is held just outside of Luang Prabang
Getting there: It's a 20 – 30 minute walk from our recommended hotels or a quick tuk-tuk ride to the restaurant, where you will be transferred to the cooking school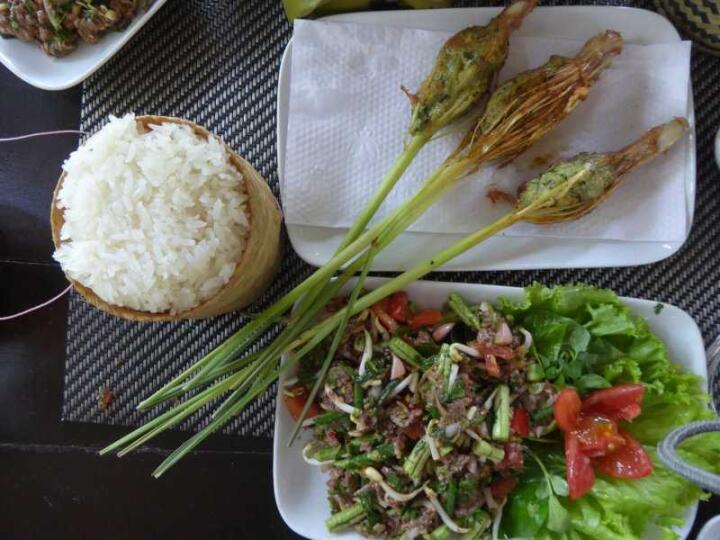 2. Relax darling!
We've kept this afternoon to relax/chill as most travelers will start heading out to the next part of their journey. You could spend the afternoon relaxing at the swimming pools of La Pistoche at Ban Phong Pheng Village. There are two big swimming pools surrounded by gardens, sun loungers, hammocks, and a restaurant.
Or you could treat yourself at The Spa at Kiridara, an amazing day spa at the Kiridara Resort Hotel, with treatment rooms, tucked away in a teak forest. You can have a variety of massages, aromatic baths, scrubs, facials, and body wraps, often with a fresh fruit salad to enjoy at the end of your spa session. Absolute bliss!
Open: La Pistoche is open 10am – 10pm and The Spa at Kiridara is open from 9.30pm until 8pm
Cost: Las Pistoche costs 30,000 kips (£2.50 / $3.70) and treatments at The Spa at Kiridara start from $32 for a hand spa and $29 for an aromatic bath
Location: La Pistoche Swimming Pool and Bar is located at Ban Phong Pheng Village and Kiridara Resort Hotel is located at 22/13 North Road Ban Naviengkham
Getting there: Both La Pistoche and The Spa at Kiridara are located on the outskirts of Luang Prabang, so we'd suggest getting a tuk-tuk to keep the relaxation going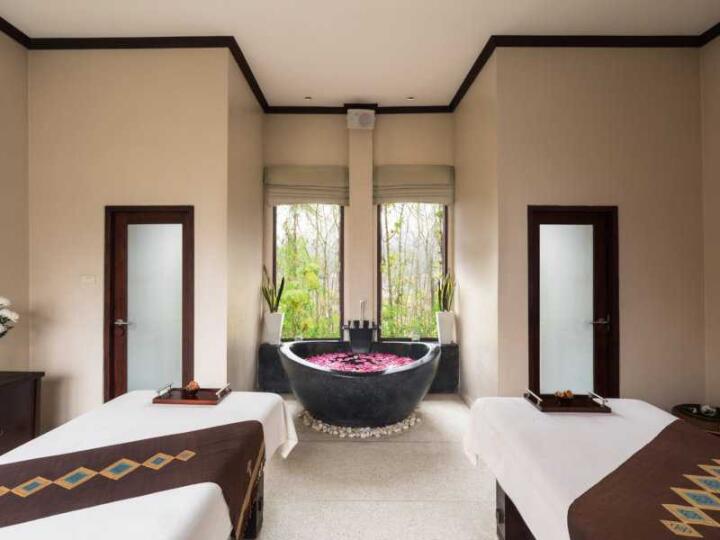 Plan your trip to Luang Prabang
We've put together some handy hints and tips to help you plan your own trip to Luang Prabang. Read on to find out everything the gay traveller should know before they go.
Travel insurance: Laos is a safe destination to visit but things can go pear-shaped even in the safest travel destinations. Whether it's losing your luggage, having a hotel overbook or getting sick, we recommend all travelers to Luang Prabang organize travel insurance before they go. We personally love Heymondo Travel Insurance and have been using them for years. Their cover is comprehensive and affordable, plus it's easy to make a claim online in the event that something does go wrong.
---
How to get there: Flights to and from Luang Prabang travel to/from Bangkok, Chiang Mai, Hanoi, Siem Reap, Kuala Lumpur, Vientiane and some other nearby destinations. If you're traveling from outside of Asia then you'll need to transit in one of these airports. The airport is about 4km (2.5 miles) out of the city, we strongly recommend you pre-book a private transfer so you avoid haggling or waiting around if you have a late arrival.
---
Visa requirements: Citizens of some countries can enter Laos visa-free but most need to either get an e-visa or visa on arrival. Make sure you check your personal visa requirements well before you travel to Luang Prabang to ensure you get everything organized in time.
---
Getting around: Luang Prabang's city center is pretty easy to get around by walking or hailing a tuk-tuk. You can easily rent bicycles from many shops and guesthouses, which are also a fun, cheap and healthy way to explore!
---
Power Plugs: Laos uses a variety of power plug types, some of which are the same as those used in North America and Europe, but since you'll never know exactly which one you'll come across we recommend bringing a travel adaptor with you to ensure you can charge any electronic devices.
---
Vaccinations: All travelers to Laos are recommended to have routine vaccinations for things like measles, chickenpox and covid-19. It's also recommended you get vaccinated against hepatitis A, hepatitis B, rabies, malaria, typhoid, yellow fever and Japanese encephalitis. Make sure you speak to your doctor well in advance of heading to Luang Prabang to make sure you get all the required vaccinations in time.
---
Currency: The currency used in Luang Prabang, and the rest of Laos, is called the Lao kip. The currency code is LAK and it's usually written with the symbol ₭, ₭N or just as kip. $1 converts to around 9,478 kip, €1 is worth about 11,559 kip and £1 converts to about 13,374 kip.
---
Tipping culture: Generally, tipping is NOT expected anywhere in Laos. The only occasional exception might be at a very high-end western style restaurant, where 10% of the total would be fine, if not included as a service charge already. If you want to round up your bill or fare while in Luang Prabang you can certainly do so and it won't be refused.
---
Internet access: Luang Prabang has surprisingly good WiFi, with most guesthouses, hotels, cafes and bars providing free WiFi that's good enough to do most things you will need (except perhaps upload YouTube videos). If you know you'll need a lot of bandwidth then you could bring a portable WiFi device with you.
---
Online privacy: Unfortunately Laos has one of the most restrictive media environments in the world. Any criticism of the government or communist party online is prohibited. We recommend organizing a VPN before your trip to Luang Prabang, so you don't need to worry about accidentally saying something that might get you in trouble. A VPN ensures your online activities are both secure and anonymous.
---
Accommodation: We always use Booking.com when deciding where to stay in Luang Prabang, as they have the most choices at the best prices. Their online customer support is excellent and available 24/7, plus many listings offer free cancellation – which is ideal if you like to be spontaneous with your travel planning.
---
Sightseeing and adventure: We love to find the best tours and fun activities in Luang Prabang on GetYourGuide. Their online booking system is really easy to use, while their excellent customer support is also available 24/7. They always have something interesting to suit all travel tastes.
---
Luang Prabang itinerary map
Here's our map of Luang Prabang which includes all the hotels, restaurants, activities and sightseeing highlights we've mentioned in this post. Use it to plan your own amazing trip to Luang Prabang!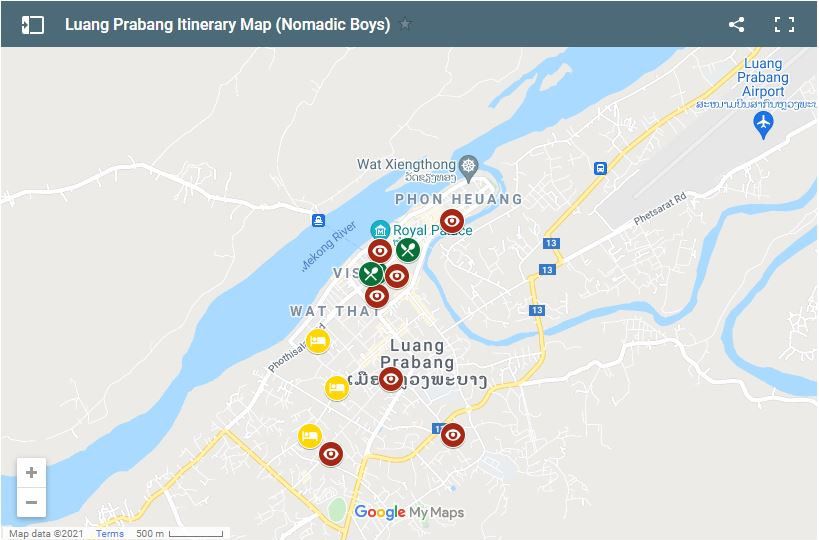 You can read more about our experiences discovering food in Laos and watch our Laos travel video.
---