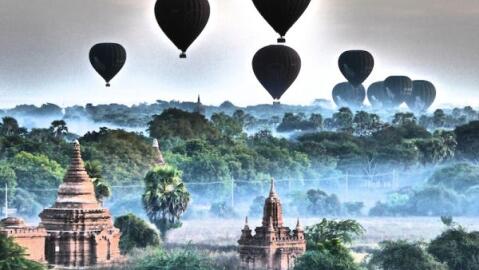 Bagan is an ancient town in central Myanmar with over 2,000 temples. We visited Bagan in January 2015 as part of our travels in Myanmar.
We based ourselves in the nearby backpacker friendly town of Nyaung U at Eden Motel, although for more upmarket options, consider staying at the nearby New Bagan at somewhere like Bagan Nova.
We conquered the temples over 3 days with rented bicycles, enjoying 2 sunsets and 1 sunrise.
Pagoda selfies, monk spotting and temple fatigue
The pagodas ("payas" in Burmese) are sacred Buddhist tiered towers usually containing a sacred relic from the Buddha. They are fun to climb and from the top you get an impressive 360 degrees view of the entire temple area of Bagan.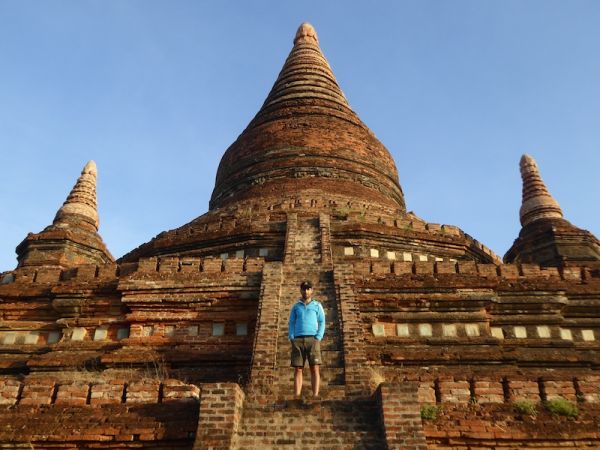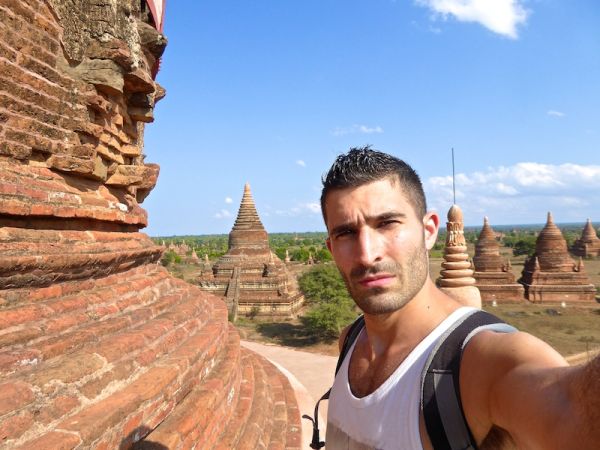 The temples alongside some of the pagodas are grand and impressive, attracting many Buddhist pilgrims.
Monk spotting became the new game Sebastien used to keep a low concentration span Stefan stimulated.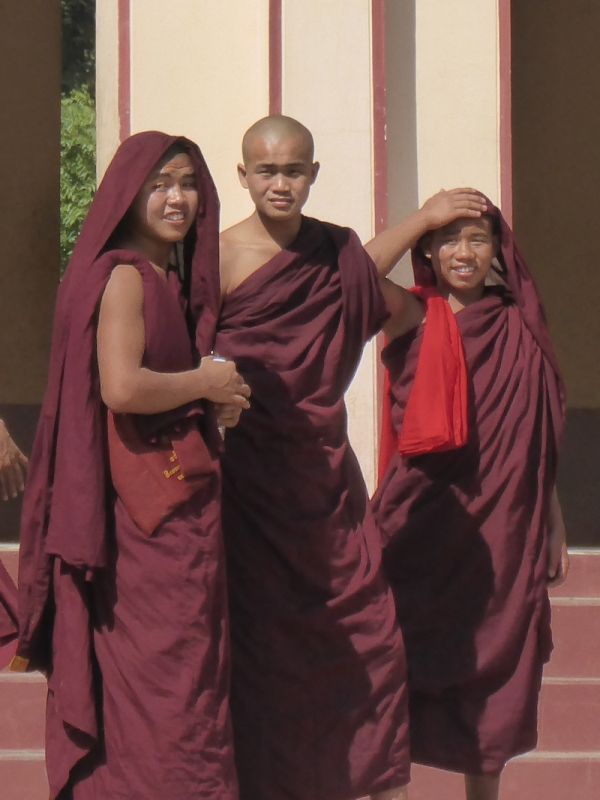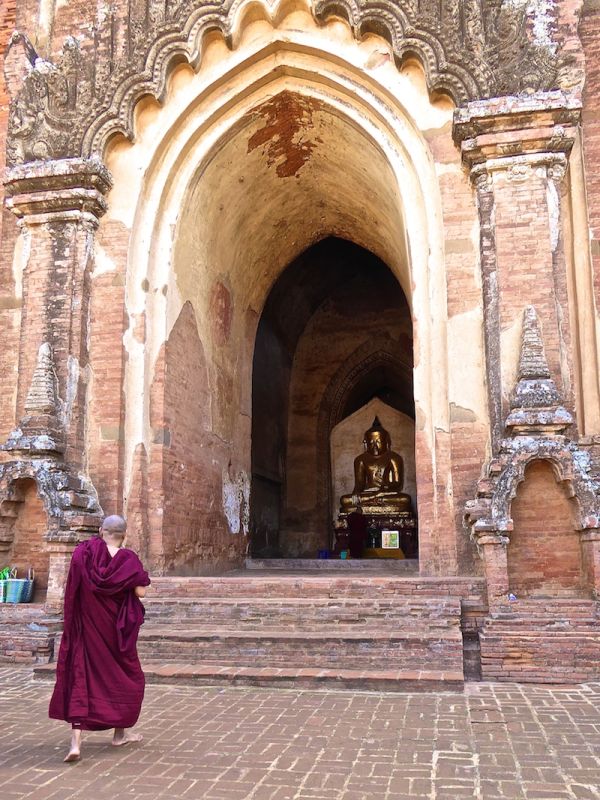 But with so many temples to visit, we quickly got templed out, especially with Stefan's very low concentration span.
The midday heat burning down on us didn't help either (January in Bagan is very hot and dry).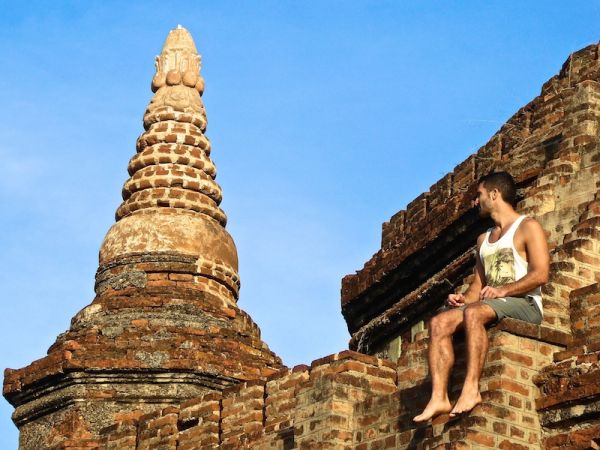 So to make things more interesting, Sebastien devised a cunning game: trying to find the best temple during the day to return to later on to watch the sunset and sunrise.
Chasing the best sunset spot in Bagan
Bagan is the #1 attraction in Myanmar so attracts many tourists.
On top of this, it's super sacred for Buddhists, so pilgrims visit in their numbers…and therefore, a heaven for the souvenir sellers.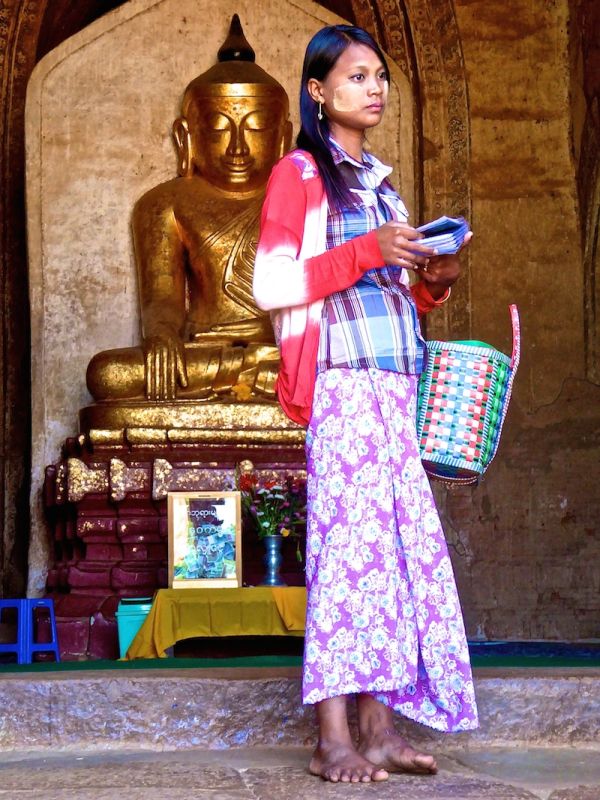 One of the most advertised activities is to watch the sunset (around 5:30/6pm) from one of the pagodas.
We heard stories of people finding a particular pagoda all to themselves with no one else except a few monks and the sunset…
…this was never the case for us. Any spot we found was soon swamped with people and souvenir salesmen by about 5:30pm.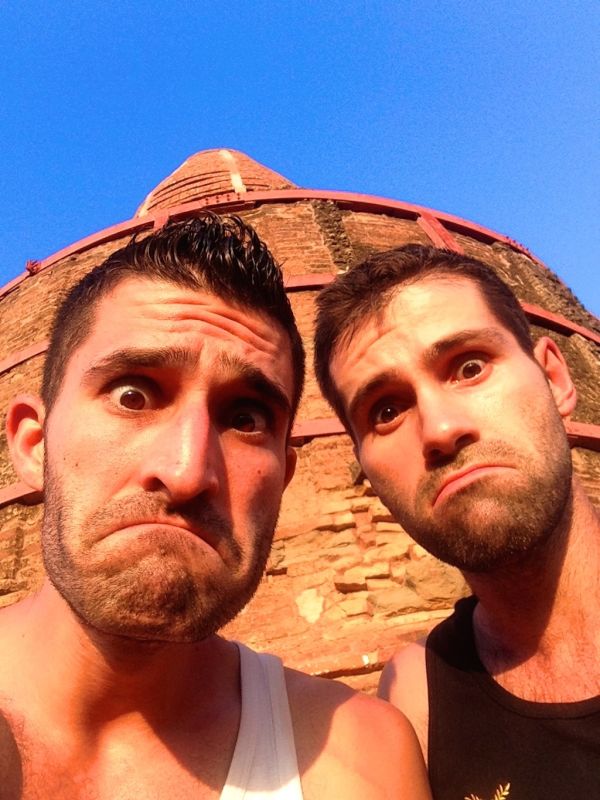 Sunset spot #1: the Buledi pagoda
Our first day exploring the temples climaxed at the popular Buledi pagoda.
Unfortunately it quickly got packed out with people, especially Koreans taking 900 photos per second, of the same thing.
But we found the sunrise itself is quite stunning, particularly just after the sun fully set, leaving pretty silhouettes.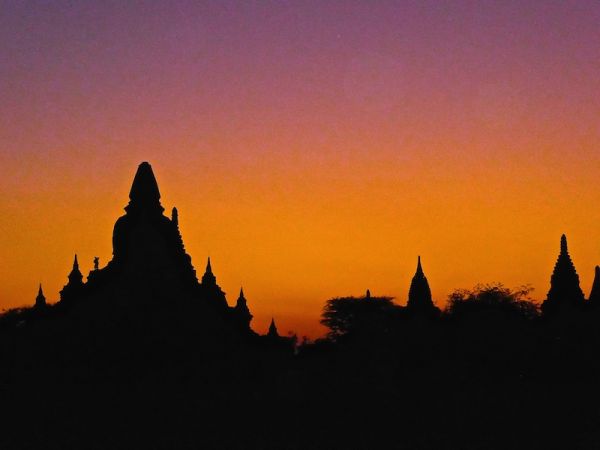 Sunset spot #2: the North Guni pagoda
On our second day we eventually stumbled on the popular North Guni and South Guni pagodas.
We picked the south Guni because the top of it it was slightly harder to access, so we thought it would attract fewer package tour groups.
The sunset itself was quite beautiful, especially after a long day of cycling in the sun from temple to temple.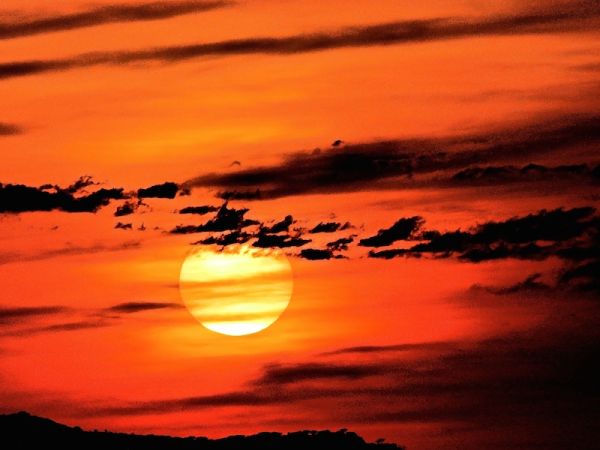 But again, by the time the sun started to set, we were surrounded by a large number of people and this time many souvenir sellers as well.
So, we made the difficult decision to rise early for day 3 and try our luck with the sunrise in Bagan (we are not successful early morning risers).
Finding the best spot for sunrise in Bagan
We slept through our alarms and got up 'late' – nearly 6:30am. We grabbed our bikes rushed over to the closest pagoda to our hostel (Buledi) to enjoy the sunrise in Bagan.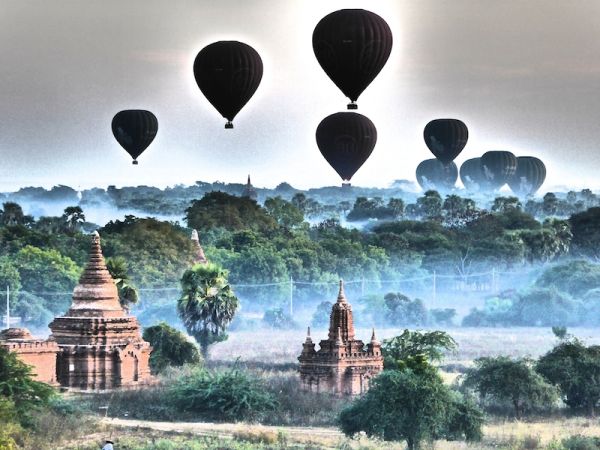 To our surprise there were only 2 other couples there, and, it remained like that throughout.
And the view, one of the most stunning images of our travels to date, rivalling the sunrise over the rice terraces in Tiantouzhai in China.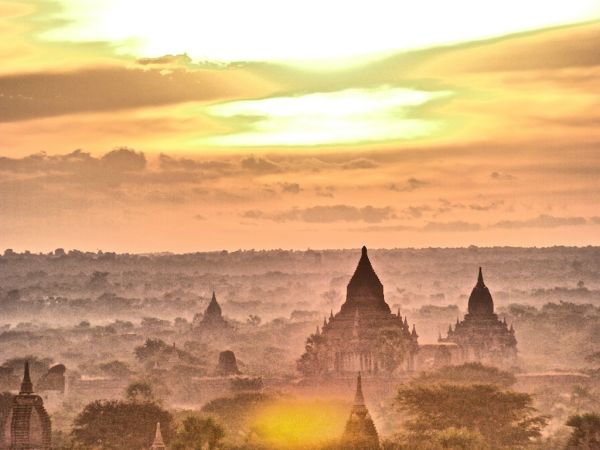 A layer of mist rises across the Bagan area in the early morning, creating a mystical like atmosphere. Alongside this are the hot air balloons setting off.
You can of course take a hot air balloon ride, but at over $300 per person, this was well outside our budget.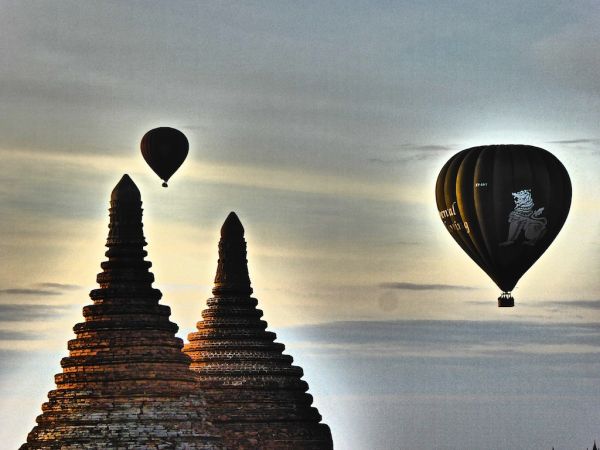 So, sunset or sunrise in Bagan?
The sunrise in Bagan was our favourite. It was spectacular and worth the early morning rise. The early morning mist with the hot air balloons made it very special.
Plus, it's before the tour groups arrive so you're more likely to have the entire pagoda all for yourself. Whereas during sunset, you are more likely to share the area with a large number of people.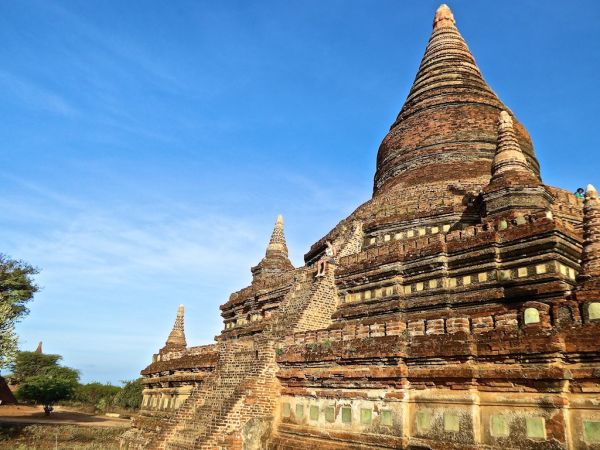 Watch our video Myanmar travel video as we made our way from Mandalay to Bagan, Inle Lake and Yangon:
Happy travels are safe travels
We recommend you always take out travel insurance before your next vacation. What happens if you suffer from illness, injury, theft or a cancellation? With travel insurance, you can have peace of mind and not worry. We love World Nomads travel insurance and have been using it for years. Their comprehensive coverage is second to none and their online claims process is very user friendly.