How to get to The Great Wall of China at Mutianyu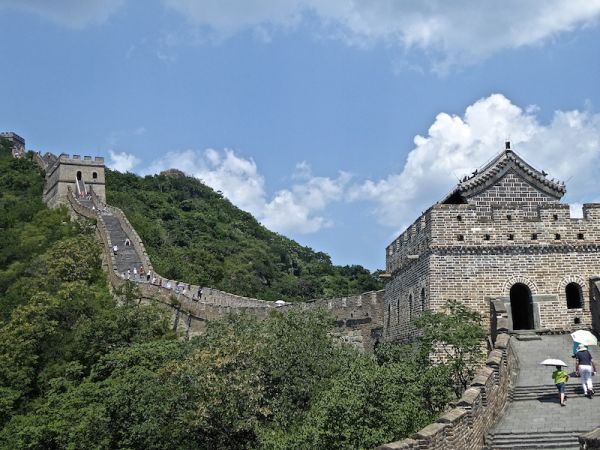 Trekking the Great Wall is a highlight of China.
We chose to visit the Mutianyu section of the Wall, which is around 70km North East from Beijing.
Mutianyu is popular because it is far enough away from Beijing to avoid the stifling large crowds (like at the Badaling section of the wall), but close enough to reach from Beijing in a round day trip.
And of course the views are incredible:
…and, once you've trekked up the Great Wall at Mutianyu, you can take a toboggan ride down from Tower 6, which adds to the fun:
After a great deal of research, we decided to go by ourselves and not with a tour group.  A round trip to and from Mutianyu cost us a fraction of what we would have paid to go with a tour.
Tours offered to Mutianyu are usually around 300 yuan (£30) per person which includes transport, some sort of meal and a guide.  This fee will not normally include the entrance fee to Mutianyu (currently 58 yuan or £6 per person), nor the tobogganing ride down (currently 80 yuan or £8 per person).  So all in, a tour costs around 400-500 yuan (£40-50) per person.
There is unfortunately very little information available about getting to Mutianyu using local transport in Beijing.  Our best resources were fellow travel bloggers and reviews for Mutianyu on Tripadvisor.
Information available in online blogs and in Lonely Planet suggests taking the 867 bus directly to Mutianyu.  When we went, we found that the 867 bus no longer goes all the way to Mutianyu.  The 867 bus stop is also a little complicated to find.
Instead, we advise going to the main bus station at Dong Zhi Men (it's also on the Beijing subway).  When you come out of the Dong Zhi Men subway station, the large bus station is close to it.
The correct bus to Mutianyu (and do not let anyone tell you otherwise – see below!) is the 916 from the main bus station.  This costs around 11 yuan (£1) per person.  The ride is around 1 hour to the final stop.  Then at the final stop, there is a large industry of mini vans and taxi drivers who will take you directly to Mutianyu.  We paid 10 yuan (£1) per person here, but you may need to haggle this with them.  This part of the journey is around 20 minutes.
The Great Wall of China Scam industry to avoid!
Unfortunately there is a large industry in scamming tourists at the Dong Zhi Men bus station which we warn you to watch out for!  We were caught out by it which delayed our journey by a few hours:
Upon arriving at the bus station, there are some ladies who claim to work for the official bus station and show you a badge on their left arm as evidence of this:
This is false and they are scammers trying to entice you to take another bus (usually the 980) to a random Chinese countryside (Miyun) no where near Mutianyu.  They board the bus with you, take your money for the ticket to give to the driver (so making it all look official).  Then they tell you to get out at random stop where they then try to encourage you to part with a larger sum of money to take a private taxi to another part of the wall where you do not want to go.
At this point we figured out we'd been scammed and just walked away and found a genuine minivan driver in Muyin to take us to Mutianyu for 40 yuan (around £4) each.  Whilst we did not loose too much in terms of money, we did lose almost 2 hours of time.
To avoid these sweet looking old ladies (whose English is very good), we noticed afterwards there were genuine official ladies working at the bus station.  They should have a name badge on their front and should also carry an ID.  If you ever encounter them, demand to see their ID before choosing to trust them.  Our lady in the photo above admitted she didn't have any ID and laughed when we sussed her out.
The Great Wall of China at Mutianyu
The Great Wall of China at Mutianyu was one of our highlights on our trip so far.  The views are incredible, the hike up a good cardiovascular work out and there is a sense of accomplishment and achievement at visiting one of the Great Wonders of the World:
We made friends along the way with a few other travellers and together we made the trip to Mutianyu:
Some final photos of us posing at the Great Wall of China:
For more, watch our China travel video as we ate our way from Beijing in the North all the way to the south via Pingyao, Xi'An, Shanghai, Yangshuo through to Shangri-La: