Have you ever noticed how phallic the world's most famous landmarks are? The Eiffel Tower? Empire State Building? The Shard? Well, Reykjavik has taken the most literal approach of them all and opened up a museum dedicated to male organs. And if that doesn't scream the perfect gay destination, we don't know what will…
And like any good gay guy, Iceland is versatile.
Who'd have thought that a country with the spellbinding Northern Lights would have also birthed one of the most unorthodox singers of our time – Björk. Or that a land full of mountainous glaciers and astonishing waterfalls would feature the aforementioned phallogical museum.
Or that a culture dedicated to thermal baths and deep meditative rituals, would lend itself as a setting for the bonkers Eurovision Song Contest: The Story of Fire Saga movie on Netflix (you'd be lying if you said Ya Ya Ding Dong isn't a bop).
The city itself is a wondrous blend of old meets new, with its ancient buildings set against the dramatic natural landscape, with trendy bars, a vibrant (albeit small) queer scene, and relaxing spas for you to unwind.
How safe is Reykjavik for gay travelers?
Icelanders are one of the most tolerant and accepting people we've ever encountered on our travels. We felt completely safe holding hands in public and spotted tons of other gay couples engaging in PDA – everywhere!
Reykjavik has several rainbow crossings. The main one can be found on a street that is literally named "Rainbow Street". This was installed to show Reykjavik's commitment to tolerance and diversity. You can't miss them as you walk along the streets – and there's no better place to snap a photo with your loved one.
Icelanders have always been willing to go along with the times – with 84% of the population supporting gay marriage in 2004. Yes, 2004 (for context, homosexuality had only just been decriminalized in Texas in 2003).
Certain regions of Iceland have even introduced LGBTQ-themed lessons into their education curriculum for teens, that explore the history of the queer community and the problems they face. We love this. It helps all youth become even more aware and open-minded than they already are as well as also showing just how gay friendly this awesome country truly is!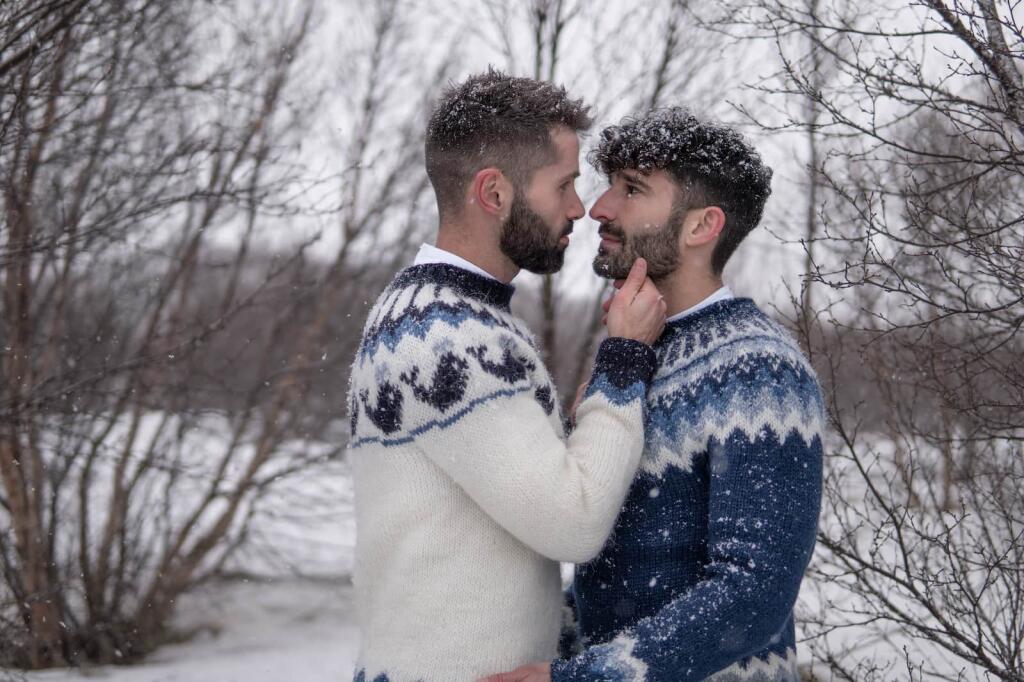 Reykjavik's gay neighborhood
Iceland is tiny, with only 350,000 people living on the island. And Reykjavik is even tinier: 120,000 people to be exact.
In other words, don't arrive expecting a huge party scene that you'd find in New York, gay Fort Lauderdale, London, or gay Barcelona.
There is a small "gayborhood" based around the Kiki gay club in the downtown region, which gets particularly busy on weekends, especially during its drag shows. There's also a handful of places that host the occasional LGBTQ event. Gaukurinn Bar is an example of a "straight bar" that frequently attracts an LGBTQ crowd. And as it's so small, the LGBTQ community is tight-knit and affectionate, where everyone knows everyone.
But to be brutally honest with you, we saw gays everywhere! Almost every bar/club we went to had gays mixed in 'cause that's how gay friendly this city really is.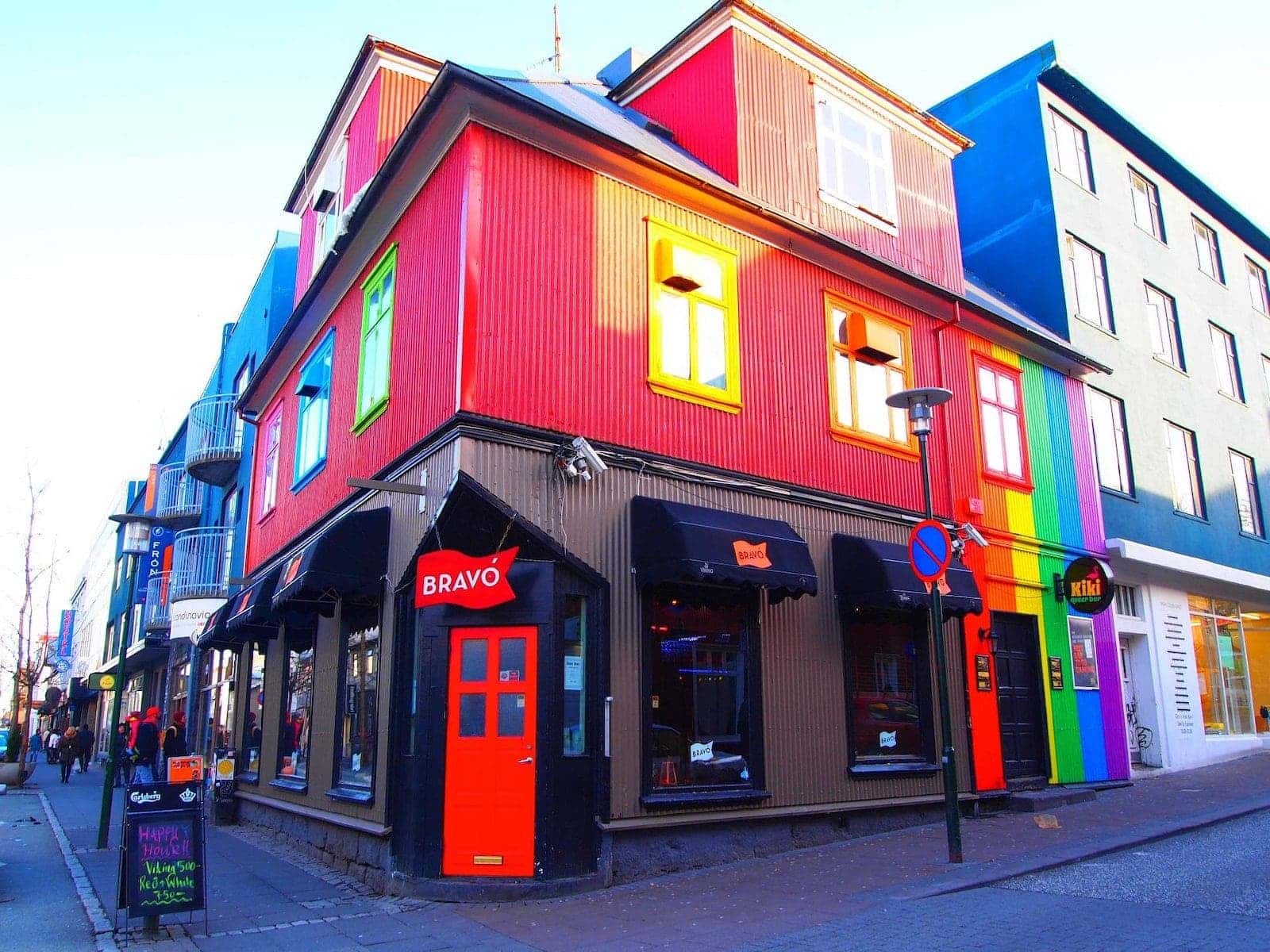 Gay travel agent in Iceland
Pink Iceland partners up with LGBTQ-themed businesses across the country, serving as the middleman between you and your travel dreams. Our experience with them was nothing short of magical. For our anniversary, they went above and beyond, connecting us to experiences that took us around the Golden Circle and the Reykjanes Peninsula.
They also operate as a gay wedding planner, helping couples with every detail for their big day. From rifling through all the pesky paperwork, picking out floral arrangements, and offering suggestions for the perfect honeymoon location, they've planned over 500 weddings. So you know you'll be in safe hands!
Gay hotels in Reykjavik
Just like buying property, the trick to finding the perfect gay friendly hotel is all about location, location, location. You'll want somewhere close to everything, but that also serves as a peaceful refuge from the hustle and bustle of the city. We've got you covered.
Gay bars in Reykjavik
There are no outright gay bars in Reykjavik. Unsurprising, given how tiny the city is. The upside is how the gay friendly spirit of Reykjavik has spread across all the bars, meaning queer people are welcome anywhere. The ones that are particularly popular with the LGBTQ fam are set out below:
Gay cafes in Reykjavik
Iceland is underrated when it comes to its coffee. We weren't expecting to fall in love with its range of cafes, but we did. So, we created a whole section to gush over the best gay cafes in Reykjavik.
Gay clubs in Reykjavik
Whilst there is only one gay club in Reykjavik, it more than makes up for it with its loud and proud presence, great dance music, and must-see drag shows. Let's have a kiki!
Gay saunas in Reykjavik
For a country so famous for its spas, we were just as surprised as you were to discover there were no gay saunas. Booooooo!
Sadly, the gay hook-up culture has dulled the outdoor gay cruising / gay sauna scene in Reykjavik. Oh well, it was too cold to go out cruising anyway…
Never fear! There are plenty of excellent thermal baths around the city, which we highly recommend trying out – all of which are gay-friendly. Just don't go in offering the gentlemen next to you a quickie…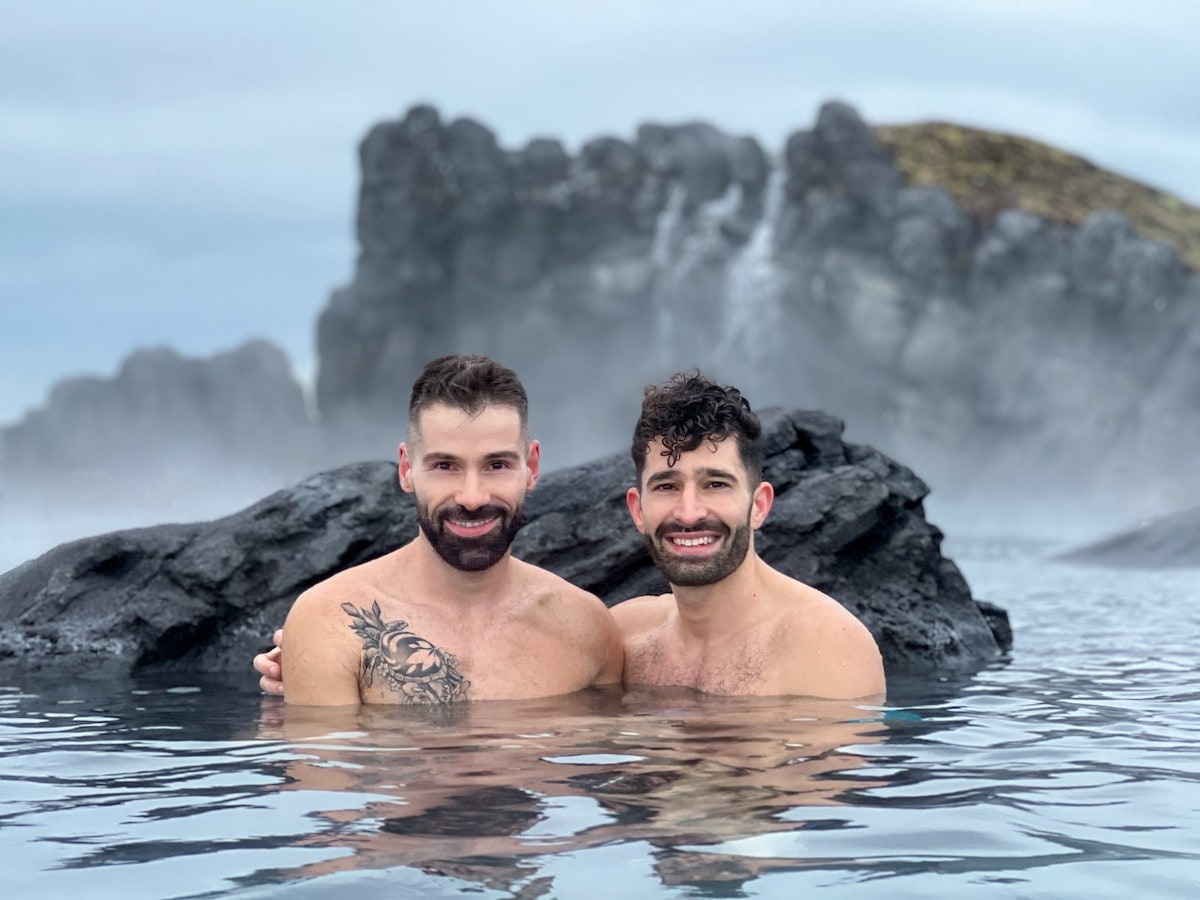 Reykjavik's Gay Pride and Events
It's no fun being queer if you can't celebrate. Hence why we love going to Pride events. Especially in other places around the globe to experience how they do Pride. Reykjavik has several LGBTQ-themed events, which we've listed below.
With 100,000 visitors each year, Reykjavik Pride receives a 30% turnout out of its entire population – pretty impressive if you ask us! And like any other Pride event, it's full of music, dancing, drag queens, and families, all celebrating their LGBTQ pride. We recommend checking out Pink Iceland's "Pink Pride Package". It's a great way to discover the colorfully queer history and culture of Reykjavik. It takes place across three days and includes an LGBTQ walking tour of Reykjavik, a trip to the Sky Lagoon, the impressive waterfall, Gullfoss, and of course, celebrating the Reykjavik Pride parade.
We love a bear. Although since we're up near the Arctic, could we technically call them polar bears? A more low-key version of the main Pride event in August, Reykjavik Bear consists of 3 events. There's the luscious trip to the renowned Blue Lagoon, where guys can kick back their feet and unwind, a day trip to the jaw-dropping, Golden Circle, and a tearful, farewell brunch.
Pink Iceland doesn't hold back when ringing in the New Year. Their New Year's Eve package is full of stellar activities that will inspire you to make ground-breaking resolutions and shed the year past. Across four days, you'll take an LGBTQ-themed walking tour of the city, take a road trip around the magnificent Golden Circle, potentially glimpsing the awe-inspiring Northern Lights, before enjoying a bonfire as you countdown the final seconds of the old year. And to cap it all off, you'll unwind in the Blue Lagoon on January 1st. After all, they say to start the year as you mean to go on.
Gay friendly restaurants in Reykjavik
When we experience a new city, we want to get right to the heart of it (as do our bellies!). As self-admitted foodies, we take great pleasure in finding out all the best restaurants for sinking our teeth into.
Best things to do in Reykjavik
Time to climb out of your warm hotel bed and see the city. There is so much more to Iceland than the Northern Lights and spa trips, but hey, that doesn't mean you can't squeeze it onto your to-do list!
Plan Your Trip To Reykjavik
Gay map of Reykjavik
We've put together this handy map for you to plan your own fabulous gay trip to Reykavik. We hope it helps you have an awesome time!