TERMS OF USE: There is a chance that some of the content on this page has changed since it was last updated. By reading this article, you consent to our Terms of Use and Disclaimer. Happy Travels!
DISCLOSURE: Some of our posts may contain affiliate links which we may receive a commission if you choose to book something through one of our links.
Our pick of the most gorgeous gay resorts in Cancun, from all-inclusive options to adult-only resorts and family-friendly spots.
Who wouldn't fall in love with Cancún?
It's known for beautiful beaches, turquoise blue waters, and fabulous gay friendly resorts. It's a hotspot for honeymooning and for anniversaries. Walking down the streets, we couldn't help but notice how everyone we came across seemed to be celebrating some relationship milestone. The place oozes romance and relaxation.
And while you might know us for our chaotic adventures backpacking through Asia and Europe and partying in clubs, we do like to slow down every once in a while. And Cancún is just the place.
Each of the gay friendly resorts we've picked out is within 10 minutes of each other in an area known as the 'Zona Hotelera' or 'Tourist Zone'. It's a strip of land, mainly frequented by tourists that are perfect for those looking to hit up the beaches, as it sits minutes away from each resort. FYI: Gay travelers generally hang out around the Playa Mamitas and Playa Delfinas areas – places that can get a bit more cruise-y in the evening.
To hit up the main attractions and visit some clubs and bars, swing by downtown Cancún, which is just 20 minutes away by bus. Cancún has a small yet thriving gay scene in the El Centro area. This is where you'll find lots of LGBTQ clubs with drag acts, music from all the pop divas, and dazzling disco lights.
But for now, here's our list of the 6 best gay resorts in Cancún!
Is Cancun safe for LGBTQ travelers?
We thought Cancún is very gay friendly and welcoming to us as a gay couple. Whether we were booking a double bed in a hotel, dining in a restaurant, or walking down the street holding hands, everyone we met was super friendly and accepting. Gay marriage is legal in Quintana Roo, the state where Cancún is located, so most locals are very open-minded and hold liberal-leaning views.
As always, exercise caution when out in public, as with anywhere in the world, there are instances where some people may give you strange looks from time to time. Though with tons of gay clubs and bars around the downtown area, most locals are used to seeing LGBTQ people together, meaning you should generally have no issues.
Entry requirements for Mexico in 2023
You no longer need to show a negative COVID-19 test nor show evidence of vaccination to enter Mexico. Find out more detailed information about this on the Mexican US Embassy website.
All-inclusive gay resorts in Cancun
In Cancun, there aren't any gay resorts on par with the ones you'll find in Key West or Fort Lauderdale. There are instead many adult-only resorts that are extremely welcoming to LGBTQ travelers, most of which offer an all-inclusive package.
We've put together this list of gay resorts in Cancun based on our own first-hand experience traveling as a gay couple, as well as recommendations from other gay travelers who've stayed there.
01
Temptation Cancun Resort
Adults only and all-inclusive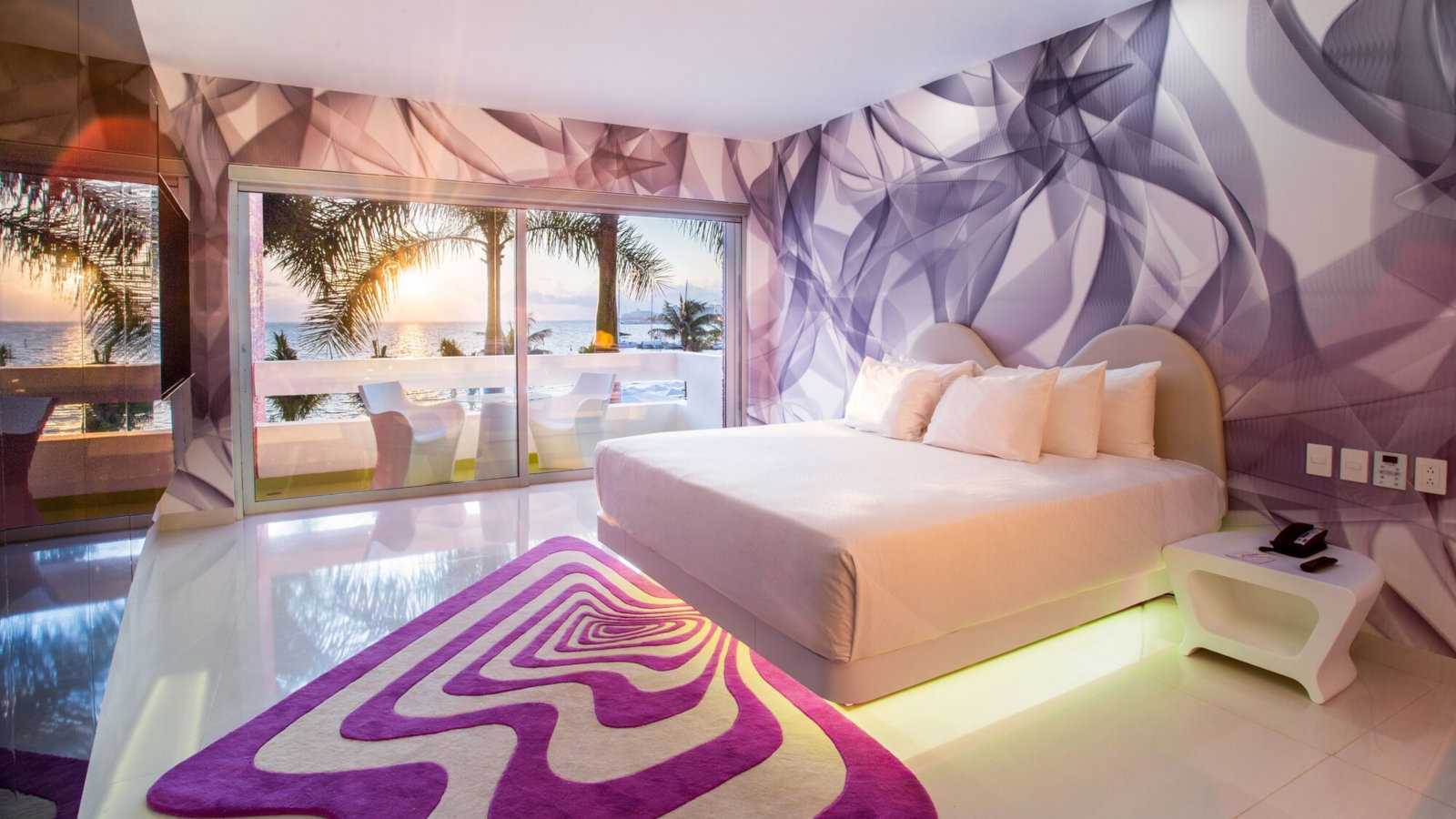 In a nutshell
---
Topless optional "playground for grown-ups"
3 themed pools, 7 hot tubs and massage services
7 on-site restaurants
6 bars and nightly entertainment
With a name like Temptation, you're probably imagining a super salacious environment with free-spirited guests and risqué night shows. And honey, you'd be completely right! That's exactly what you'll find. They don't call it the "playground for grown-ups" for nothing…
In this gay friendly resort, everyone can go topless – yes even the girls! We were especially grateful for this given the Mexican heat. This is most certainly an adults-only gay friendly environment.
We loved joining in on the impromptu foam parties and drinking games that happen around the infamous "Pool" !
Though, if we felt more in the mood for relaxing, we could always unwind by the quieter swimming pool which had a swim-up bar to get drinks from. And with 7 hot tubs to choose from, we were spoiled for choice.
The standard-priced rooms have a cool design splashed on the walls, giving a super cozy and artistic vibe. The higher-priced rooms have their own jacuzzi on the terrace, namely the luxurious Beachfront Suite. Talk about living it up.
For food, the gay friendly resort has 7 on-site restaurants, 5-bars, and a café. Whether we had a fancying for a classic buffet, some pan-Asian cuisine, seafood, or a juicy steak, there was always a place to go. They even have a couples-only aphrodisiac dining experience, which we'll say definitely helped get us in the mood for…some more relaxing!
Prices at Temptation start from $388 per night:
---
STAY WITH A GAY LOCAL
Misterb&b is the Airbnb equivalent for the LGBTQ community. Unlike on Airbnb, you know your host is gay, voiding any nasty surprises when you check-in. It is also a great way to meet gay locals and discover the underground gay scene. Click below to get 10 € (or $10) off our first booking.
02
Le Blanc Spa Resort Cancun
Adults only and all-inclusive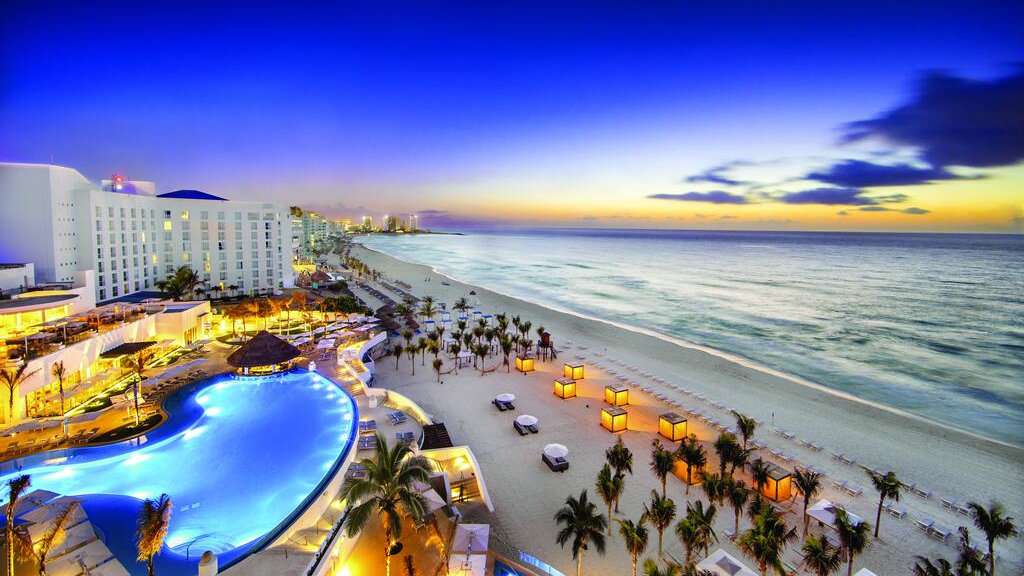 In a nutshell
---
Personal butler service
Incredible spa with revitalising treatments
Completely smoke-free resort
3 outdoor pools, sauna, steam room and state-of-the-art gym
This gay frienldy resort is all about relaxation – so much so, that they even provide a butler service for their guests to take advantage of. These guys will do anything for you. Whether it's unpacking your bag, fetching food for you to enjoy in your room, or even drawing a lovely bath, no request is too big or small.
Each room is super modern and spacious, decorated in creamy whites and soft wooden furnishings. After all, it helps to come back to such a tranquil space after a long day of, well, relaxing.
Also, no need to feel hangry here, especially with the incredible restaurant choices. At the Bella, you can dine on classic Italian cuisine, whereas in Yama, you can enjoy some exquisite Japanese delicacies.
During the day, you can workout at their incredible fitness center, which offers lots of classes to keep you active, from yoga to TRX.
When you're done working out, we recommend going for a Kukulkan massage in the spa. It's a treatment where 4 hands are used to choreograph rapid movements along the body, similar to the movements of sacred Mayan animals like the snake, eagle, or jaguar.
Prices at Le Blanc Spa Resort start from $527 per night:
---
03
Secrets The Vine Cancun
Adults only and all-inclusive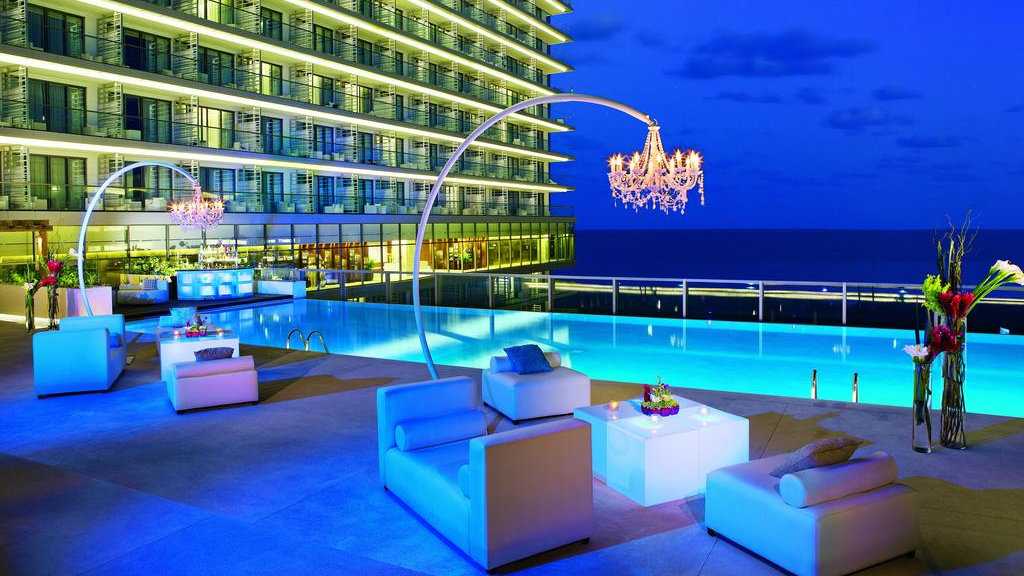 In a nutshell
---
6 on-site restaurants
3 outdoor swimming pools
World-class spa with sauna and steam room
Lots of fun activities and entertainment
When a place has the word 'secret' in its name, you know it's going to be special. It's all-inclusive, adults-only, and gay friendly, three things we love to hear.
Each room is elegantly designed with porcelain floors, teak wood furnishings, and a private terrace or balcony. They also have their own complimentary mini-bar that stock an assortment of soft drinks, bottled water, juices, and beer; meaning you can enjoy a nightcap with a loved one at the end of each day.
There is always something going on around this gay friendly resort, whether it be a live music performance, beach party, cocktail-mixing class, or a wine tasting. We especially loved the dance classes – which was really just an excuse to show off some of our epic moves. At night, we fell in love with The Red Vine piano lounge, a place that's particularly relaxing for lovers of classical music.
There are six gourmet restaurants to choose from, each with special cuisines from around the globe including Mexico, the Mediterranean, the Far East, and Italian. The Vine Bazaar means guests have access to 24-hour dining, so if you need a bite to eat after a night parting in the downtown area, you are covered.
The resort also has two infinity pools, plus a whirlpool, each with poolside wait staff so you can order a sweet cocktail while you lounge by the water.
Prices at Secrets The Vine start from $203 per night:
---
04
Hyatt Zilara Cancun
Adults only and all-inclusive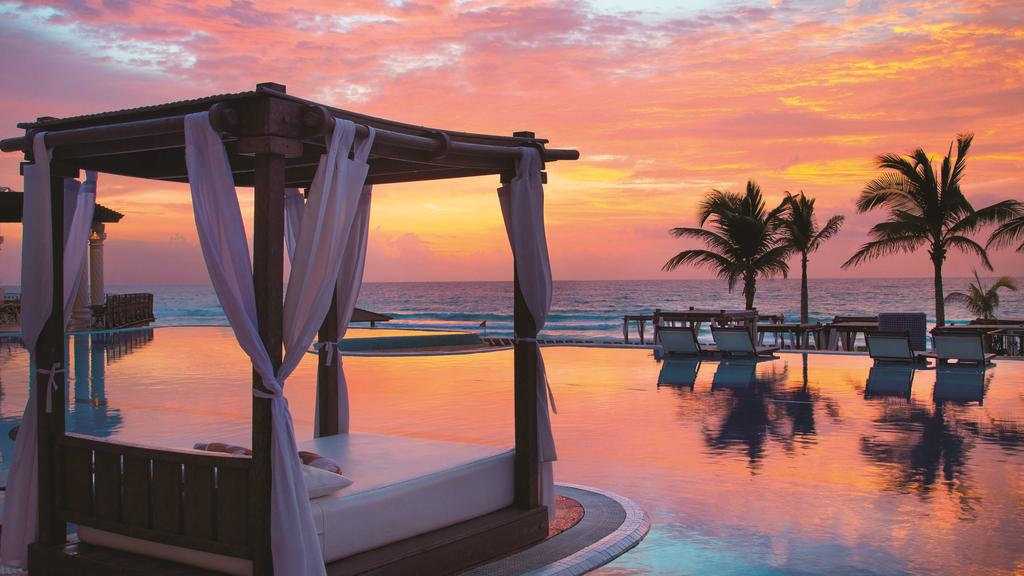 In a nutshell
---
Multiple pools including the infinity rooftop pool
Luxurious spa with exquisite treatments
6 restaurants and 5 bars on-site
Lots of sport and fun activities available
On the widest part of the beach, you'll find the incredible Hyatt resort. It's the perfect place for couples on a honeymoon or on a romantic gay getaway, with lots of intimate spaces, like the stunning rooftop pool which boasts incredible views over the beach.
There are many room options to choose between, all dependent on how much you want to relax, your budget and how you want your overall experience to feel. On the lower end of the scale are the Junior Suite Kings, complete with their own whirlpool tub and water view terrace. Whereas if you feel like splurging, go for the Ocean View Swim Up Suite King for a split-level room, easy pool access, and exclusive access to the Chef's Plate gourmet restaurant.
To truly relax, you can venture into their humongous spa – filled with the likes of herbal steam rooms, whirlpool baths, experience showers and an ice fountain. We especially recommend seeking out some hydrotherapy treatments – ideal for rejuvenating your body.
There are also tons of live entertainment acts for you to enjoy. In the past, the resort has hosted performances from traditional mariachi bands to aerial and acrobatic circus shows. For a truly intimate evening with a loved one, book yourself into a cabana, where you'll get to dip into a relaxing pool and soak up the incredible Caribbean scenery.
Prices at Hyatt Zilara Cancun start from $308 per night:
---
Happy travels are safe travels
We recommend you always take out reputable travel insurance before your next vacation. What happens if you suffer from illness, injury, theft, or a cancellation? Many gay travelers forget about it and regret it when something happens. Better to pay a small price and have peace of mind and not worry.
05
Omni Cancun Hotel & Villas
Gay family friendly and all-inclusive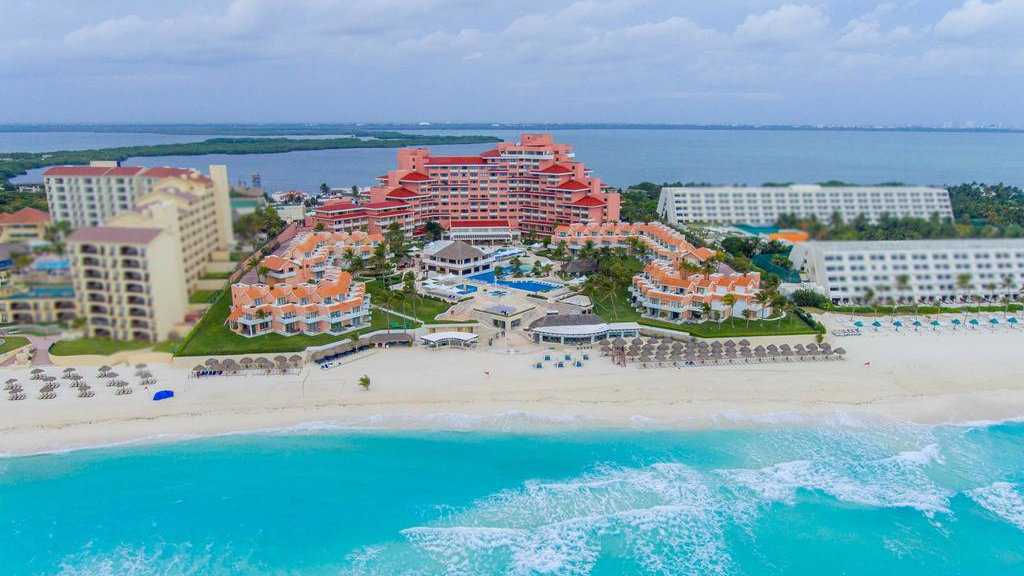 In a nutshell
---
Massive pool with waterfalls and swim-up bar
35-person spa bath overlooking the ocean
Pampering spa with sauna, salon and state-of-the-art gym
Perfect spot for seeing (and helping) turtles!
Calling all lovers of luxury, fun, and sea turtles, the Omni Cancun Hotel and Villas has it all! It is the perfect resort for families, gay and straight.
All rooms have an ocean-view and are exquisitely decorated. To spoil yourself, choose a villa, with no fewer than 3 floors(!), massive bedrooms, and full-sized kitchens.
To relax, you can sink into a hibiscus-shaped hot tub or swim between the three interconnected swimming pools. And if you're feeling a bit parched, swing by the Kuku Beach Bar and pick up a delicious cocktail. There are also tons of water games that all family members can enjoy, like water polo, water basketball, and water volleyball.
Their beaches are a popular nesting ground for a variety of sea turtles from May to November. The Omni resort actively supports conservation initiatives to safeguard these adorable creatures. Seb and I are obsessed with turtles, so we made it our mission to spot as many as we could!
A stroll along the beach will allow you the chance to find the loggerhead sea turtle, hawksbill turtle, Mesoamerican river turtle, and the leatherback turtle. We personally can't decide which one is more adorable but love that spending our money here helps to protect them.
Prices at Omni Cancun Hotel & Villas start from $300 per night:
---
What to do in Cancun?
Cancun may be known for relaxation and partying, but there are other fun things to do if you can drag yourself out of the resort! It's the perfect base for exploring nearby sites like Chichén Itzá, Isla Mujeres and Tulum, so make sure you see what you would be interested in doing.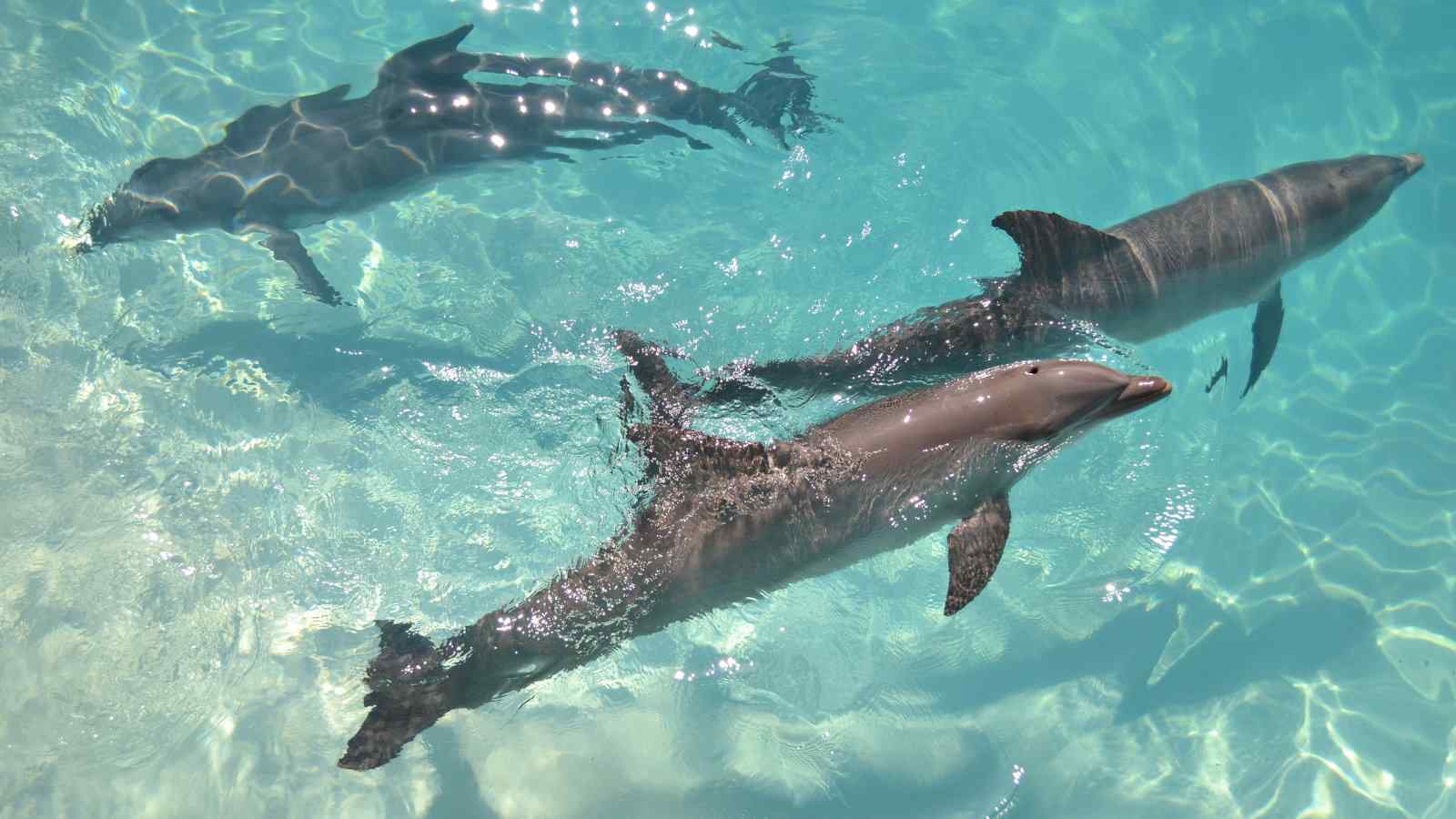 06
The Westin Lagunamar Ocean Resort Villas & Spa Cancun
Gay family friendly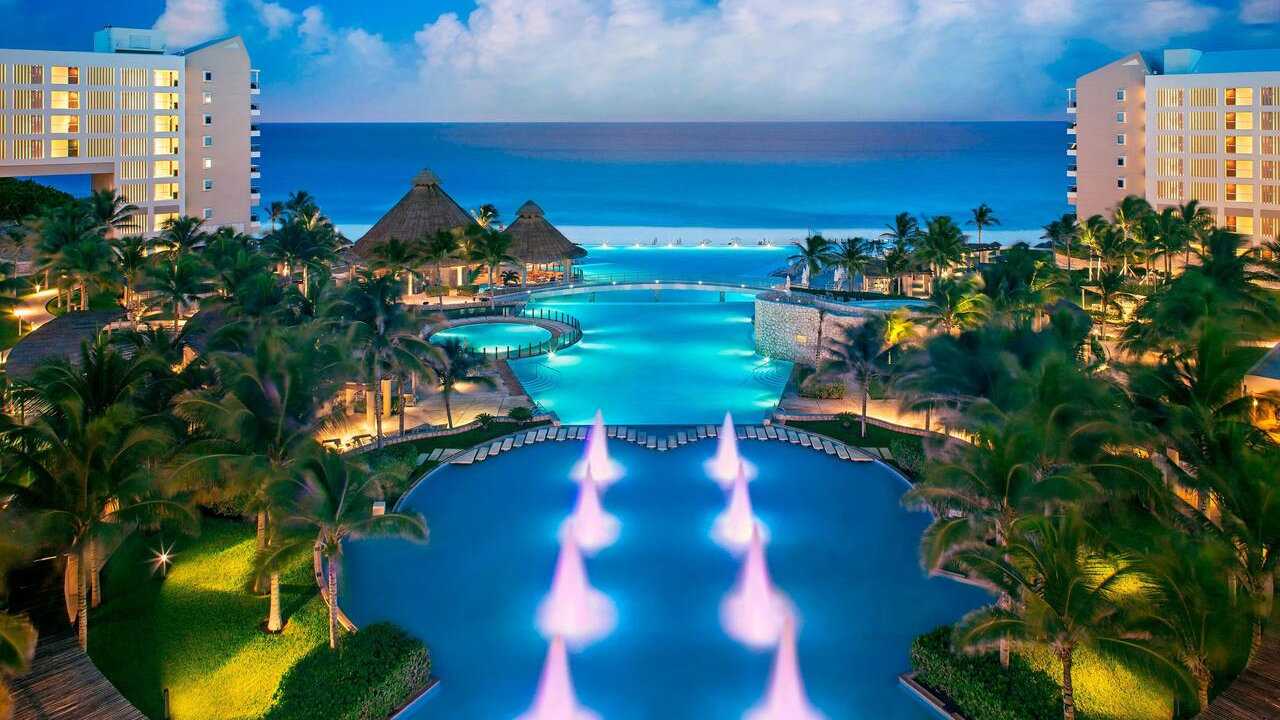 In a nutshell
---
Incredible spa facilities
2 outdoor pools and a private beach
Multiple bars, grill, restaurant and on-site market for self-catering
Green initiatives for environmental sustainablity
Picture this: you wake up in the morning, slink from your king-sized bed and emerge onto a balcony that overlooks the strikingly beautiful Caribbean Sea or the peaceful Nichupté Lagoon. You stretch and bask in the gorgeous Mexican sun and think about the day of relaxation ahead.
Perhaps spend a day in the spa, rejuvenating your body and mind with an assortment of treats. While there, the toughest choice you'll face is whether to go for a couples massage or a facial (we encourage both – why not?). This gay friendly resort also boasts a gym, a kids pool, an infinity pool, and a sauna.
Choose between staying in a villa or a studio for your accommodation, with each room boasting oceanfront views. A perfect choice for gay families would be the 2-bedroom villa, as it has lots of space and is fabulously decorated. Whereas a couple or a solo traveler might be better suited to one of the smaller studio rooms.
Each room has a kitchenette or a full-sized kitchen so you can prep a homecooked meal. If you'd rather eat out, you have a choice to dine on Mexican cuisine in the Oceano restaurant or perhaps chow down on some burgers in the Dune Sports bar. Whichever tickles your fancy!
Prices at The Westin Lagunamar Ocean Resort start from $182 per night:
---