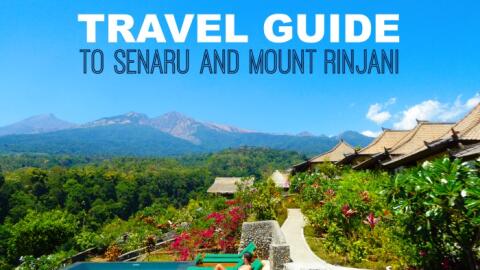 Indonesia is a paradise for adventure seekers. The Komodo National Park has some of the best diving we've ever experienced. But venture above ground and you will find an incredible landscape just waiting to be discovered.
Indonesia is located at the meeting point of the Eurasian, Indo-Australian Philippine and Pacific Plates on the Western side of the Pacific "Ring of Fire": the edges of the Pacific Ocean where many tectonic plates meet and of course collide, causing the majority of the world's earthquakes and volcanic eruptions.
So, it certainly receives its fair share of dramatic landscape as a result of all this seismic activity!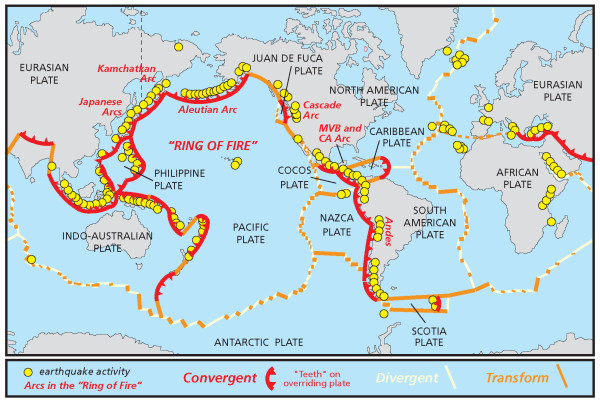 But let's firstly get one thing straight: this is hardly your typical gay destination. Certainly don't come here expecting to find gay bars, pride parades and other rainbow flag inducing entertainment.
This is a destination geared to the adventure-seeking, trekking enthusiast who doesn't mind roughing it a bit.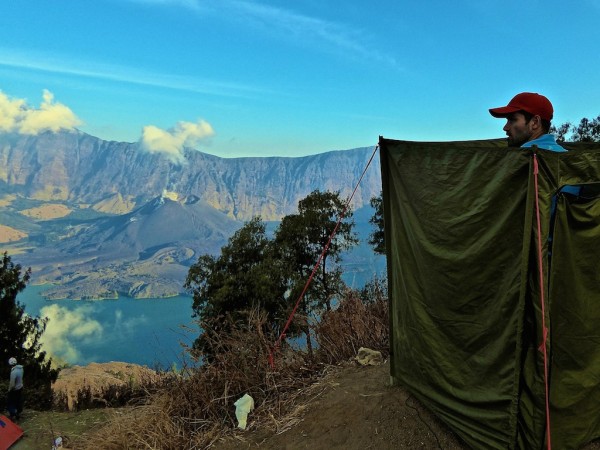 #1

WHERE IS SENARU VILLAGE AND MOUNT RINJANI?
Mount Rinjani is one of the highest volcanoes in Indonesia, rising to 3,726 metres (12,224 feet) and located near Senaru village in the Mount Rinjani National Park.
Senaru is located in North Lombok island, at an altitude of 600m (1,969ft).
#2

TREKKING THE ALMIGHTY MOUNT RINJANI
Most people visit Senaru Village as a base to start and finish treks to Mount Rinjani. We did a 2 days/1 night trek to the crater rim (around 2,600m / 8,530ft), where we camped for the night.
This was one of the toughest treks we've done, despite it taking only 2 days, the feeling in our legs afterwards was enough to rival our experience trekking the Annapurna Circuit in Nepal.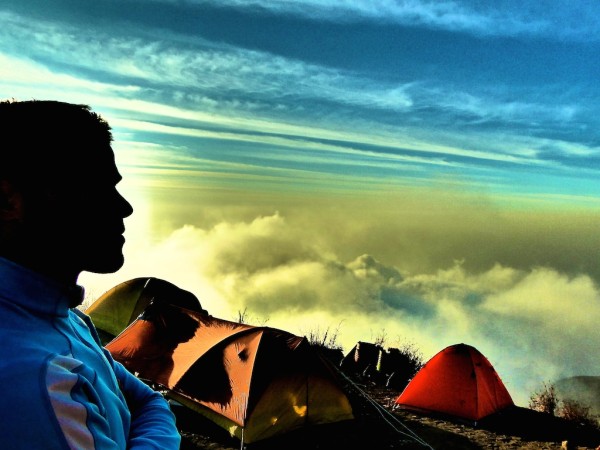 The first day of our adventure to the crater rim involved an intense uphill 7 hours climb. We set off from Senaru village at 8am and arrived at the crater rim at 4pm with 1 hour lunch break.
By the time we arrived at the crater rim we were absolutely exhausted. And being quite high up, the temperature dropped quite a bit. Feeling absolutely knackered and cold, we ended up cursing and arguing a lot to each other and questioning why on earth we bothered to do this in the first place.
Then this happened: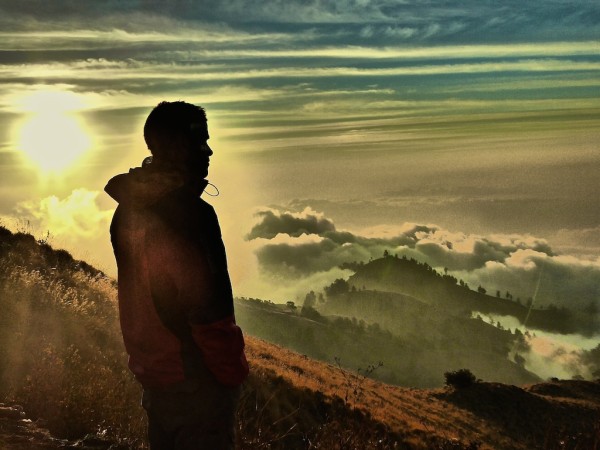 The views from above the clouds made the trek completely worthwhile. We had a beautiful sunset and woke early the next morning to watch the sun rise over the mountains through the clouds. An incredible and romantic moment; all the complaining and bickering suddenly forgotten!
And in any case, day 2 was a lot easier as it was only a 4 hours downhill trek back to Senaru (with no breaks).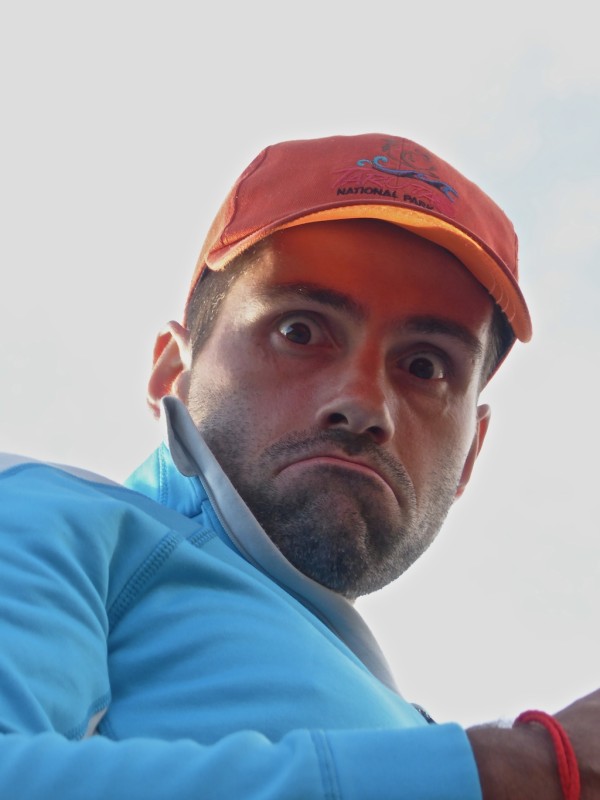 It is of course perfectly safe to trek to the crater rim of Mount Rinjani, especially if you use a reputable tour company who are eco minded.
The trek to Mount Rinjani gets busy and rubbish unfortunately left behind by inconsiderate people. Our porters and guide however made a point of ensuring we left no rubbish behind and even collected other people's plastic waste disregarded along the way.
It's absolutely incredible to see a tour company doing this. For this reason alone, we urge all travellers to support and use an eco-minded tour company.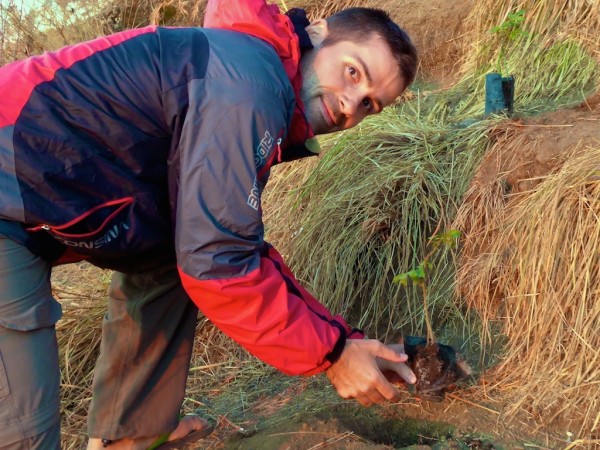 We had 1 guide and 2 porters for our trek and took the deluxe service, which cost $260 per person.
We realised it was well worth the cost when other groups looked at our larger tent with envy and seethed jealously at our delicious, well prepared meals. We even had our very own personal toilet tent.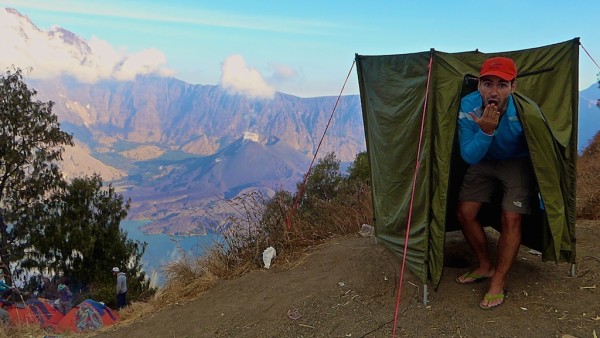 The actual active part of the volcano is in the centre of the caldera where a new mountain (called Barujari) was formed following the eruptions in 1994 and 1995 and is now surrounded by a lake.
In fact Mount Barujari recently erupted (literally days after we visited!), grounding flights into Bali and Lombok. As a result, the Mount Rinjani National Park remains closed until further notice, but we advise checking with Green Rinjani for the latest news.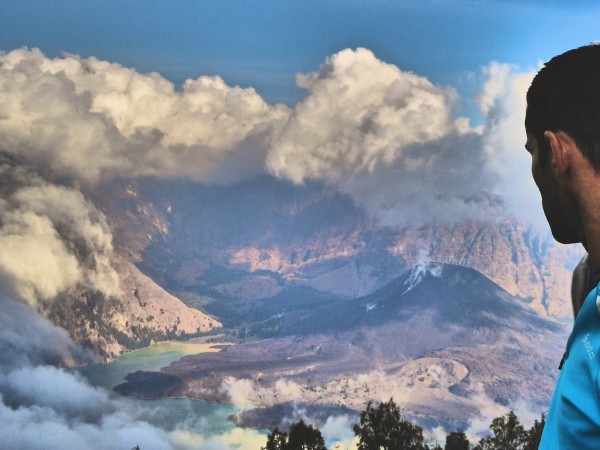 #3

EXPLORING THE DRAMATIC WATERFALLS
Senaru is surrounded by 2 popular and quite dramatic waterfalls in the Mount Rinjani National Park, which can be visited as a half day trip.
The first one, closest to the national park main entrance is called Sendang Gile, It is named after a legend about a prince who hid here after being chased by a crazy lion (Gile means crazy in the Indonesian language: Bahasa).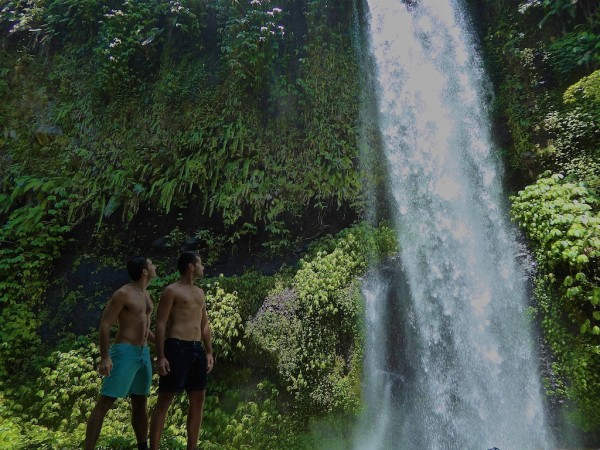 The second waterfall is called Tiu Kelep (Tiu means pool and Kelep means fly) and is around 45 minutes trekking from the main entrance through the thick jungle and small rivers. We recommend wearing flip flops or sandals instead of trekking shoes which you would just end up carrying and going barefoot.
But it's well worth the effort, if anything for the impressive jungle scenery along the way.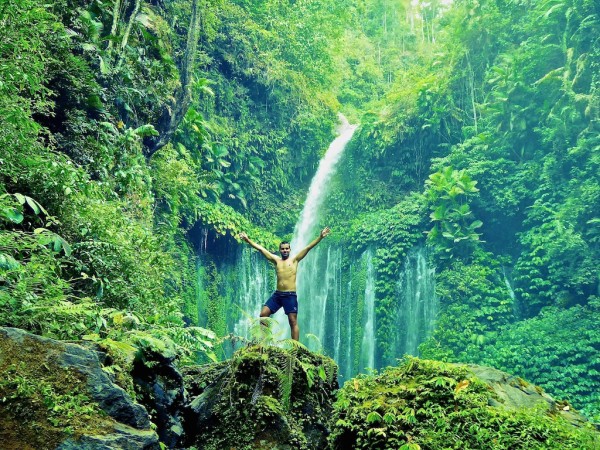 The waterfalls get quite busy on weekends attracting many locals who believe a dip in pool area by Tiu Kelep can cure many diseases and make you look younger.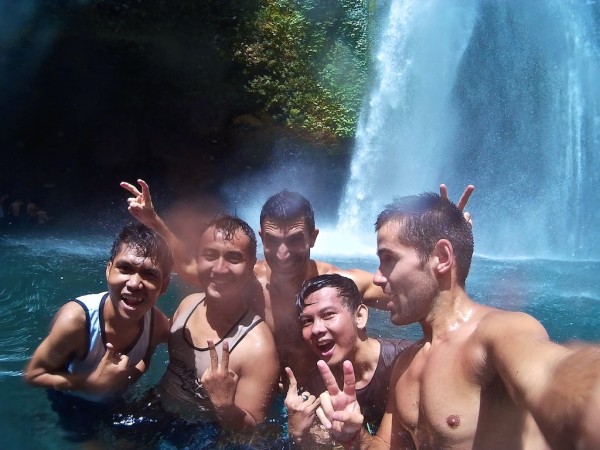 #4

WHERE TO STAY IN SENARU
We based ourselves at the excellent Rinjani Lodge during our stay at Senaru Village and cannot recommend it highly enough.
The reason why we completed day 2 of our trek in only 4 hours with no breaks? We had the Rinjani Lodge infinity pool on our minds to look forward to and drive us on.
Put it this way, tour guides have Rinjani Lodge as an important stop on their itinerary, so their guests can wow at the pool and take a refreshing dip with an astonishing view of the mountains and countryside around you.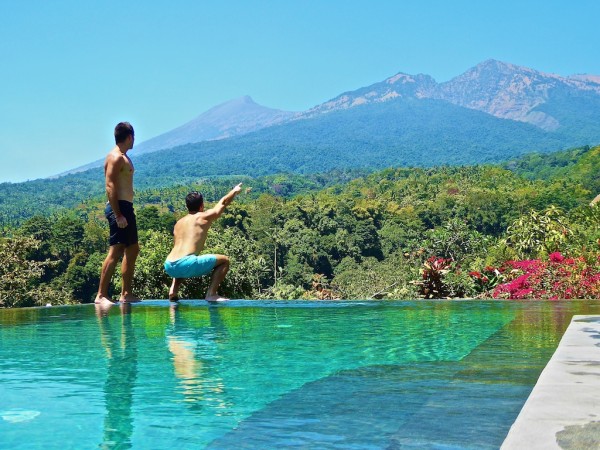 Staying here you have this incredible pool all to yourself because they have one pool for members of the public using their restaurant and a second separate one for the private use of guests.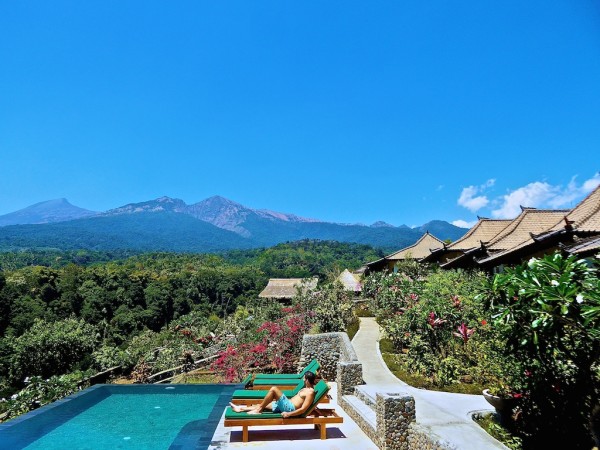 Rinjani Lodge works closely with the local tour companies, so you can use it as a base to leave your large bags/suitcase when trekking.
And returning here after a strenuous trek to nearby Mount Rinjani is absolute bliss. After 2 days of no showering and absolute exhaustion, returning "home" to just relax in the Rinjani Lodge infinity pool was a great way to motivate you on that 4 hours long return climb down.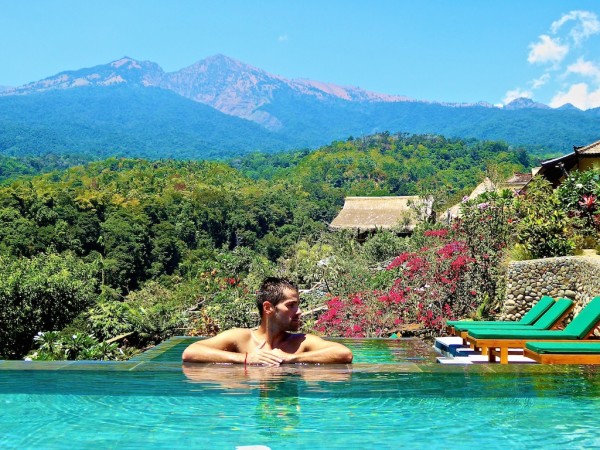 We felt completely welcomed at Rinjani Lodge. The staff at Rinjani Lodge are locals from Senaru village and were extremely welcoming to us as a gay couple.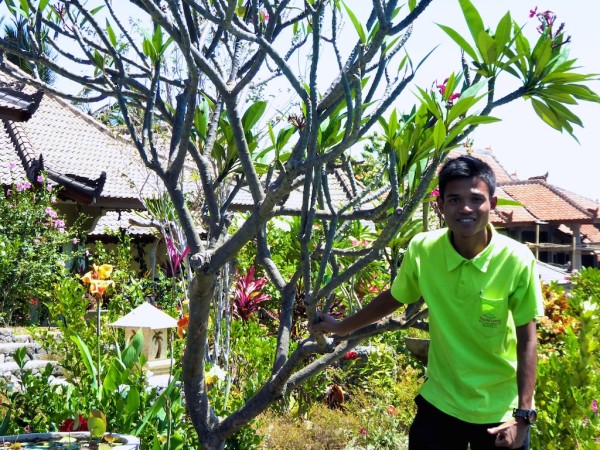 Rinjani Lodge also has a terrific restaurant serving a variety of delicious local and Western food. We were really impressed by the quality of the food and just ate all our meals here. Try their ginger Lombok coffee and prepare to be blown away.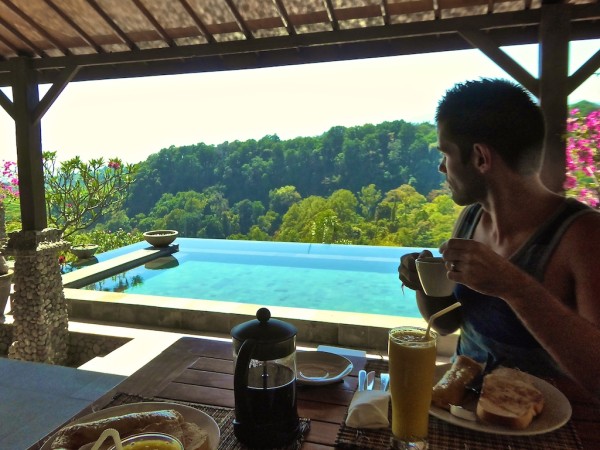 There's only 5 rooms and they fill up quick, so we definitely advise booking in advance to stay in this little village paradise.
Just watch out for those cheeky monkeys…they also like the infinity pools a lot!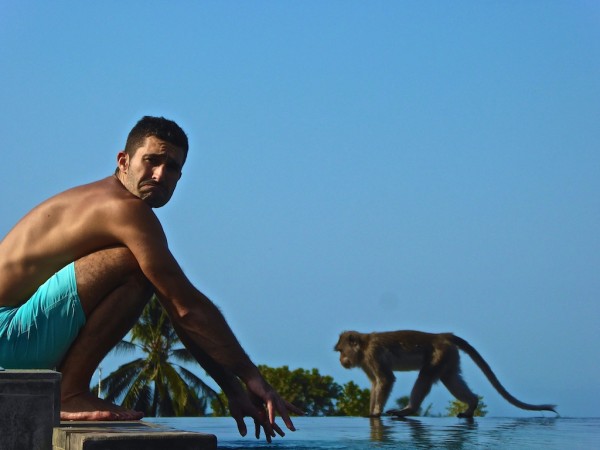 Happy travels are safe travels
We recommend you always take out travel insurance before your next vacation. What happens if you suffer from illness, injury, theft or a cancellation? With travel insurance, you can have peace of mind and not worry. We love World Nomads travel insurance and have been using it for years. Their comprehensive coverage is second to none and their online claims process is very user friendly.