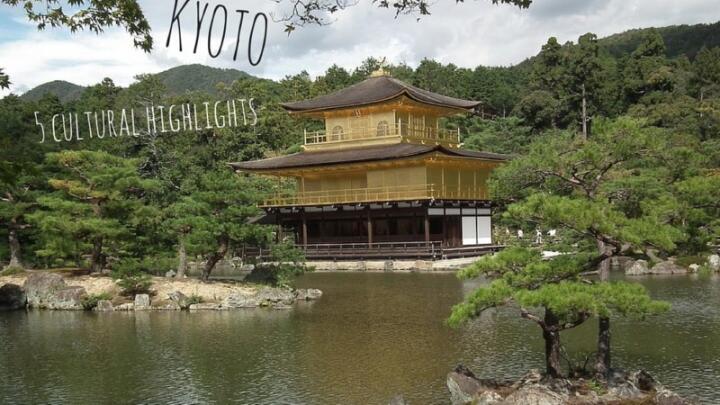 Kyoto is THE place you want to head to in Japan for culture.
Remember all of those beautiful scenes you see in films like Memoirs of a Geisha? They're set right here.
Kyoto was the former capital city of Japan until 1869 when it was moved to Tokyo. It has retained its regal charm and as a result is packed with incredible gardens, beautiful monuments and heaps of blow-me-away temples.
This is our guide for what to do in Kyoto including our 5 favourite cultural highlights you won't want to miss.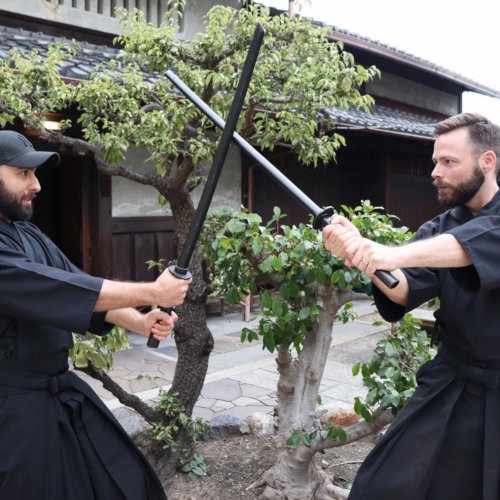 Experience Japan on a gay tour
Psst! Want in on a secret? Our friends at Out Adventures recently launched a super kawaii tour of Japan. On this all-gay foray, travelers will ride the Shinkansen bullet train between Osaka, Kyoto, and Tokyo. Highlights include a street food tour, samurai experience, a night in an authentic onsen, and an evening in Tokyo's gay district, Shinjuku Ni-chōme.
#1 THE GOLDEN TEMPLE
The Kinkaku-Ji Golden Temple is the mother of all temples.
It was originally built in 1397 as a villa belonging to the politician: Saionji Kintsune. After his death it was converted into a Zen Buddhist temple, burnt down in 1950 and subsequently reconstructed to its former glory.
It is one of the most iconic images of Japan and as a result, one of the most visited places in the entire country. Therefore, get used to sharing the magical moment with heaves of tour groups, everywhere.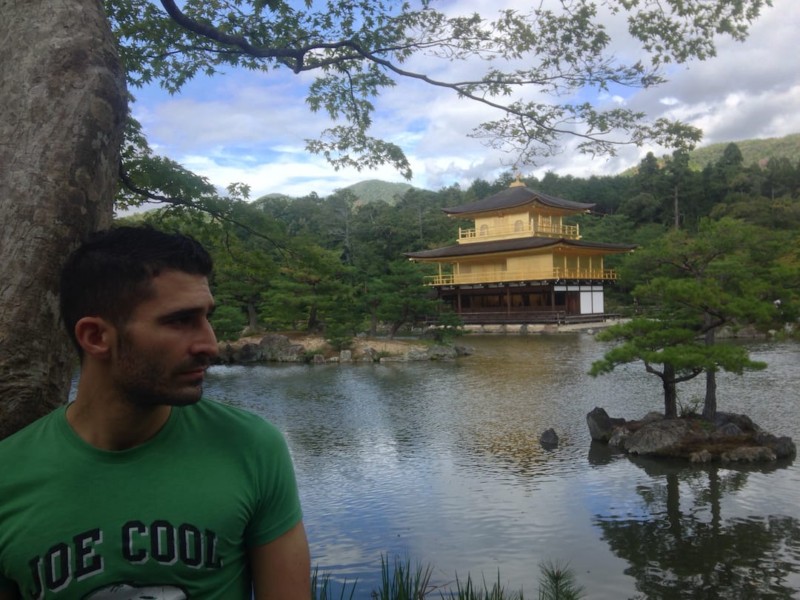 #2 THE ARASHIYAMA SAGANO BAMBOO FOREST
Arashiyama is a district in Northwestern Kyoto, 30 minutes by train from central Kyoto. It has a famous bamboo forest which is popular for its incredibly serene and relaxed environment.
The Sagano bamboo forest is famous for the rustling sound of the wind as it blows amongst the bamboo. In 1996, the Japanese Government's Ministry of Environment included it on its list of "100 Soundscapes of Japan" as part of its efforts to combat noise pollution by getting locals to rediscover the sounds of everyday life.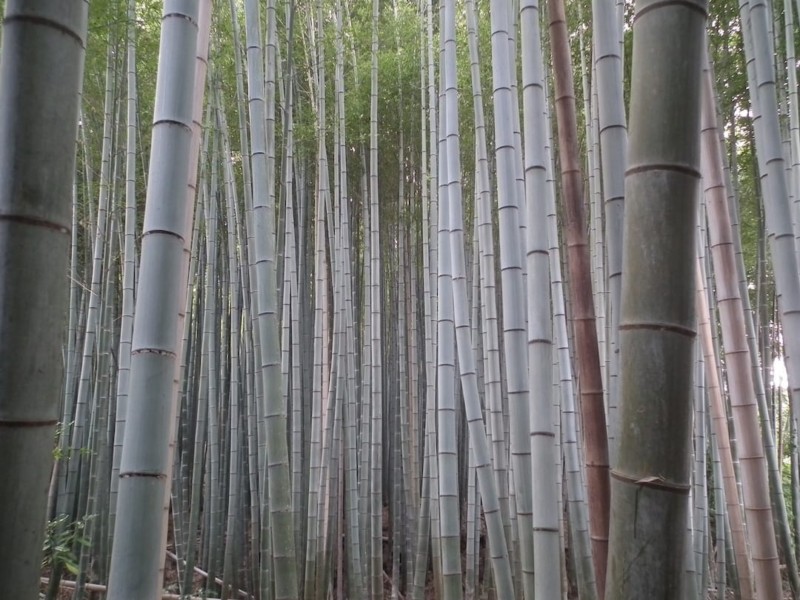 #3 THE PHILOSOPHER'S PATH AND THE SILVER TEMPLE
The Philosopher's Walk is a pedestrian mile long stone path that follows a cherry-tree lined canal in East Kyoto. It is named after the famous Japanese philosopher, "Nishida Kitaro" who practiced meditation while walking this route on his daily commute to Kyoto University.
This is the place to come and marvel at the famous cherry blossom in the Spring. The Autumn version in October isn't so bad either.
The Philosopher's Walk is also a good base to stop over into the many neighbouring temples alongside it. Our favourite is the Ginkaku-Ji Silver Temple, surrounded by immaculate and breathtakingly maintained gardens. Everything is so precise, extremely well maintained and so very photogenic.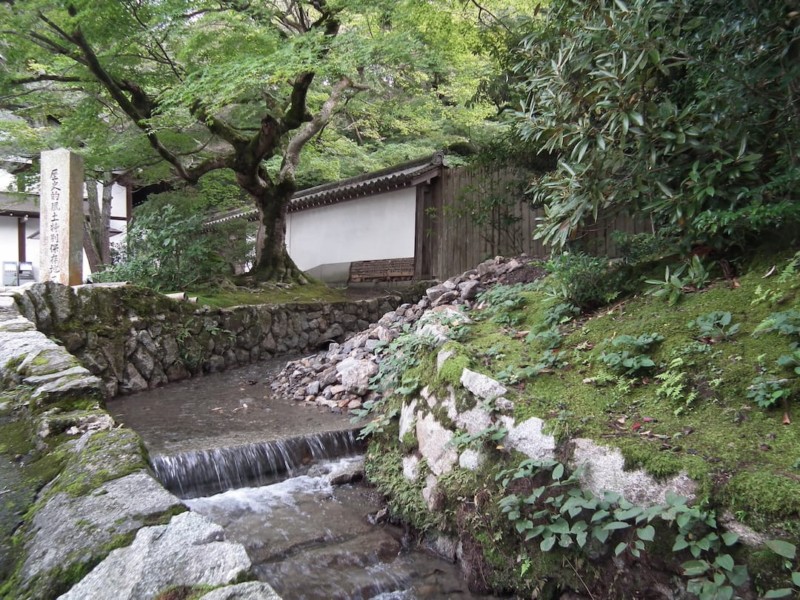 #4 GEISHA SPOTTING IN GION
Gion is the geisha district area of Kyoto where Memoirs of a Geisha was set. Tourists (including us of course) come here to try and get their money shot of one of the 2,000 elusive geisha.
The geishas are traditional Japanese female entertainers for the rich who will hire them for an evening. The word geisha literally translates as "art person". They are trained from a young age (called maiko) to perform various Japanese arts like classical music, dance and games.
They are particularly noticeable for their dramatic outfits and heavy white make up. If you don't manage to spot a geisha, then why not try dressing up like one yourself? Read our experience when we dressed up like geisha in Tokyo.
#5 FUSHIMI INARI-TAISHA SHRINE
The Fushimi Inari-Taisha shrine is located towards the Southern end of Kyoto. This is the shrine to Inari, the Japanese God of rice and the patron of business.
The shrine contains thousands of torri red gates, lined against each other, creating numerous corridors. These corridors take you up the Sacred Inari Mountain, 733 feet high, with some incredible views across the city.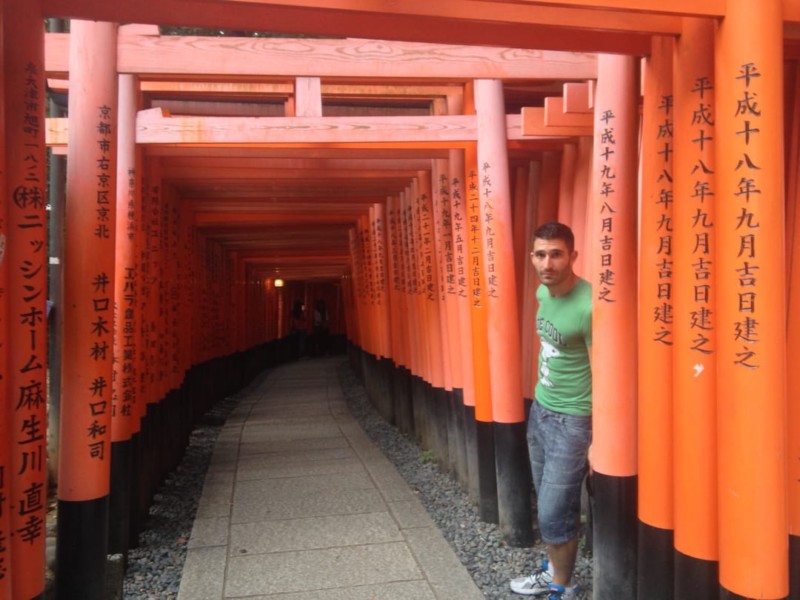 For more about Kyoto, check out Bobo and Chichi's excellent post about the 9 best things to do in Kyoto.
Travel recommendations to Japan
Train saving tips: Depending on how many trains you plan to take in Japan, it may be worth investing in a 7 days JR Pass ($250), which allows you unlimited travel throughout the country for 7 consecutive days. But you must buy it from an agent before you go.
We personally used Japan Rail Pass. They offered the best prices and would definitely recommend them.
Tour operator: We travelled independently to Japan but we're often asked if we can recommend a good tour company. We've partnered up with Out Asia travel who offer luxury private tours and tailored itineraries to Japan. These guys are locals, passionate travellers and have a real insight of Japanese culture. They are offering our readers an exclusive 5% discount for bookings of 7 days or more when you quote NOMADIC5 in your enquiry.
FILL OUT THIS FORM TO ENJOY A 5% DISCOUNT FOR YOUR HOLIDAY TO JAPAN
Travel insurance: Whether you go diving, hiking or just lay on the beach all day long, you need travel insurance. We use World Nomads because they offer considerable coverage especially for adventurous travellers. They also make it easy to make a claim as it's all done online.
Flights: To fly to Japan and within, we recommend Skyscanner. Their website is very easy to use and they always offer the best prices. You can even search for the cheapest flights for any given month.
Hotels: Japan has a huge diversity of accommodation options. It is not the cheapest country to travel in but we found that quality is consistent with the price you pay. When we plan a holiday, we use Tripadvisor to research about the best places to stay and activities to do. We also use Booking.com to find the best deals and to book accommodation online.
FOR MORE INSPIRATION:
Happy travels are safe travels
We recommend you always take out travel insurance before your next vacation. What happens if you suffer from illness, injury, theft or a cancellation? With travel insurance, you can have peace of mind and not worry. We love World Nomads travel insurance and have been using it for years. Their comprehensive coverage is second to none and their online claims process is very user friendly.
Pin for later