Get ready to SLAY in gay Kyoto: we bring to you the ONLY First-Timer's gay guide that you'll ever need. Sleep, Eat, Party, Explore, Repeat!"
'Seby, remember now. The Japanese are very polite people. So don't act like your usual, sassy self.'
'Excuse me, I'm not the one who rolls his eyes so hard they can see how rainbow-colored his brain is!'
A wee snippet of a conversation we had to have before jetting off to Kyoto – the former capital of Japan.
Throughout our many visits to Kyoto, we were swept off our feet by how kind, gentle, and pleasant its people were. It's truly a city of old souls.
Kyoto has held onto its ancient charm, yet, it has still found a way to feel modern, trendy, and exciting. Where else in the world could you find a street lined with temples, frequented by geishas, whilst being a stone's throw away from a cocktail bar?
Our trip to Kyoto was probably the least chaotic experience of our life. There were no mad gay clubs, or sneaky trips to a sauna, or exotic dance battles. Even the bars we visited had a relaxed, homely vibe. Perhaps, the one exception was World Kyoto, which had DJ acts and music into the wee hours of the morning.
Kyoto is the place to go if you are rundown by the madness of Berlin or the high speeds of gay Barcelona. It's a tender, relaxed city that is oozing in historical and spiritual significance. Here is our gay guide to Kyoto for Queer travelers visiting for the first time.
Heads up: We just wanted to let you know that this post contains affiliate links. That means if you book something through one of those links, we'll get a small commission, at no extra cost to you. It helps us keep our blog going – so thank you in advance for your support! ♥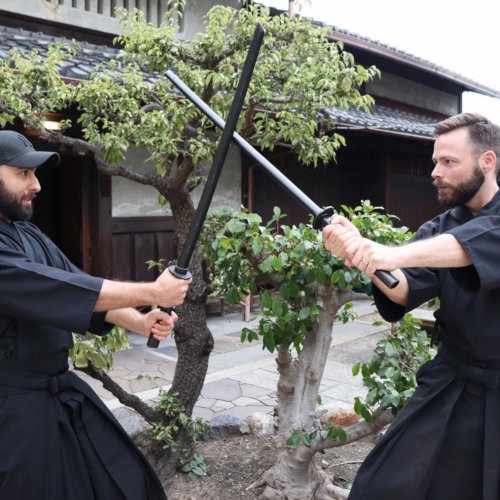 Experience Japan on a gay tour
Psst! Want in on a secret? Our friends at Out Adventures recently launched a super kawaii tour of Japan. On this all-gay foray, travelers will ride the Shinkansen bullet train between Osaka, Kyoto, and Tokyo. Highlights include a street food tour, samurai experience, a night in an authentic onsen, and an evening in Tokyo's gay district, Shinjuku Ni-chōme.
How to get to Kyoto?
There are many ways to reach Kyoto. But it is most likely that you'll be flying into Osaka (Kansai International Airport) and make your way to Kyoto from there. However, many LGBTQ travelers will also be going to Tokyo first (especially if this is your first time visiting Japan). We outline here, how to get into Kyoto from Osaka and also Tokyo.
1. From Osaka (Kansai International Airport)

You will LOVE the Japanese trains! They are always on time, they are super fast, and very smooth. The most efficient way to reach Kyoto from Kansai International Airport (KIX) is by taking the Haruka airport express train. The train travels through Osaka and continues onto Kyoto. The journey time is around around 65 minutes.
To get on the Haruka airport express train, you can purchase tickets directly online or utilize a JR pass if you have one (assuming it offers unlimited usage).
2. From Tokyo
Kyoto is located approximately 370 kilometers (225 miles) west of Tokyo. For the ultimate Japanese travel experience (and yes it's totally a part of experiencing Japan), we highly recommend taking the Shinkansen (bullet train) from Tokyo to Kyoto. Nothing beats the Japanese bullet trains (and we've traveled all around the world!).
The fastest journey time between Tokyo and Kyoto is 2 hours and 15 minutes. This is if you take the Nozomi train which is also the most expensive Shinkansen service. If you take the cheaper ones, add about 20 minutes to your journey time.
How many days should you stay in Kyoto?
During our first trip to Kyoto, we managed to experience the must-see attractions in just 2 days. However, be prepared for a packed schedule! The ideal duration depends on your travel style. For a more relaxed and comfortable holiday, we recommend allocating 3 to 4 days. This will allow you more time to chill and enjoy the gay scene too.
Early risers and night owls can make the most of 2 days, while those seeking a leisurely pace should consider extending their stay. Check our handpicked list of Kyoto's top things to do below, it will help you decide how long you wanna stay in the city.
Is Kyoto safe for gay travelers?
Japan is very safe for travelers, both gay and straight. Japanese people are beyond welcoming to foreigners and are committed to making a good impression of their country. Therefore, they wouldn't say or do anything that would make any traveler feel unwanted.
That being said, the locals are quite a conservative bunch and have gotten exasperated with tourists in the past. Though to be fair, those attitudes go both ways. As even a straight couple would get a sassy side-eye if they were seen making out in public.
In terms of LGBTQ rights, our queer friends still have a long way to go in Japan. By Asian standards, it is easily one of the most gay-friendly Asian countries, yet this doesn't mean they are on the same level as Western Europe or the Americas.
Overall, we found Kyoto to be very accepting. We never ran into any problems, whether it was booking a double bed in a hotel, sharing a table in a restaurant, or holding hands in the commercial district. Read more in our detailed gay travel guide to Japan.
Where is the heart of Gay Kyoto?
There sadly isn't a proper gay neighborhood in Kyoto. Though the Pontocho neighborhood comes quite close to what we would define as the gay area of Tokyo. It's a vibrant spot full of bars, clubs, and restaurants. Just walking around and inhaling the mix of various aromas is an experience all by itself. At night, signs and lanterns light up, coating the streets in a majestic glow.
It's always buzzing with young people, students, and fellow travelers. So if you are young and a part of the LGBTQ community, this would be very much your scene. Another tip – gay Osaka is not too far away from Kyoto which has plenty of gay bars and parties.
Which Hotels Welcome LGBTQ+ Travelers in Kyoto?
There are no exclusively gay hotels in Kyoko, so our focus was on finding the most gay-friendly hotels instead. We were nervous, initially, about how staff would react when we tried to check-in to our double bedroom. Yet, we had no issues. Every place we visited couldn't have been more receptive to us, with staff going out of their way to make our stay extraordinary.
Here are the best gay friendly hotels in Kyoko:
01
Hotel Granvia Kyoto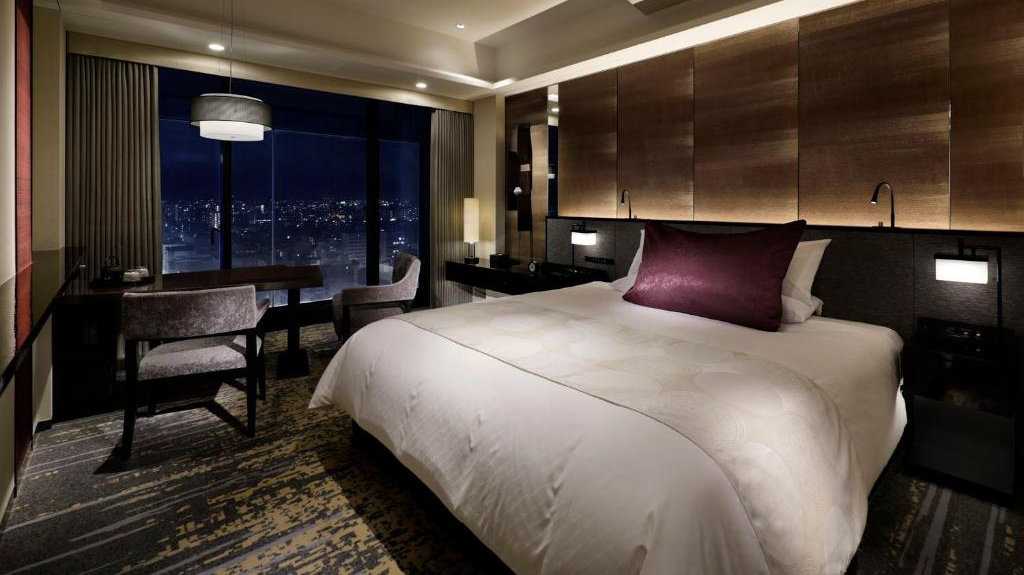 In a nutshell
---
Beautiful five star luxury hotel

Rooms with gorgeous views

Massive swimming pool and sauna
Nine on-site restaurants/cafes/bars
We'd heard great things about Hotel Granvia. That it was stylish, elegant, gay and welcoming. The exact same adjectives we'd use to describe ourselves!
Standard rooms are your best option if you aren't planning on spending much time in the hotel. They feature all the essential amenities you could need. Though if you're looking for an opulent edge, then look to the sky, and nab yourself one of the luxury suites. Each of them boasts tons of living space, plus exceptional views of the city.
We swung by the pool and fitness center one of the days (mainly because we felt guilty from how much we ate the night before). The pool is huge, open to those 20 years or older. The highlight for us was the infra-red sauna, a gem of relaxation (where we escaped after ditching the gym…)
Each of our evenings in Kyoto either began or finished at the in-house bar. Known as Orbite, it had such a warm, homely vibe to it. Not to mention how divine their cocktails are.
You don't need to leave the hotel to experience incredible cuisine either, with NINE different dining options on-site, from cafes to Japanese, Chinese, or even French specialty restaurants. Our favorite was Cotociel, if only for the stunning views.
Prices at Hotel Granvia start from $81 per night:
---
STAY WITH A GAY LOCAL
Misterb&b is the Airbnb equivalent for the LGBTQ community. Unlike on Airbnb, you know your host is gay, voiding any nasty surprises when you check-in. It is also a great way to meet gay locals and discover the underground gay scene. Click below to get 10 € (or $10) off our first booking.
02
Yuzuya Ryokan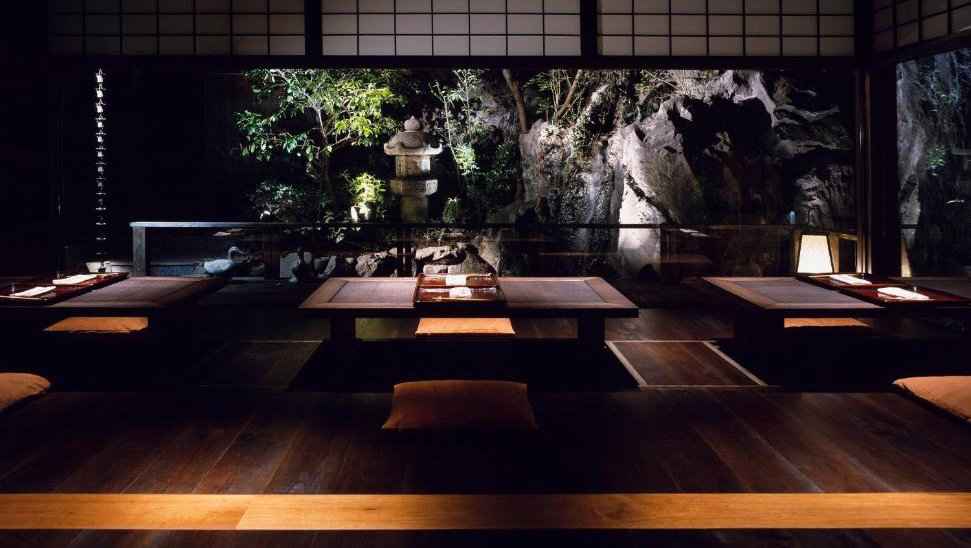 In a nutshell
---
Traditional Japanese hospitality
Fabulous location
Delicious cuisine
Incredible warm service
This gay friendly hotel is what is known as a "Ryokan." It is a traditional-style inn that features tatami-matted rooms and communal baths. Typically, more expensive than "regular" hotels, the ryokan experience is like no other, and totally worth the big bucks.
Rooms are stylish, modern, and cozy. Guests are provided with yukatas (a type of kimono) to wear when they are lounging around, dining in the on-site restaurant, or when socializing with fellow travelers. Seby and I got adorable matching ones and we never felt so elegant.
The ryokan is based in the Gion district, a prime spot for spotting geishas and admiring the various shrines and temples dotted around the streets. It's close to must-see tourist sites like the Kodai-ji Temple and the Philosopher's Walk.
The on-site restaurant whips up scrumptious Asian dishes. On our first night there, staff welcomed us with open arms, gave us fascinating tidbits on the area, and recommended the best foods we could try. We ended up gorging on the red tiger dumplings – the chef's specialty!
Prices at Yuzuya Ryokan start from $273 per night:
---
03
Guesthouse Keiko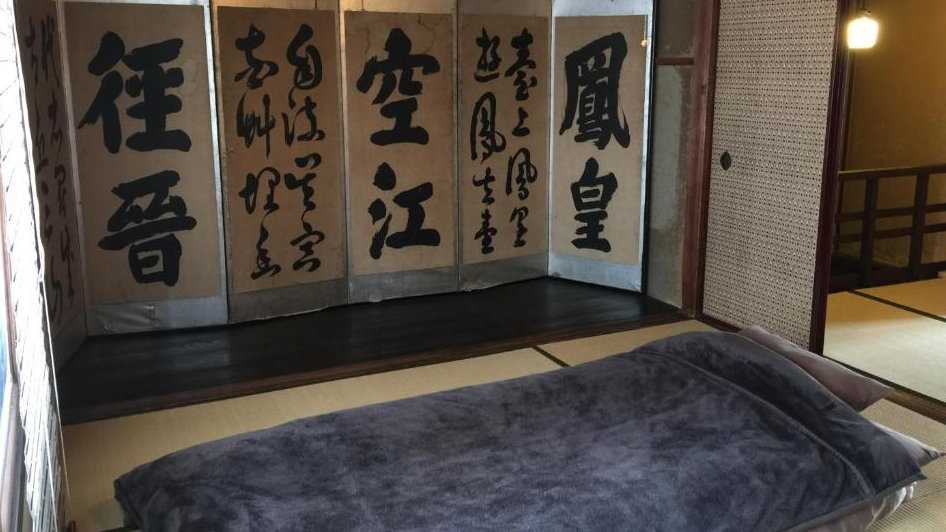 In a nutshell
---
Excellent budget option
Beautiful, classic design
Great central location
Cooking classes available
Something for the gay traveler eager to relish in the traditional Japanese experience, whilst sticking to a tight budget. The Keiko guesthouse is affordable, close to Kyoko's best attractions, and all the while remaining quintessentially Japan.
Keiko is a kyomachiya-style guesthouse, meaning it is made from wood, designed in the Minka style. These guesthouses contain earthen walls, baked tile roofs, and feature a court garden called a tsuboniwa.
It's based in a quiet enough area, giving it a special tranquility that we often crave when we find ourselves in a big city. Yet, it's a short 7–10-minute walk from the main commercial area.
Rooms are simple – some of them can host up to 4 people, perfect for when you're traveling with a group – but still comfortable. Throughout the guesthouse, you can see how much love and care was put into the design. It's decorated in fine art, gorgeous woods, and traditional-style furniture… meaning you have to sit cross-legged on the ground to use the table!
The owners host Japanese food workshops for international guests looking to broaden their cooking skills. Otherwise, there is a small shared kitchenette for self-catering. But if you're a bit too cranky in the mornings to cook (*cough* Seby), then you can also opt for an American breakfast to be provided.
Prices at Guesthouse Keiko start from $109 per night:
---
Looking for Gay Bars in Kyoto?
While there isn't a specific gay scene in Kyoto, we tracked down three gay bars across the city. They were each on the smaller side, but we weren't let down. After all, we weren't expecting the same type of energy we found in Tokyo's gay scene. Kyoto's nightlife does have lots to offer, especially on the club scene (which we'll get to later). But if you are looking for a chilled/laid-back night, then these bars are the perfect shout.
Here are the best gay bars in Kyoto. Note that the iconic Jam Jar gay bar of Kyoto has shut down for good.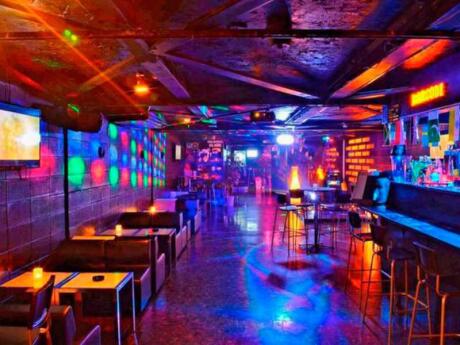 We can azure you that this place is fab-u-lous! It's a male-only gay bar, which can be found on the third floor of a building. It is a tad small, and if you don't go on the right day, you risk showing up to the place being empty. We'd say swing by on the weekend for the best experience. There are cocktails on the menu, which you know is enough to keep us happy. If that ain't your thing, there are plenty of other choices, like beers, wines, and tequila. The bar staff are total cuties – especially with their profiles on the website, so you can become familiar with them before you head in.
Open: Azure is open daily until 4am
Location: It can be found at 126 Kamimisucho Shimotoba Fushimi-Ku
---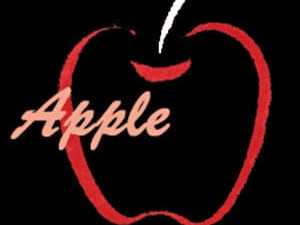 Not to be confused with a certain electronic store… What? It's not like we put the name 'Apple' into our navigation app and ended up walking to an iPhone shop instead of the bar…*cough* When we eventually found the right place, we couldn't have been more charmed by it. This gay bar is men-only, has a wide range of drinks, and best of all, has free karaoke. Maybe it wasn't so pleasant for the other guests in attendance, but we certainly had a fun time belting our hearts out.
Open: Apple is open Tuesday – Sunday until 4am
Location: You can find it at 3F Kobayashi Building, Kiya-machi Street, Shimogyo
---
Any exciting Gay clubs in Kyoto?
Sadly, there are no gay clubs in Kyoto. We focused on rounding up the most gay-friendly clubs that we came across. If you were to close your eyes and imagine what a night out in Japan could look like, each of these clubs would be it. Flashy. Colorful. Loud. Over-the-top. And truly, out of this world.
Here are our favorite gay friendly clubs in Kyoto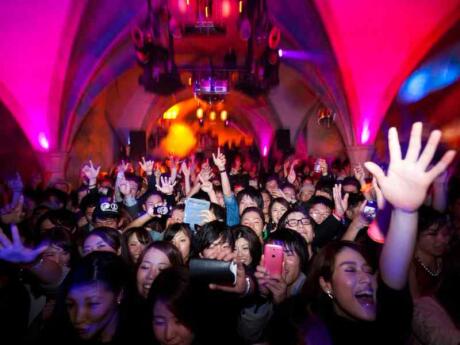 Quirky décor. Pumping music. Flashing lights. World-renowned superstar DJ performances. It must be a night out in World Kyoto. The crowds definitely don't hold back on showing their best moves on the dancefloor. And we thought we were fierce movers… The bar staff were some of the coolest people we'd ever met. They made us their special cocktails, containing shots of coffee, which certainly helped a lot with our jet lag. They also stock a local gin called Kyoto Kinobi Gin, giving it a unique kick.
Open: World Kyoto is open Wednesday – Sunday, closing at 1am on Wednesday/Thursday/Sunday, and 5am Friday/Saturday
Location: It can be found in the Imagium Building at 97 Shincho Nishikiyamachidori Shijo-agaru, Shimogyo-ku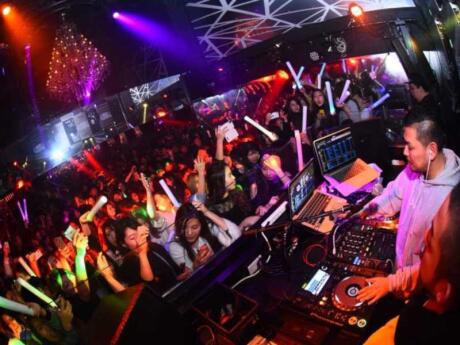 Kitsune is set in the beating heart of Pontocho, Kyoto's trendiest neighborhood. The gay friendly club is simply two floors, with two themes: Land and Sea. Their use of neon lighting and glossy décor makes you feel as if you are dancing in a video game. There are lots of seating spaces around the dancefloor, which anybody who has ever went clubbing before knows is super rare. They're a handy spot to catch your breath, grab a drink, and get chatting with some new people. On weekends, students can get drink discounts, which makes it popular with the younger crowds.
Open: Kitsune is open daily until 4am, until 5am on Friday and Saturday
Location: You can find it in the FS Kiyamachi Building 3&4F at 179 Zaimokucho Kiyamachidori Sanjosagaru, Nakagyo-ku
---
Where Should LGBTQ+ Travelers Eat?
We're always eager to try out new foods and Kyoto didn't disappoint. From seafood to new styles of cooking to savory treats, this city doesn't hold back on unlocking a whole new flavor palate for us. We chose most of our restaurants through word-of-mouth or serendipitous chance – that's what Seby likes to call those moments when we get lost and we end up picking the first place we see!
Here are the best places to eat in Kyoto for gay travelers: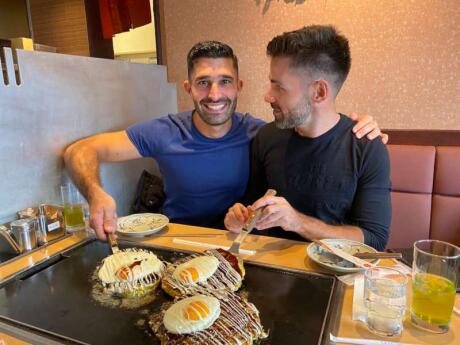 This restaurant has kickstarted what we expect to be a long love affair with okonomiyaki. Before our trip, we had never heard of it. But locals kept telling us to try it out, and we discovered it to be a Japanese savory pancake. We thought… big whoop, right? But it is so mouth-wateringly delicious – and this restaurant is one of the best places to sink your teeth into the national delicacy. The restaurant is small enough, but it helped make the experience feel that much more intimate. Believe us when we say, there is so much more you can do with a pancake than tossing it…
---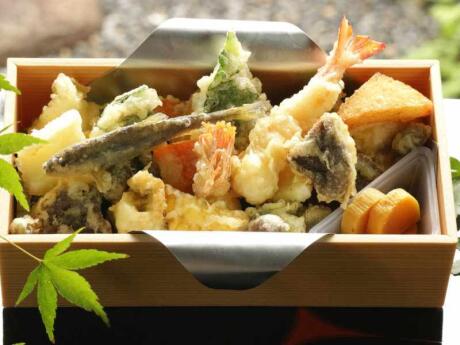 Our trip to Kyoto truly introduced us to many different cuisines we'd never tried before. One of those being the sizzling deliciousness of tempura – deep-fried fish, meat or veggies coated with spices and batter. Kyoto Tempura is a quiet enough spot, we almost missed it entirely. Luckily for us, the scent wafting from their front door was a reason to give us pause, and we instantly fell in love. The staff were charming and served us promptly. And each of our dishes was utterly delightful.
---
Kobe Beef Niyama Teppanyaki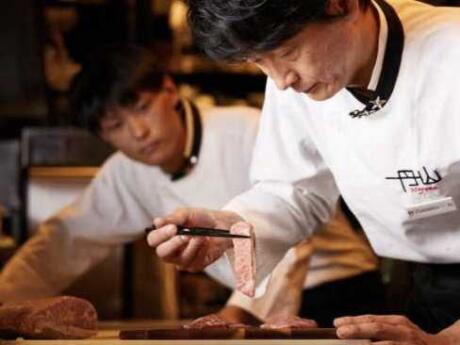 "Where's the beef?" Apparently at Kobe Beef Niyama Teppanyaki. We'd heard from fellow travelers that this spot had the city's most "premium" beef. Naturally, we wanted to judge that for ourselves but it didn't disappoint! Our steaks were tender, succulent, and bursting with flavor. We kept thinking how we wished we could cook something like it at home. Well, as we voiced the thought out loud, a waiter let us know the restaurant offered Teppanyaki cooking courses. There is no better way to spend an afternoon than learning to cook with a special someone!
---
Must-do things in Kyoto
You've landed in Kyoto. You've checked into your gay friendly hotel. You've gotten a bite to eat. And now it's time to find out what the city has to offer. Thankfully, Kyoto is bursting with things to do. From ancient temples, to nature walkways, to geisha spotting, your itinerary is about to become bursting with plans:
The Golden Temple (Kinkaku-Ji)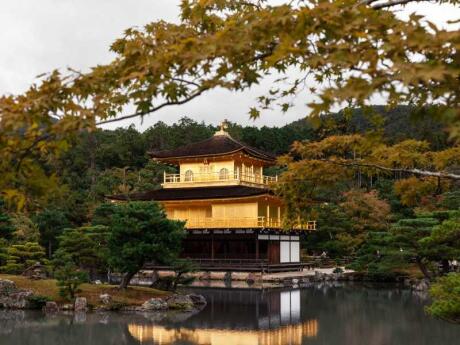 This is one of the most popular tourist spots in all of Kyoto… and for good reason. The building was transformed into a Zen Buddhist temple out of the dying wish of the owner, Ashikaga Yoshimitsu, back in the 14th century. It still stands today, despite having faced many disasters over the years; everything you can think of, from fire to war to betrayal. The top two floors are completely covered in gold leaf, hence the name. Plus, the garden is a beautiful place to stroll around, snap a few pics, and absorb the serene atmosphere. Join a tour of the city that includes the temple if you want to learn more about its fascinating history.
---
The Philosopher's Path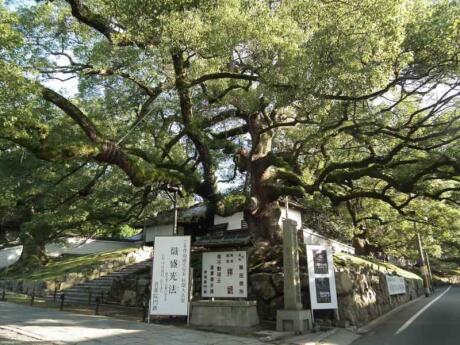 If you are ever in need of a life epiphany, taking a stroll down Philosopher's Path is the way to do it. We say this because the name of the walkway originates from two Japanese philosophy professors, Nishida Kitaro and Hajime Tanabeit, who used to exercise along the path daily. The walkway goes beneath blossoming cherry trees, full of vibrant colors and lush foliage. It'll take 30 minutes to walk down the whole way, so get those sneakers on and get movin'.
---
The Silver Temple (Ginkaku-Ji)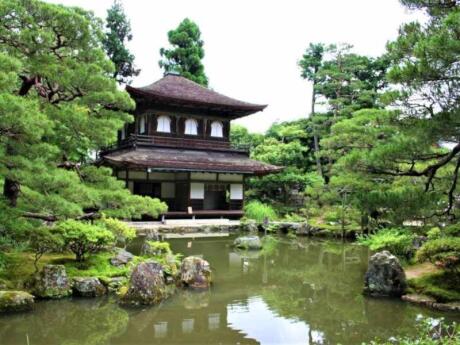 When we showed up, we were confused. "Where is the Silver Temple?" we kept asking. Turns out we were looking at it. The story goes that the temple was never painted silver, as was intended. Yet people still called it as such. A wander around the surrounding gardens is a true delight, as it's filled with ponds, bridges, little streams, and lovely plants.
---
Fushimi Inari Shrine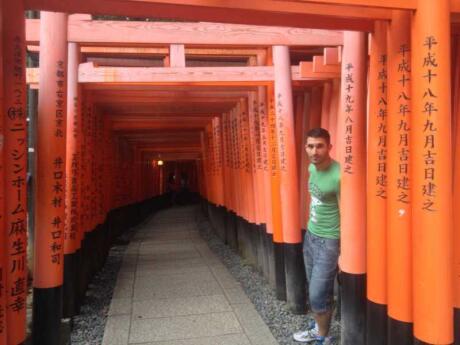 This iconic Shinto shrine is constructed with thousands of torii gates – stretching for over 230 meters. Built as an homage to the Shinto god of rice, it's a great place to soak up the spiritual culture of Kyoto. Walk through the gates and you'll reach the forest of sacred Mount Inari and visitors are welcome to hike up to the top. It took us about 2.5 hours to go up and down. We noticed a few fox statues here and there. We found out from our tour guide that it's because foxes are seen as divine messengers from Shinto gods, so they are held in very high regard.
---
Geisha spotting in Gion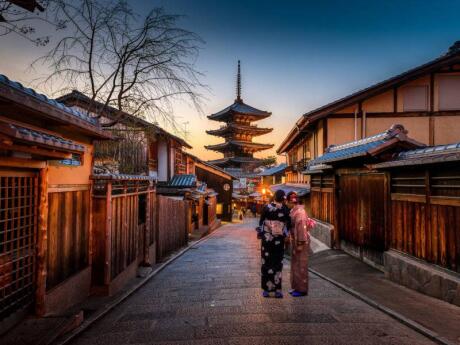 Geishas remain one of the most iconic parts of Japanese culture. The best place for seeing them is in the Gion district, Kyoto's historical district. We were, at first, hesitant about going somewhere specifically to see them. We didn't want to ogle at them as if they weren't human. Yet, Japanese locals told us that geishas appreciate and understand tourist interest in them, are happy for people to come along to take pictures, as long as they're respectful. The best time to spot a geisha is in the evening, between 5:45pm – 6pm. This is when tourists gather around Hanami-Koji Street to spot them.
---
The Sagano Bamboo Forest at Arashiyama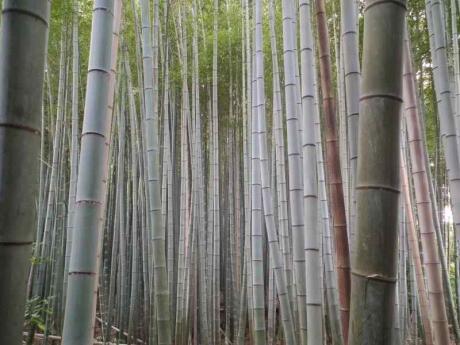 If there was ever a place to make us feel like we were on a horror film set, this was it. The forest is made up of thick, green bamboo that stretches high above visitor's heads, making it appear as if you're wandering through a dark tunnel. It is a fascinating spot, not just for the Insta photo op, but to take in that borderline-eerie sensation. Plus, if you follow the path through the forest, you'll end up at the Okochi-Sanso Villa – a charming villa and garden, that once belonged to iconic Japanese actor, Okochi Denjir.
---
Plan your perfect gay trip to Kyoto
We've put together some handy hints and tips to help you plan your own gay trip to Kyoto. Read on to find out everything the gay traveler should know before they go.
Travel insurance: Even in safe destinations like Kyoto, travel is full of unexpected complications that can ruin your trip. We never go anywhere without travel insurance and urge others to do the same. You just never know when a missed flight, lost luggage, or any other unforeseen event might derail your plans.
---
How to get there: There are no airports in Kyoto proper but you can reach the city by flying into Osaka and then getting a train, bus or private transfer to Kyoto. It takes about an hour to get to Kyoto from Osaka. Alternatively, it might actually be more affordable to hire a car and drive yourself around. You can also get to Kyoto directly from Tokyo on the bullet train or via bus.
---
Visa requirements: Travelers from 68 countries including the USA, UK, Canada, Australia and most EU countries don't need a visa to visit Japan as a tourist. You will need your passport and proof of onward travel though. Make sure you check your personal visa requirements before making any arrangements to visit Kyoto, just to be sure.
---
Getting around: While you can walk around Kyoto's city center, many of the top sights are spread further apart so you'll need to use the public transport system. This can be confusing, with multiple railway lines, two subway lines and lots of buses. Check out this guide with more detailed info on public transport in Kyoto.
---
Vaccinations: You won't need any specific vaccines before traveling to Kyoto, apart from being up to date on routine vaccines such as measles, chickenpox, and covid-19. If you are planning to visit any rural areas in Japan then you may want to be vaccinated for Japanese Encephalitis. Make sure you always check with your doctor or travel nurse which vaccines you will need before making travel plans.
---
Currency: The currency used in Kyoto, and the rest of Japan, is the yen, which is abbreviated to JPY and uses the symbol ¥. $1 converts to around 110 Japanese yen while €1 is worth about 122 yen.
---
Tipping culture: Many Japanese people believe that good service should be the standard, so tipping is not customary anywhere, including Kyoto. You can tip if you really want to but don't be surprised if it is refused. Also, never just give cash from your wallet or purse, make sure you put it in an envelope first and then hand it to the person with both hands as this is polite in Japan.
---
Internet access: Free WiFi is usually available in hotels, airports, train stations, restaurants and cafes in Japan, but not everywhere. Paid WiFi hotspots are more common, so if you know you will be needing to use a lot of internet during your travels to Kyoto then you may like to rent your own portable WiFi device during your trip, which you can pick up from Osaka airport. Check out our detailed guide on renting pocket WiFi in Japan for more information.
---
When to visit: The best times to visit Kyoto would have to be either in spring for the beautiful blossoms or fall for the magnificent foliage. Otherwise you may wish to time your travel to coincide with one of the gay events. There aren't any real 'bad' times to visit, although January is very cold and June can be quite humid.
---
Your handy gay map of Kyoto
We've put together this map with all the places we've mentioned in this post so you can easily find them. We hope it helps you have your own fabulous gay trip to Kyoto!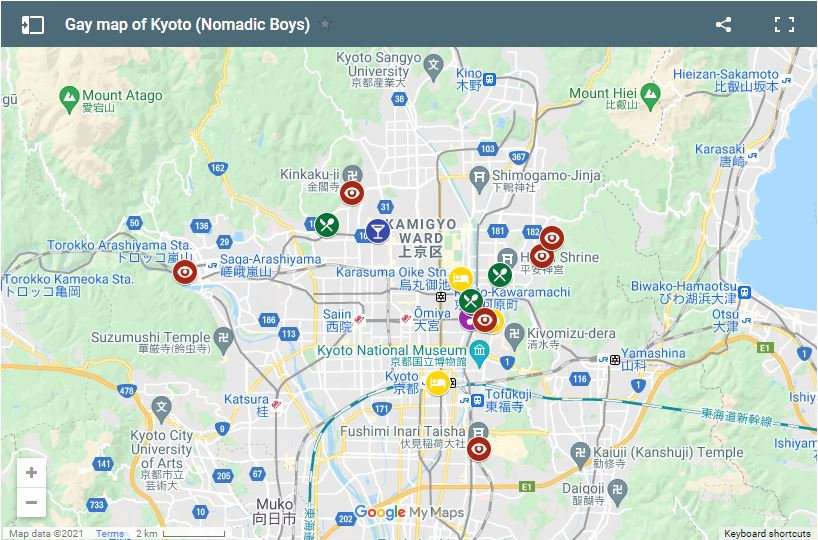 ---