TERMS OF USE: There is a chance that some of the content on this page has changed since it was last updated. By reading this article, you consent to our Terms of Use and Disclaimer. Happy Travels!
DISCLOSURE: Some of our posts may contain affiliate links which we may receive a commission if you choose to book something through one of our links.
All you need to plan your own trip to Jordan including safety tips and unmissable sights for gay travelers!
You'll never run out of things to do whilst visiting this gorgeous country. Your visit may come to an end, but you'll never be JorDone!
We loved the Hashemite Kingdom of Jordan! It's such a rewarding place to visit offering a rich mix of experiences – whiz between the sand dunes of Wadi Rum, float along the surface of the Dead Sea, relish in all things pink by visiting Petra, aka The Pink City, and swim through the Red Sea feeling your Little Mermaid fantasy.
We'd go back in a heartbeat!
The only downside is that this is an Arab country in the Middle East – a place sadly renowned for its awful LGBTQ rights. Although Jordan is one of the more gay friendly Arab countries it's still a place you need to be very cautious as an LGBTQ traveler.
We set out for you all our safety tips along with the rest of our firsthand experiences from our travels in Jordan as a gay couple. We also recommend you check out our gay guide to Amman – the Jordanian capital.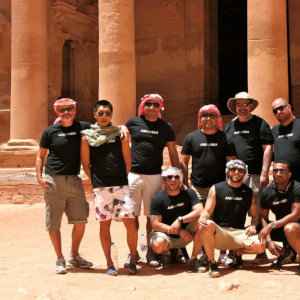 Visit Jordan with a group of gays!
This Out Adventures gay trip to Jordan includes a visit to Petra and the Dead Sea with a group of gay guys. We love the Out Adventures tours because all guides are either gay or gay friendly and they only work with businesses that they are certain are welcoming to LGBTQ travelers.
Remember to use the coupon code NomadicOA when booking to claim an exclusive $150 off any Out Adventures tour.
What Are Gay Rights in Jordan Like?
Society may be ultra-conservative, but unlike most other Arab countries, the LGBTQ laws of Jordan are less severe. For example, Jordan got rid of its anti-gay laws back in 1951 (that's long before the USA in 2003, and the UK in 1967). Transgender individuals also have the legal right to declare their true gender – in theory – but the decision is ultimately left to the judge following a decision by a medical committee.
The Jordanian print and online magazine My.Kali is a popular LGBTQ publication, that sells issues across the Middle East and North Africa. They regularly cover stories on various LGBTQ rights, as well as feature high-profile celebrities on their front covers – a way for many actors and performers to show their allyship to their queer fans.
Sadly, the good news ends there.
Jordan has no laws tackling any form of anti-discrimination against LGBTQ people nor does it have any laws recognizing gay unions or marriage. We found that most gay guys in Jordan were living a double life – most would get married to please their families whilst playing with men on the side.
Updated Gay Travel Advice: August 2023
My.Kali reported escalating attacks on the LGBTQ community in 2023, which we strongly advise you to take note of.
Also, bear in mind that Grindr was blocked/restricted in Jordan in 2023. You will need a VPN to access it. As ever, we highly recommend these vital safety tips when using gay dating apps.
Is Jordan Safe for Gay Travelers?
Whilst there are no anti-gay laws in Jordan, many locals still hold a very negative view of homosexuality. That being said, Jordanians are a hospitable bunch and are welcoming of tourists from all over the world. This means you shouldn't experience any safety issues, but we still recommend avoiding any PDA with your partner.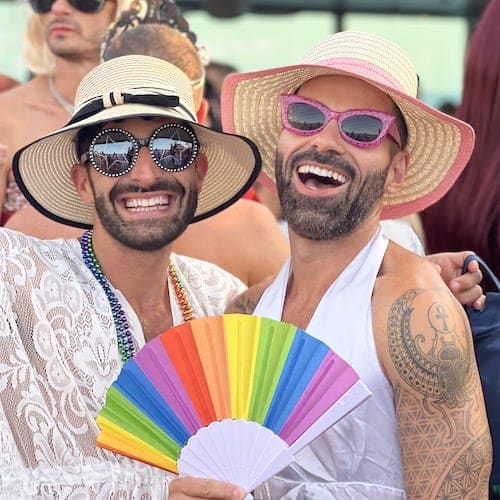 Travel worry free!
Don't skimp out on your travel insurance: make sure your trip is fun, frivolous, and free! Most importantly, good travel insurance will cover you for any medical emergencies, flight cancellations, pricey hospital bills, car rental protection, and more.
In terms of a gay scene, there is none. The closest thing to any form of a gay scene in Jordan you'll find is along Rainbow Street in Amman. Despite the name, this isn't a gay street by any means! However, this is where the bulk of Amman's international restaurants, bars, cafes, and shops can be found. It's mainly a younger and more international crowd here which made us feel that little bit more relaxed as a gay couple – and below we highlight a few of these places, especially Books@Cafe.

In terms of Internet use, Grindr is available to download throughout the country so you won't need to get a VPN in Jordan. You can buy an inexpensive tourist SIM with ample data included in your package from Amman's airport on arrival.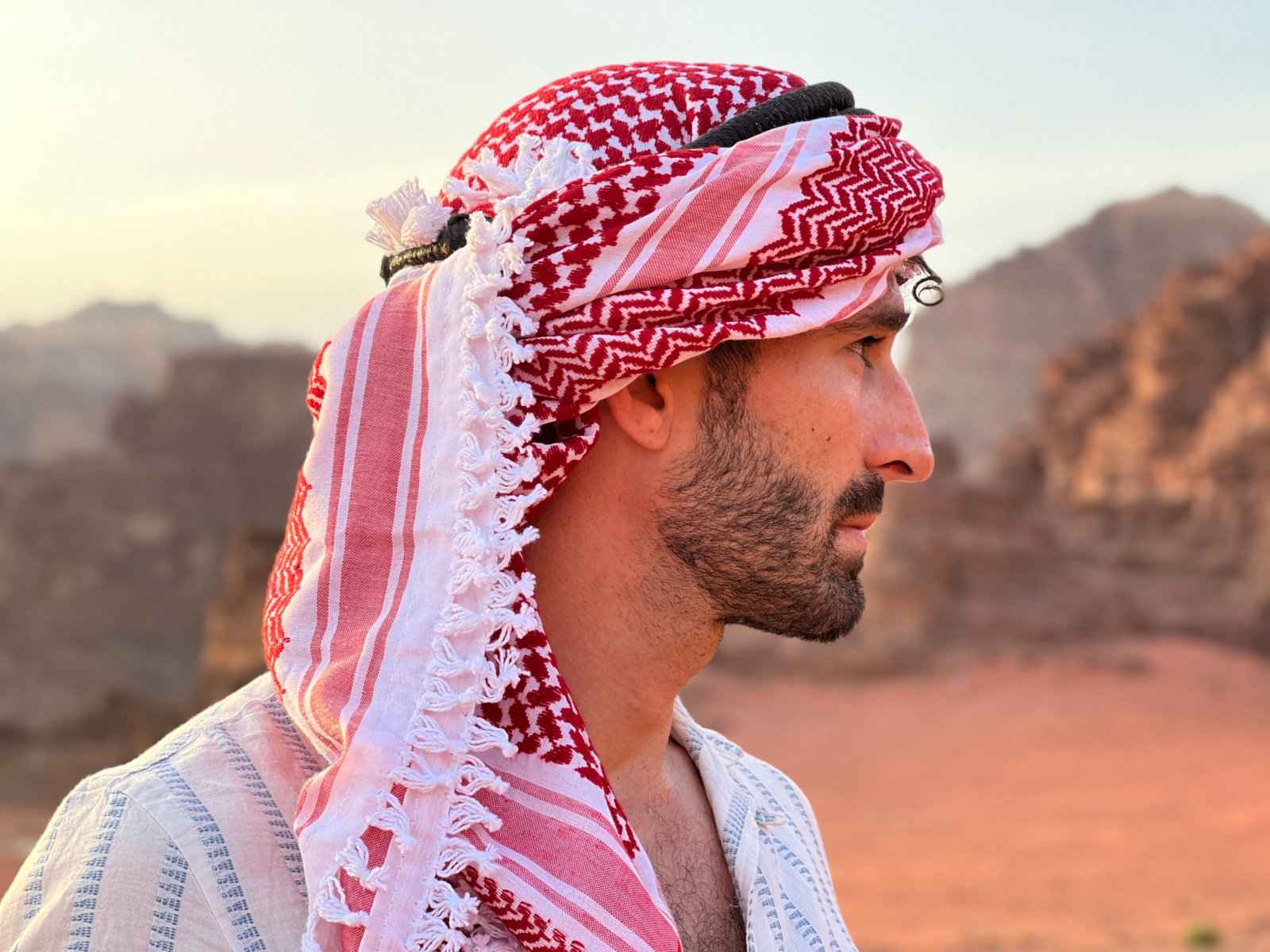 Are There Any Gay Tours in Jordan?
Looking to embark on a fabulous journey so wonderful that it will leave a forever mark in your memories? Then you need to check out these awesome gay tours in Jordan. We love them – they not only stay at tried-and-tested gay friendly hotels and work with queer-friendly businesses but they also use guides who are used to dealing with LGBTQ travelers.
1. Out Adventures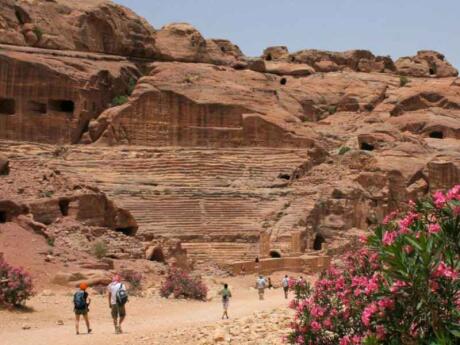 What could be better than spending 5 days cruising through the Wadi Rum desert, passing by dozens of sand dunes and rock formations, or floating in the exfoliating waters of the Dead Sea? Out Adventures' gay tour of Jordan, every November/December will see you accompanied by a knowledgeable tour guide, who will teach you everything there is to know about Jordanian life.
Whether it be the day-to-day happenings of the ancient city of Petra, known for its rose-pink buildings carved from stone, or the history of its capital city of Amman. You'll spend most of your nights in sophisticated 5-star hotels, plus a short stay on a desert campsite, where you'll doze off beneath the stars.
Out Adventures is offering our readers an exclusive discount of $150 per person valid for any gay tour or cruise you book with them.
---
2. He Travel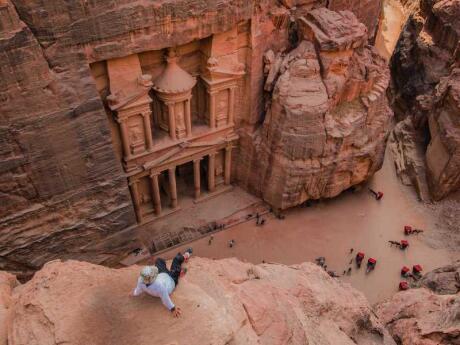 The Bangles told us to walk like an Egyptian, but why do that when you can travel by ship instead? He Travel's jampacked gay 12-day itinerary in Egypt every November/December is a once-in-a-lifetime treat! If you book this, they also offer the chance to include their 3-day "add on" itinerary for Jordan.
He Travel's gay Jordan tour is more jam-packed and includes a visit to glorious Petra, the Dead Sea, and Amman. It's certainly a more efficient way to see the main Jordan highlights but ideal if you want to take in Egypt as well.
HeTravel is offering our readers an exclusive 5% discount valid for any cruise and tour you book with them. Click the button below to find out more.
---
3. Brand g Vacations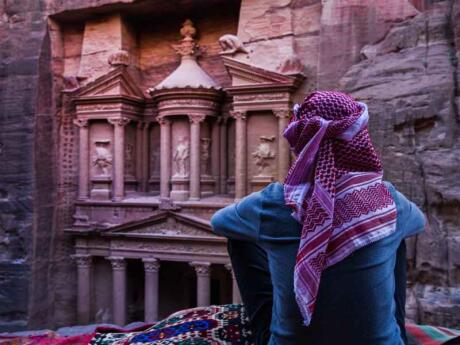 Similar to He Travel, Brand G Vacations have put together a comprehensive 9-day itinerary around Egypt every March, which if you book, you'll also have the chance to include their 6-day Jordan "add-on". This will include a 6-day fully escorted tour with local gay friendly guides and Brand g hosts.
The itinerary includes visiting the ancient ruins of Jerash, the historic Biblical sites of Bethany and Mount Nebo, driving through the Wadi Rum desert in a 4×4, exploring Petra, and relaxing in the restorative, mineral-rich Dead Sea whilst staying at the super lush Kempinski Ishtar Resort.
BrandG is offering our readers an exclusive 5% discount valid for this tour. Click the button below to find out more.
---
Is There a Gay Scene in Jordan?
The only part of Jordan with any real gay scene is Amman. Downtown Amman along Rainbow Street is the most international and youthful part of town. There are a handful of gay-friendly places in Amman where we felt comfortable with very subtle PDAs. We have also been reliably informed that the Hashemite Plaza in front of the amphitheater is super cruisy in the early evenings.
There is also a nice bathhouse in the downtown area where sexual encounters are the norm. It's called Old Turkish Bath Nights, (Hammam Layali Zeman El Turki in Arabic) and is similar to Western-style gay saunas. It's small but there is a steam room, a jacuzzi, a common area with seating, some shower stalls, a massage room, and a lounge area where you can order drinks. You can find it listed on Google maps here. Just make sure to be discrete if you do decide to visit!
The main unofficial gay location in Amman is "Books@Cafe". It is a charming space to grab a coffee and cake whilst admiring the unique artwork. It is also filled with books to top up your traveling library. There is an English-language section filled with the latest popular fiction, as well as books on philosophy, music, and politics.
Our best advice is to connect with gay locals via gay dating apps and find out through them if there are any underground gay parties taking place that are usually only advertised by word-of-mouth. We visited Jordan during Ramadam when there was nothing going on in terms of gay parties, but outside of Ramadam you may get lucky and stumble on an ad hoc gay event taking place.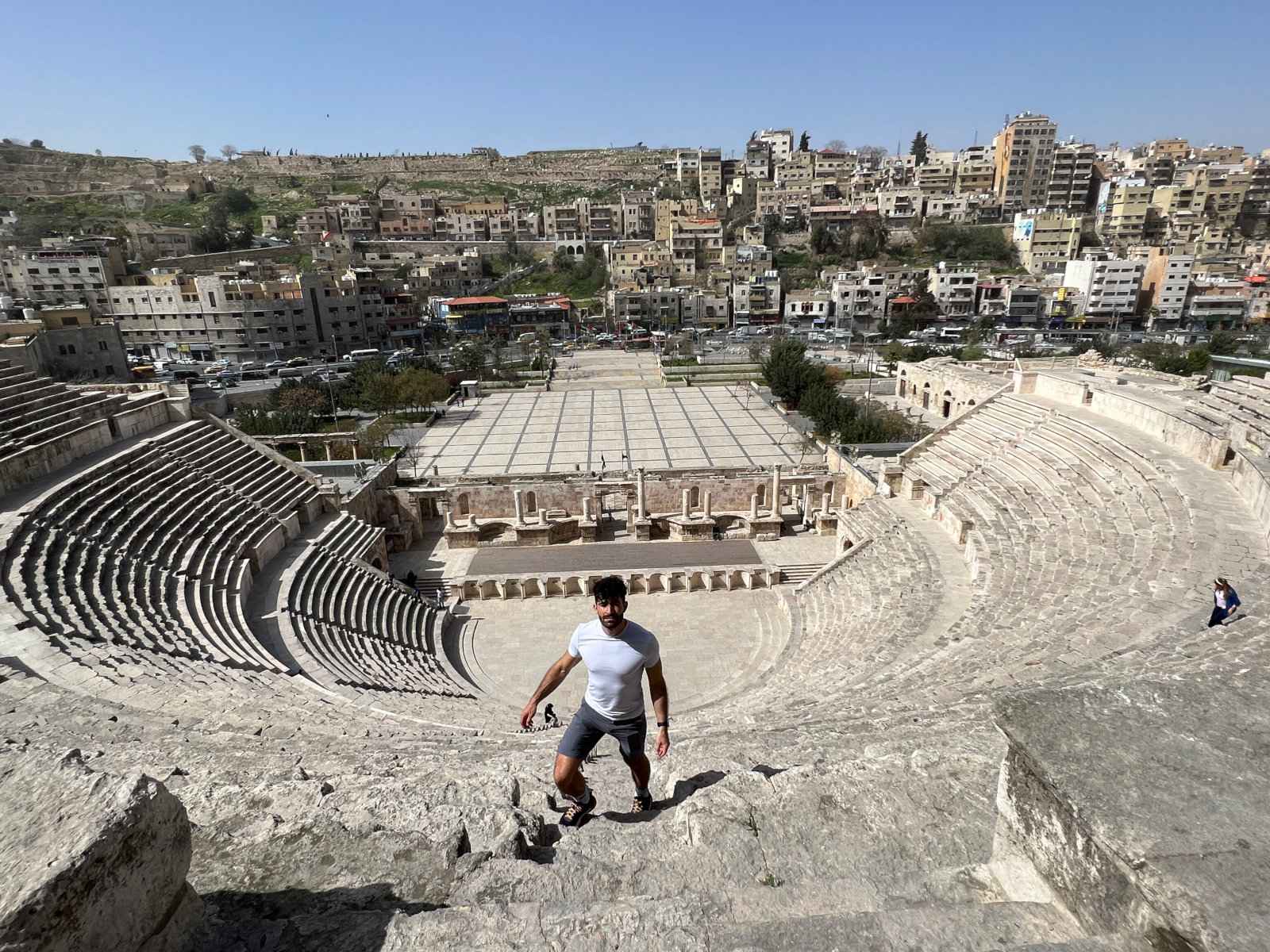 Top Things To Do in Jordan
1. Petra: live out your Indiana Jones fantasy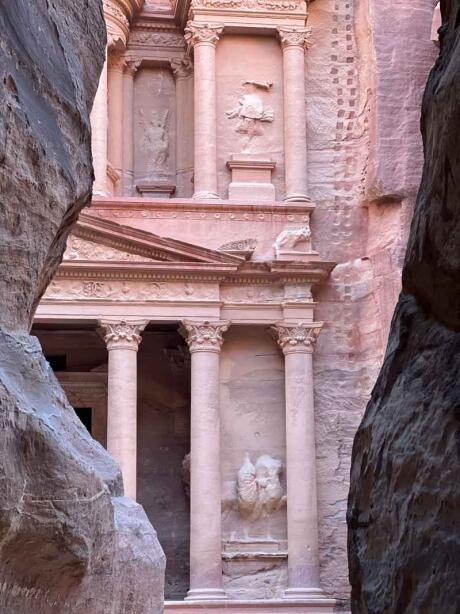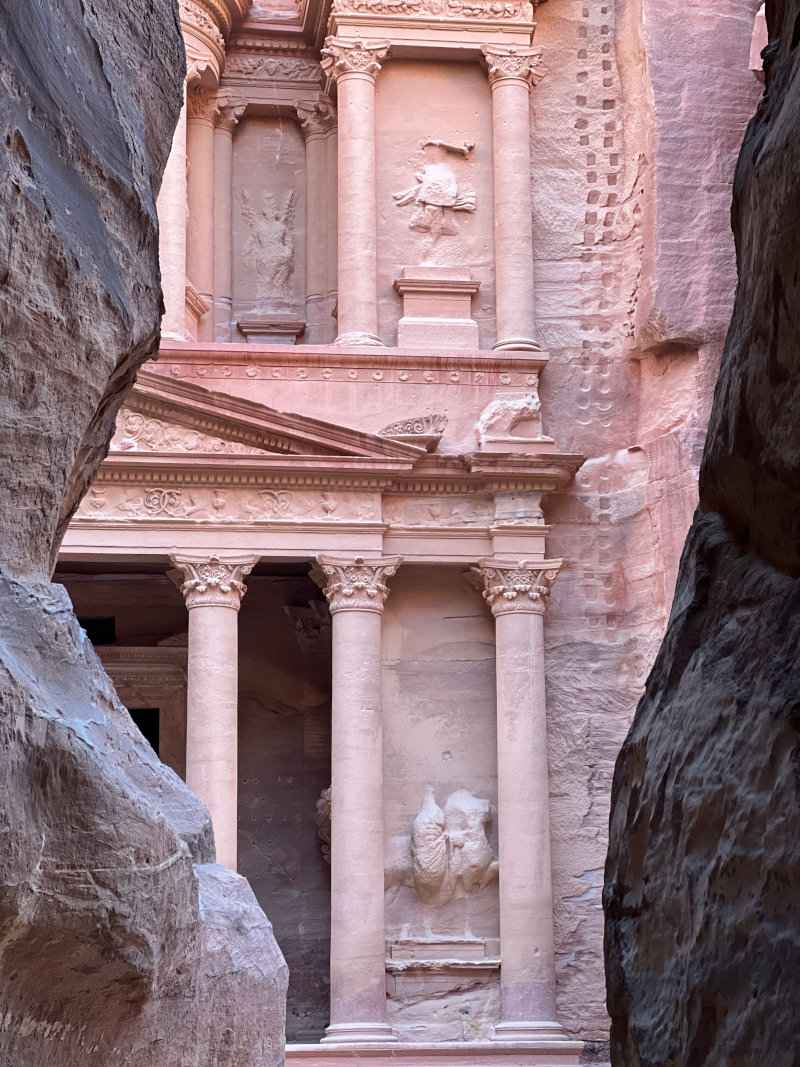 From the merchants of Chinese silk and Indian spices to the legendary adventurer Indiana Jones, to the iconic Nomadic Boys, Petra is an ancient city that has for centuries welcomed the most curious of travelers. It is one of the seven wonders of the world, known for its rose-red-colored buildings carved from stone.
We recommend going when it opens at 6am to avoid the mass crowds. Our personal highlight was seeing the Greek-like structure of the Treasury building. It's truly beautiful, but also the most photographed part of Petra so be warned!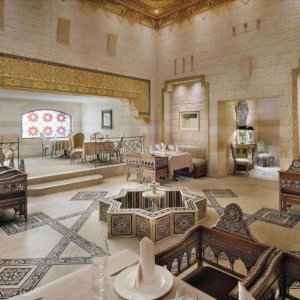 Stay at: Movenpick Resort Hotel Petra
Located right by the entrance of Petra, roll out of bed and head straight into the ancient city for a day of exploring. At night, you'll sleep in the finest of linens, surrounded by the most lavish décor. Plus, the hotel's in-house restaurant offers a fine selection of national cuisine for guests to tuck into.
---
2. Float on the Dead Sea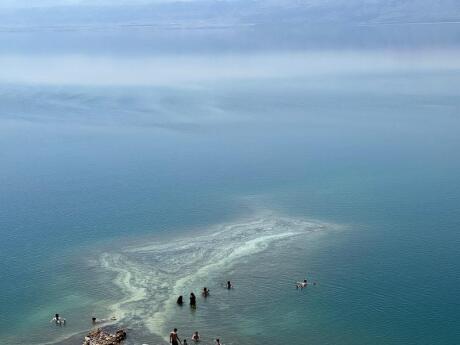 The first thing you notice when stepping into the Dead Sea is the unmistakable tang of salt. A scent that only a gay bathhouse in gay Berlin could rival. The water is ten times saltier than the ocean, making it impossible to swim, but easy to lay back and float.
The combination of healing mineral waters and fresh air makes it the perfect spot for relaxation. The Jordanian bank of the Dead Sea is quieter than the Israeli shore, which we feel makes this experience even more therapeutic.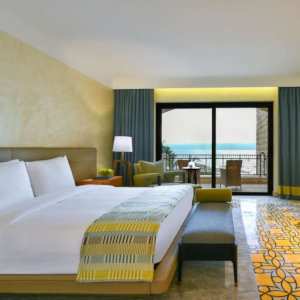 Stay at: Kempinski Ishtar Resort Dead Sea
The Kempinski Ishtar Resort experience oozes luxury. Fancy a cocktail on a sun-kissed terrace that overlooks the Dead Sea? Or a spa day, where you can enjoy a world-class massage or facial treatment. Or the best of Jordanian cuisine for your next meal? Then this is the place we think you need to head to!
---
3. Wadi Rum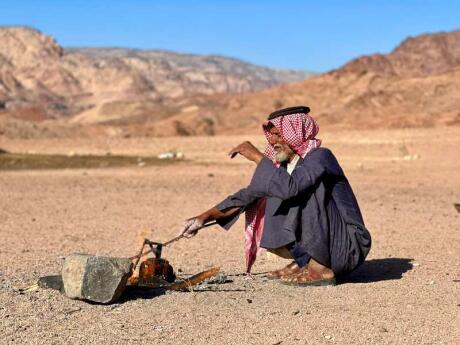 Staying overnight in the desert in a transparent bubble tent was definitely a trip highlight! If your itinerary allows for it, we highly recommend at least spending one night doing this. The lack of urban lights means you can gaze up and see the Milky Way!
Hopping on the back of a camel, we embarked on a long, meandering trail, taking in the sights of sweeping sands and rock formations. Or go on foot or by jeep, whizzing through the desert with a local tour guide who will give you fascinating historical facts.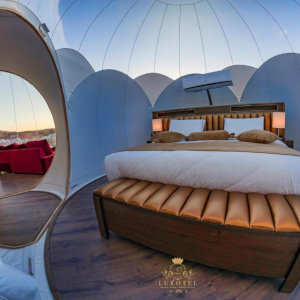 Stay at: Wadi Rum Bubble Luxotel
Enclosed within the rocky Wadi Rum mountains, lays the luxurious Bubble Luxotel, the perfect sanctuary amid the remarkable desert landscape. Fall asleep beneath the star-splashed black sky and panoramic mountain views in the Bubble Suite King. To relax during the day, take a dip in the Jacuzzi on the terrace.
---
4. Amman and Jerash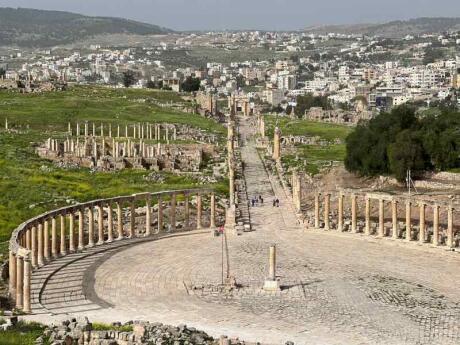 You can pack several days' worth of activity in the capital city of Amman. Swing by the city's impressive Roman theater, an ancient venue that seats up to 6,000 people, and has served as an event space for musical performances for centuries.
In Amman, we recommend checking out the city's Citadel ruins and the bustling Rainbow Street, packed full of restaurants, cafes, and bars. Amman also makes for a handy base for day trips to Jerash – one of the best preserved Greco-Roman cities in the Middle East – the sight of Hadrian's Arch looks as if it fell straight from the pages of The Iliad!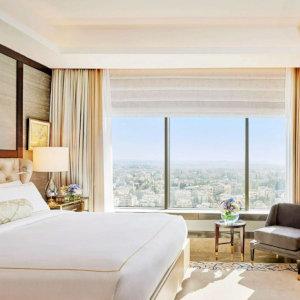 Stay at: Fairmont Amman
Just a stone's throw away from the sophisticated neighborhood of Abdoun, every minute of your stay at Fairmont Amman will be graced with extravagance. Spoil yourself with a trip to the fabulous spa and choose from a mix of dining options, from Japanese to Levantine to traditional Jordanian cuisine.
---
5. Aqaba for the Red Sea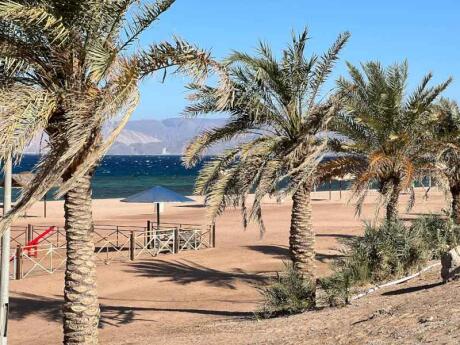 Head off to the charming town of Aqaba, the perfect entry point to discover the Gulf in all its glory. The best diving experience is offered by the Aqaba Marine Park. After all, the Red Sea is the holy grail for snorkeling and scuba diving enthusiasts.
This park is dedicated to protecting the surrounding marine life. Submerged beneath the sparkling waters are a stunning array of coral life and sea creatures, such as clownfish (hey Nemo!), turtles, angelfish, and goldies.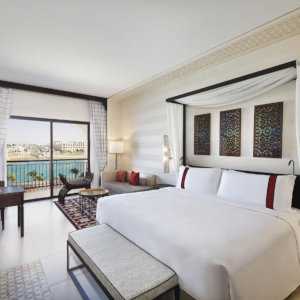 Stay at: Al Manara
Facing the stunning beachfront, guests at the Al Manara have their own private beach area to relax in. Rooms are spacious, modern, and allow for tons of natural sunlight to spill into the room. There are several restaurants on-site, serving up the finest local and Middle Eastern cuisine.
---
What Are The Best Foods To Try in Jordan?
Jordan's national dishes are unlike anything we've ever encountered in all our years of travel. Introducing us to a whole new variety of spices and palettes, we simply couldn't get enough.
Mansaf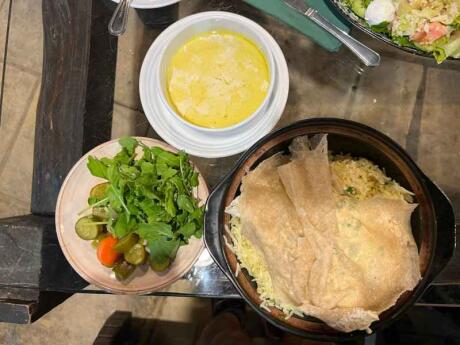 Mansaf emerged as Jordan's national dish in the early 20th century, following independence from British rule. We expected big things from the national dish of Jordan. Lamb is cooked in a dried yogurt known as jameed.
It is often served with rice on a large platter and placed in the center of a table where everyone can tuck in. That's right, Seby had to learn how to share his food for once!
---
Mutabal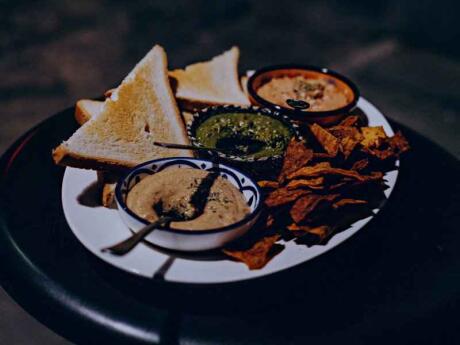 Mutabal is a dipping sauce, perfect for spreading across pita bread or on a cracker. It is prepared by cooking it above an open flame, which gives it an unmistakable smoky aftertaste.
The sauce itself is made from a dash of garlic, olive oil, and eggplant (the perfect gay food, if you know what we mean). Unlike other dips, mutabal is super healthy. It's loaded with minerals and nutrients that help ward off diseases, so you can gorge guiltlessly on it all evening.
---
Qalayet Bandora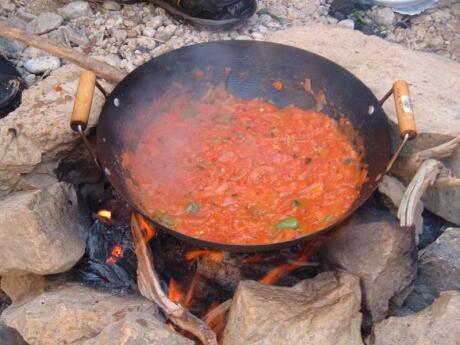 Made from tomatoes, onions, jalapenos, and olive oil, qalayet bandora is a lazy cook's dream come true. Not only is it super easy to whip up, but it's also both healthy and delicious. It can be eaten on its own, by scooping it up with pita bread or mixed in with rice.
Some people, if they're feeling a lil fancy, add pine nuts for extra flavoring. It's a favorite of backpackers who love making it whilst out camping.
---
Kunafa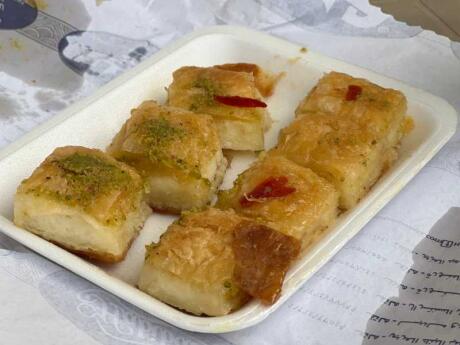 Those with a sweet tooth will loooooooove kunafa. It's made of string pastry, soaked in sugary syrup, and layered with cheese, cream, pistachios, and nuts. Sure, it sounds unhealthy AF… but who cares? It's delicious and looks like a candy-fied spaghetti!
We had it at a friend's party and couldn't get enough. Mind you, we felt like we needed a trip to the dentist after gorging on it.
---
Kollaj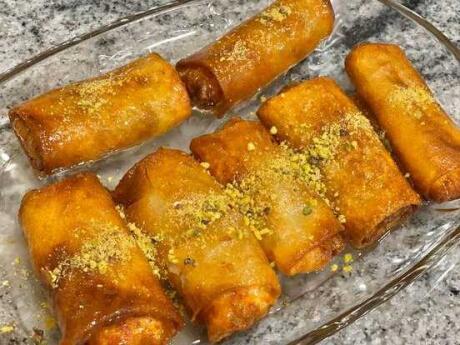 Kollaj tastes like how summer feels. As we munched on a few (ok, MANY!) rolls of them, we were taken aback by how light and airy they tasted, despite being packed full of flavor.
Consumed all across the Middle East, Kollaj is a baked dough filled with crushed almonds and cinnamon. Typically eaten in July, it's definitely easy to see why it is so popular at parties.
---
Maqluba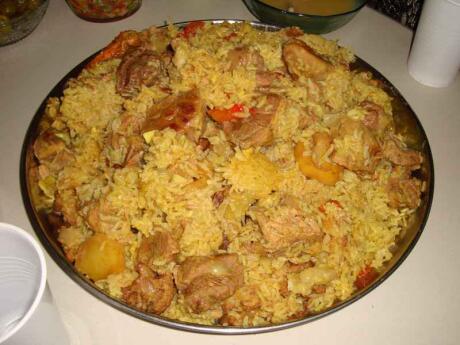 No feast or family gathering would be complete without a delicious dish of maqluba. Its name translates to 'upside-down'… and nope, not because it's the national dish of the alternative dimension in Stranger Things.
But rather, it's a mix of meats, rice, and fried vegetables prepared in a pot and then flipped over whilst serving. It's often topped off with pine nuts, parsley, and even fresh yogurt.
---
Zaarb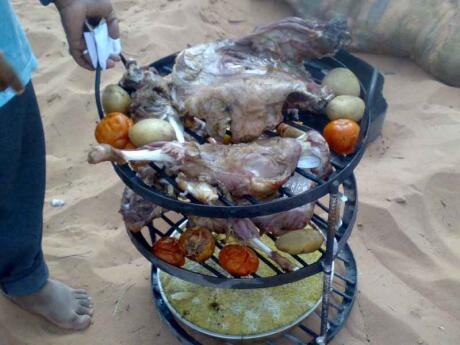 Zaarb is a marinated meat baked with tons of crispy veggies. It's a must-have for any curious traveler looking to get an authentic taste of Middle Eastern cuisine. Someone described this dish as being 'dramatic', so we of course had to try it out for ourselves.
And seeing it get prepared for right in front of us, we definitely have to agree. It's cooked over an open fire, which makes the meat so tender, that it practically falls right off the bone.
---
Fattet hummus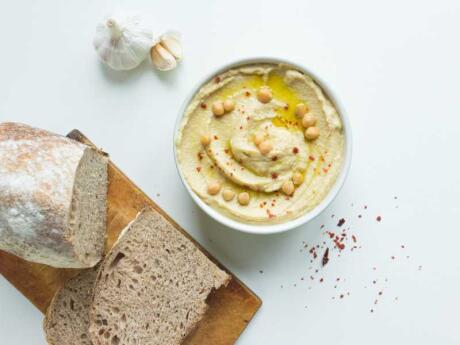 What party is complete without a tub of hummus? Though the kind we can pick up in our local store in London is NOTHING compared to true Middle Eastern hummus. Made from a puree of chickpeas, fattet hummus is mixed with pieces of pita bread, tahini, and pine nuts. It's then topped up with olive oil. Perfect for spreading on bread or crackers or using as a dip.
---
Planning Your Own Gay Trip to Jordan
We've put together some handy hints and tips to help you plan your own trip to Jordan. Read on to find out everything the gay traveler should know before they go.
Travel insurance: We never travel without the security of having travel insurance and recommend you do the same for your trip to Jordan (and any travels really!). We've been using Heymondo Travel Insurance for years and found them to be so helpful if things do go wrong and we need to make an online claim. Their cover is also both comprehensive and affordable.
---
How to get there: The main airport in Jordan is the Queen Alia International Airport, located south of the capital city Amman. There are flights into Jordan from most major cities in Europe and the Middle East. Once you arrive at the airport there are airport shuttle buses and taxis, although we prefer to pre-book a private transfer especially since it can take at least 45 minutes to get to the city from the airport when there's heavy traffic. With a private transfer, you can just relax in air-conditioned comfort without needing to worry about your luggage or haggling about prices.
---
Visa requirements: Travelers from most countries to Jordan will need to organize a tourist visa ahead of time, including citizens of the USA, UK, Canada, Australia, and most EU countries. You can apply for this easily online through iVisa though!
---
Getting around: Honestly, public transport in Jordan can be unreliable and we don't recommend renting a car as the road rules often seem to be more like suggestions! The easiest and least stressful way to get around Jordan is via guided tours, although Uber and Careem are good ride-sharing apps for within the big cities.
---
Power Plugs: There are five different types of power plugs used in Jordan, so we recommend simply bringing a universal travel adaptor so that you'll be able to charge your electrical devices no matter what!
---
Vaccinations: The CDC recommends all travelers to Jordan have routine vaccines for things like measles, mumps, rubella, and Covid-19. It's also recommended to be vaccinated against Hepatitis A, Hepatitis B, rabies, and typhoid (if you are going somewhere rural). Dogs in Jordan can have rabies, so be careful about making any canine friends even if you have been vaccinated.
---
Currency: The currency used in Jordan is called the Jordanian dinar and abbreviated to JOD. 1 Jordanian dinar converts to about $1.41, €1.41, or £1.23.
---
Tipping culture: Jordan doesn't have a strong tipping culture and no one will bat an eyelid if you don't tip. However, if you really want to show your appreciation for good service your tips will probably be well received. If you want to tip, around 10% of your restaurant bill is normal and you can tip bellhops or cleaners around 1 JOD per bag or day. The exception is local tour guides at places like Petra and Wadi Rum where tips ARE expected and the horse rides should be tipped at least 5 JOD.
---
Internet access: WiFi access in Jordan can be a bit hit-and-miss, often quite slow or unreliable. We found that purchasing a local SIM when arriving at Amman airport gave us as much internet access as we needed and for a low price.
---
Online privacy: Gay dating apps like Grindr are NOT blocked in Jordan, so you don't need a VPN in order to use them. However, if you'd prefer to keep your online activities private, then we recommend this VPN to ensure you can access the internet safely, securely, and anonymously.
---
Accommodation: We always use Booking.com when looking for accommodation in Jordan (or anywhere)! They have the best selection at great prices, often with free cancellation included, which we love as we're often quite spontaneous with our plans and might decide to stay on somewhere longer. Their online customer support is available 24/7 and very helpful if you encounter any difficulties.
---
Sightseeing and adventure: When looking for fun tours and activities in Jordan our go-to is GetYourGuide because it has so many choices all around the world. It's super easy to book online plus their excellent customer service is available 24/7 if you need help with anything.
---
When to visit: Fall and spring are the prime (and most popular) seasons for visiting Jordan, as the weather is mild without the rains of winter and fierce sun of summer. Of course, this is also the most expensive time, so if you're looking to save money then travel in the off-season but be prepared for inclement weather.
---
Our Safety Tips For Gay Travelers to Jordan
While there aren't any anti-gay laws in Jordan, that doesn't mean the country welcomes gay travelers with open arms. Sadly, we found that we did need to go back in the closet a bit while visiting Jordan, unless we knew we were around other gay locals we avoided PDAs and didn't advertise our relationship. We also don't believe in completely boycotting places that aren't gay friendly, so we suggest following these safety tips to ensure you can still have a great time in Jordan!
Avoid public displays of affection unless you are in a safe space (like an underground gay party), be aware of who you are with, and be careful to who you come out to.
Unless staying in a hotel you know welcomes gay travelers, book a room with 2 beds (whether it is 2 queen beds or one king bed and a twin).
Check official government advice before you go. We suggest this no matter where you're going, as it's always good to know of any official travel warnings. It's also wise to make sure you register your travel plans so you can get important updates while traveling.
Just like anywhere in the world, be aware of your surroundings, especially in big cities. Traffic can be different from what you are used to and obvious tourists are always seen as the easiest pickings for thieves. But if you're paying attention to what's going on around you, you should be fine.
Avoid excess drinking and the use of substances. It's far more likely that you will be taken advantage of, scammed, or even robbed if you are obviously intoxicated. As with the majority of Muslim country, the rules around drinking are quite strict, so you won't even find much alcohol except at larger hotels and restaurants.
Don't wear valuables in public. Pickpockets operate everywhere, and the flashier your belongings, the more attractive you are as a target. Leave your valuable and important items in your hotel safe so even if you do find something missing, hopefully, it won't be anything too irreplaceable.
Invest in a good money belt. It's always better not to carry too much cash or credit cards anyway, but having a good money belt that hides under your clothes is another way to ensure nothing goes missing.
---