TERMS OF USE: There is a chance that some of the content on this page has changed since it was last updated. By reading this article, you consent to our Terms of Use and Disclaimer. Happy Travels!
DISCLOSURE: Some of our posts may contain affiliate links which we may receive a commission if you choose to book something through one of our links.
These are our picks of the best gay friendly hotels in Medellin, Colombia, that are welcoming to LGBTQ travelers.
Medellin is Colombia's second city. What used to be the capital of a billion-dollar industry has now transformed into an exciting, super modern and buzzing gay friendly metropolis.
The Paisas (the nickname of people from Medellin) often compete with the Rolos (the nickname given to the people from Bogota) as to who is better. A common joke is that Medellin has the best weather (the "City of Eternal Spring") and unlike Bogota, has managed to build a successful public transport system – honestly, mention that to them and it will spark a whoooole long conversation about it!
In terms of the gay scene, however, Bogota wins for us hands down simply because of the incredible super club, Theatron! The gay scene of Medellin is just as vibrant to explore, of course, particularly around El Poblado, where the majority of the city's best nightlife can be found.
We spent almost a year living in Medellin and during that period we were fortunate enough to try out various different places to stay. We've put together our 6 best gay friendly hotels in Medellin for gay travellers, where you can feel confident you'll be welcomed as a queer traveller and won't have any problems getting a double bed.
Where to base yourself in Medellin
The majority of the best gay bars and clubs of Medellin can be found in and around El Poblado. This was definitely one of our favourite parts of Medellin as you're close to the main gay bars as well as to the city's best restaurants. The majority of the best luxury hotel brands are in Poblado, but the downside is that it is not cheap: this is one of the most expensive parts of the city!
If you want to stay somewhere more low-key and less pricey, we recommend the neighbourhood of Laureles. It's around 20-30 minutes Uber ride away from Poblado, but it's more local, residential and still has a few gay hangouts nearby, in particular, Viva club.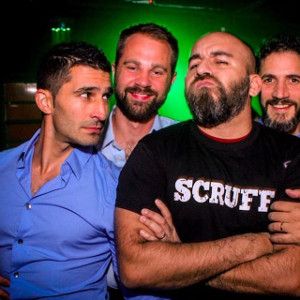 Discover Gay Medellin with an LGBTQ local…
Our friends at Out in Colombia, an excellent gay local tour company, offer a gay nightlife tour of Medellin. We found this to be a fantastic way to discover the gay scene. You'll be greeted by a gay local guide, who'll take you to the best gay bars in Medellin for an unforgettable night out! We've partnered up with them to offer our readers an exclusive 5% discount off their gay tour by quoting NOMADICBOYS05.

01
NH Collection Medellin Royal
El Poblado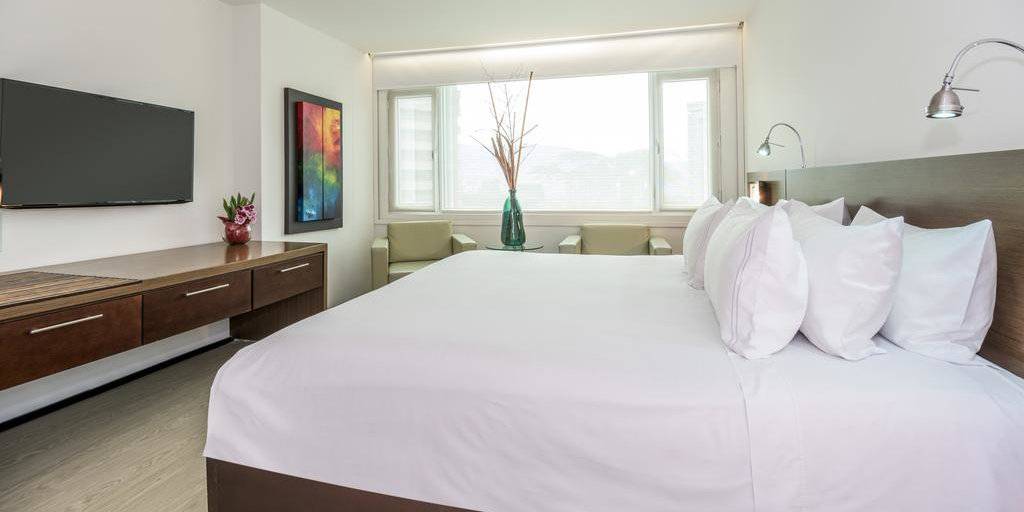 Why we love it
---
5-star luxury hotel
Excellent location
Fantastic gym, swimming pool and spa
Lovely hotel restaurant and bar
The NH Collection Medellin Royal is a gorgeous 5-star hotel located in the heart of El Poblado.
Not only will you be ideally situated for exploring the gay bars and clubs close by, but the Medellin Royal is just across the street from the incredible Santa Fe mall, so you can do lots of shopping too!
Rooms are sleek and minimalist in design, with wooden finishings and little pops of colour.
This luxury hotel has lots of wonderful amenities like the fitness centre, swimming pool and an on-site spa. The spa offers massages for relaxing as well as beauty treatments. The second-floor terrace bar is a lovely spot for a signature cocktail while looking down at the pool and out over the city. We loved relaxing here before heading out to party later.
As well as the bar, Cygnus Restaurant specialises in Latin modern cuisine and international dishes, with 24-hour room service available if you don't want to get out of bed. The staff are wonderfully gay friendly and helpful, plus there's an extensive concierge service to help you book everything you want to do while in Medellin.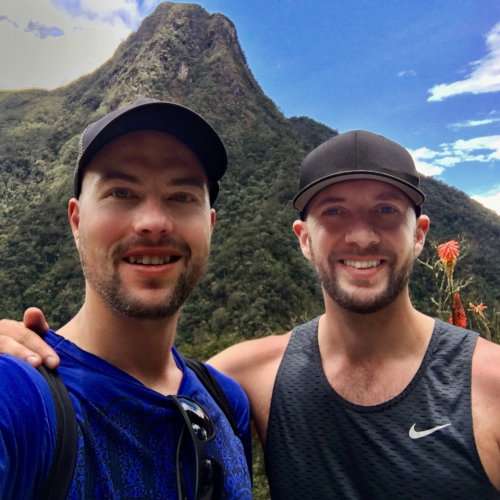 Explore Colombia on a gay tour
Out Adventures' brand new Colombia tour is hotter than Maluma! Beginning in Bogotá, the carefree escape will have you shaking your arepa at the largest LGBTQ club in the Americas, hiking humid jungles in Tayrona National Park, and soaking up the country's sand, sun, and sea in coastal Cartagena. The optional gay salsa class, food tour, and snorkeling excursion make this adventure muy caliente!
02
Medellin Marriott Hotel
El Poblado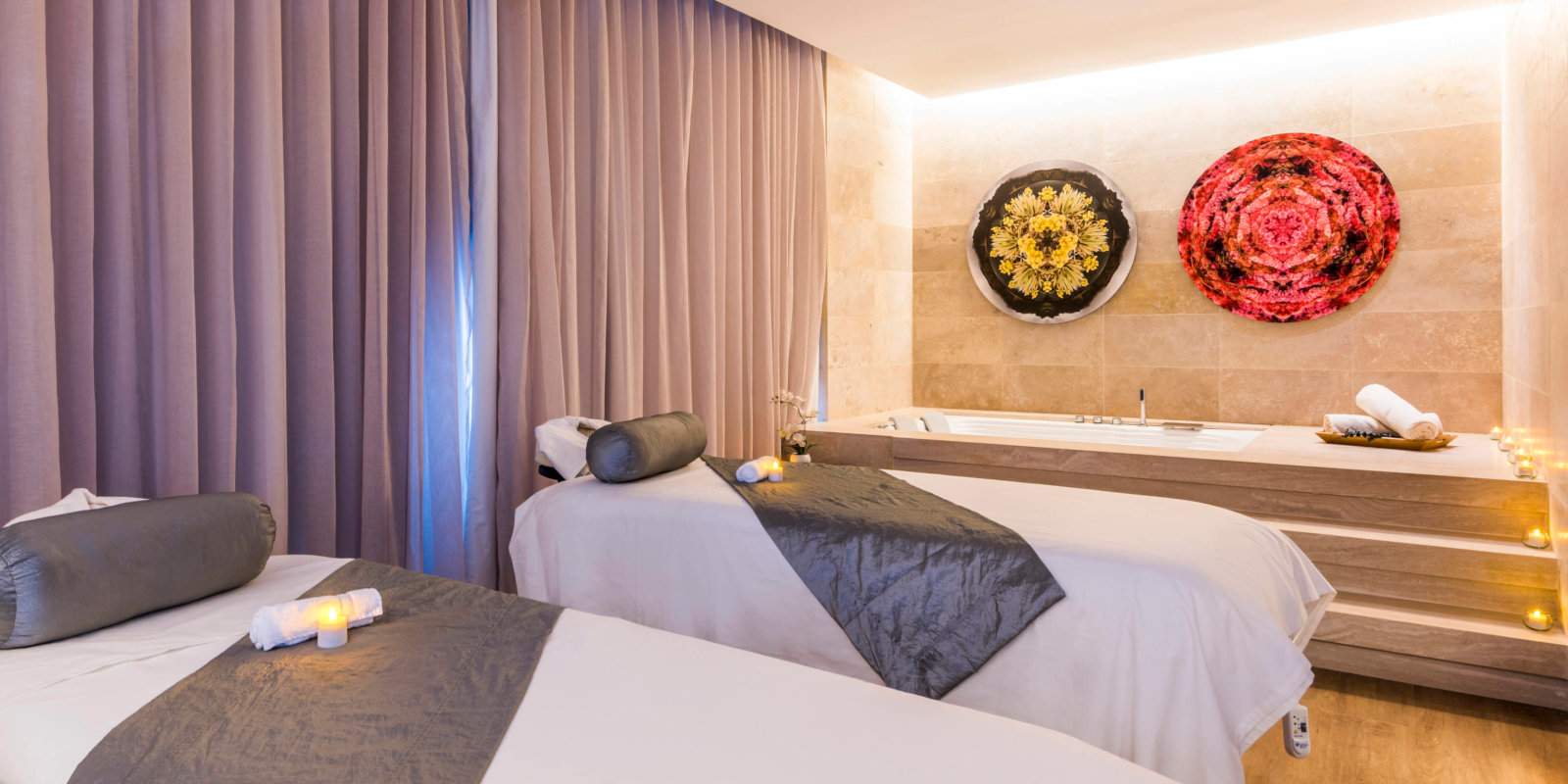 Why we love it
---
Luxurious hotel with incredible views
Outdoor pool and big gym (also with great views!)
Wonderful on-site spa
Two excellent restaurants
Medellin's Marriott Hotel is another glorious five-star luxury hotel that we loved. It's well located in Poblado, close to the main gay scene of Medellin.
We always big up the Marriott brand as it's internationally famous for being a strong LGBTQ ally, so you KNOW you will be welcomed here!
Most of the rooms at the Marriott boast floor-to-ceiling windows, perfect for gazing out over the city, day or night.
The Marriott has a big outdoor pool that also offers incredible views. The stylish spa (pictured) is a particular highlight. We loved being able to have a hot stone massage together in the couples room, as well as the small sauna for sweating out (ahem!) impurities. The large and well-equipped gym looks out over the city, so you can enjoy the view while keeping fit.
There are two excellent restaurants on-site: The Market serves international dishes made from the freshest local ingredients, while Nau is perfect for sushi and other authentic Japanese dishes as well as some amazing signature cocktails. Optional extras for a small price include the extensive buffet breakfast each morning and an airport shuttle service.
STAY WITH A GAY LOCAL
Misterb&b is the Airbnb equivalent for the LGBTQ community. Unlike on Airbnb, you know your host is gay, voiding any nasty surprises when you check-in. It is also a great way to meet gay locals and discover the underground gay scene. Click below to get 10 € (or $10) off our first booking.
03
Sites Hotel
El Poblado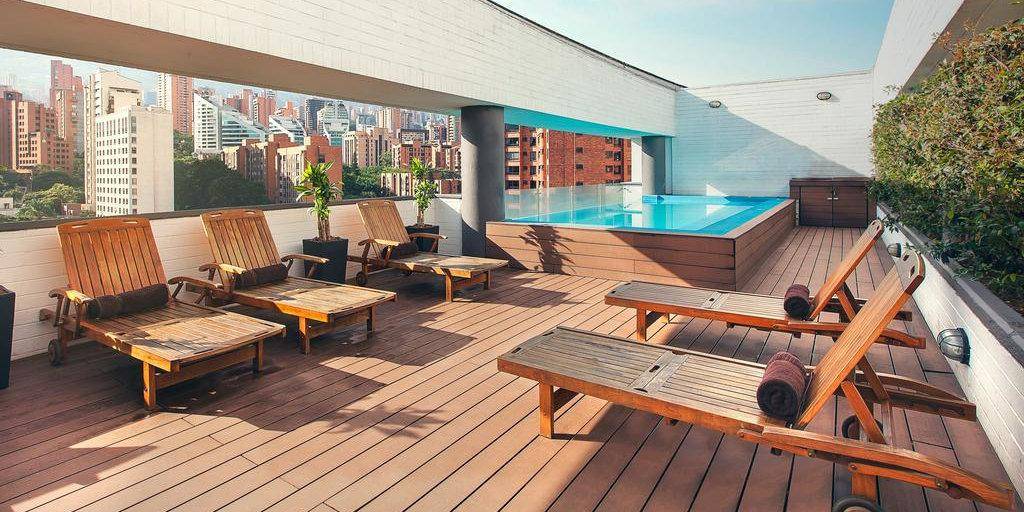 Why we love it
---
Well located in Poblado, walking distance to the gay bars
Small but lovely rooftop pool/Jacuzzi
Buffet breakfast included in rates
Wellness centre with a gym and sauna
Sites Hotel is set in a modern building with lots of excellent facilities for those who like to be a bit more independent when travelling. For example, the rooms have small kitchens for self-catering, there are BBQ facilities and you can make use of the self-service laundry room as well.
There's also an on-site restaurant which provides room service if you still want the more traditional hotel experience.
We loved the 'wet area' (pictured) which features a sauna, Jacuzzi/pool and Turkish baths, as well as a small gym. Whether you're relaxing in the water or working up a sweat on the exercise equipment, you'll also be able to gaze out over the city and enjoy the views.
The rooms are very spacious and the beds oh so comfy. Bookworms will be pleased to know there is a charming library along with lots of reading rooms throughout the hotel. The library is well equipped and has luuush leather chairs to chill in. The in-house Cinco Quince restaurant does simple but yummy food: think salmon with fresh veggies, Caesar salad and BLTs. The breakfast each morning is excellent, with made-to-order eggs and, of course, lots of yummy Colombian coffee!
04
Patio del Mundo
El Poblado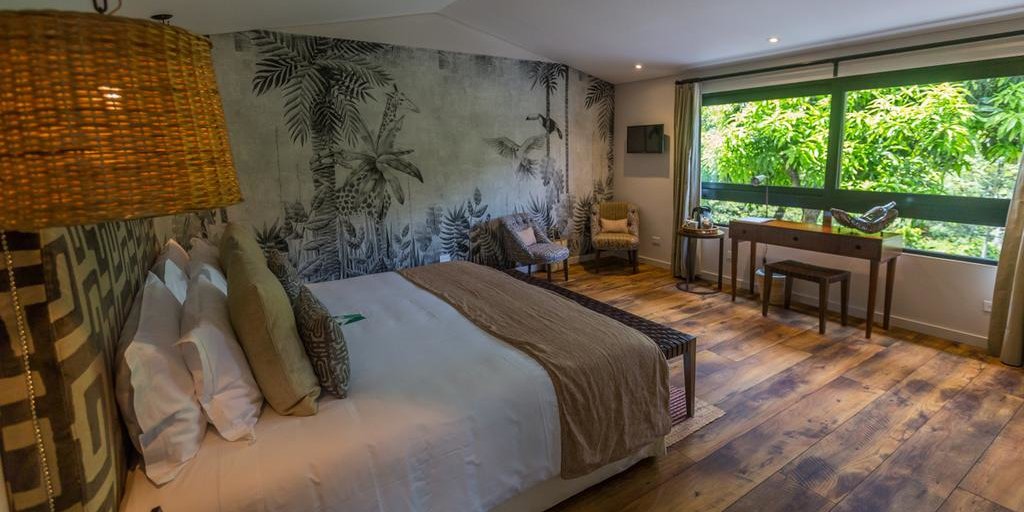 Why we love it
---
Beautifully restored guesthouse
Yummy breakfast served on the garden patio daily
Gorgeous tropical gardens and Jacuzzi
Balcony rooms feature a private hammock
We loved staying at Patio del Mundo because of its proximity to the gay hangouts around Lleras Park, but when you're inside, it's like you've entered another world. You can hardly hear any noise from the busy city beyond the villa's walls.
If you book a balcony room you'll even have your own private hammock. Another highlight is the Jacuzzi in the midst of the tropical garden for all guests to enjoy.
The garden is a highlight of Patio del Mundo, we loved spending time chilling and reading a book before sunset. Not only is it a peaceful spot to relax in, but you can also join a yoga class here, or book yourself a massage. It's a very romantic and intimate place to stay, with only 8 guest rooms. A bountiful breakfast is served each day on the garden patio, for which there's no extra charge.
There are lots of little details to love here: the rustic but pretty decor, the free bathrobes and toiletries and the on-site bar. The staff are delightful and with so few rooms, you'll feel like you're getting a 1-2-1 service at all times. Best of all, you're only a quick walk from the best nightlife, if you can bring yourself to leave this little oasis!
What to do in Medellin?
We found Medellin has so many cool and fun activities to do. It is filled with beautiful art, a thriving foodie scene and lots of beautiful spots worth exploring…
05
Los Patios Hostal Boutique
El Poblado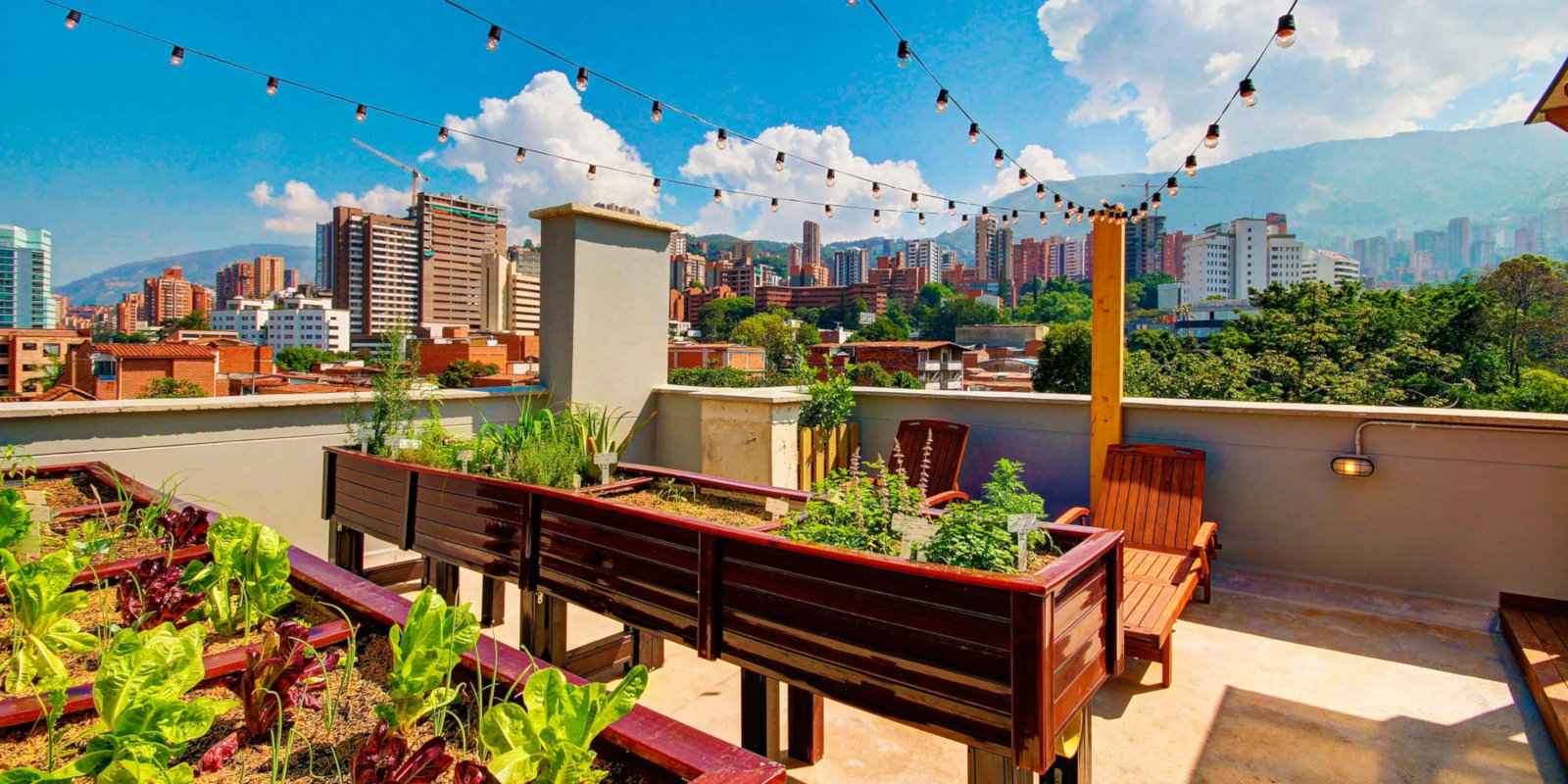 Why we love it
---
Fantastic mix of hostel and hotel
Very affordable
Rooftop Tiki bar with stunning views
Close to the gay area and a subway station
One of our favourite gay friendly places for budget accommodation in Medellin is the eclectic Los Patios Hostal Boutique.
This affordable choice is a quirky mix of hostel and hotel, with hostel prices, but with many of the amenities, you can expect at a fancy hotel.
The highlight has got to be the Ziruma Tiki bar on the roof, with those views of the city to the mountains and the cute lights!
You can choose to sleep in hostel dormitories or private rooms. We loved how each floor of the building is themed around a different region of the country so you can get a taste of Colombia's mountains, sea, jungle and plains. The rooms are very stylish, clean and bright.
As well as the rooftop bar, there's a herb garden on the roof that guests are free to use when cooking their meals in the shared kitchen. Active travellers like us will love the small gym and also being able to hire bikes to explore the city. This is also a great spot to meet other travellers, maybe in the entertainment room, co-working space or just over a free coffee.
06
Hotel Roma
Centro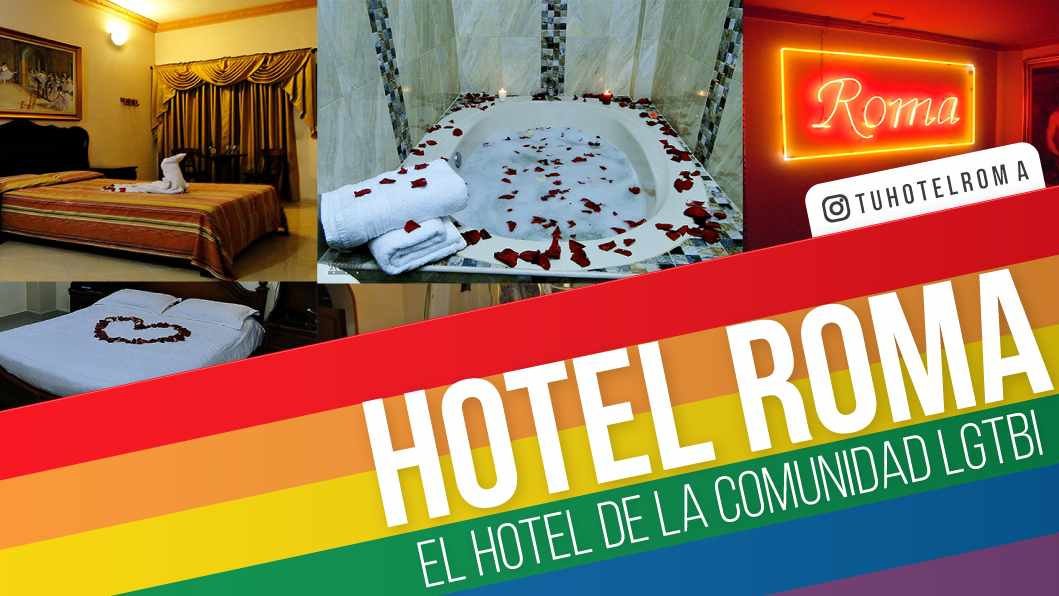 Why we love it
---
Discreet and romantic gay hotel
Big bathtubs or Jacuzzi in the rooms
Very intimate and romantic
Close to a metro station for getting around
Hotel Roma is Medellin's official gay hotel and also a very affordable choice. It is located in the Centro downtown area of the city, so whilst not being near Poblado, it's certainly a less touristic and more local experience. In any case, Poblado is a short taxi or Uber ride away.
Hotel Roma is close to the quirky Plaza Botero, a must for all travellers to Medellin! It's also near to the gay bars of the Centro area like La Cantina de Javi gay dive bar.
The rooms are spacious and always lovingly decorated with romantic details like rose petals and towels shaped like swans. All the rooms also feature big bathtubs for relaxing and there are lovely classical paintings throughout the hotel.
Hotel Roma also offers a paying service to spend an evening with pretty boys or trans women in the privacy of your room. So whether you're travelling as a couple or alone, you will definitely not be getting lonely or bored here!
---
Like this post? Pin it