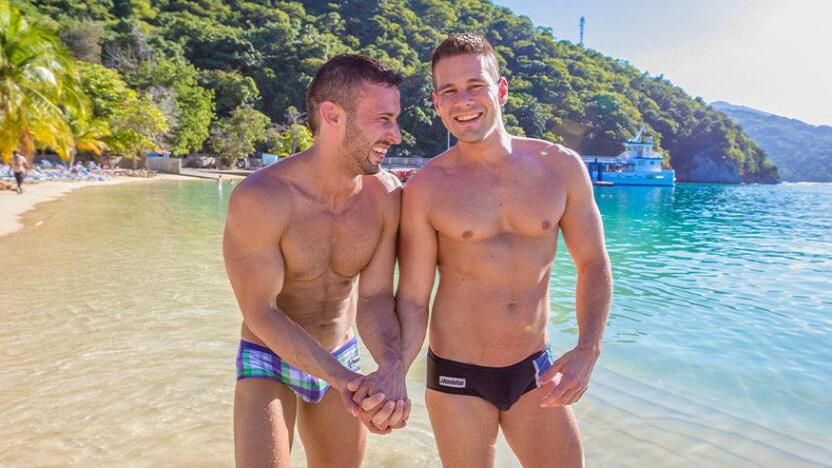 The cruise at a glance
---
Prices start from $999 per person
Dates: 28 January - 7 February, 2022
Huge luxury cruise ship
Itinerary: Miami – Costa Rica – Bahamas
Shake off all those nasty winter blues by hopping aboard this glorious Atlantis cruise in Caribbean waters.
It's an Atlantis cruise ya'll, so you just KNOW this one's gonna be jam packed with hot oiled up muscular torsos, plenty of parties and even more after parties (wink wink!)…
There's no shortage of things to do onboard. Our highlight is the exciting shows they put on, which feature top class drag queens. And the pool parties…oh those notorious boisturous pool parties…! Obligatory gym can also be found on board to top up the pecs in between the parties. Apart from alcohol, everything onboard is included in the price, so there are no nasty surprises in store either – just the fun ones!
After setting sail from Miami, this cruise will whisk you to Costa Rica, Panama, Colombia and the Cayman Islands for lots of fun in the sun. Beach bums will be in heaven as you have ample shore time to relax on white-sand beaches and snorkel in crystal-clear waters. Animal lovers will delight in spotting sloths in Puerto Limon, and the UBER pretty town of Cartagena in Colombia is begging for a spot on your Insta feed. We just love how this cruise mixes partay with culture so effortlessly!
This gay cruise has a Room Share Programme available, which means that if you're traveling alone you can contact Atlantis Events ahead of time and they will pair you up with another traveler. This way you can still join the cruise without needing to pay a single supplement, and since your roomie will also be traveling solo, you'll probably become fast friends! Atlantis also organise special singles gatherings and dinners on their cruises, so you will have even more opportunities to mingle with other solo travelers.
Prices for the Atlantis Tropical Americas Cruise start from $999 per person:
---