TERMS OF USE: There is a chance that some of the content on this page has changed since it was last updated. By reading this article, you consent to our Terms of Use and Disclaimer. Happy Travels!
DISCLOSURE: Some of our posts may contain affiliate links which we may receive a commission if you choose to book something through one of our links.
Do you remember your first time? Your first experience with another guy? Your first story with another gay guy?
It's that first moment of total pleasure when everything else just disappears, and those weird "feelings" suddenly make complete sense. Suddenly everything falls into place: you're not a freak of nature or "different", simply experiencing the simple joys that you were born to enjoy!
For most gay guys, our first gay experience is usually a moment of revelation and clarity that eventually leads to our own acceptance and the urge to tell the world. For others, it's a complete disaster that we prefer to forget… although one thing's for sure, you will never truly forget it!
In this post, we asked a few of our friends from around the world to share their first gay experience with us, whether it was a first-time gay kıss, their first gay love story, or something a bit more spicy(!)… and we've set it all out right here. You'll also want to check out our own love story of how we first met each other.
Marcel Danner – "My metro crush"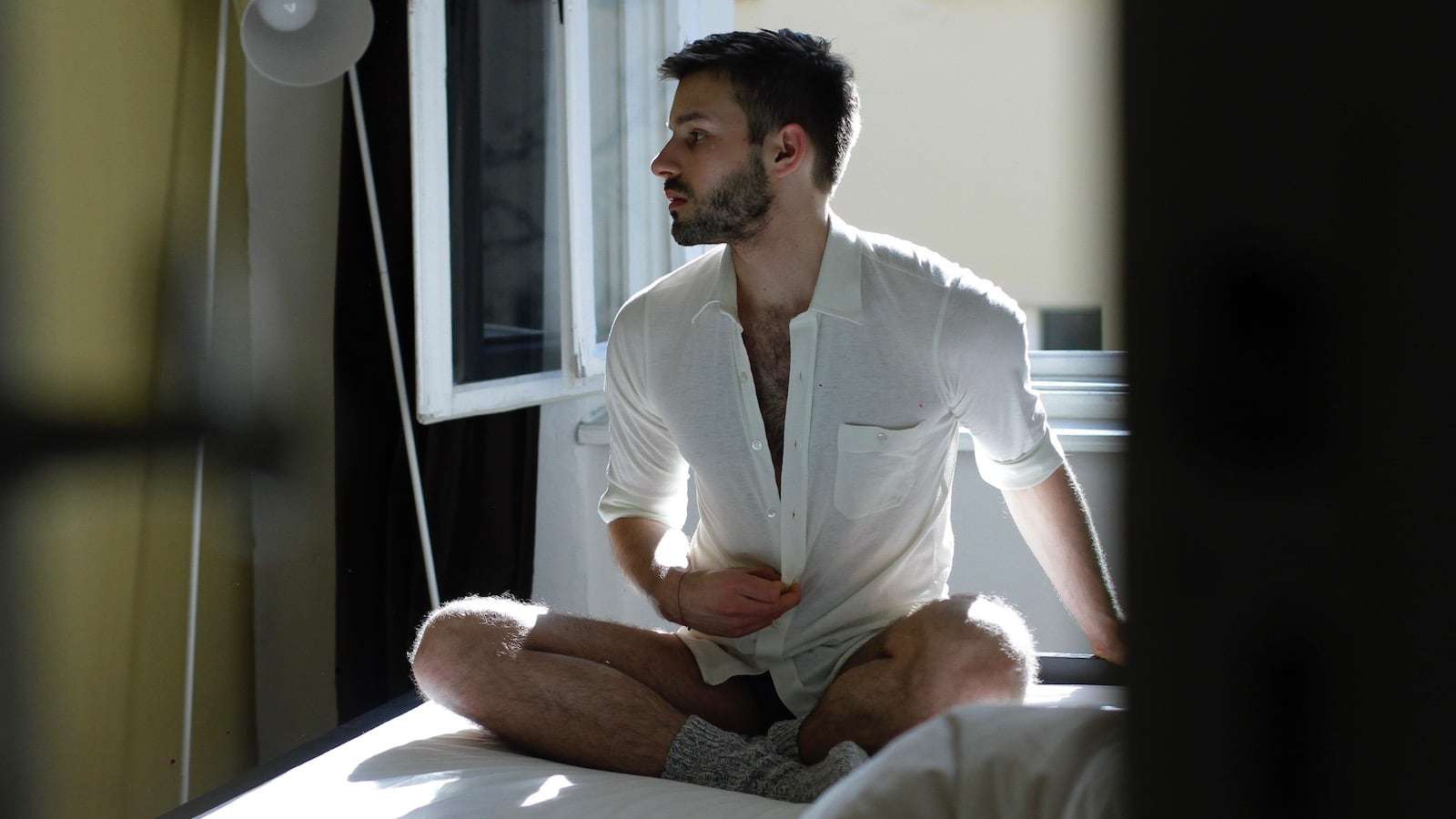 I was 20 years old, a student, sitting in the Berlin metro train, on my way to my internship. Suddenly, I saw this beautiful creature of a man and I just couldn't stop staring at him – I felt like I was under a spell! I got off the train when he did and followed him for a while, but then stopped and went back to catch my train again.
By chance the following day. We exchanged a bit of small talk about connecting trains and he also gave me his name… As soon as I got home, I searched up his name and connected with him on Facebook. I sent him a DM asking him out for a coffee, and he said 'yes'!
From that day on, and for the remainder of my internship, we'd meet outside, every day, for lunch. I knew he was gay, but I made it clear to him that I wasn't (back then I was still deep in the closet). Funnily enough, his response to this was:
"Yes, you are, you just don't know it yet!"
This one time after work he invited me to his atelier, backstage in the local museum. As soon as we closed the door, I felt this intense chemistry between us immediately! I let him kıss me and he went down on me… I started moaning quite loudly, which made him giggle. He asked me to keep the noise down so as not to alert anyone outside…the whole thing turned me on!
When we finished, I realized this is just the beginning of something really special.
Two days later he invited me to his home, which turned into a long magical afternoon session, which became my first time; I was so enchanted by him that I gave him my virtue and loved every single minute of it!
You can see more of Marcel on his Instagram page.
David Francisco – "The handball player"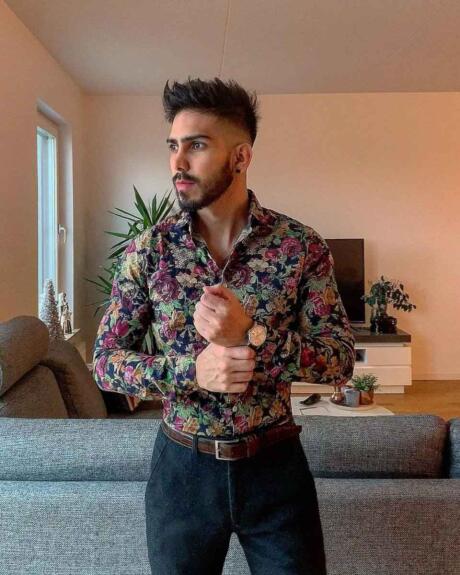 I can remember my first gay kıss like it was yesterday!
It was at High School. I was 17 years old. He was a Danish handball player, big arms, pretty face, perfect skin, and with the most alluring green eyes I've ever seen! We were sitting on a white wooden bench on top of a small hill by the fjord, contemplating the beauty of the city, Vejle, a small town in southern Denmark.
We chatted for a while and out of the blue, he looked at me and asked:
"David is there something you're wondering about me?"
I wasn't sure if he was referring to my evident attraction of his bulging biceps or if he thought I was curious about the weather…I was completely perplexed. I didn't reply. I just stared at him, awkwardly. He then asked me:
"Do you want to be my boyfriend?"
I continued looking into those irresistible green eyes, dumbfounded. Then he leaned in, slowly moving his lips to mine and we kıssed. It was incredible! It was not only my first kıss but also the first time I fell in love. I just didn't want the moment to ever end.
But it did, and in the most idyllic and beautiful way – as we were staring at each other with fascination and excitement, small drops of cold water started to fall from the sky!
This moment really changed me from within. It made me realize that love does not have a gender, compassion does not have a religion, and character does not have a race. And for the first time in my life, I felt like the luckiest guy to be gay!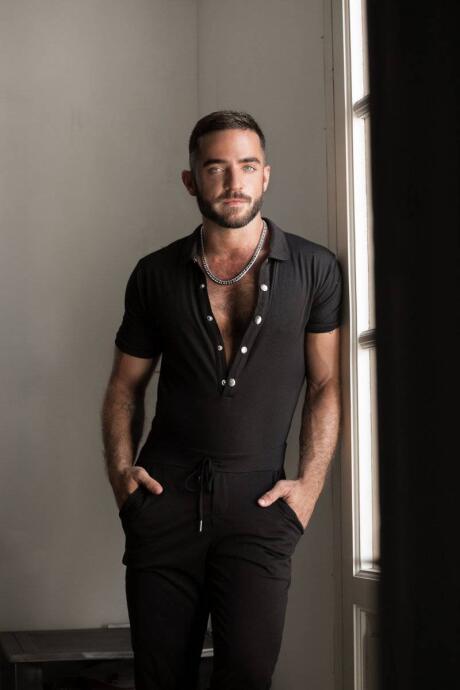 My first experience with another boy is one I will never forget.
When I was 15 years old, I lived in a penthouse with my family that had a small hidden door to the elevator room and across all the cables and machinery, you could go out to the main roof of the building. Whenever I felt annoyed or sad I went out without anyone noticing, to lay down on the sloping roof of the 14-story high building! It was crazy, I know.
One day after school, I came home with my best friend who was also going to stay the night. We went out onto the roof without anyone noticing and leaned back on the roof tiles, gazing at the stars and talking about our frustrations as rebellious children.
Sneakily we approached our hands, touching each other little by little but without interrupting the conversation. Then we held hands, we looked into each other's eyes and after a long time looking at each other he asked me: "what if we kıss?"
I just looked into his eyes, closed them, and let our lips do the rest. We kıssed so passionately that I still remember the taste of it. We ended up doing a bit more than a kıss until we realized how dangerous it was to be out there moving on the roof tiles, so we went down to my room and slept together, never letting go of each other, all night long.
See more gorgeous photos and plenty of thirst traps on Daniel's Instagram!
Clayton Mercieca – "Can I kıss you?"
Ever since I was a young teen, I became aware that I was different from other boys and never had any success with dating girls. When I finally accepted that I was gay at age 16, I wanted to preserve my first kıss for someone special. I was terrified of intimacy and always delayed throwing myself out there to date someone of the same gender.
I was 19 when I finally plucked up the courage to meet someone who I had started chatting with online. From the photos he sent me, he looked gorgeous – perfect mid-length hair, beautiful brown eyes, and a dreamy face. Our first meeting was a flowing and easy conversation and everything was going so well. I was lost in his beauty.
When it was time to leave, he asked me if he could kıss me – I still remember my heart racing so fast that it wanted to explode. But I agreed and the first kıss was just a peck as I really didn't know what to do. The second attempt went a bit better as I relaxed my lips and left my mouth slightly open. I felt his tongue, and shivers went up through my whole body. I was convinced this was the perfect man.
The following day I was beaming! I was the happiest guy on earth. I was texting him messages of how happy he made me. He didn't reply. I waited and waited… and that my dears, was the first time I got ghosted, right after my first kıss, before I even knew people could actually do such a thing. The first kıss I preserved for so long for that special someone, went to waste.
You can follow Clayton on Instagram. Make sure you also check out the Gay Malta website which he runs, where you can find all the latest news and events for Malta's LGBTQ+ family.
Juan Camilo Velez – "The delivery boy"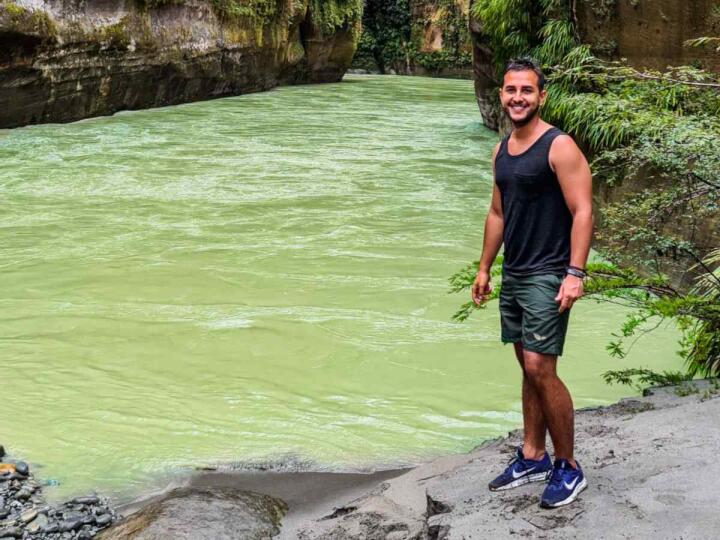 My first kıss with another boy is something that I'll never forget. At the time I was 16 and up until that point in my life, I was always the chubby nerd who got bullied a lot. My social skills were non-existent, let alone my dating life.
In those years I couldn't wait to graduate, leave my hometown, and start a new life in Medellin, located just 2 hours away by car. The gay scene of Medellin was far more lively and accepted compared to where I lived. It was a place where I could finally be myself whilst keeping my gay secret far away from my family. However, until I could leave, I was stuck back home in my conservative and religious Colombian small town!
But one day, this delivery boy about my age came with a package for my mother. Our eyes met, and a spark just ignited itself. Next thing I know, he started to ask people about me. The next time he came to deliver a package to our house, he handed me, with a smirk, a small note with his phone number written on it!
We started to go out a lot. The more we chatted, the more we found we had in common. The exciting tension between us kept growing until it became unbearable! So one day, we decided to hang out by the river. This was something which we'd often do with friends so we both knew it wouldn't raise any suspicions with our families.
We found a private spot to leave our stuff then went into the river. We played around, wrestled, and laughed a lot. Finally, after looking into each other's eyes for a while, with my heart racing and finding it hard to remain calm, I leaned over to him. We kıssed. It was sweet, awkward, passionate, private, all at once. I still remember avoiding getting out of the water to hide my visible boner from him. That kıss confirmed to me at the time, who I was, and who I am today!
Sadly, that day my brother's friends were camping near the river, saw the whole thing and told our families. So, all hell broke loose for both of us, but that's another story.
You can connect with Juan and see Colombia from a local's perspective on his Instagram.
Efren Prieto – "I'll drive you home"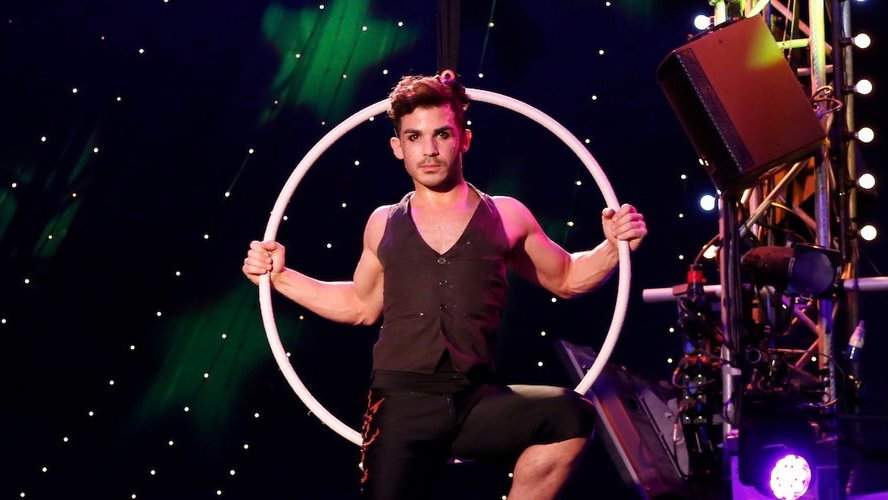 My first gay experience was not the most pleasant love story. I was 18 and he was much older, living a double life – married, with kids, and a pregnant wife.
He was also the owner of a bar – a bar that I stumbled into with my university friends on a night out back home in Puerto Ordaz (my home city in Venezuela). He took an immediate liking to me and kept offering me cocktails all night long – which I was only too happy to accept! I was amazed with his charm and flirtatious nature.
Eventually, after all my friends had left, he offered to drive me home. By this stage of the evening, I was pretty drunk! However, instead of taking me home, he drove us to a motel and beckoned me to go inside with him. I remember feeling scared, but at the same time, curious and excited to be with another man. I also didn't want to lose face or appear naïve in front of him.
I don't really remember what exactly happened between us or how far we went as I was pretty drunk, but I eventually made it back home in one piece, and never saw him again!
With hindsight, as exciting as this was, I don't feel too proud of this experience because drinking was the main reason I went inside that motel with a complete stranger. Whereas he knew exactly what he was doing and had pretty much planned it. The night could easily have taken a more sinister turn and put my life in danger!
So, my lesson from this story is that it is good to enjoy yourself, but young people should be super cautious, especially when heavy drinking is involved. Stay with your friends, and don't disappear with random strangers!
Check out Efren's Instagram and YouTube channel for more details about his life!
Uwern Jong – "Making out with the bad boy"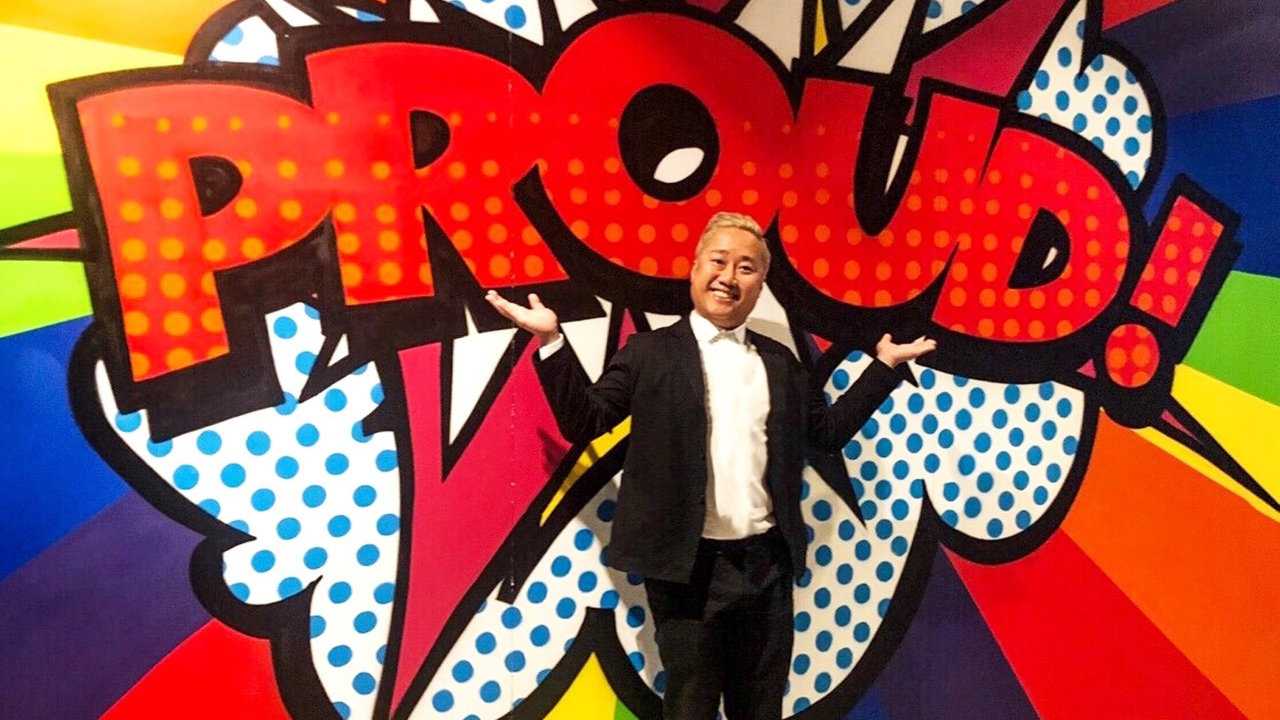 I started young, I've always had a "spirit of discovery," one that still gets in me in trouble today.
I went to an all-boys boarding school, a place burgeoning with post-pubescent hormones. On an overnight military cadet field trip, we were assigned a buddy and had to take turns to do a patrol walk in our pairs of the perimeter of the camp in the middle of the night. I didn't know my buddy well, but he was cute and had a bit of a 'bad-boy' reputation.
We spent most of the hour in silence until he suddenly asked if I wanted to share a smoke, which we did. On our way back, I asked him if I stunk of smoke, I was paranoid. He looked at me and went in for a deep kıss, what must've only been a minute, but felt like an eternity. "No, you can't tell," he said, just as the next two lads came to relieve us. Neither of us could sleep after, so discovered more of each other in the bathroom.
The funny thing is that we got caught, by a Sixth-former, who must've been half asleep. On smelling the smoke on us, he assumed we'd been smoking and ordered us back to bed.
Back at school, our friendship certainly bloomed, until he got suspended for having drinks on campus and his parents decided that he was to change school. Last I heard, he is married with a family now; but then, so are many of the guys I discovered at school.
See more of Uwern on his Instagram!
Jeffrey Perla – "The night of my 21st birthday"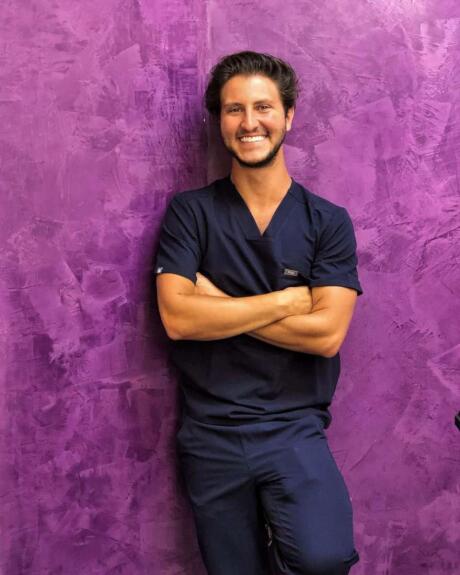 I have been hooking up with boys for as long as I can remember. From elementary school playing manhunt with the kids in my neighborhood to high school with the closet cases at sleepovers when everyone went to bed.
I never fully equated it to being gay though. I thought if I tried hard enough, I could be straight. Once I got to college I was proven otherwise when my first real experience with a guy occurred.
It was the night of my 21st birthday and I was hanging out with this kid I barely knew. I was completely infatuated by him! The emotions I felt were something I'd never experienced before in my life.
Later that night we went back to my college house where I was living with 6 other straight men. I remember spending hours just laying in bed with him talking about life. It was crazy to me how comfortable it felt. All my anxieties and insecurities just melted away. It felt like I could breathe for the first time in my 21 years of existence!
As bad as that relationship turned out, I was grateful for that first experience with him. It made me realize who I was as a person, which made feel truly content for the first time. That was the first night I met Jeff! From that moment on, everything in my life made complete sense.
Make sure you check out Jeffrey's excellent LGBTQ lifestyle Behind The Bum Podcast, which we rate as one of the best gay podcasts.
Scott Intajak – "The village boy"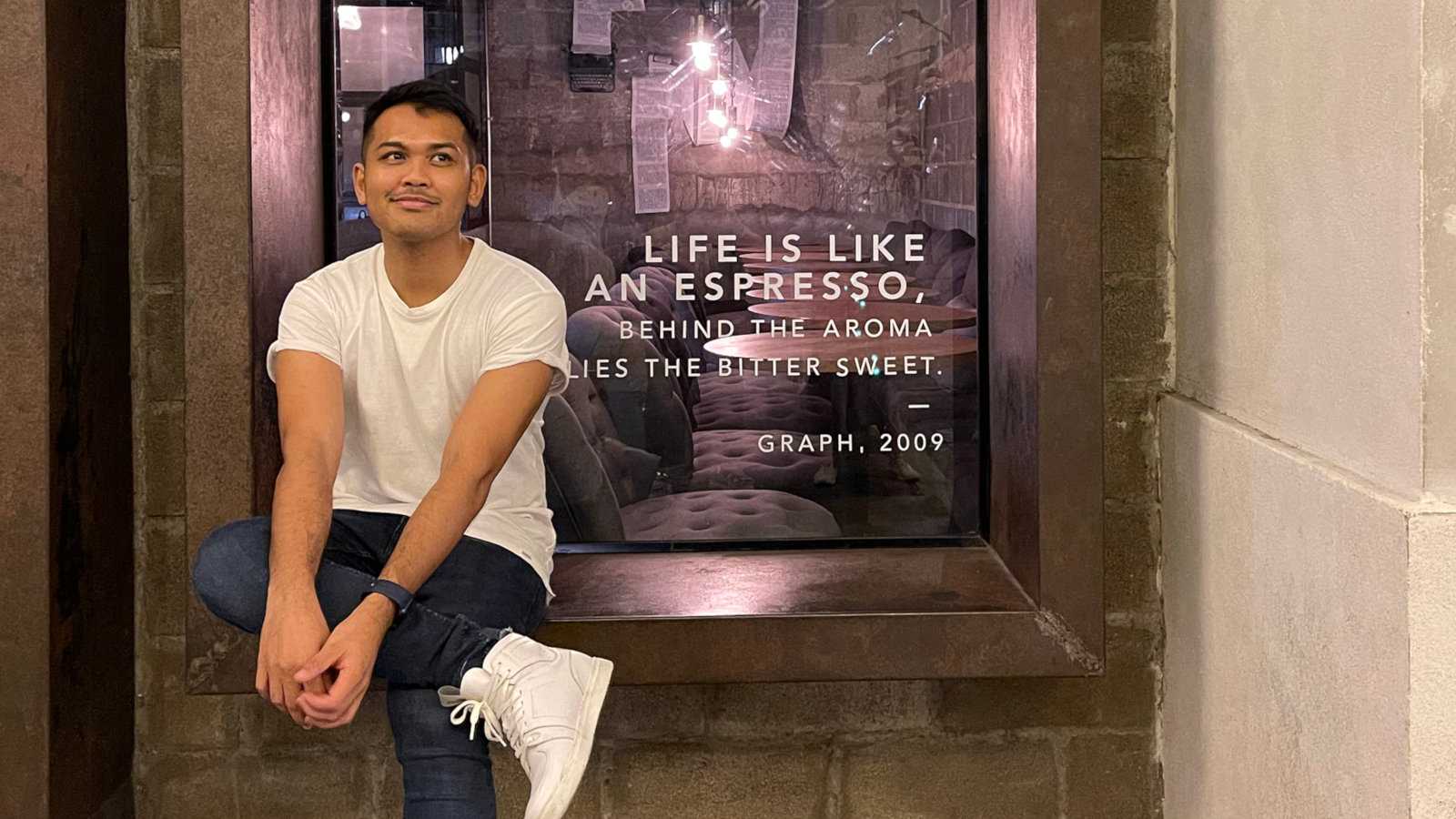 My first ever gay experience, hanky-panty and kıss happened on the same day.
Moving to Bangkok for university in 2011 from a small village, my perception of romance was a bit like the movie "The Sound of Music" where I starred as Maria who sang in a field full of flowers.
I met a guy online, though we didn't live in the same city, we had kept in touch for months before I decided to travel 2 hours to see him. He was 28 at the time and I was 19.
I didn't have to tell him that I was still pure, he knew right away as soon as we kıssed for the first time. I was so inexperienced, and trembling like crazy! Maybe I was just lost in that ecstatic moment from our kıss because I can't for the life of me remember how we ended up in his bed. I had zero idea of "how to bottom". Thanks to all the "online educational sources"(!) that I spent my teenage years learning, I was able to make do and make him happy that evening.
Though we had a wonderful weekend together, to him, I was just another fling. To me, it was a whole other story – I fell for him in a big way and it was hard knowing he wanted nothing to do with me after our weekend together. However, I must have been quite an incredible fling because I was able to change his mind and we managed to have a relationship.
It was my first kıss and romantic gay relationship all on one fabulous emotional roller coaster ride!
For some of the best online sass, be sure to connect with Scott on his Instagram.
Sebastien Chaneac – "In the deaԃ of the night"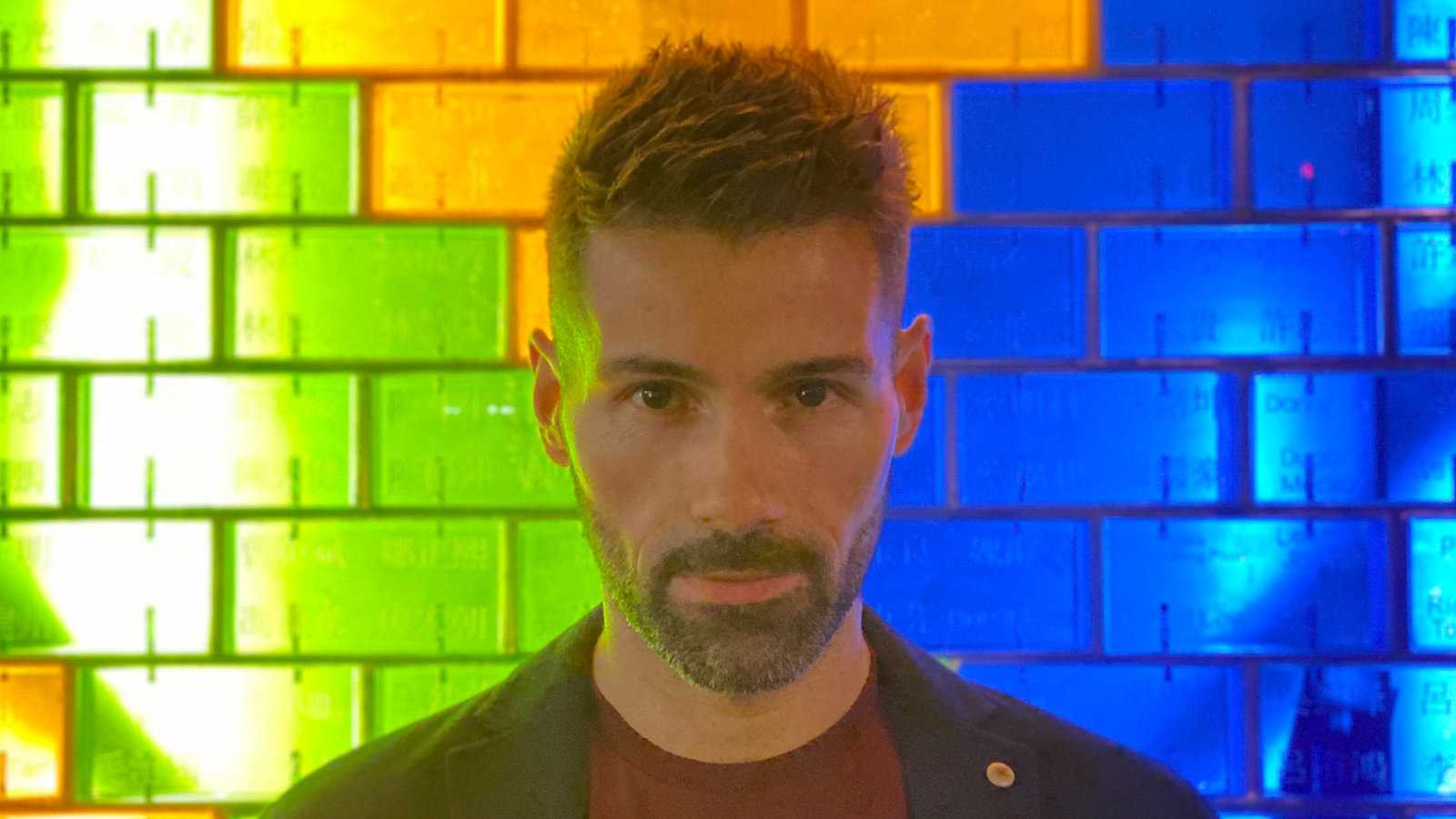 I was 15. It happened in his car in the middle of the night.
Growing up in a small French town back in the mid-1990s, I didn't have any way of meeting other gay guys like me. Back then, there were no gay hangouts and the Internet did not even exist. I was only 15 but I was so eager to have my first time and be intimate with another guy. So after hearing an ad on the radio for "gay meetups", I decided to take a leap and dial that very expensive "gay hotline".
I was so scared but super excited at the same time. I was so desperate to meet another guy who was like me. I planned it all on a Wednesday after school when I knew I'd be alone. I called the gay hotline and spoke to a guy called "Denis" who was 26 years old. He had a very charming voice (which was the only thing I had to judge him by).
We chatted for a bit, then agreed he would pick me up at midnight when everyone at home would be fast asleep and drive us to a quiet spot where we could have some fun… As we would say in French, I decided to "faire le mur". I felt a bit guilty that I would be sneaking out like this in the middle of the night, but I knew it was the right thing to do, it was time for me to do it…
The drive with Denis in the French countryside in the middle of the night was one of the most terrifying yet exhilarating things I've ever done in my life! I was in the hands of a total stranger who could have done anything to me, yet I was so desperate to meet him, and, well, to "meet" him if you catch my drift…!
And yes, he was super hot!
To cut a long story short, we ended up stopping in a large grassland area and parked the car under some trees. This is when Denis decided to give me my first kıss with another guy and that was my first moment of pure gay magic!
My date drove me back 2 hours later.
That night I had the best night sleep I ever had in my whole life!
I was probably one of many of Denis's "conquests", quickly forgotten. But I assure you, I'll never forget my first-time teenage gay experience with this ravishing 26-year-old stranger!
Find out more about my gay life with Stefan in our Nomadic Boys Instagram.
Aaron Carty – "The dent in the car"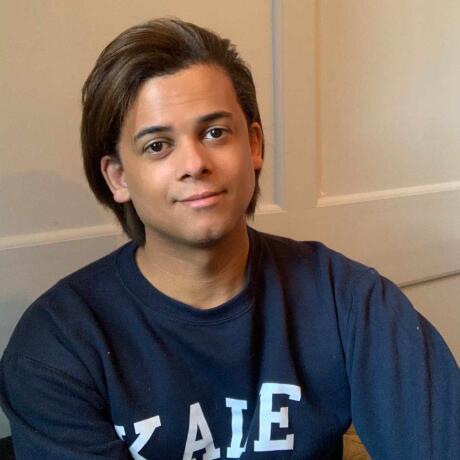 I'll always remember my first gay kıss, there used to be a small gay pub in Essex called 'The Fox' and out the back it had a night club that resembled a village hall. I must have been about 17 and had not long been driving when friends and I went for the very first time. I was so nervous and excited, driving in my black Mini Cooper I couldn't wait to get there.
I remember seeing the absolute cutest boy in the club, dancing away with his friends. It took me so much courage to go up and speak to him, but I finally managed it whilst catching him outside alone cooling down.
He was so friendly, talkative and kind. He was the type of boy I definitely thought was out of my league. So for him to even engage with me really boosted my confidence, especially considering this was my first time out on the gay scene.
I don't remember much of the conversation but it was the end of the night and we ended up in the car park standing up against my mini. We had the most 'energetic' and passionate kıss, I'd sat him on my bonnet and we seemed to kıss the rest of the night away.
The reason I remember it so well is because I had a dent in the bonnet for the two years I had the car and it made me always think of him.
Find out more about Aaron by following his Insta or checking out his website, The Beyoncé Experience, where you can book him to perform for you as Beyoncé!
Sion Walton Guest – "He's short and cute!"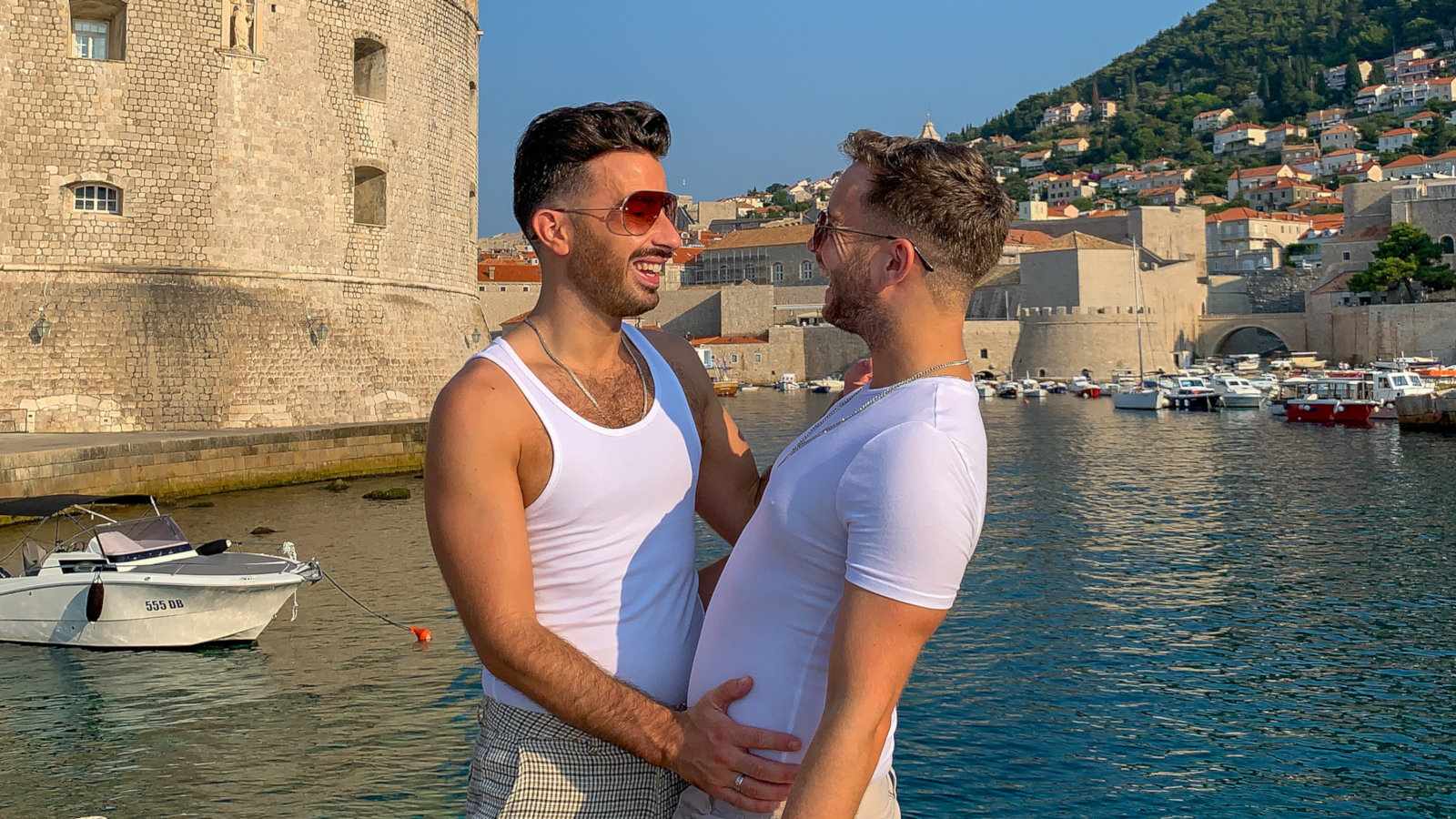 My first gay experience was when I kıssed the love of my life, my husband Ben!
Back in 2008, I was at The University of Manchester and even though Manchester is considered to be the gay capital of the North with the infamous Canal Street Gay Village in the city center, I was very much in the closet and in denial about being gay.
After a year of being in the closet in University, attempting to have girlfriends and be 'straight', many of my friends started to guess that I may be gay, which looking back was pretty obvious.
This culminated during the final few weeks of my first year of University where, during a drunken conversation, I did tell one of my friends that I thought I was into guys and he swiftly took me under his wing.
Without telling anyone, my friend rigged our final night out in Manchester before the summer break so we would end up at Poptastic, one of the best gay nights out in Manchester at the time. No one else knew why we were there (or that I was gay) but after a few drinks, I was on a mission to find a guy to kıss.
Who knew my future husband Ben would have traveled over from Yorkshire for his very first gay night out?
I spotted Ben standing at the bar and distinctly remember thinking 'he's short too! And very cute!' I caught his attention, got him to come over, and went in for the kıss.
The rest is history!
Sion and Ben have since set up the gay travel blog The Globetrotter Guys. You can also follow them on their Instagram.
Ricky Carollo – "Trying to look like a gentleman"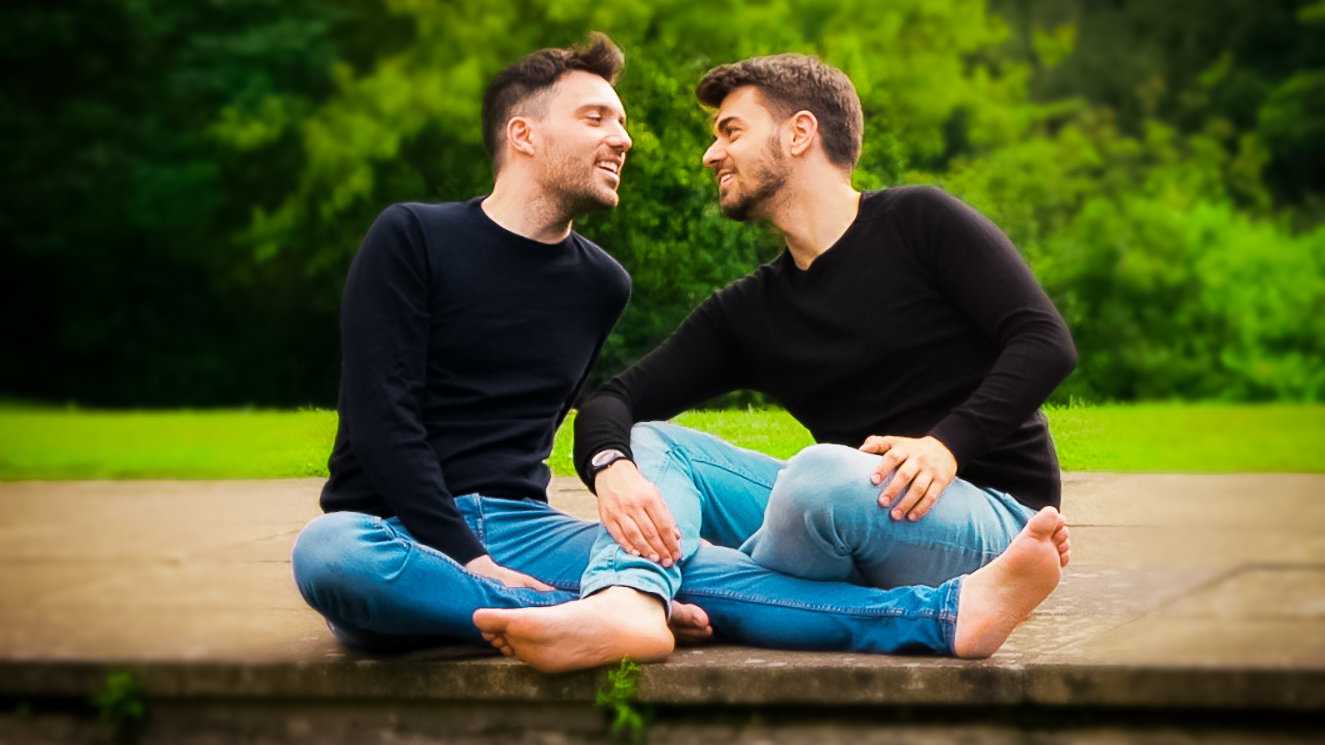 Have you ever felt this firing ball in your stomach that blocks your esophagus and dashes all the way up preventing you from talking, from breathing? It sure felt like that when I first meet Arif. We had one of the most fiery first dates ever!
We met at work and finally agreed to meet for a date in town. After a few drinks Arif invited me back to his…a kind invitation I simply couldn't say no to! It was a 20-minute train ride – possibly one of the longest 20 minutes of my life: we were both on fire, super excited!
Finally, the train stopped. We both knew what was going on in between the other's legs and we were tactfully trying to readjust without drawing too many odd looks…it sure is difficult trying to walk when you're trying to suppress a raging hard on whilst trying to look like a gentleman at the same time!
Fifteen minutes into that impossible task and we finally arrived at Arif's place. Thankfully, none of his flatmates were around. We went straight upstairs to his room, opened the door, and sunk into his bed (completely forgetting to close the door behind us!). I remember literally jumping into those gorgeous lips of his, pants down, grenades out, pure magic!
The rest was a beautiful blur as we lay against each other all night long, joined forever.
Ricky is a gay art and life coach with his husband Arif. You can connect with the guys on their Insta.
David Levesque – "Let's rent a hotel room"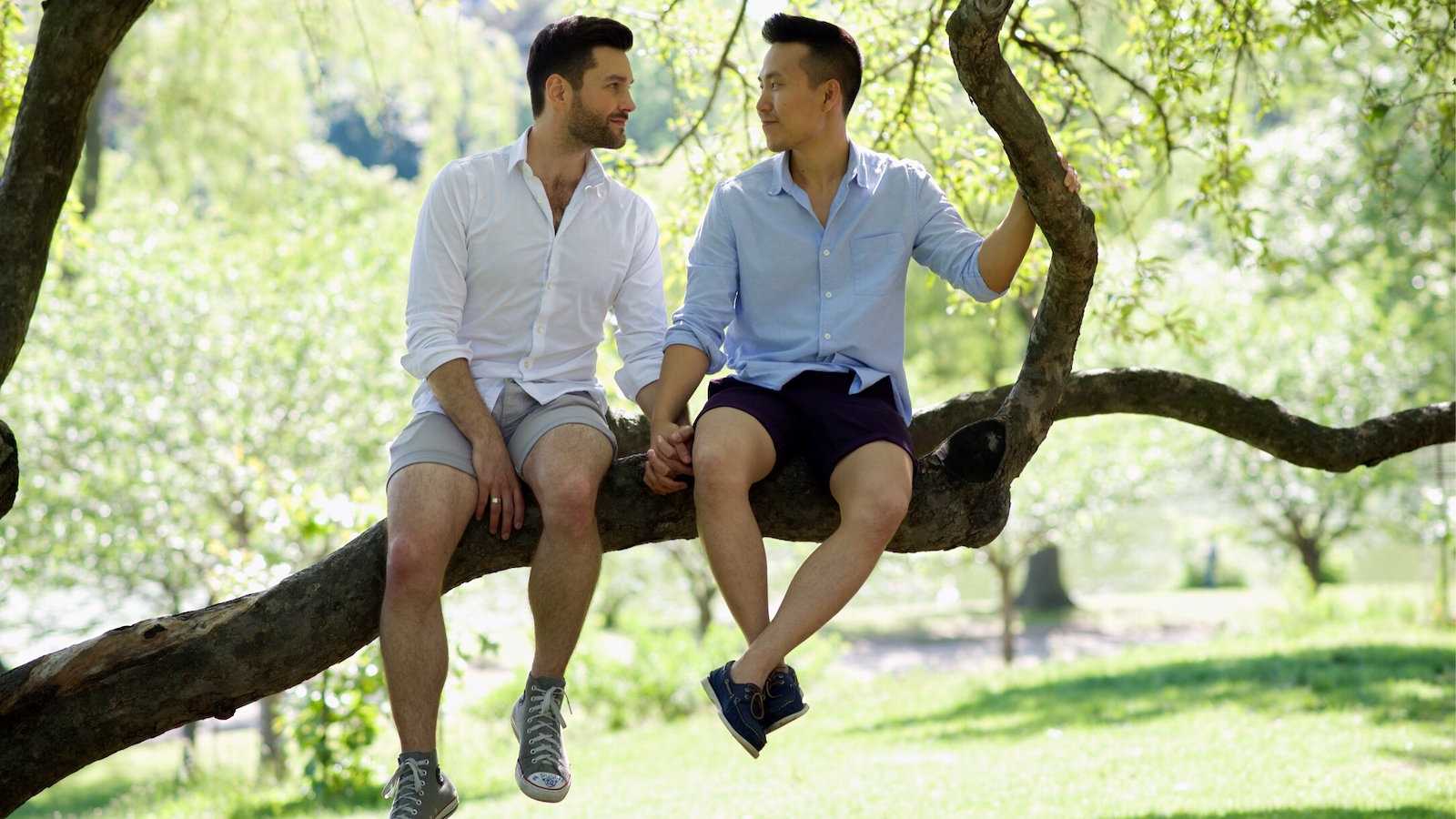 My first real moment of gay love was with my beautiful husband, Huey. Our first time together was just so amazing!
I was 23 when I met Huey. Up until this point in my life I'd had enough of all the many one-night stands and was searching for something more meaningful and worthwhile. Therefore, I decided that things would be different with Huey – I wasn't going to put out on the first date…or the second…or third…or the fourth…or…
…after 6 months of dating it finally happened!
We rented a hotel room to make it extra special. It was a whole night of pure uninterrupted and uncensored magic! We didn't want to leave each other. We spent the whole night cuddled in bed, our bodies pressed against each other. I remember how exciting it was, not only because of the long wait but also because I was finally with the man I loved.
It was also that same night that Huey proposed to me!
Too soon you're thinking?
Well, we both knew early on that we were meant for each other so why wait? I said an emphatic "YES!" to him straight away – a total no-brainer as far as I was concerned!
Fast forward 6 years and we're still happily married living our best life together. And to keep things exciting, we always make time for date nights in hotel rooms, especially when we travel. There is something about it that will always excite us – mainly because it reminds us both of this special memory of our engagement night all those years ago.
To connect with David and Huey, check them out on their Twitter.
Rafael dos Santos – "I want more!"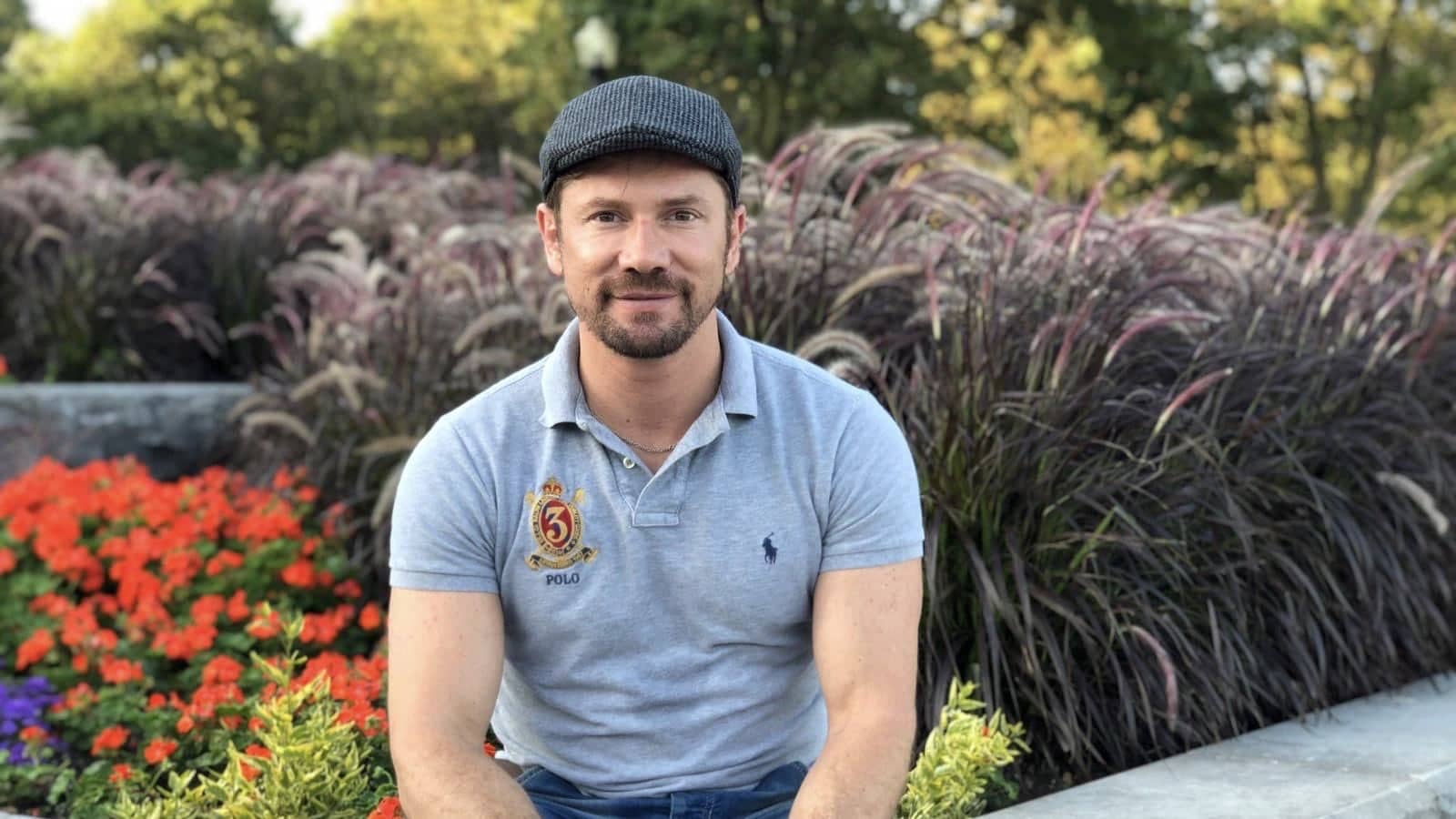 My first gay kıss was weird. I was 11.
It was with a friend of mine at school. It felt so wrong…I felt so guilty, ashamed, and embarrassed for doing it! I felt so bad that I didn't kıss another boy until I was 17 – which was a completely different experience!
The second time felt right. It felt as if I had finally understood what kıssing was all about: the passion, the touch, and the feeling of "I want more!", all of which stayed with me until after I left the beach.
Oh did I not mention that we made out by the beach?
I can still hear the waves… ahhhh… if those waves could speak!!! They would say what they saw a few days later – you know that feeling of "I want more!" raw passion that I mentioned earlier?
When you're 17 years old you don't wait for things to happen, you just make them happen! And boy did we make it happen on that beach that day…
Guilt? Absolutely not. It felt like heaven, and still does, each and every time!
Find out more about about Rafael on his website and on his Instagram.
Stefan Arestis – "in his bathtub…"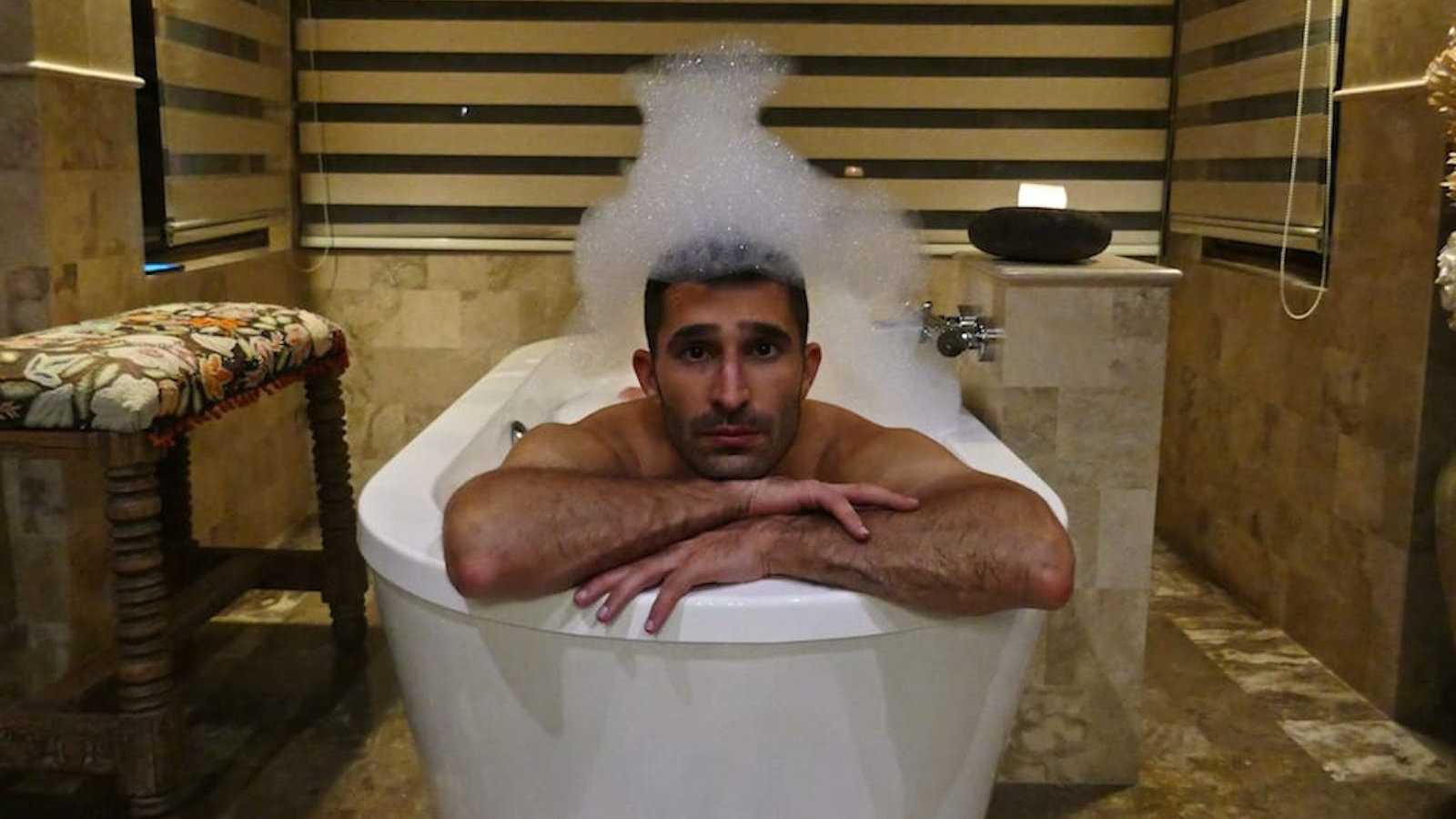 His name was Fabio. Brazilian. He was the hottest guy I'd ever laid eyes on!
I was a latecomer to the gay party – 20 years old. By this point, most of my straight friends were boasting of their many teenage "conquests" while I would just nervously smile and look down at my feet…
I came out late, but when it happened, it happened! It was a moment of pure bliss – thanks to a Brazilian god who chatted me up in London's Heaven nightclub. Fabio saw me across the dancefloor looking apprehensive – it was my first time in a gay place. He came over to speak to me… I'll never forget those dark mysterious Latino eyes penetrating deep into my soul, and the stirring in my loins. He was the most attractive guy I'd ever laid eyes on – and he was chatting to me!
We exchanged numbers, and after a few text messages, we agreed to meet for a "date" the next day, which also happened to be Valentine's Day.
For our date, Fabio took me out for a meal. We got giddy with the wine and ended up back at his place for what turned into a loooong night of hot Latino passion in his bathtub! It was my first time, and I loved every single minute of it. I will never forget the way he kıssed me… and did many other things to me as well…
The next morning Fabio woke me up, startled, announcing that his boyfriend was returning home in a few hours and I had to leave asap so he could clean the place up!
I never saw Fabio again, but despite the abrupt end to our time together, I began to realize that this is something that I truly enjoy, and it was wonderful! I began to accept myself as a gay man and started coming out.
Be sure to hit me up on Facebook and Twitter to see more from my adventures around the world with my Seby.
---
Like this post? Pin it