The Bon Ton and Temple Tree resorts are very popular and well known institutions on Langkawi island.
Bon Ton is a boutique retreat with 8 antique "Malay Kumpung" style houses facing a stunning pool surrounded by palm trees and a lagoon.
The neighbouring Temple Tree comprises an additional 9 antique restored villas, each with their own unique charm. Staying in one of these traditional Malay houses will transport you into a bygone era, giving you a unique experience of what life used to be like in colonial times.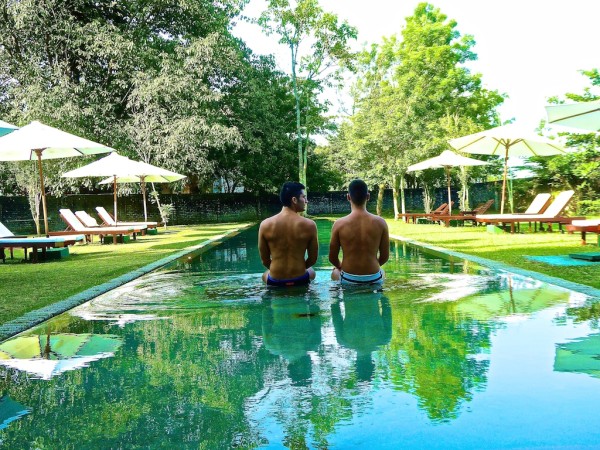 #1

TEMPLE TREE

The houses at Temple Tree are over 70 years old and are former derelict buildings from across Malaysia, dismantled, transported here and reconstructed to their former beauty.

They cover an area of around 2.5 acres, resembling an outdoor museum of traditional Malaysian architecture.

Guests can choose to rent an entire wooden house or just one of the individual suites inside.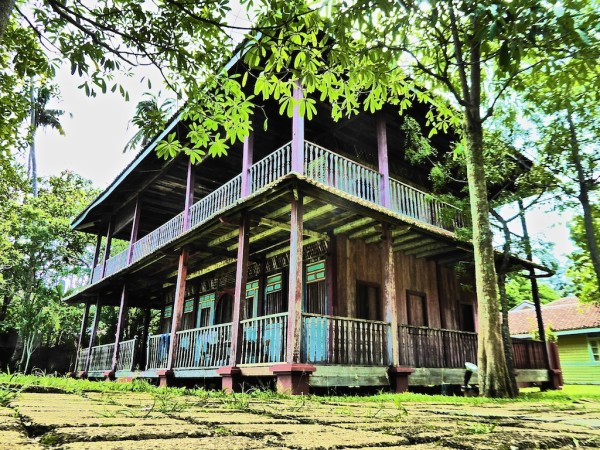 #2

OUR SUITE AT TEMPLE TREE

We stayed in Colonial 3, a large stately house originally from Georgetown in Penang. It was initially built by goldsmith traders in the 1920s.

The bedroom and living space area is large with a four-poster bed and modern comforts added like a large flat screen TV, DVD player and French press for coffee lovers.

It is styled with Asian antiques with beautiful hand sewn rugs on the period style wooden floorboards, a comfortable sofa and beautiful ethnic cushions.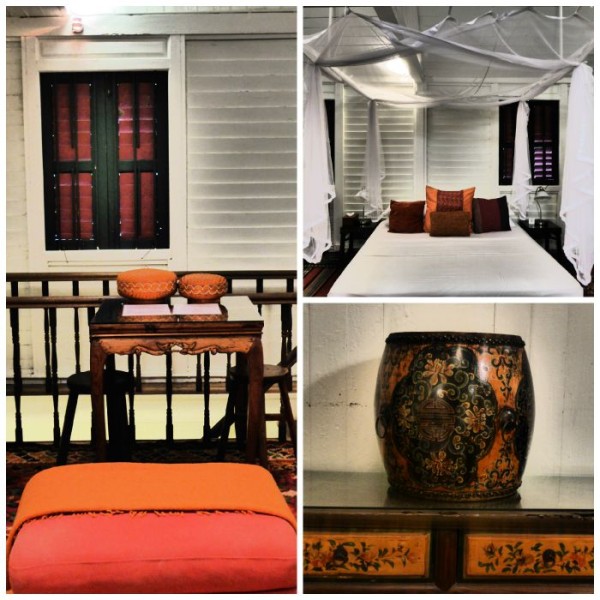 The bathroom area is separated into one large bath hall, which includes two wooden baths and two power rain showers – great for a romantic and relaxing moment after a day at the beach.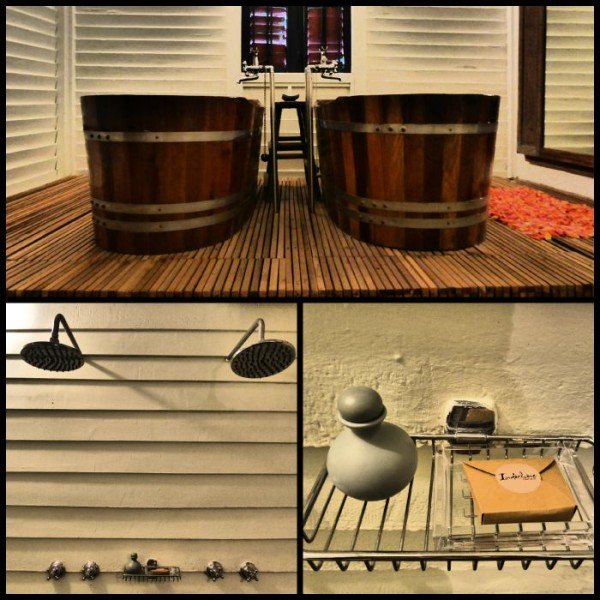 #3

THE OUTDOOR SWIMMING POOL

The long outdoor swimming pool at Temple Tree was one of our highlights. It is 34 metres (110 feet) long, making it ideal for morning swims before breakfast.
The pool is made of concrete, which gives it an earthy and very natural feel. On a sunny day you will see the trees and sun lounger umbrellas reflecting in the peaceful water.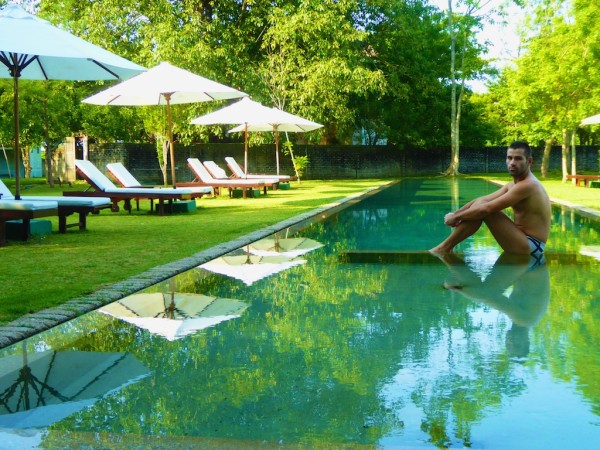 #4

THE NAM RESTAURANT AT BON TON

The Nam restaurant at Bon Ton specialises in a variety of local and Western fusion dishes. The atmosphere is always busy with an international mix of people.

The desserts are particularly famous and naughty and the coffee (made from roasted beans imported from Singapore) is one of the best we've tried in Asia. Our favourite was the signature drink: a pineapple fresh mint iced tea. Just try it!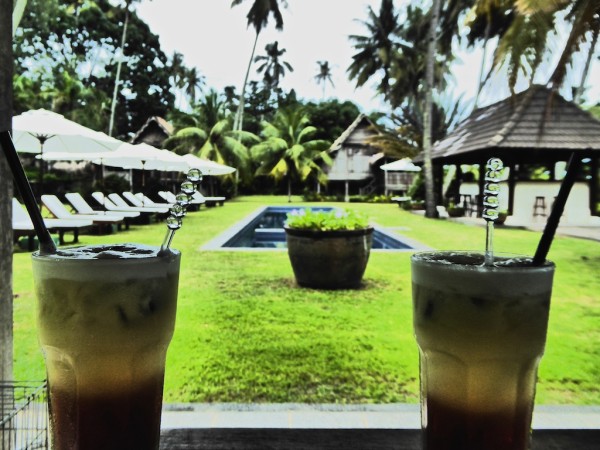 #5

AN ANIMAL SANCTUARY

Bon Ton is a heaven for animal lovers. The owners created the Langkawi Animal Shelter and Sanctuary (LASSie) foundation designed to help abandoned animals on the island. It is part funded by the proceeds of Temple Tree, so you stay here knowing your money goes to an excellent cause.

There are over 100 cats and dogs at the sanctuary here. The cats are allowed to roam free, so if you're a cat lover, you will be in paradise.

Read more about the Bon Ton Resort on their Booking.com listing.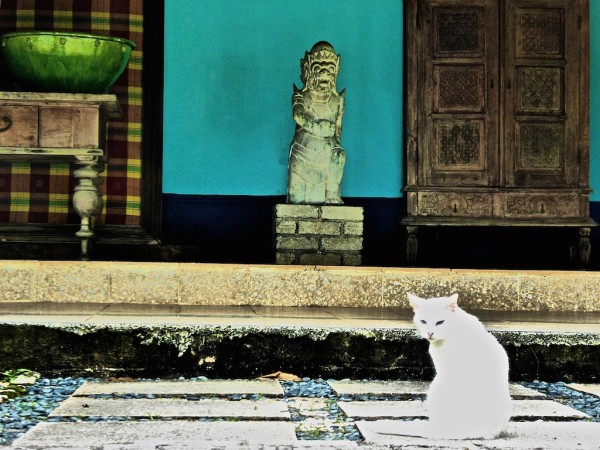 For more about our adventures through Malaysia, please check out our Malaysia travel video:
OUR FAVOURITE TRAVEL TIPS
⭐️ TRAVEL INSURANCE — We recommend you always take out travel insurance before your next vacation. What happens if you suffer from illness, injury, theft or a cancellation? With travel insurance, you can have peace of mind and not worry. We love World Nomads travel insurance and have been using it for years. Their comprehensive coverage is second to none and their online claims process is very user friendly.
⭐️ SAFETY & SECURITY — All travelers can sometimes encounter danger when traveling. CloseCircle is your "virtual body guard" mobile app which provides security alerts and support wherever you are in the world. They have a 24/7 emergency response team monitoring their users who will contact you immediately if the SOS swipe button is activated. Support can include anything from practical advice, to free evacuation from areas with extreme weather or security risks. You can read more about CloseCircle in our article about how to stay safe whilst traveling.
⭐️ ONLINE ANONYMITY — A VPN (Virtual Private Network) is a must in many countries: it allows you to surf anonymously and maintain your privacy whilst traveling. You'll particularly need it in countries where dating apps are blocked by the government. We recommend ExpressVPN, a reliable and cost effective service which we used and loved during our travels.
⭐️ HOTELS or APARTMENTS — When we plan a trip, we always look for the best hotel deals. We love Booking.com because not only do they have a comprehensive listing of accommodation options, they also offer the best prices. Added bonus: they provide 24/7 support and free cancellation for most listings.
⭐️ SIGHTSEEING and ADVENTURES — When we travel somewhere, we like to seek out the best experiences, whether it is cooking with locals in Bangkok, hiking on a glacier in Patagonia, or going on a wildlife safari in Sri Lanka. Our favorite place to look is GetYourGuide because they have over 30,000 highly rated activities, a user-friendly booking process with free cancellation and a 24 hour customer support.
This article contains affiliate links. If you click on them, we may receive compensation which keeps our website alive and helps us bring you to more destinations.