Happy birthday in Kathmandu, Nepal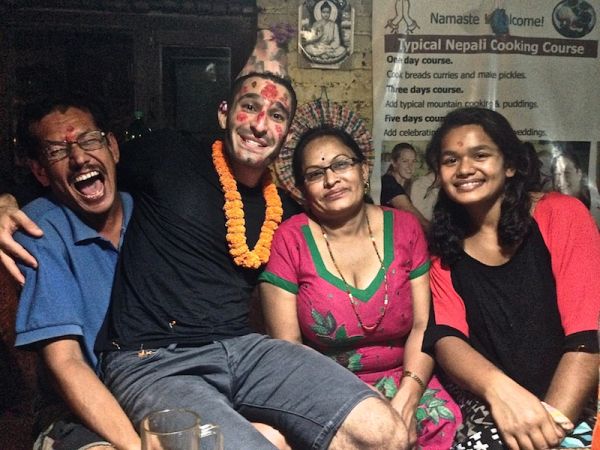 Kathmandu is not the prettiest of cities, but the people make it charming – and colourful!  Your first journey into the city is an experience – the traffic is completely chaotic yet quite captivating:
We spent a week in Kathmandu, staying at the De Hotel Veda, catching up with friends visiting Nepal, celebrating Stefan's (8th 25th) birthday and having a lovely cooking class with the Nepal Cooking School:
The Monkey Temple – "Swayambhunath"
The Monkey Temple was our favourite site in Kathmandu. It is located up a hill with lots of monkeys living there.  The monkeys are considered holy.  They are also very cute, cheeky and highly photogenic:
Being high up you also get some incredible views of the city:
You will also see many monks here:
Durbar Square in Kathmandu
Durbar Square is the generic name used to describe plazas and areas opposite the old royal palaces in Nepal, which includes temples, icons, water fountains and lots of pigeons:
It's also great spot to sit and people watch:
Happy Nepalese Birthday Stefan!
What do you get a greedy boy for his birthday when so far from his home town?
Answer: a cooking class of course!
The Nepalese Cooking School is highly rated in Trip Advisor and for good reason. We had a great day learning to cook Daal Bhat, rice pudding, celebration bread and Nepalese dumplings, called, "Momos".
But most importantly, Stefan had an unforgettable and very unique birthday celebration:
Watch more from our travel in Nepal in our awesome video: