Thorong La Pass is the climax point of the Annapurna Circuit at 5,416 metres altitude and one of the hardest treks on the Annapurna circuit. At this altitude, there is only half of the oxygen available at sea level. This basicly means, that every step you take feels like you just ran a marathon.
However, trekking Thorong La is far from being impossible. With enough preparation and time, anyone can do it. The secret is allowing enough time for your body to acclimatise to the altitude. We saw people of all ages trekking Thorong-La and they were all fine.
And in case you're wondering whether you need special climbing equipment: no, Thorong La is a "pass" so you only need to hike through it.
All you need is to follow the steps below which will turn a very difficult hike into a modearate one.
Acclimatisation at Manang village (3,500m)
Most trekkers start from Besi Sahar (1,000m) and work their way around the Annapurna circuit anticlockwise to Pokhara over a 2-4 weeks period. This allows for a break mid way at the village town of Manang (3,550 metres) to acclimatise before heading higher: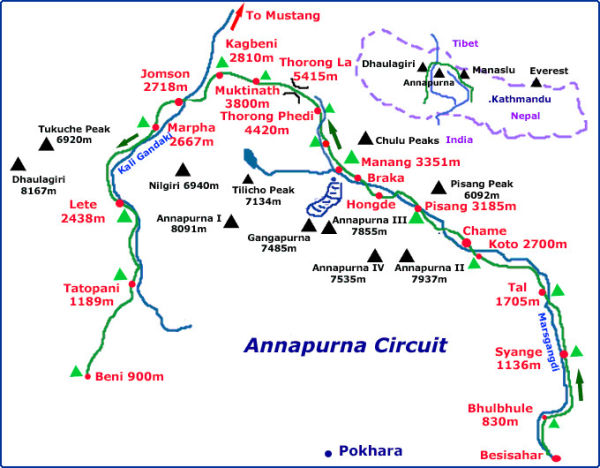 This is where you preparation for the crossing of Thorong La really starts. At 3,500 metres, symptoms of altitude sickness may appear, so acclimatisation at this point is crucial! Whilst we were ok at this altitude, fellow travellers complained of breathing problems at this point and headaches.
We strongly recommend spending at least 2 nights in Manang and doing small hikes to allow your body to acclimatise to altitude.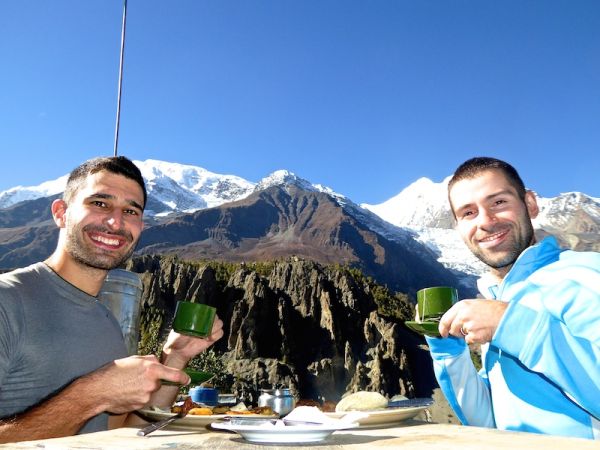 The trek from Manang to High Camp
From Manang, you then hike to a village called Yak Kharkha (4,050m) when you spend the night. This is when the views of the Himalayas started to become even more incredible and we saw less and less vegetation.
The next day, you trek to the village of Thorong Phedi (4,500m) and then to "High Camp" (4,800m), where you will spend you last night before crossing Thorong-La.
This was one of the hardest parts of the Annapurna trek for us (even harder than crossing the pass) as we started to feel the altitude symptoms. We needed to stop every few minutes to rest before continuing further, panting hard. Drinking plenty of water and rest is the best way to deal with the symptoms, along with hot drinks like lemon and honey or mint tea.
Our guide even managed to persuade us to drink coca cola to help alleviate headaches – and despite Stefan's protests (he thinks Coca Cola is toilet cleaner), it worked!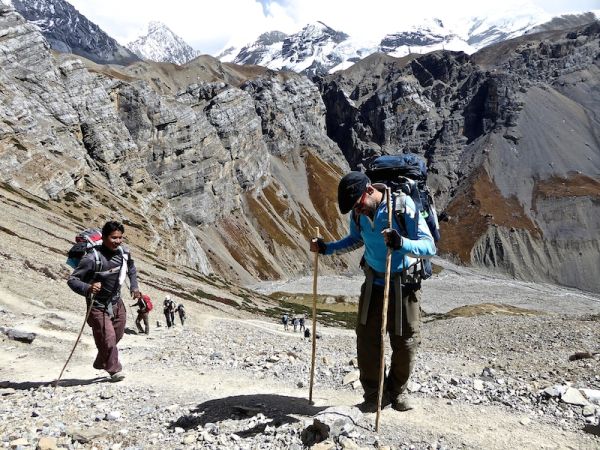 Crossing Thorong La Pass
The most difficult part of hiking Thorong La pass is that you have to wake up very early to leave at 5am. You need to start early to avoid the heavy winds that occur at high altitudes in the late morning before midday.
It will be cold so make sure you wear those thick woolly hats, gloves and down jacket you have been carrying all the way!
You trek the last 600m up to the 5,416m Thorong La Pass climax point, then down 1,800 metres to Muktinath village (the hardest part of the journey, especially for your knees).
We went at a slow pace and reached Thorong La pass at 8am. We were overjoyed! The adrenaline at this point kicks in, which helps with all the altitude symptoms: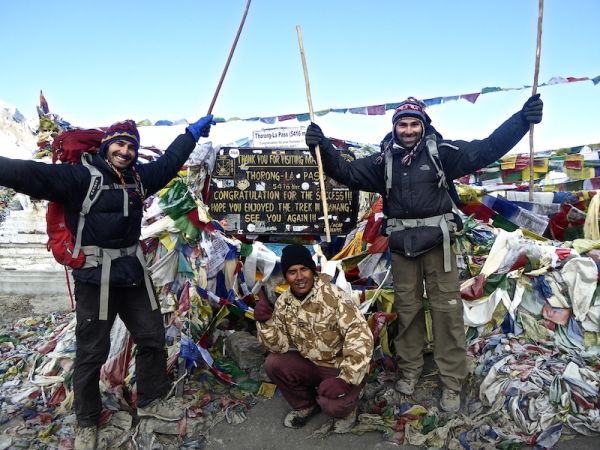 Then follows the hard part – trekking down from 5,416m to the village of Muktinath – 3,800m. Oh boy do those walking sticks come in handy at this point!
Chill out at Pokhara
The ending point for most trekkers is the peaceful city of Pokhara. It has a beautiful lake to rent a boat and just relax after a strenuous two weeks trek: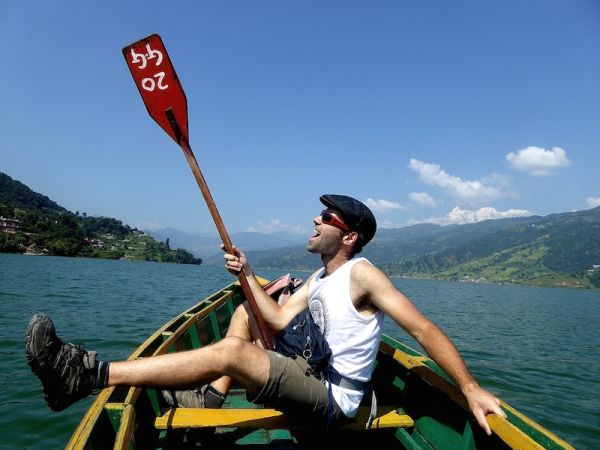 Watch more from our travel in Nepal in our awesome video:
OUR FAVOURITE TRAVEL TIPS
⭐️ TRAVEL INSURANCE — We recommend you always take out travel insurance before your next vacation. What happens if you suffer from illness, injury, theft or a cancellation? With travel insurance, you can have peace of mind and not worry. We love World Nomads travel insurance and have been using it for years. Their comprehensive coverage is second to none and their online claims process is very user friendly.
⭐️ SAFETY & SECURITY — All travelers can sometimes encounter danger when traveling. CloseCircle is your "virtual body guard" mobile app which provides security alerts and support wherever you are in the world. They have a 24/7 emergency response team monitoring their users who will contact you immediately if the SOS swipe button is activated. Support can include anything from practical advice, to free evacuation from areas with extreme weather or security risks. You can read more about CloseCircle in our article about how to stay safe whilst traveling.
⭐️ ONLINE ANONYMITY — A VPN (Virtual Private Network) is a must in many countries: it allows you to surf anonymously and maintain your privacy whilst traveling. You'll particularly need it in countries where dating apps are blocked by the government. We recommend ExpressVPN, a reliable and cost effective service which we used and loved during our travels.
⭐️ HOTELS or APARTMENTS — When we plan a trip, we always look for the best hotel deals. We love Booking.com because not only do they have a comprehensive listing of accommodation options, they also offer the best prices. Added bonus: they provide 24/7 support and free cancellation for most listings.
⭐️ SIGHTSEEING and ADVENTURES — When we travel somewhere, we like to seek out the best experiences, whether it is cooking with locals in Bangkok, hiking on a glacier in Patagonia, or going on a wildlife safari in Sri Lanka. Our favorite place to look is GetYourGuide because they have over 30,000 highly rated activities, a user-friendly booking process with free cancellation and a 24 hour customer support.
This article contains affiliate links. If you click on them, we may receive compensation which keeps our website alive and helps us bring you to more destinations.