TERMS OF USE: There is a chance that some of the content on this page has changed since it was last updated. By reading this article, you consent to our Terms of Use and Disclaimer. Happy Travels!
DISCLOSURE: Some of our posts may contain affiliate links which we may receive a commission if you choose to book something through one of our links.
Our thorough guide to trekking Thorong La Pass on the Annapurna Circuit in Nepal with lots of invaluable safety tips.
Thorong La Pass is the climax point of the Annapurna Circuit at 5,416 meters altitude and one of the hardest treks on the Annapurna circuit. At this altitude, there is only half of the oxygen available at sea level. This basically means that every step you take feels like you just ran a marathon.
However, trekking Thorong La is far from impossible. With enough preparation and time, anyone can do it. The secret is allowing enough time for your body to acclimatize to the altitude. We saw people of all ages trekking Thorong-La and they were all fine.
And in case you're wondering whether you need special climbing equipment: no, Thorong La is a "pass" so you only need to hike through it.
All you need is to follow the steps below which will turn a very difficult hike into a moderate one.
1. Acclimatisation at Manang village (3,500m)
Most trekkers start from Besi Sahar (1,000m) and work their way around the Annapurna circuit anticlockwise to Pokhara over a 2-4 weeks period. This allows for a break mid-way at the village town of Manang (3,550 meters) to acclimatize before heading higher: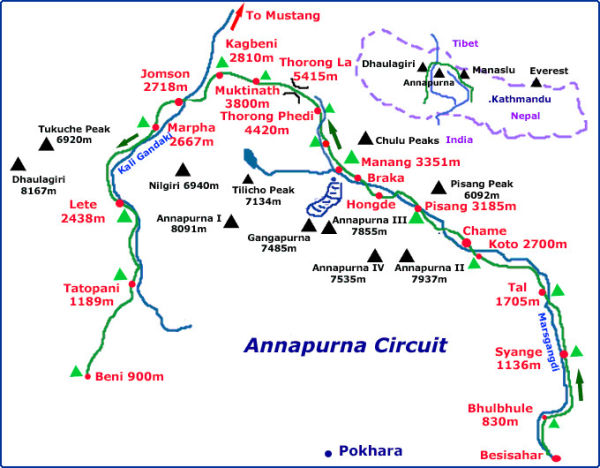 This is where your preparation for the crossing of Thorong La really starts. At 3,500 meters, symptoms of altitude sickness may appear, so acclimatization at this point is crucial! Whilst we were ok at this altitude, fellow travelers complained of breathing problems at this point and headaches.
We strongly recommend spending at least 2 nights in Manang and doing small hikes to allow your body to acclimatize to the altitude.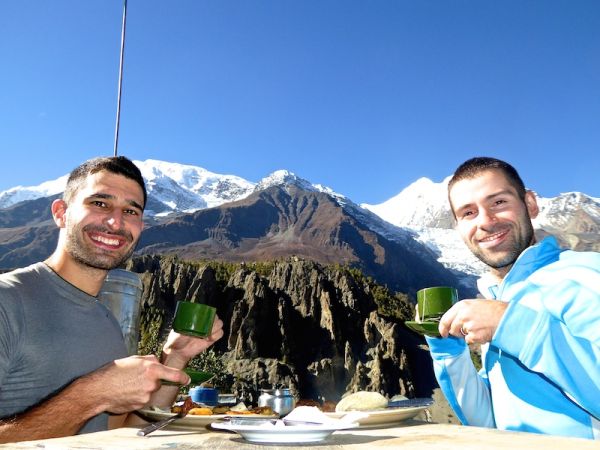 2. The trek from Manang to High Camp
From Manang, you then hike to a village called Yak Kharkha (4,050m) where you spend the night. This is when the views of the Himalayas started to become even more incredible and we saw less and less vegetation.
The next day, you trek to the village of Thorong Phedi (4,500m) and then to "High Camp" (4,800m), where you will spend your last night before crossing Thorong-La.
This was one of the hardest parts of the Annapurna trek for us (even harder than crossing the pass) as we started to feel the altitude symptoms. We needed to stop every few minutes to rest before continuing further, panting hard. Drinking plenty of water and rest is the best way to deal with the symptoms, along with hot drinks like lemon and honey or mint tea.
Our guide even managed to persuade us to drink coca cola to help alleviate headaches – and despite Stefan's protests (he thinks Coca-Cola is toilet cleaner), it worked!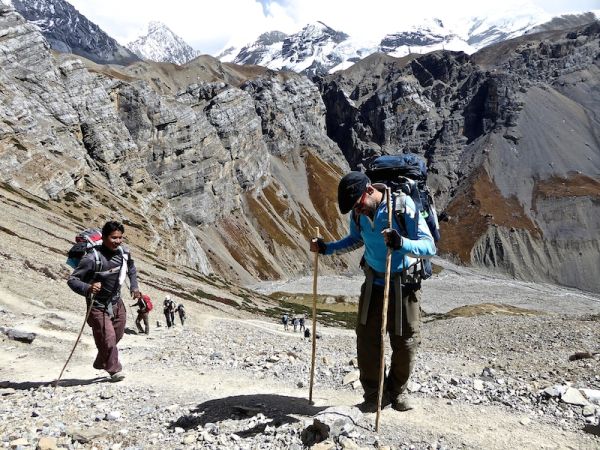 3. Crossing Thorong La Pass
The most difficult part of hiking Thorong La pass is that you have to wake up very early to leave at 5 am. You need to start early to avoid the heavy winds that occur at high altitudes in the late morning before midday.
It will be cold so make sure you wear those thick woolly hats, gloves, and down jacket, you have been carrying all the way!
You trek the last 600m up to the 5,416m Thorong La Pass climax point, then down 1,800 meters to Muktinath village (the hardest part of the journey, especially for your knees).
We went at a slow pace and reached Thorong La pass at 8 am. We were overjoyed! The adrenaline at this point kicks in, which helps with all the altitude symptoms: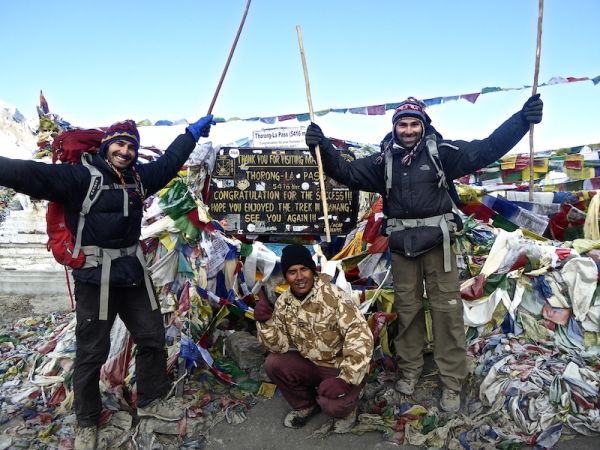 Then follows the hard part – trekking down from 5,416m to the village of Muktinath – 3,800m. Oh boy do those walking sticks come in handy at this point!
4. Chill out at Pokhara
The ending point for most trekkers is the peaceful city of Pokhara. It has a beautiful lake to rent a boat and just relax after a strenuous two weeks trek: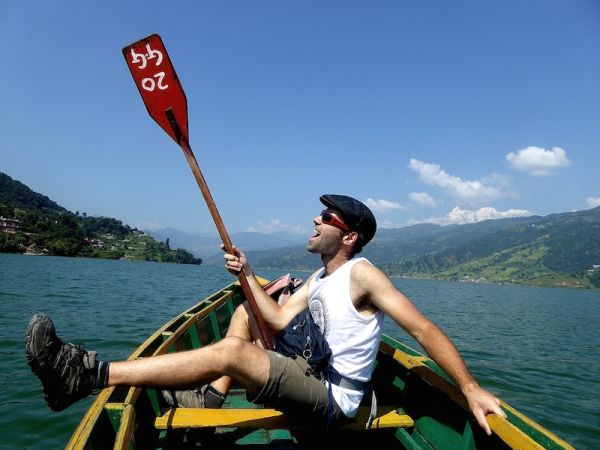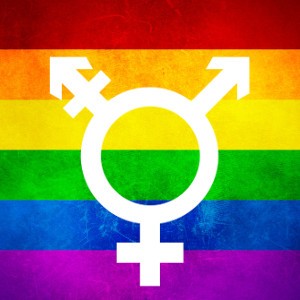 Advice for LGBTQ travelers to Nepal
Nepal is one of the most gay friendly countries in Asia, especially for LGBTQ travelers. The Nepalese are super sweet, welcoming of everyone, and really curious about foreigners. We love them! Whilst society retains strong conservative values, tourists will have no problems here. Back in 2008, the Nepalese Supreme Court ordered the government to introduce a very progressive Constitution, which included an array of anti-discrimination laws. It is also discussing laws to recognize same-sex unions. Find out more in our interview with Tilak from Kathmandu about what it's like growing up gay in Nepal.
For more, watch more from our video about what it's like traveling as a gay couple in Nepal: