Luxury in green at The Frangipani Langkawi Resort and Spa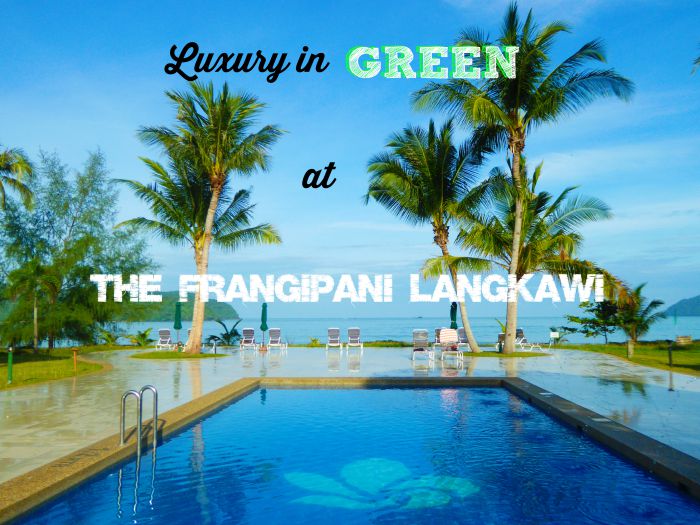 The Frangipani Langkawi is a luxury, eco friendly resort ideal for couples and families.
It has two swimming pool areas. The first is a chlorine pool with an adjoining Jacuzzi and ideal for children. The second is a salt water pool, located at the back of the resort, making it more secluded and therefore ideal for swimming lengths.
Frangipani itself is the name of the beautiful sweet smelling flower (also called plumeria), usually white and common throughout the island.
#1

RESORT BY THE BEACH

The Frangipani is located right on the beach on the South Western side of the island, close to the airport:

The location on the beach was a highlight. You're literally ten metres away from sand and sea. Waking up to the sound of the waves was one of our favourite things about our stay here.
#2

THE ROOMS

We stayed in the deliciously decorated Thai Suite, with private balcony overlooking the salt water pool.

The Thai theme included unique wooden lamp carvings, elephant wall and pillow decorations, and a beautiful Thai style carve shaped bed and sofa.

The Thai suite has a large Jacuzzi, which made for a fun end to a long day spent on the beach.

The private balcony of the Thai Suite overlooks the salt water pool area and also the beach front surrounded by palm trees. You just can't ever get bored of this view:
#3

GREEN, GREEN, GREEN

The Frangipani Langkawi prides itself on being an eco friendly resort and has developed over 200 green practises to promote this. These include numerous ways to recycle, like reusing the water from air conditioning units, collecting rain water, and reusing old bottles for art decoration.

The resort heavily promotes recycling of all waste and also has its own chickens, hens and ducks to produce its own food. It also reuses old bath tubs and toilet bowls for decoration. Guests have the chance to adopt plants and have their names displayed.
#4

KEEPING FIT AT THE FRANGIPANI LANGKAWI

Fitness enthusiasts are in for a real treat. Cardiovascular exercise is easily fulfilled with morning jogs on the beach or swimming lengths at the salt water swimming pool.

The Frangipani Langkawi also has a small but usable gym, with a variety of free weights, bench, cycling machine and two treadmills.
#5

THE MENTARI RESTAURANT

The resort has its own bar and restaurant area called the Mentari, where all meals are served, including the buffet breakfast.

The breakfast includes a variety of Western and local foods as well as plenty of fresh fruit.

The food at the Mentari restaurant is also great for lunch and dinner. In the evenings, a live band performs and will sometimes even let you join in.  We enjoyed our meals at the Mentari and found the staff to be attentive and friendly. Chef Alex even takes a break from the kitchen to chat with guests.
#6

AMAZING SUNSETS

The Frangipani Langkawi is West facing on the beach, so its bar area is the ideal romantic spot to take in some amazing sunsets. The parasailers also start nearby, which adds to the beautiful sunset imagery.

For more about our adventures through Malaysia, please check out our Malaysia travel video: