TERMS OF USE: There is a chance that some of the content on this page has changed since it was last updated. By reading this article, you consent to our Terms of Use and Disclaimer. Happy Travels!
DISCLOSURE: Some of our posts may contain affiliate links which we may receive a commission if you choose to book something through one of our links.
When it comes to LGBTQ rights, Pakistan is one of the worst we've come across. This is one place in the world where you want to avoid being openly gay at all costs!
The British initially introduced Pakistan's anti-gay laws in the 1860 Pakistan Penal Code 1860, which criminalized homosexuality with a possible prison sentence. However, following independence from the British in 1947, and as part of the subsequent Islamification of Pakistan, the Parliament took this one massive scary step further by not only punishing homosexuality with a 2-10 year prison sentence, but in addition, with a whipping sentence of up to 100 lashes, or worse, a possible the capital sentence – by stoning!
Whilst we've never visited Pakistan (yet!), we were super curious to see what the reality is really like for the local LGBTQ community. We connected with Salman on Facebook, a Pakistani local, now living in the USA. He is openly gay and doing amazing things with his LGBTQ activism. In this interview, Salman tells us what life is really like in Pakistan for the gay community along with some invaluable practical tips for any LGBTQ travelers wishing to visit. For a similar interview, be sure to also check out our article about gay life in Iran.
Gay dating apps are banned in Pakistan
Grindr and other dating apps such as Tinder, Hornet and Scruff will not work in Pakistan. If you are traveling to Pakistan, we strongly recommend getting a VPN so you will be able to access these apps and use the internet anonymously. But remember, being able to connect with locals is the best way to find out about the gay scene and a VPN will enable you to do this without any stress!
Hi Salman, please introduce yourself:
Hi boys, my full name is Salman but my friends just call me "Sal". I was born and grew up in 1991 in Karachi – the largest city in Pakistan. After years of seeking refuge, I am now living in Worcester, Massachusetts, USA.
In terms of profession, I used to be a journalist and now do a lot of LGBTQ activism. I also work as a customer support representative.
I'm also openly gay – out, loud, and SUPER proud – I was born this way and have never felt sorry about it!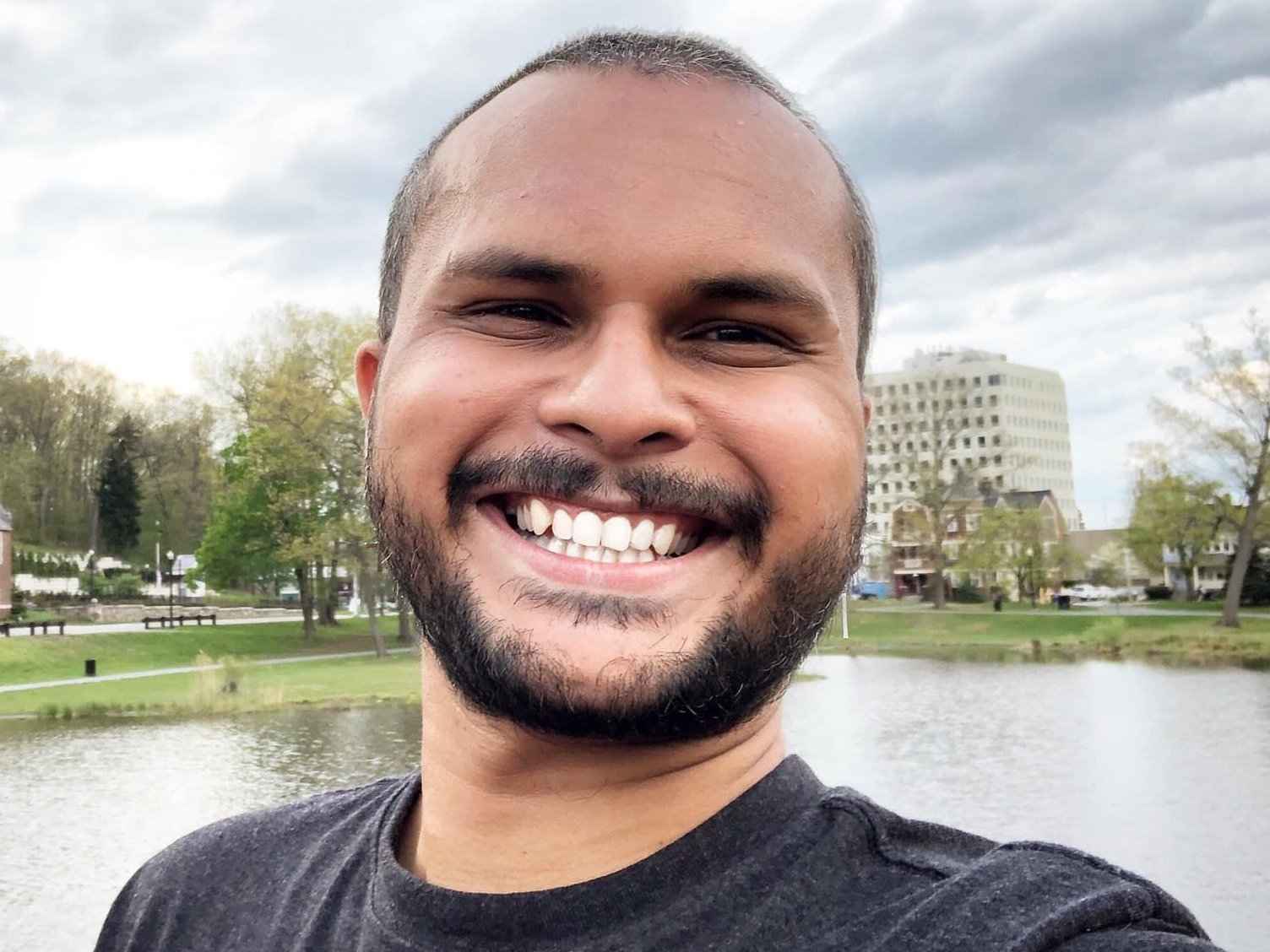 Were you openly gay when living in Pakistan?
Yes, I was quite open to many of my acquaintances, most of my immediate family, and many of my followers on social media. I was one of the few and only openly gay people in Pakistan.
Sadly we don't have many queer people in Pakistan who are open about being gay because culturally, religiously, and socially, we are a very conservative society that does not talk about or accept these things!
How did your friends and family react when you came out to them?
My close friends accepted me for who I am and we remain tight today. Sadly, there were also a few (ex!) friends who weren't quite as accepting, so we quickly fell out and lost touch.
In relation to my family, I'm not fully out to them. I have some extended family members living in Canada and the UAE who got to know about me from social media. Some of them scolded me for bringing shame to our culture, our country, and our family! Nearly all of them shunned their relationship with me to such an extent that none of them ever wanted to even talk or even associate themselves with me! THAT was something I don't think I will ever recover from, but it's definitely made me a stronger person.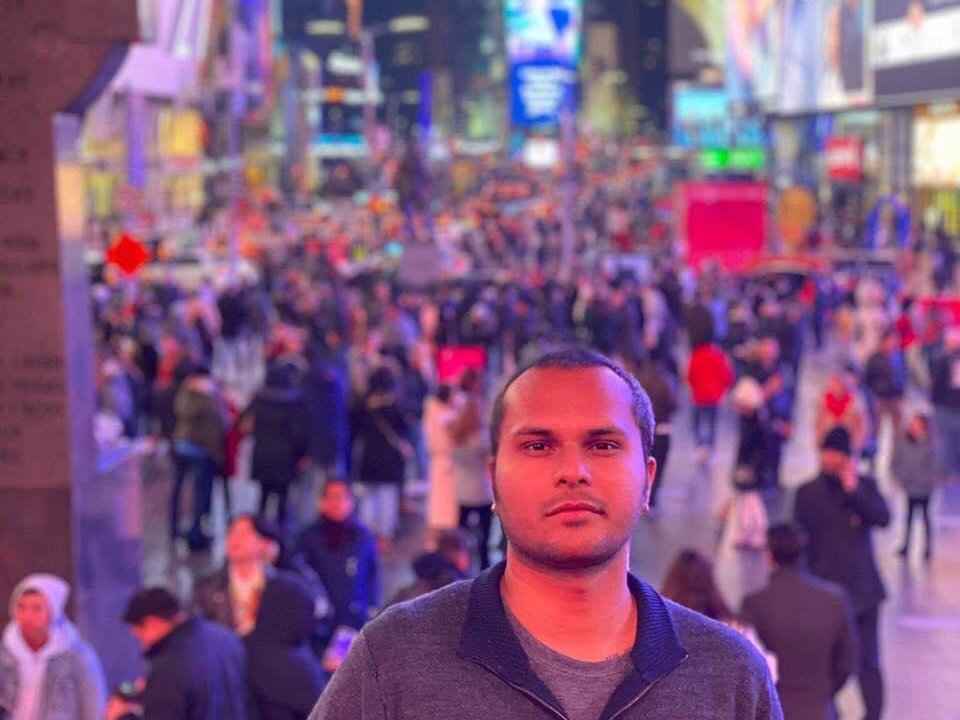 Why did you decide to leave Pakistan?
I was on a visiting tour in the USA for an LGBTQ conference in 2019 and loved it so much that I quickly realized I wanted to stay here permanently. After years of hard work, I was finally able to make the big step, which I'm super proud of.
However, since leaving Pakistan and getting involved with LGBTQ activism, my friends back home told me that it would not be safe for me to return. There are some influential people who filed a defamation case against me in the Pakistani Courts who've also been sending me threats online, citing Pakistan's draconian blasphemy and anti-gay laws!
Obviously, I do want to return one day to Pakistan one day – it is, after all, my homeland! But only if things improve… something I don't see happening for many years/decades. In the meantime, I am happy that I'm able to live my life freely in the USA whilst being a positive role model for the next generation of queer Pakistanis going through the same thing that I did.
How did you get involved in LGBTQ activism?
I have always been a bit of a rebellious person despite being quite a shy person. I just wanted to change the world and have a positive impact on things. That is why I've always been so outspoken about injustices, particularly in relation to the LGBTQ community of Pakistan.
Being gay was something that came naturally to me because for many years, I had to struggle to come to terms with being gay. For a long time, I was depressed because of this. Over time, I slowly started to come out on social media, which is how I was able to come to terms with me being gay. However, I also wanted to be more openly gay in my home country, something which is quite impossible in this day and age.
There is a lot of work that needs to be done in many Muslim and African majority countries like Iran, Indonesia, and the UAE, to highlight the plight of our LGBTQ brothers and sisters, most of whom face the risk of being executed just for who they are and who they love!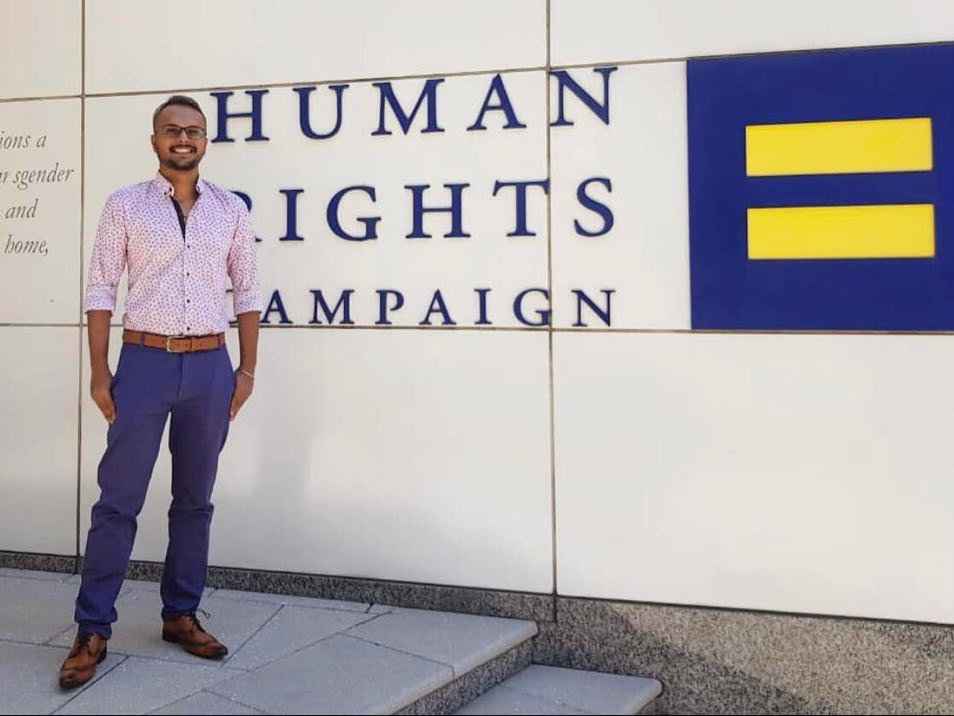 Do you have hopes that homosexuality may be legalized one day in Pakistan?
I doubt homosexuality will be legalized in my lifetime. There is not much work being done on a policy level. In addition, the Pakistani government has no desire to promote any form of tolerance for the LGBTQ community let alone push for any progressive change, sadly! If anything, there is increasing animosity towards the Pakistani LGBTQ community.
On a ground level, there is not much work being done to create more inclusive and tolerant spaces for the LGBTQ community. There are, of course, a handful of very brave individuals who are constantly trying to push for change, but they are always severely restricted. It's simply not safe to be openly gay in Pakistan, and it's becoming increasingly difficult every day!
How did you meet other guys when you were growing up and living in Pakistan?
I was fortunate to be of the generation that had the Internet at my fingertips growing up. Therefore I was able to connect with other gay guys on sites like Manjam and apps like Grindr, Tinder, Hornet, and Scruff.
We never had any official gay bars/clubs to hang out at, so everything was done digitally. I always wonder how the older generation of gay guys in Pakistan would connect with one another in the days before the Internet!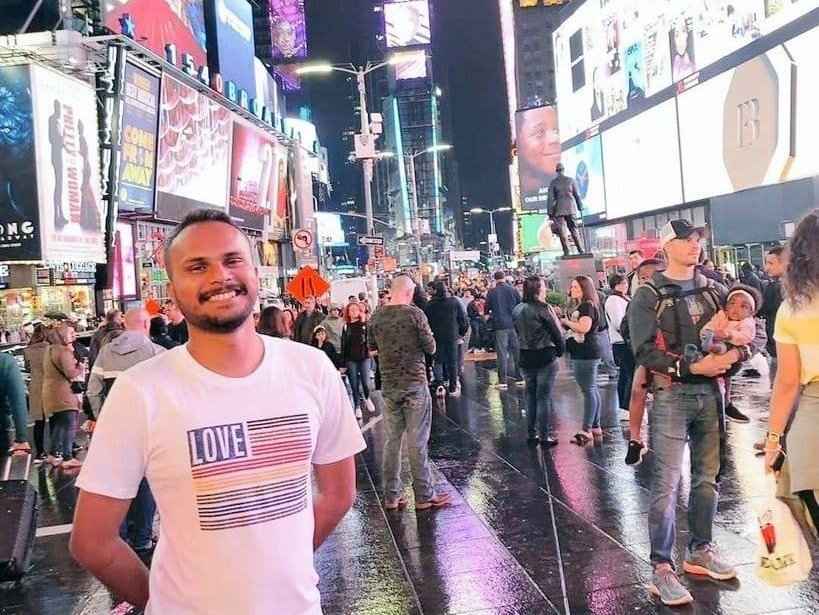 Is Pakistan safe for gay travelers?
Surprisingly, I would say Pakistan is pretty safe for international LGBTQ travelers. This is because Pakistanis are very welcoming and hospitable people. We love meeting all foreigners (straight or gay) and showing off the beauty of our country. We are however a very conservative society when it comes to social and cultural issues like homosexuality.
I have personally been a tour guide to two of my gay friends visiting Pakistan from the Netherlands and Germany. We had an incredible time together and they left with a very positive image of my country. Obviously, they stayed in the closet during their trip and were at all times respectful of local customs, which I strongly advise any LGBTQ traveler visiting Pakistan to be mindful of!
What precautions should gay travelers take when traveling to Pakistan?
I advise gay travelers to be mindful of the local culture of Pakistan and respect the religious beliefs of most Pakistanis. Above all else, avoid asking questions related to homosexuality. Even if you get the impression that someone approves of homosexuality, it's best to avoid the topic altogether. Most Pakistanis are not really bothered about who you sleep with. The likelihood is they are more likely grappling with poverty and job insecurity.
One of the most rewarding ways to see the country is with a local, so I definitely recommend trying to connect with someone locally who you can trust to show you around. In addition, be wary of beggars and avoid pickpocketers or anyone who would try to forcefully sell you something. Pakistan is a relatively poor country so a large number of people view foreigners as "rich cash cows", so please be careful of that!
Other handy practical travel safety tips: avoid taking direct pictures of women – it's not acceptable. Pakistan is still a deeply conservative country where it's not acceptable to take pictures or even pose with women you are not related to.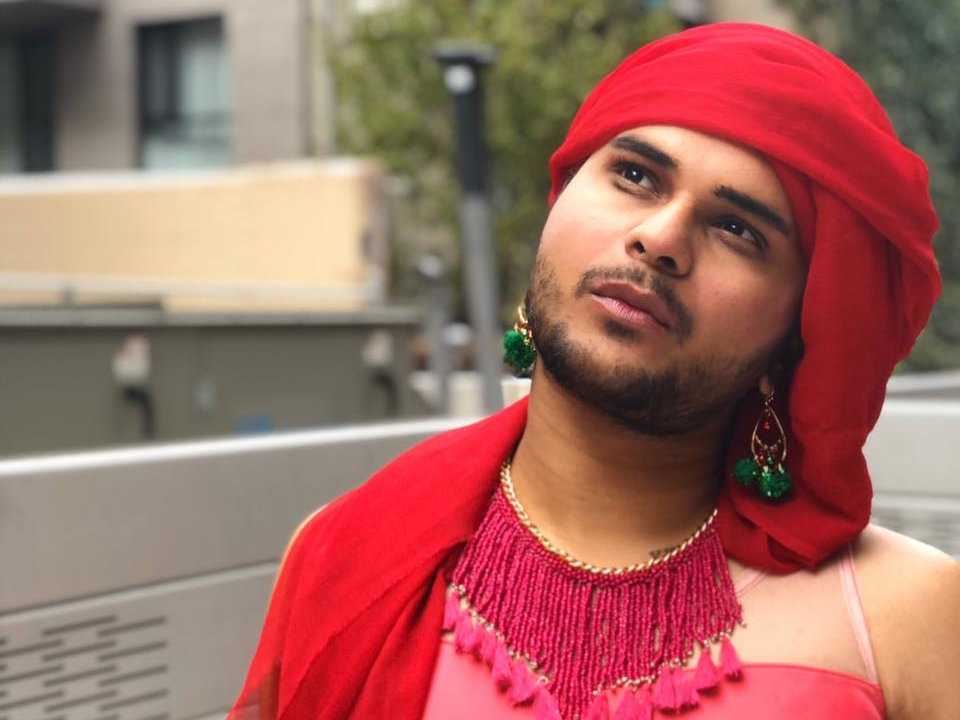 Is there any form of gay scene in Pakistan?
The short answer is a big fat no! There are no official gay bars or clubs in Pakistan, largely because of the archaic anti-gay laws we have. However, that's not to say that the country has no LGBTQ community. Far from it: you do the math – Pakistan is a country with a population of around 225 million people, so imagine how many of us there really are!?
As such, most big cities in Pakistan will have some form of underground gay scene taking place behind closed doors, particularly in Karachi and Lahore. The trick is to know people. Any LGBTQ events/parties will never be advertised for fear of inciting violence and will simply be promoted by word of mouth. That's why it pays to know a local who you trust. For example, when my Dutch/German gay friends visited, we were able to go to a gay party as well as a transgender beauty pageant because at the time I was involved and connected to the local LGBTQ community.
Are gay dating apps blocked in Pakistan?
Yes – as of September 2020, Grindr and Tinder have been banned in Pakistan on grounds of "hosting immoral and indecent content"! I was devastated when I heard this – it's a huge blow to what already is a very marginalized community.
This was a huge hit to the LGBTQ community of Pakistan because Grindr was more than just a hookup app for us. It is a source of establishing a lifelong friendship, connecting with your lovers, and also coming to terms with being gay, like it was for me. In a place like Pakistan where there is no gay scene, Grindr literally "becomes" the gay scene – so to take it away from us is a massive punch in the gut!
You can, however, access all the gay dating apps and websites via a VPN. I highly recommend getting a good, reliable VPN sorted before you head to Pakistan because it also allows you to connect anonymously, thereby minimizing your digital footprint.
What are the most beautiful places in Pakistan to see?
Lahore is one of my favorite places in Pakistan. I love the old walled city, the forts, Sikh temples, and its many stunning mosques like Badshahi and Wazir.
I also love the ancient historical sites near Karachi, especially the ancient seaport of Bambhore, the Mughal mosque of Shahjahan, and even the necropolis of Makli hills. Gilgit-Baltistan is another mountain paradise that is a must-visit for its incredible wildlife and breathtaking natural beauty. I particularly love the alpine forests, glaciers, meadows, rivers, and its grand mountains, which have some of the world's tallest mountains!
Happy travels are safe travels
We recommend you always take out reputable travel insurance before your next vacation. What happens if you suffer from illness, injury, theft, or a cancellation? Many gay travelers forget about it and regret it when something happens. Better to pay a small price and have peace of mind and not worry.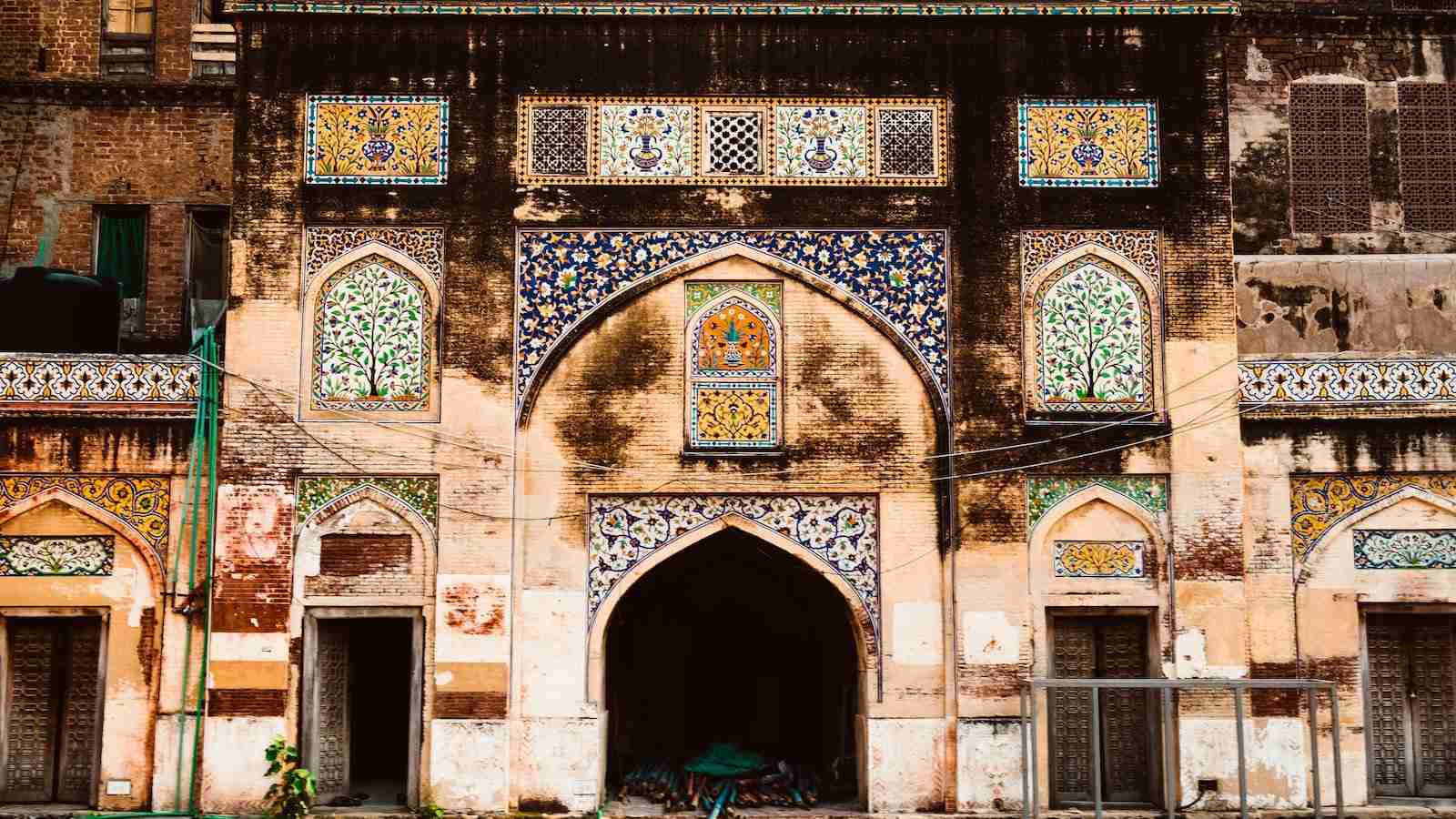 ---
Like this post? Pin it