Local boy Giorgi from Tbilisi tells us about gay Georgia and what it's like growing up gay in an ex-Soviet country
"Georgian dance is based on masculinity. There is no room for weakness in Georgian dance!"
So begins the captivating 2019 gay movie "And Then We Danced", based on the love affair between Merab and Irakli – dancers training at the National Georgian Ensemble in Tbilisi. Whilst the movie is about the challenges of dealing with homosexuality in a conservative society, at its premiere in downtown Tbilisi in November 2019, violent protests were taking place outside by far-right and religious groups.
Thankfully the police kept the peace. But what a huge step forward for an ex-Soviet country, where not too long ago, being gay got you thrown into prison!
Since the fall of the Iron Curtain in 1991, Georgia has pushed ahead with progressive laws as it has tried to ally itself more and more with the EU. This has included laws to protect its LGBTQ community, like legalizing homosexuality in 2000, and an array of anti-discrimination laws from 2006 onwards. Yet, society remains very conservative. So much so that in 2018, the government passed a constitutional ban on gay marriages.
To put things into perspective, in a survey carried out by the Pew Research Centre in 2015/2016 about the acceptance of homosexuality in East Europe, Georgia ranked as one of the least tolerant, with a whopping 93% of the people polled saying homosexuality should not be accepted by society: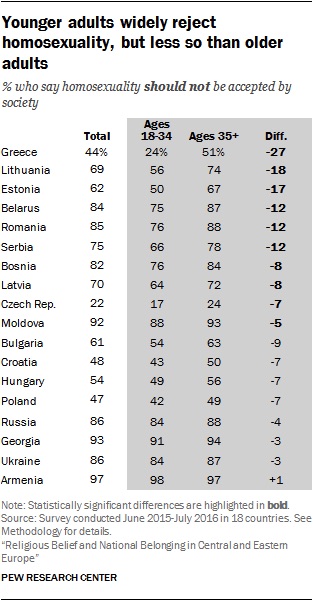 We absolutely loved Georgia. It's a stunning country with mountains, beaches, delicious foods, wines, and a rich cultural heritage to discover. We were excited to experience all of this and we were not disappointed.
We were also fully aware of the country's "struggle" (to put it mildly!) with LGBTQ rights before going. We knew we had to be cautious about PDAs. But we never had problems finding gay friendly hotels and even discovered lots of gay hangouts, including the famous Bassiani. The people we met were only ever super sweet and welcoming, and we loved them! But this is from our perspective as a gay couple traveling in Georgia. We wanted to get an idea of what things are really like from a local, so we got our friend Giorgi from Tbilisi to tell us more in this interview about what gay life in Georgia is really like:
NOTE: unfortunately, for Giorgi's own safety he has had to remain anonymous for the purpose of this interview so we have given him the alias of "Giorgi Abashidze" to protect his identity.
Hello Giorgi, please introduce yourself*:
Hi boys, my name is Giorgi Abashidze. I am 32 years old, born and grew up in the capital city of Georgia: Tbilisi. I am an English teacher in Tbilisi.
My family is originally from Tbilisi on my father's side, while my mother is Armenian by birth.
Why does this interview have to be anonymous?
Whilst I am out to close friends, sadly there is still a great deal of homophobia in Georgia. I can't risk my employers or neighbors finding out that I am gay as it can actually endanger my life and my job.
Apart from my personal details, everything else I'm about to tell you is true!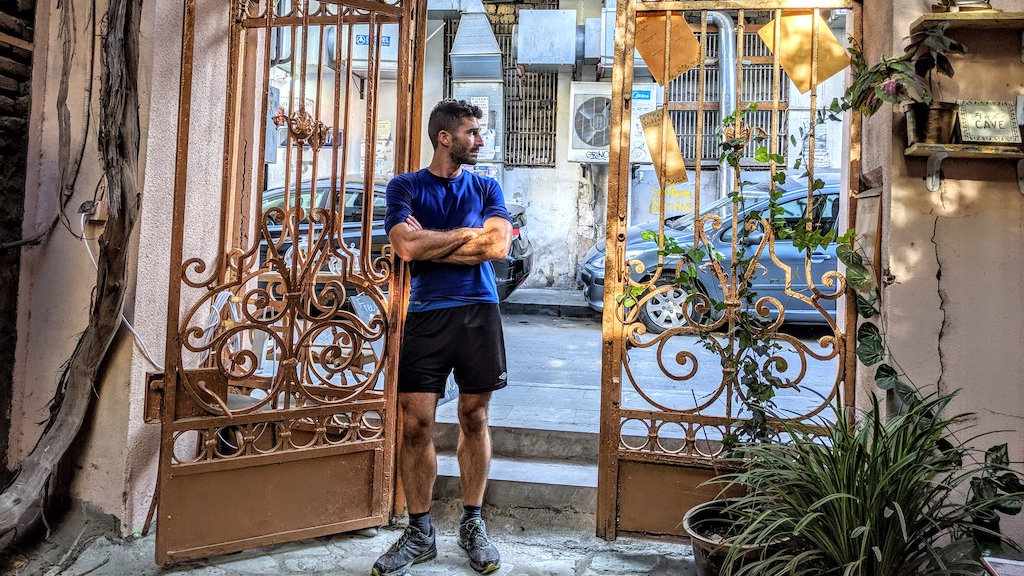 Are you openly gay?
Yes, very much so. I came out to my close friends when I was 25. They had their doubts about me being straight because I had never had a girlfriend, so one day during a big trip together, I came out to them telling them I am gay. They were super warm and accepting about it and told me that nothing would change. This was a big deal for me and such a huge boost to my confidence!
Sadly, I am not as open with my family, especially to my parents, nor do I have any plans to ever formally come out to them. They have always been very homophobic and I think it's something that I will never be able to change…it is just so deeply rooted within the fabric of our society, especially the older generations.
What was it like growing up gay in Georgia?
It was hard! Once I was old enough to understand that I was "different" from my straight male friends, the only gay role models were Elton John and George Michael. There was no one else, particularly in Georgia.
Growing up, homosexuality had absolutely zero visibility. Even now, I know many journalists, singers, dancers, and actors who are gay, but they will never come out simply because this would kill their careers! Obviously, things are now changing massively, especially because of the internet: we are seeing more and more LGBTQ people and issues being discussed online, particularly in North America and West Europe. Even in Georgia, I've seen an increase in gay issues being talked about. For example, now we have a Pride event happening every year in Tbilisi, and in 2019, the gay movie "And Then We Danced" made a massive splash!
Did you ever experience or witness any homophobia growing up?
Many times sadly. Just recently, I had to turn down a job as a result of a really homophobic moment in the interview! During this interview, I was explaining to the interviewers about a school I had worked in which was near a famous Georgian designer shop. The male interviewer responded by saying that only faggots work in this shop and only stupid feminine men shopped there! I kept quiet and didn't say anything.
They asked me back for a second-round interview, but I replied turning them down. I explained that my values are completely different from theirs, particularly in light of the interviewer's expression about minorities. I explained that this was not acceptable and consequently I would not be able to work in their homophobic environment!
I was very proud of this moment. The fact that I found the courage and strength to reject what would have been quite a lucrative job. I needed this job financially, but I was not going to compromise my basic principles and values!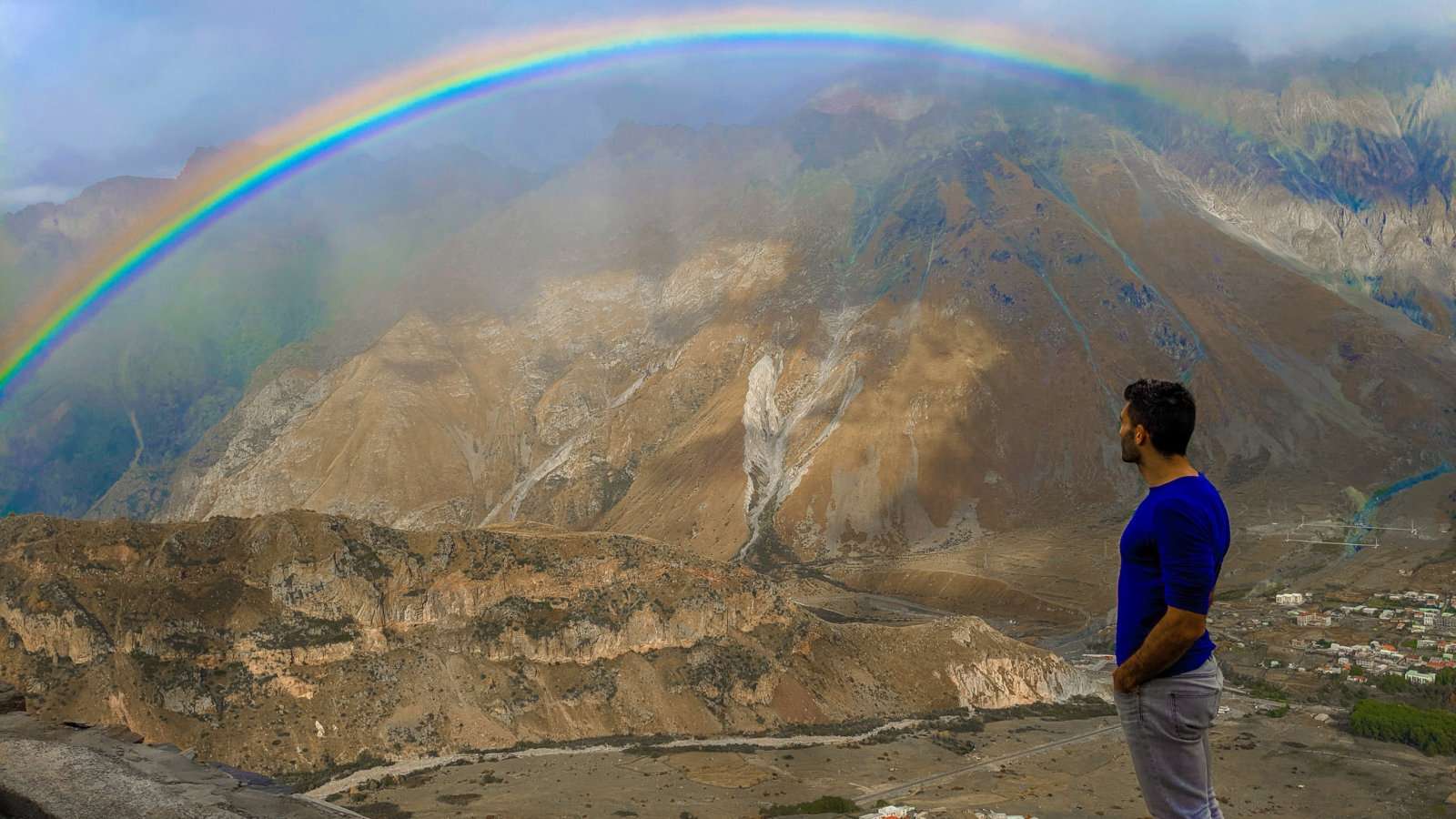 Have you seen any positive changes since your childhood?
Very much so! Back in the 1990s and early 2000s, homosexuality in Georgia was a massive taboo! Remember that Georgia was part of the Soviet Union between 1921-1991 when being gay was illegal, so if caught, you could not only get arrested, but thrown in jail, or worse.
Homosexuality was not legalized in Georgia until 2000, a whole decade after the fall of the Soviet Union. So when I was growing up, there was a nasty air of homophobia, with no visibility for our LGBTQ community.
Since 2000 however, Georgia has been pushing to get closer to Europe. This has forced our governments to adopt more liberal and progressive laws for our community. For example, between 2006-2014, a range of anti-discrimination laws was passed. This included banning discrimination based on gender identity and also introducing hate crime laws for sexual orientation. The right to change legal gender was also introduced during this period and soon we may see laws recognizing same-sex couples.
Change is hard though, particularly as much of Georgian society is heavily influenced by the very conservative Orthodox Church.
What is the gay scene in Georgia like?
Most of the gay scene of Georgia is in the capital city of Tbilisi, which is not surprising as almost half of the country's population lives in the capital: the population of Georgia is 3.7 million and the population of Tbilisi is 1.1 million. The gay scene of Tbilisi is growing and evolving all the time. Perhaps the most famous is the gay night at Bassiani called "Horoom Nights" – it's one of the most famous gay club nights in East Europe. It's also super exclusive and you have to message them privately beforehand to be allowed in: as part of this process they check your ID and Facebook profile to make sure you're not a homophobe who's going to cause trouble!
Another favorite gay night that I love going to is Kiki at Club Khidi. It's a lot of fun and has one of the most unique drag shows!
Other gay places to check out in Tbilisi include Success Bar, Café Gallery, and Prince. Obviously, I recommend people check out your detailed gay guide to Tbilisi to find out more.
What are the best gay friendly events in Georgia?
The main one is Tbilisi Pride, which takes place usually in July. It only started recently and of course, is met with the usual discourse of angry conservative mobs. Whilst it's awful to see people waste their time turning up trying to disrupt an event like Pride, it's still amazing to see a Pride event taking place in Georgia. Growing up I never thought I would see this happening, so I am so proud that this happens in my city!
Other popular queer-friendly events I like to go to with my friends in Tbilisi include the 4GB Electro music festival in May, the Art Gene Festival in July, and the GEM Fest electro-music festival in August.
Are there any politicians who openly support and campaign for LGBTQ rights in Georgia?
Yes! Fortunately, there is and slowly, more and more are coming out in favor of LGBTQ rights in Georgia!
The Republican Party, which is the main liberal left-leaning political party in Georgia, actively supports and campaigns for LGBTQ rights. In the October 2017 local elections, they were the first political party in Georgia to nominate an openly lesbian candidate, Ms. Nino Bolkvadze, who ran for a Tbilisi City Assembly seat. Whilst Ms. Bolkvadze did not manage to get her seat, this was a massive leap forward for us: remember, growing up there was no LGBTQ visibility at all in Georgia!
Do you think things will improve for the queer community of Georgia?
I strongly believe it will! As I said, the Georgia I grew up in was a completely different place to the Georgia I live in today. We've come a long way in relation to LGBTQ rights, particularly with regard to introducing anti-discrimination laws. I'm also really proud of our medical service for gay men in Georgia, which offers free HIV treatment as well as easy access to PEP, PrEP, Hep B vaccination, and STD testing. This has done much to challenge a lot of the AIDS/HIV stigma in society.
But there is a lot of work that still needs to be done. In relation to gay marriage, for example, there was a constitutional ban introduced in 2018. This was awful. But we are slowly chipping away at this via the courts. We also have to tackle the strong conservative grip the Orthodox Church has on Georgian society. But also remember that the younger population is more open-minded and aware of LGBTQ rights. The increased visibility our LGBTQ community is receiving in Georgia today (such as seeing openly gay people running for political positions or the Pride events) is so important to achieving progress and change!
Are there any famous openly gay queer Georgian celebrities?
Short blunt answer, HELL NO! There are of course many gay celebrities in Georgia, but they are forced to stay in the closet because to come out publicly is a death sentence to your career! This is why we really value and respect people like Nano Bolkvadze.
Put it this way, even if you're straight and you speak out publicly in favor of LGBTQ rights you will be condemned in some way, but this is also slowly changing. For example in October 2017, Georgian football player Guram Kashia expressed support for LGBTQ rights in the Netherlands by wearing a rainbow armband for National Coming Out Day. Far-right groups in Georgia led these stupid violent protests about this in front of the Georgian Football Federation, demanding his expulsion from the Georgian national football team. Luckily he wasn't and the President at the time (Giorgi Margvelashvili) even spoke out in Guram Kashia's support.
Guram Kashia was subsequently elected the captain of the Georgian national football team and went on to receive UEFA's #EqualGame Award for his support of the LGBTQ community. When accepting the award, he gave this really inspiring speech:
"I believe in equality for everyone, no matter what you believe in, who you love or who you are."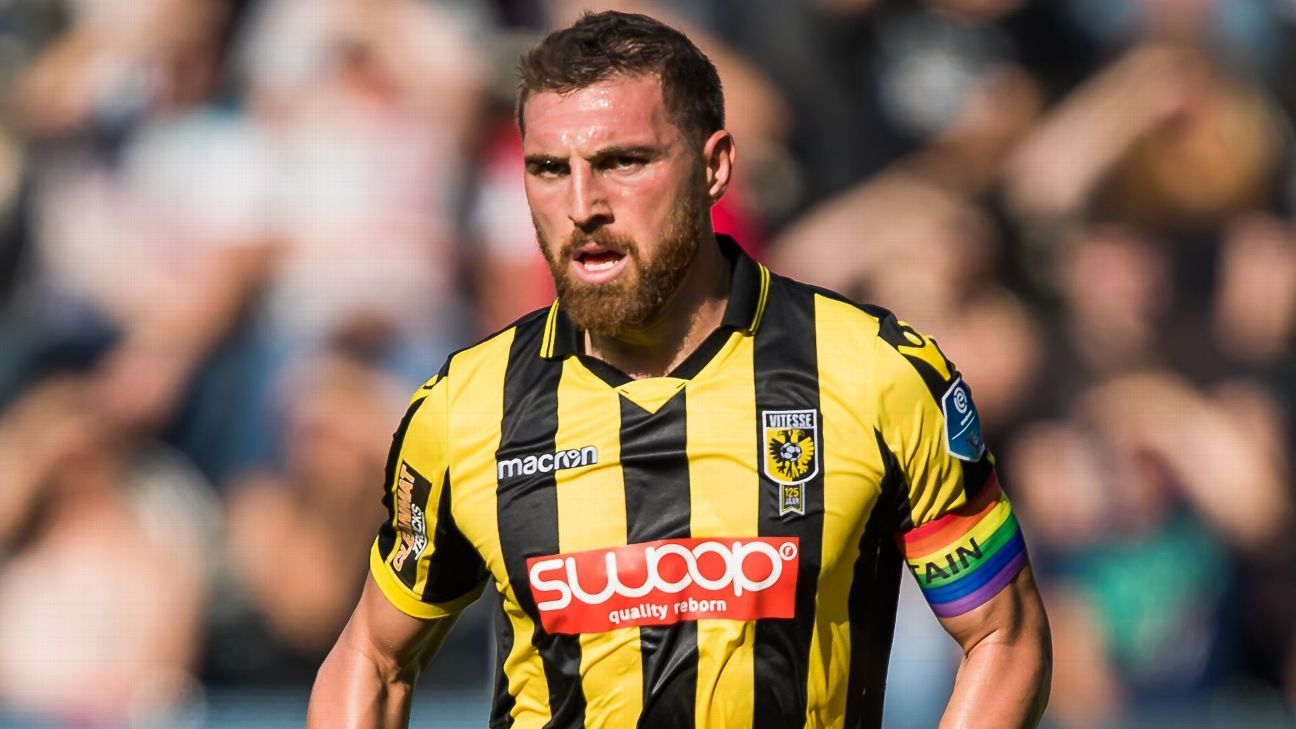 What's your advice to LGBTQ travelers visiting Georgia?
I always tell my friends to take the same precautions they would for when they visit any destination. Georgia is a very safe country so exercise the same level of caution as you would anywhere else. When it comes to PDAs however, remember this is not Fort Lauderdale, Barcelona, or Amsterdam! If you walk the streets holding hands and kissing, you're very likely to attract negative attention, so it's best to limit PDAs to gay friendly spaces for your own safety.
I also highly recommend checking out the many queer-friendly bars and clubs in Tbilisi (like the ones I mentioned above) to connect with locals. I also advise using the gay dating apps to connect and meet with locals. Whilst our gay scene is slowly growing, there is a large chunk of our LGBTQ community who remain firmly in the closet and are too scared to go to the bars/clubs.
One thing I guarantee is that you will feel very welcome in Georgia. We love foreigners and showing off our beautiful country.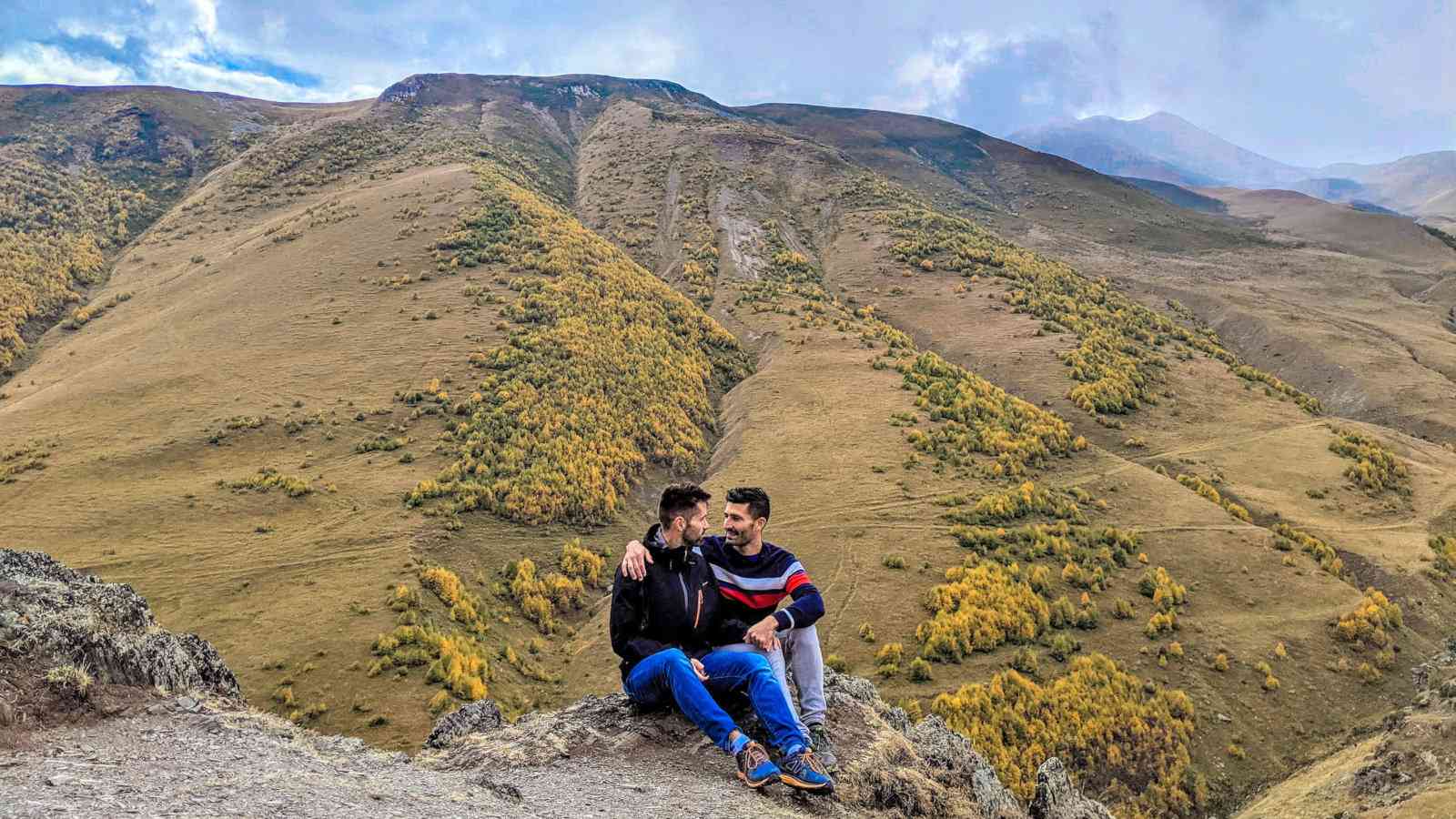 Where would you take a date for a romantic weekend in Georgia?
I love Sighnaghi. Why? Cause it's the Georgian city of LOVE of course! Even Lonely Planet describes it as Georgia's "single most attractive town"! It's a pretty hilltop town facing the Caucasus mountains, with lots of gorgeous old-style buildings from the 1700 and 1800s. It's only around 1.5 hours away from Tbilisi so easy to visit on a day trip or a romantic weekend.
Another favorite I highly recommend is trekking in the Kazbegi region. This is slightly further away, but again, something you can easily do as a day trip from Tbilisi. The views here are stunning and for me easily rank as the best trekking I've ever done in Georgia!
---
Like this post? Pin it