TERMS OF USE: There is a chance that some of the content on this page has changed since it was last updated. By reading this article, you consent to our Terms of Use and Disclaimer. Happy Travels!
DISCLOSURE: Some of our posts may contain affiliate links which we may receive a commission if you choose to book something through one of our links.
These are our favorite tried and tested gay friendly hotels in Scotland from Edinburgh to Wick and everywhere in between.
Who would turn down the chance to explore a place known for its magnificent natural landscapes, signature food dishes (here's looking at you, haggis!), and gorgeous men who go full commando under their kilts? No, it's not our made-up dreamland… it's Scotland!
All around Scotland, we found marvelous gay-friendly hotels, all of which made us feel right at home. Whether they were a grand hotel, a rustic cabin, or a homely B&B, all of them had something special to offer.
"But, what's the best thing that unifies Scottish hotels as a whole?" I asked Seby.
"Well, the one thing they all had in common… was us!" he quipped back.
(Cue a massive eye-roll from me…)
In all seriousness, the one thing that makes Scottish hotels stand out was their unique homeliness. Whether it was the twinkling eyes of the smiling staff, the gently cooed, "Morning!" as we headed down for our breakfast, or the hearty chuckle at our corny jokes, the people who worked in each place made us feel like family members. It's this reason why we rate the UK as a whole as one of the most gay friendly countries in the world.
It's truly the people that make the whole of Scotland, and not just their hotels, so remarkable. Here are the best gay-friendly hotels in Scotland that we tried and loved. On that note, make sure you also check in with our bumper gay guide to Scotland.
01
Eagle Brae
Struy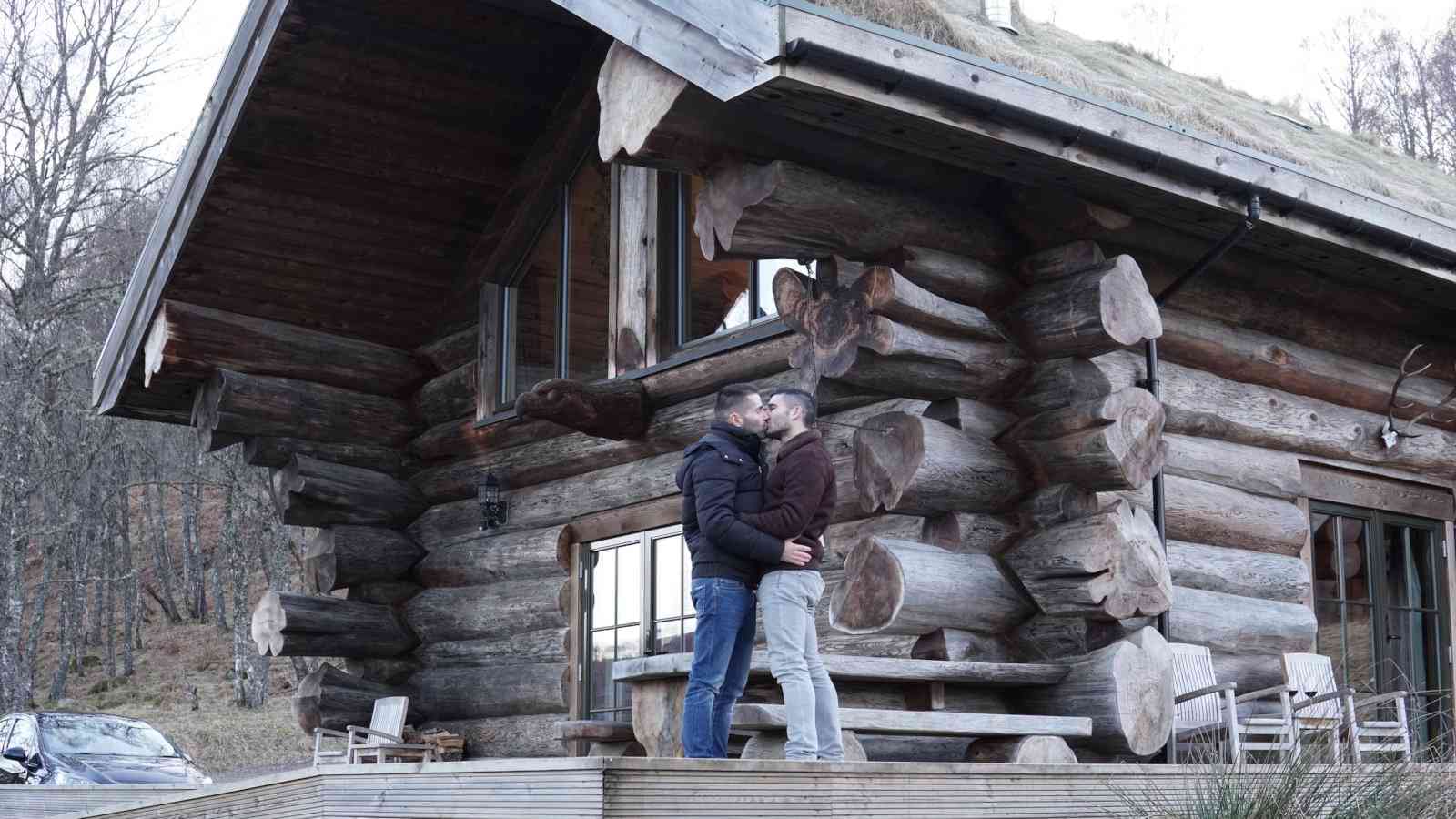 In a nutshell
---
Beautiful log cabins, some with sauna
Luxurious interior with fireplace
Lots of exciting activities in the surroundings
Dog-friendly and plenty of local wildlife to spot
Who hasn't enjoyed a romantic fantasy of running off into the wild with a loved one?
Eagle Brae makes that dream come to life. It's a fabulous gay friendly cabin-village that spans an impressive 8,000 acres in Struy, Inverness-shire, deep in the Scottish Highlands. It is owned by the ever-so-sweet couple, Mike and Pawana, who dreamed of creating a secluded, yet homely, corner of the world for travelers looking to escape from it all.
Dotted across the estate sit 10 luxurious cabins, each made from the finest cedar wood, the interiors fitted out with unique furniture made from Himalayan wood carvings. Each cabin has a name inspired by a wondrous facet of nature. The charming Cinclus, coined after an adorable bird that's native around the River Farrar, has a spacious kitchen and dining area, a private sauna with a walk-in shower, plus a massive outside deck with a picnic table.
Or climb up to the highest cabin, known as the Parus. This has a large private deck with seating, while its superb location and fabulous vantage views are perfect for nature lovers.
During the day, guests can get up to an abundance of activities at Eagle Brae. Walk around the stunning Highlands, go bird watching, or embark on a Black Grouse safari, where a tour guide will bring you up close and personal with this fascinating creature native to Scotland.
You can even take it up a notch and go kayaking down the Rivers Farrar and Glass, or perhaps even dogsledding around the estate's private track! In short, Eagle Brae is a total dream for gay couples – it was easily our favorite hotel we stayed at during our big Scotland trip.
Prices at Eagle Brae start from $535 per night:
---
STAY WITH A GAY LOCAL
Misterb&b is the Airbnb equivalent for the LGBTQ community. Unlike on Airbnb, you know your host is gay, voiding any nasty surprises when you check-in. It is also a great way to meet gay locals and discover the underground gay scene. Click below to get 10 € (or $10) off our first booking.
02
Parliament House Hotel
Edinburgh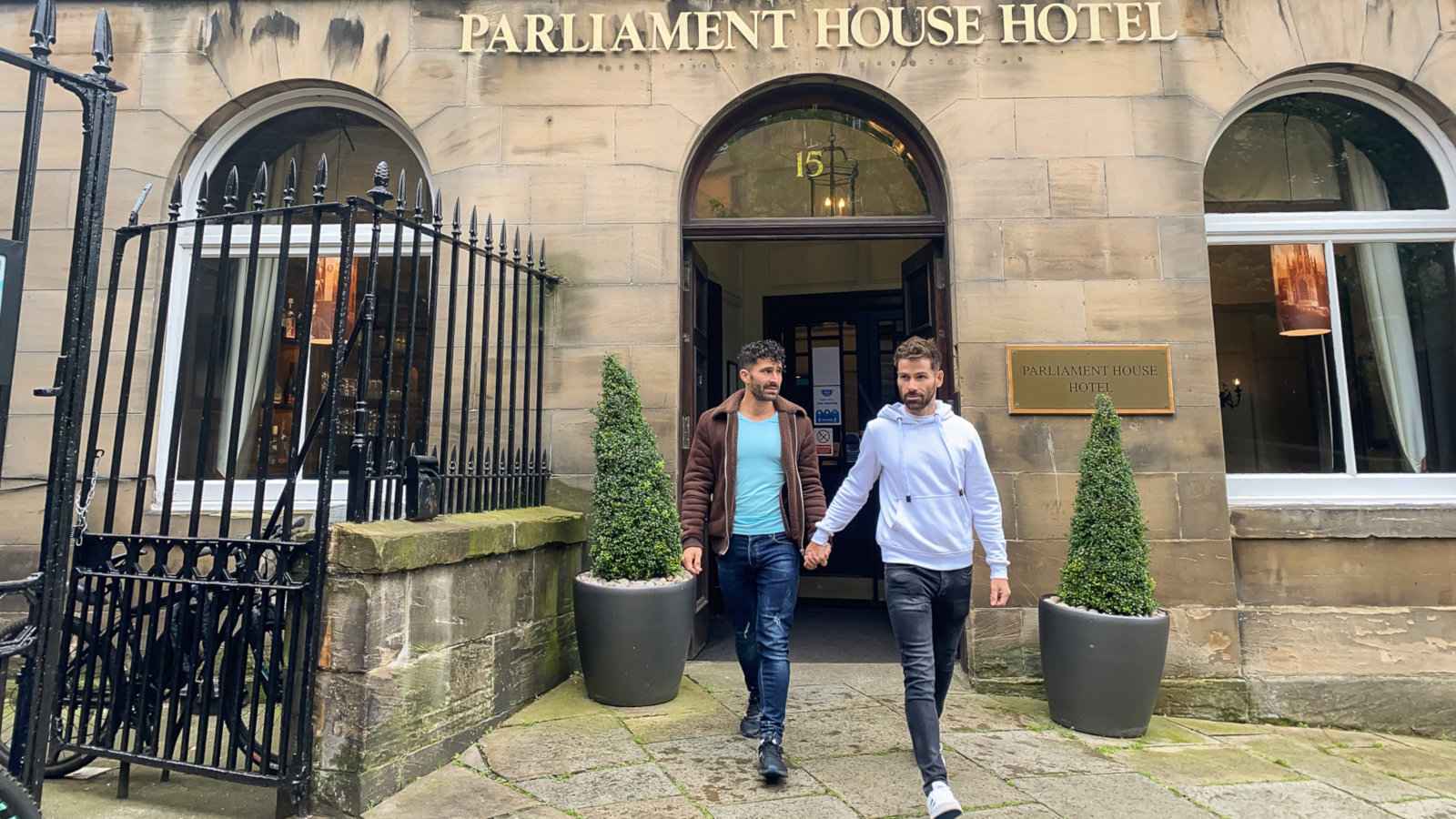 In a nutshell
---
Great location near Edinburgh's gay scene
Excellent food in the bistro
Very comfortable rooms
Fabulous gay friendly staff
It may sound cliché, but when you're choosing somewhere to stay on a city break, it's all about location, location, location!
Parliament House in Edinburgh therefore couldn't be a better choice. It's around the corner from Princes Street, one of the busiest shopping spots in all of Edinburgh and very close to the gay area. It's at the bottom of Carlton Hill, a fabulous place to walk up and admire panoramic views of the city. Oh, and it's a 5-minute walk to the Pink Triangle, home to many of Edinburgh's gay clubs and bars.
There is CC Blooms (the main dance club), Planet Bar (great for drag shows), and Havana (a quirky gay bar that is particularly popular with locals). And that's not even all of them!
At Parliament House Hotel all of the rooms are decadently decorated and super comfortable. Black tiles on the bathroom walls, plaid patterns on the soft furnishings, opulent chandeliers hanging from the ceilings, and a massive bed – that's certainly one way to make us feel like the Queens we are!
Though for us, the breakfast is what really won our hearts. To get a true taste of Scotland, you can't go wrong with a Full Scottish Breakfast. Plates are overflowing with bacon, pork sausages, grilled tomato, black pudding, and haggis… you'll be well and truly set up for your day! Guests also have a choice of a continental breakfast, with a wide selection of cereals and pastries.
The staff are among the most hardworking and dedicated that we've ever come across. No request we made was ever too small or too big. This is our top pick for the best gay friendly hotel in Edinburgh.
Prices at Parliament House Hotel start from $115 per night:
---
03
Ness Walk
Inverness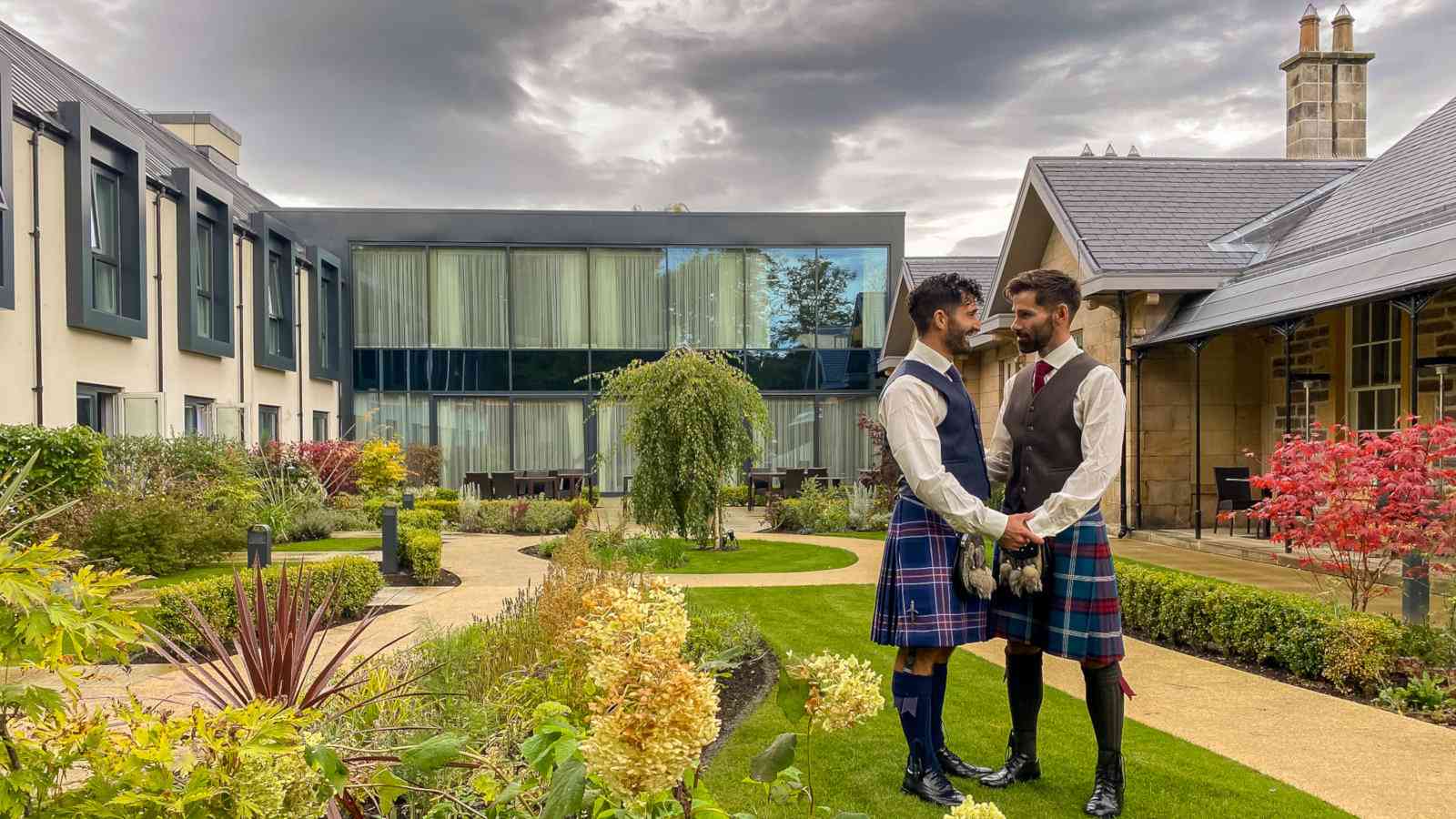 In a nutshell
---
Incredible accommodation near Loch Ness
Super luxurious with modern amenities
Combined with beautiful Victorian details
Amazing restaurant and staff
During our trip to Scotland, we had three things on our mind. 1 – Eat some haggis (success!) 2 – Look cute in kilts (success!) 3 – Find Nessie (ummm…). Moving on…
Despite our failure to spot the Loch Ness monster, our experience at the glorious gay friendly Ness Walk hotel was superb. Perched within the lush trees that line the bank, the Ness Walk Hotel is a comfortable 10-minute walk from the iconic lake.
The building itself was once a 19th-century house, striking the perfect balance between the past and present. Guests will find plenty of Victorian-style elements to it, whilst still enjoying ultra-modern amenities.
The 47 rooms and suites are named after the various trees that can be found along the grounds: Laurel, Cedar Oak, Rowan, and Wellingtonia.
Oak rooms on the first floor are adorned with stylish décor, marble bathrooms, and offer fantastic views of the hotel's courtyards. Whilst on the ground floor, the Cedar rooms provide guests with a private terrace, the perfect spot to sip a morning coffee.
At the top of the house are the lavish suites, all of which feature large windows that let in tons of natural light. Their chic and elegant design elevates the experience to even greater levels of relaxation – it can't get any better than that!
In the Torrish Restaurant, we enjoyed scrumptious meals and incredible service from the wait staff. It's a must-visit for Hogmanay celebrations as the owners throw an annual ceilidh to celebrate the New Year. Dancing to folk music, drinking some bubbly, and enjoying the exuberant festive atmosphere – what could be better? Read more in our bumper gay guide to Inverness.
Prices at Ness Walk start from $190 per night:
---
04
Kingsmills Hotel Inverness
Inverness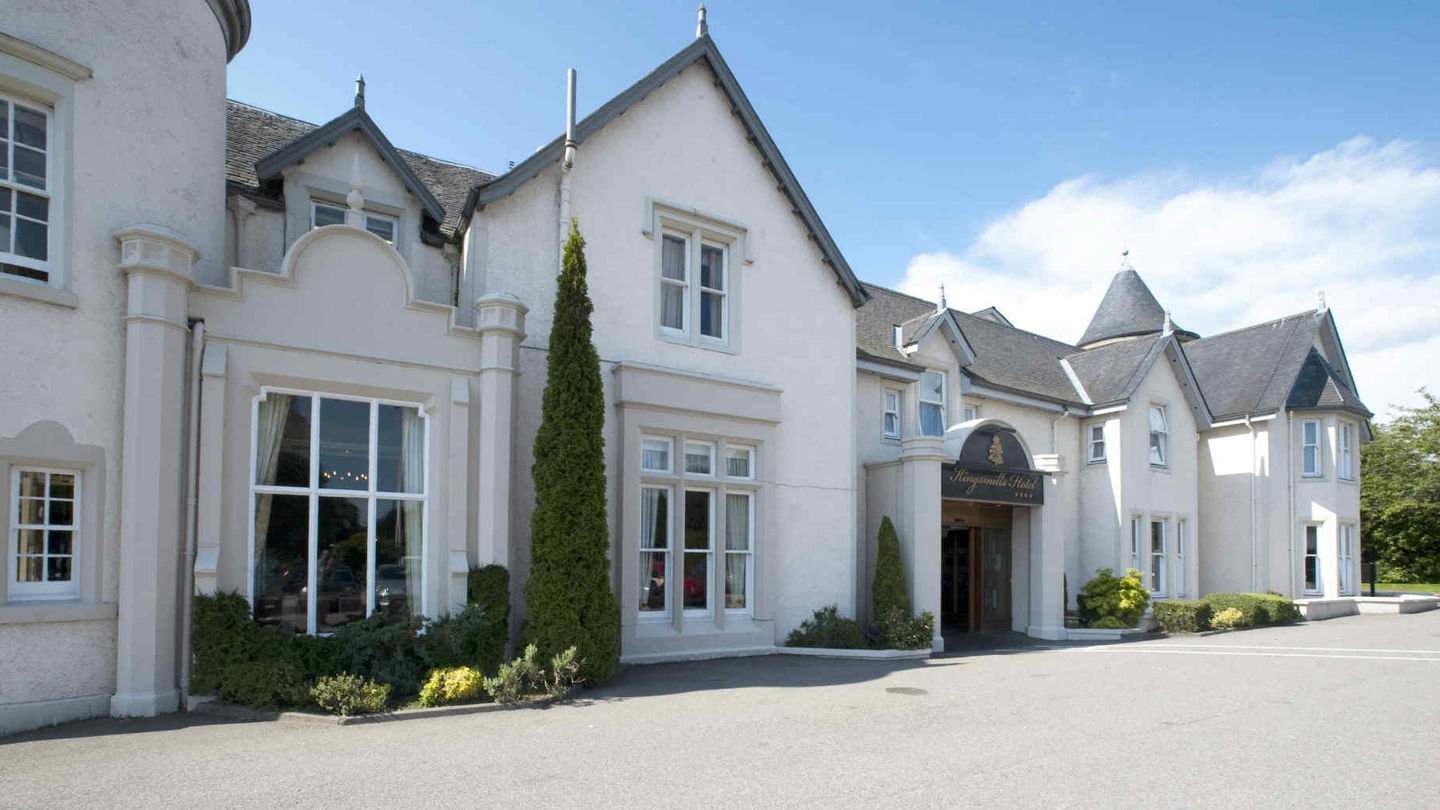 In a nutshell
---
Grand and historic manor house
Two excellent indoor restaurants
Plus a garden restaurant!
Pampering spa on-site
The world-renowned Scottish poet, Robert Burns, adored holidaying in this grand house back in the 1780s. Fast forward over 200 years (after its transformation into the lavish gay friendly hotel that it is today) and yours truly has also fallen madly in love. Maybe it has a certain allure with remarkable wordsmiths?
Based in Inverness, guests have the privilege of enjoying the splendor of the city along with the magic of the surrounding Highlands. Their garden rooms face out onto wonderfully manicured lawns, with a patio, table, and chairs, creating a serene place for you and your partner to hang out. To really live out your pampered movie star fantasy, go for the luxury room. There, you can sink into a deep bath before wrapping up in a fluffy dressing gown.
There are also dog-friendly rooms, so if you hate leaving behind your beloved furry friend whilst traveling, then you're in luck. Dining-wise, the hotel features two indoor restaurants, plus one out in the garden. For such a lavish backdrop – top-tier service, and scrumptious food selection that uses fresh and locally sourced ingredients – the atmosphere is fairly laid back. So don't feel like your outfit has to get 10s across the board – although, it can be fun to get dressed up.
One of our favorite parts of this hotel was its spa, where you can pamper yourself with facials, hot stone treatments, and so much more. It was so relaxing that Seby and I could barely walk after our couple's massage!
Prices at Kingsmills Hotel Inverness start from $81 per night:
---
05
Islay Cottages
Islay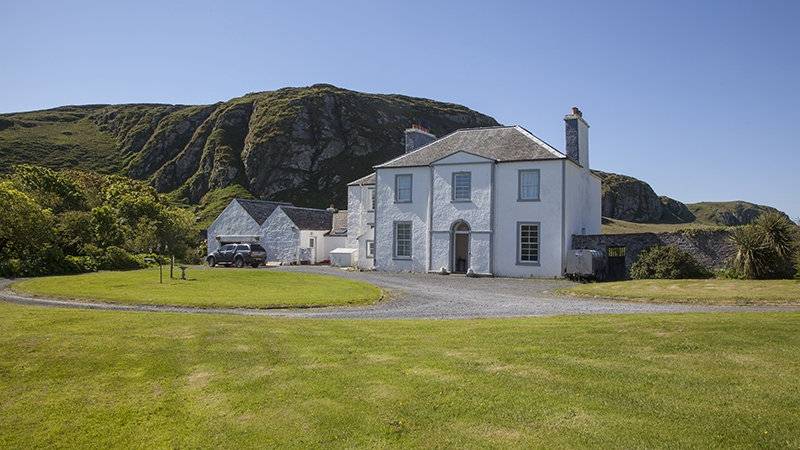 In a nutshell
---
Beautiful self-catered cottages
Choose where to stay on the Isle of Islay
All cottages are cozy and well equipped
Be surrounded by amazing nature and landscapes
Dotted across the Isle of Islay (aka the land of whisky), Islay Cottages offer seven choices of accommodation for guests to stay in. Some of them are in the main village, Bowmore, whilst others are based in an even further away remote spot on the island known as Kilchoman. Now, you're probably thinking: "Guys, how can it get even more remote than an island off the coast of Scotland?"
Well, a stay in either the Kilchoman House or Kilchoman Cottages will have you fully immersed within rural life. Nothing but sprawling hills to surround you, the rush of the sea to rouse you in the morning, and incredible wildlife to astound you. Expect to see a few rare birds flying around during your stay.
You'll also spot a cave where people have found artifacts that once belonged to ancient ancestors, including arrowheads. If you want something that's a bit closer to civilization, stay in the village, where you'll be nearby the iconic Bowmore Distillery. There you can embark on guided tours and learn all about the production process of one of Scotland's beloved drinks. When you're done, pop into a local pub, chat with locals and, enjoy a classic Scottish whisky.
The cottages themselves are fabulously decorated, with modern facilities and homely furnishings. All of them are self-catering, except for Tarbert House, which operates as a B&B. So, if you don't fancy having to cook breakfast, then this is your best pick. The owners whip up a delicious continental breakfast to help you set up for the day.
Prices at Islay Cottages start from $135 per night:
---
06
Kingshouse Hotel
Glen Coe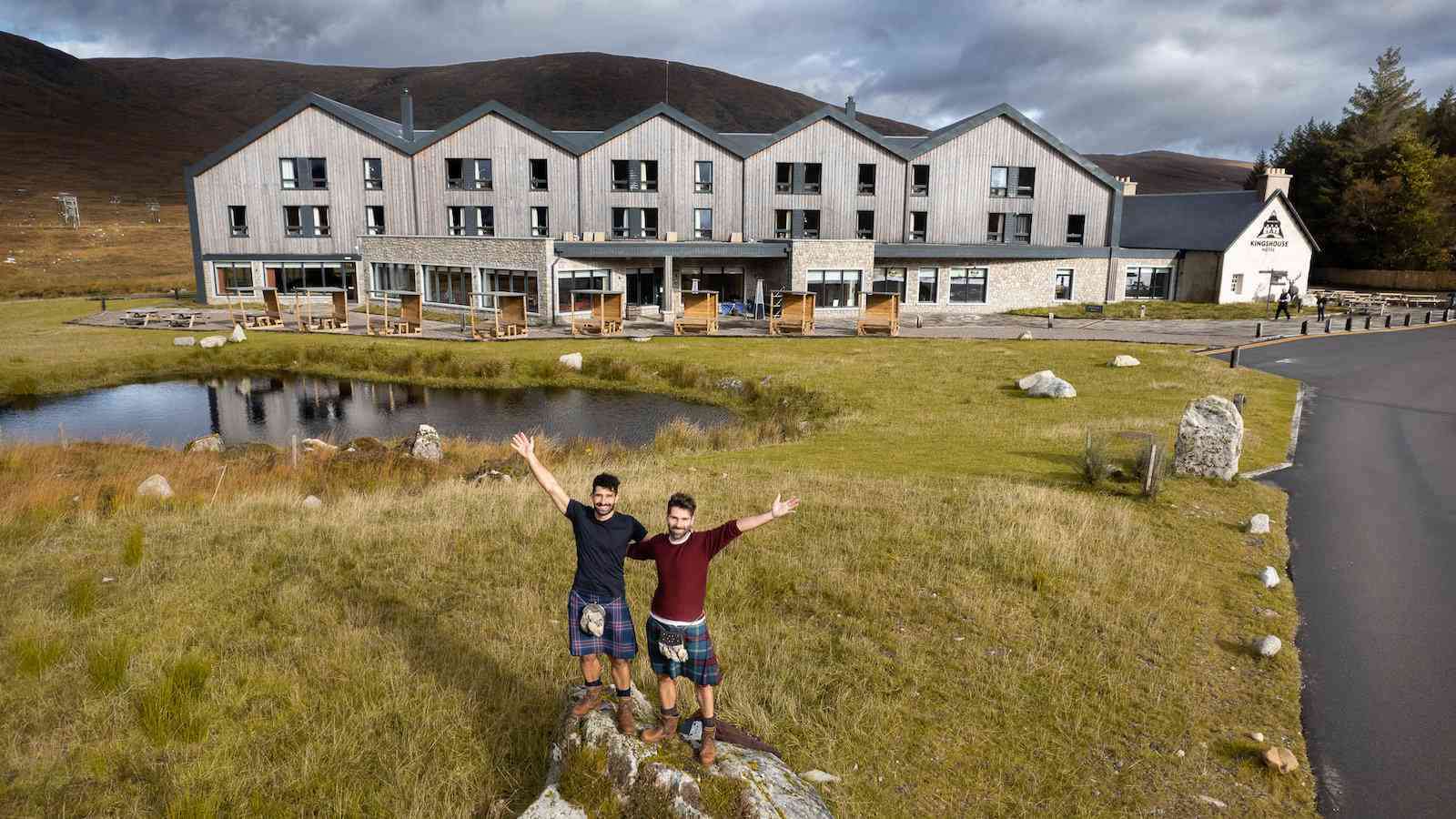 In a nutshell
---
Beautiful accommodation in the heart of stunning Glen Coe
Comfy rooms with epic views
Restaurant and an Inn on site
Lots of great hikes nearby
Picture this… We're driving down the same road Daniel Craig sped down in Skyfall, except instead of premium suits and a sinister soundtrack, we're dressed in tank tops and blasting Lady Gaga. Not quite the 007 movie you were expecting…
Kingshouse Hotel in Glencoe is a gorgeous gay friendly hotel surrounded by natural scenery, flourishing wildlife, and marvelous things to get up to. Take on the Devil's Staircase, a hiking path that will take you up to West Highland Way's highest point – a staggering 1,800 feet (550 meters).
Or challenge yourself even further by climbing up the Buachaille Etive Mor, one of the toughest walks in Glencoe. Expect steep paths and long walking ridges – it's tough, but the view from the top is totally worth it.
Back in the hotel, we recommend opting for the feature room. You couldn't ask for anything more than a king-sized bed, fluffy slippers, and gowns to lounge around in, plus epic natural views to admire, and a welcome bottle of gin and tonic (which we accepted heartily).
For food, you'll love how the dramatic slopes of the Glencoe Valley engulf the restaurant, making you feel like you are enjoying your dinner inside the belly of a beast. The menu is packed full of variety, including plenty of veggie and vegan options, with everything made from the finest local ingredients.
Then go from that supreme elegance to the rough-and-ready Way Inn restaurant bar. Inside, you'll find rows of tables and benches, stone fireplaces, and a menu filled with sandwiches and beer. Very Wild West style!
Prices at Kingshouse Hotel start from $170 per night:
---
07
Mackays Hotel
Wick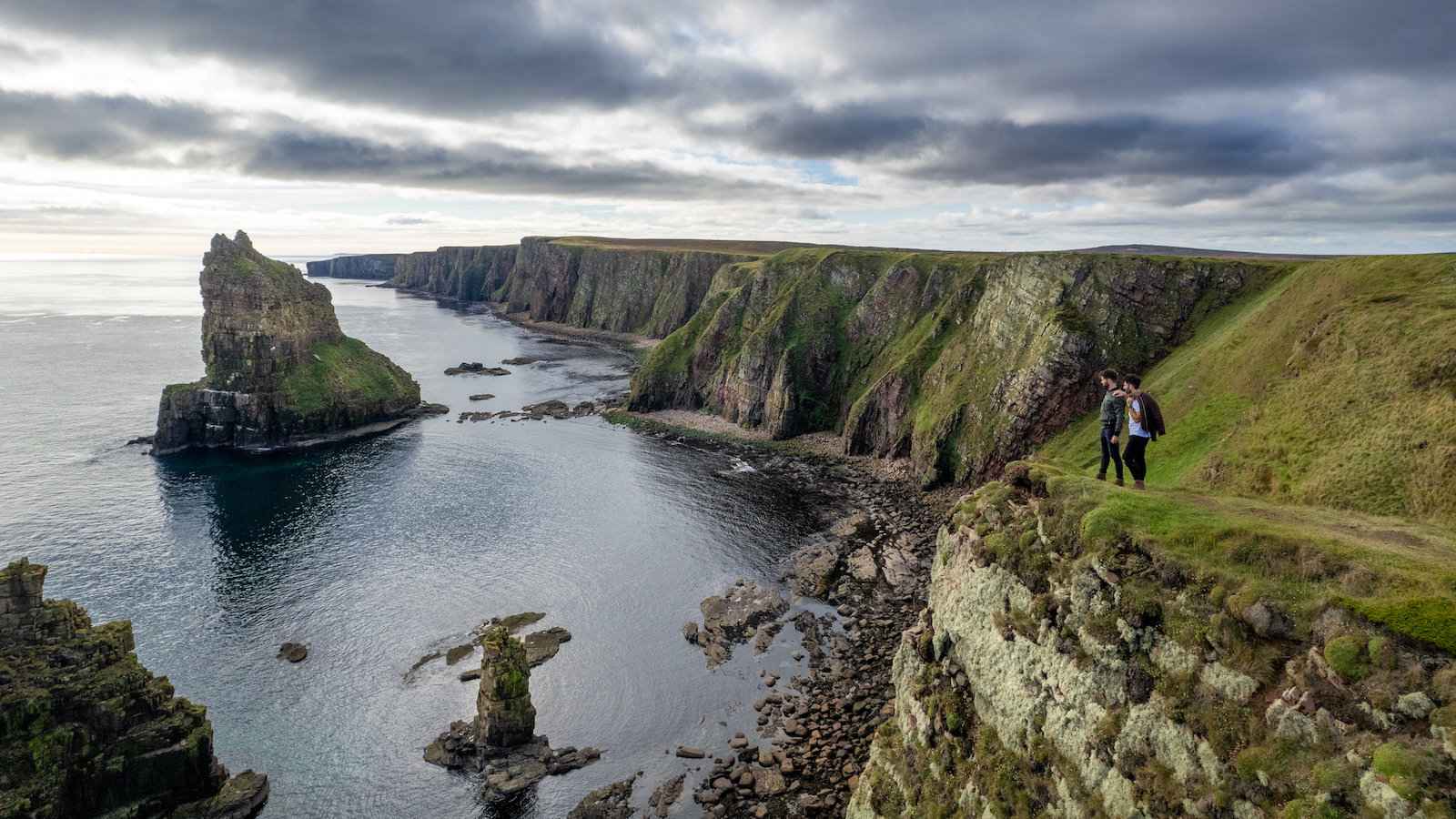 In a nutshell
---
Cozy accommodation in the north of Scotland
Some rooms feature a Jacuzzi bath
Delicious Scottish cuisine in the bistro
Great location for exploring incredible sights nearby
Who wouldn't brag about measuring an impressive 6ft 9inches? Especially if it gives you the momentous feat of being the official world's shortest street (Guinness Book of World Records certified and all).
But trust us when we say, that's the only thing the Mackay Hotel falls short on. Family-run since the 1960s, an experience at the Mackay Hotel is outstanding, and if we were to write a list of everything we loved about this place, it would extend far beyond the street of Ebenezer Place.
Their bistro is a fabulous spot to grab a bite to eat and get a taste for traditional Scottish cuisine (yes, that includes the controversial haggis). Their rooms are bright, spacious, and use soft color palettes, so you feel an instant sense of calm by just walking through the door. Each room comes with a massive bed, flatscreen TV, and unbeatable views of the incredible Caithness landscape. For extra relaxation get yourself into the coveted superior room, that features a jacuzzi bath. Perfect for sinking into after a long day of exploring.
This gay friendly hotel is located close to the famous North Coast 500 (considered to be Scotland's answer to Route 66 – except this one is way more scenic). Spanning over 500 miles, the route will take you around some of the most jaw-dropping landscapes of the Highlands.
A 30-minute drive will take you to John o' Groats, a village that features the dramatic Duncansby Stacks, with an ominous lighthouse sitting in the background.
Prices at Mackays Hotel start from $148 per night:
---
08
Tarbert House
Islay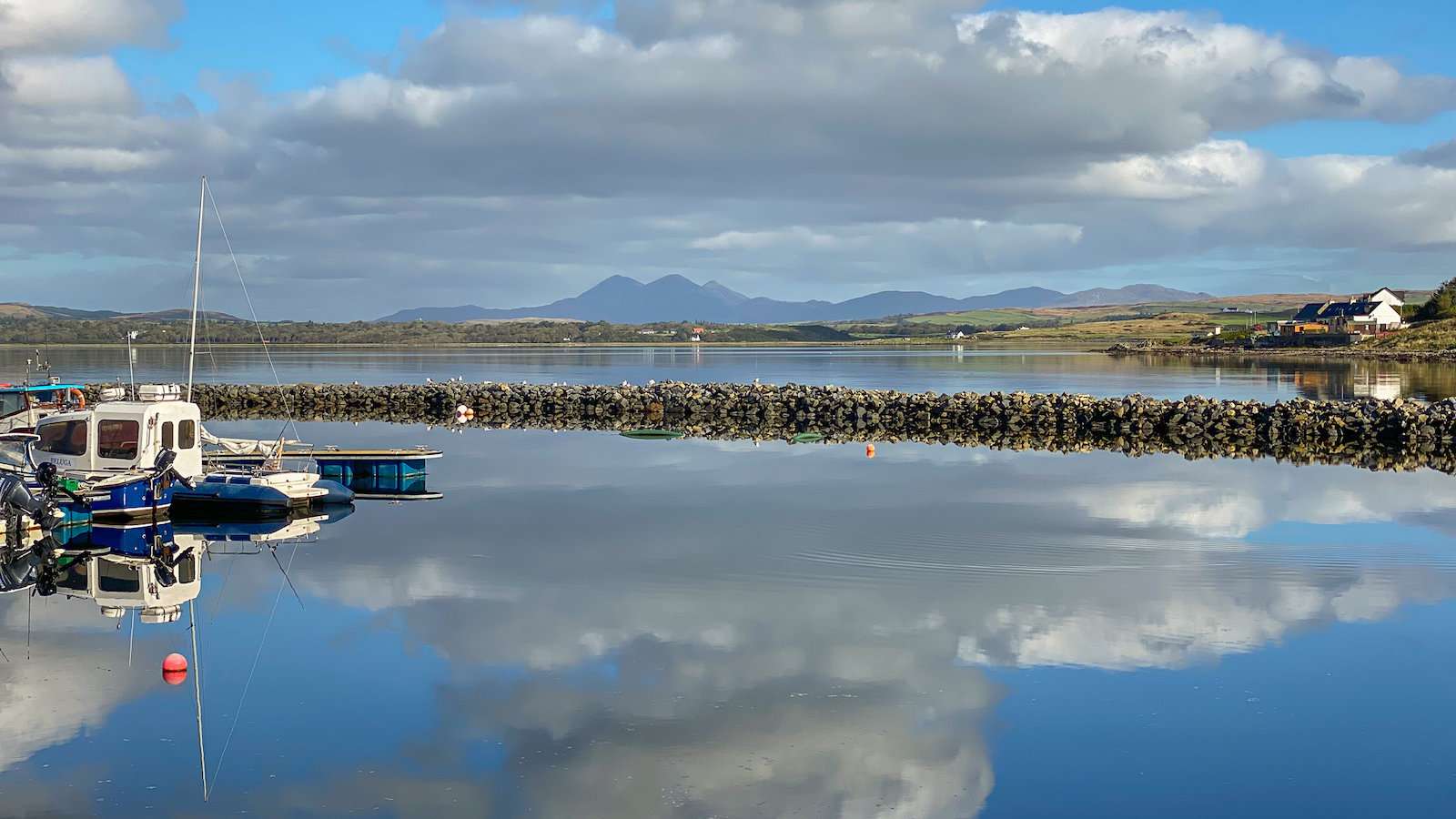 In a nutshell
---
Lovely B&B on the Isle of Islay
Small and intimate
Delicious breakfast each morning
Well located for local attractions
We came for the whisky, but what we truly fell in love with was the warm, Scottish hospitality! The super gay friendly owners of Tarbert House couldn't have been more welcoming, despite us lugging six massive suitcases (we're a rather high maintenance pair), across their threshold and badgering them with questions on things to see and do around the island.
Our room was super comfortable, feeling very much like a home away from home. In the morning, we wolfed down a scrumptious continental breakfast that set us up perfectly for the day. This B&B is the perfect size, not too small that you feel cramped in with the other guests. It accommodates 8 people at any one time, so we never felt too guilty about hogging all the owner's attention.
Their location is the real winner. It's based right in the heart of Bowmore, a town famous for the Bowmore Distillery. This draws in tourists from around the world who pop by to learn all about the long distilling process of Scotland's most famous export.
Elsewhere in the town is a pool and leisure center, which is a great place to swing by if you fancy a cool dip or a quick workout. The pier was one of our favorite spots that we visited, not just for the epic photo opportunities it gave us, but for the crisp, fresh air and the soothing waves that crashed against the sea rock. Total relaxation!
Prices at Tarbert House start from $122 per night:
---
09
Loch Lomond Waterfront Luxury Lodges
Balmaha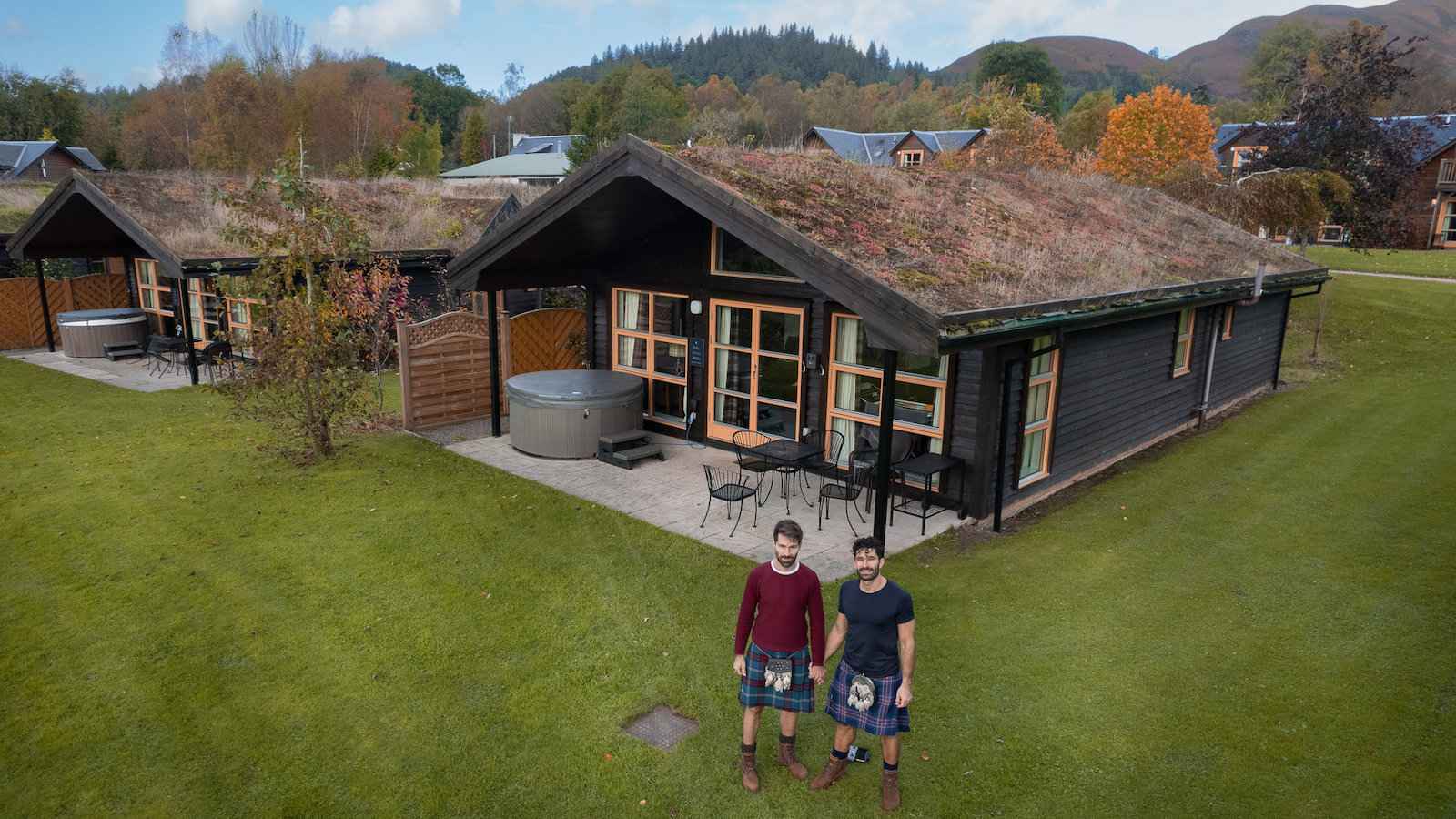 In a nutshell
---
Amazing private cabins with hot tubs
Different sizes for couples or groups
Tantalizing on-site restaurant
Divine spa on-site as well!
You wouldn't guess it, but we love self-catering holidays. Especially at Loch Lomond Waterfront, where every guest stays in a cabin that comes with a private hot tub, steam room, and beautiful garden views (some cabins even offer a glimpse of Loch Lomond).
Choose between a chalet, a lodge, or a honeymoon suite, depending on your group size. The chalets and lodges are stylish and spacious, so you can bring six of your pals along to throw a fabulous soiree. The suite is the ultimate romantic affair, complete with mood lighting, a living flame log fire, and fluffy bathrobes to snuggle up in.
They also offer pet-friendly accommodation so you can bring a furry friend along… or your pet, whichever works…!
Their onsite restaurant, The Perch, is a fantastic spot to drop in and enjoy delicious homemade delights. We are unashamed sweet tooths, so we had a field day trying out the array of cakes that feature on their menu. Their rustic "round-the-table" approach to dining creates a relaxed atmosphere. As a gay couple we felt completely at home here – always made to feel welcome by the staff.
In their spa, choose from an array of special treatments, including aromatherapy, Swedish massages, mani-pedis, and Reiki – a Japanese-style treatment that cleanses your energy and produces super relaxing results. NOTE: spa services have been temporarily suspended due to Covid.
The surrounding area is filled with tons of things to see and do, including hiking and cycling trails – the hike up to Conic Hill was our favorite adventure here!
Prices at Loch Lomond Waterfront start from $260 per night:
---
---
Like this post? Pin it