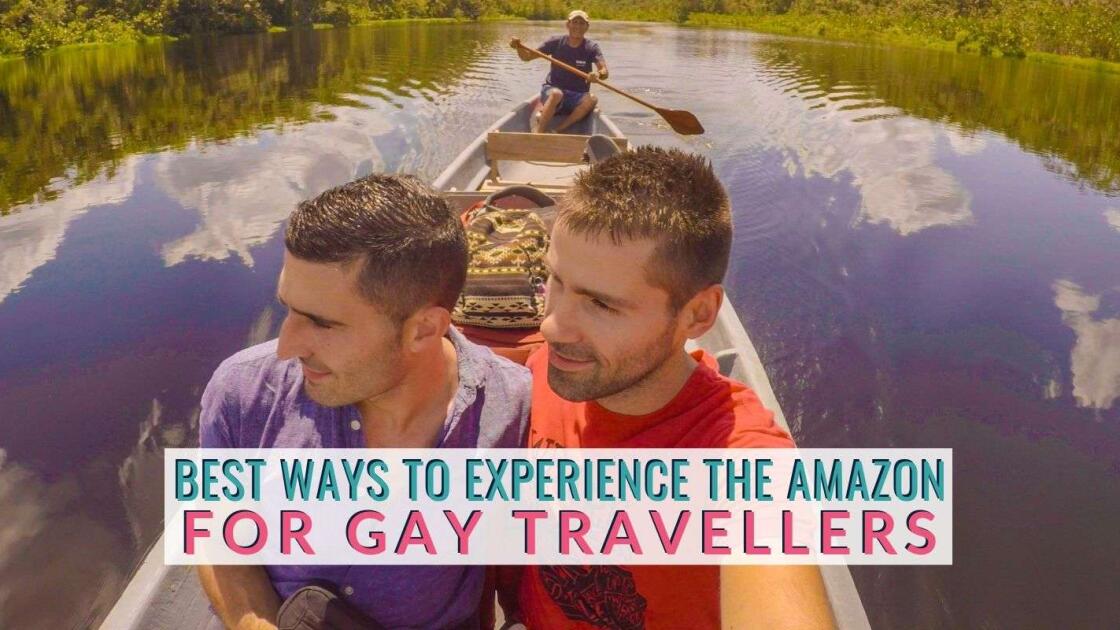 These are the best ways for gay travelers to experience the Amazon jungle by land or river.
Seby took one look at the dark green colour of the Amazon River, turned to Stefan and declared:
"I am NOT swimming in there Stefan. I will NOT become piranha fish food!"
Stefan got his way in the end and managed to persuade Seb to jump in, to the joy of the staff on board the Anakonda cruise who found our bickering (and Seb's irrational fears) highly amusing.
Irrational fears? Contrary to popular belief, swimming in the Amazon River can be quite safe. Our guides knew the spots where tourists like us could swim safely and conquer their Piranha-phobia. Piranhas are not aggressive or territorial, but more like scavengers. They will not go anywhere near you.
"Swimming in the Amazon River can be quite safe. Our guides knew the spots where tourists like us could swim safely and conquer their Piranha-phobia…"
Despite this, Sebastien lasted a whole 7 seconds in the Amazon River before he jumped straight back into our boat…
Piranha-phobias aside, there are many options for gay travellers to explore the Amazon jungle in South America, whether as part of a gay group tour, on a luxurious cruise along the Amazon river or staying in a jungle lodge. This is our guide summarising each of these based on our first-hand experience travelling in Ecuador and Peru as a gay couple.
DON'T MISS OUT!
Join our newsletter
Subscribe now to receive in-depth FREE travel guides, along with inspiring stories, savvy planning tips, and exclusive discounts on gay tours.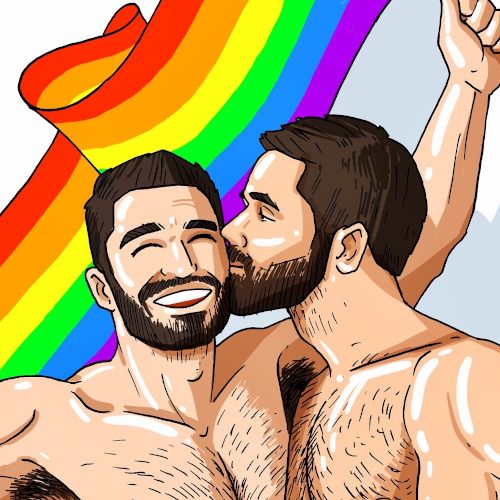 A word about the Amazon basin
The Amazon is the world's largest tropical rainforest covering 2.5 million square miles. It is spread over 9 countries in South America, in particular, Brazil, Peru and Ecuador. The Amazon Rainforest and River were both voted as one of the New 7 Wonders of Nature by a global poll in 2012.
The Amazon is also home to a large diversity of wildlife. There are 427 mammals, 1,300 species of birds, 378 reptiles, more than 400 amphibians and around 3,000 freshwater fish, including Sebastien's best friends: the piranhas.
The Amazon river runs through the Northern part of this giant rainforest, connecting many jungle villages and communities. At 6,400km long, it is the second-longest river in the world after the River Nile (6,650km).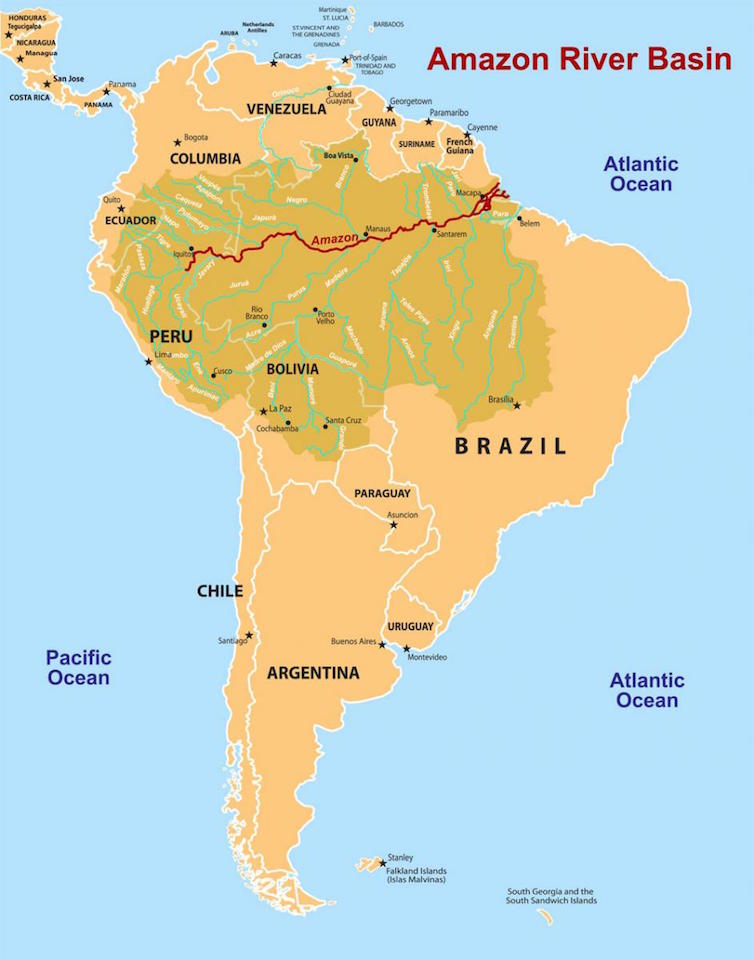 ---
01
Amazon Garden EcoLodge Boutique
in Peru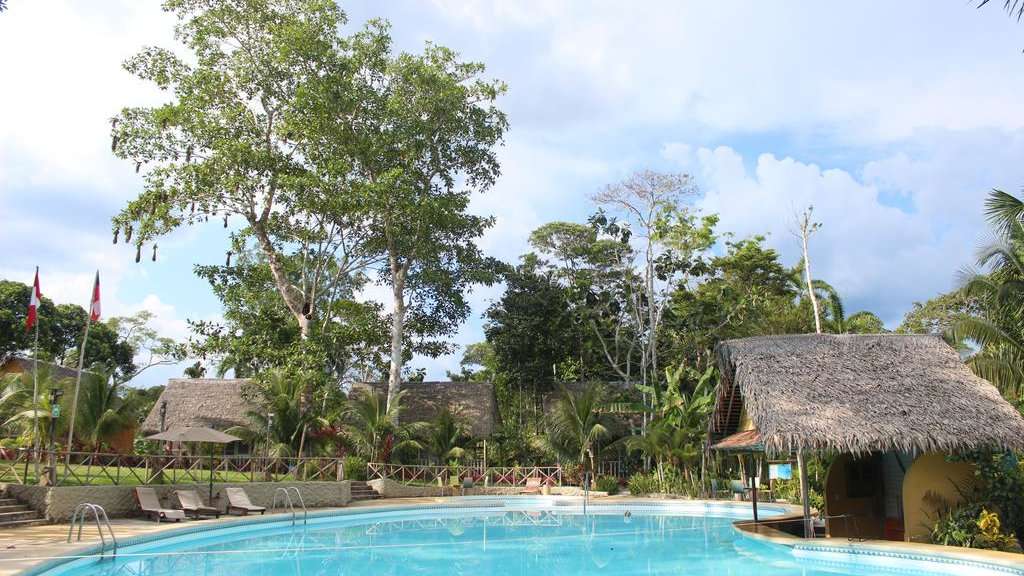 Why we love it
---
Welcoming family-owned jungle lodge
Many cultural and wildlife activities on offer
Lovely big swimming pool
Perfect for getting off the grid and close to nature
The Amazon Garden EcoLodge is a wonderful gay-friendly choice of accommodation if you want to stay in a jungle lodge located on the shores of the Amazon River.
The family who own and run the lodge welcome all guests with open arms, making you feel like you're also part of the family. Keep an eye out for the cheeky monkey Ramona who lives there too and was rescued from the black market.
All guests who stay at the lodge get their own private guide, who will tell you all about the local myths, legends and customs of the local towns. There are also lots of excursions you can organise, to experience jungle walks, fishing, canoeing and bird-watching. You can even go on eco-cultural programs to visit Indigenous tribes and animal rescue centres.
The lodge accommodations are nicely decorated, with a big swimming pool that's lovely for cooling off and relaxing after a busy day of exploring. You'll be staying in rustic but cosy bungalows, nestled within the tropical gardens. Do be aware that there's only limited electricity here, but it's perfect if you want to really disconnect and relax in nature.
02
Brand G 2021 Amazon Cruise
in Peru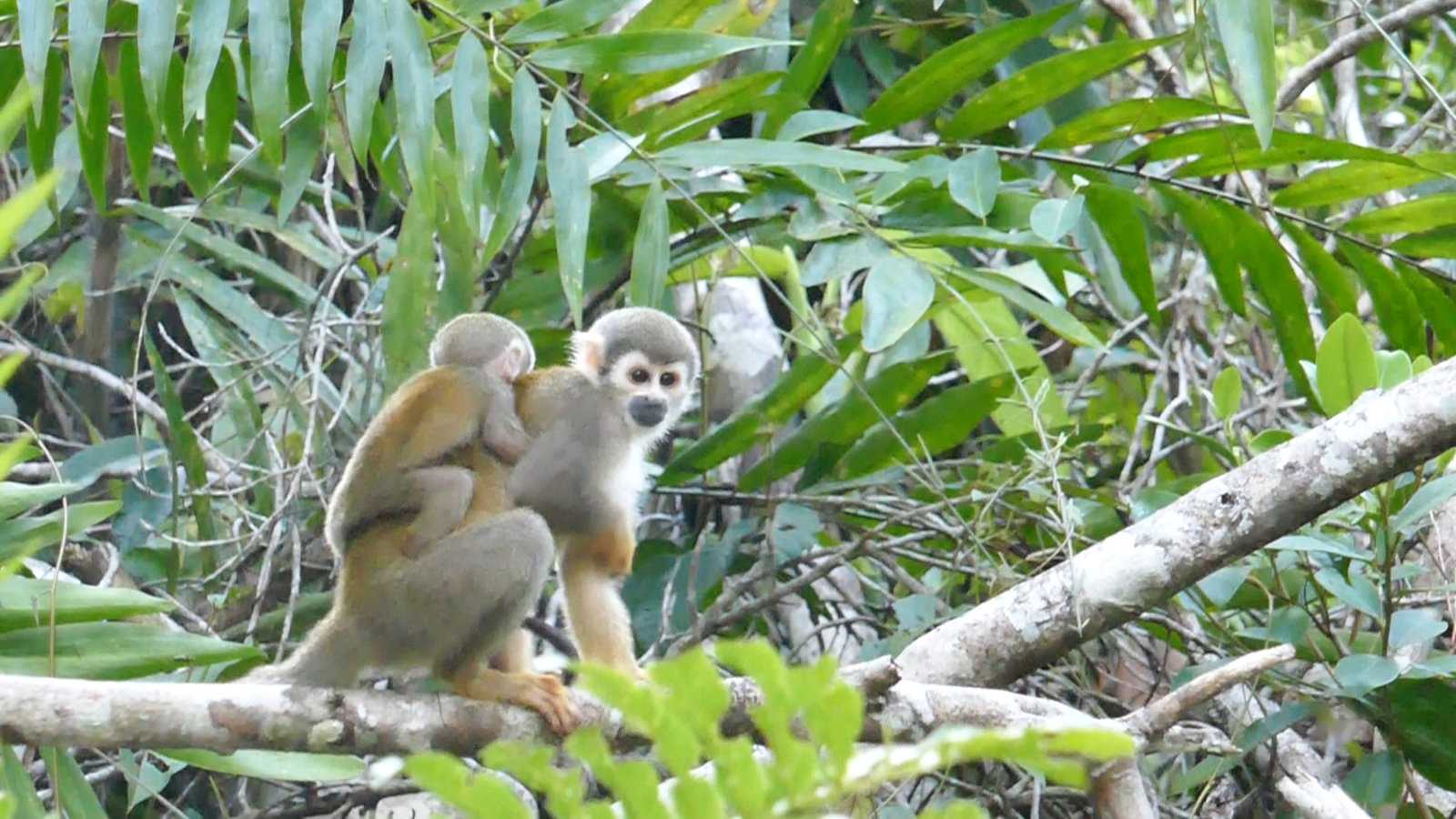 Why we love it
---
Combine Peru and the Amazon in one trip
Luxurious accommodation
Sail on the river in a luxury boat
Brand G is one of our favourite gay tour companies. If you're looking to combine adventure with luxury and make friends along the way, their gay tour to Peru is perfect for you. Their gay trips usually take place in April. It includes a luxury Amazon river cruise AND the opportunity to visit Machu Picchu!
You'll experience the best Peru has to offer over 13 days. You will explore Lima, go on a four-night Amazon cruise, visit the Sacred Valley, Machu Picchu and Cusco.
On this trip, you'll also be seeing lots of wildlife like monkeys, birds, sloths and the famous pink Amazon river dolphins.
Brand G only offers the best for its guests: you can expect to stay in luxurious gay friendly accommodation throughout your trip. During your Amazon river cruise, you'll be onboard spacious colonial-style ship the Delfin III. The suites on board are gorgeous, with huge floor-to-ceiling windows and freestanding claw-foot bathtubs also looking out at the view!
The ship also features a relaxing spa for massages and beauty treatments, as well as a hot-tub on the sundeck. You'll be treated to some top-notch cuisine in the elegant restaurant, as well as nightly entertainment and a turn-down service, so you'll feel well and truly pampered. During the land-based parts of the tour, you'll get to stay in some really luxurious hotels like the Hilton Miraflores in Lima. And you'll only be surrounded by other gay travellers who will fast become new friends.
BrandG is offering our readers an exclusive 5% discount for this cruise. Click the button below to check availabilty and prices.
DON'T MISS OUT!
Join our newsletter
Subscribe now to receive in-depth FREE travel guides, along with inspiring stories, savvy planning tips, and exclusive discounts on gay tours.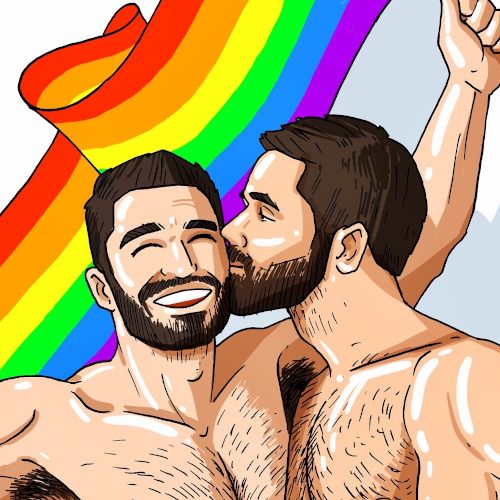 03
The Amazon and Machu Picchu
in Peru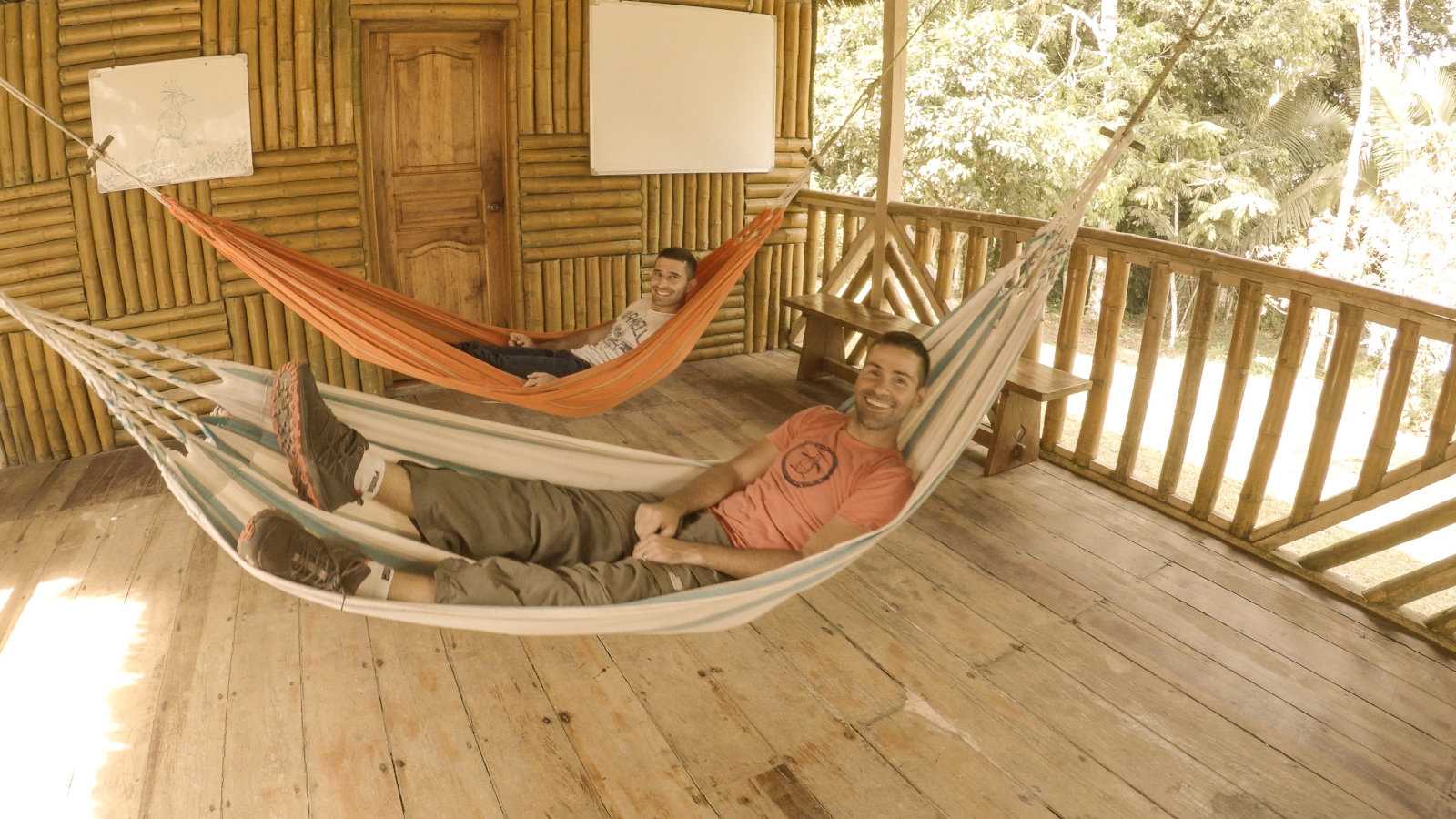 Why we love it
---
Stay in a variety of luxury jungle lodges
Travel in motorised canoes down the river
Get to know locals and support eco-tourism
Lots of hiking and wildlife spotting
Out Adventures is the premiere provider of gay tours and cruises all over the world. They're an excellent gay tour operator if you're looking to have the whole trip organised for you and have the peace of mind of staying in gay friendly places.
Their tours are also excellent for solo travellers and couples looking to join a larger group of like-minded men.
Their Amazon and Machu Picchu is perfect If you want to experience the wildlife of the Amazon Jungle whilst staying in a gorgeous eco-lodge.
On this tour you'll get to walk through the jungle, cruise along murky waterways, spot exotic wildlife, stay in an eco-lodge and learn about conservation at the Tambopata Research Center. You'll need a reasonable degree of fitness for all the hiking, canoeing and canopy tower climbing you'll be doing, but it'll be all worth it!
You will get to see a lot of animals up close, including Capuchin monkeys, Spider monkeys, parakeets and peccaries. You'll also get to visit a clay lick that attracts the most beautiful birds in the world: the Macaws. And while visiting the Tambopata Research Center you'll get to see the work being done to increase survival rates of the numerous beautiful species of macaws in the jungle, many of which are endangered or vulnerable.
04
Sacha Lodge
in Ecuador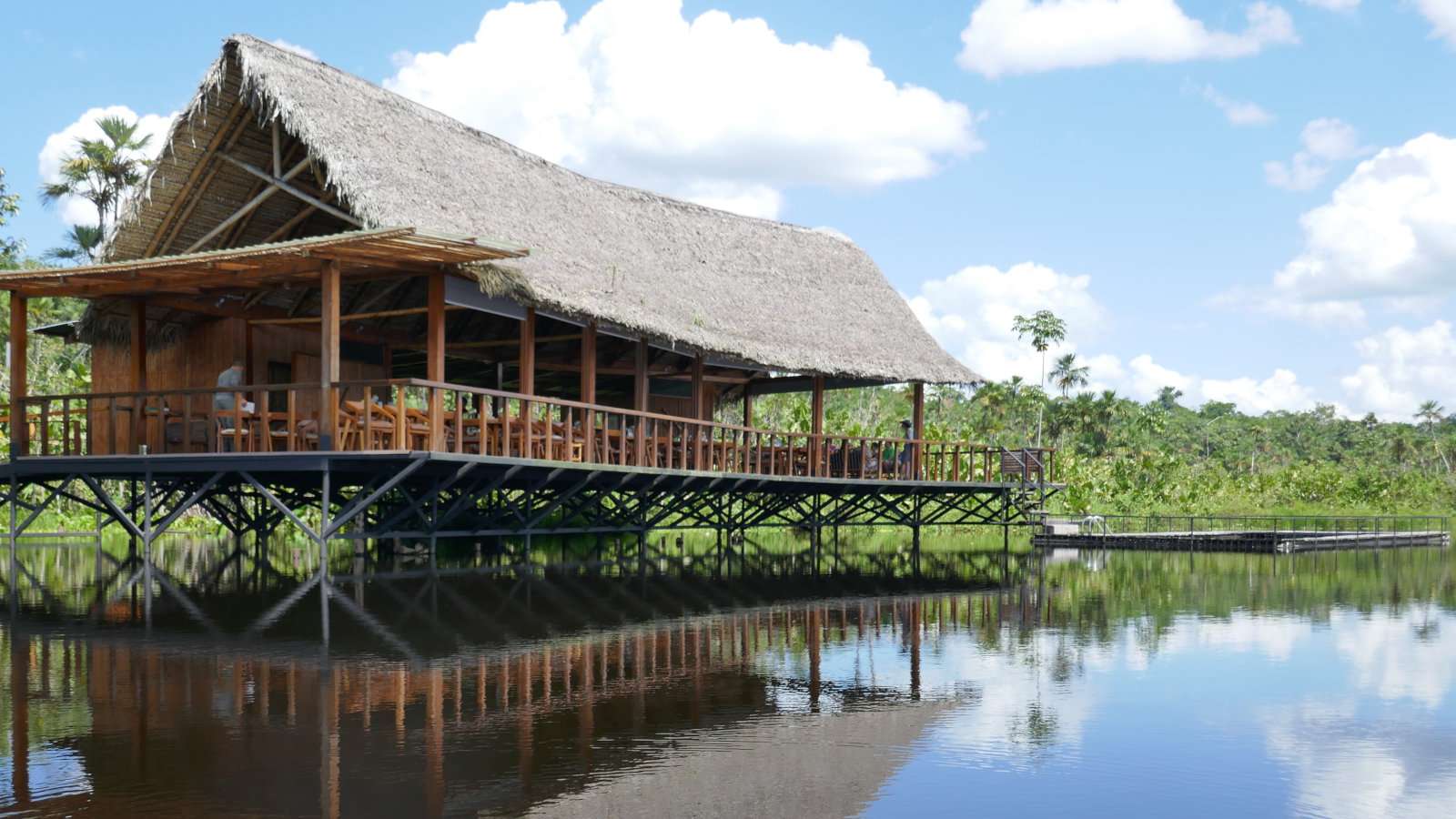 Why we love it
---
Barefoot luxury jungle experience
Hammocks on your private balcony
Delicious treehouse-style restaurant
The gay friendly Sacha Lodge was one of the highlights of our trip in the Amazon jungle, an authentic and rustic experience, akin to barefoot luxury surrounded by nature.
This amazing resort hidden in the jungle is only accessible by boat. From the moment their bilingual staff pick you up at Coca airport, you're treated like royalty all the way.
There are so many exciting activities to do while you're staying here from kayaking to hiking or just visiting one of the largest butterfly farms in Ecuador.
Our stay included all meals along with the services of a private naturalist guide, Jose, who planned a very exciting itinerary for us. Jose was the friendliest guide we've ever had. He took us on some incredible pagoda excursions into the jungle to watch caimans, snakes, monkeys and the beautiful macaws. He even took us on an evening discovery where we could get up close to tarantulas!
After our jungle excursions, we loved spending time relaxing at the alfresco lounge area and the restaurant. Both of these open out to the jungle which made us feel like we were in a giant tropical treehouse. The food is delicious, with lots of variety since the menu changes daily. There's also a cosy safari-lodge style bar above the restaurant, perfect for a romantic sunset cocktail.
05
Anakonda Luxury Cruise
in Ecuador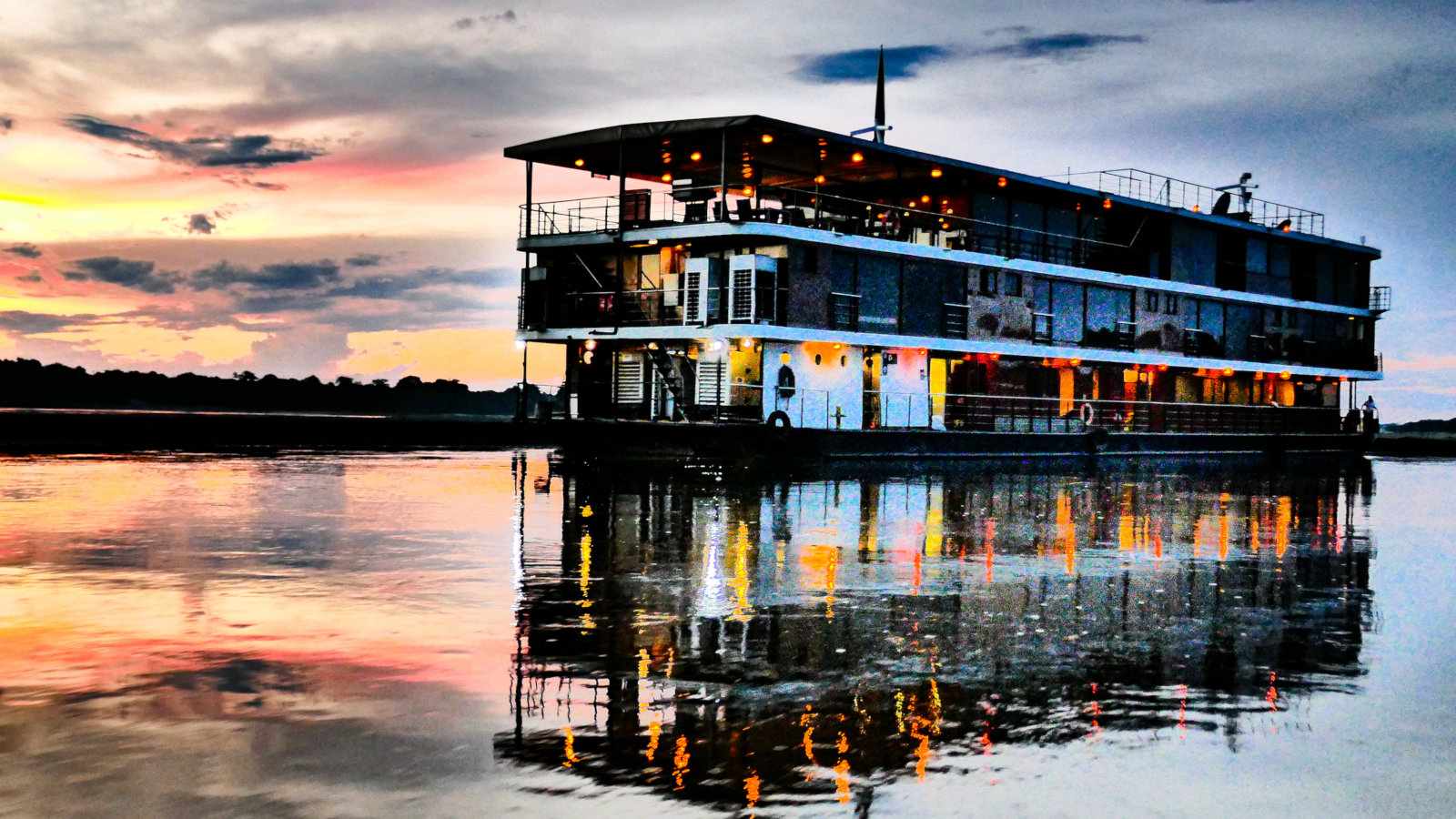 Why we love it
---
Luxurious riverboat cruise
Comfy cabins and suites, some with private balcony
Support local communities and eco-tourism
Experience lots of fun on-shore activities
Our adventure with the Anakonda cruises started in Quito, Ecuador where we took a 30-minute flight on a tiny plane to the jungle city of Coca. After we landed, we were met by a very lovely English speaking guide, Jorge, who took us to the main dock in Coca.
We then boarded a small motorised canoe for an hour journey down the Amazon river until we reached the luxurious Anakonda, which would be our 5*hotel on the water for the next 3 nights.
Once onboard, you feel like you're on a little floating paradise, with stunning views from all the windows and open deck area.
Our cabin was stylish and comfortable, with floor to ceiling windows to look out over the river, and cool air-con offering a respite from the hot and humid jungle air. If you splurge on a deluxe suite you'll even have your own private balcony and whirlpool bathtub.
Onboard the Anakonda, there are plenty of areas to relax or socialise with other guests too, like the lounge with plush couches, dining room and sundeck. There's also a rooftop Jacuzzi, a lovely spot to enjoy a romantic sunset with your other half. The staff on board were very friendly and made us feel welcome.
The advantage of experiencing the Amazon on a cruise is that when you're on the boat there are no bugs, which is a relief if you're squeamish or suffer from arachnophobia. You may come into contact with them during the excursions, but that's it.
This doesn't mean you won't get to experience everything the jungle has to offer, as there are a variety of land excursions organised including nature walks, kayaking, swimming, visiting local villages and an observation tower. A great thing about the Anakonda Cruises is that they work directly with local communities to conserve and restore the environment.
Which is best for you?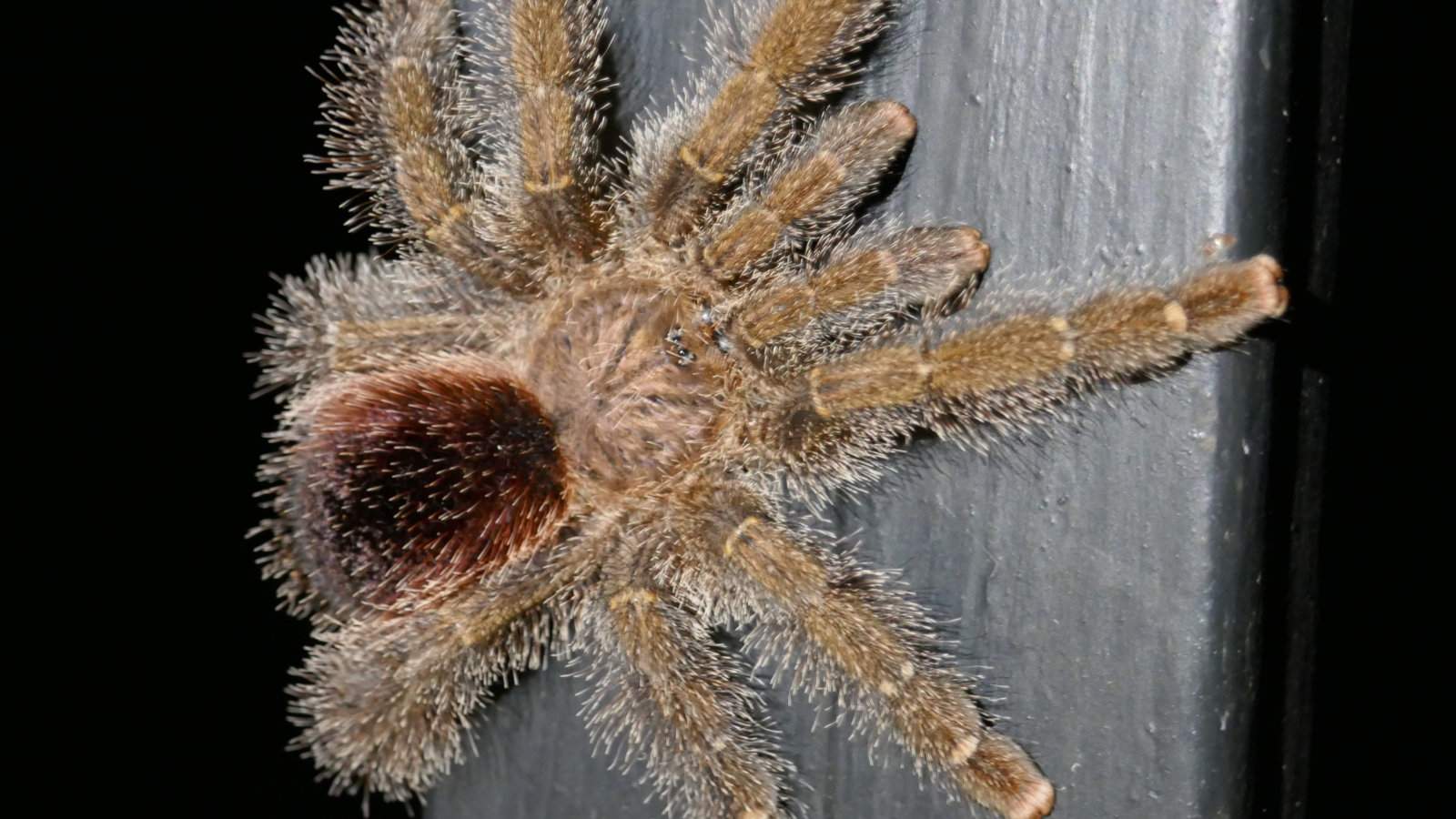 If you're a person who's scared of bugs and cannot travel without luxury, then a luxury Amazon cruise or the Brand G tour might be the best choice for you. You will definitely see wildlife and bugs (it's the Amazon jungle, you can't avoid them completely), but only during the excursions, with the confidence of knowing that you will return to the comfort of a luxurious boat or hotel to sleep bug-free!
If, on the other hand, you can live without air con and don't mind the bugs, then we recommend staying in a jungle lodge or joining an adventure tour as you will get a much deeper experience of the jungle. The Out Adventures tour is definitely very adventurous and exciting, but if you're looking for more relaxation combined with optional excursions, then you might prefer to stay at the Amazon Garden EcoLodge in Peru or Sacha Lodge in Ecuador.
Final tip: the former President of Ecuador, Rafael Correa, produced this excellent 57 minutes video called The Royal Tour with the Ecuadorian Ministry of Tourism, which we strongly advise you watch. You will note that Sacha Lodge was featured as part of his jungle visit.
DON'T MISS OUT!
Join our newsletter
Subscribe now to receive in-depth FREE travel guides, along with inspiring stories, savvy planning tips, and exclusive discounts on gay tours.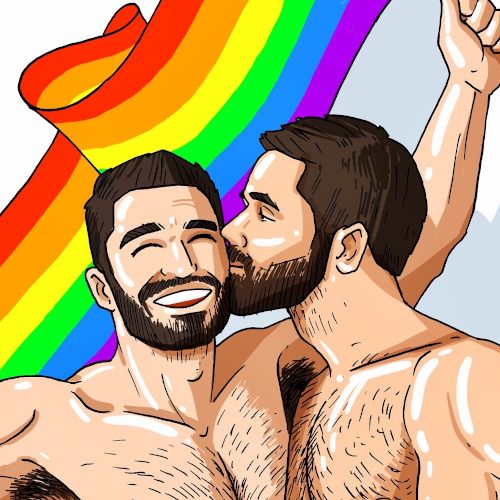 ---
Like this post? Pin it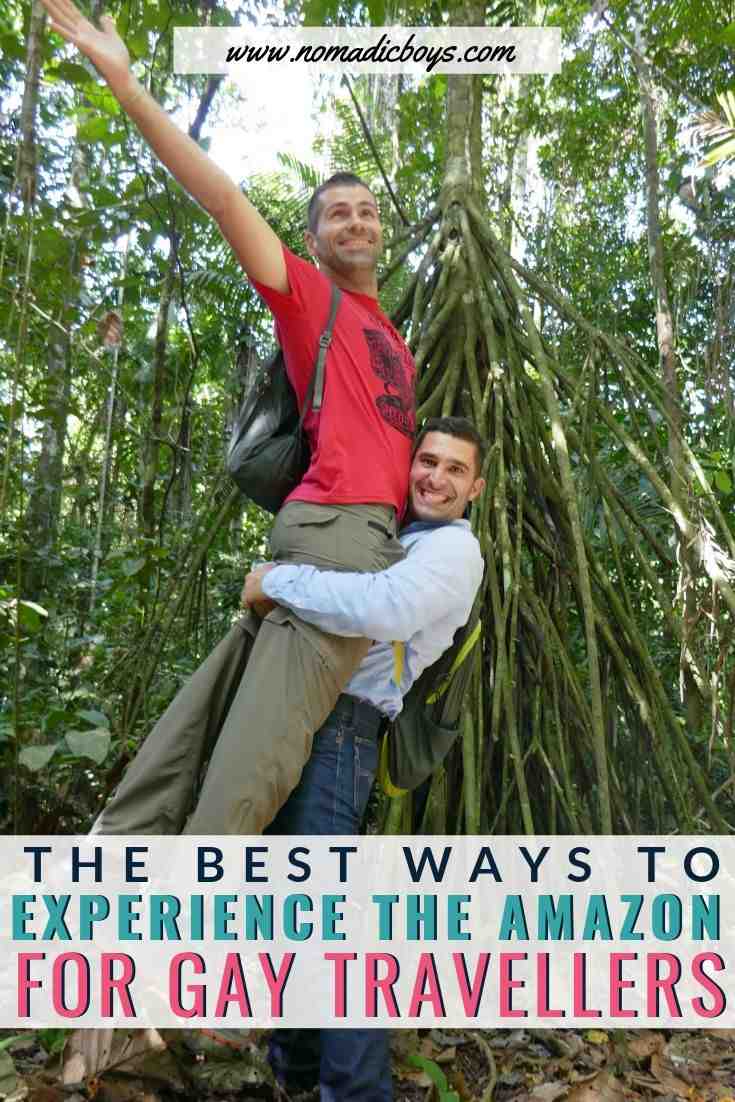 Happy travels are safe travels
We recommend you always take out a reputable travel insurance before your next vacation. What happens if you suffer from illness, injury, theft, or a cancellation? Many travelers forget about it and regret it when something happens. Better to pay a small price and have the peace of mind and not worry.