TERMS OF USE: There is a chance that some of the content on this page has changed since it was last updated. By reading this article, you consent to our Terms of Use and Disclaimer. Happy Travels!
DISCLOSURE: Some of our posts may contain affiliate links which we may receive a commission if you choose to book something through one of our links.
Everything you need to know to plan your gay trip to Albania including safety tips and unmissable sights for gay travelers!
Albania. One of Europe's best-kept secrets. Though something tells us this is about to change…
With a landscape filled with white sand beaches, fairytale-like castles, and a history that is as fiery as a Real Housewives reunion, is it any wonder Albania is fast becoming a must-visit for gay travelers? It's a wonderful mix of the modern world, with a super chic capital city full of hip bars and clubs, as well as a natural landscape that rivals the French Riviera.
Albanian society may not be as liberal as their neighbors in Greece, but it's by no means as rigid as places like Serbia or Russia (although that ain't a tall order…).
Tirana, the capital, hosts an annual Pride event featuring activities throughout the city and a massive parade. However, there are no official gay bars or clubs in Tirana. That being said, there have been major strides toward acceptance in recent years, especially after the country overthrew communist rule in the early 1990s. We found most Albanians we met to be very friendly, and eager to make us feel welcome as a queer couple, particularly the younger generations.
Read all about our adventures traveling in Albania as a gay couple, along with vital safety and practical tips in this gay guide.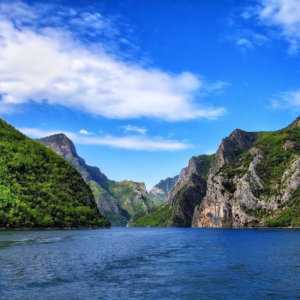 Discover Albania with a group of gay guys!
Every July/August, the awesome Out Adventures host a fantastic trip around the Balkans exploring Albania and Montenegro. We love these trips! Whether you're visiting as a couple or a solo traveler, it's the best way to discover a new place with your LGBTQ fam to hand.
Gay rights in Albania
Society is very conservative, but the LGBTQ laws of Albania are not as bad as other Balkan countries.
Albania got rid of its anti-gay law back in 1995. Then in 2010, they introduced a whole array of anti-discrimination laws including laws on employment, and against hate speech. In addition, LGBT people have been allowed to openly serve in the Albanian military since 2008 and gay men are allowed to donate blood.
The big news came more recently in 2020 when Albania became the third European country (after Malta and Germany) to ban conversion therapy. This pleasantly shocked us given how conservative Albanian society is.
However, the excitement stops there. We found that a large number of Albanian gay guys still lead a very closeted double life – marrying to please their families whilst playing with guys on the side. Society is very conservative. It's fair to say that gay marriage, gay adoption, or even legal recognition of LGBTQ couples is a long way off in Albania.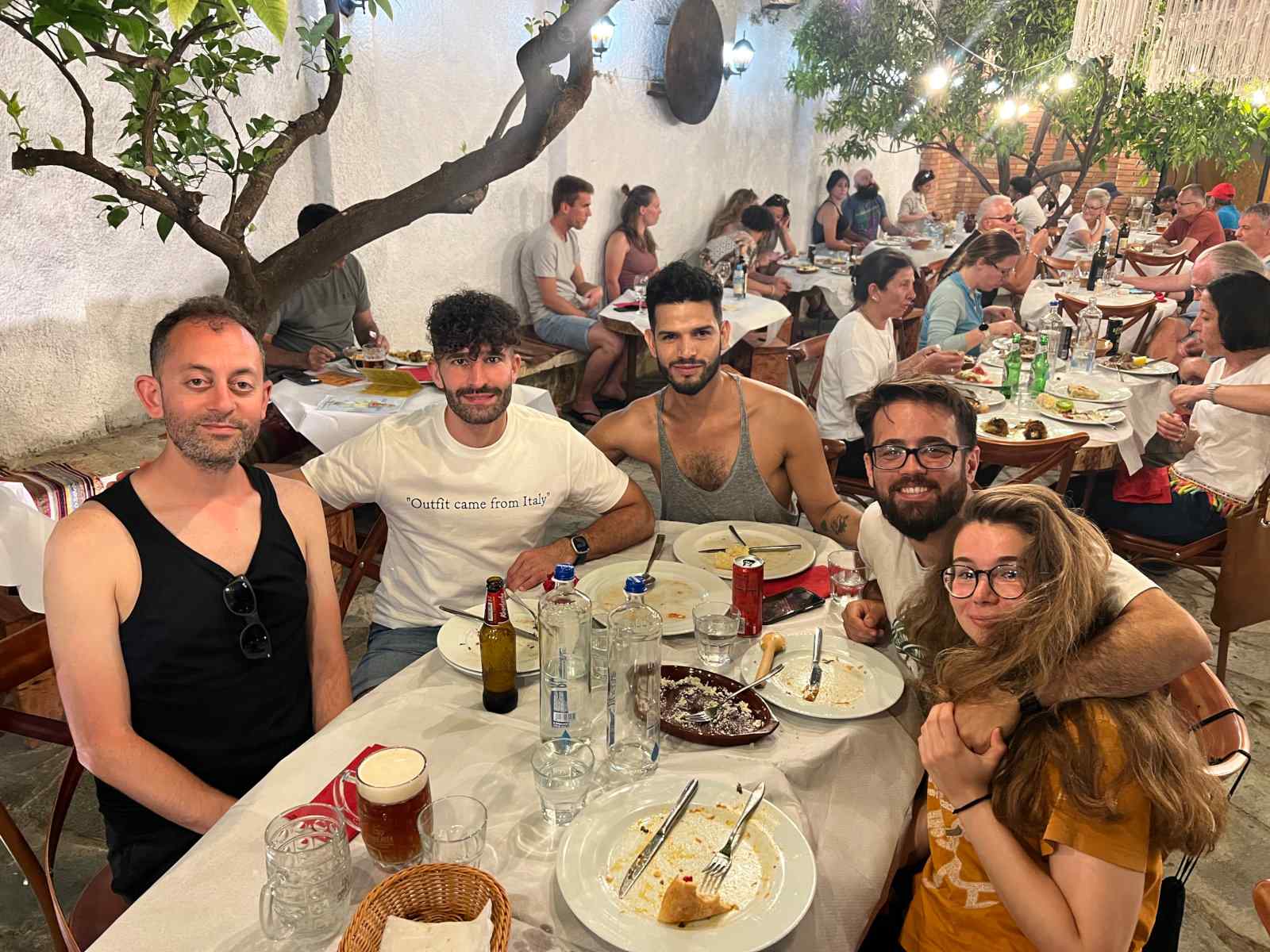 Is Albania safe for gay travelers?
Yes, of course, it is. It's no more dangerous here than anywhere else in East Europe. Obviously, it goes without saying that if you're going to sashay down the streets flouncing your crop top and tightest shorts you will inevitably be inviting negative attention – particularly in more remote rural areas!
We're not saying 'jump back in the closet!' and avoid posting anything on your socials as we would for, say, a gay trip to Lebanon, but be vigilant with PDAs. Better to save any tender moments with your partner to gay friendly spaces (there are a few!) just to be on the safe side.
When it comes to using Grindr and other gay dating apps, note that most guys won't be able to host so best opt for a hotel that allows overnight guests (or better, book an Airbnb). Most importantly, the usual rules apply when it comes to safety tips when using gay dating apps in Albania!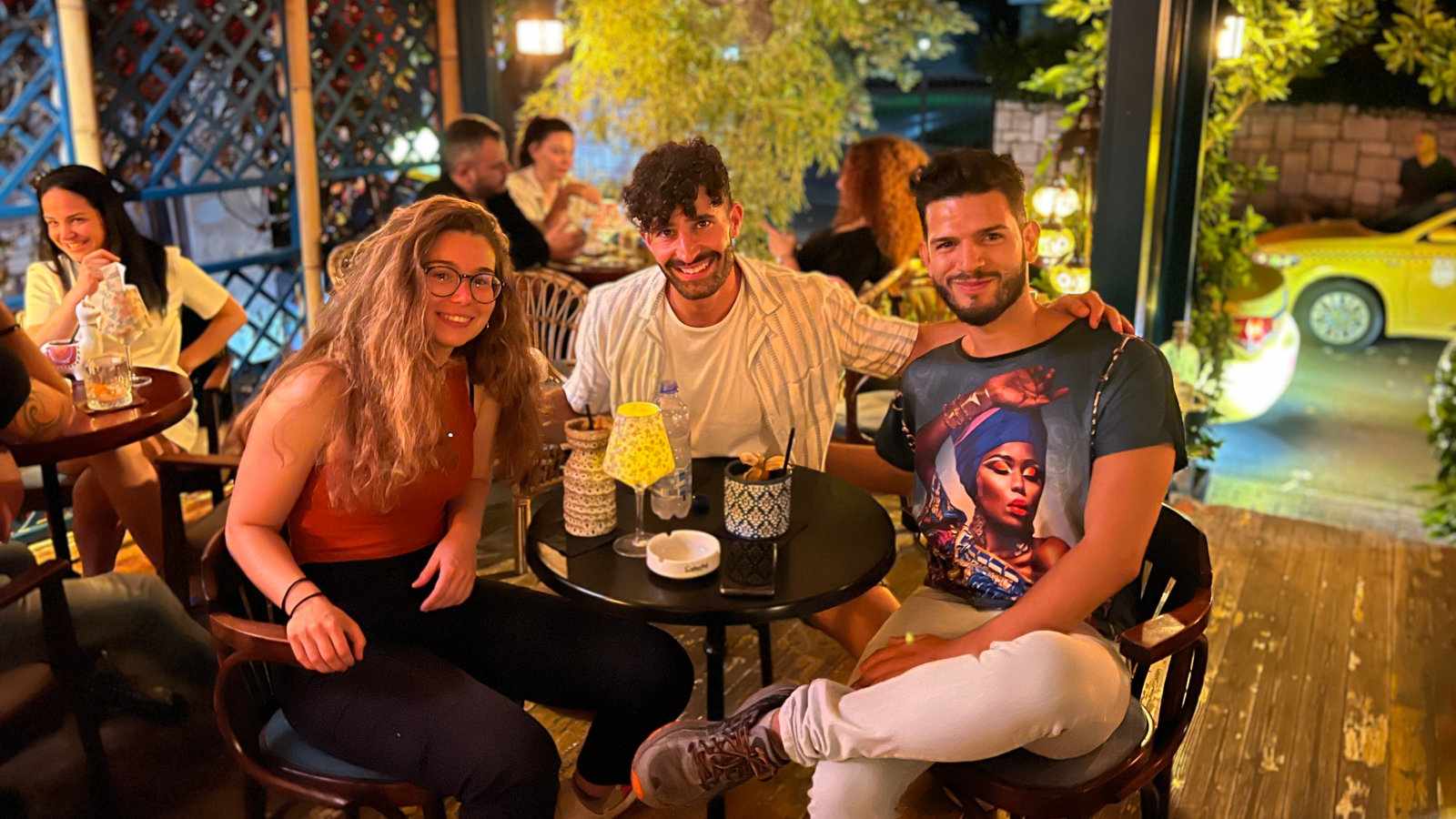 Best Gay Tours in Albania
The only thing better than a tour is a GAY tour! And that's exactly what Out Adventures and Coda Tours have to offer. They bring you around some of the best Albanian attractions, with a knowledgeable LGBTQ host, alongside fellow gay travelers. There's no better way to see the world.
1. Out Adventures – "Balkans Adventure" (July/August)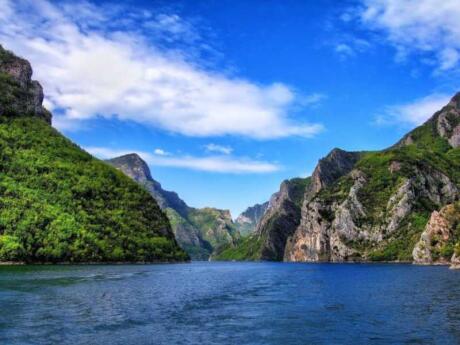 When it comes to Adventure, you don't want to miss Out. This gay tour brings you to the best spots in both Albania and the Balkans. Prepare to venture inside the walled city of Kotor, famous for its Medieval monasteries and Roman-style buildings. Explore the Durmitor National Park, known for its tumultuous natural terrain, where you'll move through man-made WWII tunnels and stunning mountain ranges.
Sail up the Moraca River, taking in the epic canyon views and the dramatic waterfalls. All the while enjoying the company of the savvy gay host, Gabor, who will make the experience both fun and insightful.
Claim an exclusive $150 off this tour by quoting NomadicOA when booking!
---
2. Coda Tours: "The Undiscovered Balkans" (September)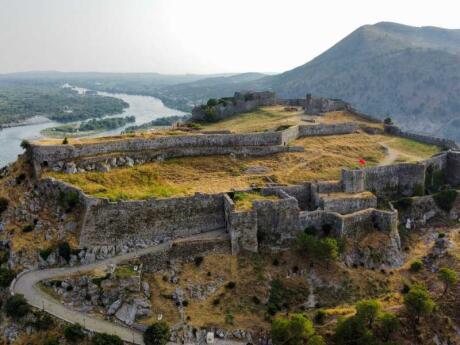 North Macedonia, Montenegro, Bosnia-Herzegovina, Kosovo, and of course, Albania – you'll be well acquainted with the Balkans once you've finished this fabulous gay tour… Coda Tours will take you around the picturesque village of Berat, the farmlands of Albania, the sparkling Lake Ohrid and its surrounding monasteries, the kooky statues of Skopje, and the fortified city of Kotor.
Highlights include a tour of the Sarajevo Tunnel, where food and humanitarian supplies were passed along into the city during the war in the mid-1990s. Plus, a small group size of 16 means you get to become familiar with everyone and make life-long friends!
Coda Tours is offering our readers an exclusive $125 discount valid for any cruise and tour you book with them. Click the button below to find out more.
---
Is there a gay scene in Albania?
The short sweet answer? No, none at all!
There are absolutely no gay bars or clubs anywhere in Albania. In fact, teeny tiny neighbor Pristina (in Kosovo) has more of a gay scene compared to its big brother Tirana!
There are a few gay friendly straight places in Tirana popular with LGBTQ crowds like Radio Bar, Bunker1944 Lounge, and the Tunél Terrace rooftop club. Tunél is your best bet, but the others are more exclusive with sour-faced bouncers outside that won't let you in unless you're a local (their excuse is always "Do you have a reservation?" before turning you away). Our best advice is to try to make local gay friends using gay dating apps and let them guide you. There might be an ad hoc gay party happening which they may know more info about.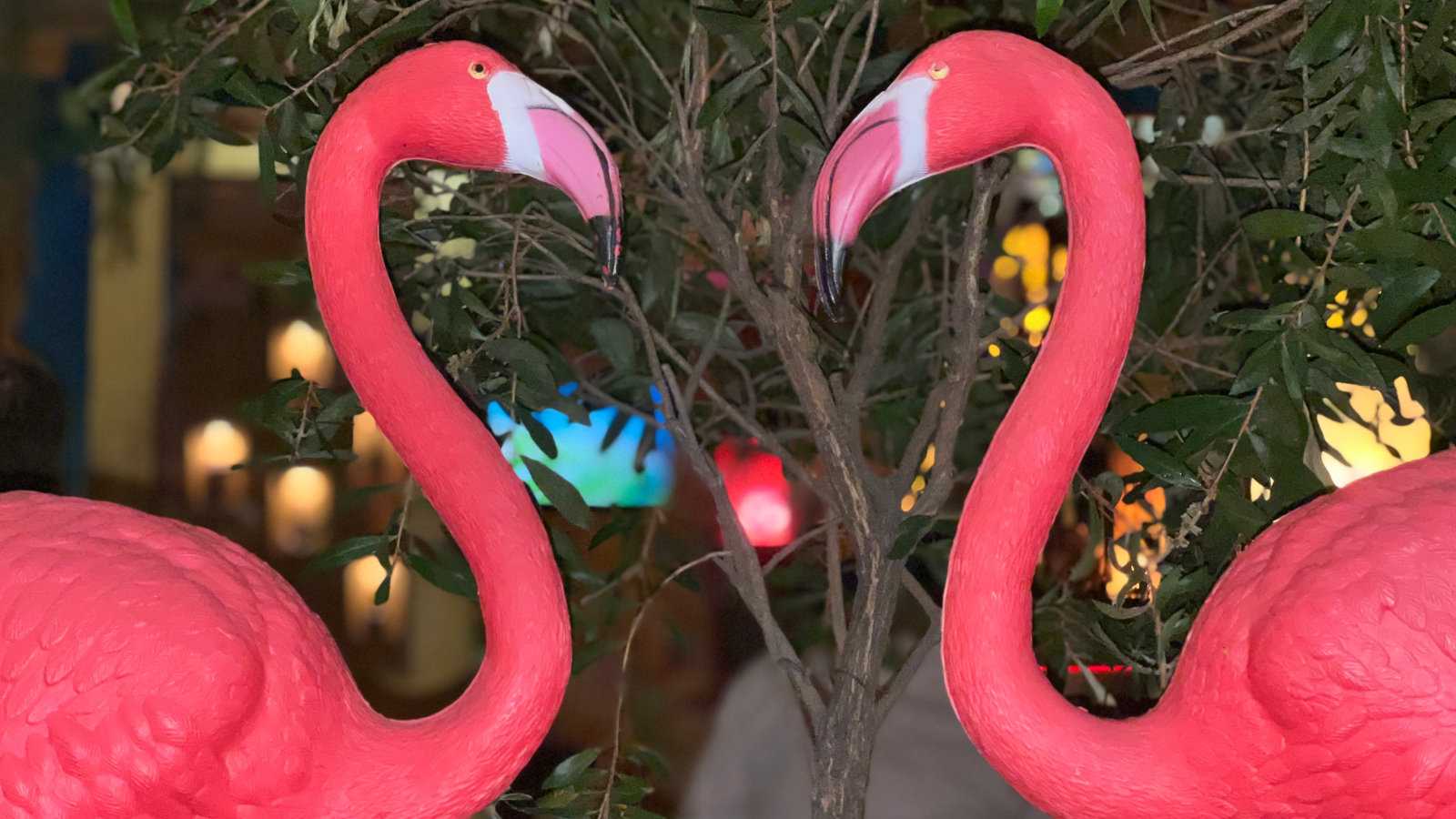 Is Grindr banned in Albania?
Nope – it's all good!
Grindr (and all other gay dating apps) work absolutely fine in Albania. The Internet is not monitored here like it is in places like Russia, China, and most places in the Middle East, and gay dating apps are not blocked. You do not need a VPN. However, if you're coming from Europe, note that Albania is (currently) outside of EU roaming, so we recommend buying a local SIM on arrival.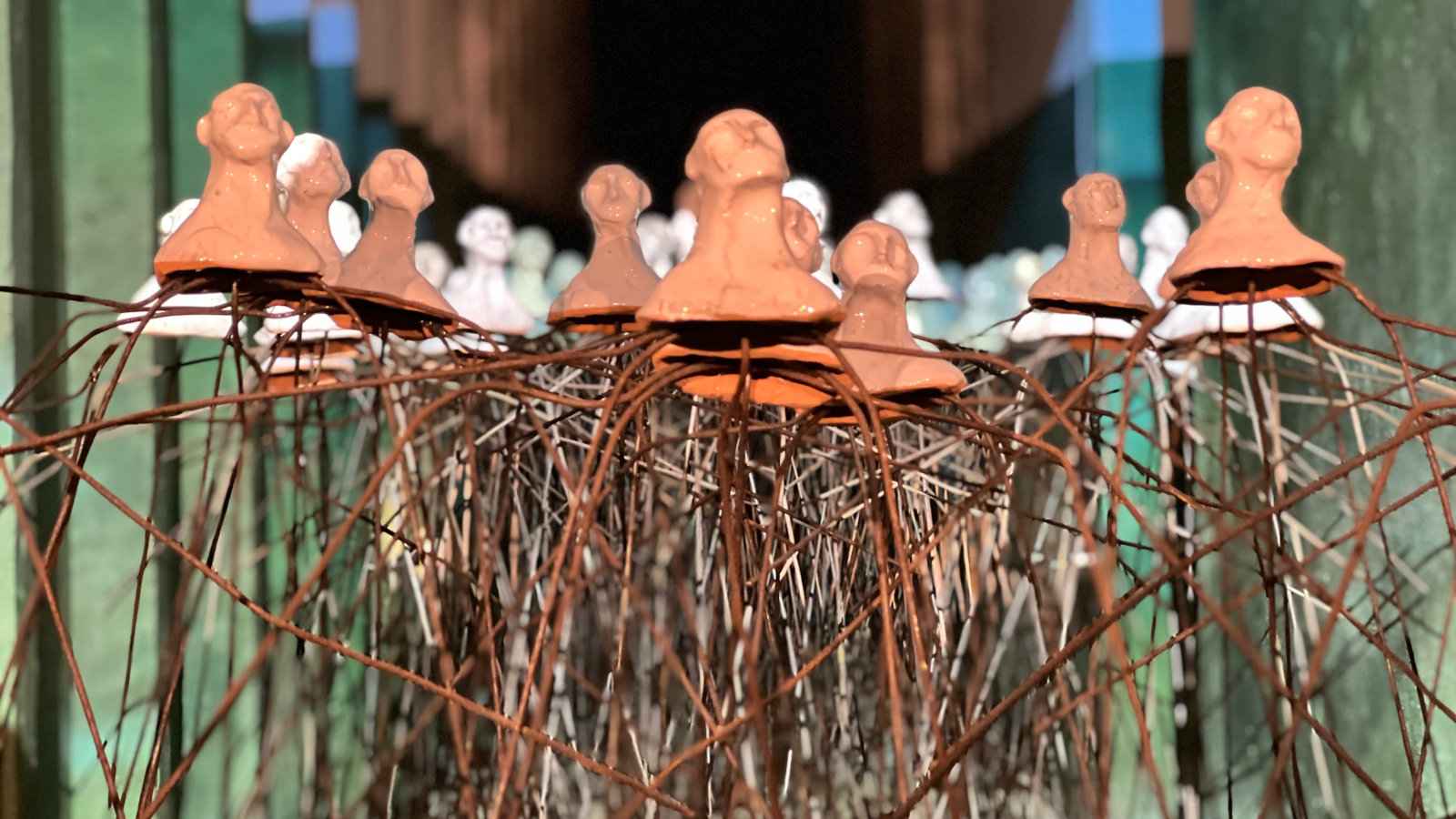 Top Things To Do In Albania
With charming villages, iconic castles, and wartime bunkers, you'll no doubt fall head over heels whilst touring this incredible country. Whittling down a list of things to do will be an Al-pain-ia…!
Picturesque Berat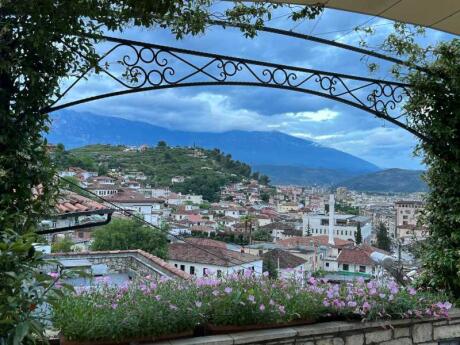 Known as the City of a Thousand Windows, Berat is a charming town dotted with white Ottoman-style houses. Its nickname comes from the large symmetrical windows you'll see lined up along the rocky hills in the Mangalemi quarter. This area gets direct exposure to the sun, meaning all of the light rays get bounced around the streets – better bring those shades! We recommend spending a full day here to truly soak up the magic of one of Albania's oldest towns.
---
The Bunkers of Tirana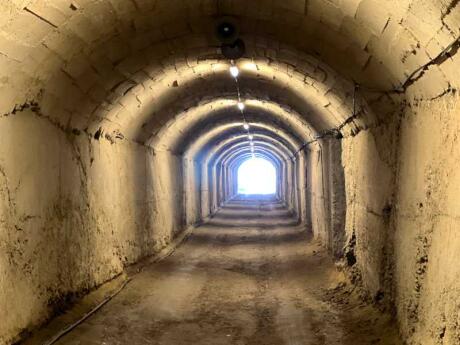 During the dark years of the Cold War, thousands of bunkers were built across Tirana to shelter the Albanian people. Bunk'Art 1 is by far the most impressive, located northeast of the city center. Bunk'Art 2 is right in the center, just a few minutes walking distance from Skanderberg Square. A visit to either of these will take you through the long and devastating history of Albania, from when Italy invaded in 1939, to the country's fight against the rule of Enver Hoxha.
---
The eerie hilltop Gjirokastra Castle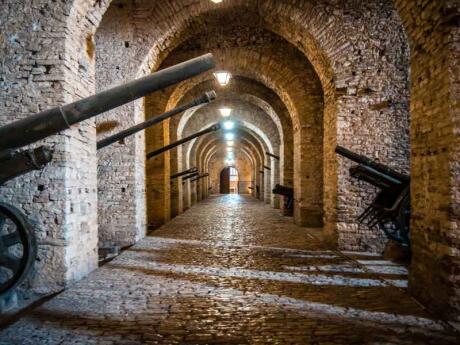 It may not have the gothic fantastical vibe of Dracula's castle…but it is every bit as spooky. First built during the 12th century, the walls of the Gjirokastra fortress have witnessed Albania's most sensational historical moments.
From invasions to independence, they've seen more drama than at a drag show. Inside, you'll find a museum that covers the long history of the building, the Clock Tower, a collection of cryptic-looking armor, a recovered US Air Force jet, as well as unbeatable views of the surrounding town of Gjirokastra. You can join a day trip from Tirana for a guided visit to the town and castle.
---
The Old City of Krujë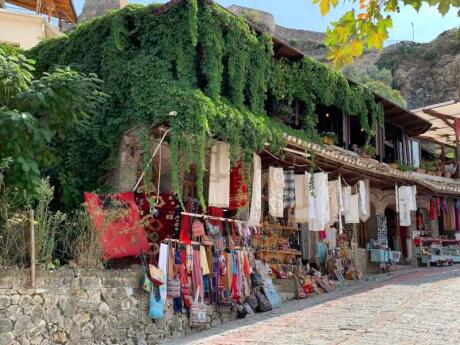 As the hometown of Skanderberg, Albania's national hero, Krujë deserves your time and adoration. It is a charming village, that pays homage to the historical figure who helped fight off the Ottoman Turks. In the town, you'll find a museum dedicated to his life and achievements.
Also, we recommend taking the time to roam around the bazaar market, which has existed for over 500 years, where you'll spot merchants selling handwoven fabrics and clothing, and cafes to grab coffee and cake. Join this tour to explore the bazaar as well as Kruja Castle.
---
Butrint Archaeological Park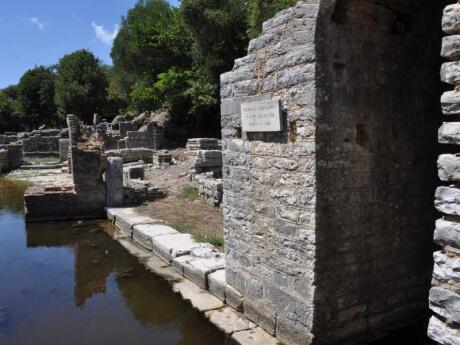 If you love Greek and Roman history or are hoping to bring your Song of Achilles fantasy to life, then a day at the Butrint Archaeological Park is a must. With crumbling walls and ancient theatres, you can easily see how it was once a major attraction for the Chaonians – an ancient Greek tribe.
Over the centuries, it went from a colony where Julius Caesar sent his soldiers to unwind, to succumbing to Venetian rule, before falling under the thumb of the Ottomans, until Albania finally became independent in 1912.
---
Drymades Beach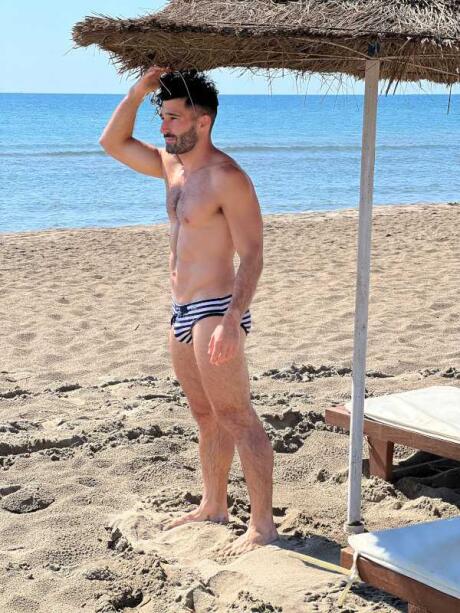 With the shimmering blue waters, the rugged rocky backdrops topped with olive groves, and the superbly white sands, there is no better photo op than at Drymades Beach. Early risers will get the most out of the beach as this is when it's at its most peaceful. Though it does get quite busy once the sun pops out.
There are several seafood restaurants and beach bars nearby, so you can sip on a drink whilst bathing in the glorious sun rays and taking in the incredible view.
---
Porto Palermo Castle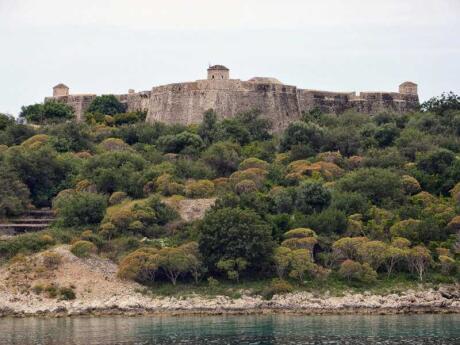 The dramatic outline of the Porto Palermo castle is one of the standout sights whilst driving along the Albanian Riviera. Its signature triangular shape has left historians in a frenzy debating over who could have built the castle. Some claim it was Ali Pasha of Tepelena, an Albanian ruler from the 1800s, along with a group of French military engineers.
Whilst others insist it was constructed by the Venetians, due to its feature of round towers. Inside, you'll find the remnants of a prison, old paintings, and many dark passageways.
---
Apollonia – the city of Apollo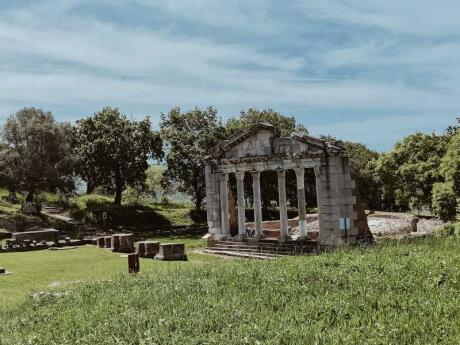 You won't have to apollo-gize anymore for being an Ancient Greek fanatic. Apollonia will welcome you with open arms. The resort town, located near the southern coast of Albania, is a wonderful blend of natural beauty, monuments, ruins, and architecture.
Join a tour from Tirana in order to spend time roaming around the Apollonia Archeological Park, with its array of ancient Roman baths, cemeteries, and Byzantine basilicas. Make sure to enjoy some Apollonian cuisine in one of the many restaurants dotted around the town as well.
---
Foods To Try In Albania
Dinner is served! You may have guessed how much we love food, and one of our favorite parts of traveling is becoming exposed to a whole new cuisine. Here are some of our favorite foods we think every gay traveler to Albania should try.
Tavë kosi: the National Dish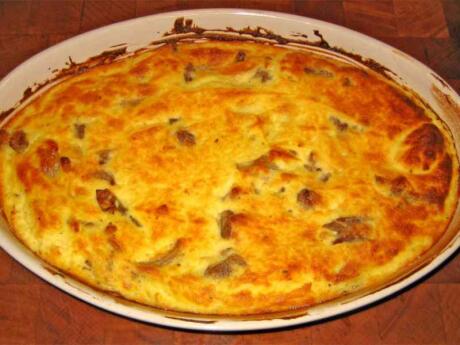 Tavë kosi is Albania's national dish, made up of lamb and rice, that's baked in a mix of yogurt, eggs, flour, and butter. Maybe it's best you DON'T tell people that its name translates to "soured milk casserole" – (had we known that before we tried it, we may never have given it a go). Albanians consider it a comfort dish. So, whilst some countries order pizza or fish n' chips for their cheat day, Albanians tuck into a plate of Tavë kosi.
---
Byrek: Albanian pie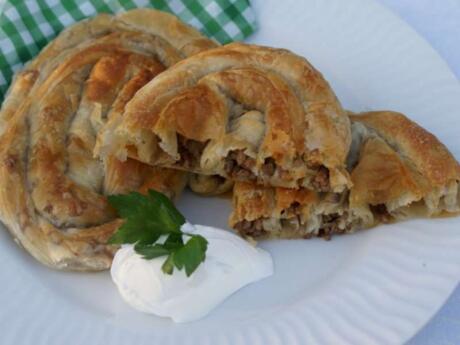 It ain't quite like an Eastern European version of American Pie. For one, there are no apples involved! Albanian Pie, aka byrek, is one of the country's signature dishes. It is made up of a flaky pastry and a scrumptious filling, either spinach or cheese. It's typically enjoyed as an afternoon or evening snack. There's the spinach version for when you are trying to be sensible and healthy, and the cheese version, for when you fancy gorging yourself on something light and creamy.
---
Ferges: Albanian summer stew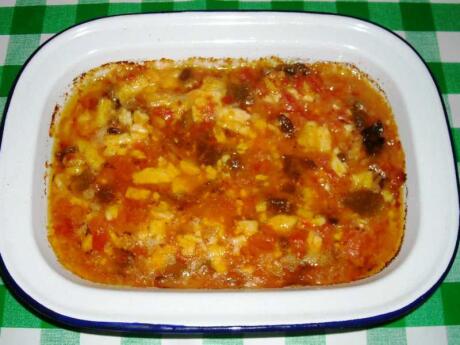 When we think of summer, we imagine beers and ice lollies. When Albanians think of summer, they think of ferges! No Albanian family get-together would be complete without this. It's made up of cottage cheese, green peppers, and garlic in a creamy tomato sauce. After it is taken out of the oven, people hold off eating it for 2-3 hours to allow the sauce to thicken. 'A cold dinner' we thought? Fear not – once we gave it a go, we saw how the wait was well worth it.
---
Speca te Mbushur me Oriz – (bell peppers stuffed with rice)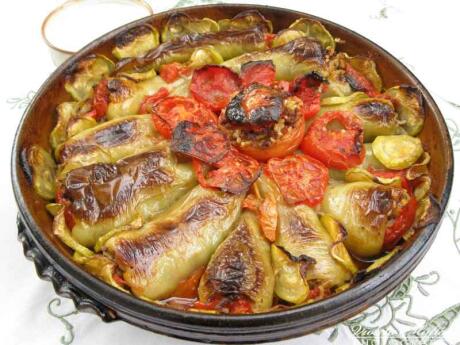 We love a good stuffing! (Don't be so crude, we're talking about peppers!). This dish is made up of green peppers stuffed with sour cream, the perfect side dish to a meal, alongside potatoes or rice. It's the perfect blend of spicy and sour, not too sweet, not too overpowering, just right – which sounds exactly like our Airbnb rating…
---
Jani me Fasule: (white bean soup)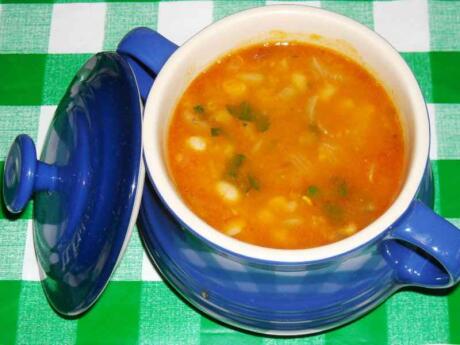 Nothing will quite remind you of your college days than tucking into a steaming cup of soup. Made of white beans (shocker!), capsicum peppers, tomato, and olive oil then mixed with a simple stock, it's a light and airy dish, perfect for a starter. Once a family recipe that had been passed down through generations, Jani me Fasule is now enjoyed throughout the country. It's also great for when you're feeling down in the dumps, sick, or severely hungover (not that we'd know about that, ahem).
---
Kackavall ne Furre me Domate: baked cheese with tomatoes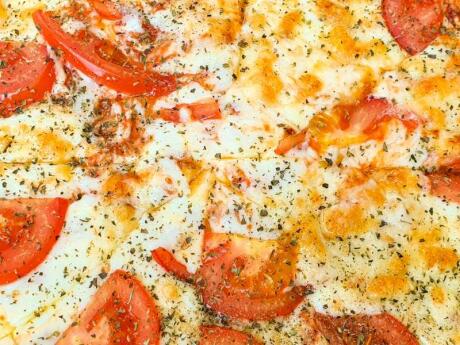 What can we say? Albanians love their cheese! And who can blame them? Kackavall ne Furre me Domate, literally means 'baked cheese with tomatoes'. No creative spin to it. Kackavall is a traditional type of Albanian cheese that can come from either a cow or a sheep (its consistency depends on which it came from). It's baked with tomatoes and herbs and served as a side dish at dinner. It's delicious!
---
Plan your trip to Albania
We've put together some handy hints and tips to help you plan your own trip to Albania. Read on to find out everything the gay traveler should know before they go.
Travel insurance: You never know when something might go wrong while traveling so we recommend ensuring you have adequate travel insurance before heading to Albania. We always use (and love) Heymondo Travel Insurance because their cover is so comprehensive and affordable. Plus, it's easy to make a claim online if the need arises.
---
How to get there: You can get into Albania from many European cities by flying into the Mother Teresa International Airport, which is located about half an hour from Tirana. There is an airport bus and taxis to get from the airport to Tirana, although we would recommend a private transfer, as that means you can count on an English-speaking driver to be waiting no matter how late you arrive.
Then they will drive you straight to your hotel without any juggling of luggage on public transport while getting stressed out. It's also possible to catch a coach from nearby countries or drive into Albania, but there are no trains to get into the country.
---
Visa requirements: Travelers from most countries (including any EU countries, the USA, UK, Australia, Canada and New Zealand) don't need a visa to enter Albania, but make sure you check your personal visa requirements before making any travel arrangements.
---
Getting around: To travel between the major destinations in Albania there are buses, although it's probably actually easier to rent a car and drive yourself. The roads are usually pretty good by European standards and this is not a country where you need to worry about having your car broken into.
---
Power Plugs: Albania uses the C and F type power plugs which are found throughout Europe. If you are traveling from the UK, USA, Canada, Australia or other places outside of the EU then you will need to bring a travel adaptor with you in order to charge any electronic devices.
---
Vaccinations: The CDC recommends that all travelers to Albania have received routine vaccines for things like chickenpox, measles, mumps and Covid-19. It's also recommended that you ensure you have been vaccinated for hepatitis A and hepatitis B.
---
Currency: The currency used in Albania is the Albanian lek, which was named for Alexander the Great. It's usually written as Lek or just L. €1 is worth around 114 Lek, $1 converts to about 107 Lek and £1 is worth 130 Lek. Note: look out for ATMs of Credins Bank as they are the only ATMs in Albania that don't charge a commission on ATM withdrawals as the other ATMs do.
---
Tipping culture: While it is not required to tip in Albania, it is generally expected in restaurants that you will round up your bill or leave a little extra for good service. Hotel workers will also appreciate any small tips but again, it is not necessary and completely up to you.
---
Internet access: Most of the cities in Albania provide free Wi-Fi hotspots, as do cafés, hotels and the like. Check out this guide for getting online in Albania or bring a portable Wi-Fi device if you will be needing more robust coverage.
---
Accommodation: When looking for accommodation in Albania we recommend using Booking.com. They have so many great options to choose from, many places with free cancellation if needed. Their online customer service is excellent and available 24/7, plus it's super easy to book online.
---
Sightseeing and adventure: We also love using GetYourGuide to find all sorts of fun activities and tours to do within Albania. This is another company that has a very easy-to-use online booking process and also has really good 24/7 online customer support.
---
When to visit: Basically, whenever you want! If you like the sun and coastal activities then you will probably enjoy summer, but if you want snow then head to Albania in winter. And if you want to see a wide variety of things but avoid higher prices and crowds, then travel during winter, the beginning of spring or fall.
---
Safety tips for gay travelers to Albania
Is Albania safe for gay travelers? The short answer is yes, but make sure you avoid PDAs unless you're in a gay establishment. The younger Albanians are much more open-minded and accepting, but the older, more traditional, and religious generation can be rather conservative.
Check official government advice before you go. We recommend you do this any time you're traveling so that you are aware of any recent developments that might create difficulties. This is the most recent travel advice for UK citizens to Albania, but check your own government website if you're traveling from somewhere else.
Although homosexuality is legal in Albania, you should avoid public displays of affection unless you're in an actual gay bar or club. Older members of Albanian society are very socially conservative and frown on LGBTQ lifestyles. We didn't encounter any problems during our time in Albania, but we also didn't show any PDAs either.
Just like anywhere in the world, be aware of your surroundings, especially in big cities. Petty crime is prevalent in the capital of Tirana, but if you're alert to your surroundings then you should be fine.
Avoid excess drinking and the use substances. Be careful not to drink too much when in a new country, as you're a much easier target when obviously intoxicated.
Don't wear valuables in public. This is basic common sense. Whilst we felt very safe in Albania, pickpockets operate everywhere, so the more bling you show off, the more alluring you become as a target. We recommend leaving your valuables and important items locked away in your hotel safe!
Invest in a good money belt. It's always better not to carry too much cash or credit cards anyway, but having a good money belt hidden under your clothes is one of the best ways we've found of ensuring your valuables stay safe and secure out of harm's reach.