How to book a houseboat in Alleppey?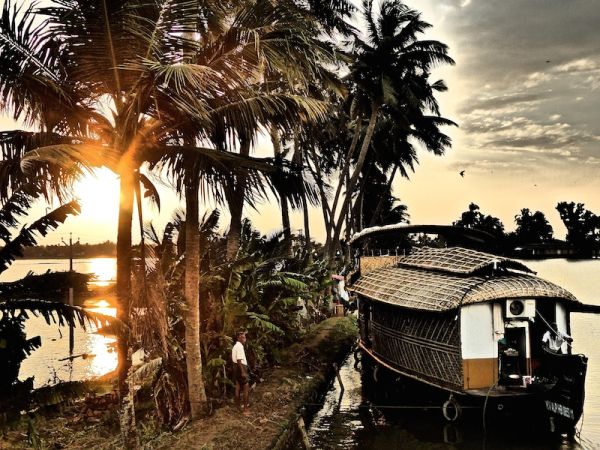 The backwaters of Kerala are a network of inter connected canals, rivers and lakes with a number villages. One of the highlights for travellers in India is to rent a house boat in Kerala and drift along the backwaters for a day or two and watching the world go by around you.
Naturally this was high up on our Wish List of things to do in India. It is however quite pricey, around 6,000-8,000 Indian rupees (around £60-80/$95-125) a night. But, it's a splurge that is well worth the experience.
We highly recommend checking out eKerala Tourism for some of the best Kerala Tour Packages including some of the best backwater destinations you can reach on a houseboat.
Where to find the house boats
There are several places in Kerala you can use as a base to start your house boat cruise, but Alleppey is the most well known and popular.  It has a large number of boats (around 1,000), which far outstrips demand for them.
The house boat base in Alleppey is called "Finishing Point" on Google Maps and is around 20 minutes walk from the centre of Alleppey (or 5-10 minutes on a tuk tuk):
The house boats usually depart around midday and return the following day at 8am.
If you go to the Finishing Point area after midday, you will only see the boats which have not been rented out.  Most of the good ones will most likely be out on a cruise returning the next morning.
Therefore, if you want to see the house boat before you commit to it (and we strongly advise you do this!) you should go on the morning you intend to leave at around 8am.
Our tips for picking a good house boat in Kerala
1. Do not book anything in advance!
If you do, you will be paying an agent's commission on top of the cost, making it even more expensive then it should be.
Perhaps the only exception to this rule maybe during peak periods like on Christmas Day, New Year's Eve or Diwali when the better boats will most likely be booked up in advance.
2. Inspect the boat before you commit to anything
Another reason not to book in advance is because you won't be able to see the boat beforehand.
The quality of the boats varies quite a bit even between boats of the same price range.  A good or bad quality boat really can make or break your entire experience.
We went to Alleppey the day before and stayed at the excellent Venice Castle Homestead as a base to go the following morning to inspect the boats.
3. Speak to others disembarking
When you arrive at the 'Finishing Point' area at 8am, try to catch the passengers who are disembarking from their cruise and ask them how they found it.  Did they like their boat?  If not, why not?  How much did they pay?  Which boat was it?  etc
This will give you a good idea of which are the best boats at that point in time, the ones to avoid and the likely costs of each.
4. Try to inspect as many boats as you can…
…until you're satisfied.
We found the best boats to be located right in the central point of the boat 'Finishing Point' area. The further away we went from here, the quality of the boats got noticeably worse.
5. Get a boat with an upstairs deck
Try to get a boat with an upstairs deck as well as a downstairs eating area.  You will have your own personal space upstairs to relax in and view the world going by, separated from the staff downstairs.
6. Other things to look out for when inspecting the boats:
Mattress:  test the quality of the mattress as we saw some really bad ones and some really nice ones.
Bathroom:  check the bathroom in each boat you inspect as some are hideous and stink, others far better (NB: none of the boats we saw had hot water).
1 bed or 2 bed:  if it's a 2 bed boat and you want it all to yourself, make sure you clarify this with the boat owner (unless you're happy to share with another couple).
Mosquito nets:  check the beds have a good mosquito net.
Air conditioning or fan:  check if it has working AC (if you want it) or if it only has a fan, test it out to ensure.
Clarify your meals:  clarify which meals are included, ensure your preferences are noted and some also give you bottled water, tea and coffee throughout the cruise and fruit snacks in between meals.
Electrical sockets:  check there are working electrical sockets to charge your phone and camera and actually test them if possible.
Toiletries / towels / bedsheets:  check these are provided or whether you'll have to bring your own.
We may be sounding a little bit picky, but if the above are not included you can use this as leverage to haggle down the price.
8. Haggle, haggle, haggle!
Finally, once you found a few boats you like, haggle the price with the boat owner as much as you can to bring the price down.
The boat owners are after all making a tidy profit from this very touristy enterprise, so with the money you save, you can use it to tip the staff on board at the end.
We rented a house boat for a day called 'Why Not' and negotiated it down to 6,000 rupees (around £60/$95) from the 7,000 (around £70/$110) initially quoted to us by its owner.
Life on board the house boat
This experience is basically one big luxurious splurge!  You have an entire boat all to yourself, with your 'team' of people working for you to make your journey as pleasant as possible.
We had our very own on board chef, captain and (ahem) boat boy:
Upon arrival we were greeted with a lovely fresh coconut drink:
We then spent the majority of our time on the upstairs deck just relaxing and watching the world around you drift on by.
As you relax on board, you will watch the local life of the backwaters taking place around you, like children being picked up from school by boat, locals going from one side of the river banks to the other, women doing their laundry…
And the best part?  The incredible food, which you will be SPOILT ROTTEN with!  Our chef made us a delicious lunch and dinner and then a really tasty breakfast.
We found that 1 day was enough for us.  Some people do 2-3 days but this will depend on your preference (and budget!)
We were very pleased with our house boat experience and would highly recommend this experience to all travellers.
FOR MORE FROM OUR TRAVELS IN INDIA, CHECK OUT OUR VIDEO: