TERMS OF USE: There is a chance that some of the content on this page has changed since it was last updated. By reading this article, you consent to our Terms of Use and Disclaimer. Happy Travels!
DISCLOSURE: Some of our posts may contain affiliate links which we may receive a commission if you choose to book something through one of our links.
We hope you have as much fun discovering and reading about these inspiring gay British icons as we did writing about them!
Although we come from different countries, London is the city that brought us together. It is always going to have a special place in our hearts for that reason. However, we would be lying if we said there weren't other reasons we adore the entirety of Great Britain!
The United Kingdom as a whole rings of freedom for the LGBTQ community, which naturally means we gays flock to the country like moths to a flame, especially to the gay meccas in London, Brighton and Manchester. It has been estimated that roughly 5-7% of the population identifies as either lesbian, gay, or bisexual. Transgender individuals, too, have received plenty of recognition and protection in more recent years, which just makes our hearts soar!
Now, with so many queer folks living in and around Britain, it only makes sense that there would be more than a few icons floating about the crowd. Honestly, slimming down our list to only twenty people was a challenge! When it came time to begin brainstorming and researching all those incredible gay icons, we probably had about fifty names to choose from, all spread across various careers and lifestyles.
We hope you have as much fun discovering these gay British icons as we did writing about them. Cheers!
1. Alan Turing (RIP)
As a society, we should be more appreciative of the work done by Alan Turing.
Throughout his career, Turing found a way to crack coded messages that would help lead to the defeat of the Nazis and designed one of the initial stored-program computers. Seriously, who knows where we would be without those big brains of his! The tragic side to his story is that his own country never truly recognized or appreciated his greatness during his lifetime. Instead, Alan Turing was arrested in 1952 because of his sexuality and accepted chemical castration treatment as an alternative to a prison sentence!
He committed suicide by cyanide poisoning in 1954, 16 days before his 42nd birthday. It wasn't until 2013 that he received a posthumous pardon from the Queen.
Amazingly, his acquittal in 2013 ignited a passionate flame that led to the formation of a new law nicknamed "The Alan Turing Law" that saw nearly 50,000 men pardoned for their previous convictions of practicing homosexuality. Despite the country's historic efforts to forget him, the name Alan Turing will not soon be forgotten by the LGBTQ community.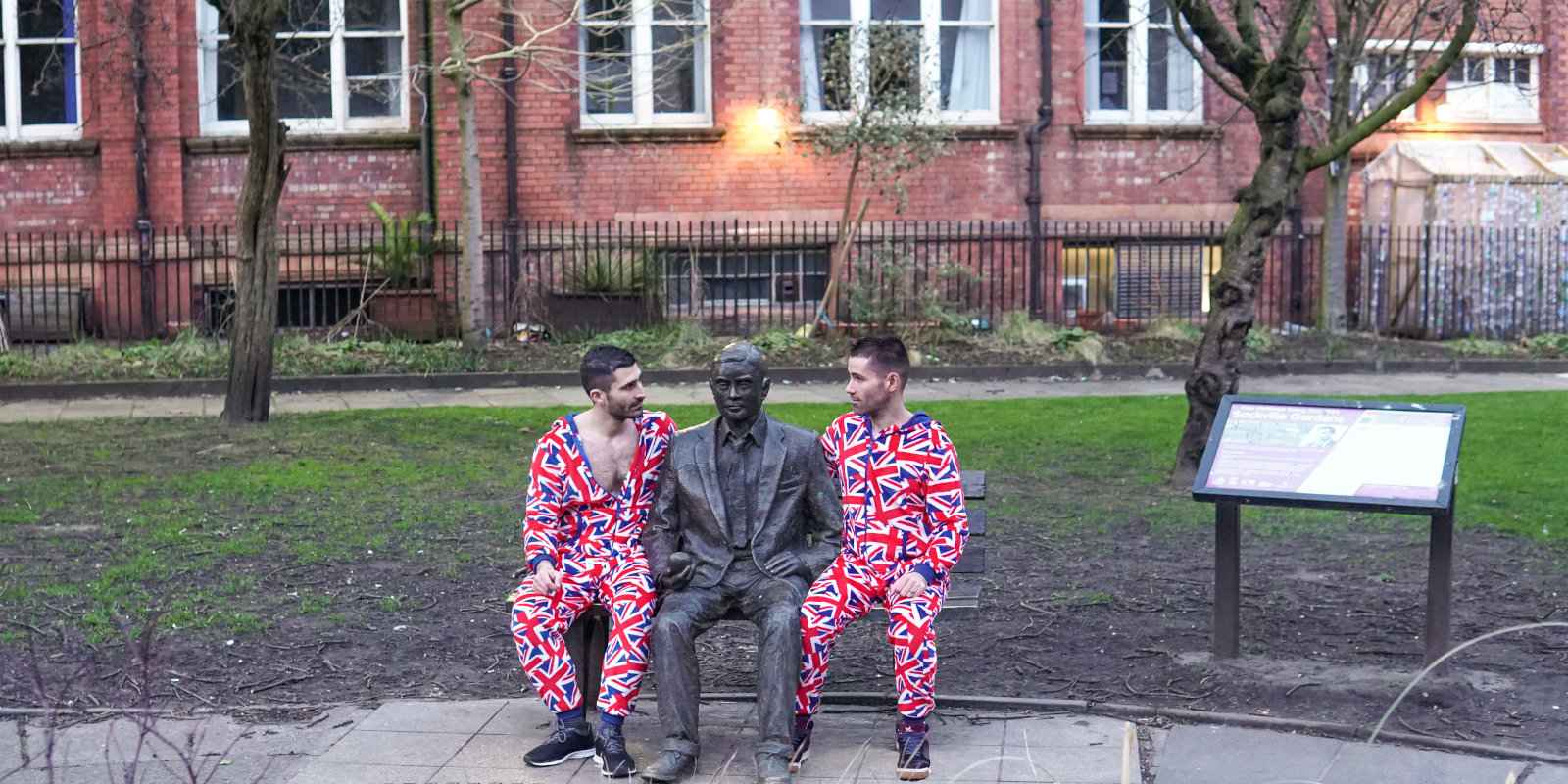 2. Elton John
At this point in time, is it possible that there are people alive who don't know Elton John?
Even if you aren't the most familiar with his incredible music, then you've got to recognize his work on The Lion King… Or remember his eccentric suits and glasses… Or understand his impact on the queer community at large! Upon reaching the height of his success in 1976, John came out as bisexual. Years later, in 1988, he came out once more as a gay man. In 1992, he established the Elton John AIDS Foundation. In 2005, he and his husband David Furnish entered into one of the first-ever civil partnerships in all of Great Britain, then later converted this to a marriage in 2014 after gay weddings were legalized across the country.
He's a fabulous megastar for so many outstanding reasons! And the way we see it, we could all stand to be a little more like Elton John – always willing to step up, be ourselves, and express care for others.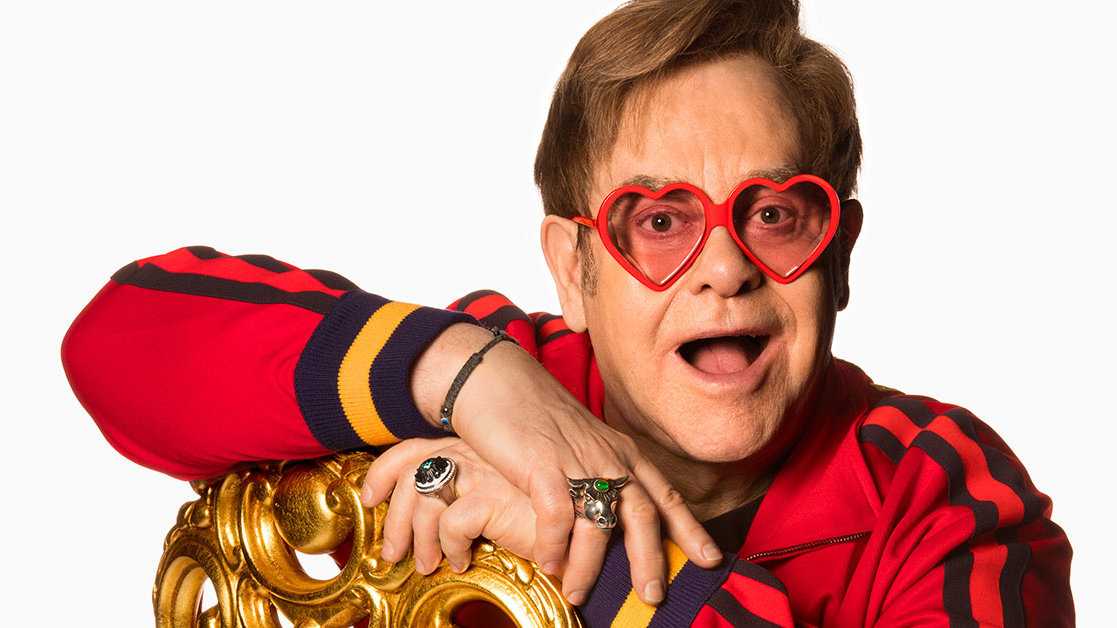 Wake Me Up Before You Go Go…Cause I Gotta Have Faith…Last Christmas, I Gave You My Heart…
3. George Michael (RIP)
As a fellow gay British Greek Cypriot also born/raised in North London(!), I will always have a strong personal affinity to the late George Michael – his birth name: Georgios Kyriacos Panayiotou. Growing up, I used to love listening to all his hit songs with the pop band "Wham". Then when he went solo, he produced some of the best pop anthems like Careless Whispers, Freedom, Somebody To Love", Fastlove, and so many more!
If it couldn't get any sweeter, George Michael famously came out in 1998, right about the time I was starting to come out. He then proceeded to become a prominent active LGBTQ rights campaigner and HIV/AIDS charity fundraiser. For example, he became a patron of the Elton John AIDS Foundation, he supported the Terrence Higgins Trust and devoted his 2007 concert in Sofia, Bulgaria from his "Twenty Five Tour" to the Bulgarian nurses prosecuted in the HIV trial in Libya.
4. Freddie Mercury (RIP)
For someone who seemed hesitant to be openly political with his career, Freddie Mercury certainly made a stand when he dressed in drag and sang loud and proud about wanting to break free.
But truthfully, everything Mercury did with his life felt like taking a stand. From his over-the-top stage presence to his decision to live a more reserved private life, he always kept us hanging on his every last word. Something was dazzling, almost magical about the way he conducted himself when other people would be watching him. Despite never openly admitting to being gay, Freddie Mercury has been hailed as a queer icon for his ability to inspire others to be completely and unabashedly themselves.
It's safe to say that the world has missed him dearly since his death in November 1991. Thankfully, this rock star's voice will live forever… Especially in our home, whenever we're feeling up for an energetic dance party!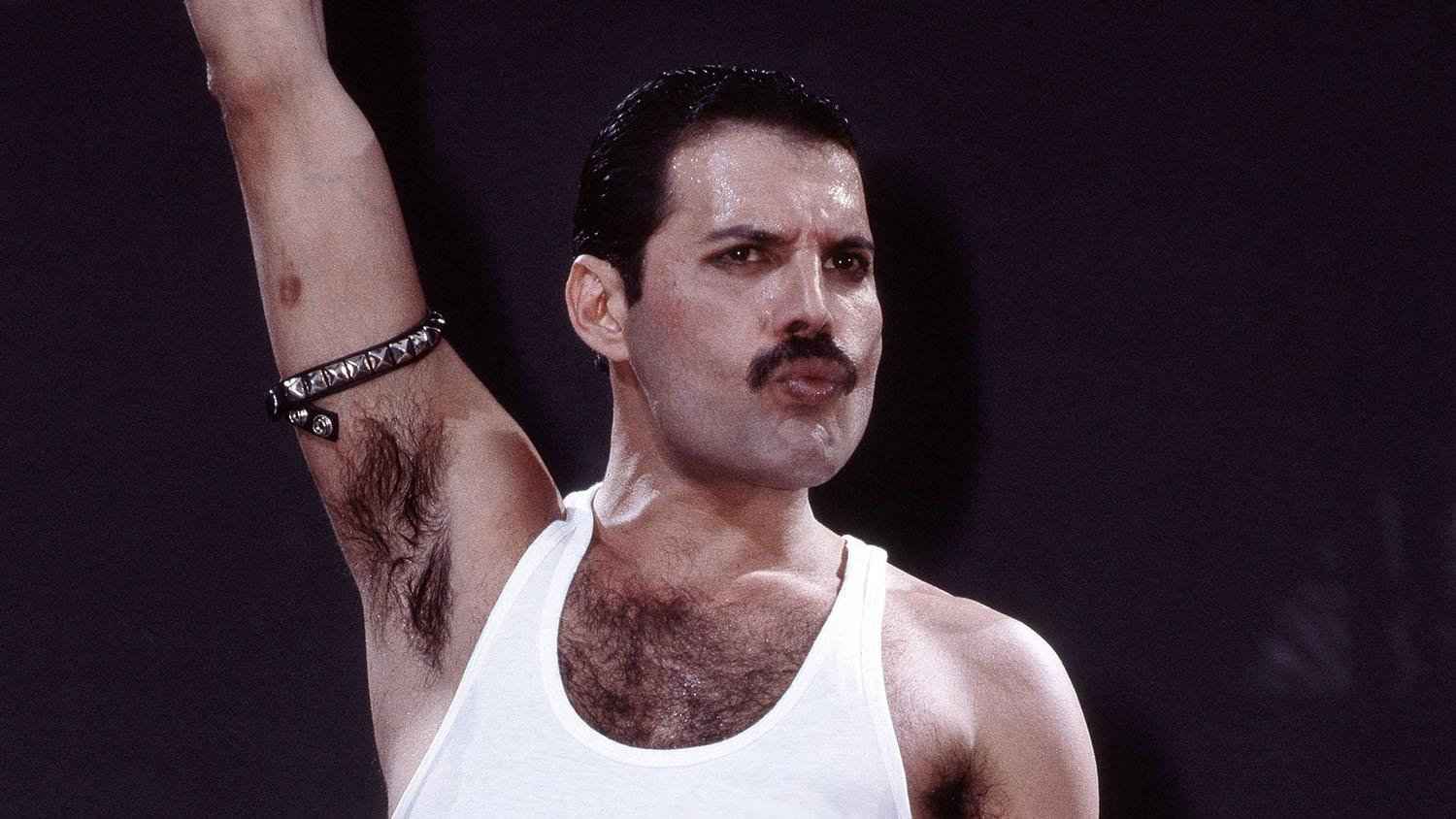 5. David Bowie (RIP)
Of all the men we've adored in our lifetime, perhaps none have tugged on our heartstrings as much as the iconic Ziggy Stardust himself, David Bowie.
Besides rocking out to his incredibly unique music and soulful voice, we have always appreciated Bowie for his lasting mark on the movement towards a general acceptance of the LGBTQ community. The man switched between labels of straight, gay, and bisexual for his entire life… And while there is a part of us that desperately wants to know the truth, we're mostly just happy to have known him at all. Despite there being immense doubt about the true nature of his sexuality, one thing remains constant: David Bowie destroyed gender norms by embracing complete androgyny.
His death was undoubtedly a tragedy, but there is still some small comfort in knowing that a Starman is waiting for us in the sky.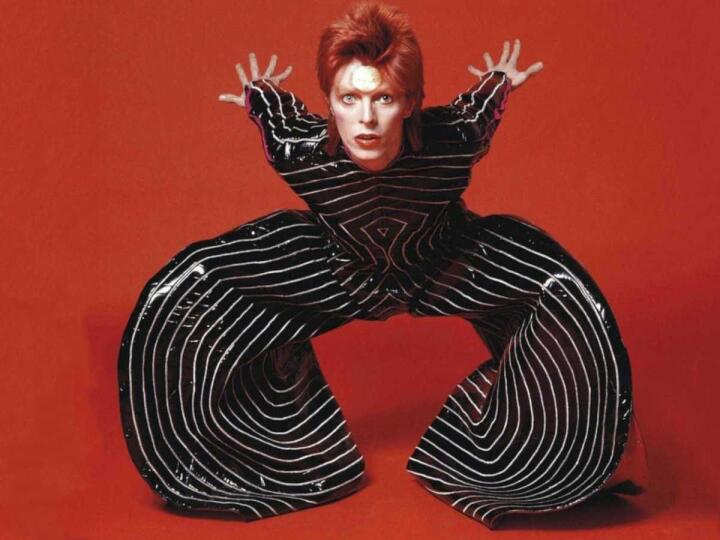 6. Sir Ian McKellen
"You shall NOT pass!"
…ahh the wise Gandalf, portrayed by the amazingly talented Sir Ian McKellen. Marvel movie fans will also know him as playing the (senior!) Magneto, not to mention his many theatre appearances and heap of awards.
However, what we personally know and love Sir Ian for the most is his LGBTQ activism. He is a co-founder of Stonewall, a British LGBTQ rights lobby group, as well as a patron for numerous gay charities/organizations: LGBT History Month, Pride London, Oxford Pride, GAY-GLOS, LGBT Foundation, FFLAG, and The Albert Kennedy Trust.
Perhaps our favorite moment of Sir Ian is in 2007, during an interview on a Singaporean morning TV show – Singapore is a country with an anti-gay law (still!) in place. At the end of this interview, Sir Ian was asked what he was most looking forward to doing whilst in Singapore. He then mentioned the fact that he is a gay man, hoped that the anti-gay laws of Singapore will soon change, and then said:
"I've been looking for a gay bar if there is such a thing…if you have any ideas please let me know."
The interviewer looked shocked and the program quickly cut to the credits! What a legend! Watch the interview for yourself:
7. Stephen Fry
Witty, absolutely hilarious and incredibly talented! We love Stephen Fry. For us, he'll always be the modern-day Oscar Wilde – aided by the fact that he played the famous poet in the 1997 movie Wilde for which he received a Golden Globe Award nomination. Stephen Fry has also starred in many TV shows, plays and other blockbuster hits like The Hobbit.
Aside from his career as an actor, comedian, and writer, Fry commits a significant amount of his time to activism for the LGBTQ community. During his time in school, a young Stephen Fry struggled to keep his sexuality a secret from those around him. Now, he lives as his full and complete self and fights for others to have that same right. We don't know about you guys, but we personally shed a tear when we read the letter he wrote to his younger self, discussing the movement towards accepting gay people within society.
It's just so spectacular to see someone come into their own and live an authentic life free from fear!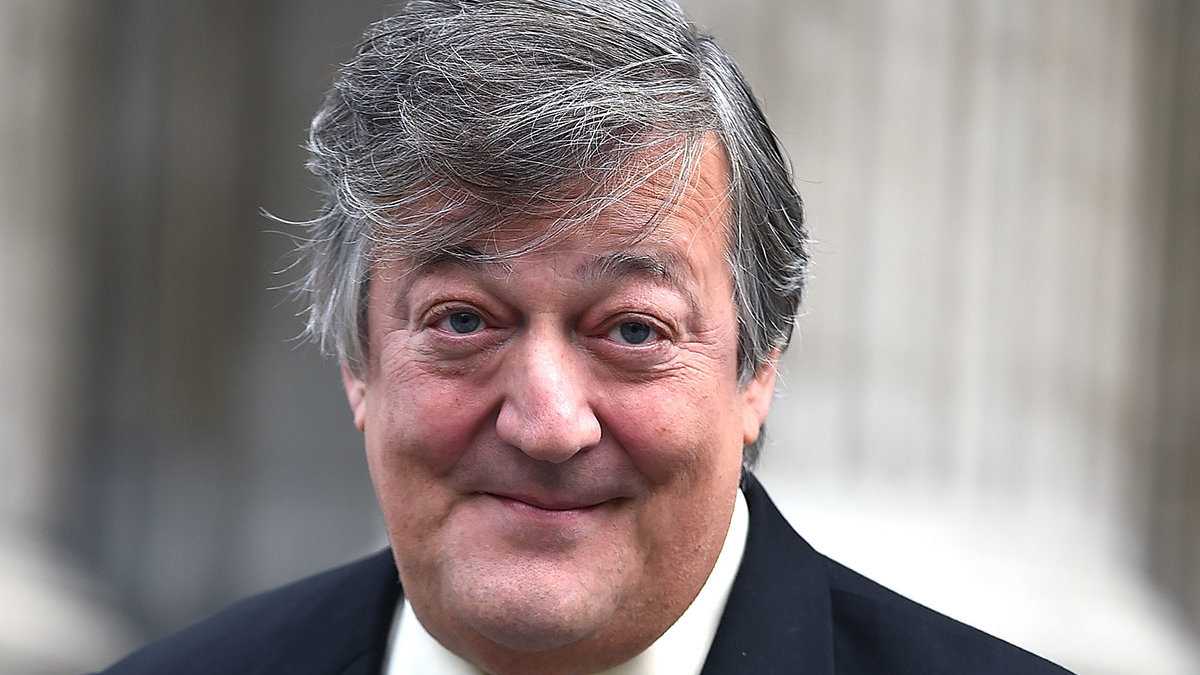 8. Miriam Margolyes
One of the funniest people ever to walk the Earth in our opinion! Miriam Margolyes is absolutely hilarious, loveable, and completely uncensored! She never holds back and says exactly what she's thinking, however crass! Check out the video below featuring some of her best moments on the This Morning TV show.
Miriam is an award-winning actress who calls herself "a fat Jewish lesbian with strong opinions". Harry Potter fans will recognise her as Professor Sprout. She's also been in a whole heap of movies like Babe, James and the Giant Peach, and The Age of Innocence. And while she is undoubtedly a lovely actress, what sets her apart from the rest of Hollywood is her ability to be herself without having a care in the world what anyone else thinks.
Margolyes is openly gay and not afraid to show it. Despite experiencing some conflict after coming out to her parents, she's always lived in a way that brings her happiness. In fact, Miriam was once quoted as saying that she is super happy to be a lesbian since few men have souls. A little harsh? Maybe. But we're not offended one bit – You do you, Ms. Miriam!!
9. Princess Diana (RIP)
For many of us, the death of Princess Diana on 31st August 1997 is one that we might never get over!
She embodied all of the characteristics that you would hope a princess would be in the most ideal, fantastical world. She was glamorous, but she didn't flaunt it. She was popular, yet she remained active among ordinary people. She took a hands-on approach to her service, which made her feel more human. While all of these things already work to make her a fantastic gay icon, she only gets better.
Her main charity work centered around the AIDS crisis. She got involved during the heat of the epidemic. Not even the disapproval from her royal counterparts could stop her from advocating for AIDS patients. She even went out of her way to show the world that you could touch and interact with people who were infected. In short, she was fabulous and is greatly missed every day.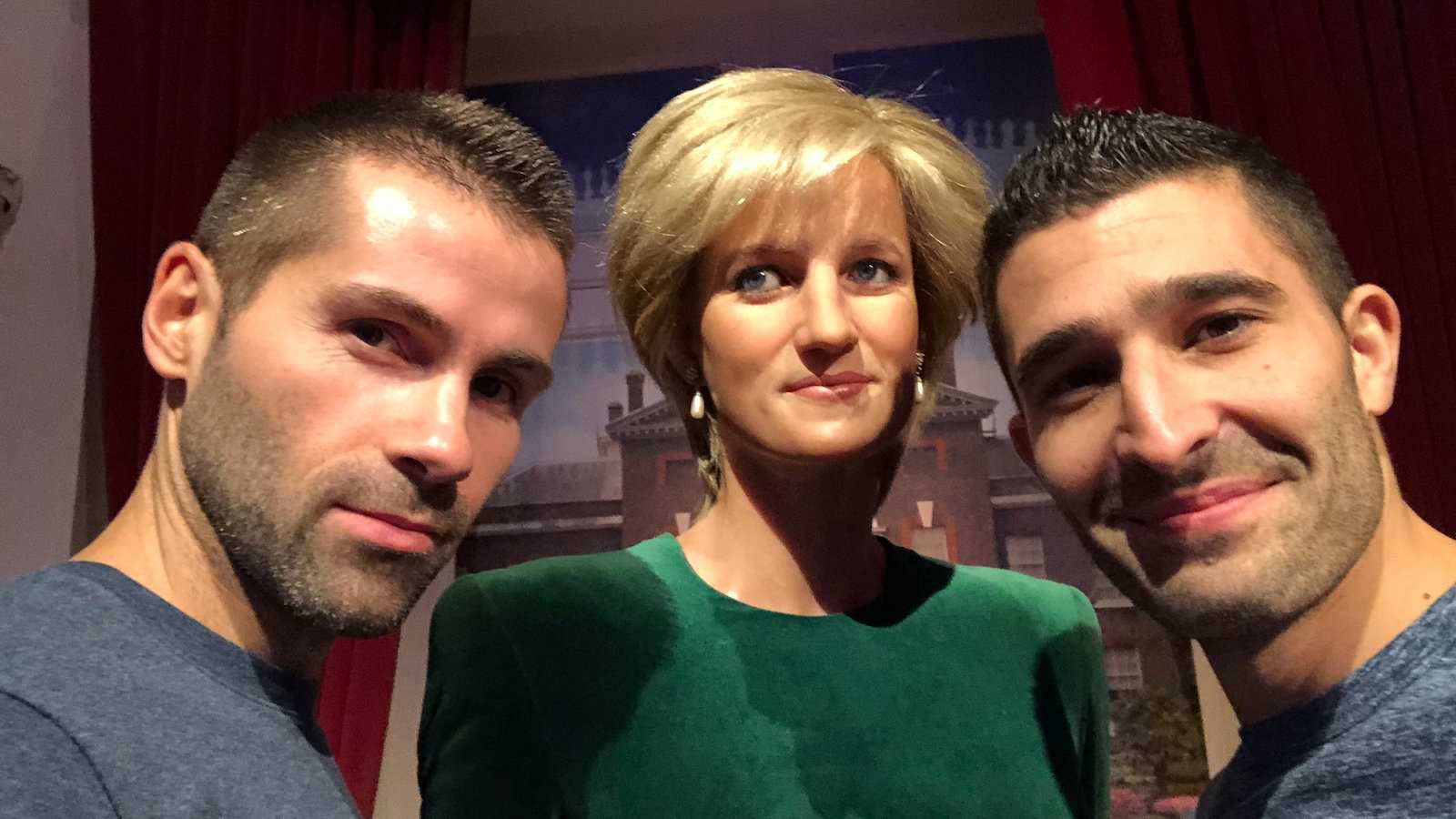 10. Alan Carr
Some gay people like incorporating their sexualities into their careers – take us, for example! However, Alan Carr's approach to this idea is one we find incredibly interesting…
Carr, a notable comedian and television personality, once said that he doesn't feel the need to make being gay a part of his work. He takes the stance that, by not mentioning that he is a member of the LGBTQ community, he is normalizing queer life even more. He feels that keeping it not under wraps and not at the forefront is a step towards achieving true equality.
While we clearly don't follow his beliefs, we certainly do respect them! Overall, Alan Carr has received a spot as one of the best British gay icons because he is not afraid to show his fullest self to the world, yet he knows when the time is right to take a step back. He knows himself, which is an admirable quality in any person.
Of course, we LIVE for his cheeky, biting remarks as a judge on Ru Paul's Drag Race UK as well as his HILARIOUS super camp "Chatty Man" talk show!
11. Boy George
Does anyone else remember that sense of pure joy and elation you experienced the first time you heard the song Karma Chameleon?
Culture Club undoubtedly changed the game with their hit song, but really, we have Boy George to thank for that everlasting bop! And, of course, the singer-songwriter has made an immense impact on the LGBTQ scene outside of the scope of his music. As early as the 1980s, he was sporting an androgynous look that captured everyone's attention. Aside from David Bowie, it's not likely that anyone saw a man wearing such scandalous clothing, let alone the intense makeup.
What's incredible about Boy George is that he didn't always ooze the confidence that seems so prevalent in his outward appearance. He once hid away his sexuality… But like a stunning rainbow butterfly, he soon emerged from his cocoon and began discussing his life as a gay man. We love to see it!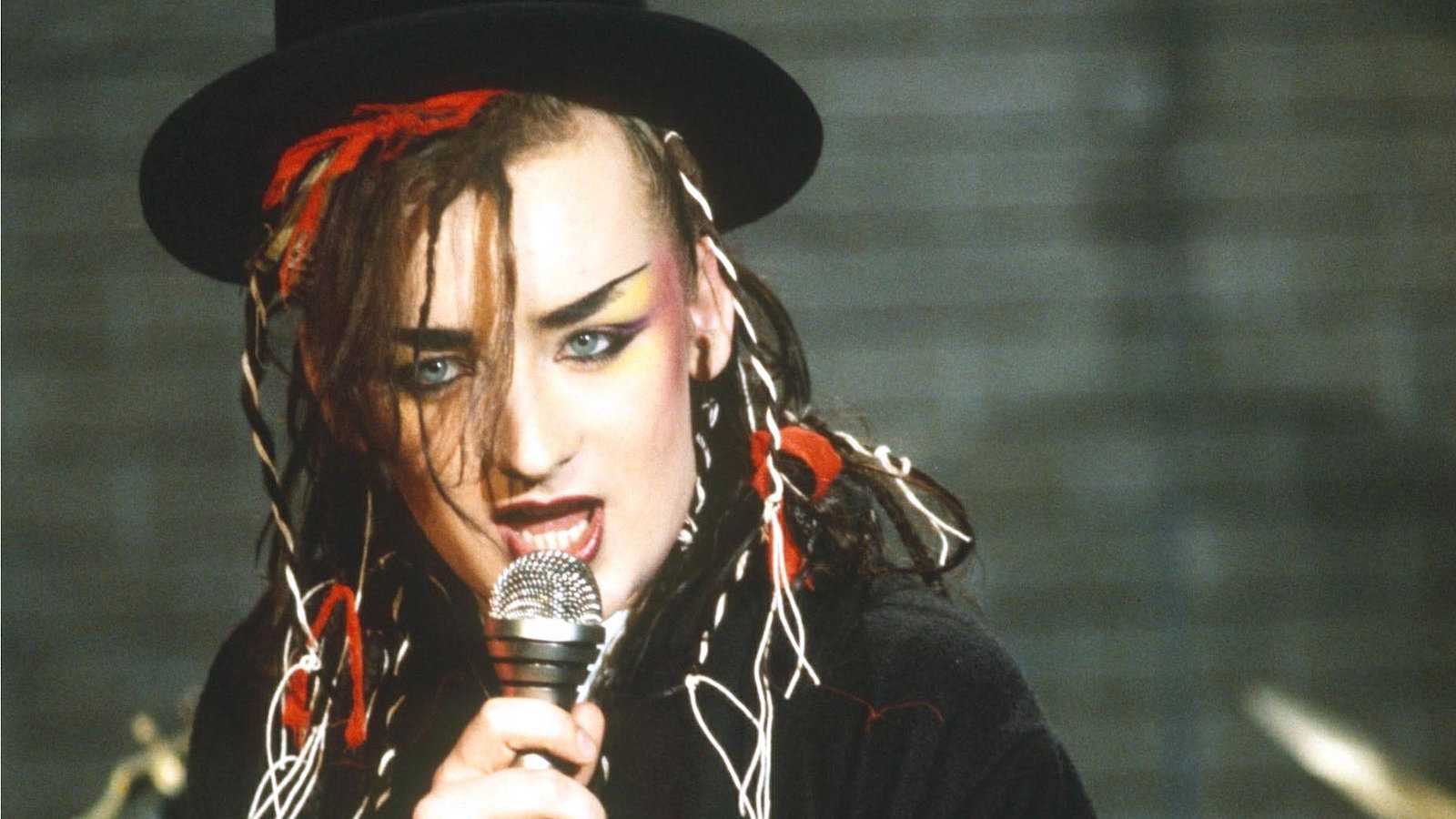 12. Vivienne Westwood
Whilst we're not fashion gurus in the slightest, it would be false to say that we would never participate in a Vivienne Westwood fashion show!
Her love for punk aesthetics melds oh-so-well with the LGBTQ community. If you need an example, one of the shows she worked on in recent years focused on the idea of non-binary cowboys. Another focused on pushing past gender norms by adopting a unisex idea to all forms of clothing. As you might imagine from those descriptions alone, the gay scene in London has gone completely mad over a good number of her designs, thus making them all the more popular.
This attitude against gender binaries that Vivienne strives to implement into a lot of her work is echoed by her own experience with gender. She has stated that gender was never necessary to her while growing up. Fingers crossed we can get a part in her next show!
13. Adele
Hello… It's she! The queen herself, Adele, has arrived on our list! You knew we couldn't leave her out, didn't you?
Adele has always been our shoulder to cry on. Her music is like a cozy blanket that knows precisely what you need to feel better. But, more than that, it feels even better knowing that we personally can trust ourselves to lean on her when we need a pick-me-up. Her support for the queer community has been strong from the start.
Adele has not only stated her support for LGBTQ individuals, but she has shown it countless times. She dedicated one of her concerts to the victims of the Pulse Nightclub shooting in Florida. She became ordained just to officiate a friend's wedding. She has performed at countless gay events and expressed complete joy in knowing that her child will grow up being who they want to be. Basically, you guys can consider us Adele stans for life!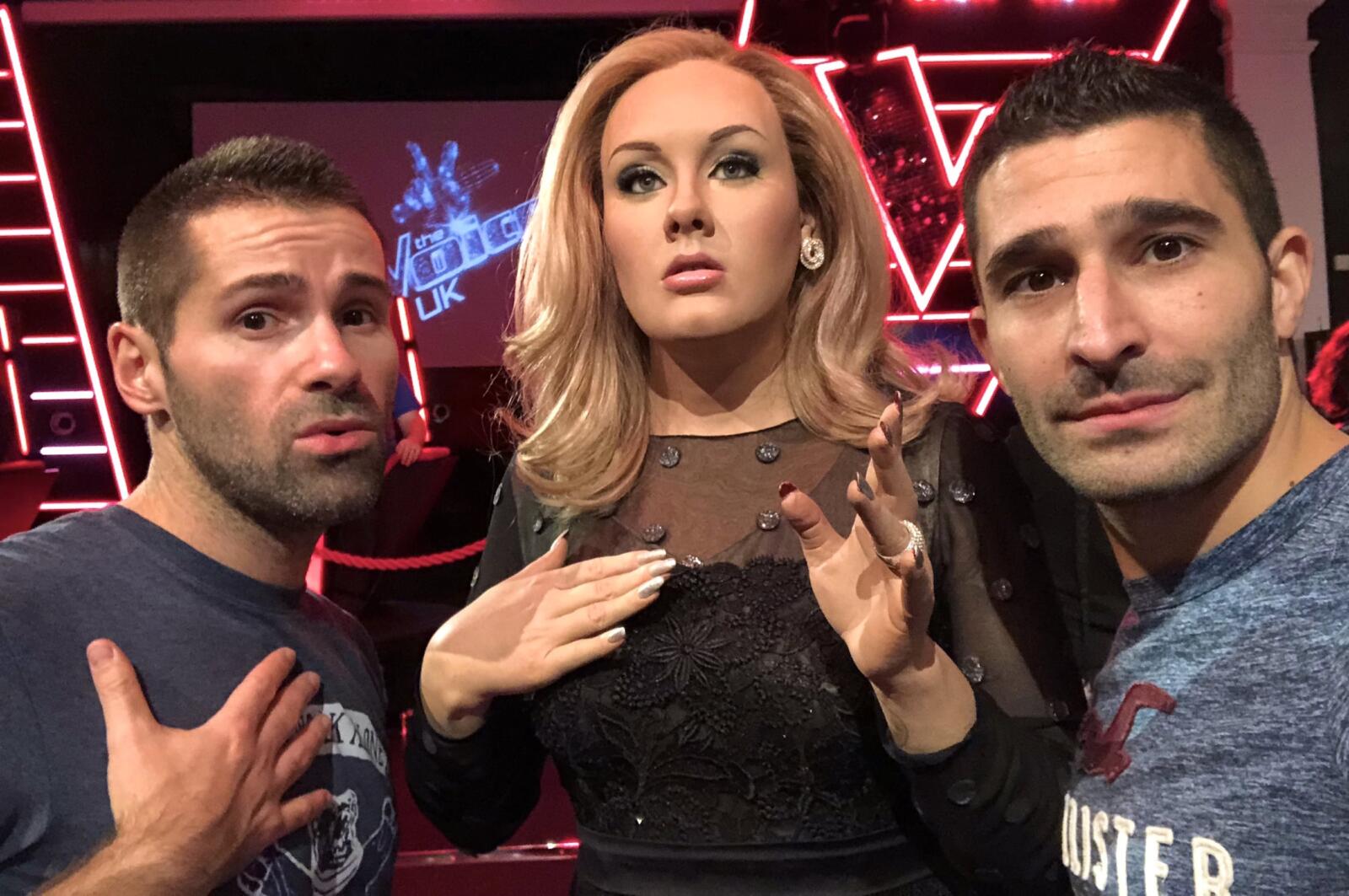 14. Amy Winehouse (RIP)
It might be cliched at this point, but we gay folk really do have a gaydar. And when we first started getting to know Amy Winehouse, we knew right away that she would be a star for our community.
While Amy never officially came out to the public, some of her friends have said that her sexuality was something she never actively hid. She was a bisexual woman who hardly had the chance to express her most authentic self to the world before addiction took her away far too soon. That being said, the little snippets we did see of Amy were just brilliant.
What makes her an icon in our eyes is her attitude. Miss Winehouse was always different. From her heavily jazz-influenced music to her iconic diva hair, Amy embraced the aspects of herself that set her apart from the crowd.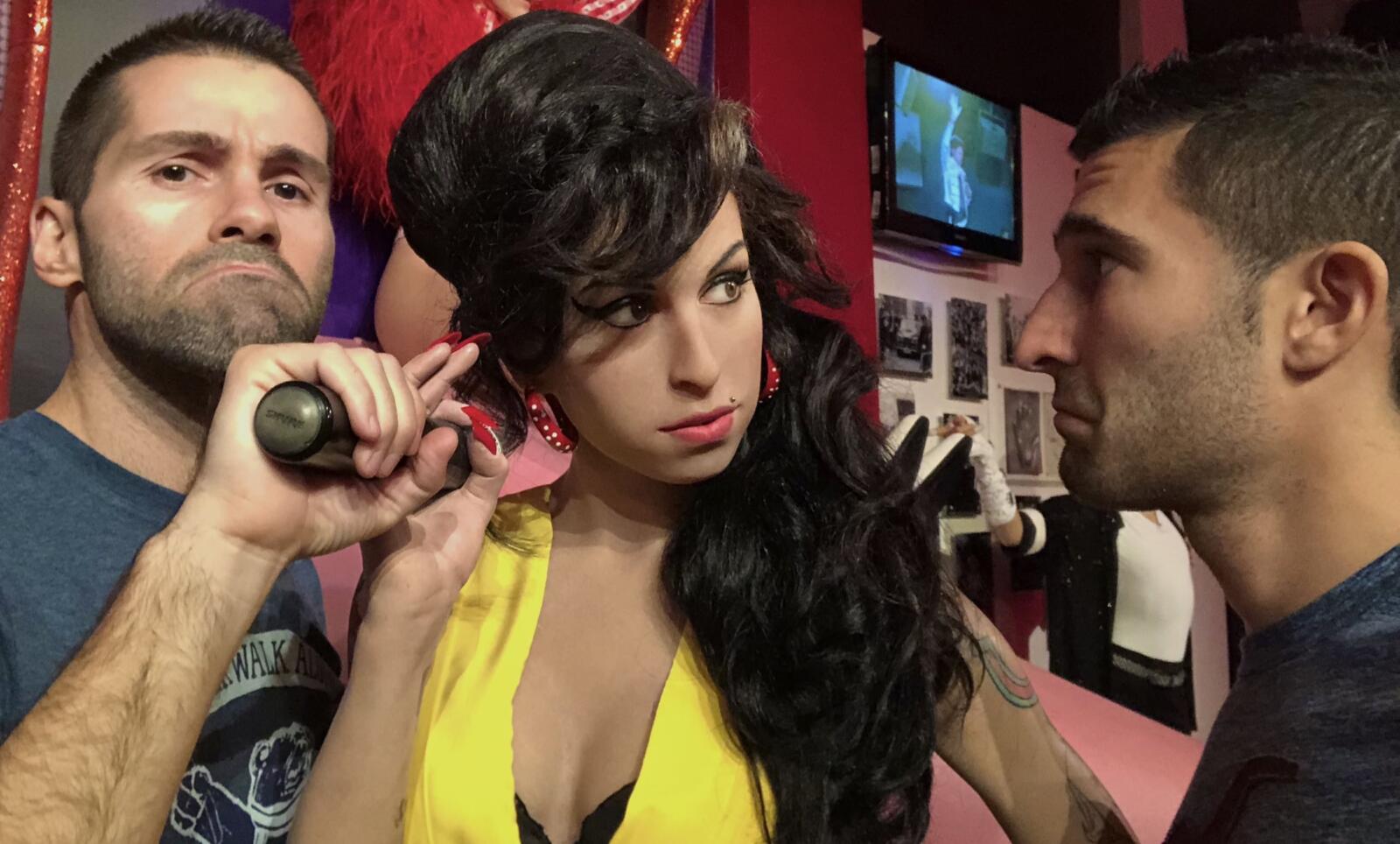 15. Julie Andrews
Let's be real… We know there is a stereotype when it comes to who gets designated as a gay icon. The title usually goes to someone loud, outgoing, and eager to show off their inner diva. Amazingly, Julie Andrews breaks that concept by a long shot!
It's difficult to pin down when exactly Andrews stepped into the spotlight of being a gay icon. It could be argued that it began when she showed off her powerful vocals in Mary Poppins and The Sound of Music. But also, don't even get us started on her role in The Princess Diaries.
We would guess that what really makes her shine is knowing that how she acts on screen is similar to how she is in real life. Julie Andrews is a kind, sophisticated woman who has shown her support for the queer community since her adolescence. She has always considered herself an ally, and for that, we only love her more.
16. Naomi Campbell
When Ariana Grande said that god is a woman, we all instantly thought of Naomi Campbell… Right?
Come on, just think about it! Naomi was discovered at the young age of fifteen. She hit her stride during the early '90s. Her beauty dazzled so many people in the fashion industry that she was one of the first in the world to earn the title of supermodel. She is heavily involved in charity work, and relevant to the community, she is one of our most avid supporters. There's no way this woman could be a mere mortal!
Well… Regardless of what you believe, it would at least be hard to argue that Naomi Campbell is not a saint. She goes out of her way to acknowledge the gay people in her life who have helped her succeed with her career. On top of that, she is continually fighting to make room for more queer folks in fashion, which we cannot wait to see.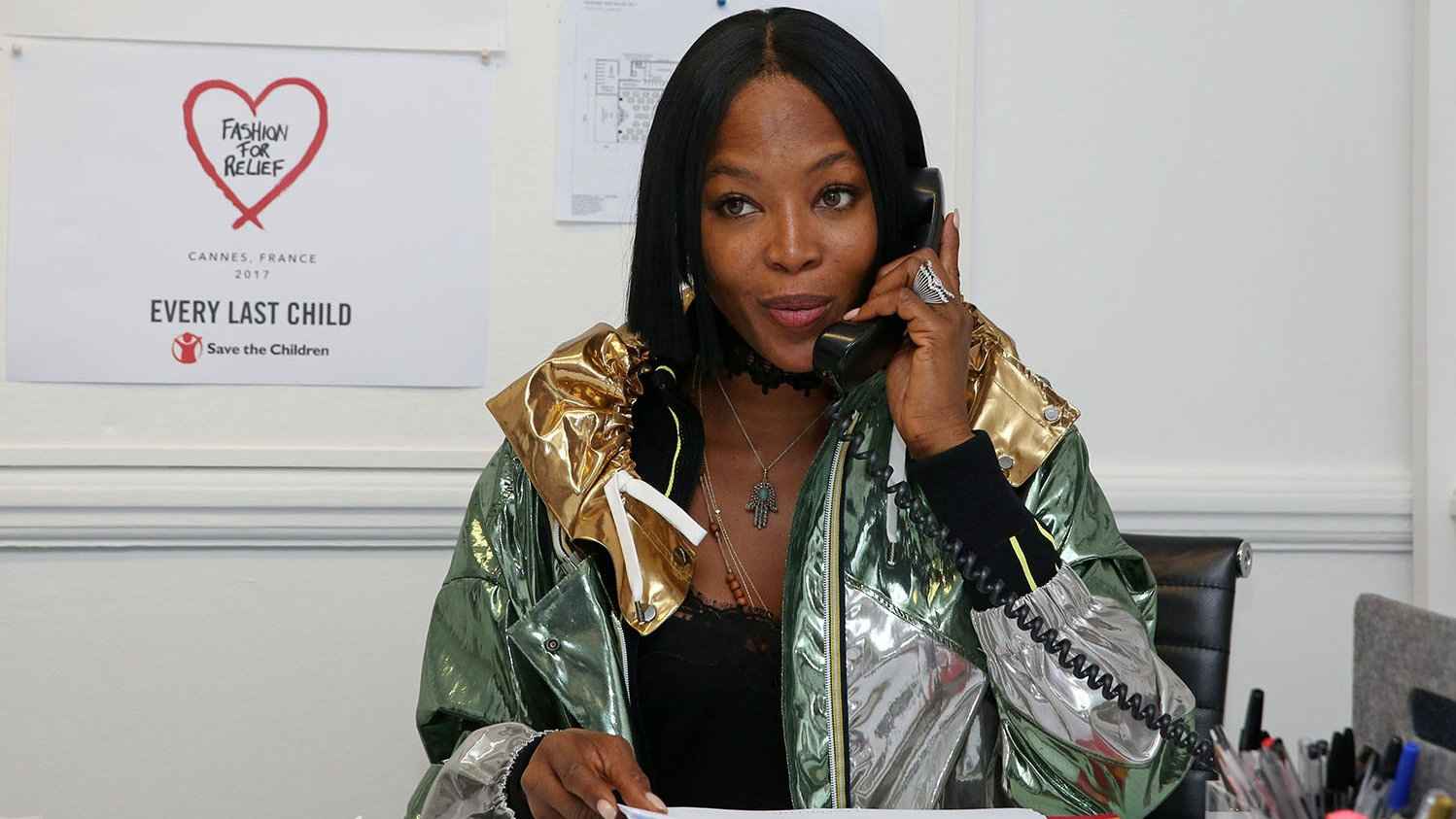 17. Lily Savage (Paul O'Grady)
One does not hear the name Paul O'Grady without envisioning Lily Savage.
As much as the man has tried to distance himself from his infamous drag persona, she lives on in the hearts of every queer person who watched her perform! O'Grady works as a comedian, writer, television personality, and radio host nowadays. And while it doesn't necessarily seem like he's hoping to ditch Lily entirely, he has not actively portrayed her since the 2000s.
Lily was everything you love to see in a queen: funny, crude, and brass. Her fashion statements always kept us guessing in the best of ways, but the same could be said of her routine. She could swear up a storm and then speak out against injustices affecting the LGBTQ community all in one breath. While Lily may be gone, she will never be forgotten… Especially since we can still watch videos of her whenever we need a healthy laugh!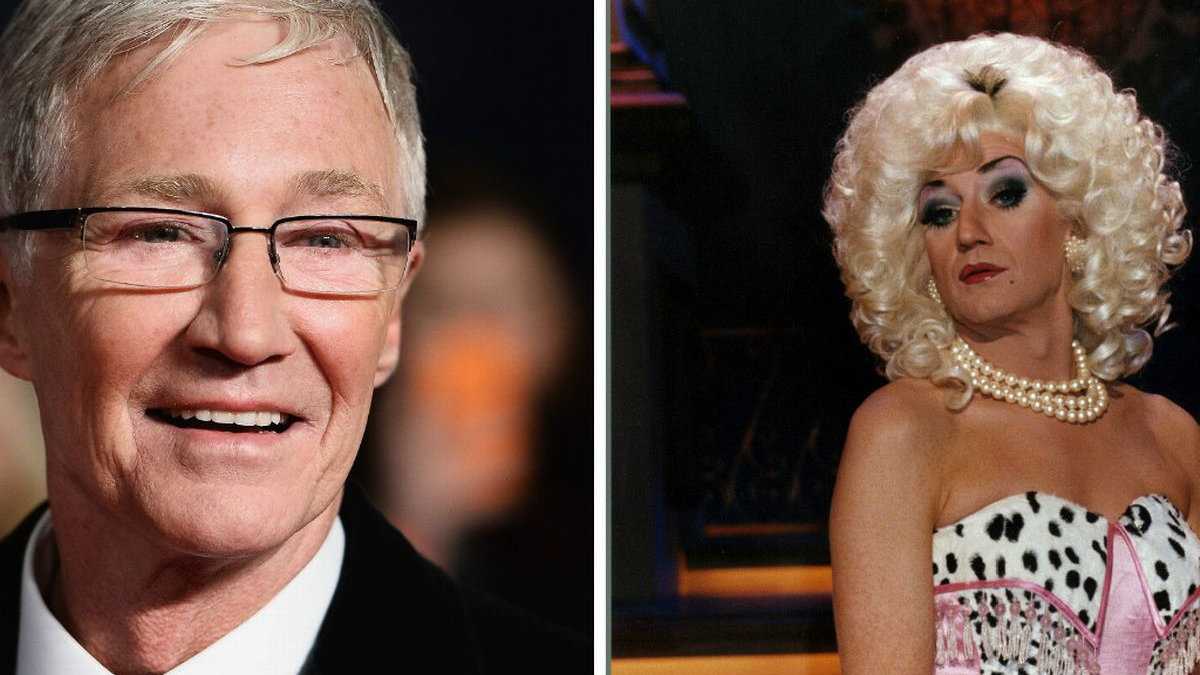 18. Lily Allen
We look back at the era of Myspace and can't help cringing… Yet, we both agree that one of the most beautiful gifts that came out of that embarrassing site is Miss Lily Allen.
Just four years after her incredible Myspace debut, she would help pave the way for women in the music industry by emphasizing the importance of being brave while creating. Now, Lily did drop off the map for a short time, but she has made quite the remarkable comeback!
We can't help but appreciate her honesty about a difficult time in her life where she found herself testing the boundaries of her sexuality. Though she may not be gay herself, she has since seemed to happily take on the role of protector for the LGBTQ community. Nothing says it better than her dedicating her gay anthem "F**k You" to Piers Morgan all while performing at a G-A-Y concert!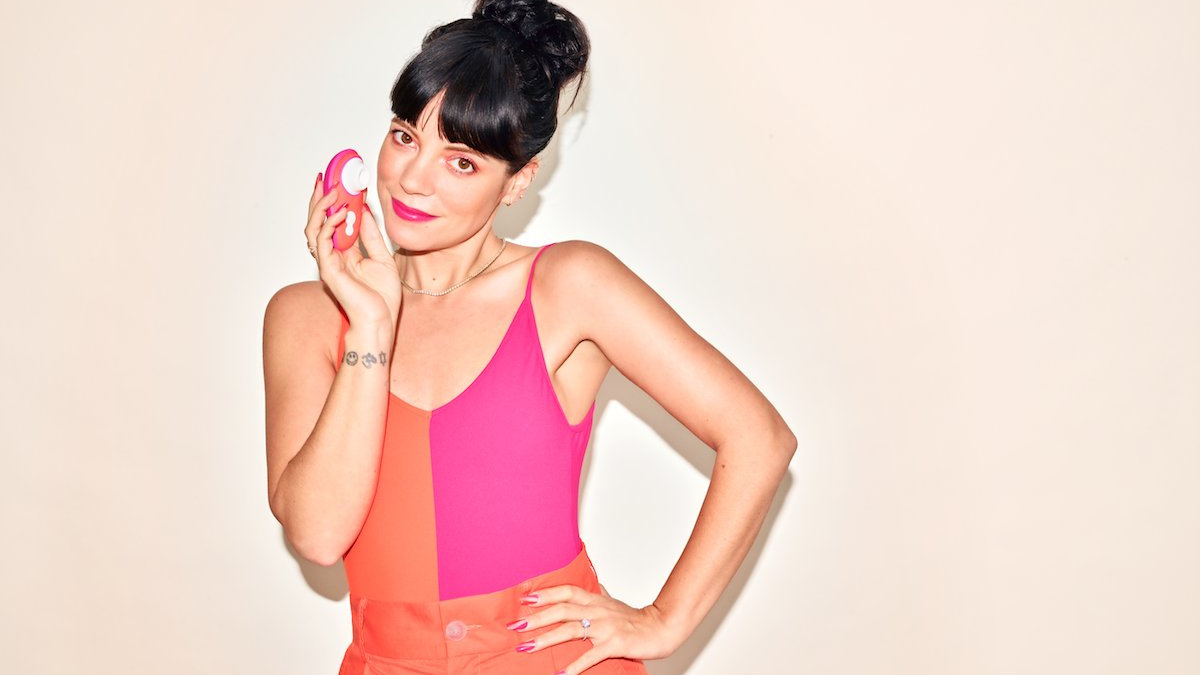 19. Kellie Maloney
Kellie Maloney is one of the most famous boxing managers who managed the likes of Lennox Lewis in her heyday…when she used to go by the name of "Frankie Maloney". However, throughout her career, Kellie had to grapple with a heavy secret. After many difficult years, she was finally able to pluck up the courage to come out as transgender in August 2014 via a newspaper interview and finally proceed with gender reassignment.
Kellie's story is incredibly inspiring. She is a terrific role model especially to young transgender kids who are also going through the same struggles she went through.
We love Kellie and rate her as a top British LGBTQ icon because she is now an advocate for the trans community, aiming to make a change in how people within her community are represented and supported. Read more about Kellie in our article featuring some of the best coming out stories.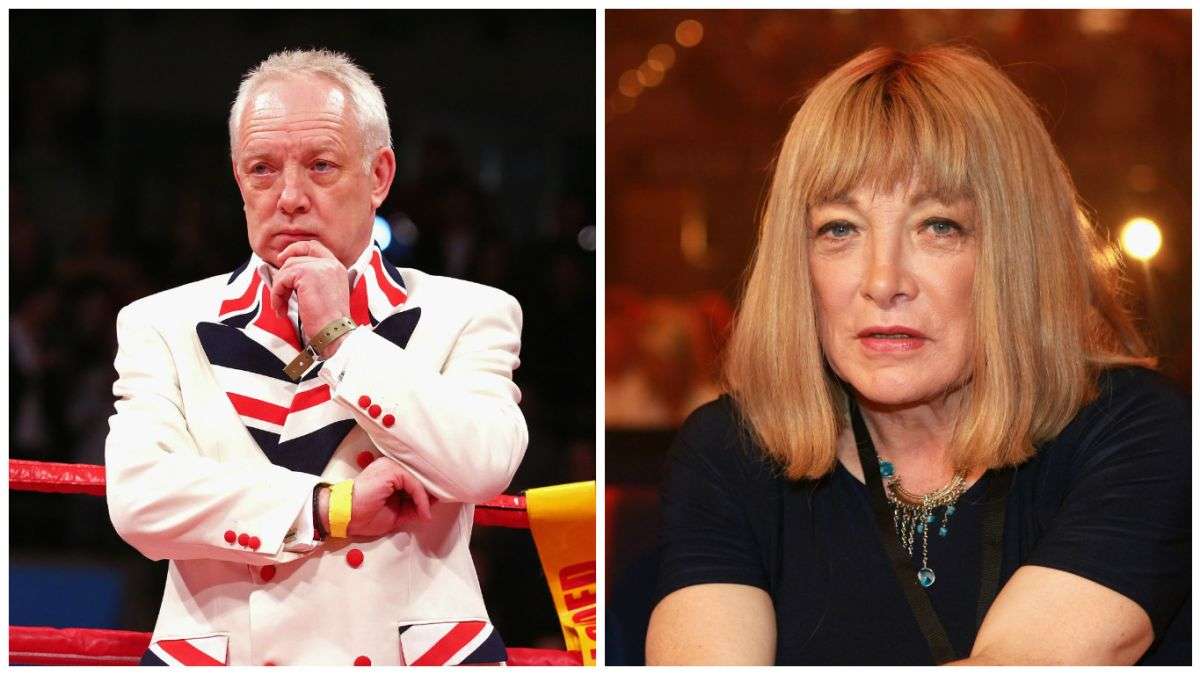 20. Justin Fashanu (RIP)
If you don't know him then you need to!
Back in October 1990, Justin Fashanu became the first professional footballer, ever, to come out. This was a big deal, a REALLY big deal because the footballing world is notorious for being incredibly homophobic, even today. Things are changing, slowly, but it's one domain where being out can kill your career, hence why there are few, if any, famous out footballers today.
Justin Fashanu is also remarkable because in 1981 he became the country's most expensive black player following his £1m move to Nottingham Forest.
Despite his inspiring career, Justin faced a huge amount of discrimination both on and off the football pitch that he took his life in 1998, aged just 37! In his suicide note, he wrote that being gay and having a personality "is so hard".
His legend lives on, thanks in part to the efforts of his fabulous niece, Amal Fashanu, who set up the Justin Fashanu Foundation in his honor.
Honorary mentions
Oscar Wilde (RIP)
He's Irish so technically not British. But we dispute this given that most of his work was written in England and he spent the bulk of his life here…Show of hands – how many of you read The Picture of Dorian Gray in school? And now let us see how many of you picked up on those gay undertones within seconds… It's pretty obvious, right?
Oscar Wilde did not do the best job of keeping his sexuality private while writing his various plays and novels. Honestly, it could probably be argued that he didn't do excellent at keeping it a secret from his fellow socialites either. He was known for his tremendous social skills and flamboyant way of dressing.
One of the things we learned about Oscar Wilde during school is that he was prosecuted due to his sexuality. He entered into a relationship with a young man whose father ended up taking the fight against him to court. Thankfully, Wilde was one of the men pardoned under the recent Alan Turing law, putting a small bandaid on that old wound.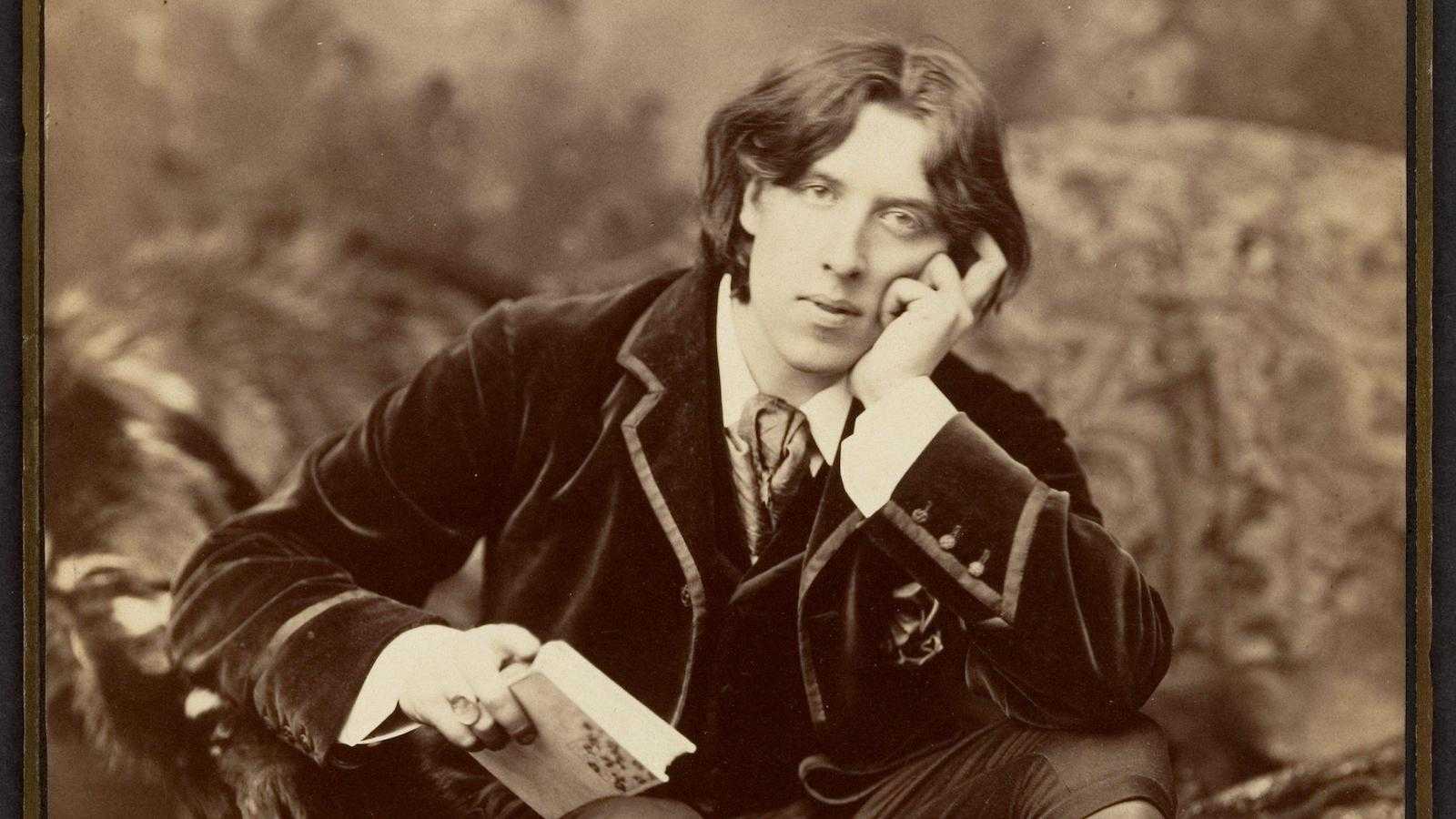 Graham Norton
Okay, he may be an Irishman, but Graham Norton has more than earned his place on this list!
Not only is he the highlight of our day when we catch up on hilarious clips from his talk show, but Eurovision would not be the same without his presence. We also love watching him as a judge on RuPaul's Drag Race UK. Graham is living his best gay life, and we cannot get enough!
While his time growing up in Ireland made him feel the need to avoid his sexuality, he has become the very visibility he craved to see as a kid. He is as real and flamboyant as a queer person could be, which makes him a fantastic role model in our books. In fact, we'd probably wager to say that we still want to grow up to be like Graham Norton one day!