TERMS OF USE: There is a chance that some of the content on this page has changed since it was last updated. By reading this article, you consent to our Terms of Use and Disclaimer. Happy Travels!
DISCLOSURE: Some of our posts may contain affiliate links which we may receive a commission if you choose to book something through one of our links.
These are the best things to do when visiting the Isle of Islay in the Hebrides Islands off the coast of Scotland.
When we travel anywhere, we like to blend in. Do as the locals do. Experience a new place from its roots. Some may say turning up on a Scottish island dressed in fluorescent-colored tank tops contradicts our "blending in" mantra, but hey, whoever said blending in meant stop being fabulous?
Regardless, learning about the culture, getting the lingo down, and unearthing all of the hidden gems are of utmost importance to us. At the very least, we want to pronounce the name of our destination correctly… Duh!
Yet, despite numerous back-and-forths of us practicing the correct pronunciation of Islay; "EYE-Lah, EYE-Lah, EYE-Lah," aloud to ourselves, we (of course) marched up to our hotel check-in, confidently announcing our excitement to be in "I-slaaaaayyyy"! *facepalm* We sounded like a bunch of gay guys cheering a drag queen performing a lip-sync… Luckily, the check-in lady laughed it off.
The Isle of Islay is a Scottish island in the lower Hebrides, famous for rain, wind, cold, and more rain. Such weather is ideal for creating good quality peat… which in turn, makes a superbly delicious whisky, which Islay is super famous for. So, all in all, it's rather worth it.
Elsewhere around the island, you'll find crumbling castles, museums filled with ancient artifacts, and charming village towns full of friendly people, as well as some seriously stunning landscapes. Here's a roundup of some of our favorite things to do on the glorious Isle of Islay, which we visited as part of our big gay trip in Scotland. Be sure to also check out some of our other top-notch Scotland content including our bumper gay travel guide to Edinburgh as well as for Inverness.
DON'T MISS OUT!
Join our newsletter
Subscribe now to receive in-depth FREE travel guides, along with inspiring stories, savvy planning tips, and exclusive discounts on gay tours.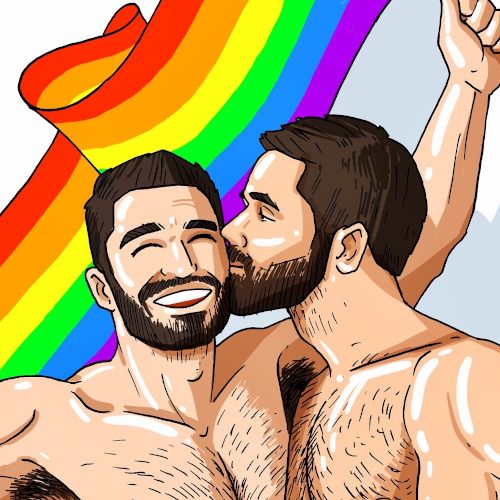 1. Whisky! Whisky! Whisky!
Heads up – when in Scotland, drop the "e" and spell it "Whisky"… it will endear you massively to the locals!
Dublin has its Guinness, Florence has its wine, and Palm Springs has its…*ahem* all-male gay resorts… while Islay has its whisky! In fact, this humble island has no fewer than 9 active distilleries. Pretty impressive for an island with a population of just 3,200. That's 1 distillery per 356 people!
The most famous one is the Bowmore Distillery, where visitors pour in from across the globe to discover how the peaty nectar is made. Tour guides take you around the entire production process and even give you a sneaky sample at the end. We must admit, we both got a bit tipsy off the fumes alone!
Our favorite was the Bruichladdich Distillery. We learned about the story of where the idea for the distillery came from, as well as what goes into crafting their four spirits: the Bruichladdich, Port Charlotte, Octomore single malt and the world renowned Botanist Gin.
And if you get time, squeeze in the Laphroaig Distillery as well. This is open daily (note: not all of them are) and is known for its extremely strong-tasting whiskies – definitely not one for rookies. Plus, outside of the distillery is a stunning bay area that overlooks the water – the ideal picnic spot.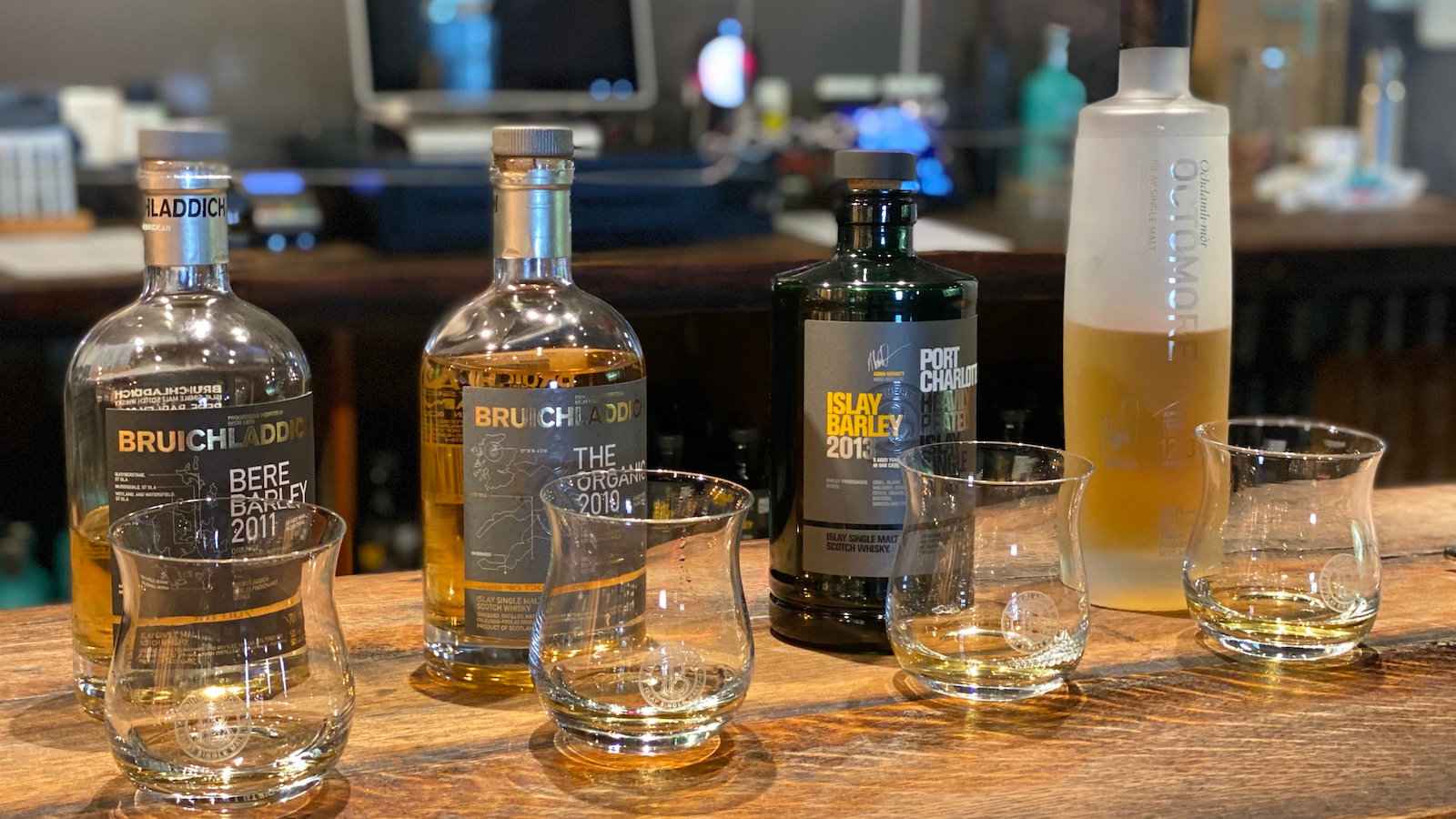 2. Machir Bay Beach
If you came to Scotland expecting sun-soaked beaches, with golden sands and glistening waters, then you'll be more disappointed than a conservative politician at a Pride parade. Sure, Scottish beaches aren't as fabulous as those in France or Spain but that doesn't mean they aren't as special. In fact, in many ways, they're cooler.
Machir Bay Beach spans two miles along the west coast of Islay. For such a remote island that is surrounded by rocky formations, the beach is relatively smooth. Seby and I could enjoy a lovely shoeless stroll without prickling the soles of our feet on pointy pebbles.
There are also streams of water that stretch out from the bay, where you can dip your feet and enjoy a paddle. The beach is also famous for its, not one, not two, but three shipwrecks! There was the Stella, which crashed onto the rocky shore in 1835 (miraculously injuring no one). Then there was the La Plata Norwegian vessel which collided with the shore after a piece of cargo fell. Finally, and most tragically, a crash between the HMS Otranto and the HMS Kashmir during WWI, more on that in a second.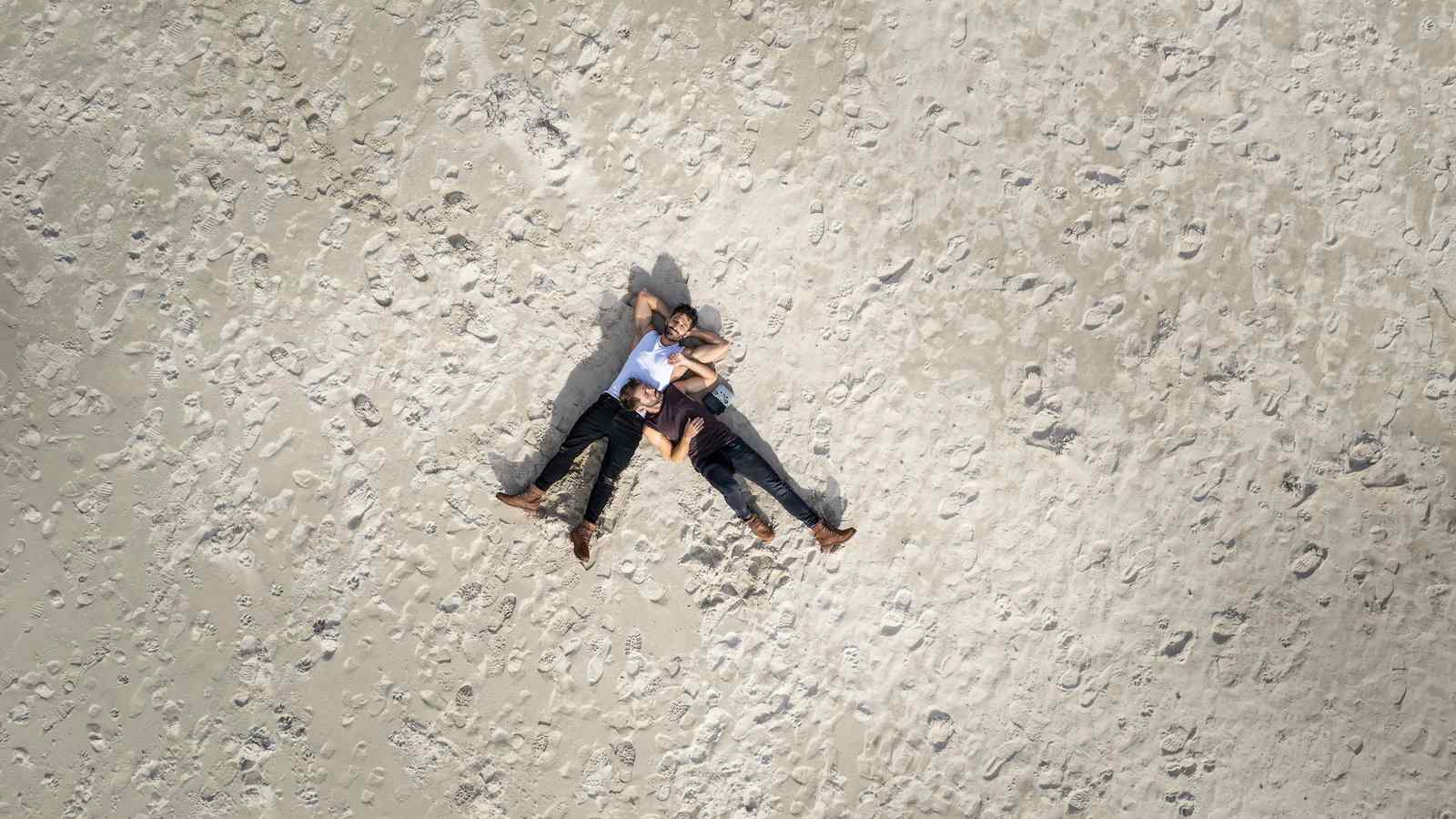 3. The American Monument
Built in the shape of a lighthouse, the American Monument was constructed as a memorial for the lives lost in two terrible tragedies that happened off the coast of Islay. Occurring in 1918, within 8 months of each other, firs there was the attack on the Tuscania passenger ship (which was carrying over 2,000 American troops), and then a collision during a storm between the HMS Otranto (which was also carrying American soldiers) and the HMS Kashmir which resulted in a loss of over 600 lives. The monument faces out onto the exact spot the Tuscania sunk.
Today, visitors can enjoy a soothing walk up to and around the monument. Just a half-hour walk from the car park to the structure, you'll pass through glorious meadows, whilst overlooking the dramatic cliffsides and listening to the rush of the sea waves. It can be a bit slippery in points – so if you can, bring some wellies. Or risk losing a favorite pair of shoes to the mud!
Once you get there, you'll also notice two memorial plaques on the ground (one by the monument and one closer to the sea). Each plaque has a beautiful message engraved on them that honor the people who perished. One of them being from Woodrow Wilson, who was President of the United States at the time of the tragedy.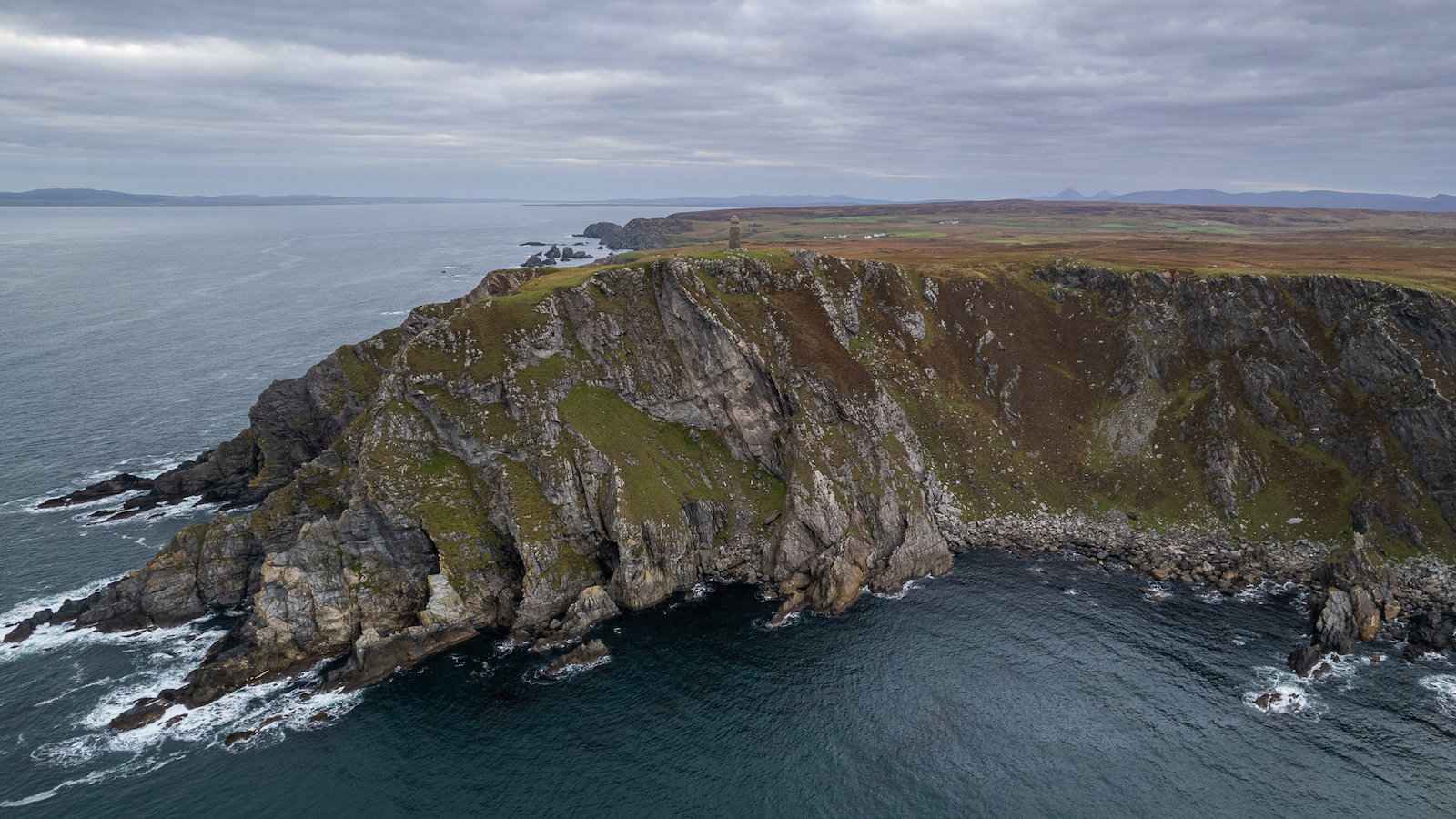 4. Eat at the Peatzeria
From a childhood daydream of a Bowmore girl to a sensationally popular pizzeria serving up the finest Italian cuisine you could hope for, the Peatzeria bistro is a must-visit. A tiny island off the coast of Scotland, covered in peat and livestock, known for its production of whisky, is the last place you'd think to find a modern Italian restaurant…
But that's exactly why the owner Caroline decided to set it up. She envisioned a "big city style restaurant" contained within a tiny speck on her beloved island. First of all, let's give a round of applause to the name peat-zeria. Ingenious! And second? The pizzas are utterly divine! Their menu is bursting with variations of pizza we'd never have thought possible. Haggis pizza anyone? Or perhaps a cheesy one, topped with lobster or scallops?
All ingredients are freshly sourced, proving you don't need to go to Italy to experience the magic of Italian food (sidenote: we totally recommend you still do!). There is indoor and outdoor seating, so you can enjoy your meal whilst taking in the exquisite seafront – just don't let the seagulls see you munching on your scrumptious meal.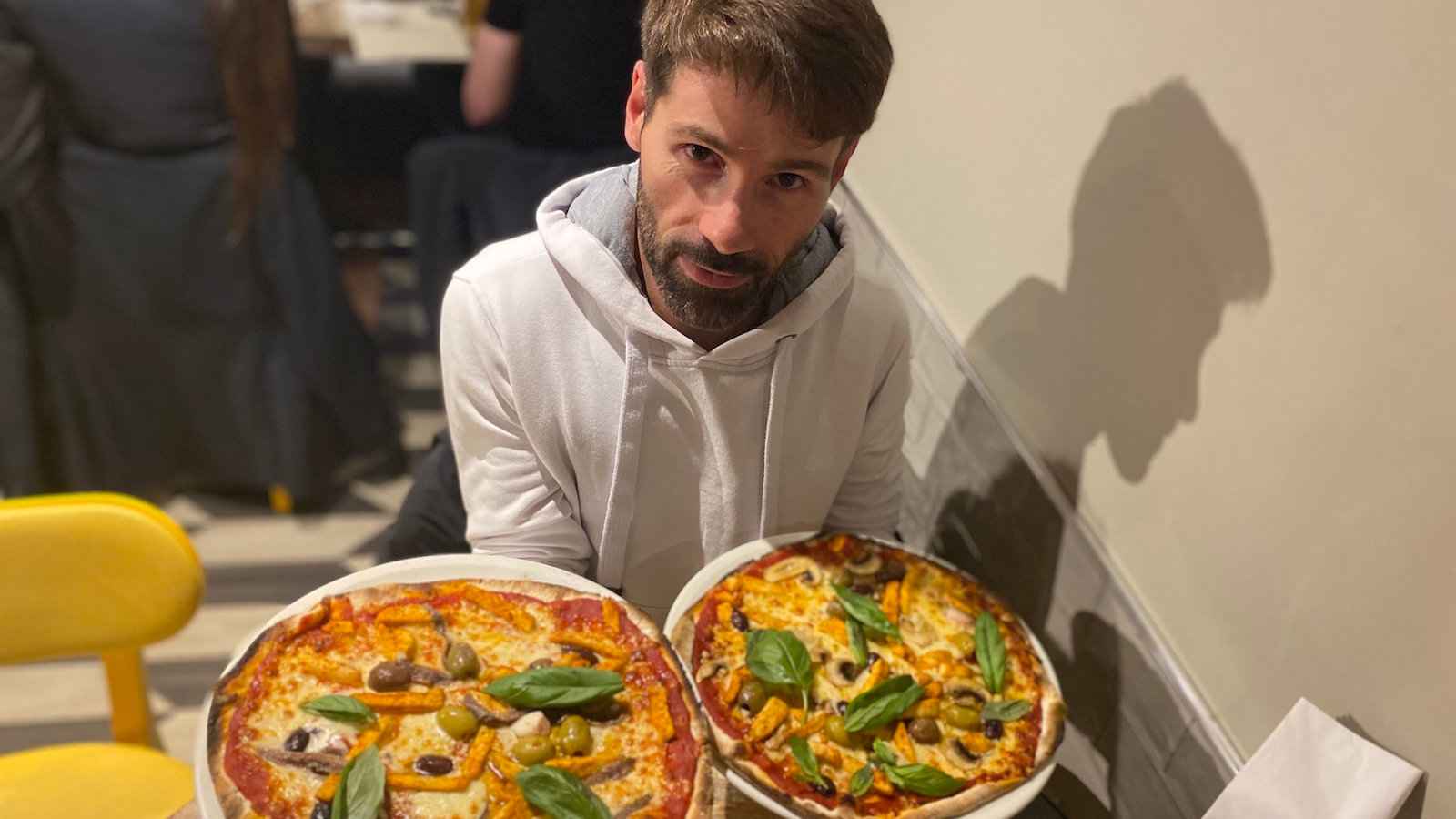 5. Stay in a luxurious cottage
You can stay in some fancy-schmancy hotel anywhere in the world. So, why not make the most of your island adventure and strip yourself back to basics? The Islay Cottages are four accommodation options scattered across the island, each one offering a unique experience. Two of them are located in Bowmore, the island's main village. This will give you the prime location of being next to the famous whisky distillery (which let's face it, will be one of the core reasons for your trip).
If you're looking for an extra bit of quiet, stay at either Kilchoman House or the Kilchoman Cottages, situated close to Machir Beach. Regardless of where you stay, you'll enjoy indulging in some much-needed refuge from the mundanity of everyday life. Rooms are decorated with a modern style yet have a unique homely quality to them that most hotels miss out on.
Do note that each of the cottages, except for Tarbert House in Bowmore, are self-catering. So, expect a hands-off approach from staff where you can enjoy your stay in peace. At Tarbert House, however, you can look forward to a massive continental breakfast that'll fill your stomach for the day. Make sure you also have a look at our guide to the best gay hotels in Scotland.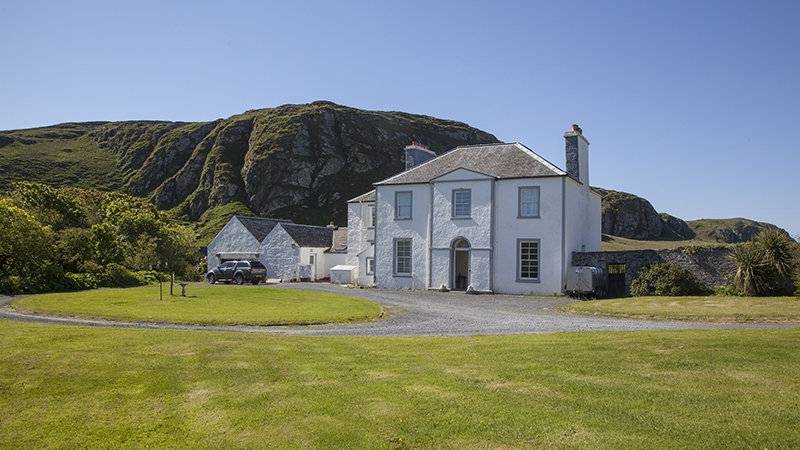 6. Finlaggan
Finlaggan is a historical site perched within a loch, inside of an island, off the coast of Scotland (that was a mouthful, wasn't it?). Located just over a mile north of the small town of Ballygrant, Finlaggan can be found on the biggest of three islands, Eilean Mòr. This is where you'll find Finlaggan Castle, a significant place for Scottish history.
It served as the inauguration place of the MacDonald Lords of the Isles. They were a family that descended from Somerled (a 12th-century prince) who fell in love with Finlaggan and decided to make it their home. It's why Islay is sometimes called "the Cradle of Clan Donald".
While the castle lies in ruins today, visiting it is worth it. Walking around the crumbled fortified walls, you can still get a sense of what life back in the 12th-century must have been like. We pictured how it must have felt waking up in the castle every day and looking out onto the quietly brooding waters of the loch. To get there, pop up to the Finlaggan Visitor Centre, where you'll learn more about the island and have a chance to visit via a bridge. The scenery here is pretty unique – also a wet dream for bird watchers.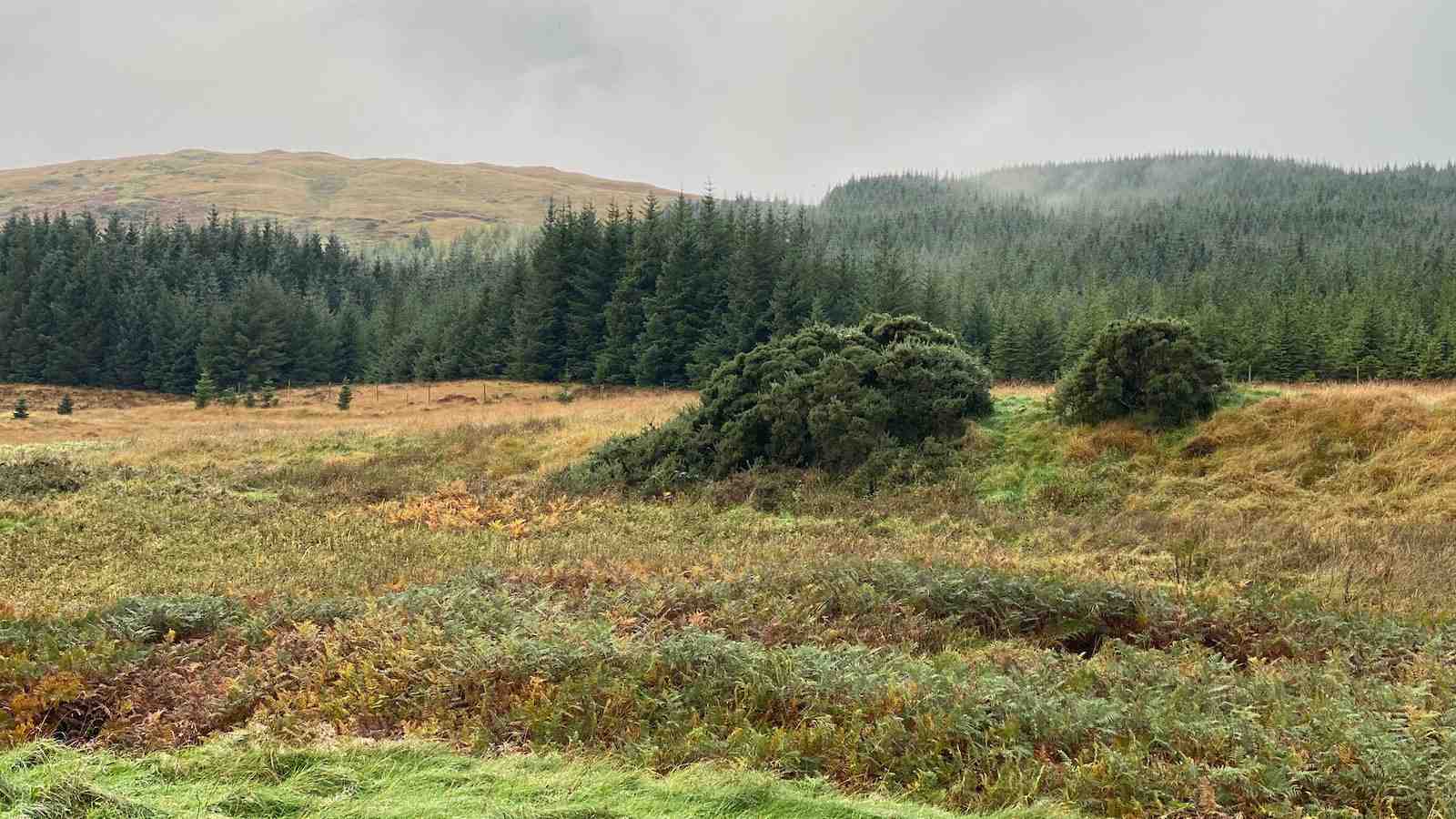 7. Dunyvaig Castle
Safe to say, we won't be seeing this castle in a Disney movie any time soon… Precariously dangling off the Lagavulin Bay upon an Iron Age fort, sits the ruins of Dunyvaig Castle. The castle has had quite the life since its foundation in the 12th-century. Not only was it once used as a naval base by the Lord of the Isles, but it has also been used as an anchorage for ships, was owned by several clans (namely the MacDonalds, the Macleans, and the Campbells), and now… it offers a pretty cool photo opportunity!
Over the years, the property switched owners more times than a loft in Manhattan. Except in this instance, it wasn't to do with the headache of New York real estate… but rather, the nightmare of your home coming under attack by resentful clans. Those castle walls have witnessed squabbles between families over inheriting the building, hostages captured to wrangle ownership rights over to competitive clans, and outright murder. It was like the Scottish version of Dynasty.
Sadly, most of the castle today lies in ruins. A small section of the tower still stands, plus the walls that once surrounded a courtyard, but not much else.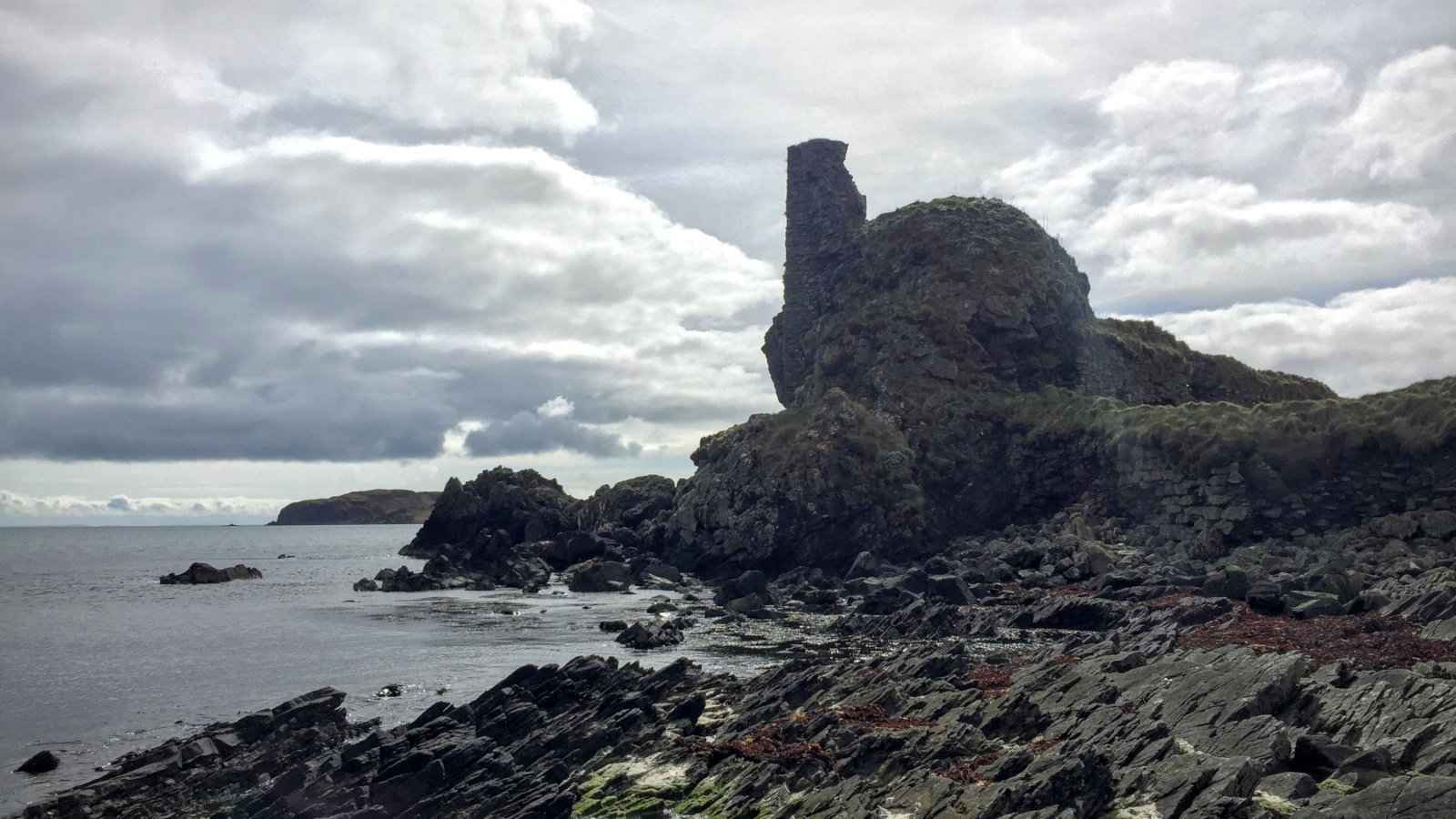 8. The Museum of Islay Life
Part geology museum. Part photo exhibition. Part shrine to vintage fashion. Part library. The Museum of Islay Life is quite the versatile place… and we love all things versatile! The museum was established in the 1970s to show visitors what living in Islay has been like over the past 12,000 years. And girl, has life transformed!
A stroll through the museum feels like a stroll through time. We came across old books, tea sets, clothes from bygone eras, lifestyle artefacts, pieces found during archaeological excavations, tools that would have been used by local distillery workers, handwritten letters, and photographs that date back as far as the 1880s. They also had a live room display that gives visitors a taste of what a typical 19th-century household looked like.
In total, the museum features over 3,000 objects and several thousand photos. The owners work hard to ensure the displays look fresh by regularly changing over what's on show and setting up themed exhibitions (such as shipwrecks or childhood). There is no better place for someone to know how it feels to live on Islay. In fact, the only better way to know… would be to move there!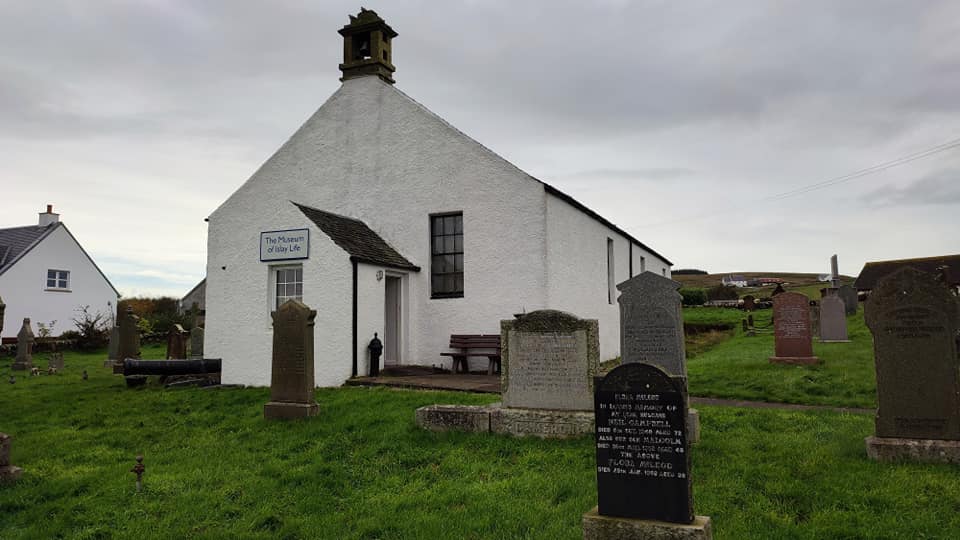 9. Explore Bowmore
If you love whisky, then you'll already have the world-famous Bowmore Distillery on your list. But whilst you're in the town, you should definitely also check out what the rest of the gorgeous Islay capital has to offer. There is a church, constructed in a unique round shape to fend off wicked spirits from entering (though Seby and I still managed to slip in!) Even if you aren't religious, it's a nice place to swing by and explore, maybe grab a few photos, all while appreciating the fascinating architectural marvel.
There are also several shops, including the Celtic House, where visitors can pick up souvenirs and gifts to remember their trip. Food wise, we'd recommend the awesome Peatzeria (see above) as well as the cozy Lynnlabels café. Though for a true taste of Scotland, the Harbour Inn serves up fresh Islay seafood and locally sourced beef dishes. It also boasts an extensive whisky selection, all from the several distilleries dotted across the island.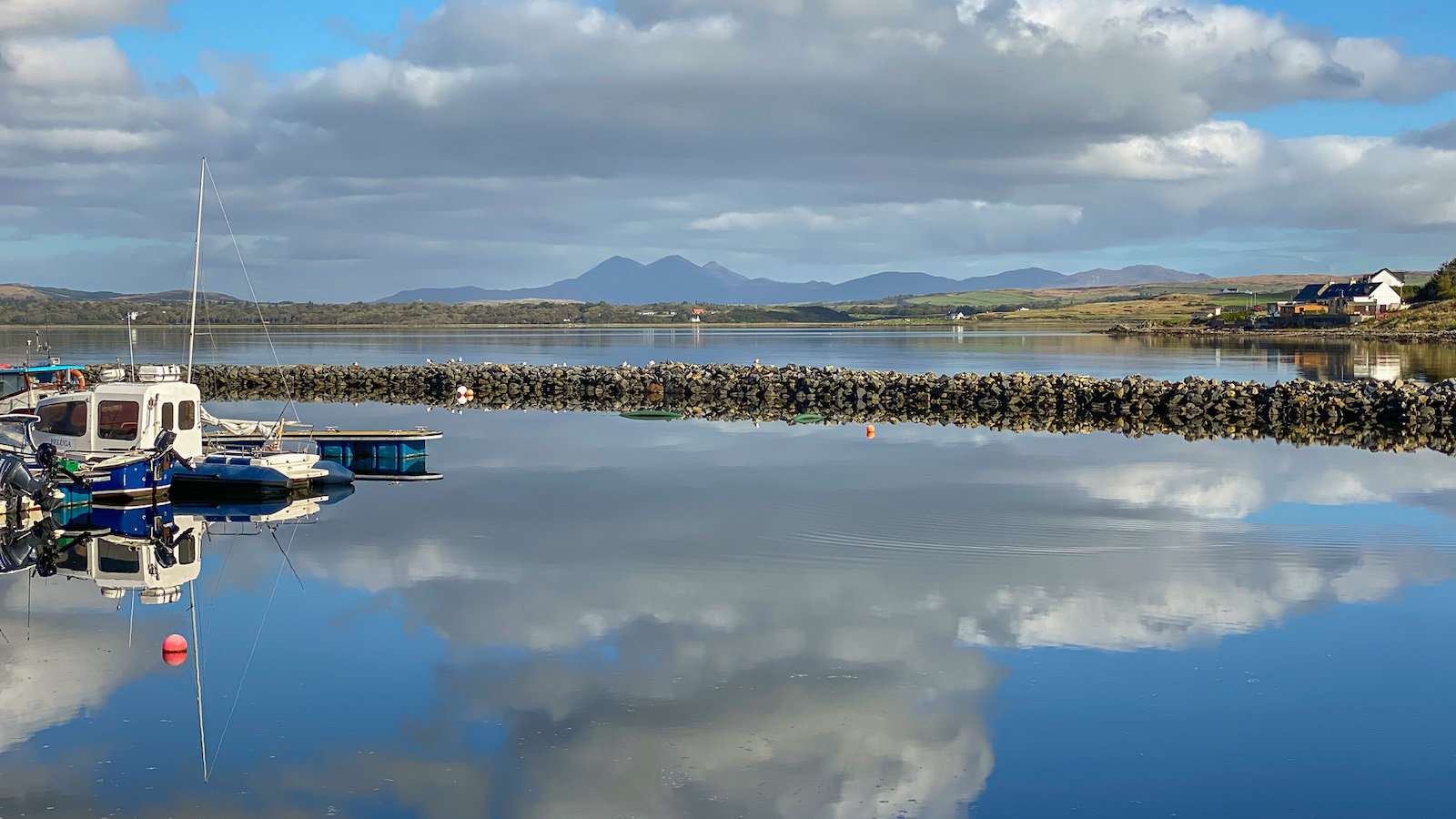 10. Portnahaven
Whistling winds blowing through the trees, brightly colored cottages dotted across the rolling fields, and a traditional pub to nip into and enjoy a strong whisky, Portnahaven is exactly how we imagined life in a remote Scottish village to be like. The locals are immensely proud of their wee town. Seby and I found them super approachable when asking for directions or recommendations for things to see and do.
The town's pub, An Tigh Seinnse, may seem quiet at first. But we prefer to say easy-going. It's the kind of place people go to after a long day at work to savor a much-deserved drink. All in all, it's a great place to visit and experience how the rural Scots like to unwind. Out on the town's harbor you'll receive a perfect vantage point for spying on the grey seals who lap and dance in the waters. They couldn't be more adorable if they tried!
A 30-minute drive down the coast will take you to the Frenchman's Rocks – which very much intrigued French Seby. Sadly, no gorgeous French specimen to be seen (apart from him), but the dramatic sight of the formation of stacks sure made up for it.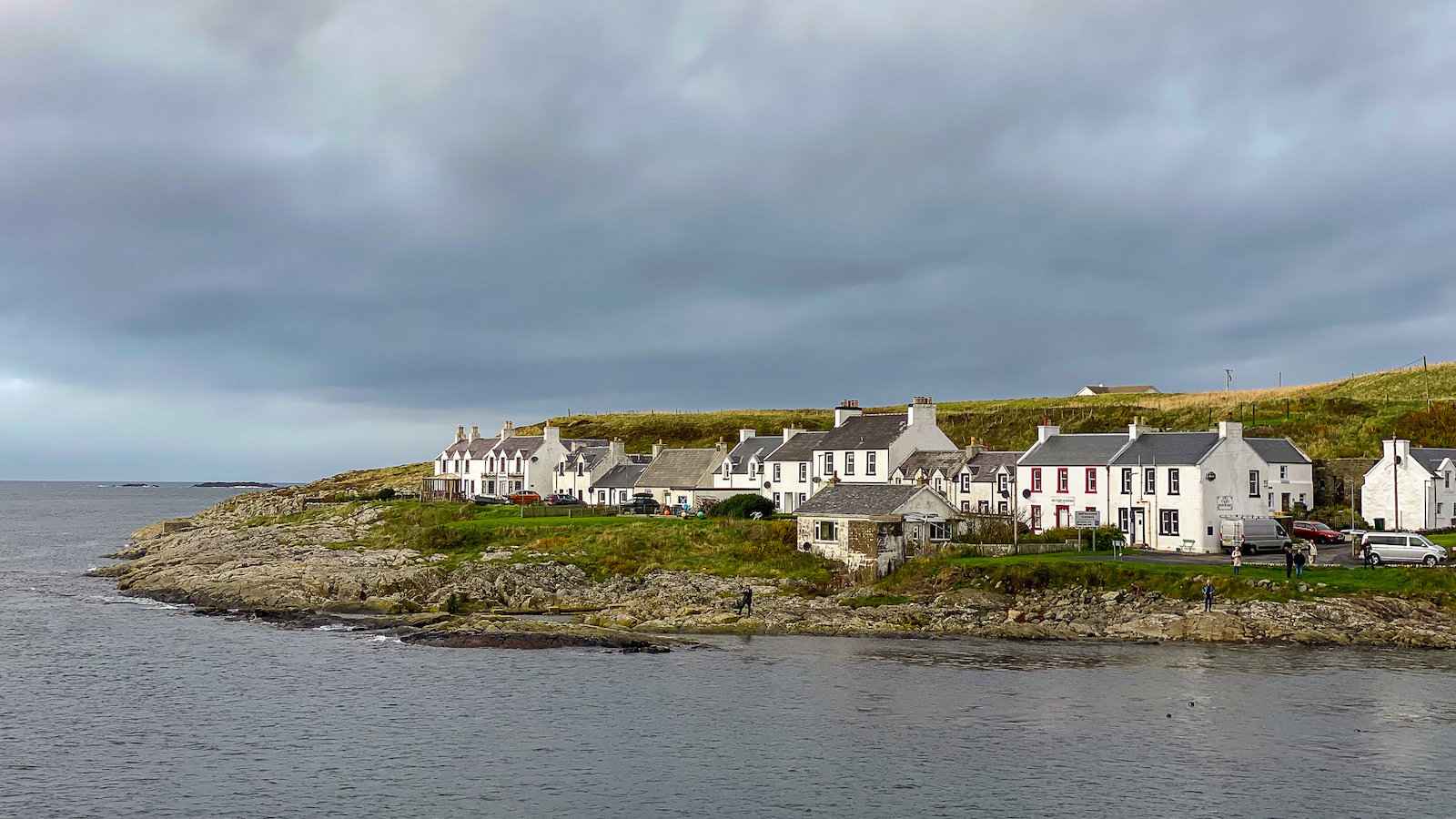 ---
Like this post? Pin it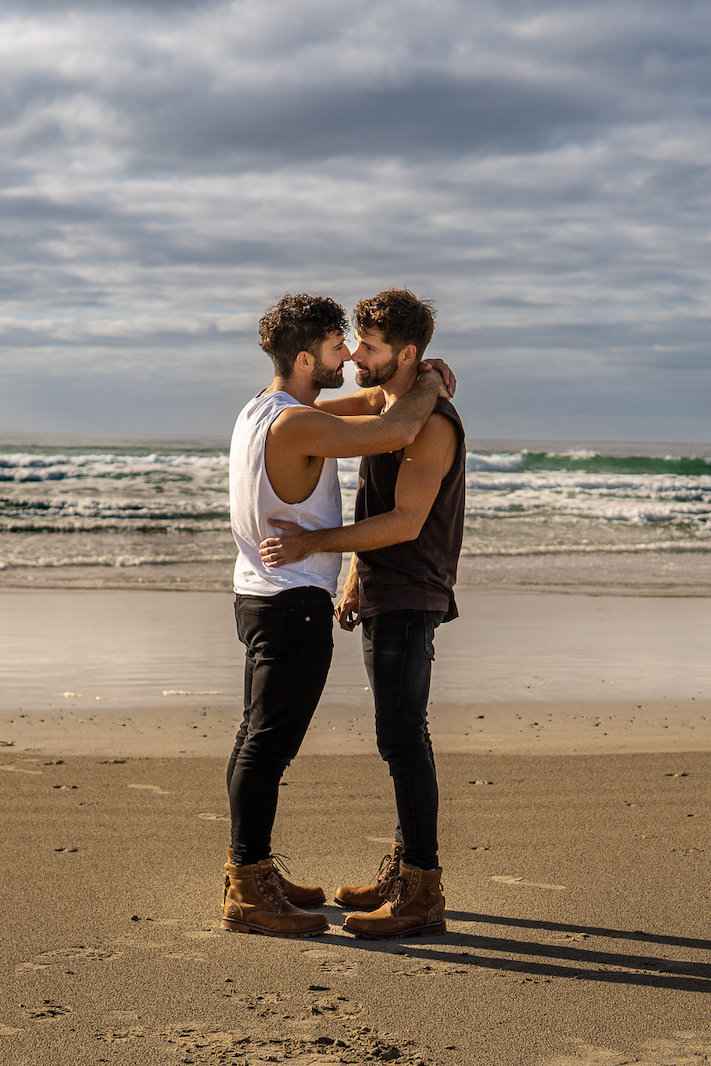 DON'T MISS OUT!
Join our newsletter
Subscribe now to receive in-depth FREE travel guides, along with inspiring stories, savvy planning tips, and exclusive discounts on gay tours.