Obtaining our visas: final planning hurdle accomplished!
Our ideal plan is to just follow our stomachs through Asia. Then, if the budget allows it, to work our way through to Australia and New Zealand.
We will be entering Asia via the Trans Siberian railway through Russia, Mongolia and China (spending at least a month in each). After China we want to visit Nepal then etc. The "etc" part is yet to be fleshed out and we have no intention of doing so until we get there. But we have had to plan in quite some detail this first leg of our trip for the sake of getting the visas, in particularly for China.
Mongolia Visa: easy
Obtaining visas for countries like Mongolia is relatively straightforward. Mongolia does not (yet) offer Visa on Arrival for us (France/UK) and you have to apply beforehand for the visa at the Embassy.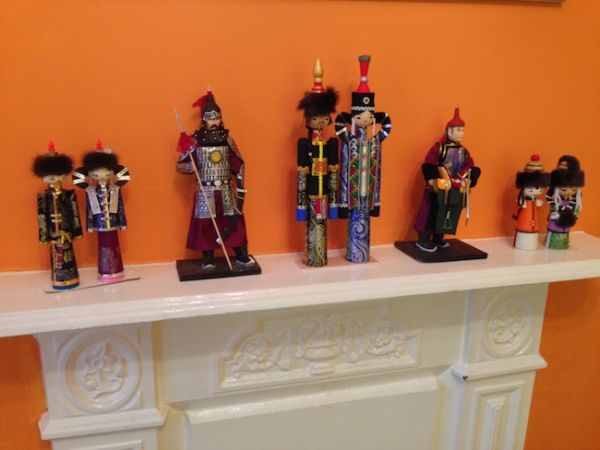 The application process is standard and simple enough. You go to the Embassy with your passport and mug shot, fill out a form and after four days, voila: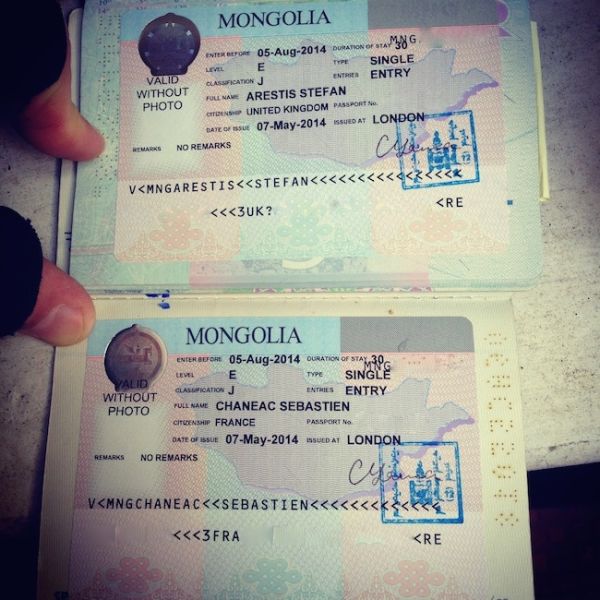 Russian Visa: medium hard
The Russian visa application requires the standard application form/photo. But on top of this, the Russians want you to provide an invitation letter (or "tourist voucher"). In practice this involved paying an authorised agency like Real Russia a nominal fee of around £15 and a piece of paper with lots of cyrillic writing is emailed to you.
Unfortunately if you are French, you also need to produce:
insurance policy

utility bill (no more than x3 months old)

x3 recent bank statements (certified by the bank as they were printed online)

flight details of a round trip to and from UK
This is where we started to get to grips with refundable flights. Providing details of a round trip back to the UK is obviously impossible. Therefore, booking temporary refundable but expensive flights was the only way to get around this.
We found the best airline for refundable flights for Russia to be Air Baltic.
We have since discovered an excellent tour company who for a nominal fee can help you book a valid flight reservation.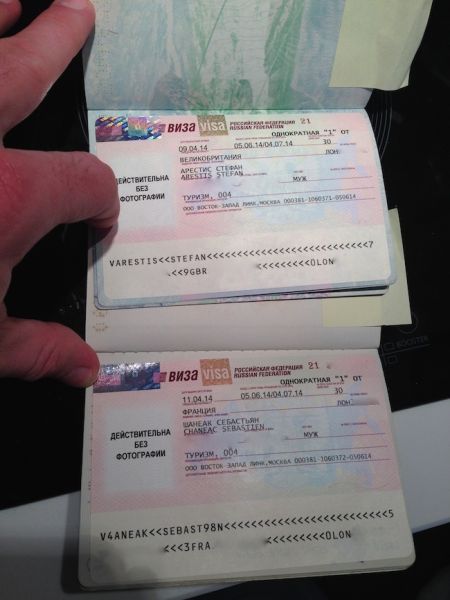 Chinese Visa: hard
The Chinese Visa was the hardest because along with the usual application form, they also want you to provide:
details of a round trip to and from the UK

a detailed itinerary showing what you are doing every day you are there, with full details and confirmations of where you are staying each night and details of internal travel.
Phew!
We found Lufthansa the best option for refundable flights because they refund the full amount and don't deduct an admin fee or impose other charges as other airlines do for their refundable flights.
For the itinerary we just fleshed out our Chinese trip so we at least have a vague idea and used websites like Agoda or Booking.com to obtain printouts of the booking.
We found Agoda and Booking.com the best for booking fake accommodations because unlike Hostelworld, you are not charged anything when you cancel it after the visa is obtained.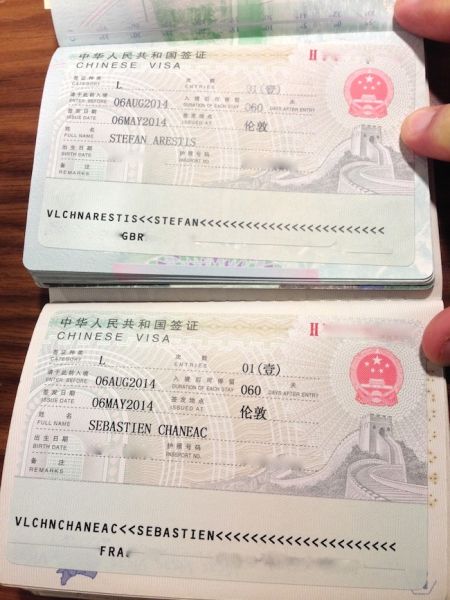 OUR FAVOURITE TRAVEL TIPS
⭐️ TRAVEL INSURANCE — We recommend you always take out travel insurance before your next vacation. What happens if you suffer from illness, injury, theft or a cancellation? With travel insurance, you can have peace of mind and not worry. We love World Nomads travel insurance and have been using it for years. Their comprehensive coverage is second to none and their online claims process is very user friendly.
⭐️ SAFETY & SECURITY — All travelers can sometimes encounter danger when traveling. CloseCircle is your "virtual body guard" mobile app which provides security alerts and support wherever you are in the world. They have a 24/7 emergency response team monitoring their users who will contact you immediately if the SOS swipe button is activated. Support can include anything from practical advice, to free evacuation from areas with extreme weather or security risks. You can read more about CloseCircle in our article about how to stay safe whilst traveling.
⭐️ ONLINE ANONYMITY — A VPN (Virtual Private Network) is a must in many countries: it allows you to surf anonymously and maintain your privacy whilst traveling. You'll particularly need it in countries where dating apps are blocked by the government. We recommend ExpressVPN, a reliable and cost effective service which we used and loved during our travels.
⭐️ HOTELS or APARTMENTS — When we plan a trip, we always look for the best hotel deals. We love Booking.com because not only do they have a comprehensive listing of accommodation options, they also offer the best prices. Added bonus: they provide 24/7 support and free cancellation for most listings.
⭐️ SIGHTSEEING and ADVENTURES — When we travel somewhere, we like to seek out the best experiences, whether it is cooking with locals in Bangkok, hiking on a glacier in Patagonia, or going on a wildlife safari in Sri Lanka. Our favorite place to look is GetYourGuide because they have over 30,000 highly rated activities, a user-friendly booking process with free cancellation and a 24 hour customer support.
This article contains affiliate links. If you click on them, we may receive compensation which keeps our website alive and helps us bring you to more destinations.