Step into Sydney's sizzling drag scene where sequins sparkle louder than the city lights, and the queens reign supreme over the harbor city's nightlife!
On our Sydney trip, we dove straight into the gay scene around Oxford Street where the only thing sharper than the contour lines is the wit of the queens!
In a city where even the seagulls have perfected the art of a well-executed death drop, choosing the best drag shows is like picking your favorite child – impossible, but you secretly have one. So, grab your sequined cape, because Seby and I are about to guide you through the rhinestone-studded labyrinth of performances that had us clapping so hard, we almost spilled our cosmos!
From dazzling queens that could outshine the Sydney Opera House to performances so fierce they could make a kangaroo blush, we've left no rhinestone unturned in our quest to tell you about the best drag shows in Sydney…it's also why we rate Sydney as one of the most gay friendly cities in the world. So buckle up, darlings as we take you on a journey more extravagant than a drag queen's wardrobe…
Heads up: We just wanted to let you know that this post contains affiliate links. That means if you book something through one of those links, we'll get a small commission, at no extra cost to you. It helps us keep our blog going – so thank you in advance for your support! ♥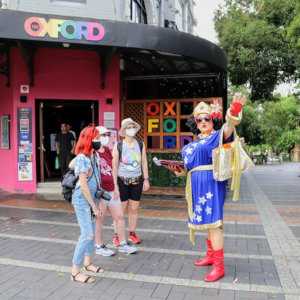 Explore Sydney's gay neighborhood with a drag queen!
Embark on a fabulous journey through Sydney's LGBTQ+ scene with the extraordinary Wonder Mama as your guide! Join this phenomenal drag queen on a tour that unveils the best gay shops, bars, and cafés, all while she regales you with captivating stories of Sydney's LGBTQ+ history.
Much like its namesake in New York City, Sydney's Stonewall Hotel is one of THE best places to go for drag shows in Sydney. Some of the fiercest, most talented queens in the Southern Hemisphere can be found sashaying and strutting their stuff on the stage every night of the week. Be sure to look out for the Glitter King himself – KevinInTheCity who not only hosts most of the shows but also stars in them!
As for parties, Stonewall knows how to throw a bash that'll leave you gagging for more. They host various themed parties and events, from retro dance nights to glittering extravaganzas. We also love that they host Trans Glamore on the first Thursday of each month, to celebrate trans performers.
Keep an eye on the Stonewall event calendar for the latest info on all their events.
The Stonewall Hotel (yes, Sydney calls most of its bars, "Hotels"!) is not just a gay bar, it's a living, breathing cherished institution for Sydney's LGBTQ community. From the moment we stepped inside we felt like we were wrapped in a warm, familiar, and super fabulous embrace.
Oh, and did we mention that there are FOUR different bar spaces to check out? Check out the drag queens and GoGo dancers in the main street-level bar. Dance the night away to the best DJs in the upstairs cocktail bar. Enjoy a sit-down cabaret theater performance in the Hello Darlings VIP bar. And if you're in the mood for a more laid-back vibe, the DIVA bar beckons.
Location: The Stonewall Hotel is located at 175 Oxford Street in Darlinghurst.
Opening hours: It's open every day of the week from 4 pm until at least 2 am, and until 4:30 am the next morning on Fridays and Saturdays.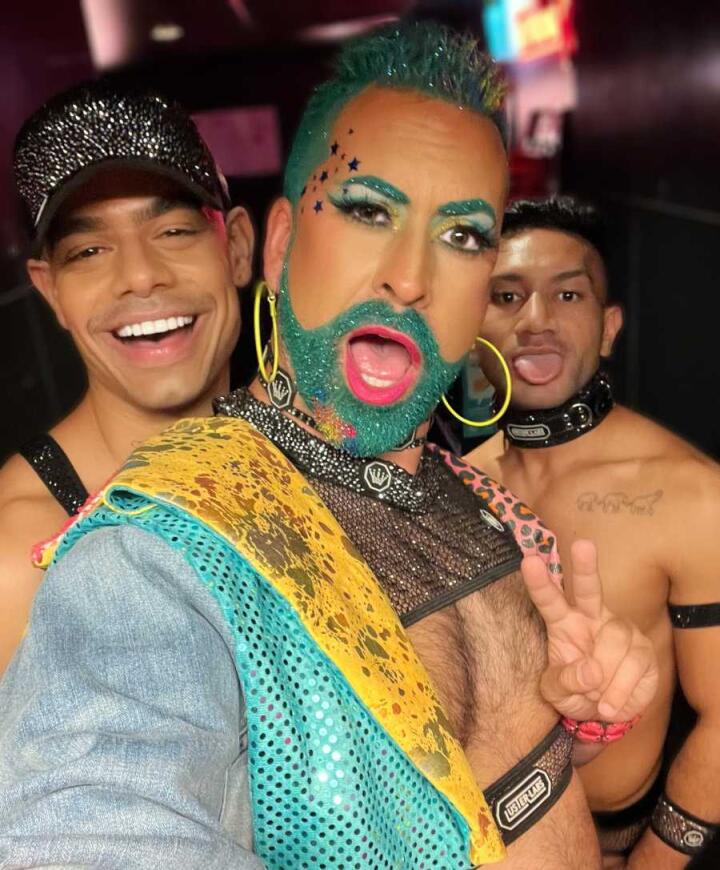 Universal is another Sydney hotspot that has electrifying drag shows that captivate audiences every night of the week. The performances are cutting-edge and visually stunning, sometimes more avant-garde, pushing the boundaries of creativity and fashion.
We came here on a Tuesday evening for Glamour Feud, a high-fashion family face-off. The stage came alive with the charisma, uniqueness, nerve, and talent of Sydney's drag royalty! On Wednesdays, they have the Slay to Stay drag competition where competitors battle it out for a 10 grand prize. Other nights to look out for at Universal include Mirage, Bone-Her, Unique, and Glamourise. Head over to their website and keep an eye on the Universal WhatsOn calendar for the latest info.
As well as the awesome drag shows, Universal is also a top nightclub venue later in the evening with some epic parties on Friday and Saturday nights. And for gaymers, you'll want to head here on a Monday night for their Glitch night.
Whether you're a seasoned drag enthusiast or a first-time spectator, Universal offers an unforgettable night out. No seriously, the drinks are strong, we came during Happy Hour and the piercing hangover the following day made it a night we'd not forget in a hurry!
Location: Universal is located at 85-91 Oxford Street in Darlinghurst.
Opening hours: It's open every day from 5 pm while closing times vary between 2 am to 7 am the next day!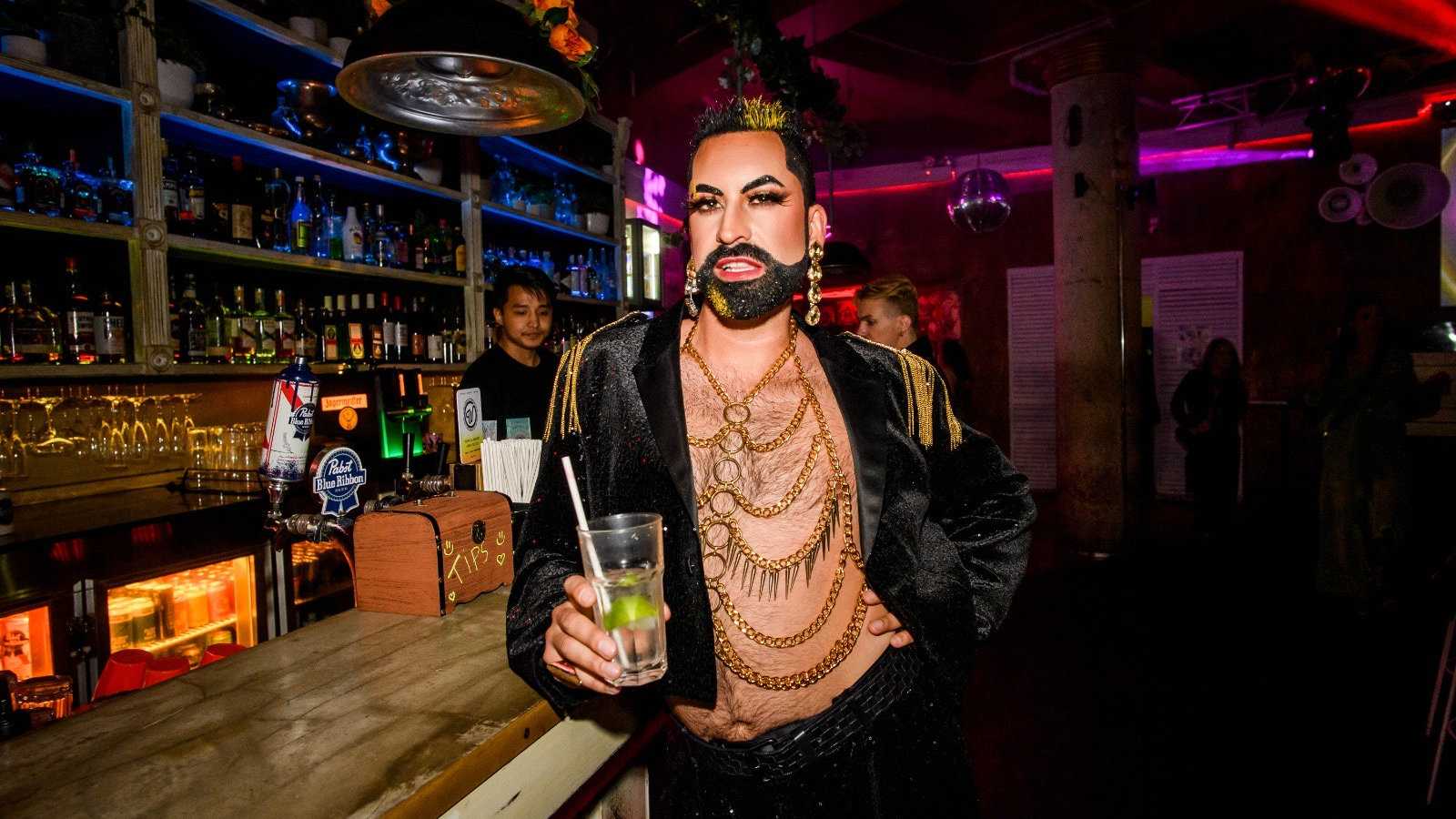 The Imperial Erskineville, or "The Impy" as she's affectionately known to Sydneysiders, is a proper Aussie pub where you can get a meal whilst also catching a spectacular drag show.
The Drag N'Dine show is THE best way to start the weekend! First timers, you'll want to order the Aussie classic, chicken parmi, with your meal (it's a chicken parmigiana, similar to a schnitzel and a very popular dish to try in Sydney!).
The Impy is also the home of The Priscilla Experience, which is fitting as this is the hotel that famously appeared in the opening and closing scenes of one of our favorite gay movies – The Adventures of Priscilla, Queen of the Desert. Of course, she's had quite the facelift since Hugo Weaving and Guy Pearce were sashaying across her stage, but you can still see performers doing some of the iconic numbers from the film (and musical) as well as more modern numbers that serve as a tribute to the original story.
As part of your Priscilla pilgrimage, we also recommend checking out their rooftop bar area (the pizzas are scrumptious) and then later in the evening to The Basement, where they host a range of drag performance art, live music, and other special events.
Location: The Imperial Erskineville is located at 35 Erskineville Road in Erskineville, right in the center of a triangle made by the train stations of Erskineville, Newtown, and Macdonaldtown. It takes about ten minutes to get there by train or Uber from the Sydney CBD.
Opening hours: The Impy is open Wednesday – Friday from 4 pm until midnight (until 3 am on Fridays) and on weekends from midday until 4 am on Saturday and midnight on Sunday.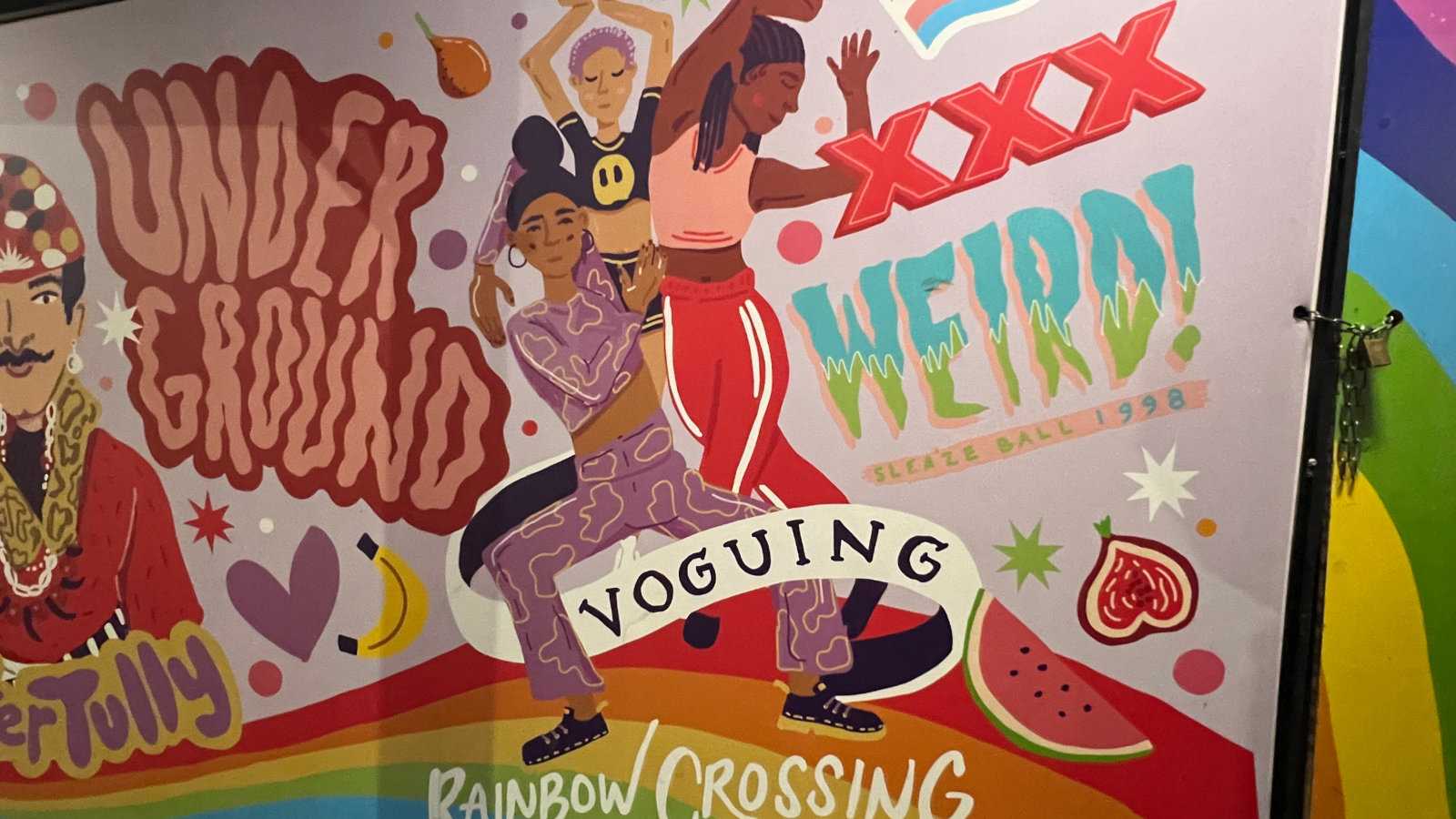 Arq is a gay club located right in the heart of Sydney's gay neighborhood in Darlinghurst. It's open on Friday, Saturday, and Sunday nights. However, we recommend heading here on Saturdays because that's when they host one of our favorite gay Sydney parties: the legendary POOF DOOF!
And what a name! If you didn't know, Aussies use the words 'doof doof' when talking about loud electronic music with a heavy bass drum (it sounds a bit like doof doof doof doof doof if you hear it from a distance) so we love POOF DOOF's clever play on that while also taking back the homophobic slur of 'poof'.
POOF DOOF is a club organizer that operates in both Melbourne and Sydney, with their Sydney nights featuring musical bangers, drag queens, and GoGo dancers until the wee hours of the next morning.
There are two main rooms to enjoy here. In the main room, DJs pump out dance music while in the side room, you'll find me bopping along to Britney and Spice Girls tracks as Snap Crackle Pop serves up the best pop music!
Both of these areas at Poof Doof also host regular drag shows with famous local drag acts like Coco Jumbo.
During Mardi Gras in February/March, POOF DOOF is on fire! No seriously, it hosts some of the festival's main parties including Drag Brunch, the Parade After Party, Long Luncheon, the Big Gay Boat Party, Snack Crackle Pop XXL, and the ARQ Underwear Party.
Location: POOF DOOF is held at Arq, which is located at 16 Flinders Street in Darlinghurst.
Opening hours: POOF DOOF parties usually run from 9 pm on Saturday until 6:30 am the next morning.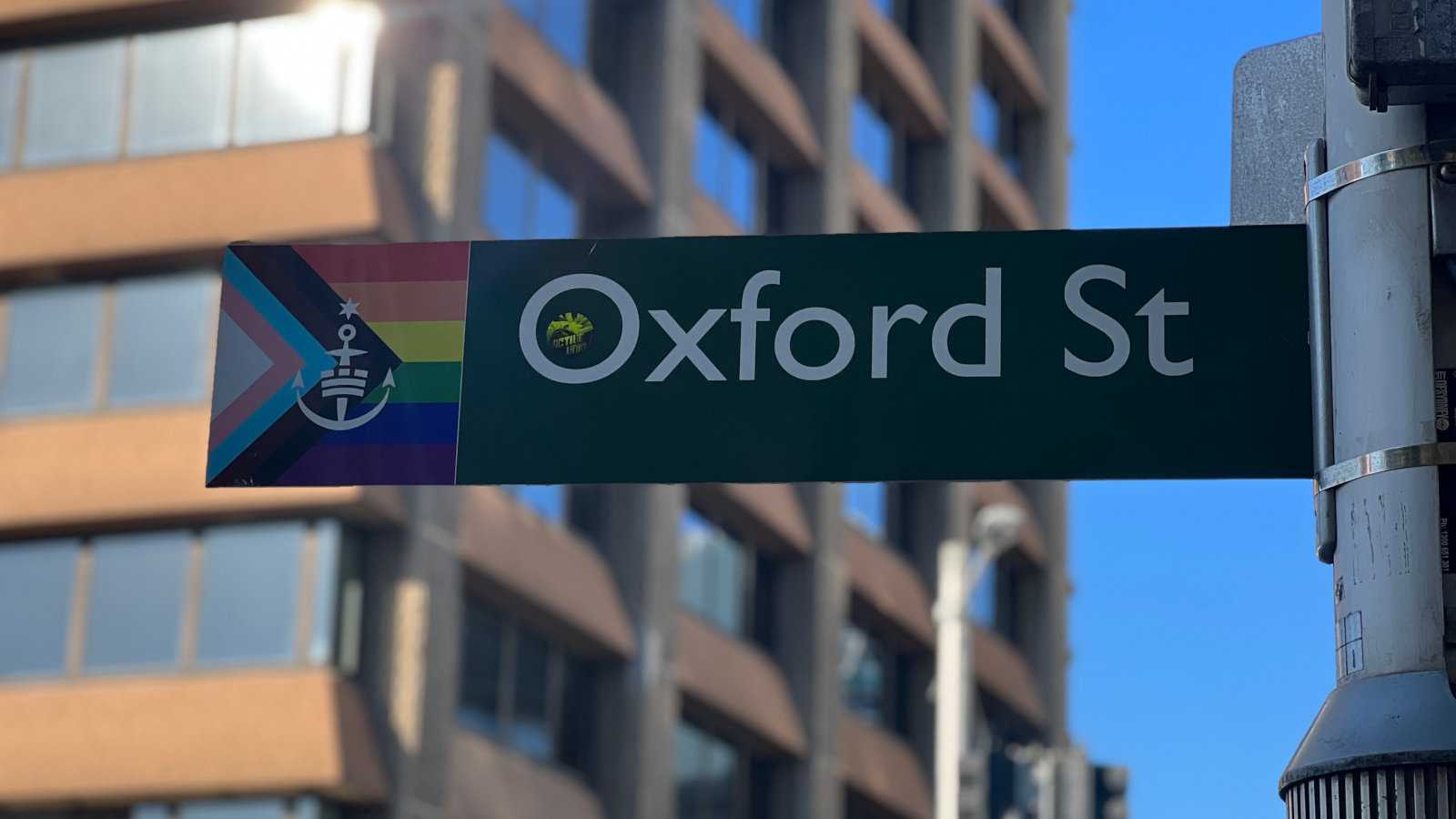 In our humble opinion? The best gay night out in Sydney with top drag shows to boot!
We love Beresford Sunday. It starts in the afternoon and goes on till the early hours. It also has some of the fiercest drag queens in the country. The drag artists who grace the stage here are not just entertainers, they are veritable maestros of transformation, using makeup, costumes, and charisma to transcend conventional boundaries of gender and identity. It is a celebration of diversity and individuality!
Also known as Bero (Australians live by the motto of 'Why use a full word when you can shorten it?'), the Beresford Hotel is located in Surry Hills. For us, it felt like everyone we knew in gay Sydney was here. There was zero attitude, great chats, groovy beats. We had a late lunch inside and then headed to the outdoor area to hang out. Upstairs is the dance area where the drag performers take the stage.
During Sydney Mardi Gras, the Beresford hosts one of the most popular events of the entire festival that sells out quickly: Laneway. It usually takes place on the Sunday following the main Saturday parade. Tickets for it usually go on sale in the preceding November. Keep an eye on the Sydney Mardi Gras website for the latest info.
Location: The Beresford Hotel is located at 354 Bourke Street in Surry Hills.
Opening hours: Beresford Sundays are held on Sundays (duh!) from midday until late.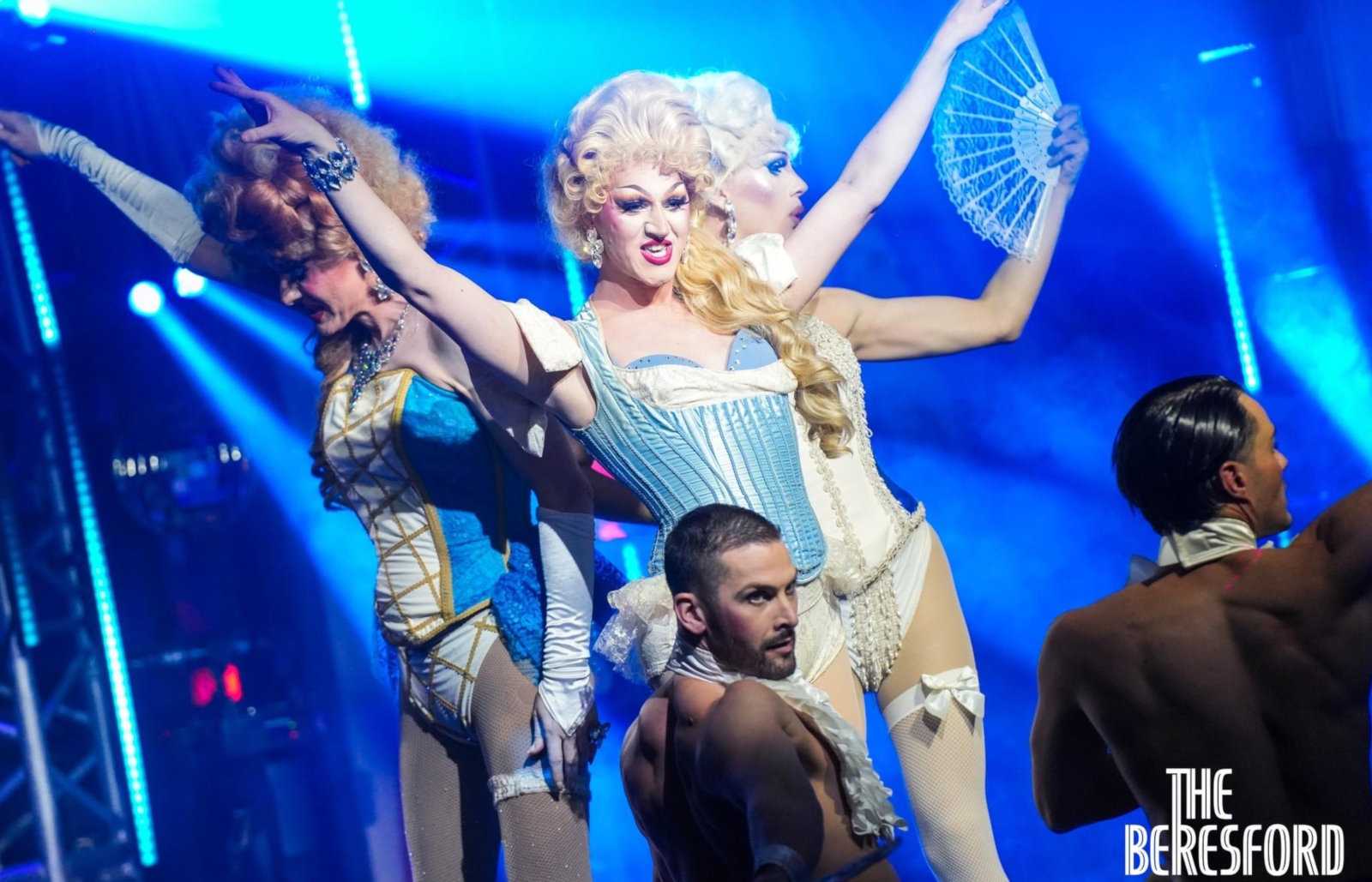 Just to make life difficult, there's another amazing Sunday gay drag event to experience in Sydney and that's the Spritz or Swallow bottomless brunch and drag show. Hosted by legendary drag queen Mynx Moscato, with a special guest every week, this is one of our favorite places to enjoy a delicious brunch along with some sassy entertainment.
Spritz or Swallow (another pun-tastic name we love!) takes place on the rooftop terrace of the Burdekin Hotel, which means you'll also be able to enjoy gorgeous views over Sydney. However, you'll likely be mesmerized by the hilarious drag queens and only have time to enjoy that view before and after the show starts. If it rains they relocate inside to the gorgeous Lava Lounge room.
As well as a tasty two-course food menu (that can be vegan or gluten-free), this is a boozy brunch, with bottomless Bellinis, Spritz, and Bubbles for the two hours that the event takes place. So, no need to worry about fitting everything into one day, you can start at Spritz or Swallow and then head over to Beresford Sundays afterward for a truly spectacular day of drag, dance, and fun!
Location: Spritz or Swallow takes place on the Burdekin Rooftop at the Burdekin Hotel which is located at 2 Oxford Street in Darlinghurst.
Opening hours: Spritz or Swallow takes place on Sundays from 1-3 pm.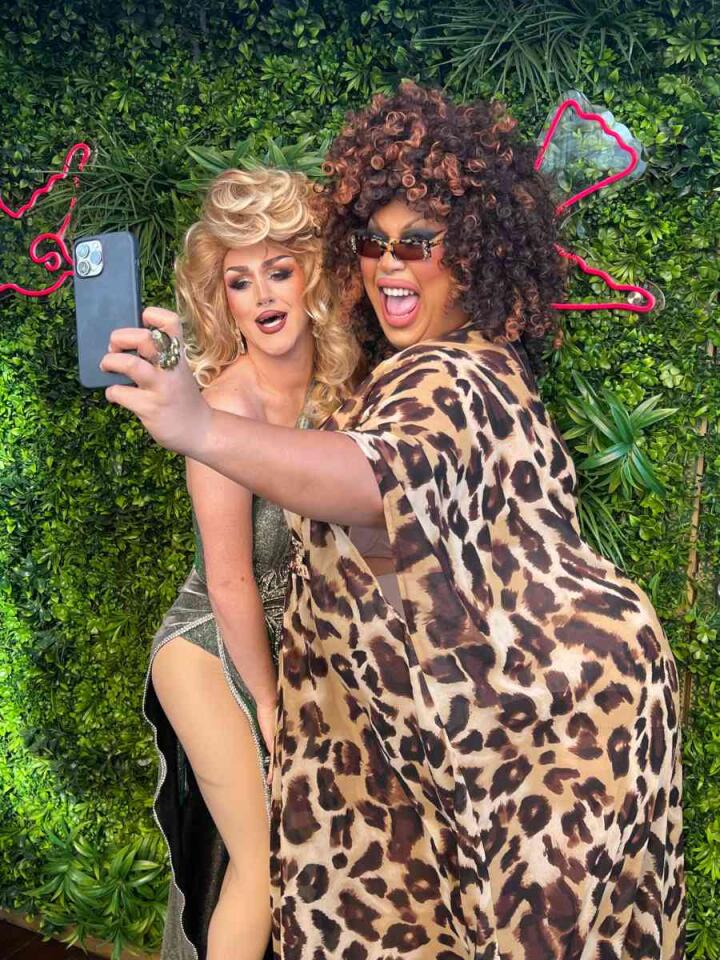 Oxford Street is the heart of Darlinghurst's gay scene. It is also one of the most iconic gay bars on the Sydney gay scene not least because it's named after the street itself! It's been going strong for over 100 years and is a fun place to hang out any night of the week – although the weekends are particularly good for drag shows.
On Friday nights you can catch two performances of The Fatty and Skinny Show, featuring the hilarious Maxi Shield and Jacqui St. Hyde. Then there's Slayer Saturdays where at least five different (and fabulous) drag queens perform all night long! And on Sundays, you can enjoy a laid-back and dreamy 'Absolut Wonderland' from 5:30-7:30 pm.
The Oxford Hotel is an amazing venue too, with a restaurant and terrace in the main bar area along with the Polo Lounge, Ginger's, and Oxford Underground – a cool basement nightclub with a rainbow unicorn on the wall!
Along with the weekend drag performances, you can also head down on a Tuesday night for some drag bingo, Wednesday for a drag trivia night, and Thursday for "Drag Against Humanity", so there's never any shortage of fun to be had.
Location: The Oxford Hotel is located at 134 Oxford Street in Darlinghurst.
Opening hours: It's open daily from 10 am until 4 am (until 6 am on Friday and Saturday nights).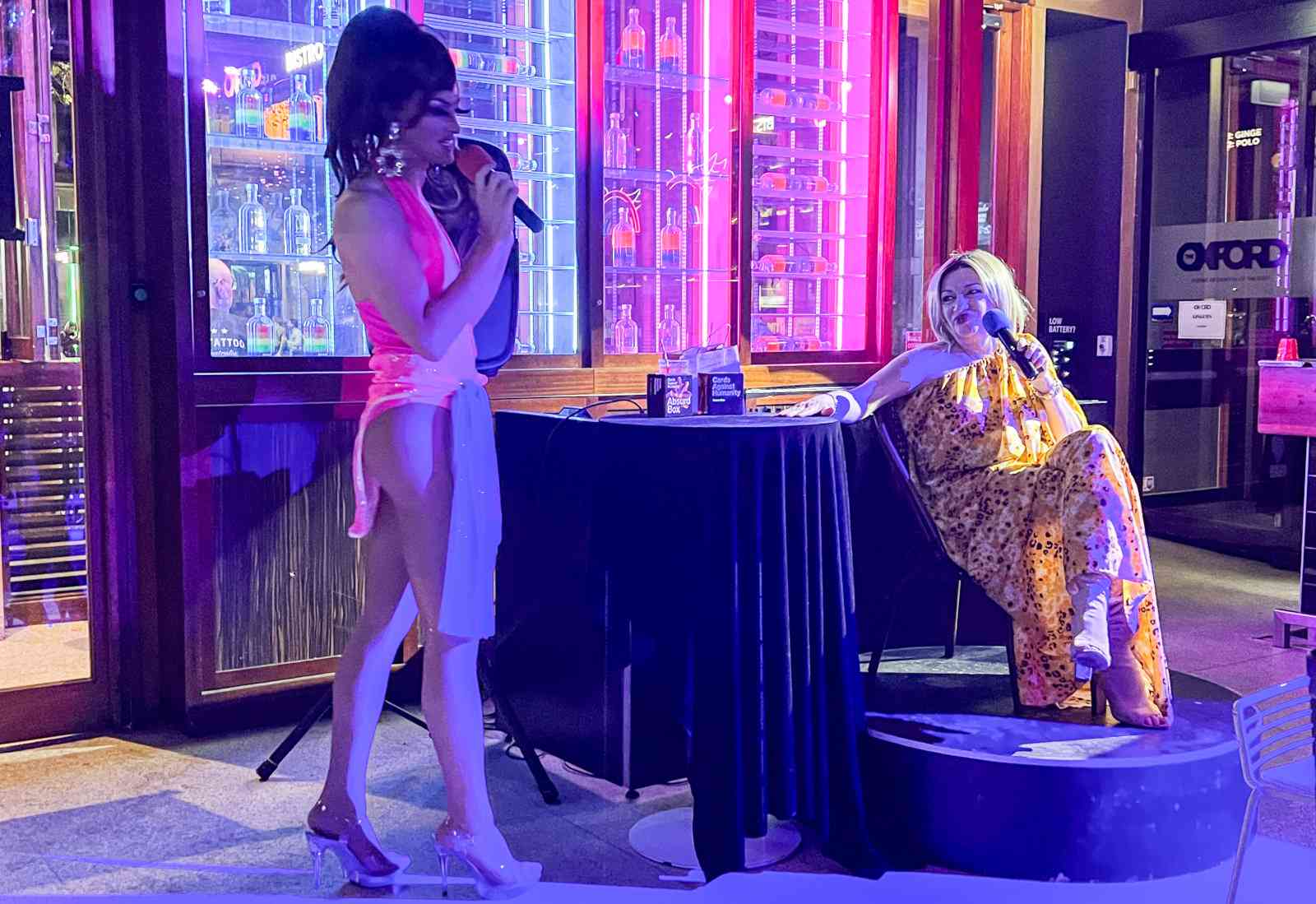 Located not far from the Erskinevill Hotel, the Newtown Hotel is another excellent Aussie pub that turns gay on the weekends when the showgirls of Newtown hit the stage. Friday and Saturday are the main drag nights. On Thursdays, they dedicate the evening to transgender performers, including a special trans talent night every 3rd Thursday of the month.
The Newtown has had a tumultuous past, it used to be a completely gay bar before shutting down, then reopening as a 'mixed' hotel. Luckily, the legendary drag shows returning have once again made it a gay staple for queer locals in Newtown, or visitors like us who want to experience everything Sydney has to offer.
Many iconic Sydney queens have performed here including the gorgeous Mynx Moscato. The shows are always a great mix of bangers from the 80s and 90s or more modern fare, depending on who's performing. But you can bet the outfits will be glamorous and the dance moves will be on point!
Location: The Newtown Hotel is located at 174 Kings Street in Newtown, just up the road from the Newtown train station.
Opening hours: It's open daily from 10 am with closing times ranging from 10 pm on Sundays, 1 am Thursday – Saturday, and midnight Monday – Wednesday, but their drag events usually start around 8:30-9 pm on Friday or Saturday nights.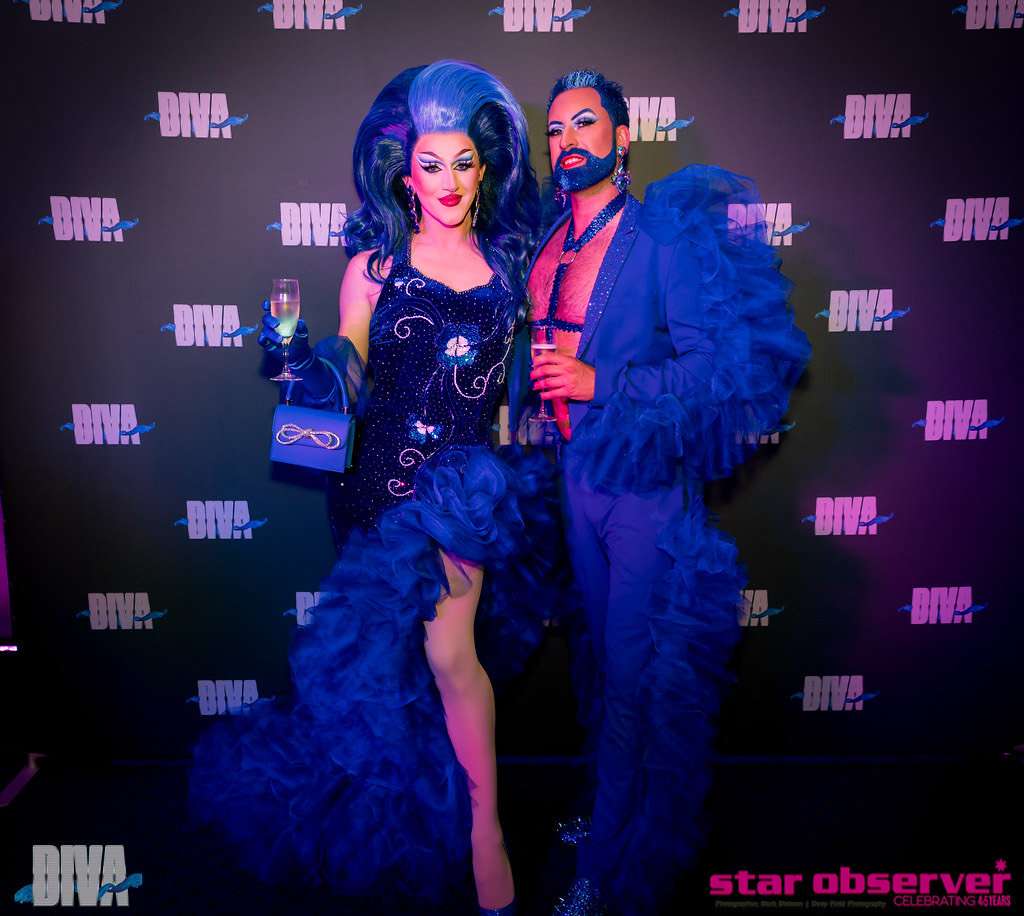 Another endearing quirk we've discovered about Aussies is their tendency to use the word heaps when they mean a lot or very! Something can be referred to as 'heaps good' or they'll say that there are 'heaps of drag shows to see'. The people behind Heaps Gay took that quirk and ran with it, organizing heaps of gay events in Sydney since 2013!
From warehouse parties to street festivals, drag shows and the best queer multi-disciplinary talent from Australia (and around the world) it's well worth seeing what Heaps Gay currently has in the works when you're in Sydney. Just as a small example, their tenth birthday celebration, a Wet Dreams party, is set to be held in the gorgeously scenic Fleet Steps in the Royal Botanic Gardens. This spot overlooks the harbour including the Sydney Opera House and Harbour Bridge.
Previous parties have even taken place up in the sky in Sydney Tower and Marrickville. They often go on tour as well, with parties held in Melbourne or as part of the Falls Festival in Victoria. If you're not so much into dance parties, keep an eye out for their 'Totes Gay' art parties or 'Teenage Dream – a night of diary readings and angst'!
Opening hours: Again, events might be during the day or at night, so seek out the info online!