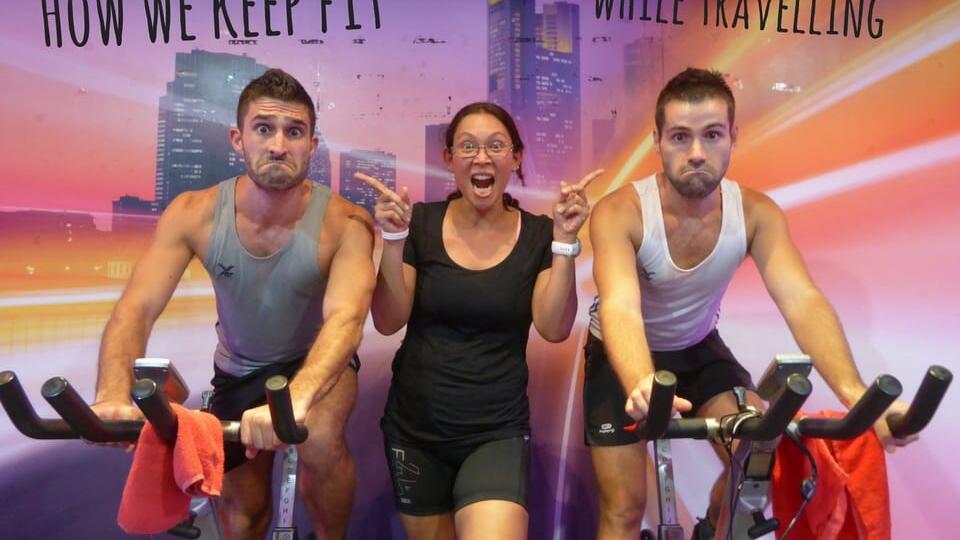 We love our food. A lot!
The first thing we do in each new destination we visit is set out to discover all the local flavours. The delicious cuisine of Japan and yummy curries of Sri Lanka are stand out favourites. Some cuisines are not only delicious but also quite heavy, like Russian food and those Argentinian steaks.
With all these new culinary discoveries everywhere we go, we have to keep an eye on the physique, otherwise the Nomadic Boys would quickly become the Nomadic Blobs!
Of course, we work hard to prevent this from happening.
So how do we keep fit when travelling?
The starting point is your mentality. This may sound obvious, but if you want to keep fit, then you're already half way there.
For us, fitness is super important. We prioritise it and make it part of our daily schedule. It not only does wonders for our self-esteem and confidence, but it also allows us to pull off those vain speedo shots…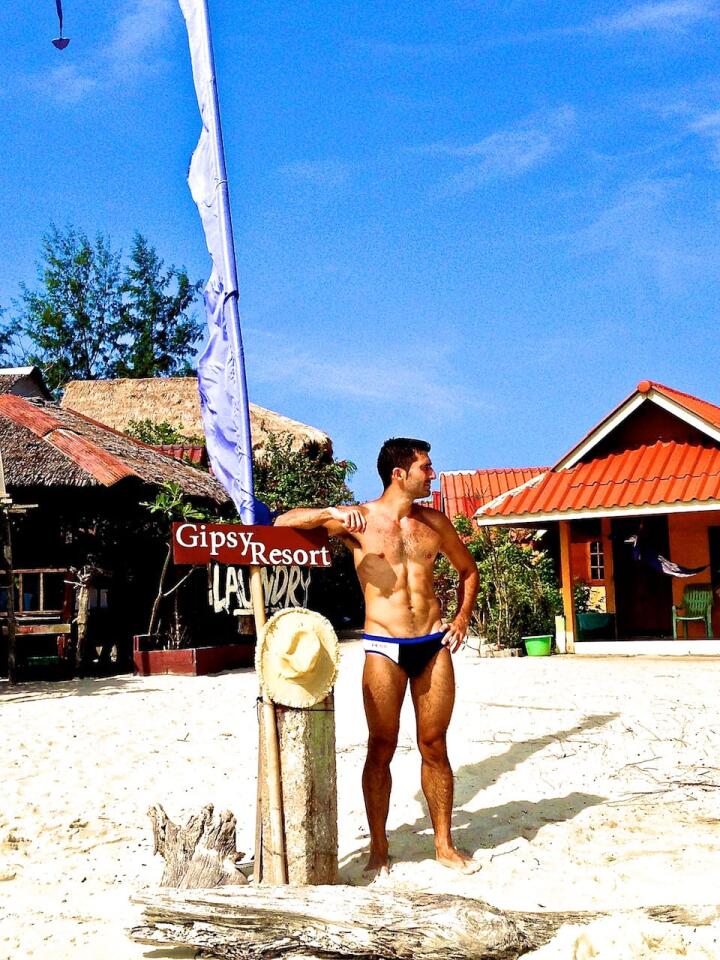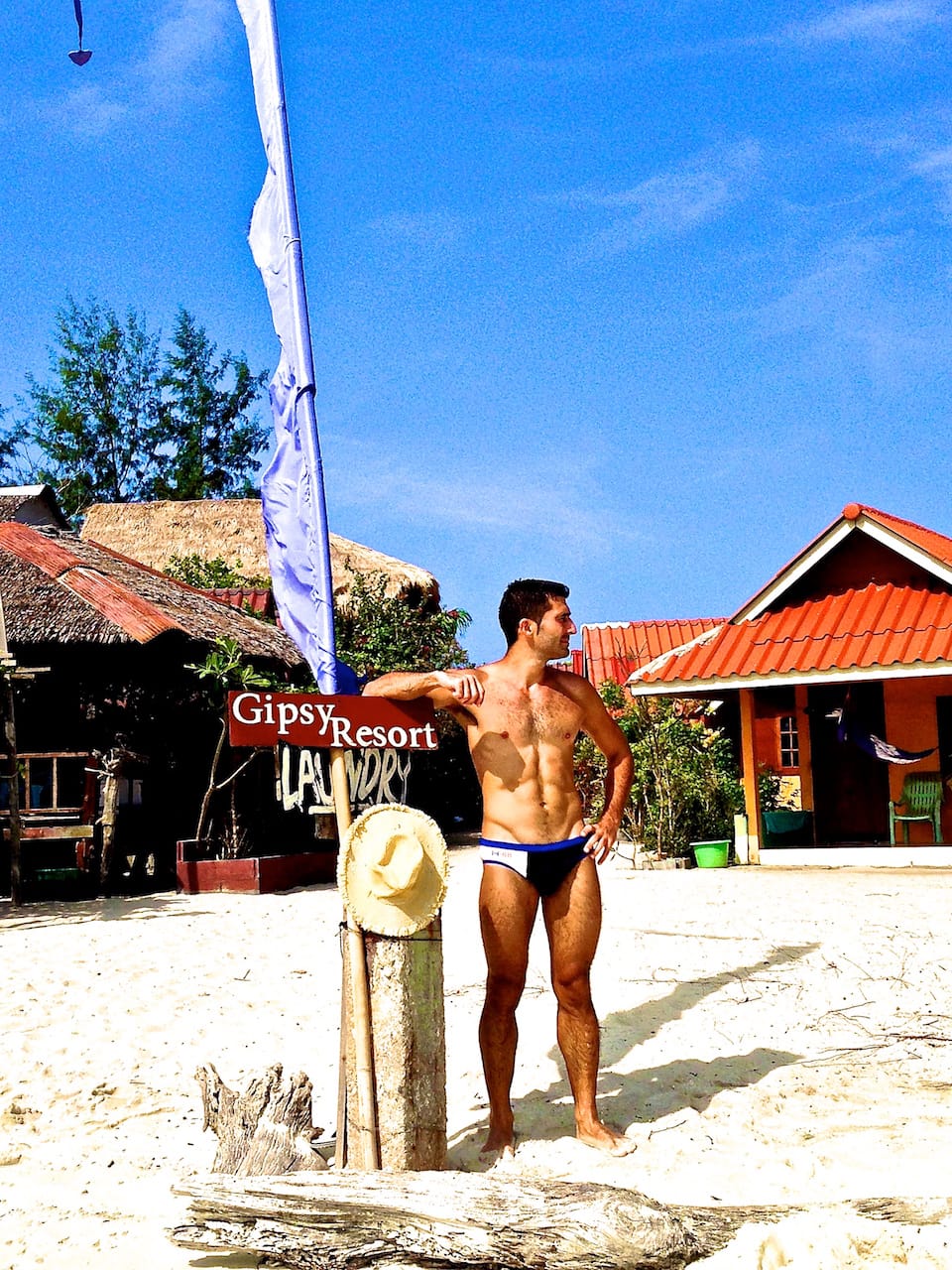 With the right mentality firmly in place, then what? We break this down into 5 parts:
Healthy eating

Eating healthy is the base of keeping fit. When we travel, we always try to sample the local cuisine but we try to avoid anything deep fried, too much bread and high calories drinks (beers, cokes, fruit juices, etc…)

Cardio training at the local park

Wherever you are in the world, there's always a local park where you can do some jogging and / or walking

Swimming at least twice a week

Most cities will have a public swimming pool. It's actually a great way to venture out of the tourist trail, meet some local people and keep fit!

Bodyweight exercices

A 20 minutes daily routine of body weights circuit training is easy to do. They don't need any equipment and can be done everywhere.

Seek travel activities that are physically demanding

We found one of the best ways to incorporate cardio into travelling is via fun outdoor sports like kayaking, trekking and underwater activities.
1. Healthy clean eating
Exercising everyday is all well and good, but your body needs the right nutrition to keep it fit and happy. This is again down to mentality and your approach to food.
We always strive to eat clean. At the same time we don't care for diet fads, we proudly devour our carbs and are happy to enjoy delicious cakes, knowing a 5km run the next day will take care of it. We're also very adventurous with what we eat and always try out every new possible cuisine.
2. Cardio training at the park
People primarily associate cardio exercises with losing weight. Whilst this is certainly true, it's also super important for overall fitness. The heart is a muscle and needs to be exercised, otherwise it will get weaker. There are countless studies showing how cardio helps to lower depression, tackle stress, reduce the risk of cancers, hip fractures and much more.
Working online means we spend most of our time behind a laptop. This makes it even more important to get out there and be active. As a result we incorporate a variety of cardio training in our exercise routines.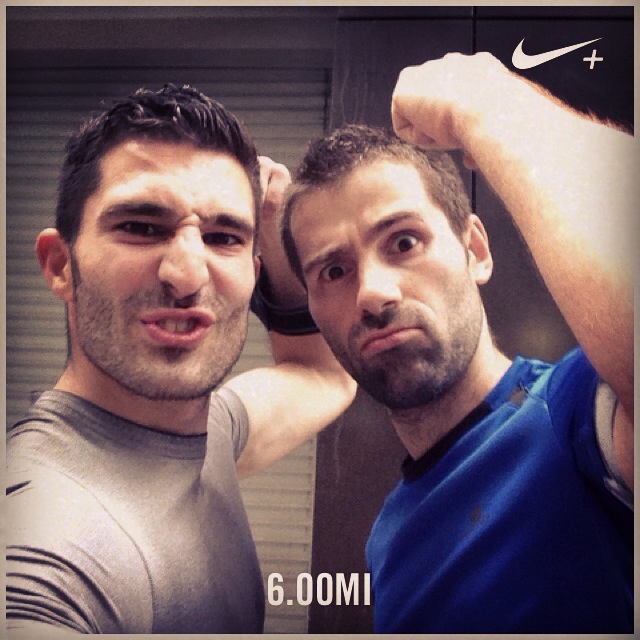 When booking a base to stay, we always seek out places which are near a large green space.
Local parks are a blessing when you're looking to keep trim. Doing a few laps around one for 5-10km is the best way to burn off heavy meals and unwanted calories. It's also a lot of fun, especially with a local running group or friends.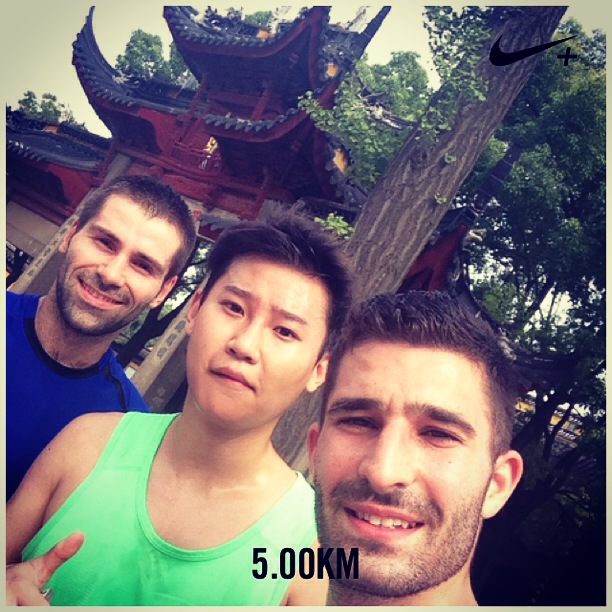 Parks are also perfect places to do bodyweight exercises, weather permitting of course.
In Buenos Aires there's a strong outdoor fitness culture and most parks have several small yellow huts called Estación Saludable where you can get water, fresh fruit as well as measure your weight, BMI and heart rate.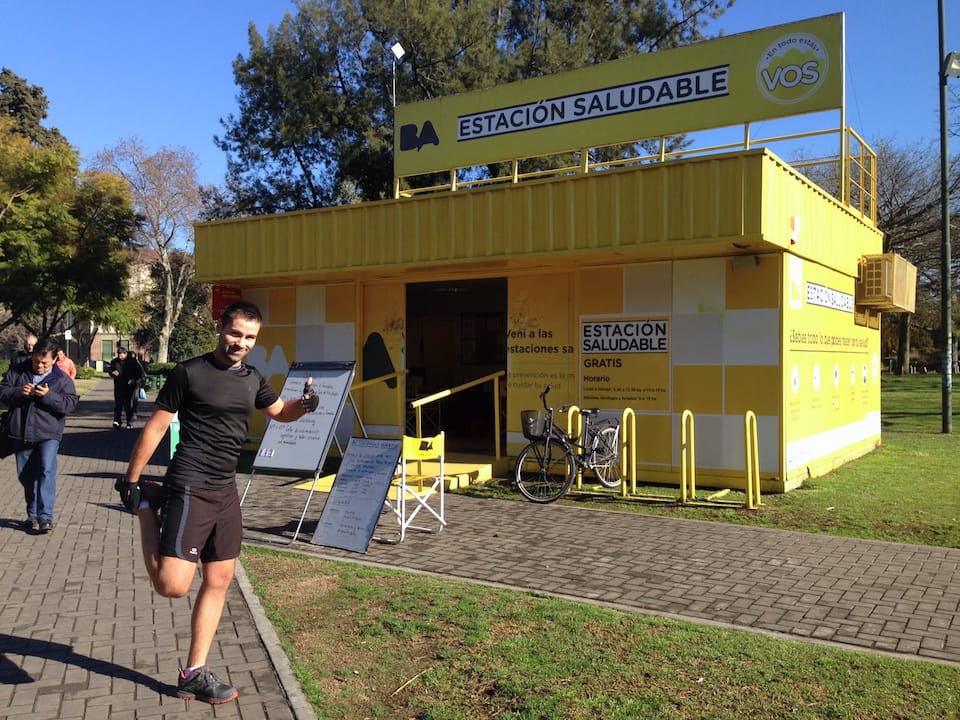 3. Swimming is the best way to keep fit
Swimming is one of the most satisfying ways to keep fit. Most cities will have many inexpensive swimming pools.
One of our favourites was the public outdoor pool near our hostel in Vientiane, Laos. It cost just £1.50/$2 each time to use and made the perfect respite from a day behind the laptop.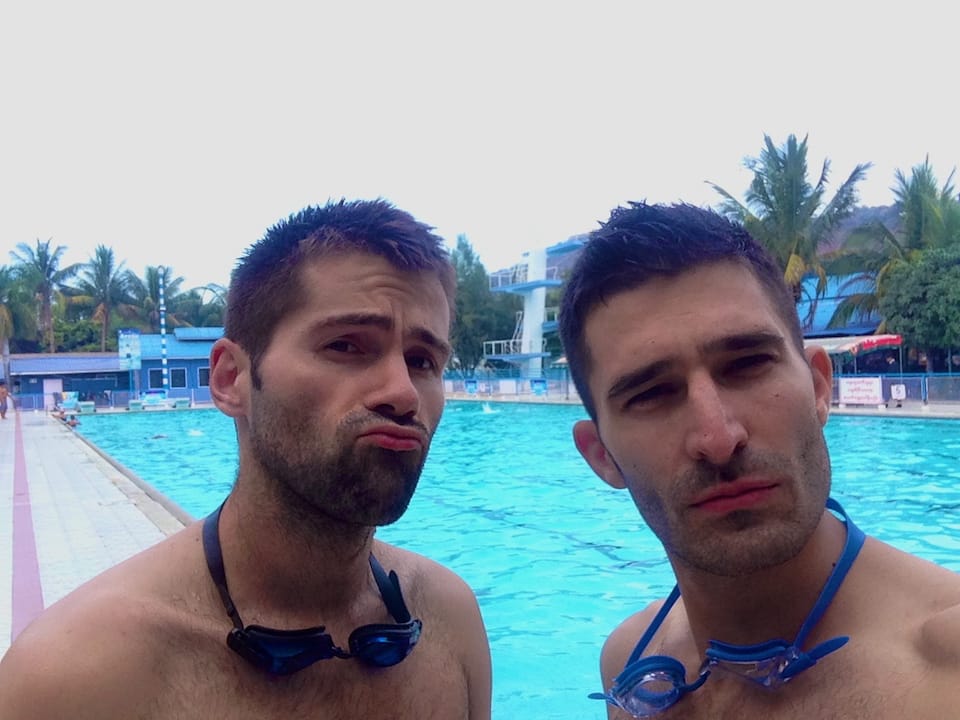 When searching for Airbnb apartments, you can filter searches to include swimming pools.
In Bangkok for example, there are many inexpensive condos in the suburbs like Udom Suk, which will have decent 25 metre swimming pools along with a small gym. The average price we paid for a condo in Bangkok with gym and pool was around £20/$25 a night.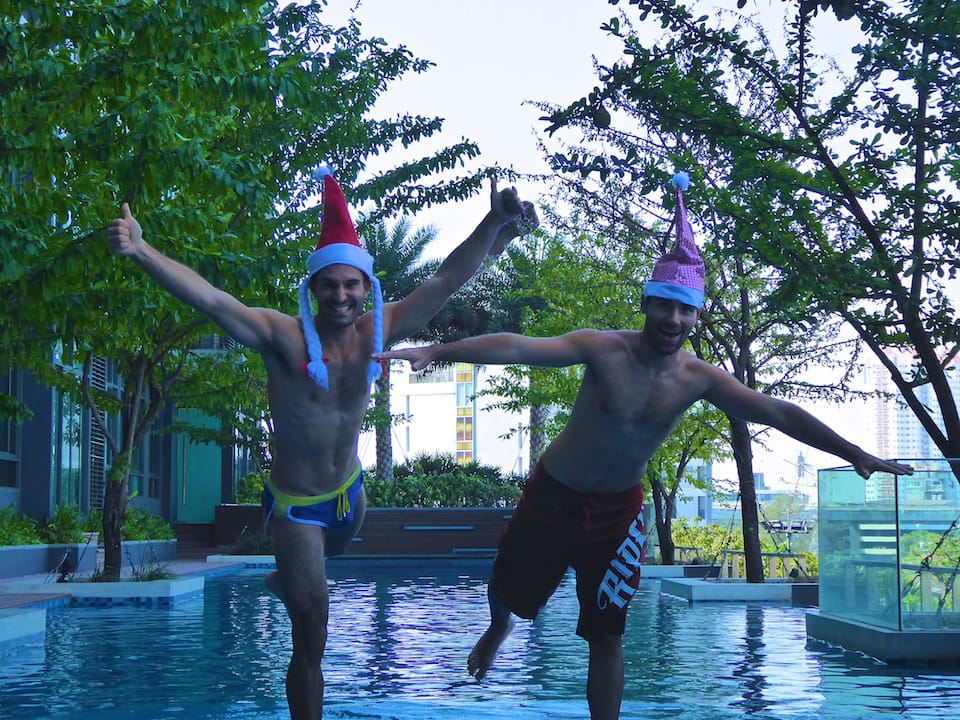 4. Do travel activities which are cardio focused
One of the best ways to incorporate cardio into travelling is via fun outdoor sports like kayaking, trekking and underwater activities.
In Nepal we trekked the Annapurna Circuit, which included around 7 hours walking in the altitude almost every day. Down at sea level, we love the underwater world and do lots of snorkelling and scuba diving, both of which are fun cardio exercises.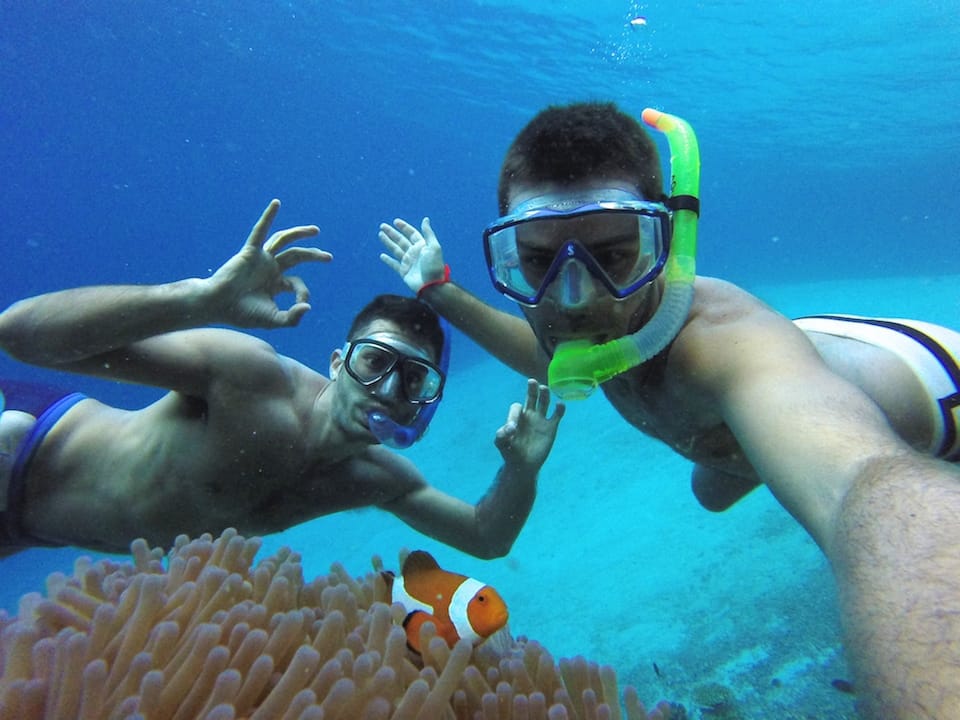 One of our most memorable adventure holidays was Koh Tarutao in Thailand. This island is completely free from mass tourism with plenty of cycling, jungle treks, kayaking and snorkelling opportunities.
You know your body's been worked hard when after a day of scuba diving or trekking at 5,000 metres, you're craving calories and carbs like crazy.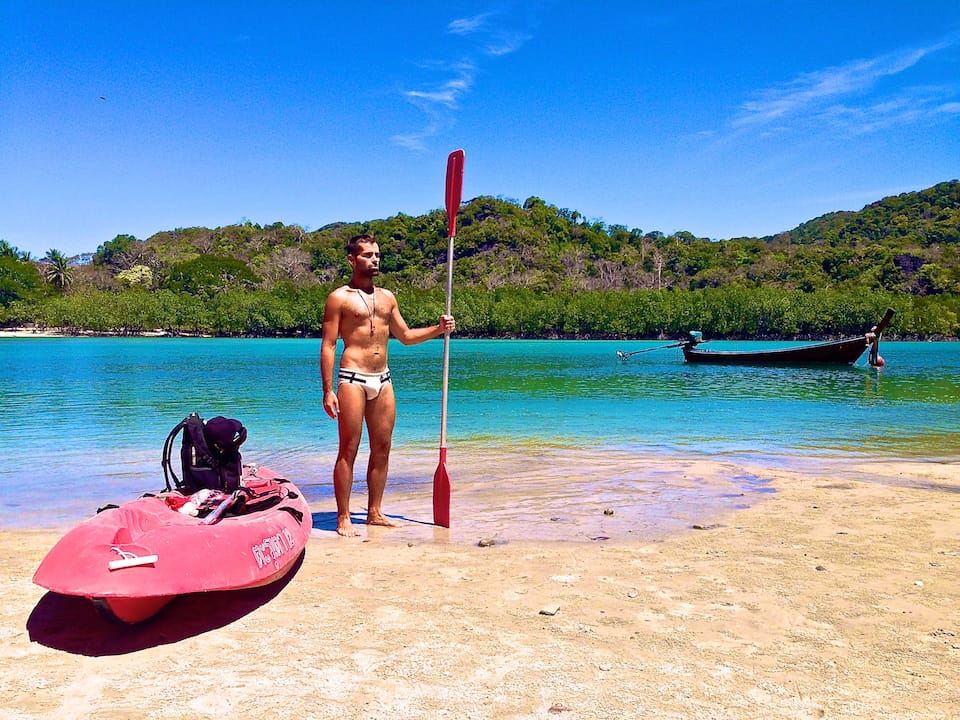 5. Bodyweight excercises keep the pecks firm
It's all well and good doing lots of cardio, but that's not going to keep the pecks firm or bring out the biceps in those tight T-shirts.
The most obvious way most people do their weights training is at their local gym. But take this away and you quickly discover many unique ways to maintain body shape.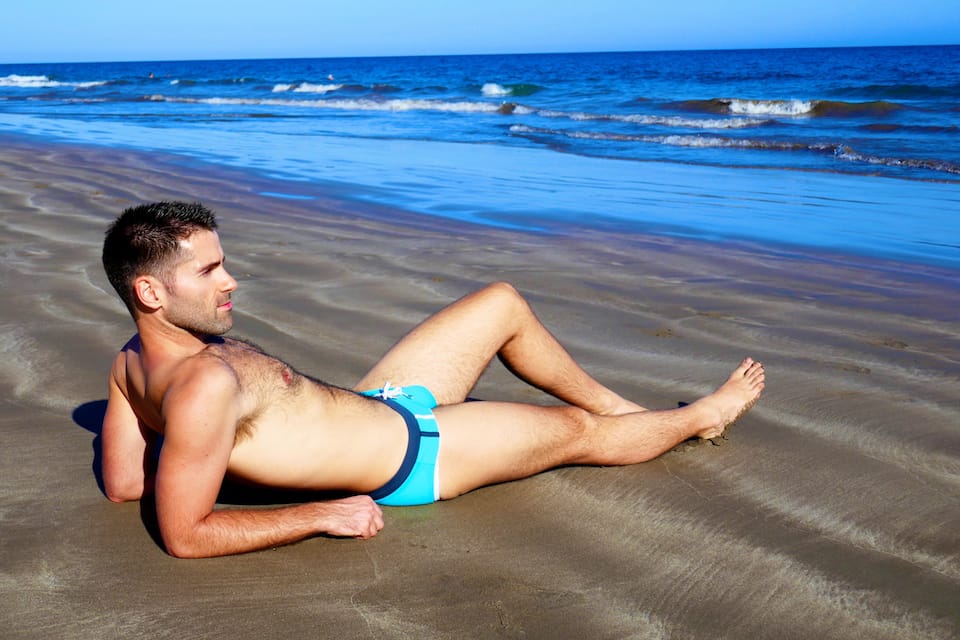 During our travels we've adopted a daily routine of body weights circuit training. These are super easy to do, they don't need any equipment and can be done everywhere: in the park, on the beach or in your hostel room if the weather outside is bad.
The hard part is the will to do it. It's so easy to make up excuses to skip it. Luckily we have each other to push and encourage the other.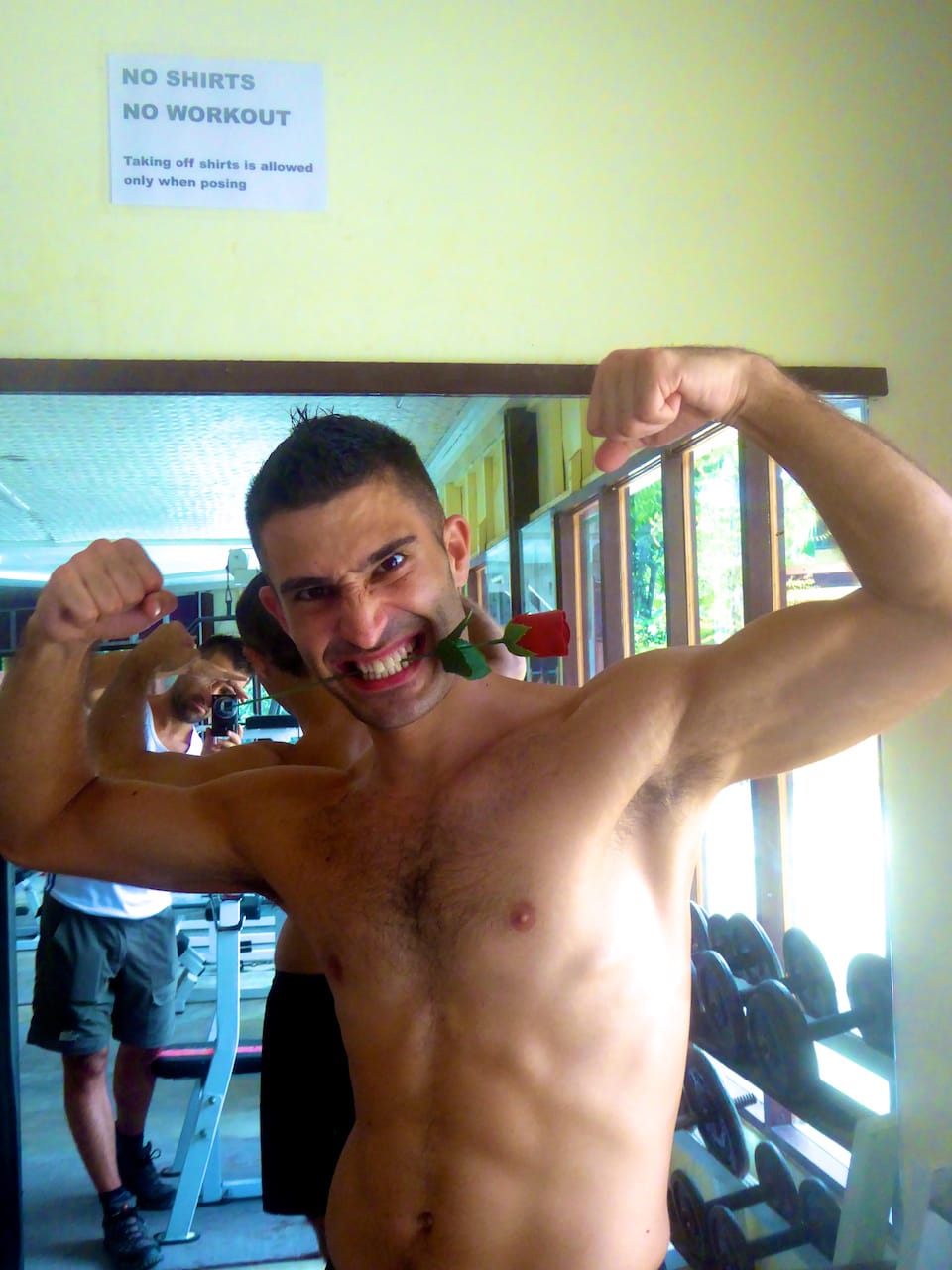 A typical circuit for us will involve 4 rounds of 7 exercises, 1 minute each. Each circuit will include a series of warm up/cardio and core exercises, with the remainder devoted to a specific muscle group: chest/triceps, back/biceps or legs. Examples of each include:
cardio/warm up exercises: we incorporate at least one of these to the start of each circuit to wake up the body: high knees, burpees, butt kicks, mountain climbers or star jumps.
chest: the main exercise for chest is normal push ups. You can vary push ups to work different parts of the chest, for example wide push ups with a metre distance between your hands.
triceps: using a chair or table for triceps dips.
biceps: ideally from a pull up bar if there is one, otherwise we do biceps curls using heavy objects like Sebastien's backpack or large bottles of water.
back: pull ups are the best for back, but without a pull up bar, we do decline push ups. These are similar to normal push ups but the legs are raised on a chair or small table as the starting position.
shoulders: pike push ups target the shoulders. They are like normal push ups but the start and end position is with the bum up in the air, instead of aligned with the body.
legs: the main ones are squat pulses, lunges and jumping jacks. We incorporate heavy objects to make squats and lunges more challenging.
core on the back: core exercises which start lying on your back are great if you're working out your arms. Examples include: leg raises, bicycle crunches, v sits, Russian twists and ankle touchers.
core involving your arms: these are more intense core exercises, which use your arm muscles more. They're ideal when doing a legs circuit and you want to make the core exercises harder. Examples include various forms of planks and elbow to same/opposite knee.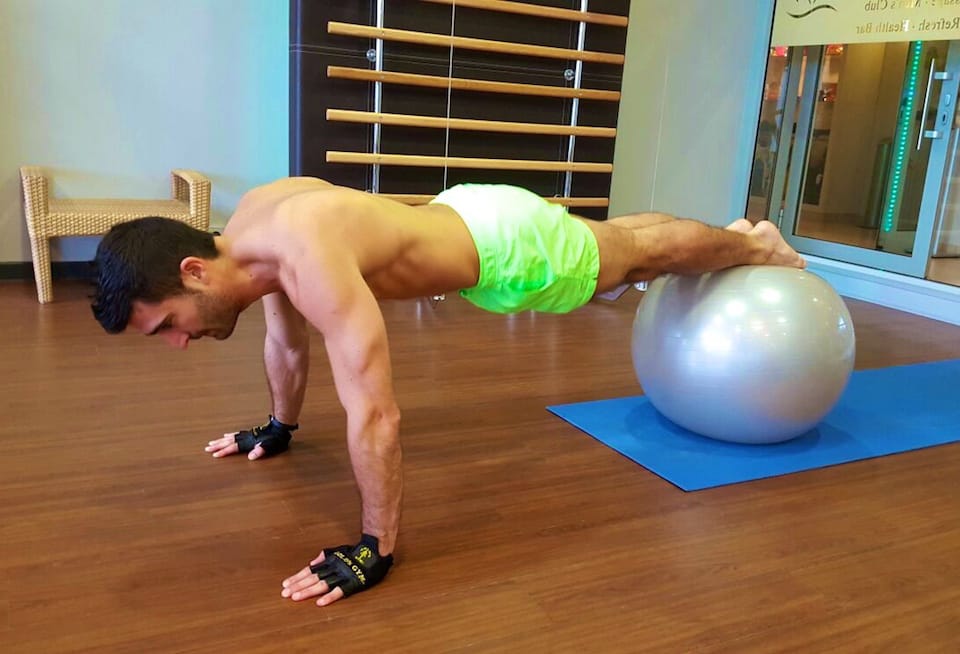 You're not going to bulk up with bodyweight exercises as much as you would using weights in a gym. However, maintaining a daily routine has definitely helped keep us toned and trim while travelling.
Bodyweight circuits are ideally done outside in a local park, weather permitting. In addition, most parks will have an outdoor gym which you can incorporate into your circuits.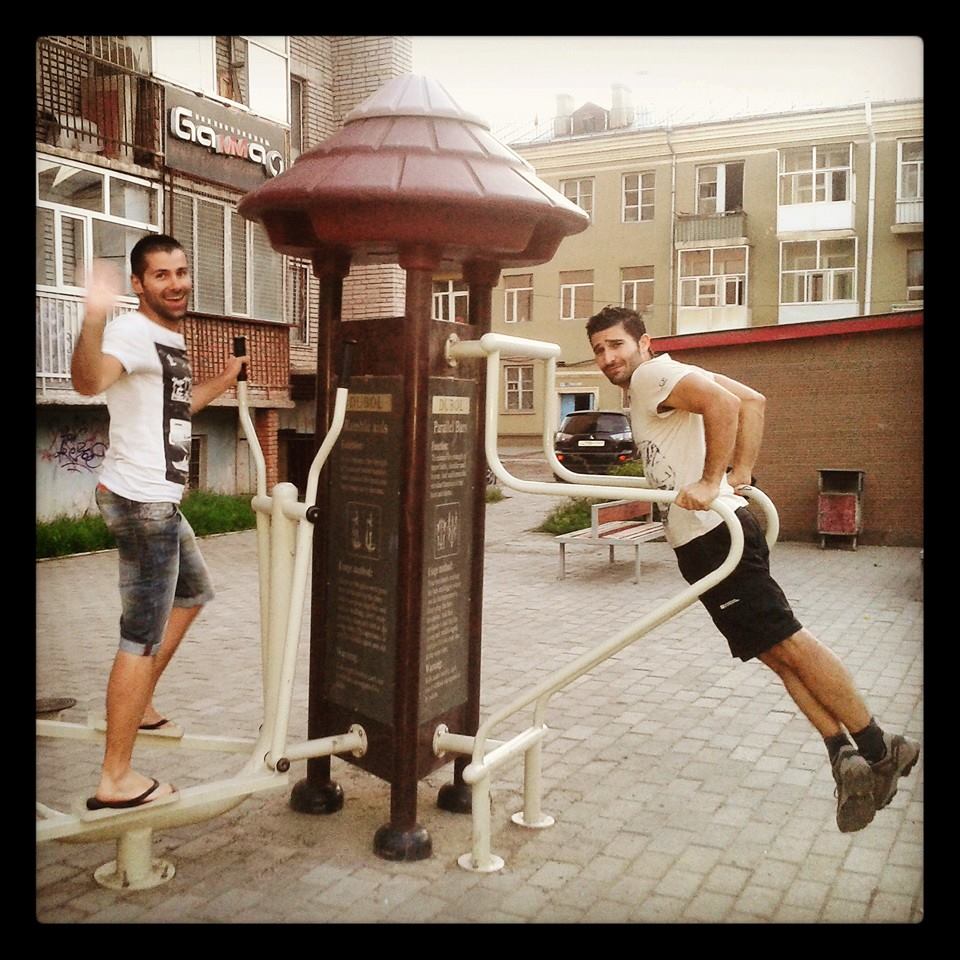 6. There's always a local gym
A local gym is the ideal place to do weights training. When we arrive at a new destination, we search for affordable gyms to use, particularly when the weather does not allow you to go to a local park.
This is also a fun way to meet with and hang out with like minded locals.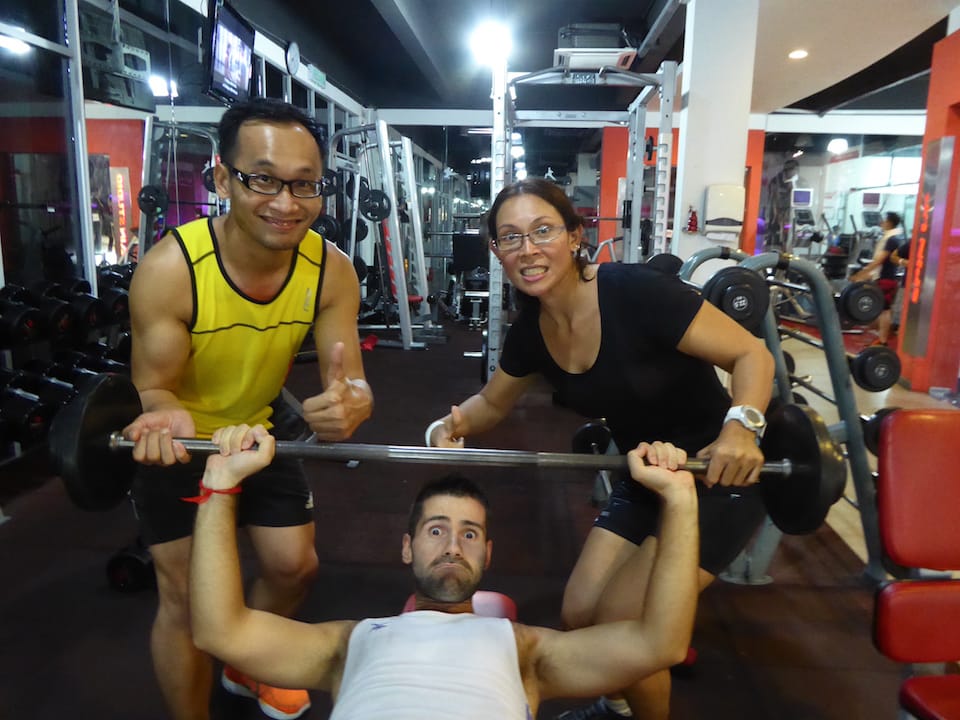 In most cases, local gyms are inexpensive to use for a daily/weekly/monthly membership.
On average we've paid a daily rate of no more than a few dollars per person. The best we've found is the government funded "Cumando Parque Urbano" in Quito, Ecuador – a large new sports complex with gym, pool, classes, and the bonus, it's completely free for all!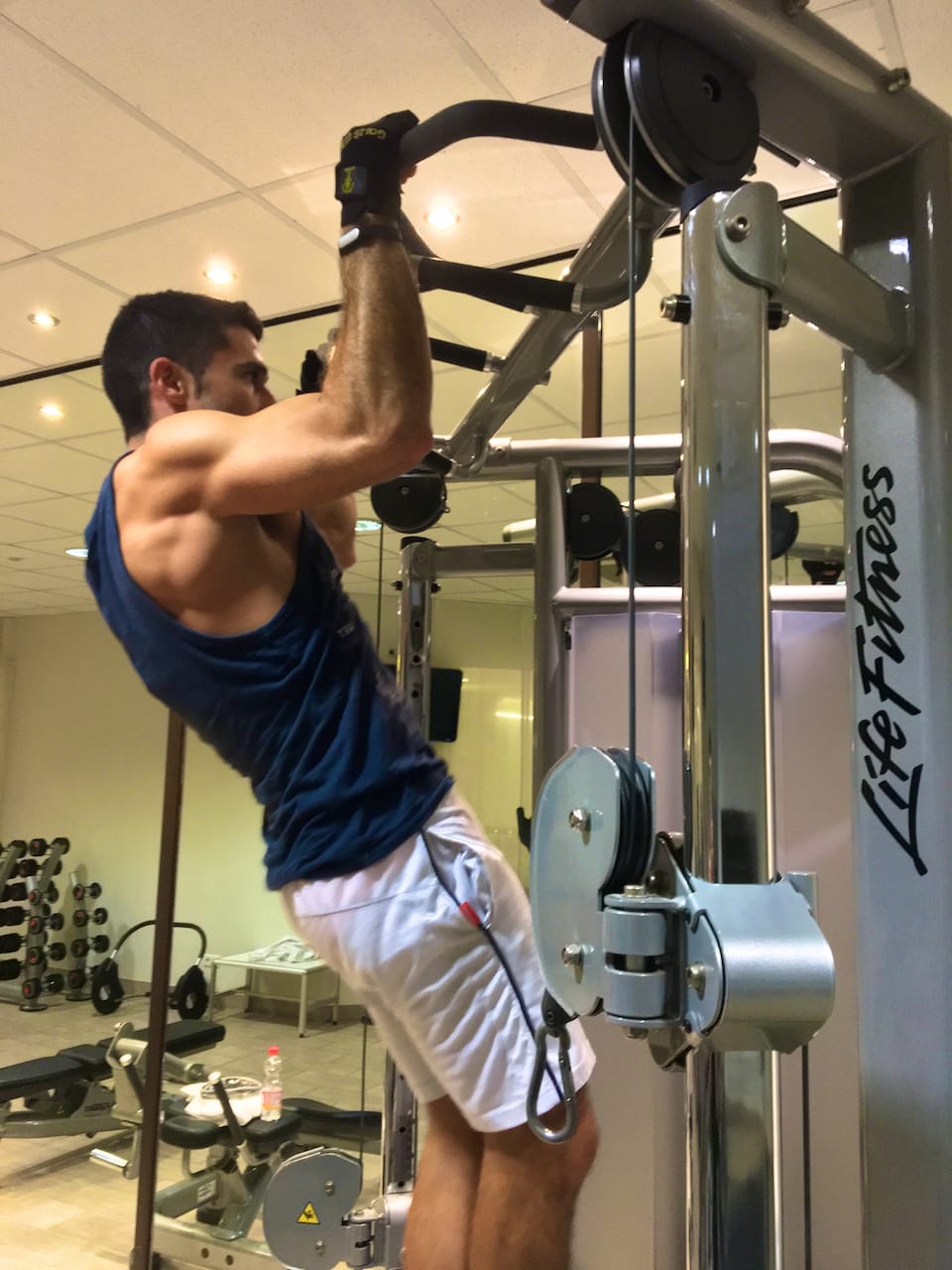 We are nonetheless careful to avoid processed foods and prioritise fresh products. A balanced Nomadic Boys meal will always contain a source of protein, vegetables and carbs.
We also make fresh fruits and vegetables a daily priority. In every new place we visit, we seek out the local market to stock up on a few days' fruit. Shopping for fruits is not only a fun way to discover a new place but at the same time you learn about new exotic fruits, like Ecuadorian pitayas, red Indian bananas or Chinese dragon fruits.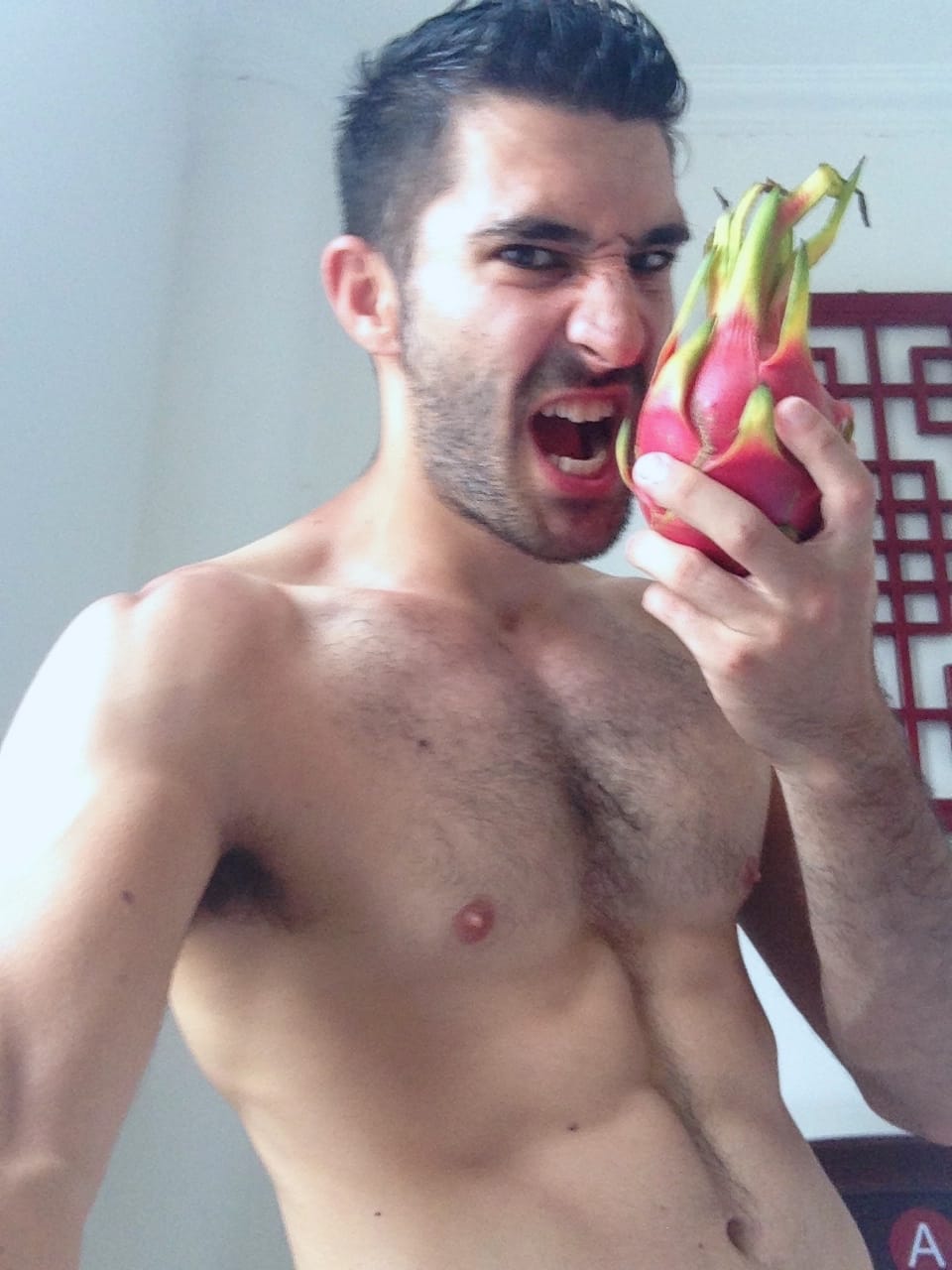 At the end of the day, it all comes down to how you approach and prioritise fitness.
For us, keeping fit is extremely important, not just to maintain a vain Instagram gallery, but it makes us feel more confident, alert and generally more positive.
We make fitness and healthy eating part of our daily lifestyle and it is this mentality which enables us to keep fit when travelling.
Happy travels are safe travels
We recommend you always take out travel insurance before your next vacation. What happens if you suffer from illness, injury, theft or a cancellation? With travel insurance, you can have peace of mind and not worry. We love World Nomads travel insurance and have been using it for years. Their comprehensive coverage is second to none and their online claims process is very user friendly.
IF YOU ENJOYED READING PLEASE PIN ME: