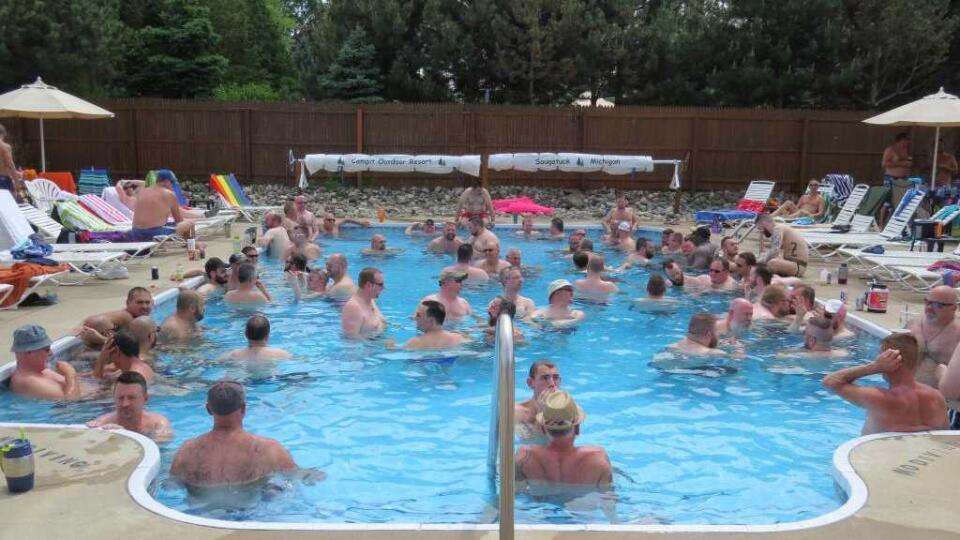 Moi? A lover of camping? Whoever would have thought??
Yes, your favorite cocktail-drinking, king-sized bed sleeping, beach sunbathing, disco-dancing queen has a soft spot for gay camping…
Well, if we're being open and honest, I (Stefan) had never slept outdoors a day in my life until I met Seby, who spent his childhood summers doing so in the French countryside. And I had sworn to myself I never would. Except, nature obsessed Scenic Seby had other ideas…
Admittedly, since we've been together, I have grown quite a fondness for it. Sure, it can be rough, dirty, and downright uncomfortable, but there's no better feeling than snoozing beneath the stars, enjoying a singsong around a campfire, or taking a stroll around the wilderness. Plus, it also means we get to live out our Brokeback Mountain fantasy (minus the tragic ending)!
In recent years, gay camping has become super popular for vacations or weekend getaways. It's an opportunity to escape from our busy lives to connect with nature, and perhaps other gay men in their birthday suits…
Whilst some people may not be keen to go full throttle (and by that we mean, sleep outside in a tent), most campsites also offer cabins or bunkhouse for you to rest in. So, having said all that, here are 5 of the best gay campgrounds to check out across the USA in 2021.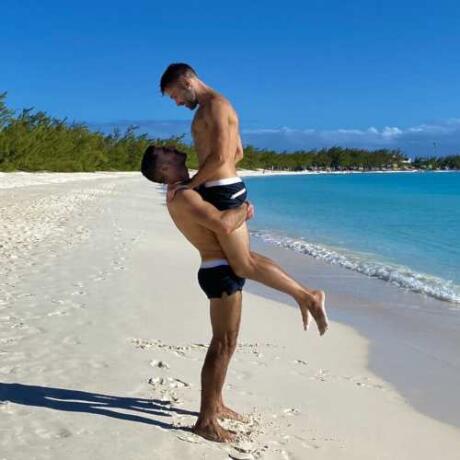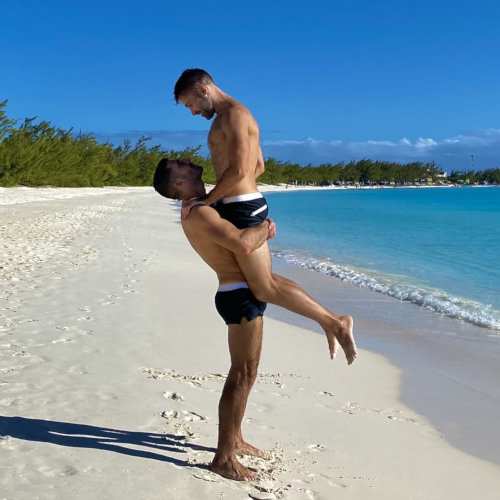 Have some gay fun in the sun
If you're looking to combine sand and sea with a little culture, join one of Out Adventures' sunny gay tours. We particularly love their Croatia: Gay Dalmatia Cruise itinerary, perfectly merging daily swim stops with tours of the country's famous medieval ports and towns. But other options include their big gay Colombian getaway, either of their Cuba tours, and of course their signature Thailand adventure.
01
Roseland Resort & Campground
Proctor, West Virginia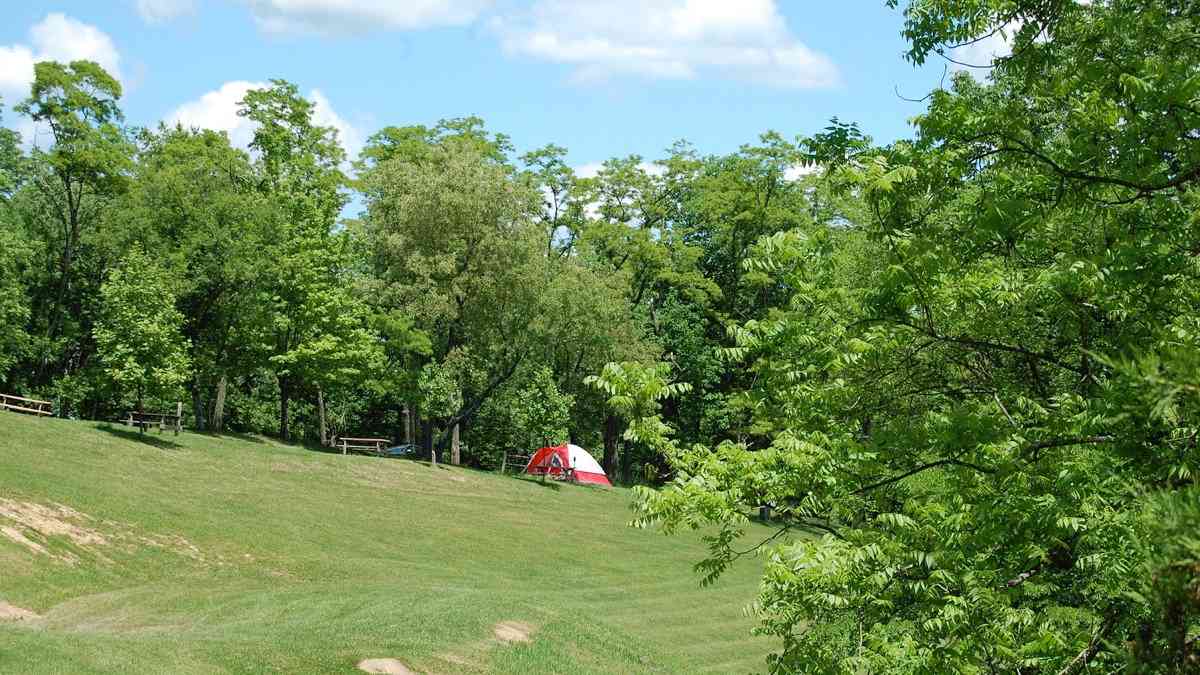 In a nutshell
---
22 acres of forested hills and meadows with hiking trails
Campsites, RV sites, rooms and cabins available
Heated swimming pool, hot tubs, steam room and massage services
On-site restaurant and pizza shop
Roseland Resort & Campground couldn't be more off the beaten track if it tried. The winding hillside road that leads up to the gay camping site can be very scary, so we recommend looking up Google Maps and sticking to interstate highways for as far as you can go.
Once we arrived, however, we totally realized how worth it the trip was! We were blown away by the rugged mountain landscape that enveloped the 222 acres of this gay campsite. It contains a heated swimming pool, hot tubs, and steam rooms for relaxing while socialising with other guests.
By day, we explored the 11-miles of hiking trails that surround the site. By night, we either stuffed our faces in the pizzeria or enjoyed a boogie in the bar. They even had campfire get-togethers, where we showed off our (ahem!) vocals with an old-style sing-along with fellow guests.
The all-male, all-gay camping site is particularly popular with the bear community, which is more than appropriate considering West Virginia's state animal is a bear! The campsite holds an Annual Bear Fair, a fabulous celebration of all things big, gay and hairy. Other fun yearly events include all-nude New Year's Eve parties. Now that's certainly one way to ring in the new year, eh?!
For accommodation, guests can opt to sleep beneath the stars on the tent sites dotted throughout the grounds or park their RV. If you'd rather have a bed, there are a range of cabin and room options for you to choose from inside converted farm buildings.
Prices at Roseland Resort & Campground start from $25 per night:
---
DON'T MISS OUT!
For more gay travel inspiration…
Get in-depth FREE gay travel guides, along with inspiring stories, savvy planning tips, and exclusive discounts on gay tours. No spam. Never. Not ever. Just fun and interesting blog posts delivered straight to your inbox.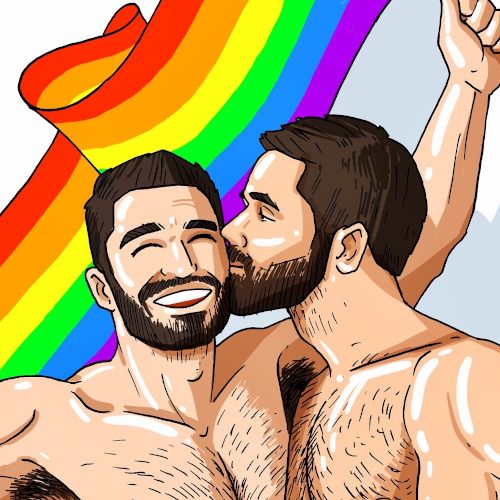 02
Sawmill Camping Resort
Dade, Florida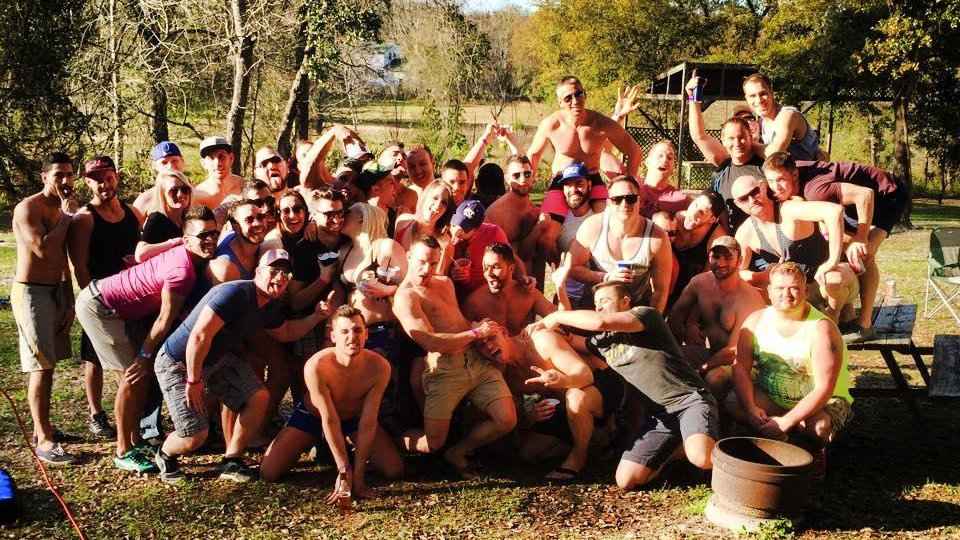 In a nutshell
---
120 acres with poolside bar and a nightclub
Campsites, RV sites and cabins available
Clothing-optional heated pool
Close to major attractions like Disney World and Universal Studios + LOTS of events on-site!
Drive an hour outside of Orlando and you arrive at the luxury Sawmill gay Camping Resort. It's a world away from Universal Studios and Disney, but a world certainly worth discovering!
Whether you're sleeping in the open air at the tent site, renting a cabin or RV, or only visiting for a few hours (via a day pass), this gay campground has everything you could ask for. From the clothing-optional pool to the acres of land to stroll around, you'll feel immersed within the spirit of nature living.
Country and disco fans face-off, with a choice between a fabulous nightclub (aptly named Woody's!) or a country-style hoedown in the courtyard. The gay campground regularly hosts events like drag queen bingo or karaoke nights, which leads to some rather amusing shenanigans… We've certainly embarrassed ourselves by cracking a go at the mic, but isn't that what it's all about?
In terms of accommodation, Sawmill has some of the most premium cabins we've ever come across. They give a feel of luxury with a rustic aesthetic. You can also decide to stay in an RV or on the tenting site, depending on how hardcore your penchant for gay camping is.
Prices at Sawmill Camping Resort start from $10 per night:
---
03
Highlands Resort
Guerneville, California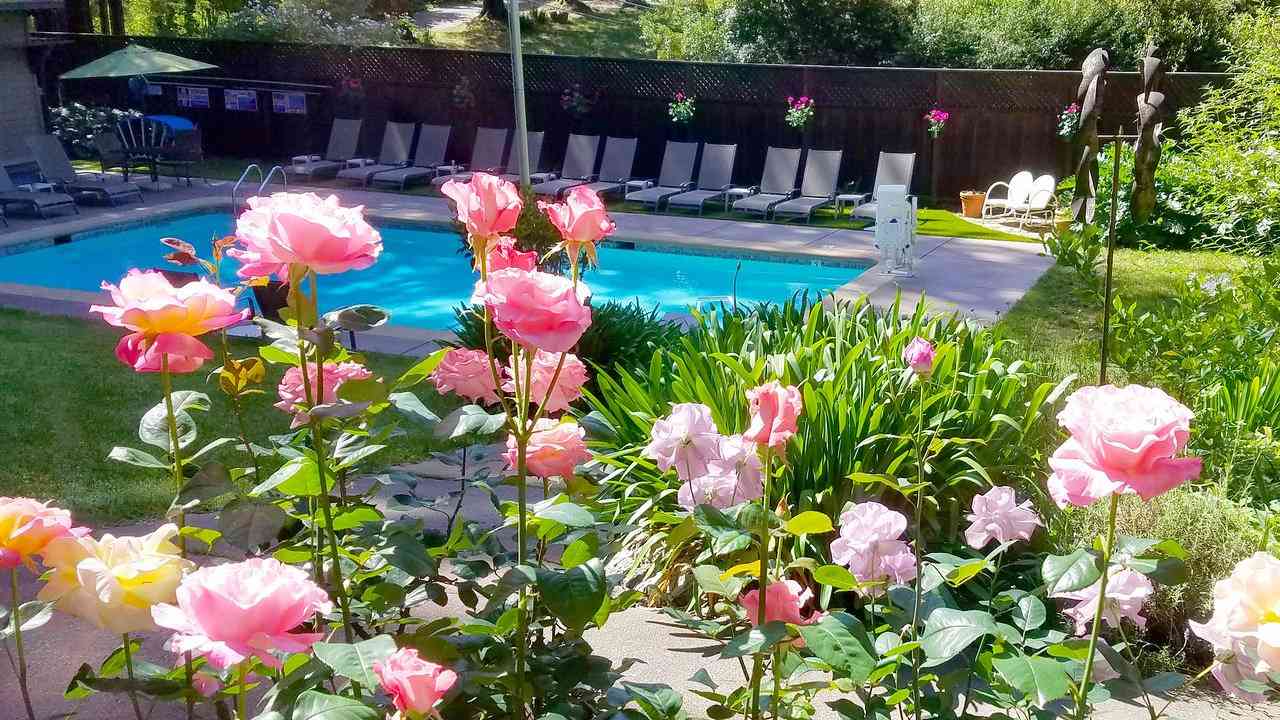 In a nutshell
---
3 acres of Redwood groves and beautiful gardens
Campsites, rooms, suites and cabins available
Clothing-optional swimming pool
Pet-friendly rooms also available (limited availability)
Highlands Resort calls themselves 'straight-friendly' – just like us! They are so gay that they even have their own coming-out story. Having been around since the 1930s, they welcomed guests for almost 50 years before declaring themselves as a gay campground in the 1980s.
Today, it's run by 'mom & pop' Ken and Lynette who love nothing more than to have fun and spread love. This shines through the staff's wonderful upbeat attitude, who deal with everything with a smile.
They have a clothing-optional swimming pool and breathtaking gardens to lose yourself in. They don't have much of a party atmosphere, so it's the perfect spot if you're looking for a quiet gay getaway.
The gay campsite itself is filled with quaint cabins, each boasting a gorgeous vintage design. From chrome and Formica tables to the linoleum floors. A step through your room's doorstep is like a step into a different era!
Instead of camping, you can go "glamping", though this is available during the summer months only. With this, you'll have access to the heated pool and enjoy a daily complimentary continental breakfast. The tent sites are spacious, each containing a table, umbrella, four chairs, and two loungers.
Prices at Highlands Resort start from $40 per night:
---
04
Campit Outdoor Resort
Fennville, Michigan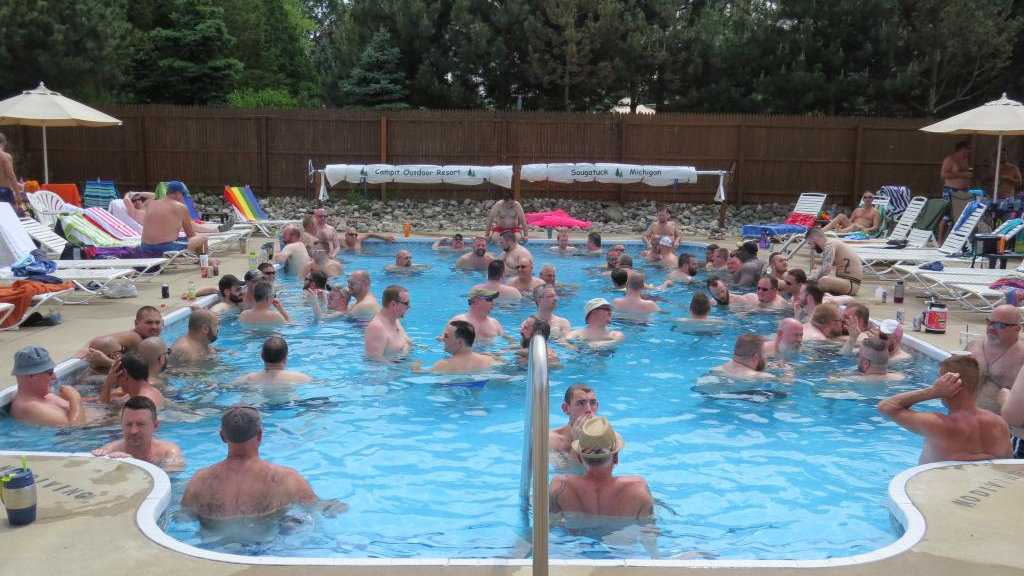 In a nutshell
---
33 acres gay campground filled with walking trails
Campsites, trailers, bunkhouses and cabins available
Heated outdoor swimming pool
On-site naughty "toy store"
If you can camp-it, you can love it!
Campit is all about welcoming everyone, regardless of orientation. Located 10-minutes away from the tourist hotspots of Saugatuck and Douglas, Campit offers a safe place to holiday for friends and allies of the LGBTQ community.
Across the 33-acre gay friendly property, you can expect to find a huge heated swimming pool, rec hall, game room, and miles of walking trails that immerse you within nature.
There is even a Campit's "Toy Store", though not the kind of toy store you'd expect. Here you can pick up an assortment of leather items, novelties, and other cheeky accessories you may have forgotten to pack at home…
There are several lodging choices – just in case you're a tad allergic to the outdoors. These include a 5-bedroom bunkhouse B&B, 22 log cabins, or one of the vintage trailers. There are also outdoor options, with several camping sites spread across the compound. We've heard the "New Horseshoe" is especially popular because it is the largest tenting area, offering a more private and rustic experience.
Most accommodation options are also pet-friendly, so you can bring your pooch or puss along with you!
Prices at Campit start from $10 per night:
---
05
Jones Pond Campground & RV Park
Angelica, New York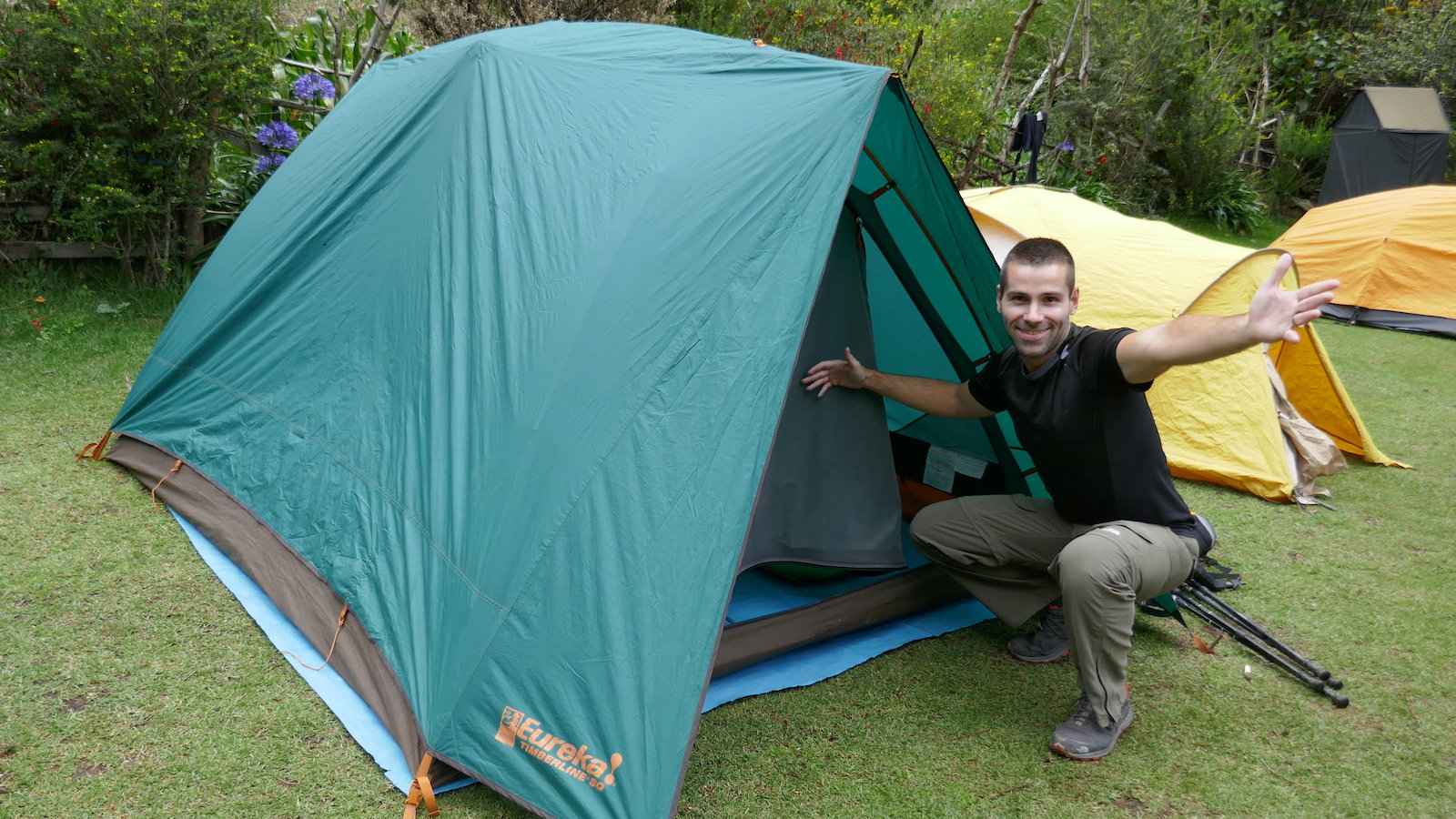 In a nutshell
---
100 acres with hiking trails
Campsites, RV sites, rooms in the guesthouse, bunkhouses, log cabins and pet-friendly cabins available
Clothing-optional swimming pool
On-site café/restaurant with yummy food
The name's Pond. Jones Pond!
Situated in New York state, it's not quite the glittering skyscrapers and dazzling Broadway shows NY is generally associated with. Far from it!
Jones Pond is an all-male gay campground for 21+, with a clothing-optional policy around the pool area. It has a very low-key and chilled vibe, favoring quiet and serenity over the party-fuelled chaos that you may find at other resorts.
There is a 2-night minimum stay here with most of the accommodation choices. You can choose between staying on a massive tent site, which has a capacity for up to 175 tents, in rooms within the guesthouse, bunkhouses, log cabins and pet-friendly cabins. There's also space for RVs or you can rent one if you don't have your own. Whatever you choose, you'll fit right into camp life in no time.
The culture around the grounds is relaxed and friendly. Staff are always on hand to help you with anything and are more than happy to join in on the conversation.
The campground's café is very popular, with locals and passing tourists alike dropping by to visit. It's a great place to start your day with a cheese omelette, French toast, or pancakes. Later in the day, the café serves up mouth-watering burgers and Philly cheese-steaks. A taste of the true gay American dream!
Prices at Jones Pond Campground start from $15 per night:
---
06
The Woods Campground
Lehighton, Pennsylvania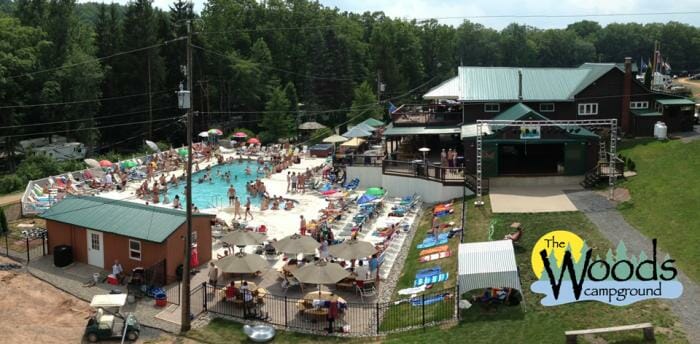 In a nutshell
---
161 private acres with streams and a lake
Campsites, RV sites, cabins and tiny houses available
Fully clothing optional + large outdoor pool
Raucous weekend themed parties
Into The Woods we go to live out our gay pubescent Bel Ami-inspired fantasies…
The Woods in Lehighton, Pennsylvania is, in fact, one of the most famous gay campgrounds in the USA. It's exclusively for members only, meaning you have to sign up beforehand in order to book your stay… so you KNOW it's going to be good!
They also have a strict over 18s policy and welcome an older crowd allowing for a welcome mix of everyone in our LGBTQ family.
Events are a big deal here. They have huge party-themed weekends: from "Bears At The Woods", and "Leather Weekend" to one entire weekend just for drag shows. All parties culminate around their large pool area – fully clothing-optional of course!
The idea behind The Woods Community came about because of the negative effect social media and gay dating apps were having on social queer establishments like bars/clubs – in that they have been declining in numbers! Here they encourage face to face interaction, away from Grindr and Instagram. This feeling of being part of a tight knit community is what makes The Woods stand out.
It's also absolutely massive! The Woods owns no fewer than 161 private acres with streams, a four-acre lake, and plenty of campsites – all of it set against the backdrop of the breathtaking Pocono Mountains. Space is your friend here…"Into The Woods" we happily go…
Prices at The Woods Campground start from $19 per night:
Happy travels are safe travels
We recommend you always take out travel insurance before your next vacation. What happens if you suffer from illness, injury, theft or a cancellation? With travel insurance, you can have peace of mind and not worry. We love World Nomads travel insurance and have been using it for years. Their comprehensive coverage is second to none and their online claims process is very user friendly.
07
The Homestead at 3218
Crawford, Texas
In a nutshell
---
2 acres of campsites and recreation
Campsites, RV sites, suites, cabins, sleeping cubicles and bunk beds available
Outdoor seasonally heated pool, sauna and communal showers
Outdoor movie showings in the pool (weather permitting)
The Homestead at 3218 in Texas is a members' only gay resort, RV park, and campground – basically a playground for the gay boys! It's located in the north-central Texas countryside around 25 miles west of Waco.
Friendly gay owners Rob and Mark welcome all men of all ages, shapes, and sizes, so long as you have attained membership. There are fun gay events throughout the year, plus this is a great base to explore the sights of Waco.
There's plenty to keep you occupied if you just want to remain at the Homestead though, from swimming in the pool, making new friends while playing billiards in the rec room or just relaxing and enjoying the peaceful country surroundings. Seriously, those views are stunning!
Along with camping and RV sites, you can also stay in a bunkroom to save money or glamp it up by splashing out for a suite with a queen-sized bed, flatscreen TV, full kitchen and bathroom – now that's more my kind of 'camping'! The Homestead is also pet-friendly if you're staying in one of the suites, camping or RVing, so you can bring your beloved pooch with you as well.
The Homestead is still in the process of having more amenities added to it, like a restaurant and bar, so it's only going to get better in the future. Luckily this is one spot that you'll find yourself returning to again and again, in order to reconnect with friends during special events or just when you want to have a break from everyday life.
Prices at The Homestead at 3218 start from $15 per night:
---
08
Copper Cactus Ranch Men's Retreat
Queen Valley, Arizona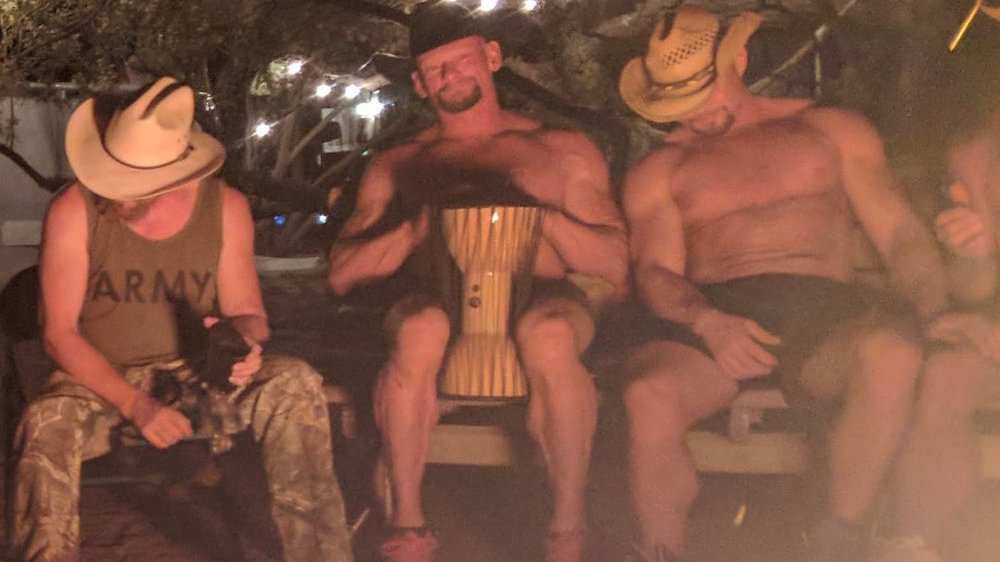 In a nutshell
---
40 acres of desert views and hiking trails
Campsites, RV sites, bunkrooms and private rooms
Swimming pool, hot tub and spa
Delicious home-cooked meals
You know a place is gonna be good when it's located in a place called Queen Valley! Copper Cactus Ranch is a male-only (above 21) campground that caters to all men – gay, bi, straight, and anything in between.
It's refreshing to see somewhere that aims to promote male bonding and camaraderie over anything else.
Along with the regular RV and tent campsites, there are gorgeous ranch house rooms available as well. Choices vary from either private rooms for a couple or bunkrooms with multiple queen beds which are perfect if you're traveling with a group of friends.
Everything is very private, so you're free to go au naturel everywhere – even hiking…we highly recommend trying out nude hiking if you haven't done so already! And with 40 acres of trails, the views over the desert are simply breathtaking. Guests who are camping also permitted to bring their dogs on site.
Copper Cactus has a swimming pool and giant hot tub, which becomes the center point for all evening socials. Look out for owners Rich and Bobby who talented musicians who often get all the guests involved to live out their Beyonce fantasy in an evening karaoke session. They also serve up delicious home-cooked meals and you might even get to learn how to make local dishes like tamales.
Prices at Copper Cactus Ranch start from $15 per night:
---
09
River Ridge Campground
Mount Olivet, Kentucky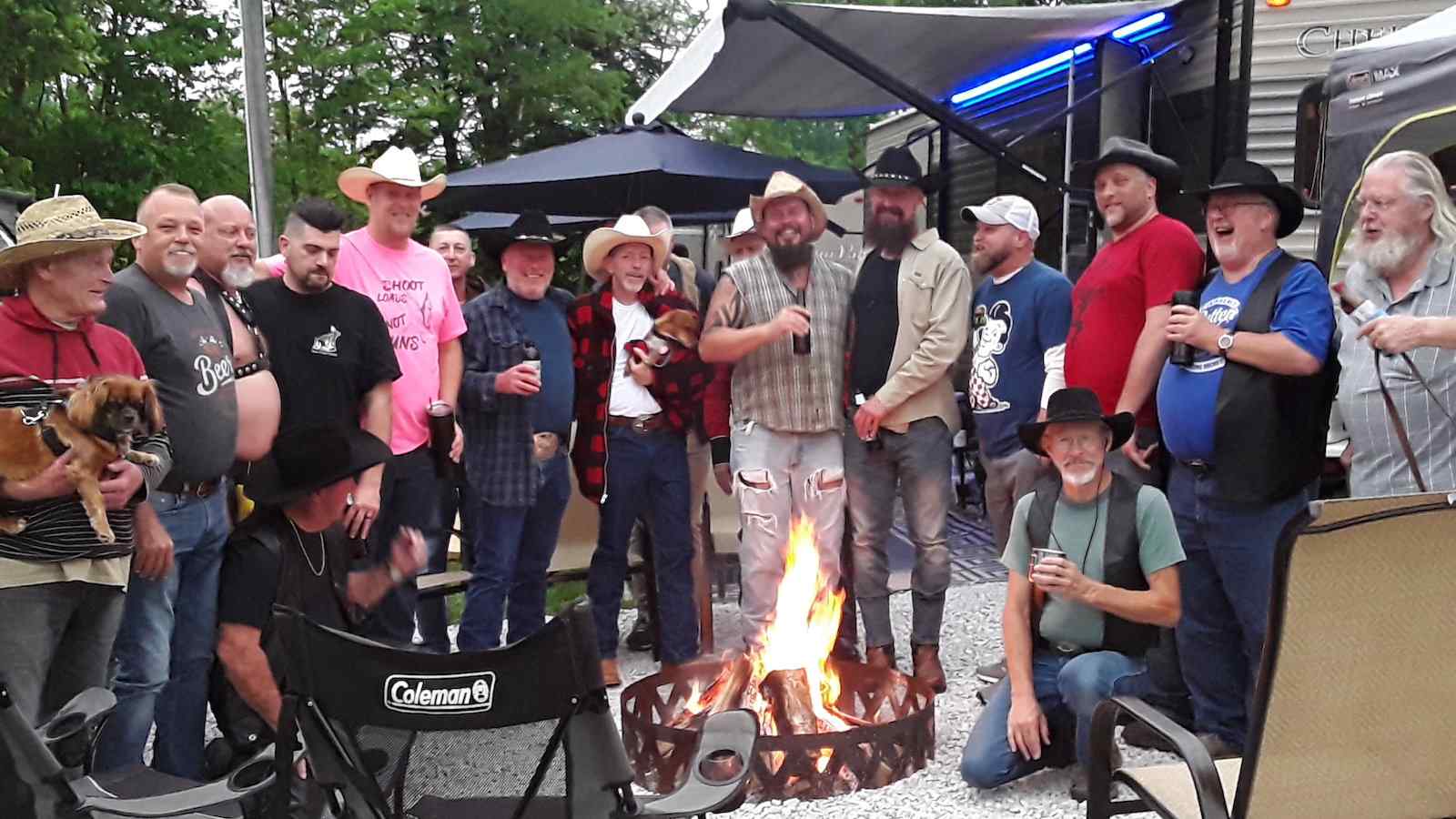 In a nutshell
---
350 ft frontage on the Licking River
Campsites, RV sites, bunkrooms, cabins, lodge suites and RV rental available
Swimming pool and 2 water 'pods' plus riverfront access
Fun events throughout the year and kayak/canoe rental available for enjoying on the river
Located in the beautiful rolling hills of Mount Olivet is River Ridge Campground. This is Kentucky's first and only all-male, private, membership-based, clothing-optional gay campsite.
All men over the age of 21 are welcome here once you've been accepted as a member! The best part is that the entire campsite is fully clothing-optional…cue those Adam & Steve pics for the 'Gram…
Swimmers listen up – there are two freshwater communal tubs along with a brand spanking new swimming pool, and, the Licking River. This is prime location for those of us who want to do a bit of kayaking, canoeing, or even tubing during camping. If you've got your own kayak/canoe, then definitely bring it with you, otherwise, you can hire them from the River Ridge boys.
The keyword here at River Ridge is 'rustic', although that doesn't mean you're going without any comfort. For those who don't want to stay in a tent or RV, there are private suites in the main lodge and small cabins, some of which sleep up to 4 guests. Pets are permitted for guests not staying in the main lodge building.
Social butterflies will love all the fun events here throughout the year, from big-screen movie nights to karaoke, dancing, contests, and drag queen bingo. Even if you're not staying on-site you can get day passes to attend the events and socialize. For those who just like to chill with a beer beside the campfire, you'll also find your tribe.
Prices at River Ridge Campground start from $15 per night:
---
10
Creek Ridge Campground
Stockbridge, Michigan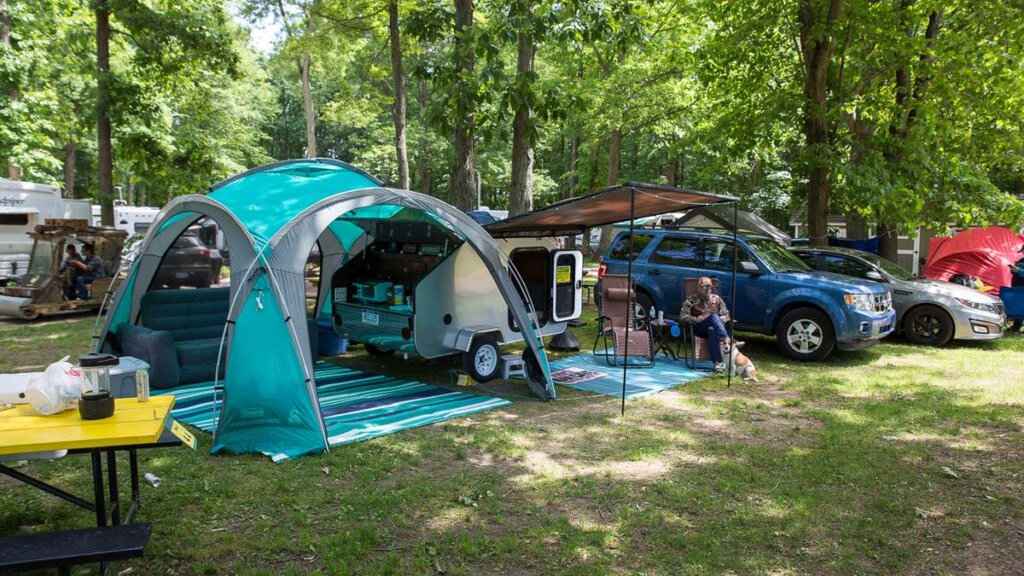 In a nutshell
---
60 acres of wooded land with hiking trails, ponds, and a creek
Campsites, RV sites, bunkhouse, and cabins available
Clothing-optional swimming pool
Club area and exciting events EVERY weekend!
About an hour and a half drive from Detroit is the ultimate 'get-back-to-nature' spot of Creek Ridge Campground. Situated amongst 60 acres of woods with pretty ponds and a charming creek, this is an excellent choice if you want to combine rustic nature with epic parties.
Seriously, the events at Creek Ridge are NEXT LEVEL, with epic themed parties happening every weekend during the camping season (April – October). We're talking "The Wizarding World of CRC" level events, with showings of Harry Potter, games of Quidditch, and most powerful wand competition – we'll leave that part to your imagination!!
Owners Ron and Mike strive to make Creek Ridge a place "where friends become family" as guests enjoy the simple things in life. There's space for camping or parking your RV, as well as small cabins for two or four people. During the day you can relax in the clothing-optional swimming pool, go hiking or fishing in the woods, or just relax by your fire pit.
Club Solitude is where much of the weekend event activities take place, and there aren't many campgrounds with an actual nightclub for you to live out your dancing queen fantasies! If you need somewhere to really unplug and forget about your worries, we reckon a weekend at Creek Ridge is just the ticket.
Prices at Creek Ridge Campground start from $15 per night:
---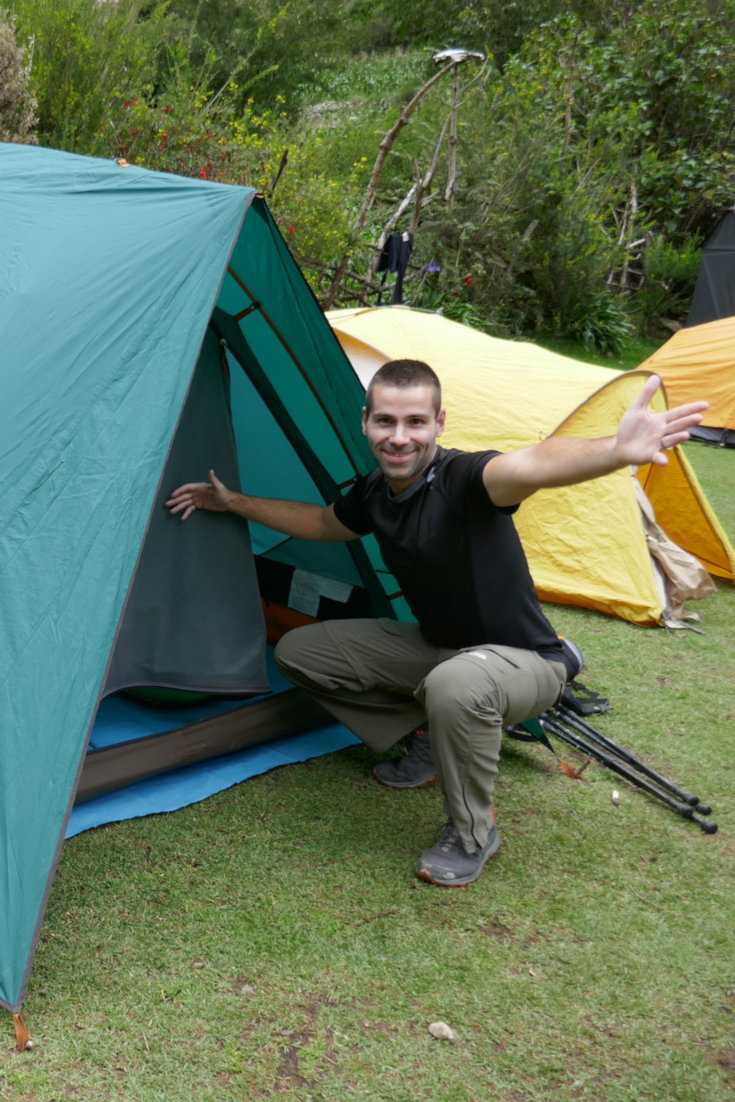 DON'T MISS OUT!
Need More Gay Travel Inspiration?
Get in-depth gay travel guides, inspiring stories, savvy planning tips, and exclusive discounts on gay tours. No spam. Never. Not ever. Just fun and interesting blog posts delivered straight to your inbox.