"A glass of champagne s'il vous plait Mademoiselle: it matches my complexion…"
The very sweet Japanese cabin crew girl onboard our ANA business class flight from Tokyo to London giggled at this proud Frenchman as he pouted fiercely, preparing to tuck into his beef steak fillet and Aomori black garlic confit.
Stefan also looked on in a fit of giggles as Sebastien so effortlessly settled into his ANA business class experience.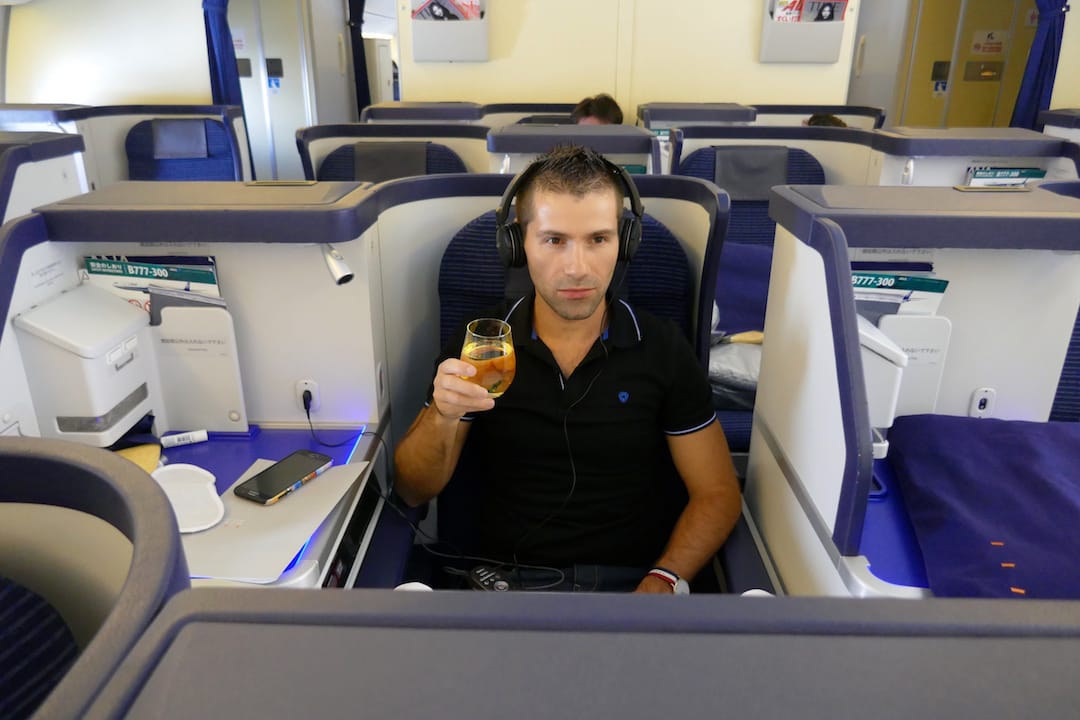 And wouldn't you? All Nippon Airways (ANA), Japan's largest airline, is not only recognised as one of the seven 5-star Airlines by Skytrax, its business class was rated as the fourth best in the world at the 2015 World Airline Awards. The accolades don't stop there: in the same year, ANA's business class was also highly rated for its seats, airline staff, catering and comfort amenities.
We flew business class on ANA Boeing 777-300 on our way back to London from Tokyo (12.5 hours) thanks to a very good deal we found on Skyscanner. We loved every second of it, and could not wait to write our review of flying business class with All Nippon Airways.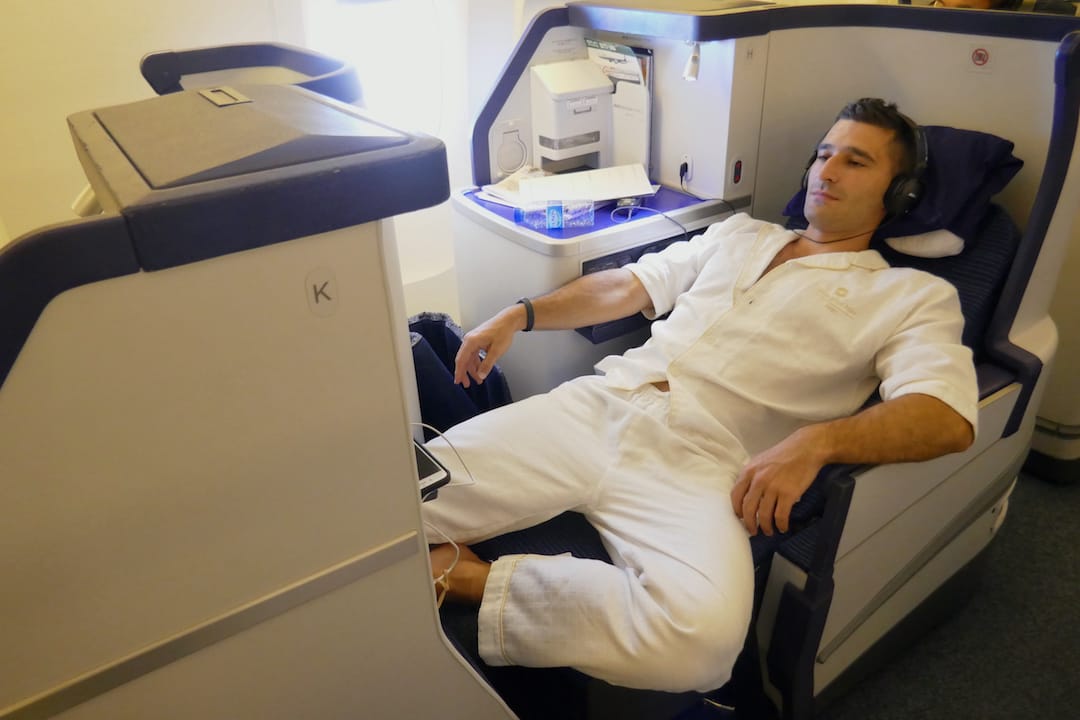 PRE-DEPARTURE
Business class check-in with ANA is very smooth and efficient. The airline has its own dedicated desk for business class passengers at Tokyo Haneda airport.
Once through security and immigration, a spacious lounge overlooking the runway awaits you. There, you can get some refreshments, food and also use the showers if you need to. Plane addicts (like our champagne hogging Frenchman) will have heaps of #planeporn fun here.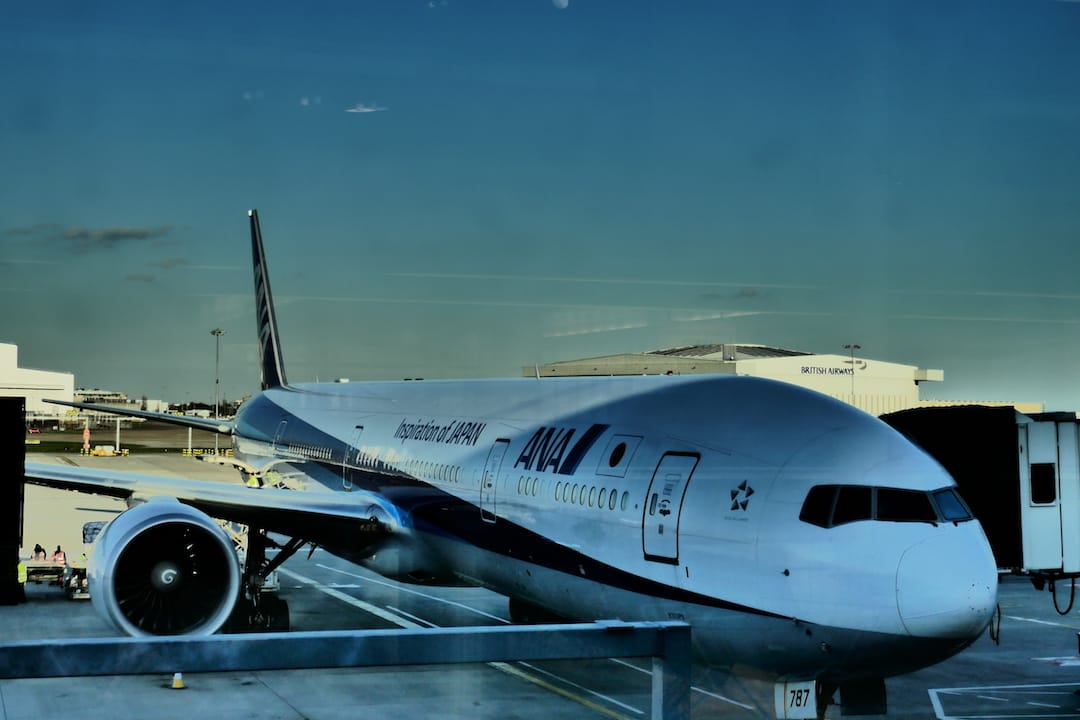 #

STATE OF THE ART BUSINESS CLASS SEATS
The ANA business class seating arrangement has been carefully designed using a staggered 1-2-1 configuration, ensuring a sense of privacy for each passenger as you're never directly next to anyone.
This also means that every passenger has direct aisle access, avoiding the unpopular middle seat dilemma.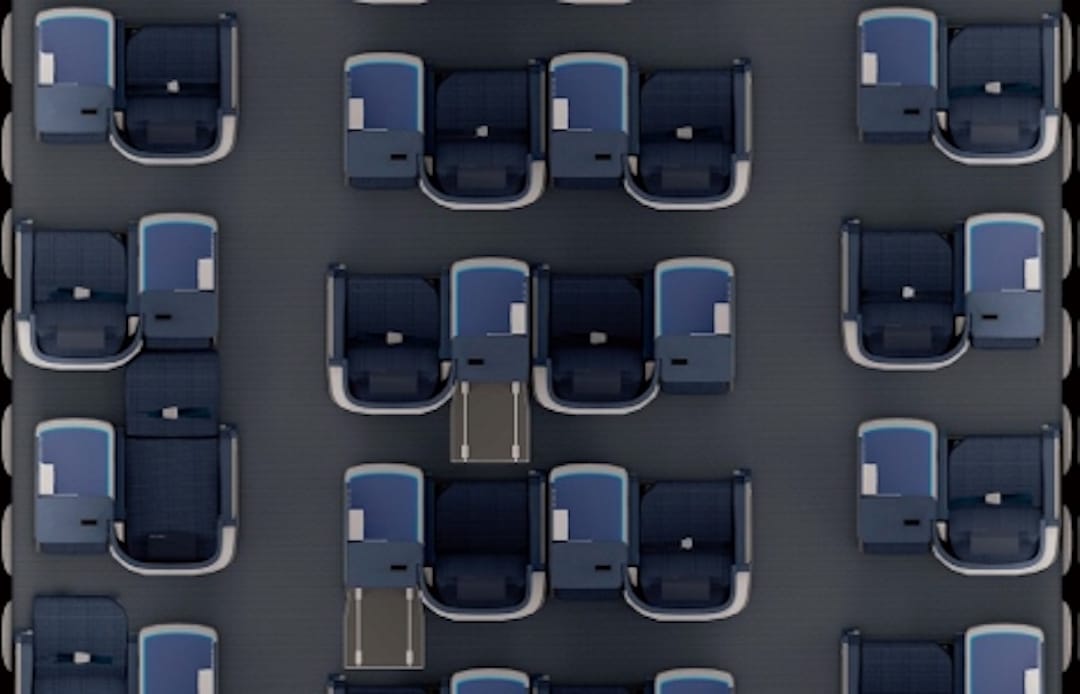 The real fun starts from the moment you board the plane and take your seat. These are no ordinary seats. ANA's business class seats were rated the 5th best in the world at the World Airline Awards and deservedly so.
The seating area is very spacious with a fully reclinable seat, large side table and your own personal over head luggage drawer.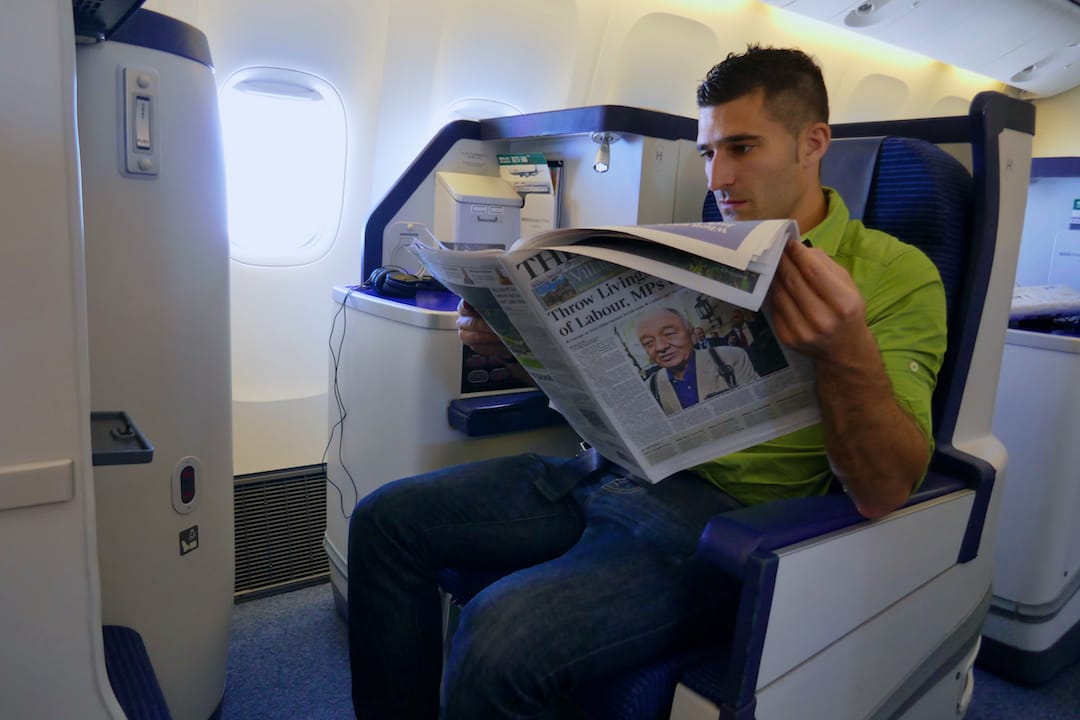 The seats have a width of 19.4 inches/ 49.3cm and fully recline to a length of 74.5 inches / 189cm, to become a very comfortable flat bed. For us this was more then enough space to sleep in a straight position (Stefan is 170 cm and Sebastien is 175cm).
A bed pad and a soft warm duvet are provided which makes for a very comfortable night's sleep.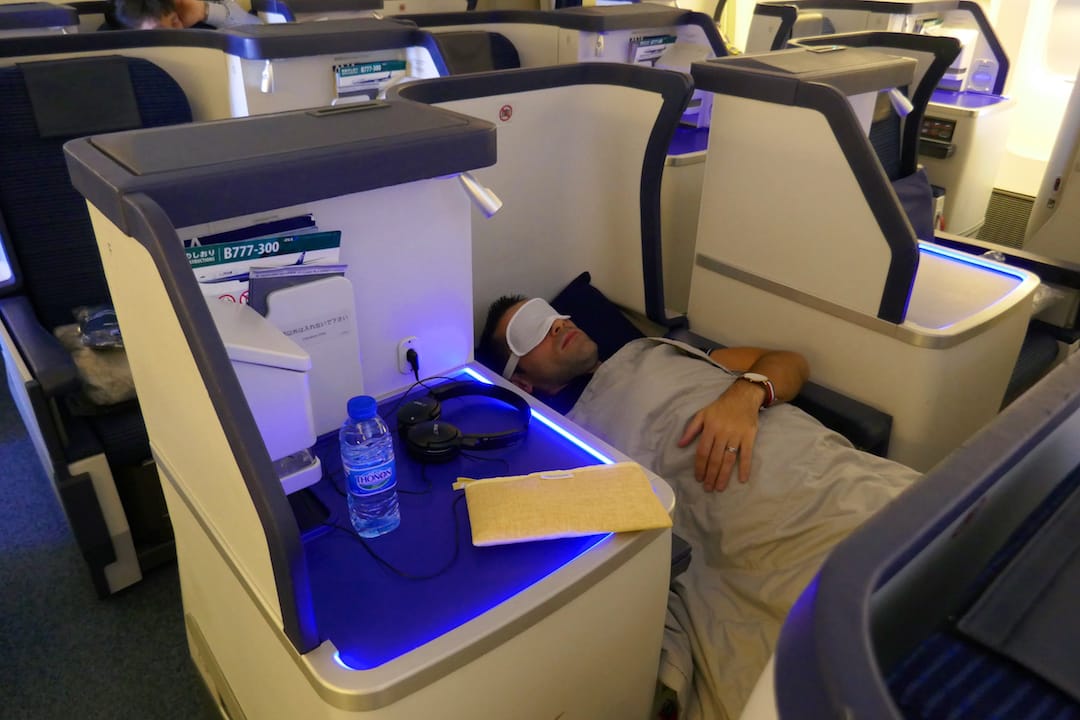 #

THE INFLIGHT SERVICE
The standard of service on board ANA is extremely high, as you would expect from a Japanese airline. They were rated one of the world's best cabin staff at the recent World Airline Awards and considered the #1 for best airline staff in Asia.
The staff are never short of smiles. And of course neither were we when greeted so warmly (with a glass of champagne to hand).
The ANA staff take a genuine interest in you without being intrusive. They make you feel like you have your own personal attendant throughout the flight. They are on hand whether you want to order a particular meal, want a copy of The Times newspaper, or just want to top up your champagne.
Throughout the duration of the flight they ask you if you want more drinks and always ensure you have plenty of water to keep you hydrated – and always with a smile.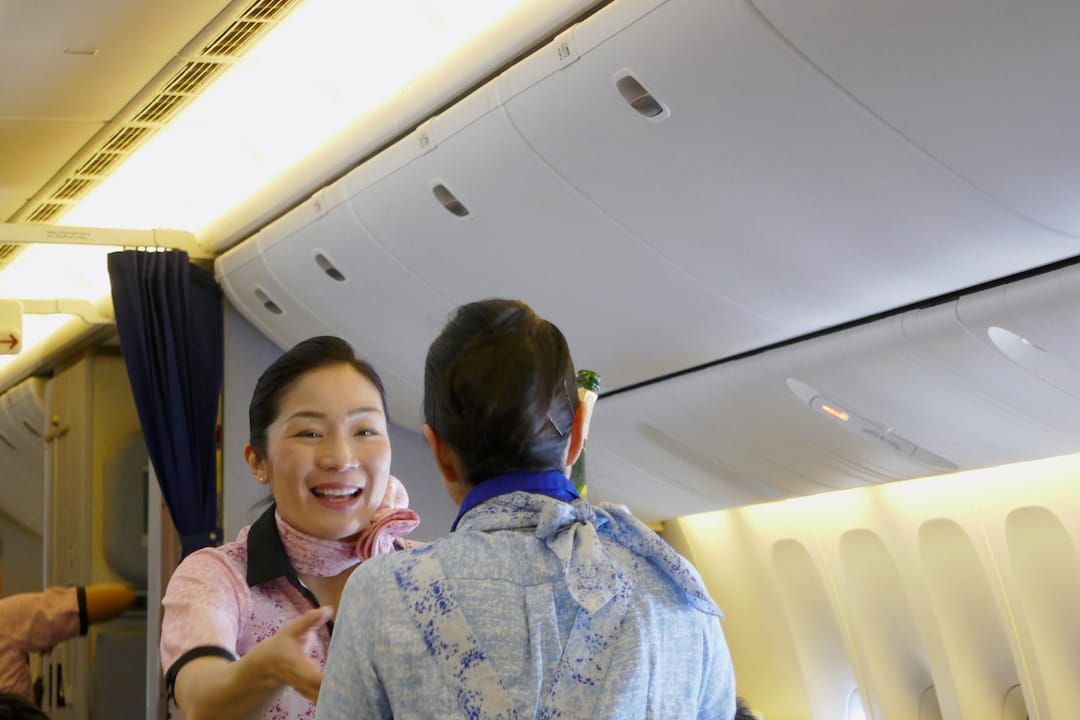 #

FINE DINING AT 30,000 FEET
The meal service is high class. Menus have been selected by THE CONNOISSEURS, a group of master chefs and wine experts from outside and inside Japan.
The friendly cabin crew lay a white table cloth, provide you with a warm towel and present all passengers with a menu, listing the excellent culinary options.
For the first meal, you have a choice of the Washoku Japanese Cuisine or the International Cuisine.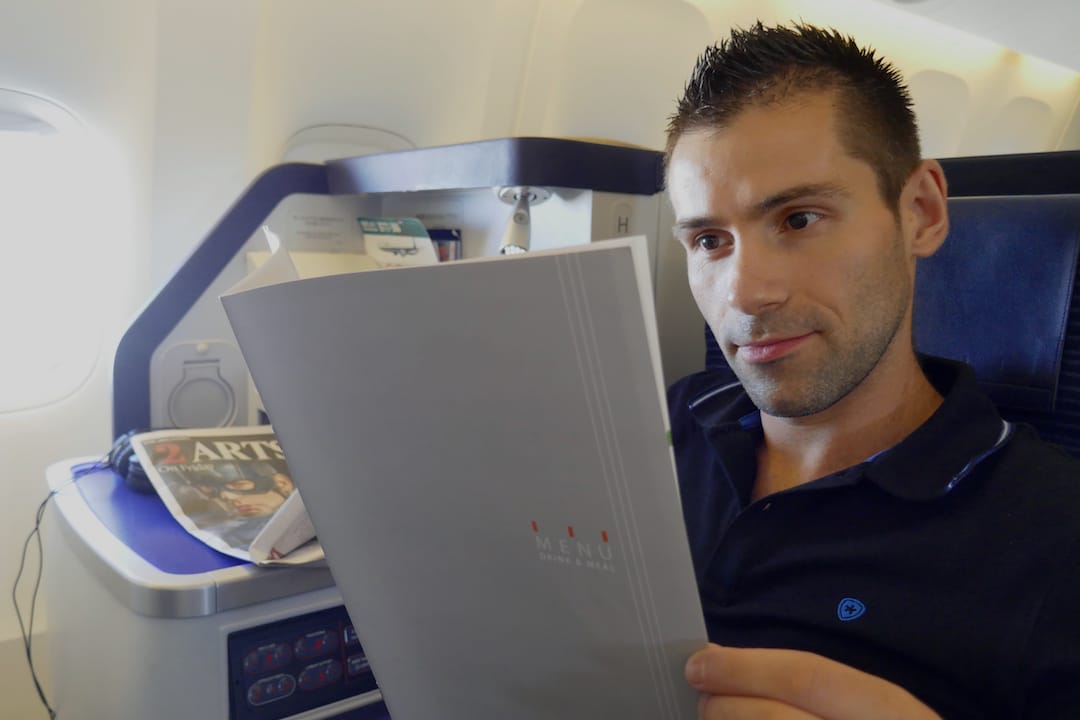 The Amuse-Bouches
Prior to the first meal, everyone is served a delicious hors d'oeuvre. This consisted of sweet glazed walnuts, young bamboo shoots aspic with okra puree, uncured beef ham and artichoke, cornichon brochette and marinated herring, feta cheese and semi-dried tomato: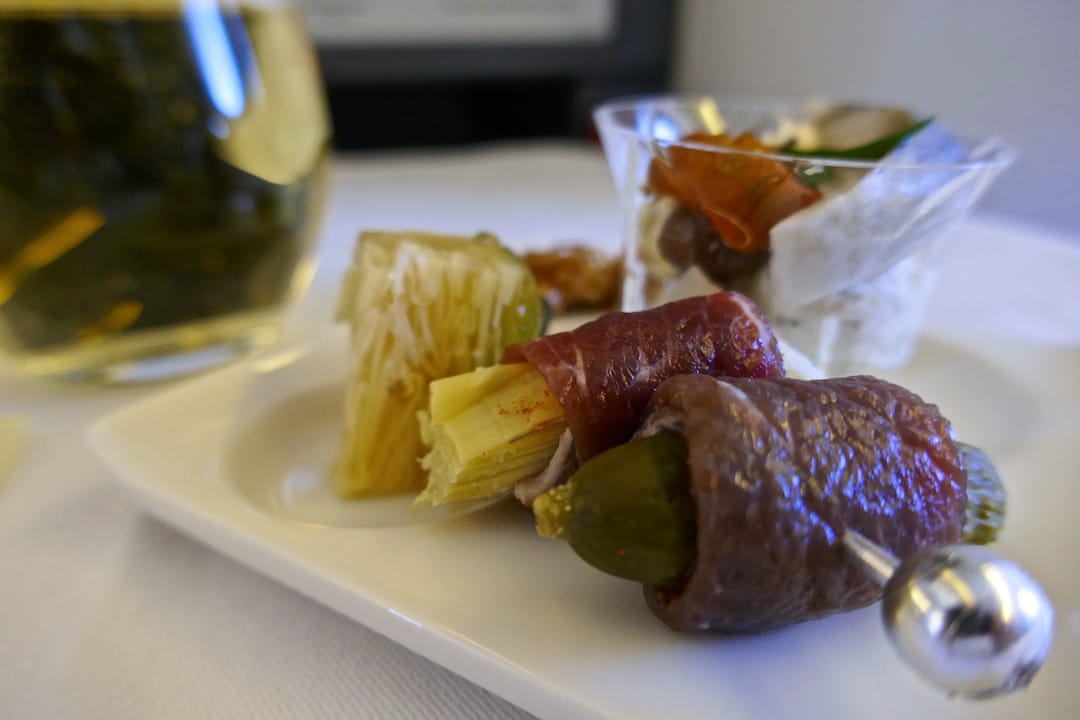 The Japanese Washoku
If you choose the Japanese cuisine, you'll be spoilt with a variety of culinary prizes like firefly squid with vegetables, chilled quick-poached beef with ponzu jelly, quick-seared seven band grouper, quick-poached diamond squid with nori and simmered mackerel in soy based rice.
Phew!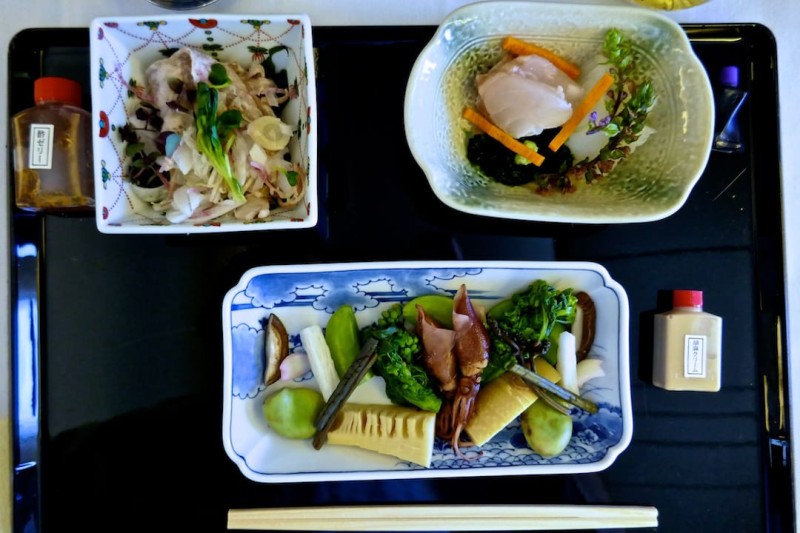 The International Cuisine
This option included smoked shrimp, soft-dried beef and marinated turnip starter with a main of fillet of beef steak, Aomori black garlic confit with teriyaki sauce and sautéed tilefish and cereal risotto with slaty cherry blossom-flavoured sauce.
Everything is so beautifully presented, making it hard to put the camera down and tuck in.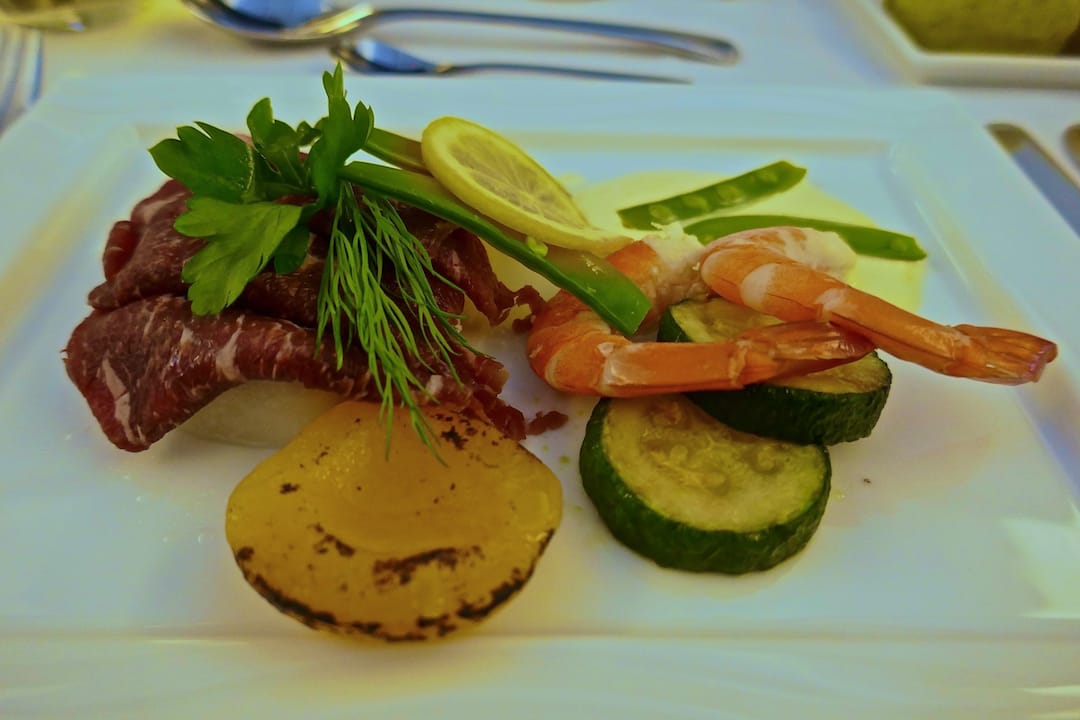 Drinks
There's everything you could possibly imagine on offer, whether it's whisky, sake, wine or beer. They have a great choice of white and red wines which have been carefully selected to compliment their menu. The champagne Henriot Brut Souverain on offer was enough to satisfy even this demanding Frenchman's taste buds.
A La Carte light dishes
For the remainder of the flight, a selection of Light Dishes are available for order at any time, like salads, soups, croque-monsieur and also including some of our Japanese favourites like udon noodles, ramen and okonomiyaki (Japanese pancake).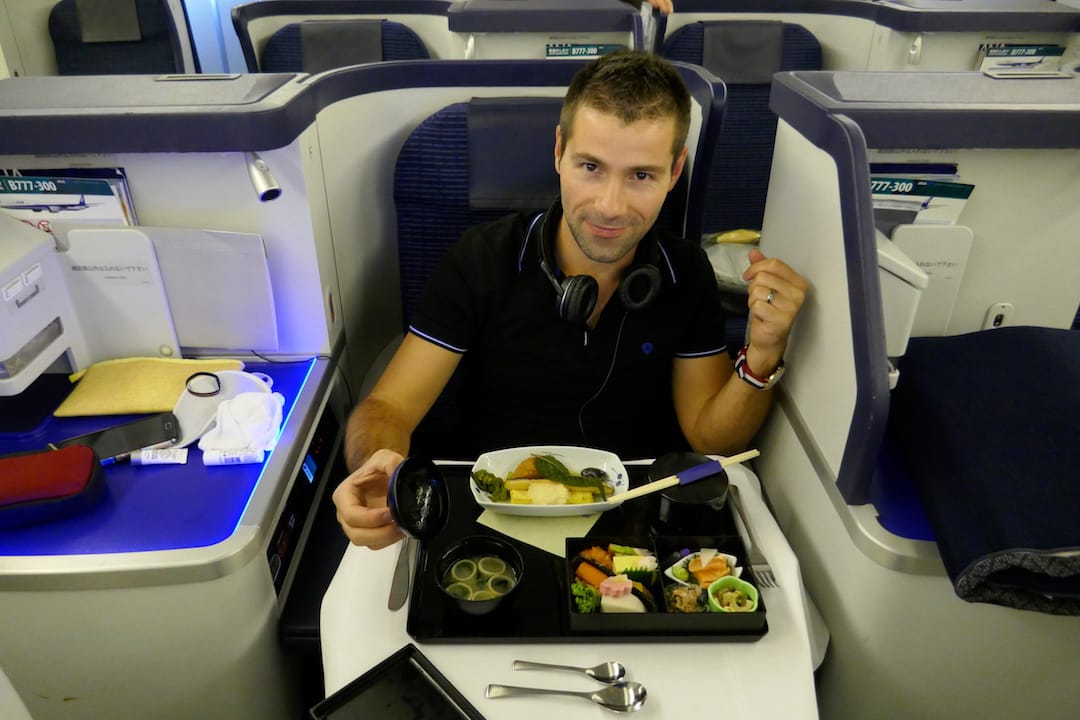 #

ENTERTAINMENT
Each cubicle has its own large 17 inches touch screen with the ANA Sky channel entertainment system, which includes some of the latest blockbusters, games, music and documentaries. Sony noise cancelling headphones are provided, which are so effective, they make you forget you're flying.
Underneath each screen is your own personal USB dock and power connectors to charge your phone and laptop.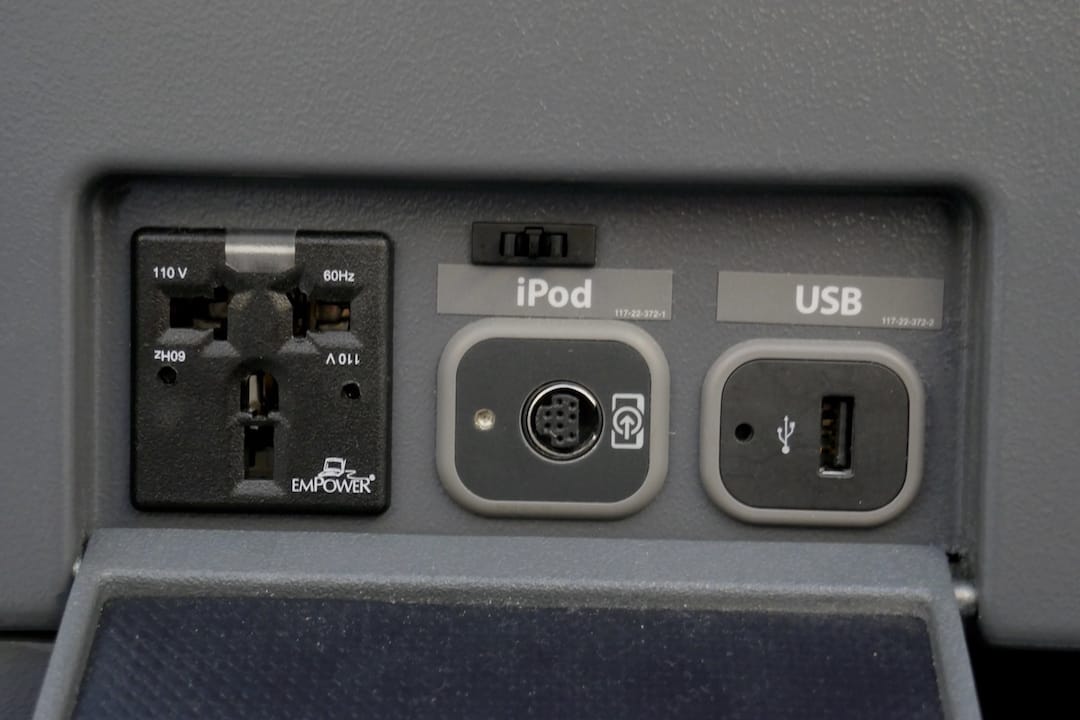 #

AMENITIES
ANA gives all business class travellers a plush flannel toiletries bag filled with L'Occitane products including lip balm to soothe dry lips, a revitalising serum, ear plugs, an eye mask and more.
The bathrooms are equipped with Japanese style bidet toilets, and in addition, toothbrushes, mouthwash and wet face towels are provided.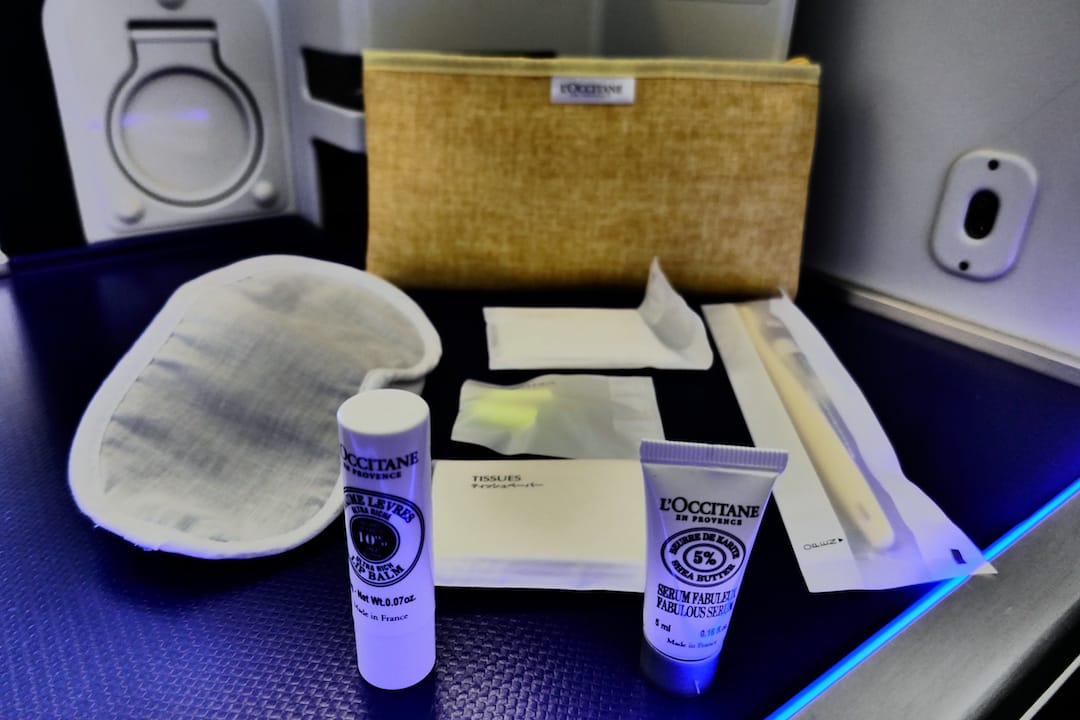 SO IS IT WORTH FLYING BUSINESS CLASS WITH ANA?
YES!
We had a fabulous experience from start to finish. The service was outstanding, the food, delicious, and the seats… well, you'll never want to fly economy on long haul flights ever again.
ANA has now become one of our favourite airlines and definitely the one we will choose to fly to Japan with again.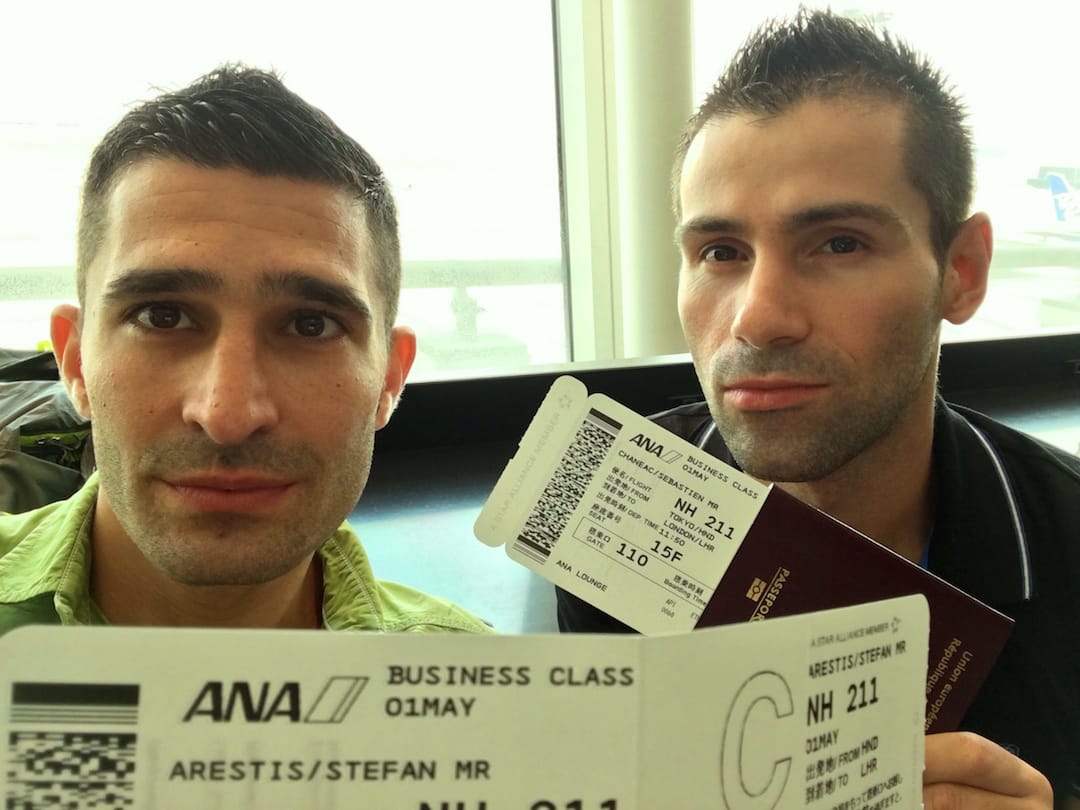 ANA business class fares from UK to Tokyo start from £2,912 return. Use Skyscanner to find the best business class deals from London to Tokyo with ANA.
To find out more about the gay life in Japan, check out our LGBT gay travel guide to Tokyo and for first timers, read our 10 days itinerary. For more airline reviews, check out this review about flying with Singapore Airlines by our buddy Maria Haase of the EuropeUpClose blog.
OUR FAVOURITE TRAVEL TIPS
⭐️ TRAVEL INSURANCE — We recommend you always take out travel insurance before your next vacation. What happens if you suffer from illness, injury, theft or a cancellation? With travel insurance, you can have peace of mind and not worry. We love World Nomads travel insurance and have been using it for years. Their comprehensive coverage is second to none and their online claims process is very user friendly.
⭐️ SAFETY & SECURITY — All travelers can sometimes encounter danger when traveling. CloseCircle is your "virtual body guard" mobile app which provides security alerts and support wherever you are in the world. They have a 24/7 emergency response team monitoring their users who will contact you immediately if the SOS swipe button is activated. Support can include anything from practical advice, to free evacuation from areas with extreme weather or security risks. You can read more about CloseCircle in our article about how to stay safe whilst traveling.
⭐️ ONLINE ANONYMITY — A VPN (Virtual Private Network) is a must in many countries: it allows you to surf anonymously and maintain your privacy whilst traveling. You'll particularly need it in countries where dating apps are blocked by the government. We recommend ExpressVPN, a reliable and cost effective service which we used and loved during our travels.
⭐️ HOTELS or APARTMENTS — When we plan a trip, we always look for the best hotel deals. We love Booking.com because not only do they have a comprehensive listing of accommodation options, they also offer the best prices. Added bonus: they provide 24/7 support and free cancellation for most listings.
⭐️ SIGHTSEEING and ADVENTURES — When we travel somewhere, we like to seek out the best experiences, whether it is cooking with locals in Bangkok, hiking on a glacier in Patagonia, or going on a wildlife safari in Sri Lanka. Our favorite place to look is GetYourGuide because they have over 30,000 highly rated activities, a user-friendly booking process with free cancellation and a 24 hour customer support.
This article contains affiliate links. If you click on them, we may receive compensation which keeps our website alive and helps us bring you to more destinations.
IF YOU LOVE ME PLEASE PIN ME: