TERMS OF USE: There is a chance that some of the content on this page has changed since it was last updated. By reading this article, you consent to our Terms of Use and Disclaimer. Happy Travels!
DISCLOSURE: Some of our posts may contain affiliate links which we may receive a commission if you choose to book something through one of our links.
Read about the time we stumbled on the only gay bar in Mongolia called Hanzo in the capital city of Ulaanbaatar.
For as long as I've known my crazy Stefan he's always been harping on about Mongolia.
He spends hours reading historical fiction about the Genghis Khan dynasty or watching documentaries about Kublai Khan. Although it was the Netflix Marco Polo series (starring the very handsome Italian actor Lorenzo Richelmy) that created Stefan's ultimate wanderlust for the land of the Mongols and therefore inspired our Mongolia trip.
We visited Mongolia during our big Asia trip in July when the famous Naadam Festival was taking place. This is the Mongolian Olympics, but instead of taking place every 4 years, it happens in July. It's the country's biggest event with a dramatic, colorful opening ceremony before the focus turns to the three traditional games featured in the competition: horse riding, wrestling, and archery.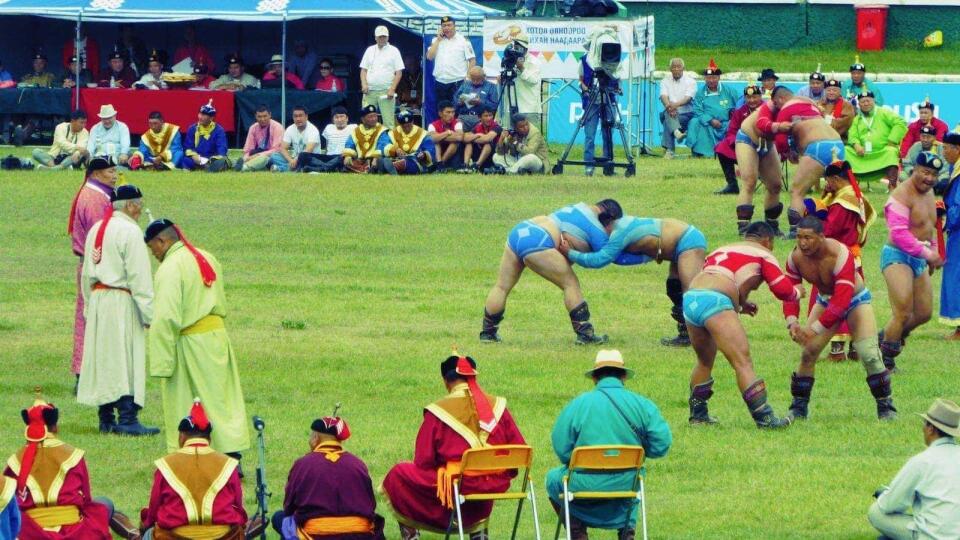 After watching the opening ceremony and a few of the matches in the capital, Ulaanbaatar, we set off to discover the local gay scene.
The truth is, there isn't one!
Although Mongolia decriminalized homosexuality in 1993, Mongolian LBGTQ laws still have a long way to go. Mongolian society is also very conservative. Using Grindr we managed to connect with a few gay locals who pinpointed us in the direction of one LGBTQ venue in the city. At the time it was called "Hanzo".
We set out on a Saturday evening in Ulaanbaatar around 10 pm to find the location of Hanzo. Using the GPS location that several local gay guys shared with us on Grindr, we found an unassuming block of grey Soviet-style blocks bundled together off the main road. It was only 20 minute's walk from our hotel and pretty close to the city center.
We didn't feel unsafe – despite being late, Ulaanbaatar doesn't have an issue with petty crime any more than other big cities do (however, the fact that we are two guys rather than a solo traveler also helps I think).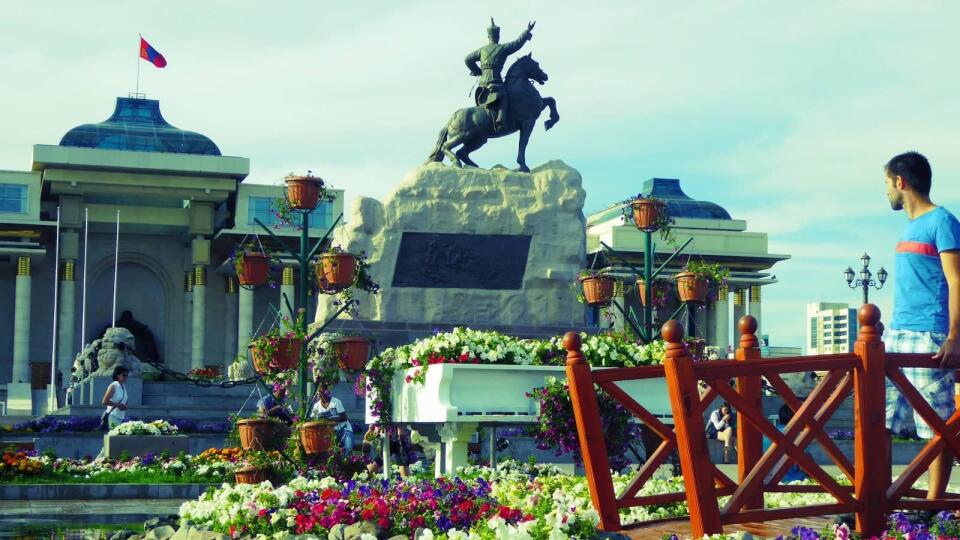 We must have spent around 25 minutes walking up and down those ugly Soviet blocks looking for Hanzo gay bar. There was no signage, nothing recognizable anywhere to help us locate it.
Suddenly, we heard the soft tones of Swan Lake. It was like Tchaikovsky himself had arisen from the grave and was guiding us toward this unassuming grey Soviet-like building…
We followed the sweet sounds of the famous Russian ballet. It led us to a ground-level door towards the back end of the maze of decrepit concrete blocks. We opened the doors and voila…we had arrived!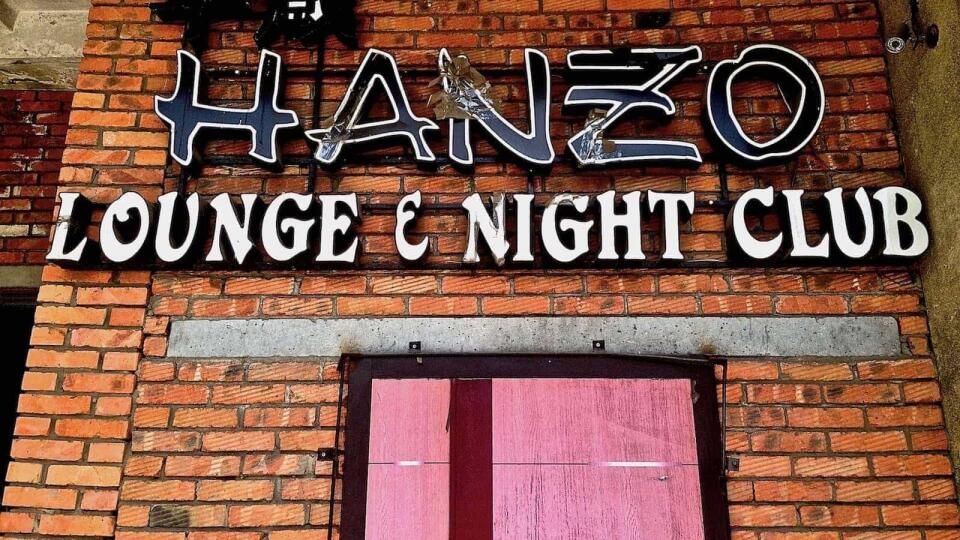 I'll never forget entering Hanzo gay bar!
The first thing we saw was a Mongolian man dressed up in a tight white dress with a giant swan head perched on the top of his head. He was frolicking around manically waving his dress and flapping his arms to Swan Lake.
We'd stumbled on Hanzo's Saturday night cabaret show. It was hilarious!
The same swan-clad man continued his act, performing some epic lip-syncs to a mix of Mongolian pop hits. The crowd, a mix of local gay men and women of all ages, was lapping it up.
The Swan man finished his show and then headed over to the bar. The crowd hit the dance floor and started to bop away to Madonna, Kylie, Lady Gaga…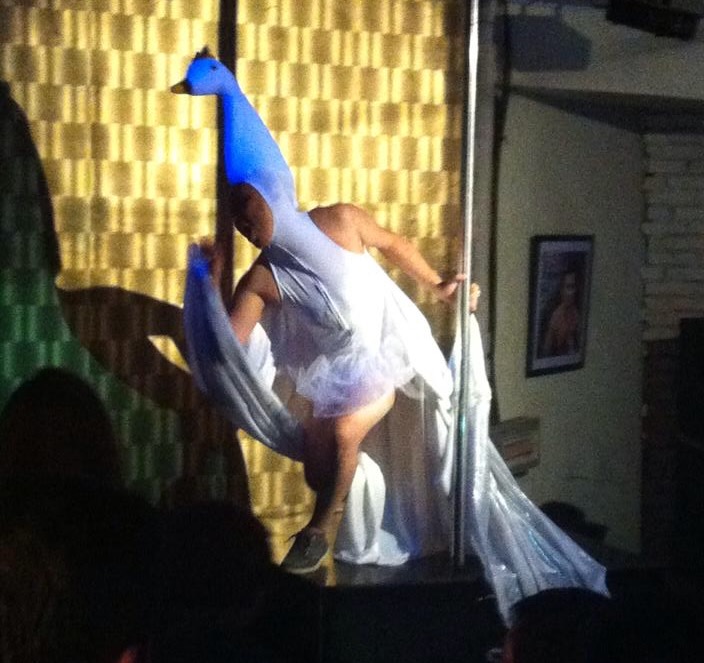 We went to the bar to get drinks and being the shy one, I pushed Stefan to say 'Hi!' to the Swan man, buy him a drink, and most importantly, ask him where he got his fabulous outfit from!
"I made it myself guys!" …he told us with a beaming smile.
His name was Zorig, and he was in fact the owner of the Hanzo gay bar.
We were impressed and really curious.
He told us his story about how for years he had fought to host and maintain a gay bar in Ulaanbaatar but every few years had to move to a new location either because of a homophobic landlord or because not enough gay patrons came to the bar.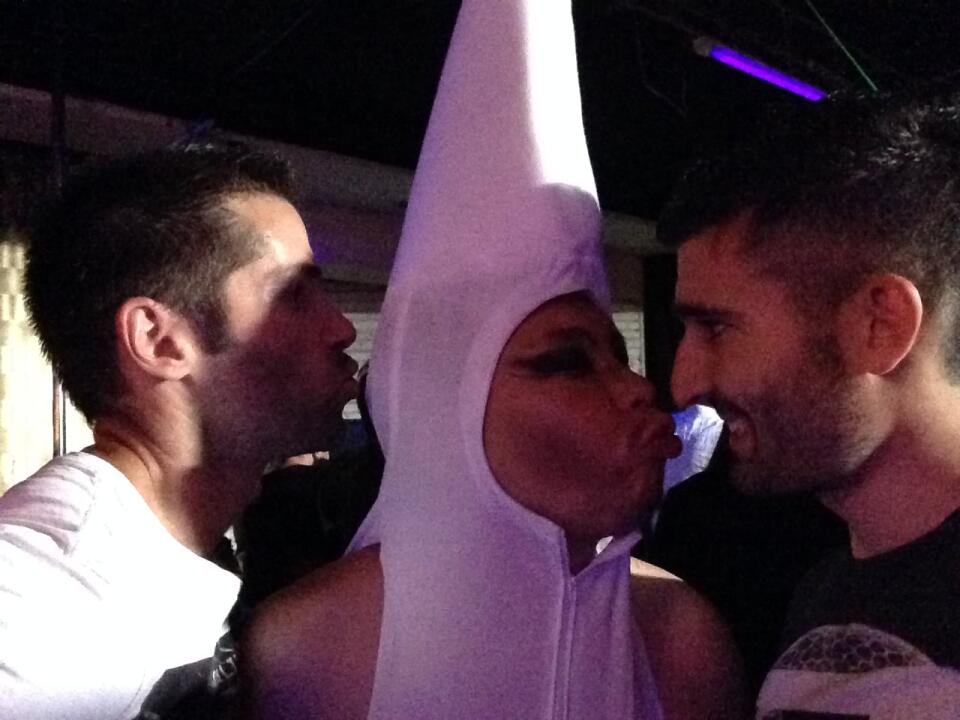 Zorig also told us – "Many Mongolia gay guys are in the closet and are too scared to come out, let alone be seen in public in a gay bar, so my biggest problem is getting the local LGBTQ community to support their only queer-friendly space!"
Although this (sadly!) makes sense, it was still quite shocking to hear.
We always just assumed gay guys would want to visit and support their local queer spaces. It made me appreciate how privileged I am to be able to come out at a young age and not need to lead a closeted life.
It also made me appreciate how lucky we are to have such a vibrant gay scene in London and other places we've visited in Europe and the Americas.
Zorig finished his drink, we exchanged numbers, and he headed back to the stage to continue his hysterical Swan-inspired routine.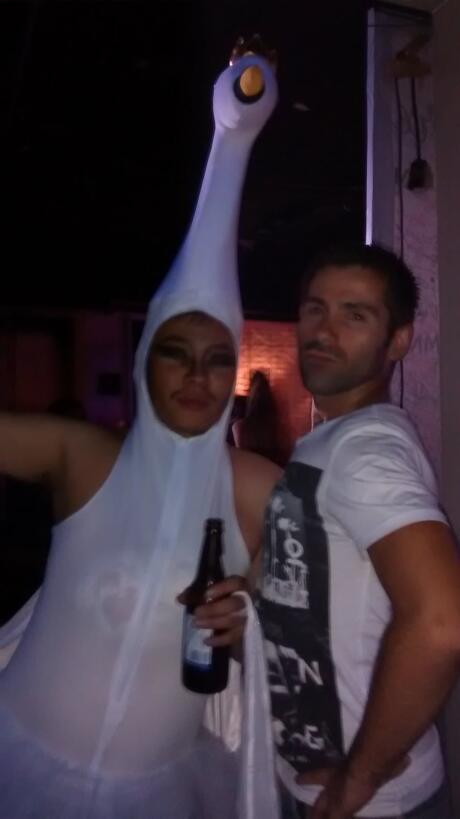 We met up with Zorig later in the week to interview him in more detail for our blog about his experience opening Mongolia's sole gay bar and also about what LGBTQ life is like in Mongolia. This was the first article on our website that garnered attention beyond our friends and family. Thanks to Zorig's unique story, Nomadic Boys started to grow to eventually reach the millions who read our blog today.
Today Zorig continues to run a gay bar in Ulaanbaatar. It has changed both names and locations numerous times over the years, but locally it's still referred to as Hanzo. We've kept in touch with Zorig over the years via Facebook messenger and he keeps us up to date with the latest happenings on the Ulaanbaatar LGBTQ scene.
In terms of the latest location of "Hanzo", Zorig told us:
"The bar is now at the Miami Hotel Mongolia in Sukhbaatar District 4 – just across the road from the State Department and next to the Ulaanbaatar department store".
The signage of Hanzo that we put in the photo earlier in this article is no longer used, but using this description you should be ok to locate the new bar. We will continue to update our content as and when Zorig changes anything!
A more recent update from Zorig was about the annual "Equality Walk" that he co-organizes. It takes place every August in Ulaanbaatar and is Mongolia's equivalent of a Pride celebration. It includes a Parade, which is the Equality Walk itself. The walk powers through the capital's downtown area. It includes a public concert, and a film festival, and concludes at Zorig's bar for a fabulous after-party.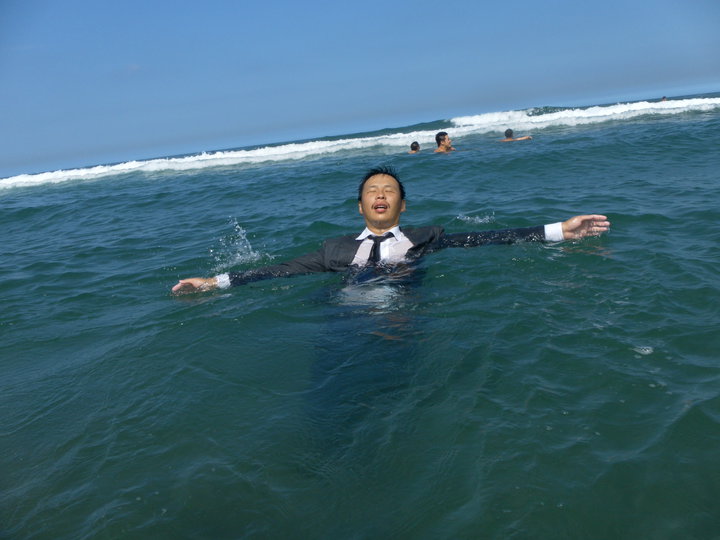 Our top highlights for gay travelers to Mongolia
Cards on the table here, other than Zorig's gay bar in Mongolia, there is nothing else that is gay-specific in Mongolia. However, like us, you're likely visiting Mongolia for its natural beauty and to experience the unique nomadic traditions that date back to the glory days of Genghis Khan.
So our advice, leave the glitter, crop tops + rainbow flags at home, and instead, come here with your expensive camera. Be prepared to be blown away by the serenity of the Gobi Desert, the otherworldly Tsagaan Suvarga mine, the color explosion that is the Naadam Festival…and oh so much more! Here are some of our main highlights that blew our socks off:
The Gobi Desert: our standout highlight of Mongolia. You cannot beat the range of landscapes including the Bayanzag flaming cliffs and the Tsagaan Suvarga mine. For fact geeks, the Gobi Desert is the largest desert in Asia and the fifth-largest in the world.

However, you can only visit it as part of a tour from Ulaanbaatar as there are no roads but dirt tracks. We just used the tours offered by the excellent (and super gay friendly!) Sunpath Hostel, which was our home base during our month-long trip to Mongolia.

Naadam Festival in July: it's a riot of color, particularly the opening ceremony! Naadam is the equivalent Mongolian Olympics, but it takes place annually instead of every 4 years. As well as the spectacular opening ceremony (we highly recommend you go to this!), it includes 3 days of tournaments featuring the country's 3 most popular events: wrestling, archery, and horse riding.

For tickets, we recommend asking your hotel to arrange these for you in advance – Sunpath Hostel did ours. We attended the opening ceremony and a few of the wrestling matches…trust me, you'll want to get a peak at some of those Mongolian wrestlers in action!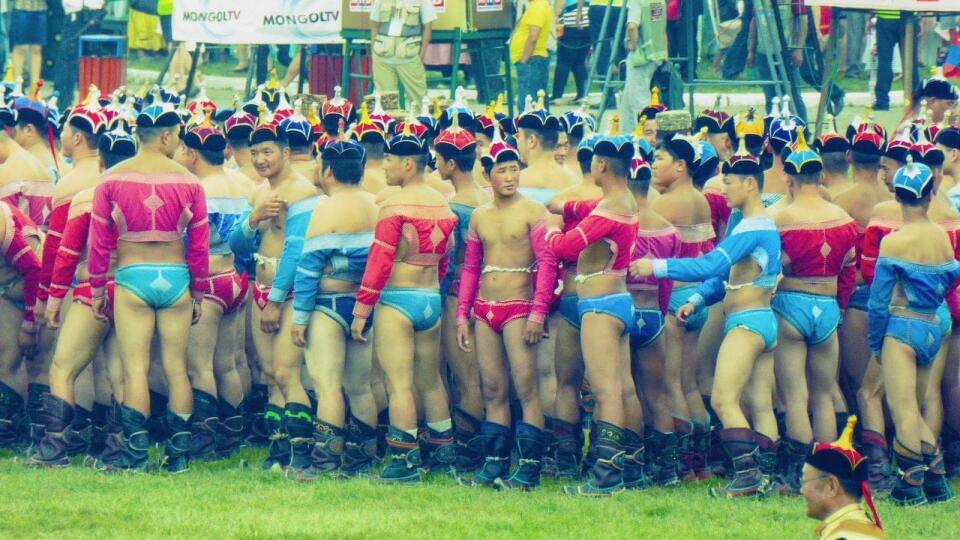 Altaa Golden Eagle Festival in October: we first heard about this because we love Sia, especially "Angel By The Wings". This is the main song for the 2016 movie called "The Eagle Huntress", which is all about a young girl who wants to participate in the Altaa Golden Eagle Festival.

It takes place every October in West Mongolia where Kazakh eagle hunters attend to compete and show off the skill of their golden eagles. Prizes are awarded for speed, agility, accuracy, and, our favorite, for the best traditional Kazakh dress!

Live with nomads in their gers (yurts): almost all tours around Mongolia will include this on some or all of your overnight stays. It's by no means luxurious so be warned! Mongolian nomad families live a humble simple life in their gers (yurts).

The toilets are in a simple outhouse, usually a hole in the ground. The beds in the gers are simple, as is the decor. They grow and rear everything they eat & drink. They also move around the land depending on season and climate, hence they have to be mobile with limited elaborate furnishings.

Try Mongolian food: most will know of the "Mongolian Barbecue", which is based on "khorkhog" – a goat barbecue cooked with hot stone. This is a real treat and we highly recommend. Other culinary gems to try include "khuusuur" (deep-fried dumplings) and "buuz" (steamed dumplings). When staying with nomadic families, you'll likely be encouraged to try "airag", which is fermented mare's milk…it's interesting…certainly an acquired taste! Read more in our article about the best traditional Mongolian foods to try.

Horse riding in the Orkhon Valley: the Orkhon Valley is one of Mongolia's UNESCO-listed gems because of the many archaeological remains that date back to the 6th century. It's an expansive region, usually included in what tour companies call the "Central Mongolia Tour". It was the second tour we did after our Gobi Desert tour.

Our highlight from this trip was riding through it on horses with a nomadic Mongolian farmer leading the way…Stefan took to it like a duck to water, but for some reason, I kept struggling with mine. Each time I tried to encourage my horse to go faster it would not move! I even tried to sing a few Edith Piaf classics to it but it just wouldn't listen…eventually, our guide took the lead and we powered through…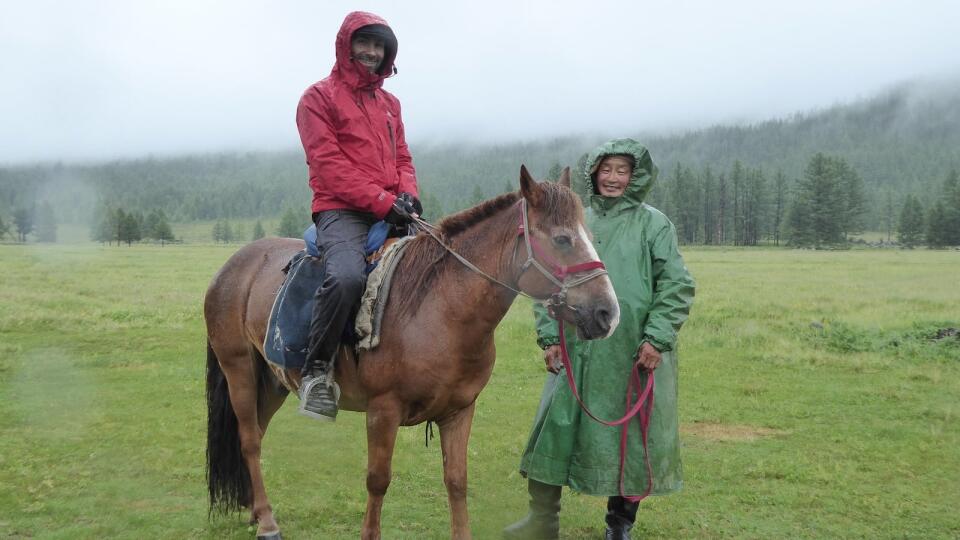 Our practical safety advice for gay travelers to Mongolia
Being gay is legal but…Mongolia LGBTQ laws are very limited. Mongolia got rid of its anti-gay law in 1993, but that's about it. There are no anti-discrimination laws, or if there are they are poorly enforced, and a constitutional ban against gay marriages has been in force since 1992.

In short, this ain't your Fire Island/Berlin/Gran Canaria destination by a long stretch! Mongolian society is very conservative. As gay tourists visiting Mongolia, we found it to be absolutely safe. We found Mongolians to be more fascinated by where we are from and about our lives back home in Europe. However, this is because we are foreigners and therefore get a "pass" that local gay guys don't.

Caution against PDAs: people in Asia generally are conservative about PDAs whether straight or gay, so we were cautious to avoid throwing our relationship in people's faces. We, therefore, limited PDAs to the safety of our hotel room or in a queer-friendly space like a bar with an obvious international crowd, or at Zorig's gay bar!
We had no problems booking hotel rooms: hotels in Ulaanbaatar, especially the large upmarket brand hotels like Baotou Marriott Hotel, and Shangri La Ulaanbaatar are used to welcoming LGBTQ travelers.

We feel comfortable in these sorts of hotels because, obviously they're lush(!), but most importantly, they adhere to international standards of tolerance and acceptance, rather than local ones, and thus train their staff accordingly. We can also personally attest to Sunpath Hostel as being very gay friendly. The owner, Doljmaa, is a diamond, who welcomed us with open arms as our Mongolian mama and was well aware that we are a gay couple.

Book a tour with a driver and guide: trust us! There are no roads around rural Mongolia. Dirt tracks rule the way, and they require a strong 4×4 car along with a knowledgeable local driver, and ideally a guide. All hotels will be linked to a tour company and will be able to arrange everything for you. We booked all our tours via Doljmaa of Sunpath Hostels and we were very pleased.

Gay tours in Mongolia: there are currently two excellent gay tour companies that run trips in Mongolia every year. The first is HE Travel in July, which coincides with the Naadam Festival. The second is Out Adventures in October, which takes place during the Golden Eagle Festival.