TERMS OF USE: There is a chance that some of the content on this page has changed since it was last updated. By reading this article, you consent to our Terms of Use and Disclaimer. Happy Travels!
DISCLOSURE: Some of our posts may contain affiliate links which we may receive a commission if you choose to book something through one of our links.
Read about our road trip in Scotland as we explored its beautiful, rugged, and unique landscapes, dressed in our kilts!
"Seby how would you feel about traveling around in Scotland in kilts?"
Oh, just one of the many random thoughts my crazy husband threw at me during our Covid lockdown in Cyprus.
Only this time he was serious!
We were due to head to London in late September 2020 to celebrate his birthday. Whilst there, he wanted to do a road trip around Scotland. The fact that he'd spent a chunk of our Covid lockdowns glued to his iPhone binge-watching all the James Bond movies and spending way too much time scrolling through #meninkilts on his Instagram may have had something to do with his inspiration…
Edinburgh: the start of our epic road trip
And so, our Scottish Odyssey began in Edinburgh where we picked up our car and kilt rental.
Trying on our kilts felt quite stifling at first. The tartan material is thick and heavy. But I quickly began to appreciate the warmth it offered. Scotland in September can get pretty cold. The Scottish weather is an experience in it itself as you get all four seasons in one day: one minute it rains, then it hails, then the sun powers through, then snow, then harsh winds, then sun…repeat!
I first heard about Edinburgh from Stefan because he used to talk passionately about attending the Fringe Festival (every August) in his student years. Edinburgh is also one of the prettiest cities I've been to in the UK. The cutesy cobblestone streets of the Royal Mile in the old town are a joy to get lost in. The impressive Edinburgh Castle towers over the city – a remarkable UNESCO-listed Medieval fortress built in 1103 AD.
We explored the streets of Edingburgh proudly wearing our kilts. Everyone we passed smiled at us, some even stopping to take photos with us.
My favorite part of Edinburgh is the views from the hills surrounding the city. The easier one is Calton Hill with its own Acropolis-like structure at the top. The more challenging hike is to Arthur's Seat. The winds at the top were pretty ferocious, but my trusty tartan fabric kept me nice and toasty.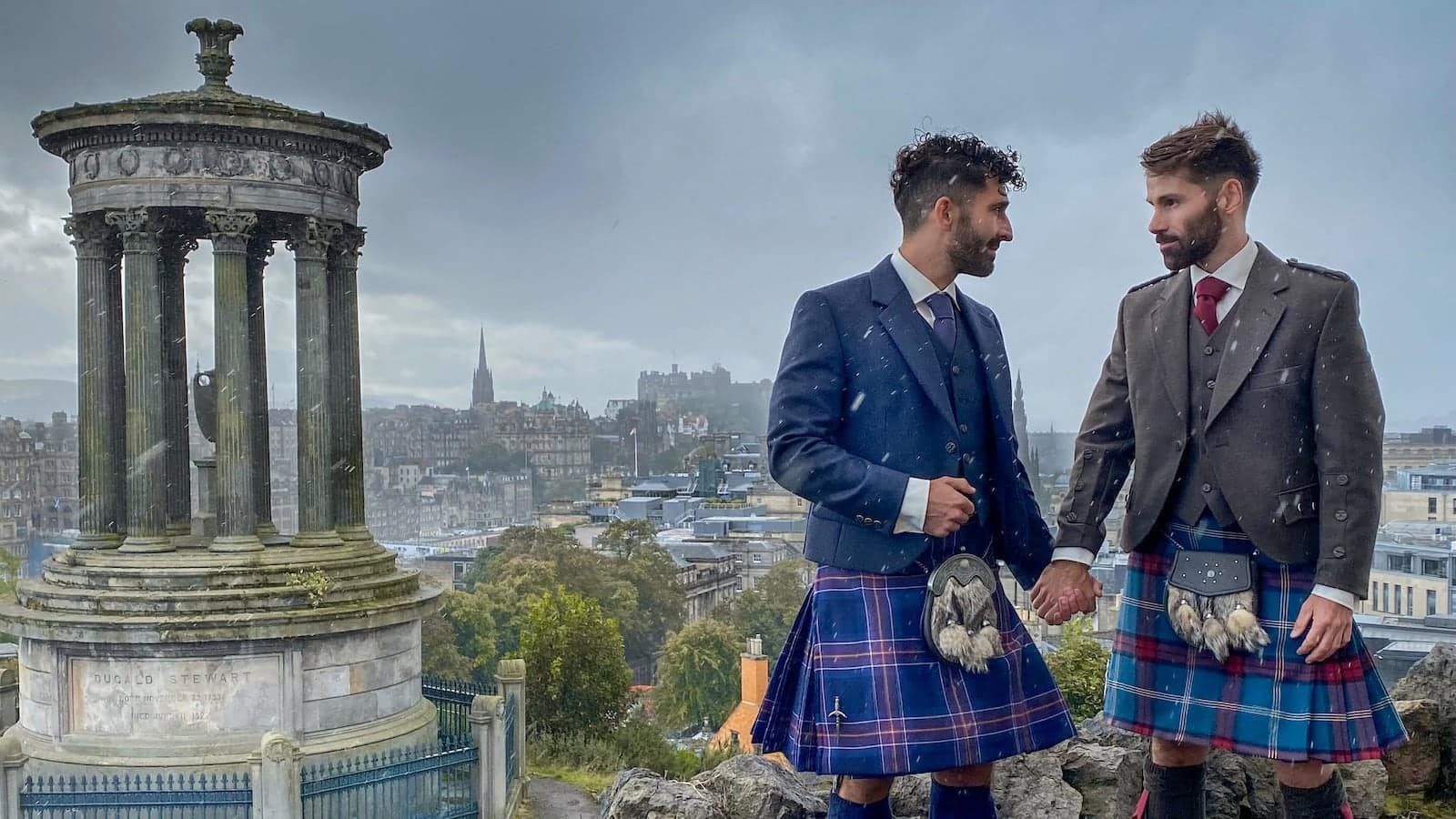 Loch Ness and the Highlands
Leaving behind the bright lights of Edinburgh, we began our road trip. We headed north passing the giant horse head statues called "The Kelpies".
Eventually, we reached Eagle Brae in the Highlands where we stayed in our own private luxury log cabin perched atop a hill, close to the haunting moorland of Glen Affric. You can imagine the many Brokeback Mountain-inspired photo ops here – all clad in our kilts, of course!
To my reluctance, we left Eagle Brae, at sunrise to drive over to Loch Ness where we had a boat trip and some kayaking booked. I am NOT a morning person and can get quite grumpy when forced out of bed early…I may have sworn a few times that morning to Stefan. He later quipped to our guide that he had spotted the mythical Nellie Loch Ness monster, only to point in my direction.
It was worth it of course. Loch Ness is so peaceful, especially in the early hours when there is no one else around.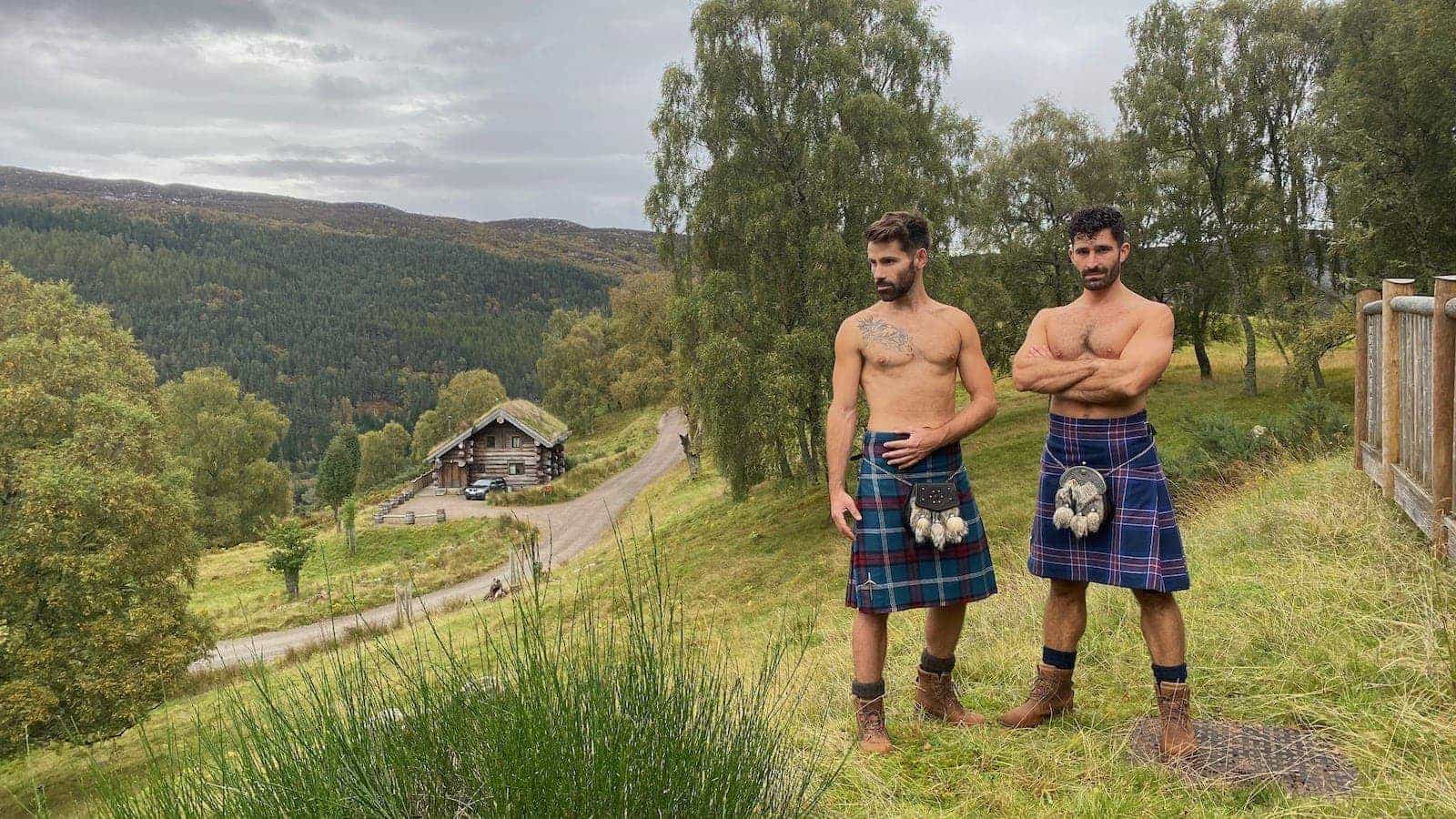 Duncansby Stacks in Caithness…just wow!
One word, stunning!
The Duncansby Stacks was our landscape highlight in Scotland.
Located up in the northeastern tip of mainland Scotland, the Duncansby Stacks are two rugged stones jutting out from the sea's surface, with a twinkling lighthouse in the background. From the car park, there's a short trek up a hill through a farm to reach the Stacks.
The first time we visited we were freezing our nuts off. The coastal winds are pretty severe! We returned the following day hoping we could appreciate it better. Thankfully the weather had settled overnight and we were even able to fly our drone.
We left with one of the most impressive images from our travels that has been my laptop background ever since: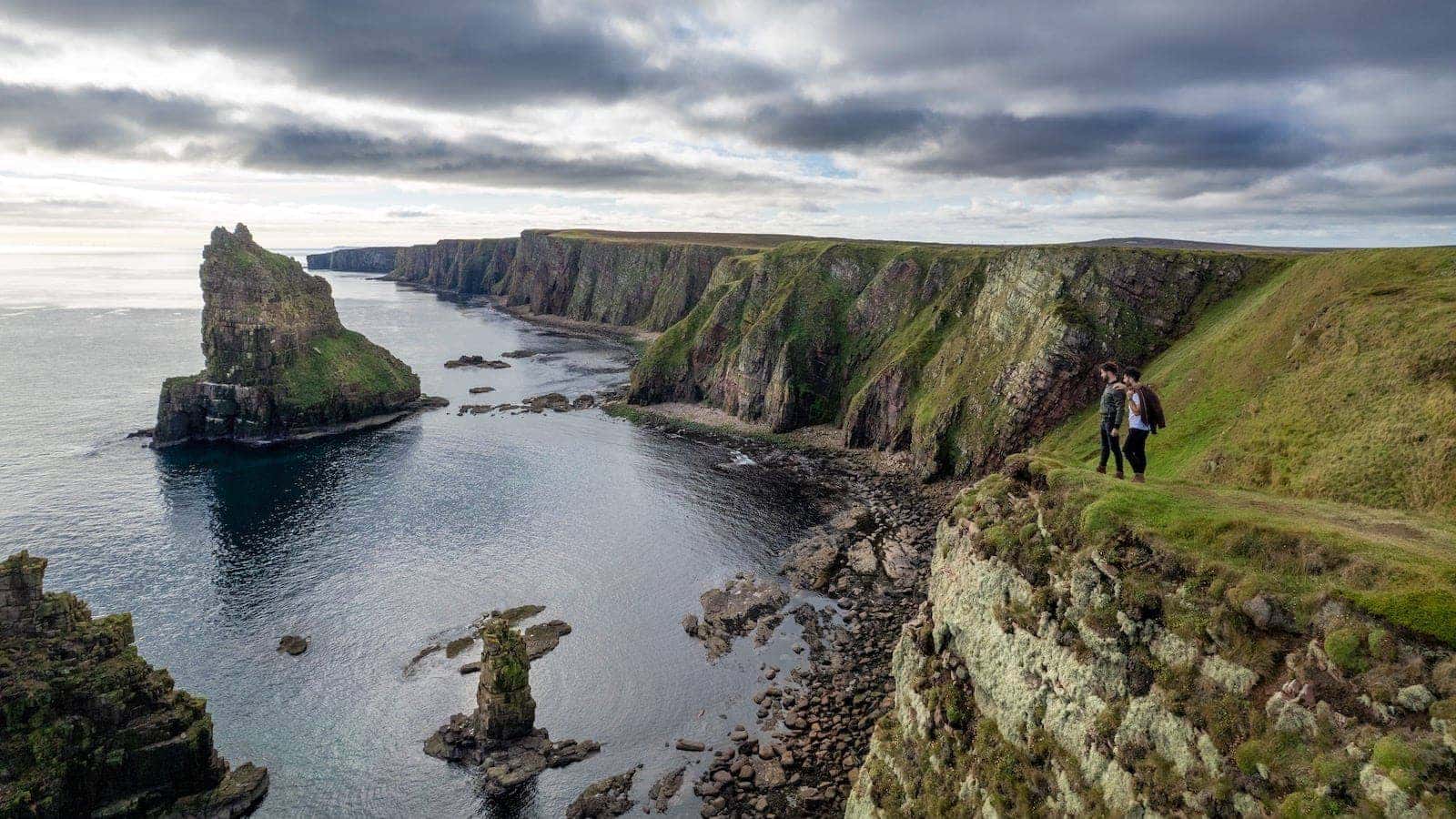 All aboard the Hogwarts Express!
When it comes to movies, Scotland has a lot to answer for. Most of the Harry Potter movies were filmed here.
One of the most iconic places captured in recent feature movies is the Hogwarts Express that leaves Platform 9 3/4 at Kings Cross Station and powers out into the countryside en route to the eminent Wizarding School.
There is one particular scene where a Jacobite Steam train snakes around a viaduct. That viaduct is none other than the Glenfinnan Viaduct, which runs on the West Highland Line in Glenfinnan between Fort William and Mallaig. You can actually board the train and ride it from Fort William Station over the viaduct. It leaves twice a day.
We chose to just camp outside the viaduct clad in our kilts and wait for the train to pass by. Heads up if you do it this way, the train will pass by at around 10:45 am and 3:15 pm every day, so aim to come just before this to get your cameras and tripods ready!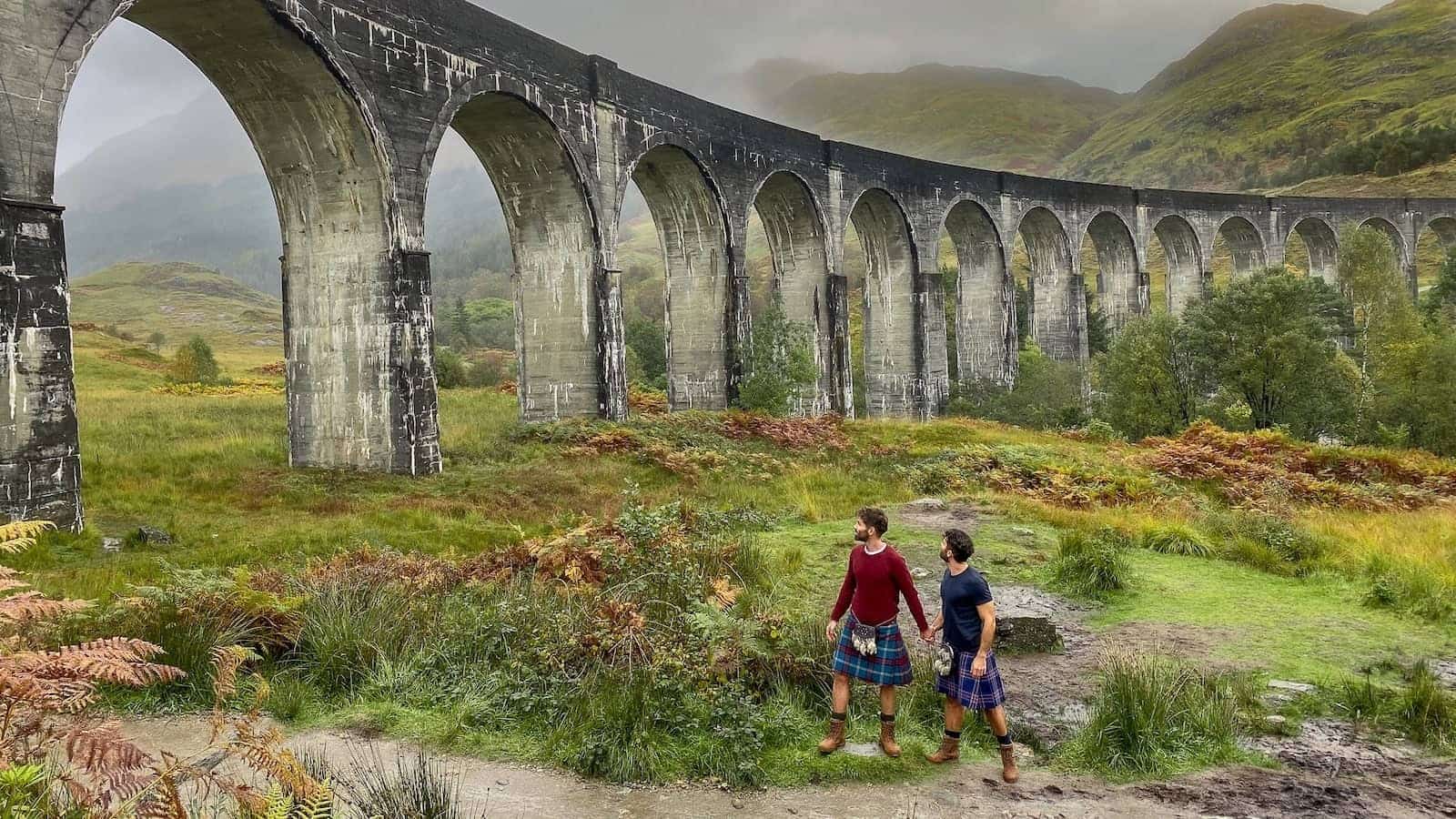 Let the Sky Fall, where it crumbles…
Continuing on with iconic backdrops movies, the 2012 James Bond movie, "Skyfall" was shot largely around Glencoe – so much so that one road is even nicknamed, "Skyfall Road".
It's no surprise. The landscape of Glencoe is phenomenal – rugged mountains, gorgeous crumbling castles, haunting moorland, ancient woodlands…driving through here together was a treat.
It felt quite haunting roaming around Glencoe. Despite its fame, we saw almost nobody. It was like we were in our own little Scottish bubble in the middle of this impressive scenery.
Guess which music we had blasting on in the background during our drive through this legendary road?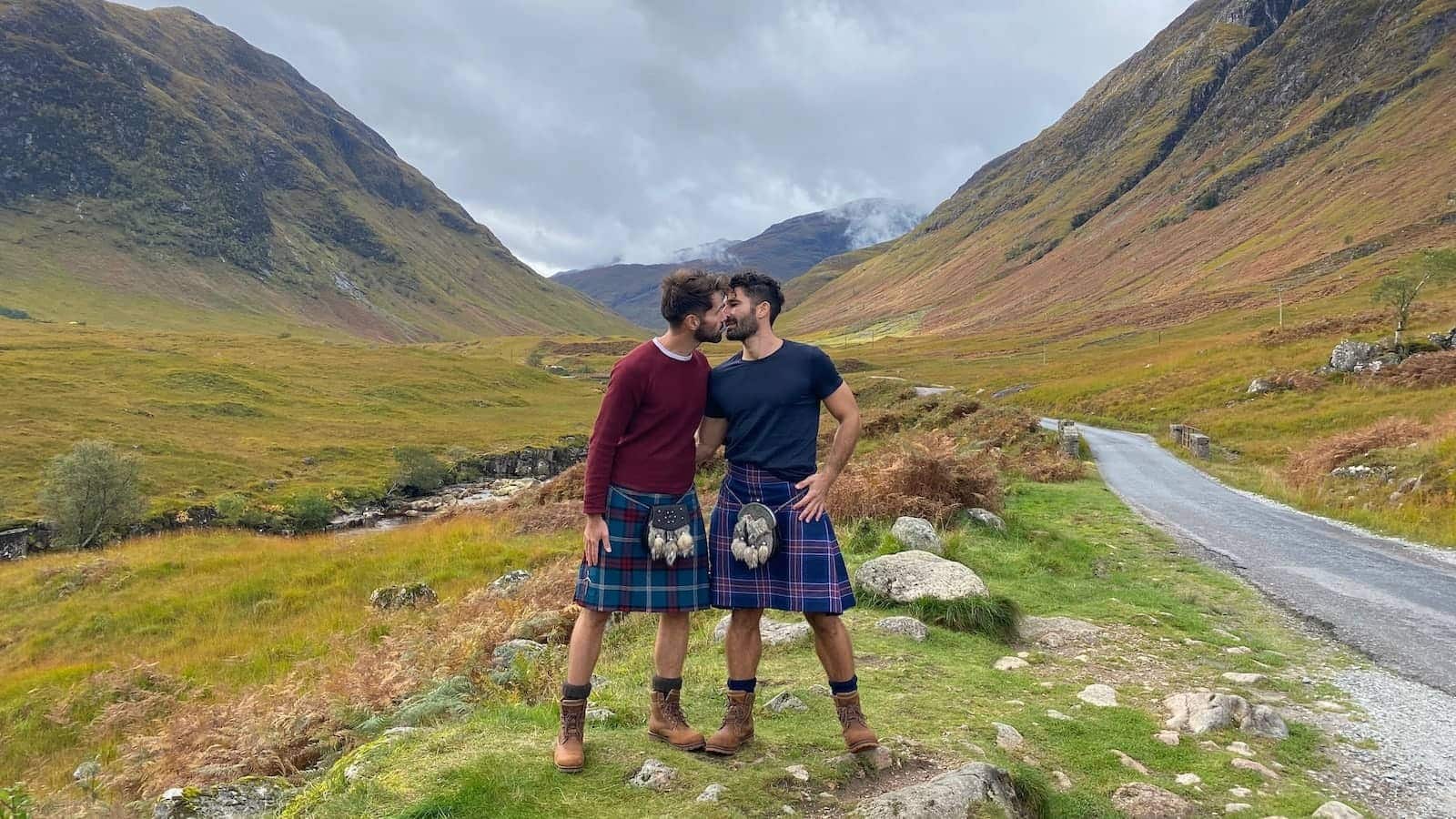 Glorious Loch Lomond
Whilst Loch Ness dominates the headlines, Loch Lomond is another impressive Scottish lake that we think everyone should visit.
Located in southern Scotland, Loch Lomond was our next stopover after our pilgrimage to James Bond. It is Scotland's first official National Park after Princess Anne officially opened it in 2002.
Our highlight was our morning run to Conic Hill. We gave the kilts a rest for this one – tartan material is heavy and not practical for fast movement!
It took us a good hour to reach the top of Conic Hill as parts of it were pretty steep and slippery. We had to tread carefully…my clumsy Stefan fell flat on his arse at least 3 times!
Once at the top, we got a strong gust of wind as the weather quickly changed from sunny to rainy, with strong winds, then sunny again. But it was worth every second just for the views over Loch Lomond.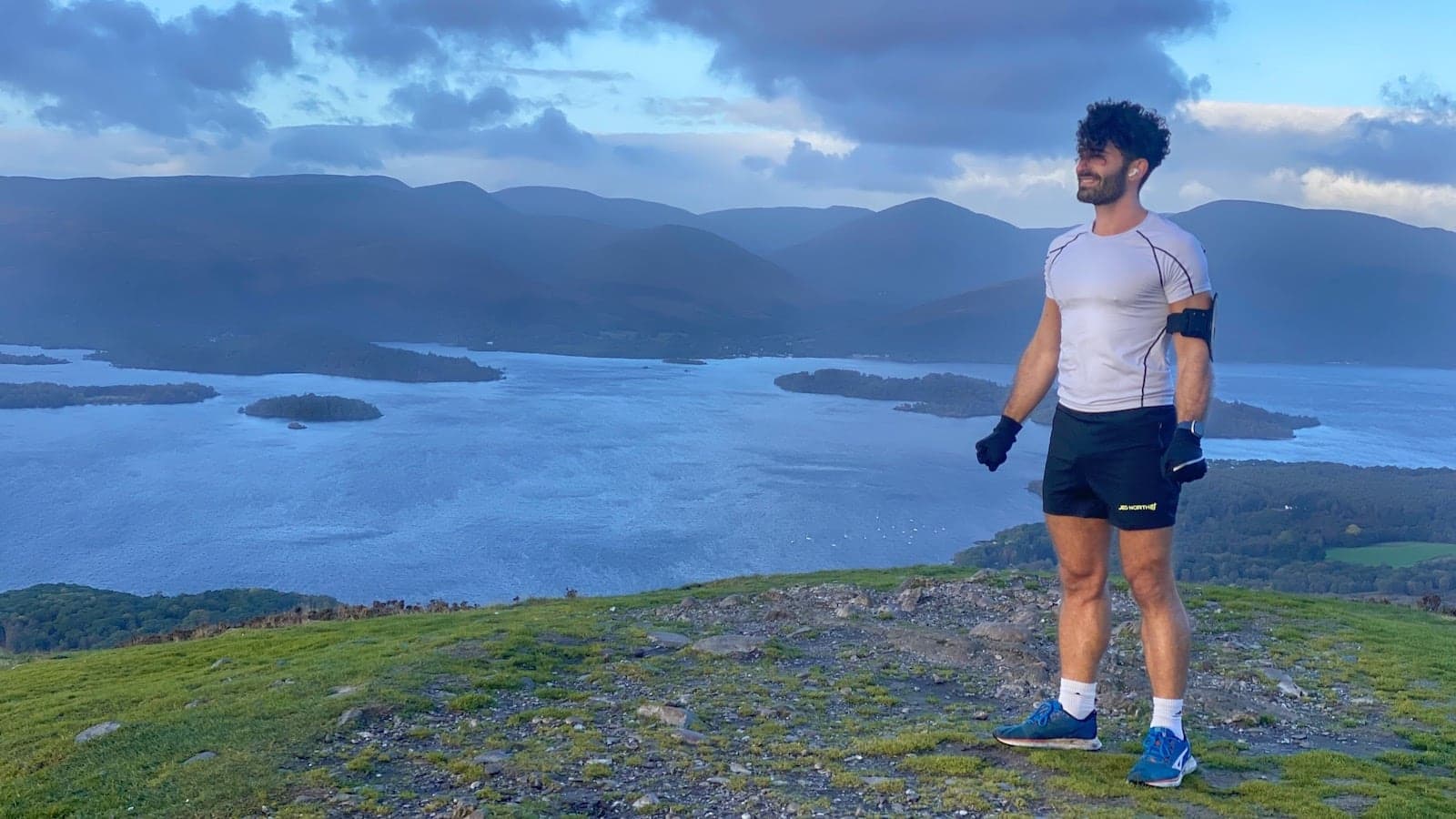 Final stop: geeking out on whisky on Isle of Islay
Our final stop in Scotland was to the Isle of Islay, famed for its pungent peaty and smoky flavored whiskies.
Islay's peated whisky reputation comes from the unique weather pattern that creates the good quality peat that is used to flavor the whisky.
We had a blast as we hiccuped our way from one distillery to the next, eventually collapsing at Machir Bay beach to nurse the impending hangover.
Lying there I realized I had had one too many "drams" of whisky when at one point I could have sworn I'd spotted Nellie the Loch Ness Monster hovering over the waters staring over at us…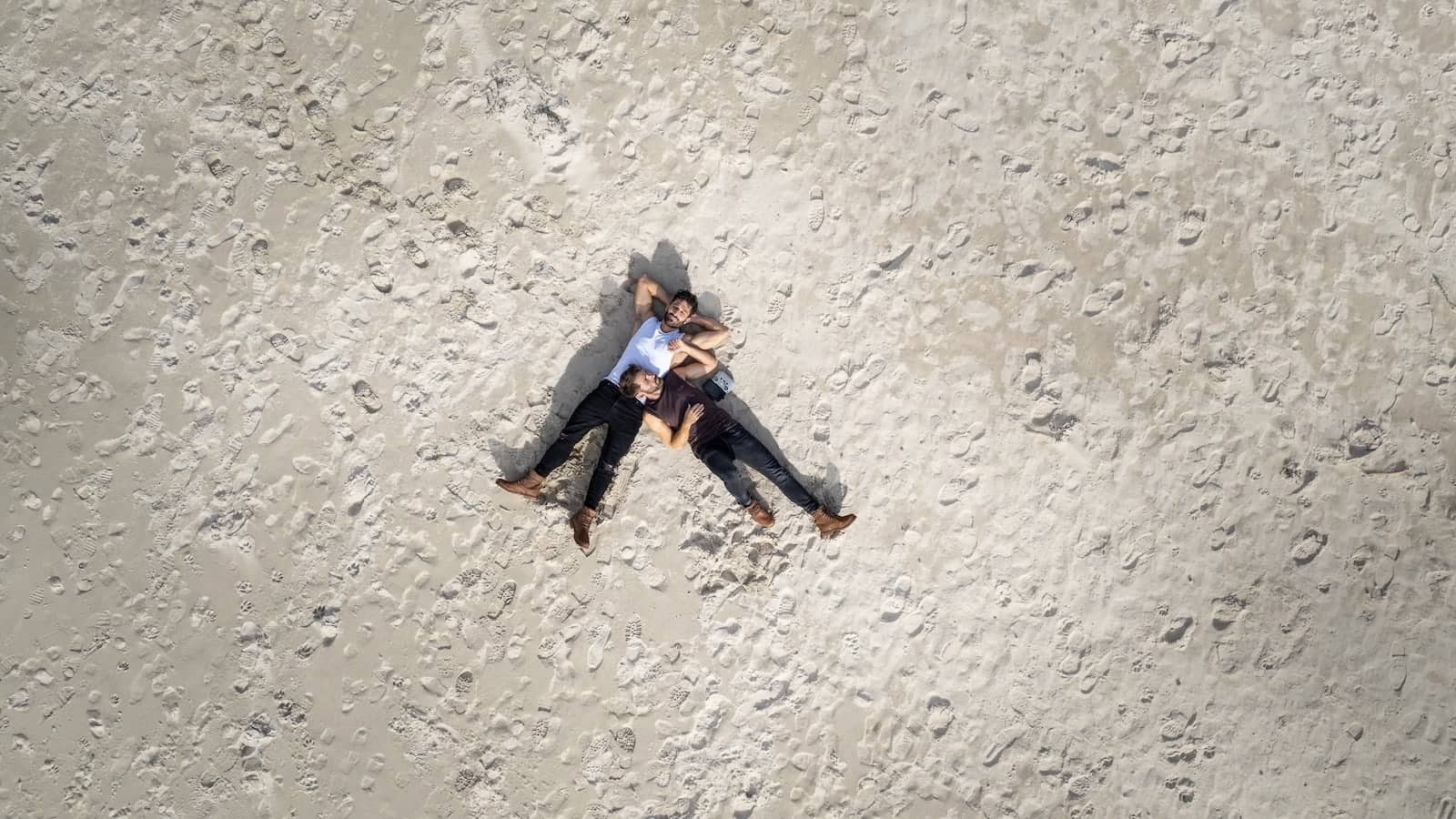 And the burning question we know you want to ask us…
"Did you boys wear your kilts "authentically"?
Answer: Absolutely!
Well, at first we both did. Stefan especially, he jumped at the chance!
I tried and loved the feeling. But after a while I opted to wear my underwear: at one time at Scone Palace, I had to squat down to adjust our tripod while wearing my kilt. At that moment there were 3 old ladies walking past who pointed at my Crown Jewels on display and giggled…I was mortified and swore I'd only ever wear my kilt again with underwear!
A final word about kilt etiquette when getting out of the car – if you're wearing your kilt authentically, remember to get out carefully keeping your legs close together…the number of times Stefan "accidentally" flashed as he got out from the passenger seat…!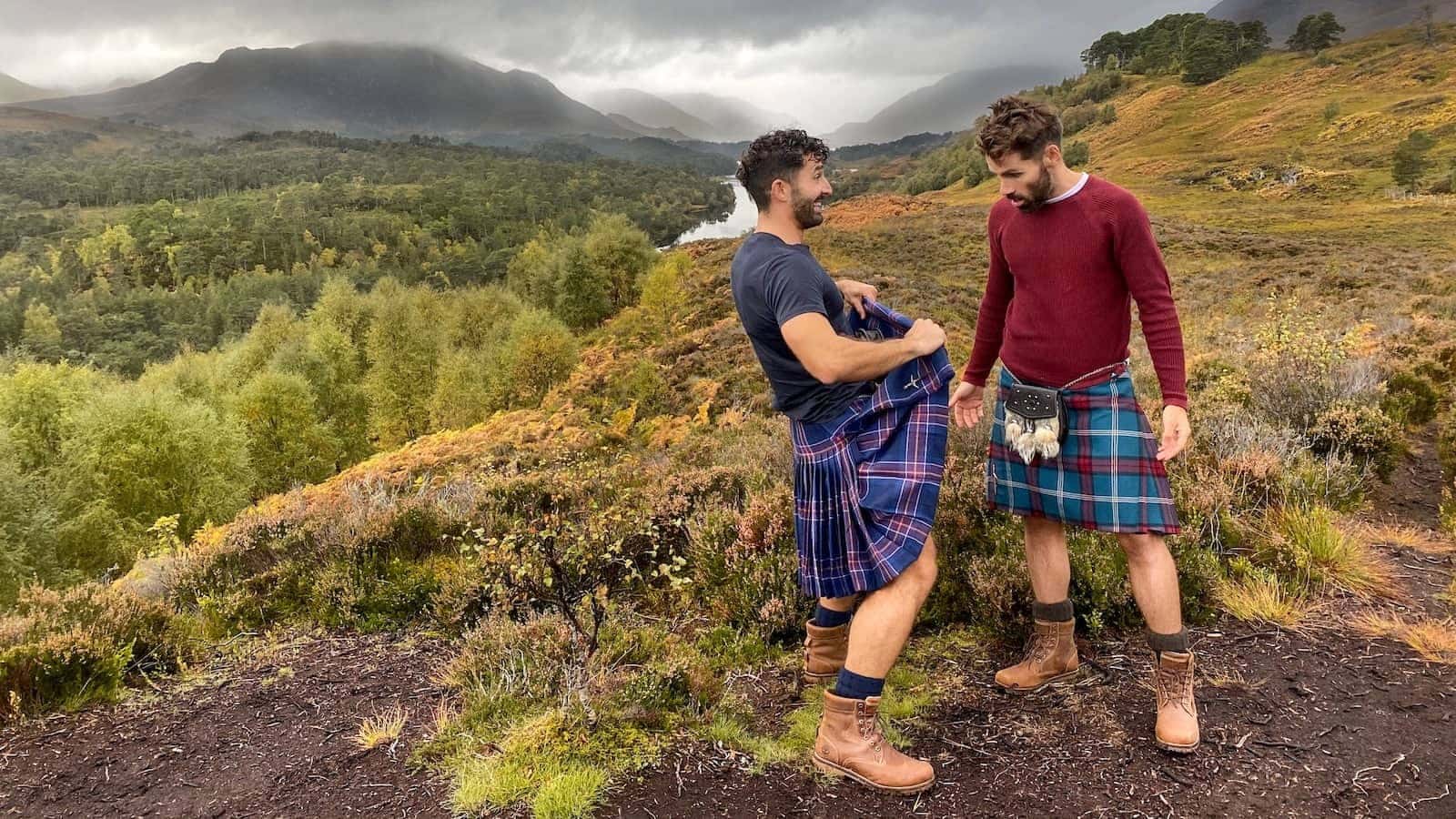 Cultural appropriation?
As non-Scots, we were initially dubious about wearing kilts on our Scotland road trip. We were concerned about receiving accusations of cultural appropriation, particularly online.
To be clear, we simply wanted to celebrate this beautiful ancient Scottish tradition.
All locals we met during our trip were complimentary about our kilts and wanted to take photos with us. At no stage did anyone Scottish ever express any offense! They were more concerned that we were wearing the kilts correctly.
We also spotted a few other people wearing them, especially young guys who mix them with modern wear. For example, at football matches the kilt would be worn with their local football team shirt. Now to campaign to get these young Scots to match their kilts with Nomadic Boys tops…do you think it could catch on?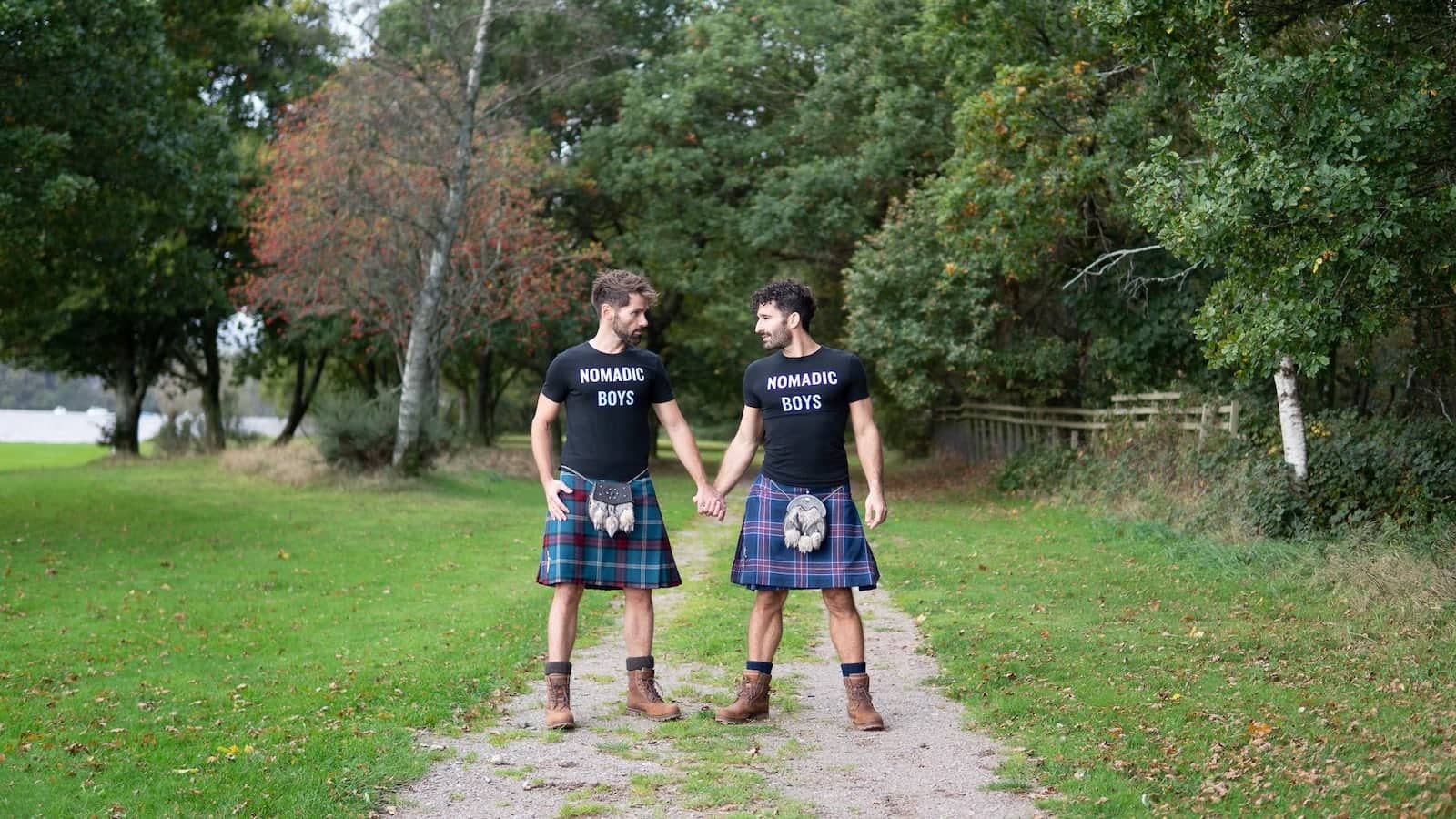 Our top experiences in Scotland for LGBTQ travelers
Exploring Edinburgh: the Royal Mile is the quaint cobbled path in the Old Town that dissects the city and links Edinburgh Castle and Holyrood House. There are two peaks we recommend visiting for views over the city: Carlton Hill, and Arthur's Seat.
The gay scene of Edinburgh: dominated by the iconic "CC Blooms", the Edinburgh gay scene is pretty small – everyone-knows-everyone kind of vibe. Around CC Blooms there are a handful of other small gay bars to check out like "Habana", "Planet" and "The Street".
Glasgow gay scene: whilst Edinburgh is the tourist hub of Scotland, Glasgow is the country's economic powerhouse. It also has the largest LGBTQ community and gay scene in Scotland based around the Merchant City. Some of the best gay hangouts include "The Waterloo", "Delmonica's", "AXM", and "Club X".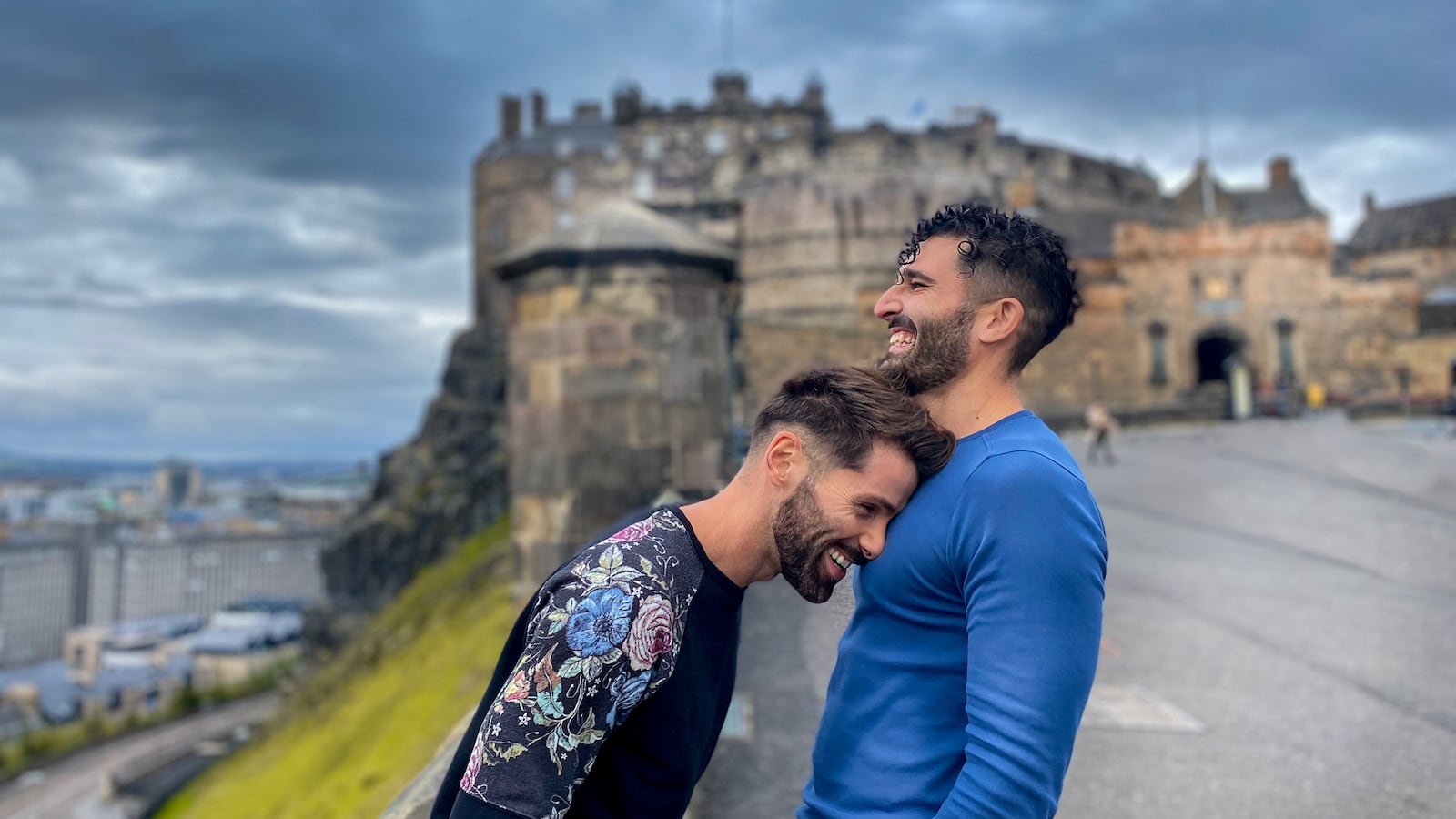 Edinburgh Fringe Festival in August: one of the world's largest performance art festivals, spanning 25 days. We love it! It includes drag shows, theatre, comedy, dance, circus, cabaret, musicals, opera, and music. You have to go at least once in your lifetime!
BearScotFest: a fantastic organization that organizes monthly "Bears in the East" events in Edinburgh and Glasgow. In October they have a 4-day festival that celebrates the best of the bears with dress-up parties, events, and the presentation of the "Bear of the Year" title.
Cruising on Loch Ness: there are many companies offering boat tours along Loch Ness with a knowledgeable guide who'll tell you all about the myth of Nellie! For a different perspective, head there early, rent a kayak, and try to spot Nellie before the boat crowds arrive.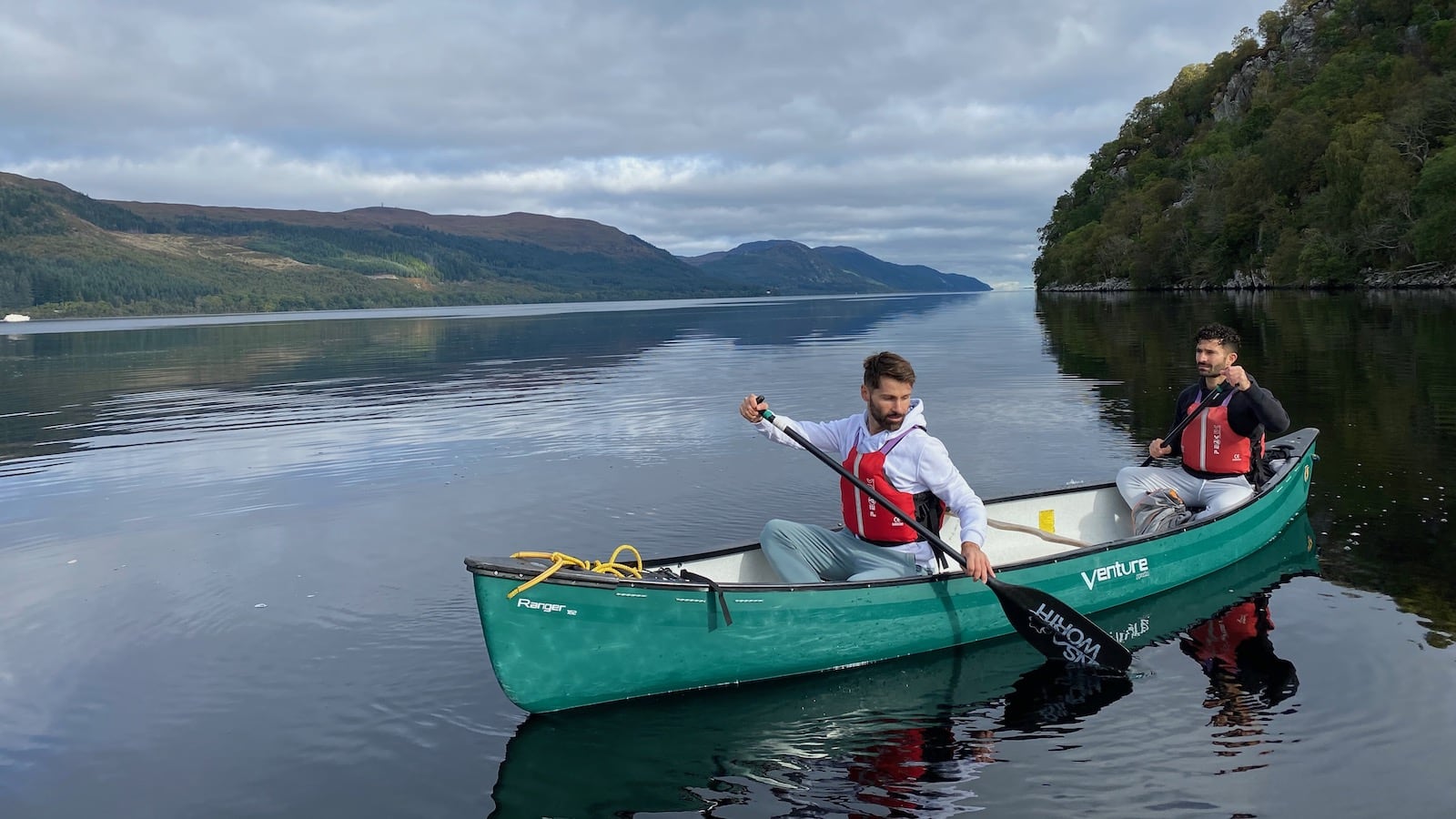 Drive through the haunting landscapes of Glencoe: there is good reason why Glencoe is a popular filming location. The landscapes are irrefutably beautiful!
Glenfinnan Viaduct: made famous by the Hogwarts Express Jacobite train in the Harry Potter movies.
Get passionate about whiskey in Islay: this charming island in the Hebrides (west Scotland) is famous for its peated whiskey. It's just 25 miles (40km) long, 15 miles (24km) wide, and home to only 3,000 people. Yet it has a whopping 9 whiskey distilleries! A whiskey tour here is a must.
Stay at Eagle Brae near Glen Affric: one of the best gay friendly hotels in Scotland we stayed at, comprised of luxurious log cabins surrounded by the Highlands wilderness. It's also on the doorstep of the woodlands of Glen Affric National Nature Reserve.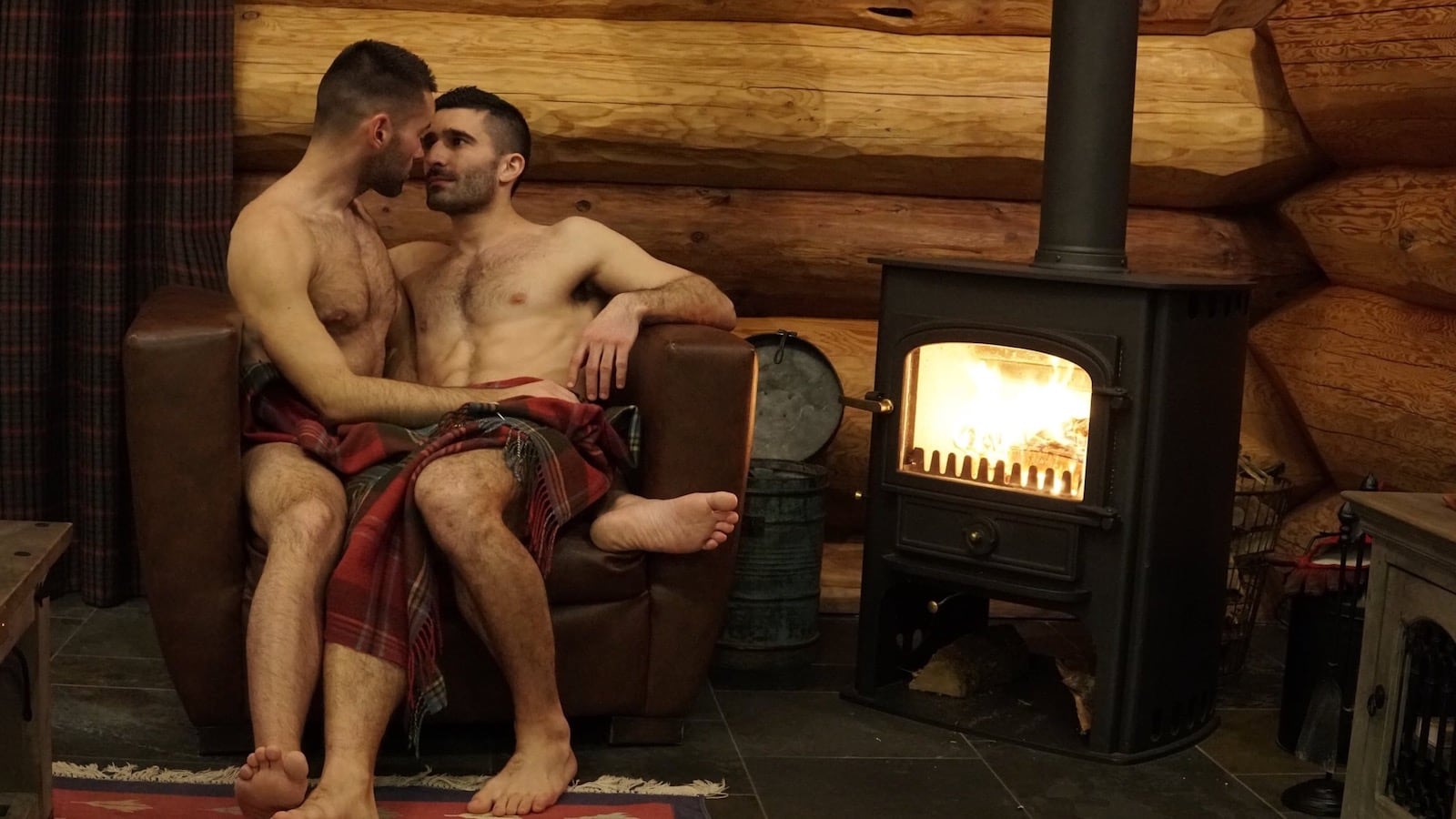 Duncansby Stacks in Caithness: for us, THE best landscape in Scotland! It is two rugged pinnacles of rock dramatically jutting upwards from the sea's surface. It's a short walk to reach the stacks from the car park along the clifftops, but well worth it for the views, especially at sunset.
Hiking in Loch Lomond: our favorite place in Scotland for hiking. The best trail in our opinion is to the summit of Conic Hill for the views.
The giant Kelpies horse head statues: 98-foot (30-meter) sculptures depicting kelpies (a shape-shifting water creature in Scottish folklore), located between Falkirk and Grangemouth. It's super unique: where else in the world have you seen two giant horsehead statues?!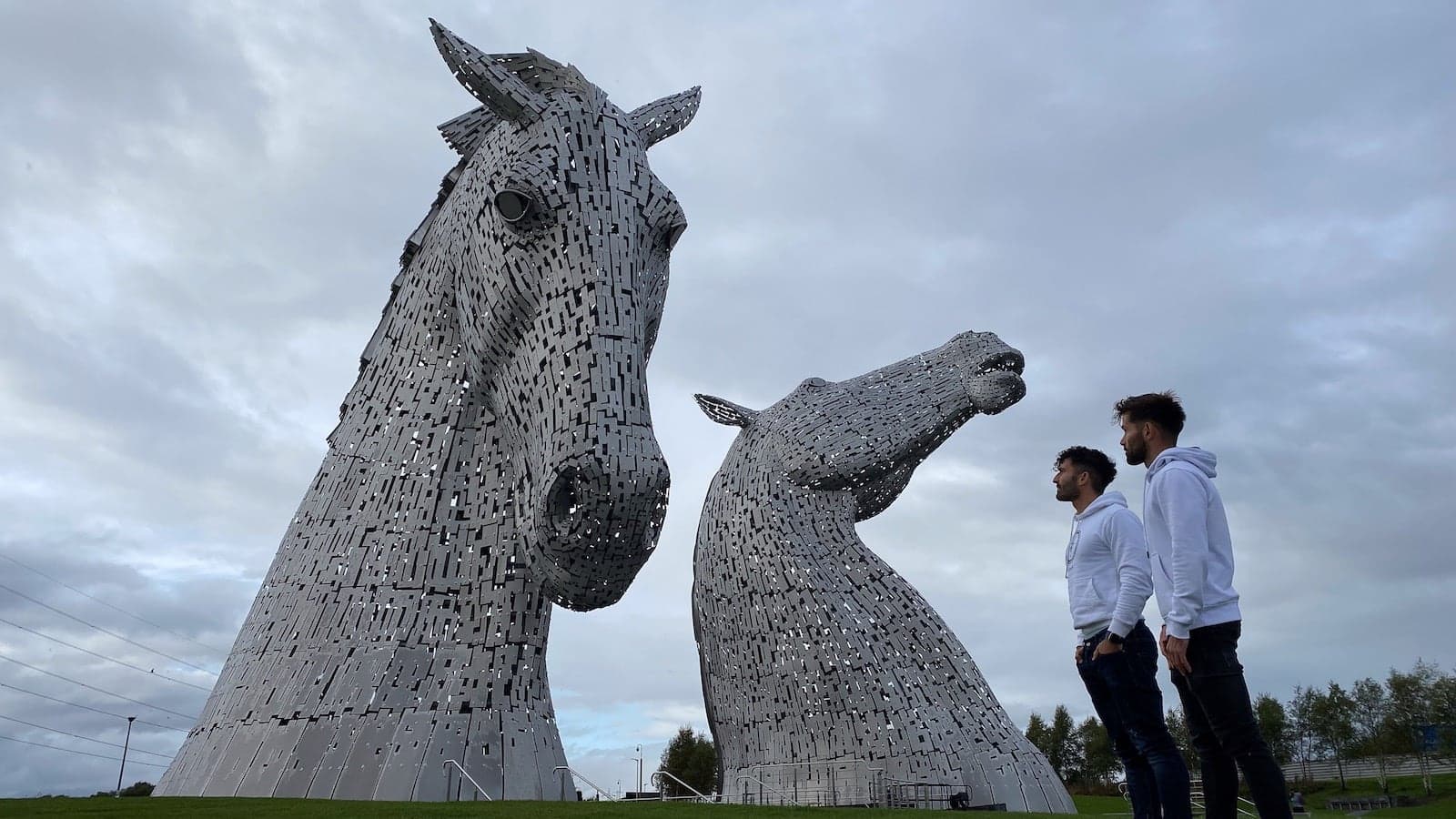 Gay pride events: the biggest and main Pride events in Scotland are Pride Edinburgh and Pride Glasgow. They both take place in mid/late June. For more be sure to hit up our detailed gay travel guide to Scotland.
Hogmanay: is the Scottish New Year celebration (late December, early January). It is an exciting 3-day festival that everyone in Scotland celebrates, especially the local LGBTQ community! Some of the best gay parties happen during Hogmanay.
LGBT Health and Wellbeing: if gay nightlife isn't your thing, we recommend checking these guys out. They run multiple LGBTQ events aimed at promoting a healthy lifestyle, from basketball to swimming, there is much to choose from. Plus, they also hold mixers for different sections within the LGBTQ community, such as Bi Nights or Trans Pride groups, so people can easily link up with others who share the same day-to-day experiences.