TERMS OF USE: There is a chance that some of the content on this page has changed since it was last updated. By reading this article, you consent to our Terms of Use and Disclaimer. Happy Travels!
DISCLOSURE: Some of our posts may contain affiliate links which we may receive a commission if you choose to book something through one of our links.
"That would have been my home if things turned out differently".
Staring at the dilapidated and abandoned buildings in the Varosi ghost town of Famagusta in Northern Cyprus, my uncle points at a specific block of apartments set right on the beachfront (cordoned off by the Turkish military) and told me it belonged to my family.
In an alternative reality, this would have been where I would have grown up.
Every time I see the famed ghost town in Northern Cyprus I always wonder, "What if the Turkish invasion had worked out differently and I grew up here a as a gay man on the Famagusta beachfront instead of suburbia North London?"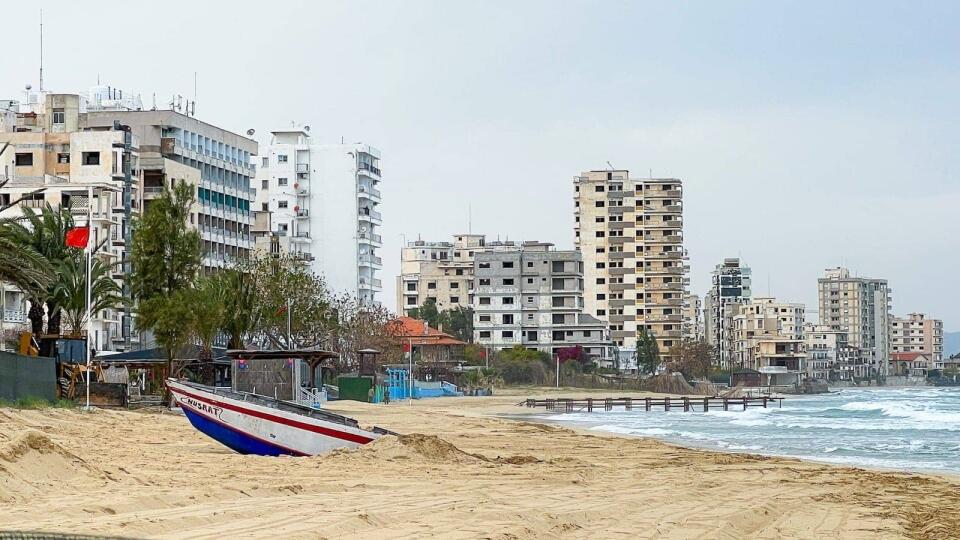 In the summer of 1974, Turkish troops invaded Northern Cyprus and displaced 170,000 Greek Cypriots, which included all of my family. Most displaced Greek Cypriots either moved to Southern Cyprus or to the UK (Cyprus was a former British colony). My family was part of the large influx of Greek Cypriot refugees that fled to London.
The Turkish invasion of Northern Cyprus in 1974 wasn't intended to touch Famagusta but because everyone fled out of fear of the oncoming invasion, the Turkish army occupied it and kept it as a "ghost town" to use as a prawn in any subsequent negotiations. Since 1974, the entire area has been fenced off with barbed wire. Only Turkish army personnel were allowed to enter.
Today, little has changed.
Southern Cyprus – "the Republic of Cyprus" has excelled economically, joined the EU, and the UN. The north remains under Turkish army control, recognized by nobody except the government in Ankara which refers to it as the "Turkish Republic of Northern Cyprus", or TRNC. The border between the two started to open in 2003. Then in October 2020, the Turks started to open up parts of the Varosi ghost town in Famagusta (in violation of UN Security Council Resolutions).
This is what sparked our family visit to the North – to see the state of my parent's home and get a glimpse of the life I would have lived if things had worked out differently.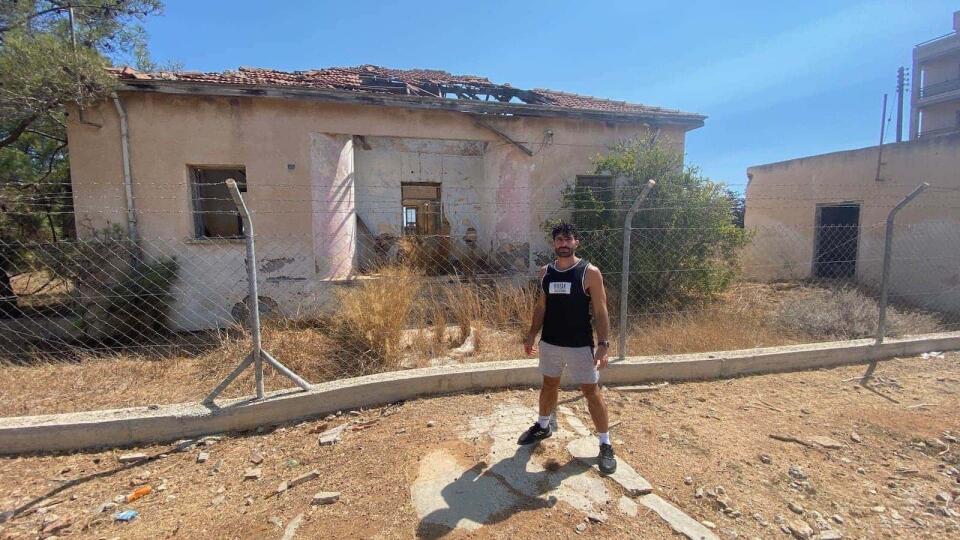 The Varosi Ghost town
In its heyday before the 1974 Turkish invasion, Varosi in Famagusta was the most beautiful and touristic part of Cyprus. It had a largely Greek Cypriot community, which included all of my family. It was full of high-rise resorts, glamorous boutique shops, and the best sandy beaches on the whole island.
In the 1960s and early 1970s, Varosi famously attracted celebrities like Richard Burton, Elizabeth Taylor, and Brigitte Bardot. It was the place to be back then – nicknamed the "French Riviera of Cyprus".
I visited Varosi with my sister, a few cousins, and our uncle (our late mother's older brother) who grew up in Varosi. He was our guide! He knew these streets like the back of his hand. For me and my sister, we only knew about Varosi from stories our parents told us growing up.
Once we crossed the border at Dheryneia village, we continued along the main road. On the right-hand side, we passed a long row of dilapidated abandoned buildings separated from the road by barbed wire. One of those buildings was my father's abandoned childhood home in the village of "Agios Memnon".
We eventually reached a point at the Northern section of Varosi where the Turkish army had set as the "entrance to the ghost town" (marked, "Stadion" on the map below). We parked the car and walked inside the entrance turnstiles as a couple of young Turkish soldiers watched on.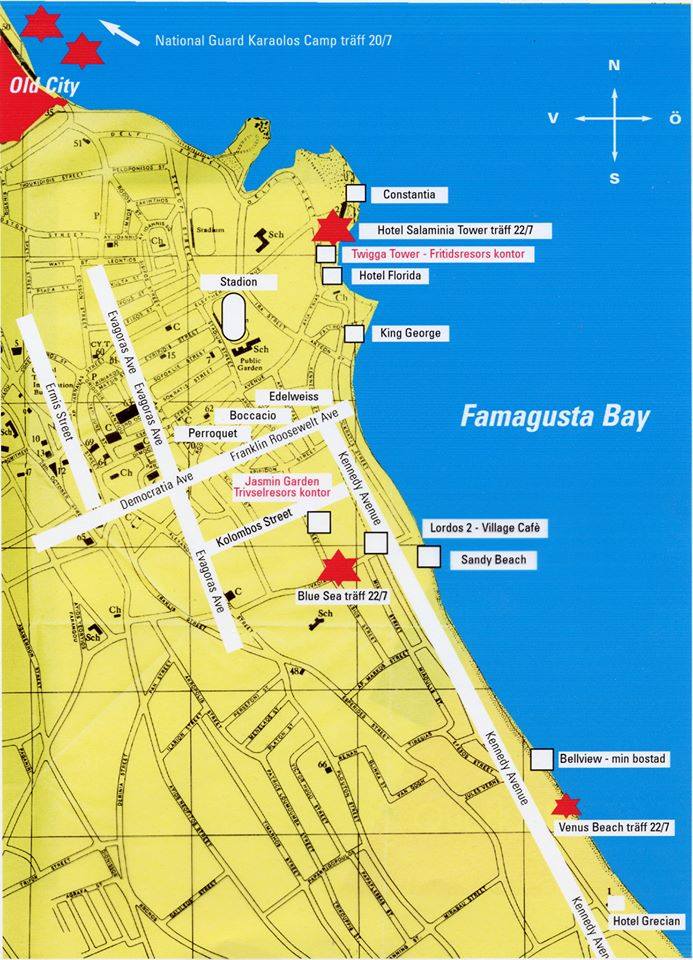 We walked inside the Varosi ghost town streets on foot until we reached "Franklin Roosevelt Avenue". We then walked down this road and continued along "Democratia Avenue" – this section was once the beating commercial heart and soul of Varosi.
We passed abandoned cafes, restaurants, deserted banks, old travel agency buildings… Everything was frozen in time and also completely raided. The Turkish army left absolutely nothing behind – the plugs in the walls, the glass windows – everything looted. All that was left behind was the decaying structure of each building bordered off by fencing and signs telling you not to go inside.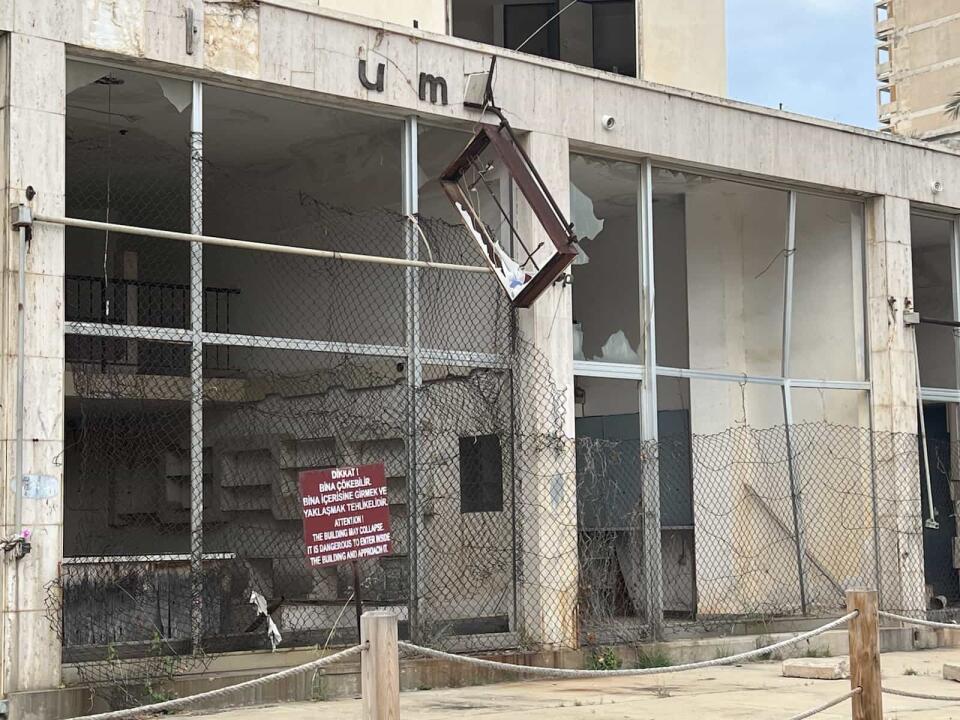 My uncle pointed out the places he used to hang out as a little boy, where he went to school, where his first job was… It must have felt so weird for him walking around his childhood neighborhood that has been frozen in time since 1974.
Before opening the ghost town in 2020, the Turkish government repaired the streets, creating bike lanes for visitors to cycle along. By the entrance, you can rent bikes to use or take one of the hourly tourist buses. Along Democratias Avenue, we noticed a large park and a grand building with the flag of Turkey and the flag of the TRNC next to it.
My uncle stopped us and pointed to the first window to the left of the columns exclaiming in Greek:
"That was my classroom! Right there, I used to sit by that window and gaze out at the gardens outside".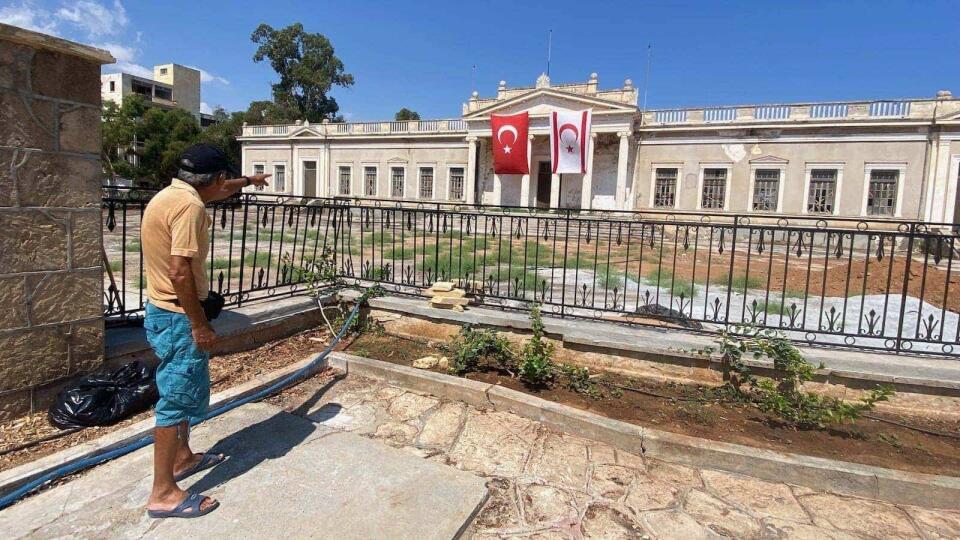 We continued walking along Democratias Avenue. My uncle stopped us by another abandoned building:
"This is the shop where we used to come and see the football results. Back in the 1960s, we didn't have a TV or radio so we'd have to come here to see the results on the chalkboard right there!"
There was nothing left in the shop, but the chalkboard remained…though not sure what has been written on it since 1974: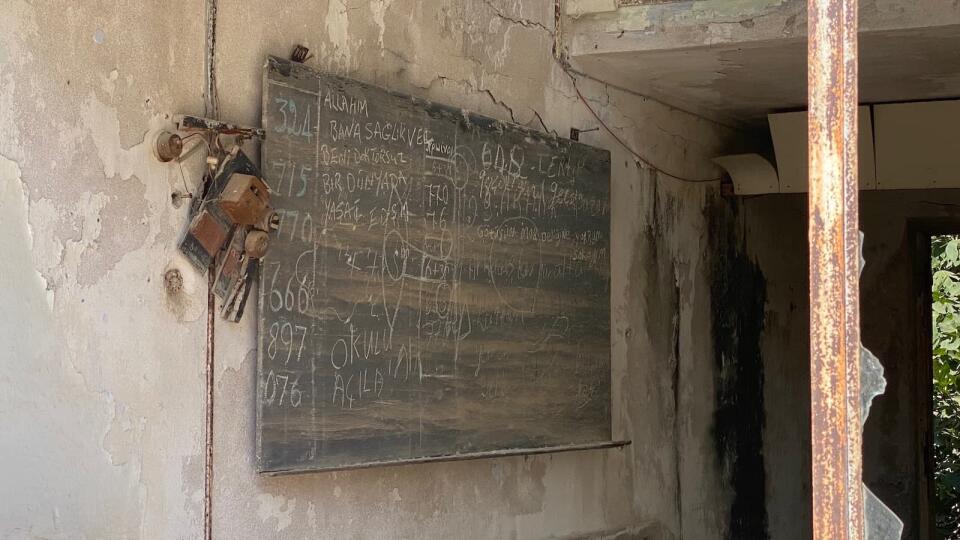 As we reached the upper end of Democratias Avenue we spotted what would have once been a grand building with beautiful columns. Now a large chunk of the balcony had collapsed onto the pavement outside. Our uncle stopped us here and with a deep sigh explained:
"This is the Hadjihambi Cinema, owned by our family! It used to be the main cinema of Famagusta. It was famous, everyone would hang out here, and this would have been yours to run if we lived here! And next door to it is the building where I grew up in – right there with my younger brother and your mother".
I must admit feeling a sense of pride that this once great cinema belonged to my family, but obviously a great shame it's now a pile of rubble. It also felt weird seeing the building that my late mother had told me all about growing up, with what would have been my childhood home next door to it – now an abandoned skeleton structure!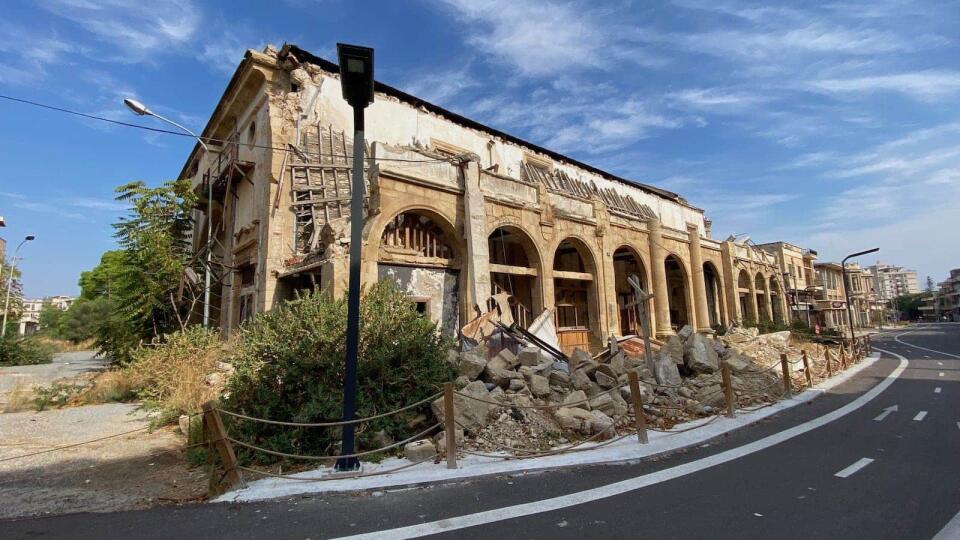 As we watched what would have been our childhood home, we were tempted to try to sneak inside. It's very easy to do – you just hop over the fencing placed in front of it. I had read online reports from other Greek Cypriot families who visited Varosi and managed to sneak inside their abandoned house only to find it completely bare – everything looted. One particular man managed to find his late wife's ballet shoes inside one of the wardrobes!
What could I find if I was to sneak inside? The entrance to the crumbling building in front of me was just a few meters away – it would be so easy to just hop over, tiptoe carefully inside, and explore…
Before any of us could even entertain the idea of sneaking inside, two Turkish soldiers started walking over to us – as if they were reading our minds! We gave up on the idea and moved along.
Access to the buildings in the Varosi ghost town is strictly prohibited, mainly due to safety. It makes sense – after 50 years of being completely abandoned, some of these buildings are on the verge of collapsing.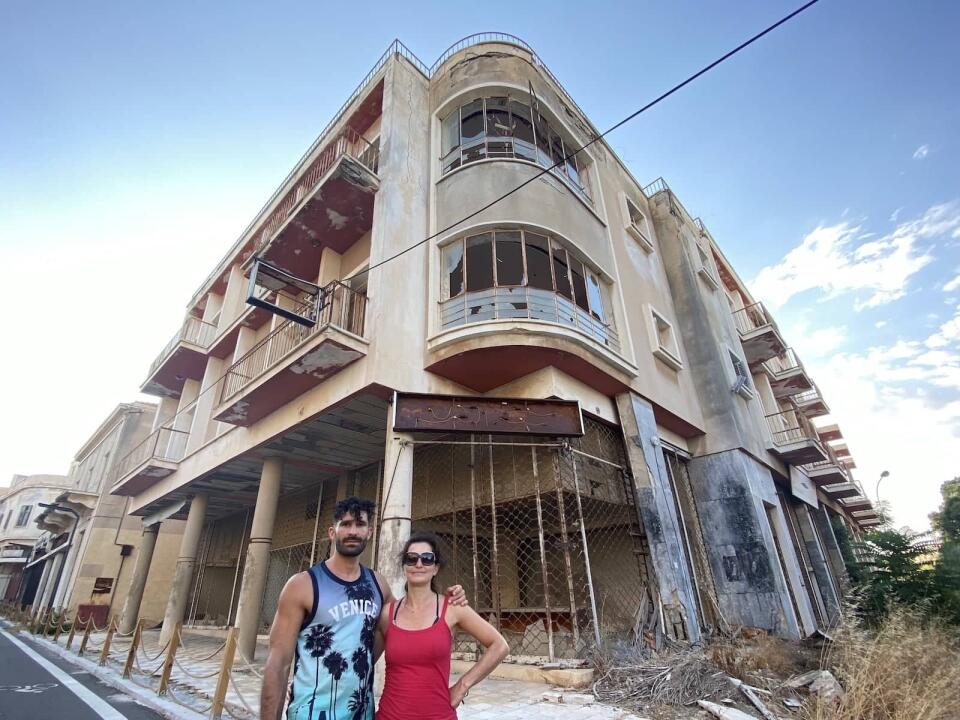 We continued walking through the section of Varosi that the Turkish army had opened up to visitors, eventually reaching the beach.
It was a balmy August afternoon so we went straight for the water!
When they say Varosi had the best beaches in all of Cyprus, they weren't kidding! We know the island well – Seby and I have been living on the East side, close to Agia Napa since 2018, which has the best beaches in all of Europe in our opinion. However, the beach of Varosi beats them all. The long stretch of sandy beach, the clear crystal turquoise water…
As bizarre as walking through the Varosi ghost town felt, the one thing that played on my mind the entire time was "What If…?" In a different reality, young Stefan would be growing up on this beach, running through streets like Democratias with his cousins – a world apart from the suburban landscape of North London…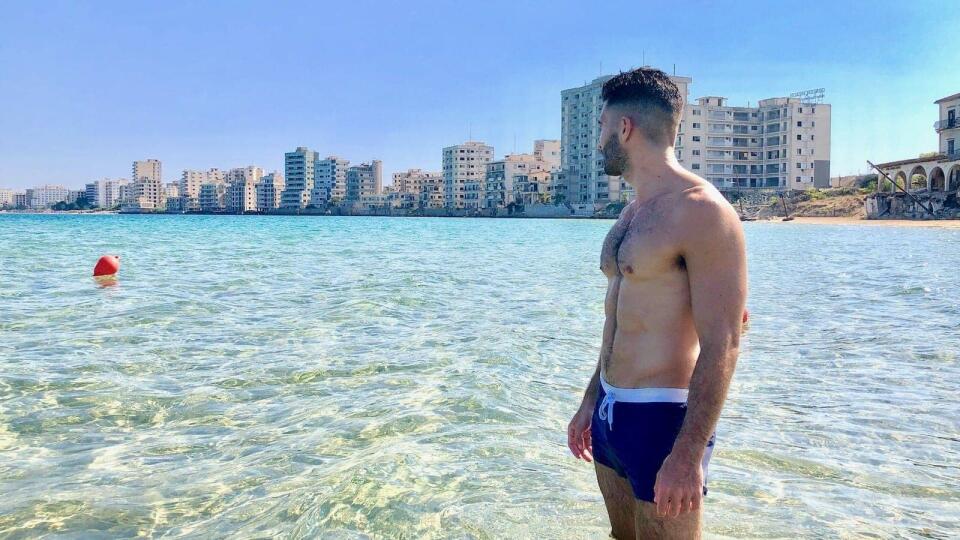 What's it like living in Cyprus as a gay couple?
Seby and I love living in Cyprus. The weather is incredible, the sun shines brightly throughout the year, and we have some of the best beaches right on our doorstep. When it gets too hot, we escape to the picturesque villages in the Troodos Mountains, some of which have famous wineries.
The only downside of Cyprus for us is the small gay scene especially when compared to its fabulous neighbors – Tel Aviv in Israel, and Mykonos in Greece. That being said, there are a few gay hangouts and ad hoc parties happening across the island, as well as 3 gay beaches. We've written all about this in our gay Cyprus travel guide.
Cypriot society is very conservative, largely influenced by the oppressive Greek Orthodox Church. It's a decade or two behind Western Europe when it comes to LGBTQ rights, but it is evolving, largely thanks to the efforts of the LGBTQ organization, "Accept Cyprus", which organizes Cyprus Pride every year.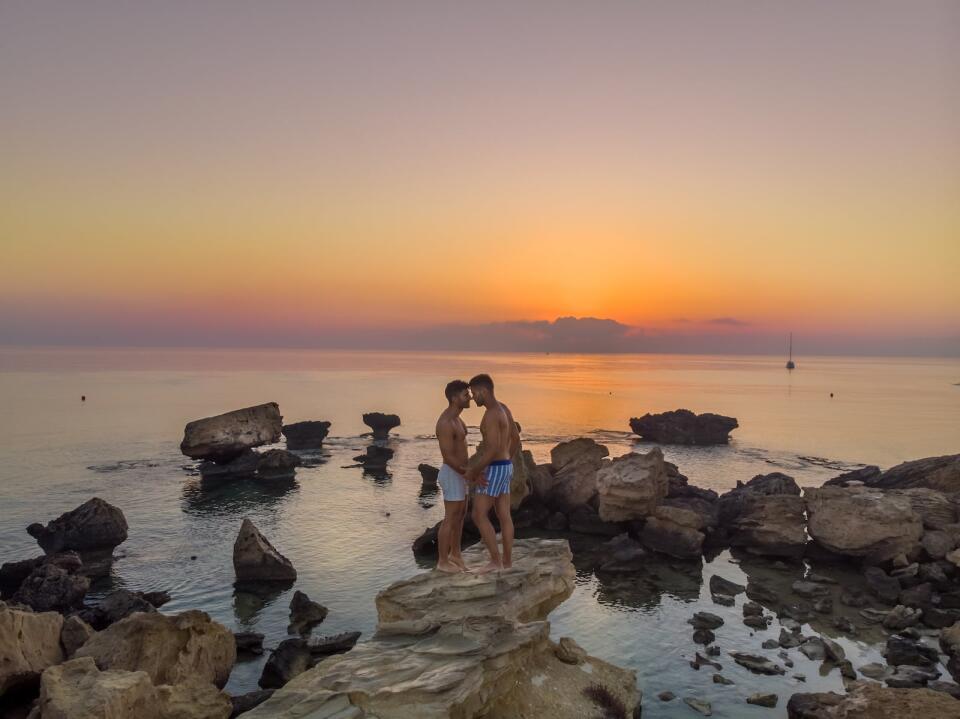 Our top experiences in Cyprus for LGBTQ travelers
We've put together some of our top not-to-miss highlights for gay travelers to Cyprus:
Best beaches in Europe: Cyprus has some of the best beaches in Europe. Thanks to its southeast Mediterranean location it gets sunshine for most of the year, even during the summer months. The best beaches are on the East side of the island near Ayia Napa like Nissi Beach, Konnos Bay, and Fig Tree Bay.
Gay scene of Cyprus: it's small but very present! The majority of gay parties happen in Larnaca. Lube Bar is the main gay bar in Larnaca. The owner also organizes gay boat parties in the summer months. Itaki gay bar in Nicosia is the other main gay bar in Cyprus. In July and August, Aruba Bar in Ayia Napa also hosts a weekly gay party.
Gay beaches in Cyprus: there are 3 gay beaches in Cyprus. One just outside of Ayia Napa which we visit very often, another between Limassol/Larnaca near "Governor's Beach", and the third between Limassol/Paphos near "Pissouri Beach". All 3 beaches are rocky and involve a short walk to reach them. All 3 are also clothing-optional beaches!
Trekking in Troodos Mountains: there are many gorgeous villages across the Troodos Mountains, which we recommend spending a few nights in like Omodos, Lofou, and Kalopanayiotis. From here there are many hikes, the most famous is the "Artemis Trail" that circles close to the top of Mount Olympus (not to be confused with the famous Mount Olympus, home of the Ancient Greek Gods in Greece).
Wine tasting in the mountain villages: we love heading to a winery in the "wine villages" like Platres, Vasa, and Pachna. Be sure to try the dessert wine, "Commandaria", which is recognized by the Guinness Book of World Records as the oldest named wine in the world, dating back to around 2,000 BC.
Ledra Street in Nicosia: Nicosia is the last divided capital of Europe. On the southern side, you'll find a thriving, modern city that is full of modern high-street stores, high-end boutiques, and Starbucks. But just across the border on Ledra Street in the Northern occupied side, it feels like you've gone back 50 years!
Limassol Old Town: is the heart of the city with narrow streets radiating out from the old fishing port. It has colonial-style buildings, meandering cobblestone paths, and the famous medieval castle, which now houses the Cyprus Medieval Museum.
Blue Lagoon beach in Akamas: beautiful sandy beach in Cyprus, near Paphos, part of the national park of the Akamas Peninsula in a shielded bay. The water is clear blue and calm making it ideal for swimming. It's quite a tricky spot to get to, best achieved with a 4×4 or quad bike.
Tomb of the Kings in Paphos: this UNESCO-listed site is believed to be the burial site of many Paphitic aristocrats and high officials before the 3rd century. They are influenced by ancient Egyptian tradition when it was believed that tombs should resemble houses for the living.
Cape Greco: is a beautiful national park on the south-eastern tip of the island. It has sea caves and a dramatic coastline. There is an excellent hiking trail from one end to the other, which we recommend doing.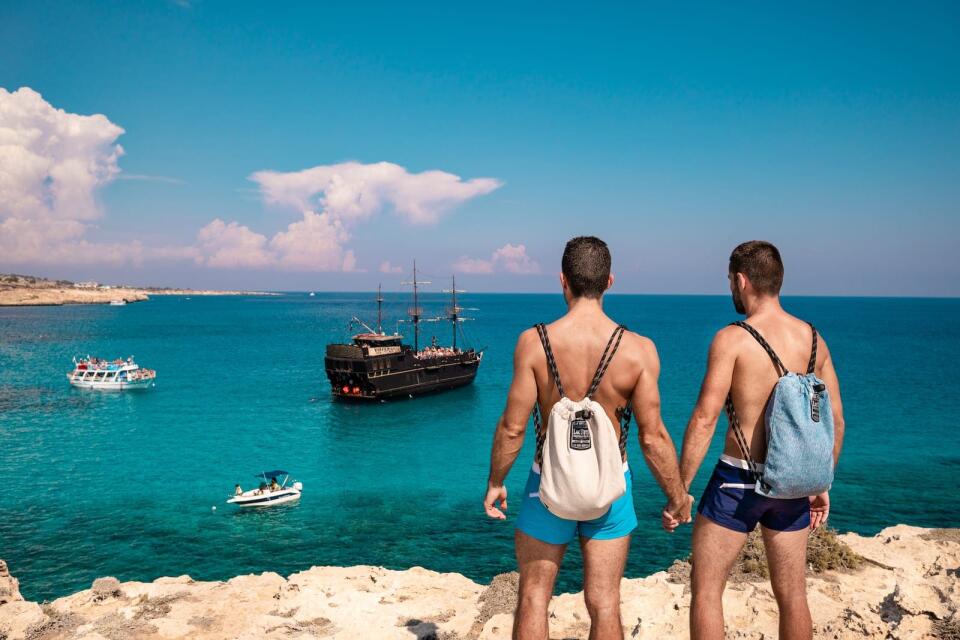 Safety tips for gay travelers to Cyprus
Cyprus is still quite conservative. Society is strongly influenced by the Greek Orthodox Church, which is notorious for its homophobic views. Despite this, Cypriots love welcoming foreigners. Hospitality is a big deal in Cypriot culture, so you can expect to be treated well when you visit, regardless of whether you're straight or gay.
Minimize PDAs: when it comes to PDAs, it's best to keep this to a minimum unless you're in queer-friendly spots, particularly in more rural areas.
Don't underestimate the sun: wear sunblock! Those Instagram thirst traps will look ridiculous with overly reddened skin!