The Galapagos itineraries are tightly controlled by the Ecuadorian government and the Galapagos National Park because of their sensitive environment.
We did a luxury cruise aboard the Passion yacht, which alternates between 2 Galapagos itineraries each week. The first itinerary covers the Eastern islands and the second one covers the West islands.
The main difference between the two is the Western islands are younger and larger because they have witnessed volcanic eruptions more recently. As such they have a more volatile environment, but with stunning instagrammable landscapes. The Eastern Islands are older, so have had more time to develop vegetation, making them greener, attracting more wildlife. Both are amazing in their own way and will blow your mind, whichever you choose.
As we sailed in the Eastern islands, we've put together a detailed itinerary, which we experienced on board the Passion luxury yacht.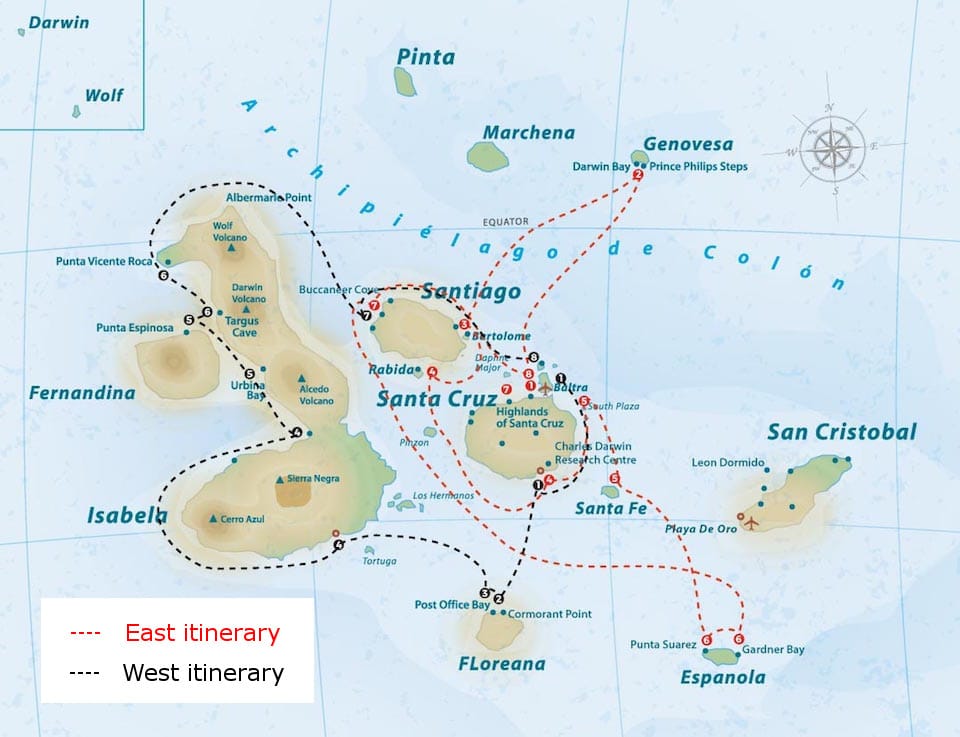 DAY 1: Baltra and Santa Cruz Islands
MORNING:
We took an early morning flight from Quito to Baltra Island airport.
After a luxurious reception at the VIP lounge at Baltra airport, we transferred to the Passion yacht for a welcome reception and a tour of what would be our home for the next 8 days.
AFTERNOON:
After lunch we sailed to Black Turtle Cove on the Northern end of Santa Cruz Island and took our first excursion where we saw blue footed boobies, pelicans and more bird species.
This island is famous for its mangroves, which are home to baby sharks, turtles and other wildlife using it to hide from predators.
In the afternoon, we navigated for around 5 hours North, across the Equator line to Genovesa Island where we docked for the evening. This is the moment to test the toilet flush trick to see the true direction it flows as you cross the Equator line!
After dinner we had our first briefing with our guide Santiago about the Galapagos Islands. This became a daily ritual every evening when he'd sit us down and explain in detail what we would be doing the next day and the sort of wildlife we'd see.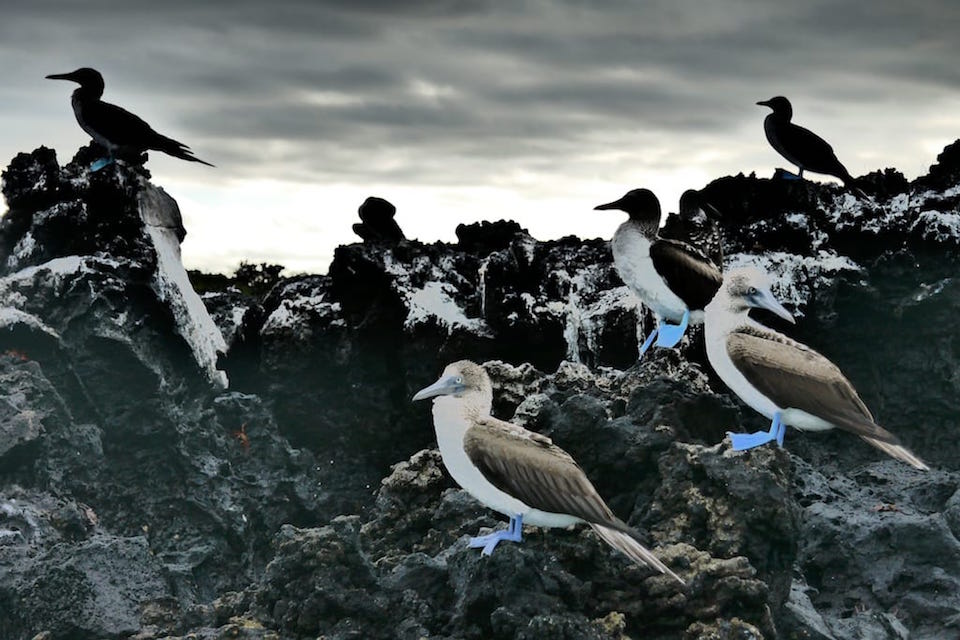 DAY 2: Genovesa Island
MORNING:
Genovesa Island is a horse-shoe shaped island with a distinct submerged crater called Darwin Bay, which is surrounded by steep cliffs. It is nicknamed Bird Island because the steep cliffs provide a home to many sea birds.
We had our first excursion after breakfast starting from Darwin's beach. Here we saw many bird species, in particular red footed boobies because Genovesa is one of the few places in the Galapagos where you can see them en masse.
We also saw a few marine iguanas and our first sea lion who was only too pleased to pose for us.
From Darwin's Beach we went snorkelling in our wet suits, spotting a few more sea lions and 1 reef shark. The water was quite cold, so this became more of an endurance "survival of the fittest" test amongst our group!
AFTERNOON:
After lunch we went for an excursion along the trail at the El Barranco visit site. This cliff is also called the Prince Philip steps, named after Prince Philip who visited in 1965 and 1981.
Here you begin to understand why Genovesa earned its Bird Island nickname. We saw so many different species of birds including red footed boobies, mockingbirds, blue footed boobies, swallow-tailed gulls, storm petrels, red-billed tropicbirds, finches, nazka boobies, frigates and even a short-eared owl.
Once we were bird-ed out, we returned to the yacht for dinner and enjoyed a few cocktails watching the sunset, before the 5 hours navigation back south.
DAY 3: Bartolomé and Santiago Islands
MORNING:
Our first excursion was to the tiny baron volcanic Bartolomé Island, just off the Eastern coast of Santiago Island. It was named after Sir Bartholomew James Sullivan, a friend of Charles Darwin who served as principal surveyor and second-lieutenant aboard the HMS Beagle.
Bartolomé is famous for the distinctive and recognisable Pinnacle Rock volcanic cone, which was featured in the 2003 film Master and Commander.
At the Northern tip of Bartolomé we went snorkelling and saw our first Galapagos penguins. Sadly they're not as curious as the sea lions and quickly swam away. We also saw Galapagos hawks and herons above the water.
AFTERNOON:
After lunch we navigated to the larger Santiago Island where we docked for the night. This was originally named James Island after England's King James II and was the second of the Galapagos Islands visited by Charles Darwin in 1835.
Our afternoon excursion was to Sullivan Bay on the Eastern side of the island, which is a relatively flat trail comprised of black pahoehoe lava and dotted with a series of pyroclastic cones. Although it is completely baron the main focus of the visit is to walk across a recent lava flow and view its beautiful structural characteristics.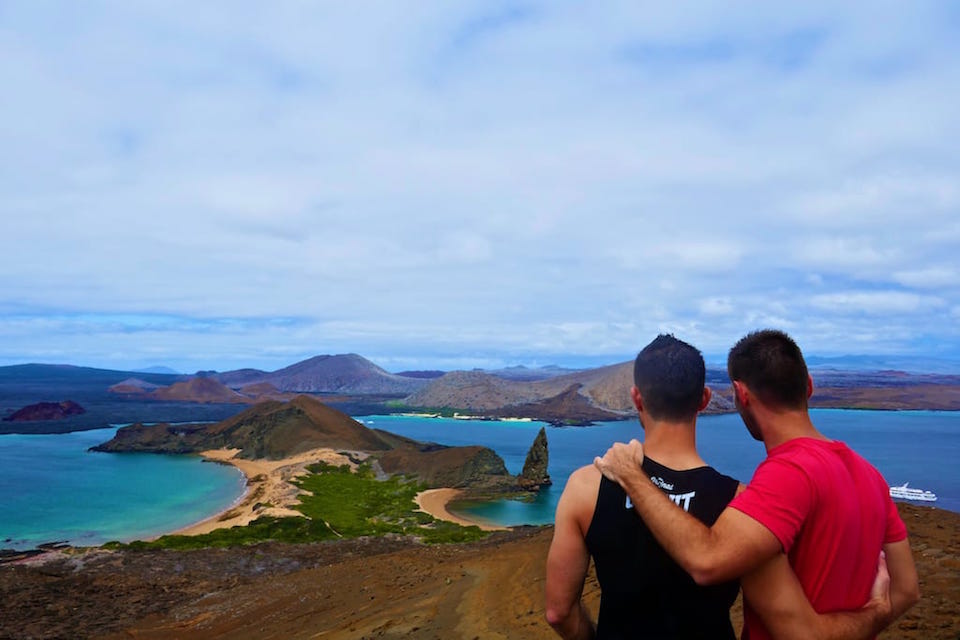 DAY 4: Rábida and Santa Cruz Islands
MORNING:
Our morning excursion was to Rábida Island, located south of Santiago. It is nicknamed the red island because of the high amount of iron in the lava, which gives it its distinct colour.
Our first outing on Rábida was on its northern coast where we saw marine iguanas and sea lions resting in the shade of caves nearby. This is one of the best places to see pelicans nesting up close as well as blue-footed and Nazca Boobies. If you get lucky you may see pink flamingoes here.
The coral reef around Rábida Island makes it perfect for snorkelling and we saw a few friendly sea lions, turtles, garden eels and 2 reef sharks sleeping.
AFTERNOON:
After lunch we navigated to the northwestern tip of Santa Cruz to visit Cerro Dragón (Dragon Hill), famous for its successful land iguanas breeding programme. The population of land iguanas was almost decimated by feral dogs in 1975 but now they thrive here thanks to the Charles Darwin Foundation's breeding programme.
Following our bad lack with the pink flamingos on Rábida earlier, we spotted one beauty here, which was the icing on the cake to this fascinating visit.
DAY 5: Santa Cruz Island
MORNING:
Today was giant tortoise day! The Passion remained docked at Puerto Ayora all day and we focused the day's activities across Santa Cruz Island, starting with the trip up to the highlands.
There are two Tortoise Reserves here where the famous giant tortoises roam happy and free: El Chato and La Caseta. We visited the El Chato Tortoise Reserve and saw these giants up close.
AFTERNOON:
The afternoon excursion was to the Charles Darwin Research Station near Puerto Ayora where we learnt more about the tortoise breeding programme. We also met its celebrity resident, Diego The Professor: over 2,000 adult giant tortoises call him daddy, thanks to the successful breeding programme!
As we stayed docked in Puerto Ayora for the night, we had the chance to visit the town, which has numerous restaurants, cafes and souvenir shops. That cuddly toy blue footed booby souvenir you know you'll want? This is the place to buy it!
DAY 6: Isla Plaza Sur and Santa Fe Islands
MORNING:
We navigated in the early hours to the 2 small crescent shaped Plaza Islands called North Plaza (Plaza Norte) and South Plaza (Plaza Sur). Plaza Sur is the more popular site for visitors and is where we docked.
Upon arrival on Plaza Sur you're greeted by the many resident iguanas basking in the sun. They live harmoniously with the island's large sea lion colony of around 1,000. The red sesuvium plants can also be found here, which make for some excellent photos.
We then navigated to Santa Fé Island for snorkelling. Sea lions are the principal underwater attraction here and if you're lucky you'll spot turtles and various species of rays as well.
AFTERNOON:
The afternoon excursion on Santa Fé begins on the small beach at Barrington Bay on the northeast side of the island. There were many sea lions basking in the sun and others just riding the waves.
Santa Fé is famous for its endemic land iguanas, estimated to be around 7,000, as well as the giant Opuntia cactus plant. We also spotted a few Galapagos hawks on the prowl, hunting for their evening meal.
DAY 7: Española Island
MORNING
Española is the southernmost of the Galapagos Islands and also one of the oldest and flattest. Due to its remote location it has a lot of endemic species, such as the Española mockingbird, the Española lava lizard, and the waved albatross.
Our morning visit was to the 2km white sandy beach of Gardner Bay located on the eastern side where we sunbathed with the resident sea lions.
The snorkelling by Gardner Bay and Tortuga Rock was the best we've ever experienced. The young sea lions were out in full force wanting to play. Their curiosity and playfulness will completely mesmerise and charm you. For us this was hands down the highlight of the entire cruise and a moment we'll never forget!
AFTERNOON:
Our final excursion was to Punta Suarez, regarded as one of the most beautiful visitor sites in the Galapagos. It is famous for being the sole breeding ground for the entire population of the world's waved albatrosses.
There are around 25,000 to 30,000 waved albatross here. We were fortunate to watch their elaborate mating dance, which involves stumbling, honking, and beak-fencing. They are fascinating to watch because in the air they're so graceful, yet on land they are unbelievably clumsy!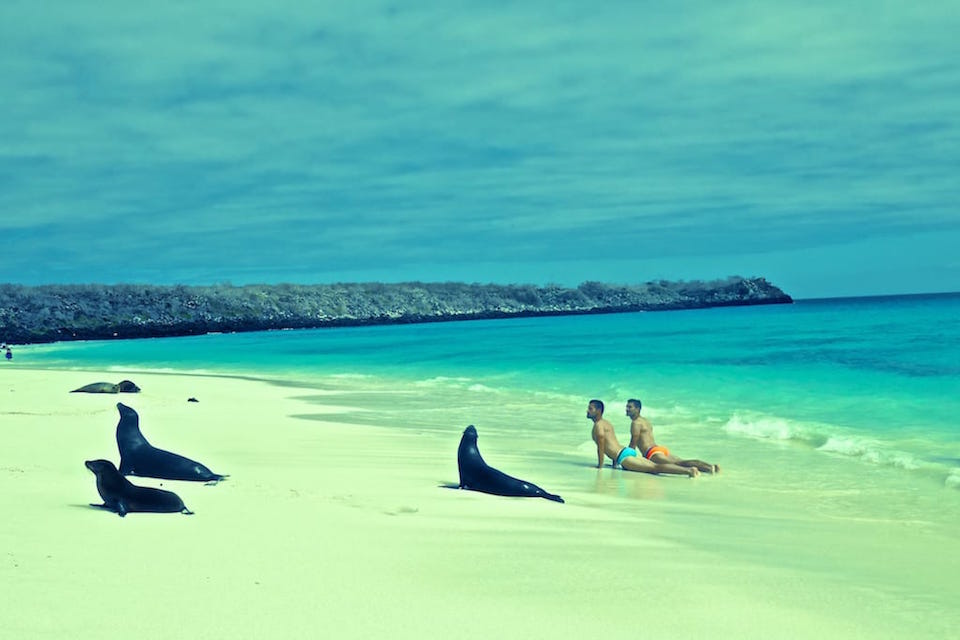 DAY 8: Santa Cruz and Baltra Islands
MORNING:
We navigated during the early hours back to Puerto Ayora from Española and had our final breakfast on board.
After saying goodbye to the crew we took a bus North to cross to Baltra Island airport for our flight back to Quito.
The Galapagos Islands was one of the best experiences we've ever had in our travels and can't wait to try the Western Itinerary. See more in our Galapagos video:
OUR FAVOURITE TRAVEL TIPS
⭐️ TRAVEL INSURANCE — We recommend you always take out travel insurance before your next vacation. What happens if you suffer from illness, injury, theft or a cancellation? With travel insurance, you can have peace of mind and not worry. We love World Nomads travel insurance and have been using it for years. Their comprehensive coverage is second to none and their online claims process is very user friendly.
⭐️ SAFETY & SECURITY — All travelers can sometimes encounter danger when traveling. CloseCircle is your "virtual body guard" mobile app which provides security alerts and support wherever you are in the world. They have a 24/7 emergency response team monitoring their users who will contact you immediately if the SOS swipe button is activated. Support can include anything from practical advice, to free evacuation from areas with extreme weather or security risks. You can read more about CloseCircle in our article about how to stay safe whilst traveling.
⭐️ ONLINE ANONYMITY — A VPN (Virtual Private Network) is a must in many countries: it allows you to surf anonymously and maintain your privacy whilst traveling. You'll particularly need it in countries where dating apps are blocked by the government. We recommend ExpressVPN, a reliable and cost effective service which we used and loved during our travels.
⭐️ HOTELS or APARTMENTS — When we plan a trip, we always look for the best hotel deals. We love Booking.com because not only do they have a comprehensive listing of accommodation options, they also offer the best prices. Added bonus: they provide 24/7 support and free cancellation for most listings.
⭐️ SIGHTSEEING and ADVENTURES — When we travel somewhere, we like to seek out the best experiences, whether it is cooking with locals in Bangkok, hiking on a glacier in Patagonia, or going on a wildlife safari in Sri Lanka. Our favorite place to look is GetYourGuide because they have over 30,000 highly rated activities, a user-friendly booking process with free cancellation and a 24 hour customer support.
This article contains affiliate links. If you click on them, we may receive compensation which keeps our website alive and helps us bring you to more destinations.
Pin to read later