G'day g'day…grab your sunnies and slap on that SPF 'cause we're about to spill the sandy tea on Sydney's most sizzling gay beaches!
We have scoured the shores, splashed in the waves, rolled around in the sand, and got lost in the (ahem!) bushes to bring you the lowdown on our 4 favorite gay beaches in Sydney.
Each of these beaches are clothing optional and very gay. Most importantly, they're perfect for some vital Vitamin D chill time.
So, buckle up, boys, 'cause we're taking you on a sandy safari through our 4 favorite gay beaches in Sydney. Whether you're basking in the beauty of Cobblers, freeing the flesh at Obelisk, posing for perfection at La Perouse, or unwinding at Lady Bay, these beaches are more than just sand and surf, they're a celebration of sun, sea, and scandalously good times.
Ready to ride the wave with us? Let's dive in!
1. Obelisk Beach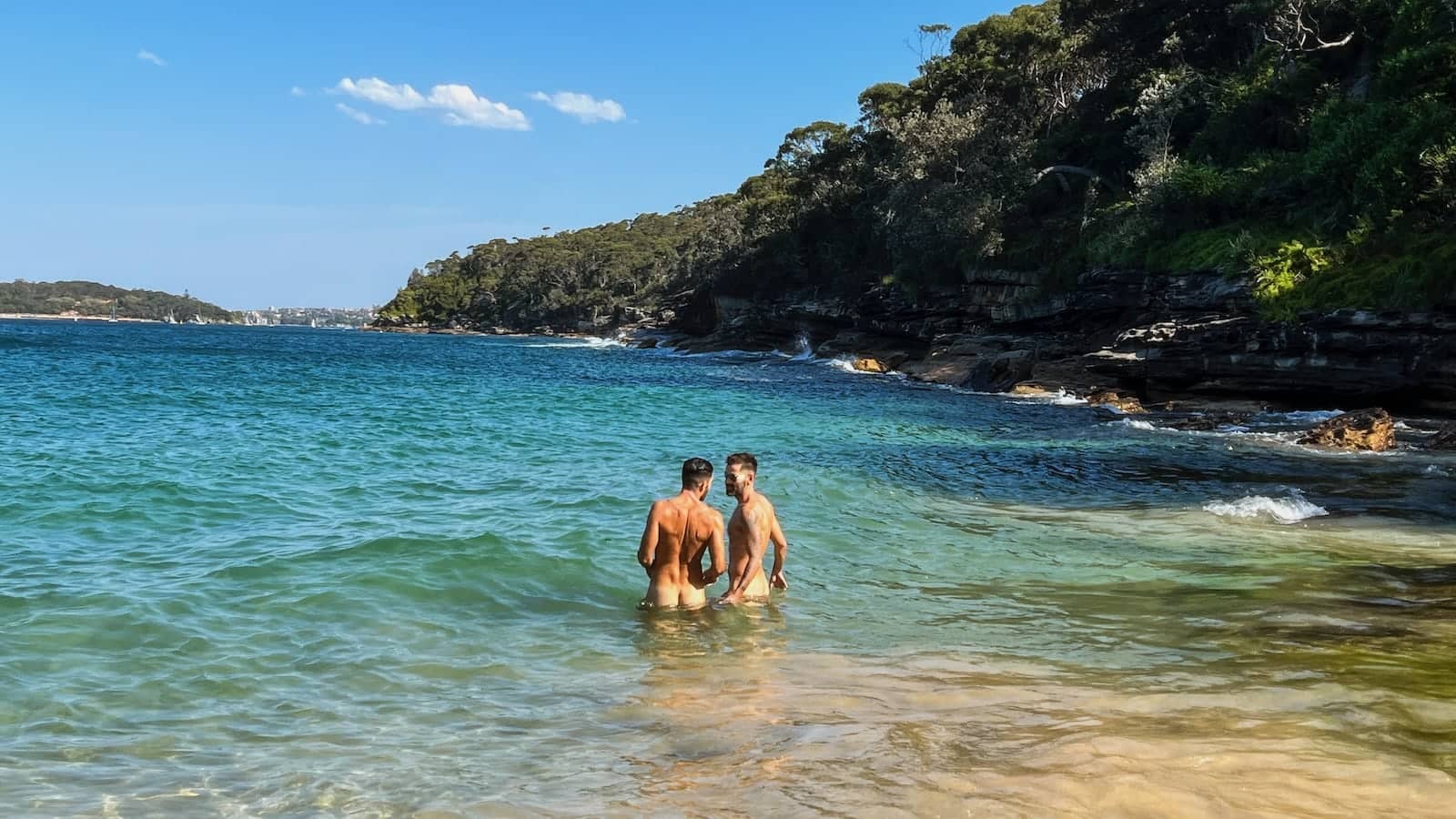 Everyone we spoke to told us to come here. It's the closest gay beach to Sydney and therefore the most popular. So, we grabbed the Speedos, a couple of towels, and jumped into an Uber.
Obelisk is an official gay beach with a welcome sign by the road reminding us: "Nudity permitted on beach only".
From the roadside to the beach, we climbed down a narrow set of stone steps through the bushes (yup, you've guessed it – bushes are to gay men as peanut is to jelly!!). While we didn't catch any steamy scenes in the foliage, online whispers suggested it's the spot for a little Obelisk cruising.
Upon reaching the beach, we were welcomed by a sea of men (and a sprinkling of ladies), almost all disrobed, some in their Speedos. Naturally, we joined the ranks and removed our garments.
We had fun hanging out on the sandy beach, basking in the September sun, then cooling off in the fresh seawater. And I mean fresh as Sydney's waters never get warmer than 77 °F/25°C.
But please heed my warning: bring ample sunblock and apply it to all your bits. Burnt butt cheeks simply ain't pleasant!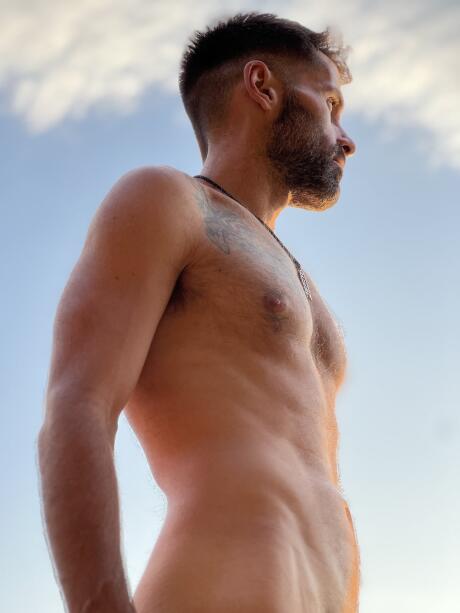 As well as sunblock we recommend bringing water, snacks, and everything else you may need as there are few facilities here. Just pure, raw, unadulterated nature. The sense of remoteness is what we loved the most about this beach.
The only downside of Obelisk is that it faces southeast, losing the evening light quite early. Worry not, a short 10-minute stroll across the road lands you at Cobblers gay beach, another gay nude beach, but northwest facing, perfect for soaking in the golden hour.
Our highlight of Obelisk Beach
We found it to be the most popular gay beach in Sydney because it's the closest one to the city while also being remote and private. For this reason, we rate it as one of the best nude beaches in the world.
How to get to Obelisk Beach
Obelisk is located 7.5 miles (12km) northeast of Downtown Sydney. The best way to reach it is either by Uber (around 20 minutes) or the 244 bus direct from Wynyard station to Balmoral Naval Hospital (around 30 minutes) followed by a short 5-minute walk.
2. Cobblers Beach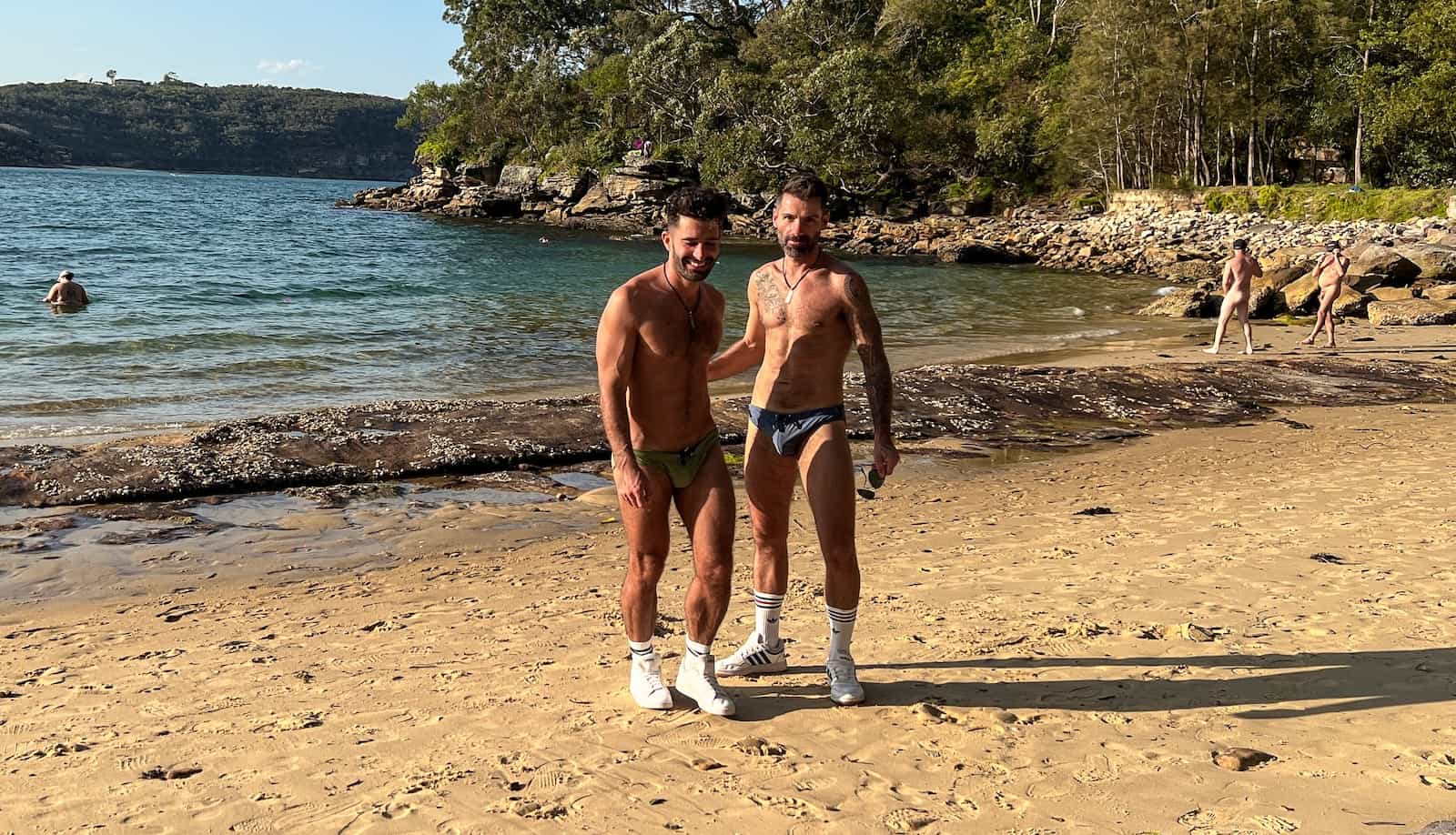 "Don't worry guys, there's another beach down the road that catches the evening sun."
And just like that, we stumbled upon Cobblers. Around 3 pm at Obelisk Beach, as guys were packing up, they clued us in on this hidden gem.
Cobblers quickly won us over. Probably because we love a good beach sunset, and this place offers just that. Of course, being clothing optional also helps!
Cobblers Beach is similar in size to Obelisk, but it also has a slightly raised grassy area towards the right side of the sandy beach, which offers a respite from all the sand. From here lies the entrance to a maze of thick bush/forest, like a gay Pearly Gates if you catch our drift…
Much like Obelisk, Cobblers has zero facilities, so make sure you bring ample sunblock, water, snacks, and of course condoms/lube if you do venture into the bushes to play.
The Cobblers crowd is a bit more diverse than Obelisk, though still predominantly gay. Despite online claims of it being family-friendly, we didn't see any children there. What we saw were men of all ages, shapes, and sizes. The best part? Zero attitude!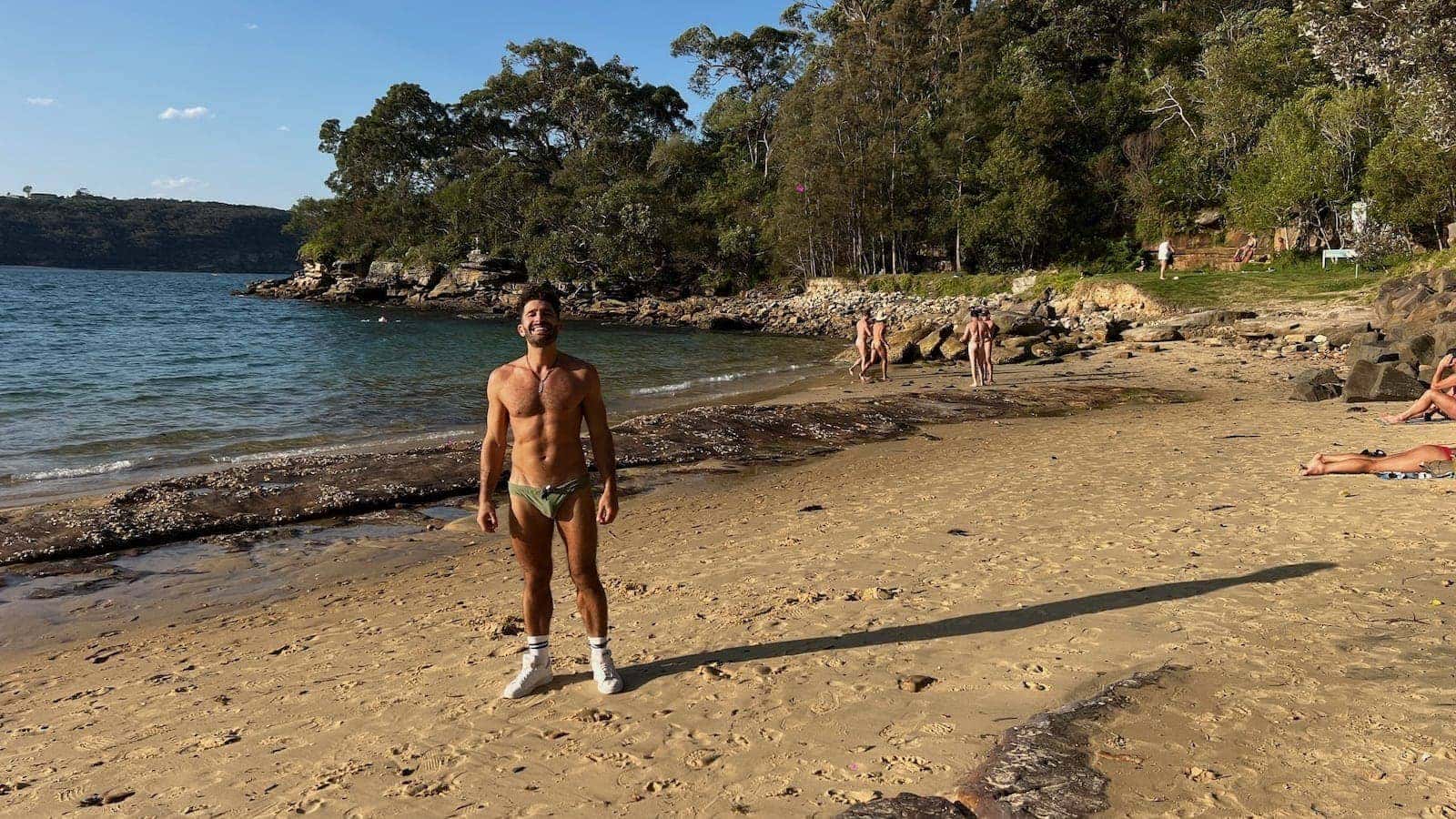 Our highlight of Cobblers Beach
It's the ultimate spot for Golden Hour Thirst Traps – a paradise for photographers and (ahem!) content creators…
How to get to Cobblers Beach
Like Obelisk, Cobblers is located 7.5 miles (12km) northeast of downtown Sydney. It's a short 20-minute Uber ride from Darlinghurst or a direct trip on the 244 bus from Wynyard station to Balmoral Naval Hospital (around 30 minutes) followed by a short walk.
3. Little Congwong Beach at La Perouse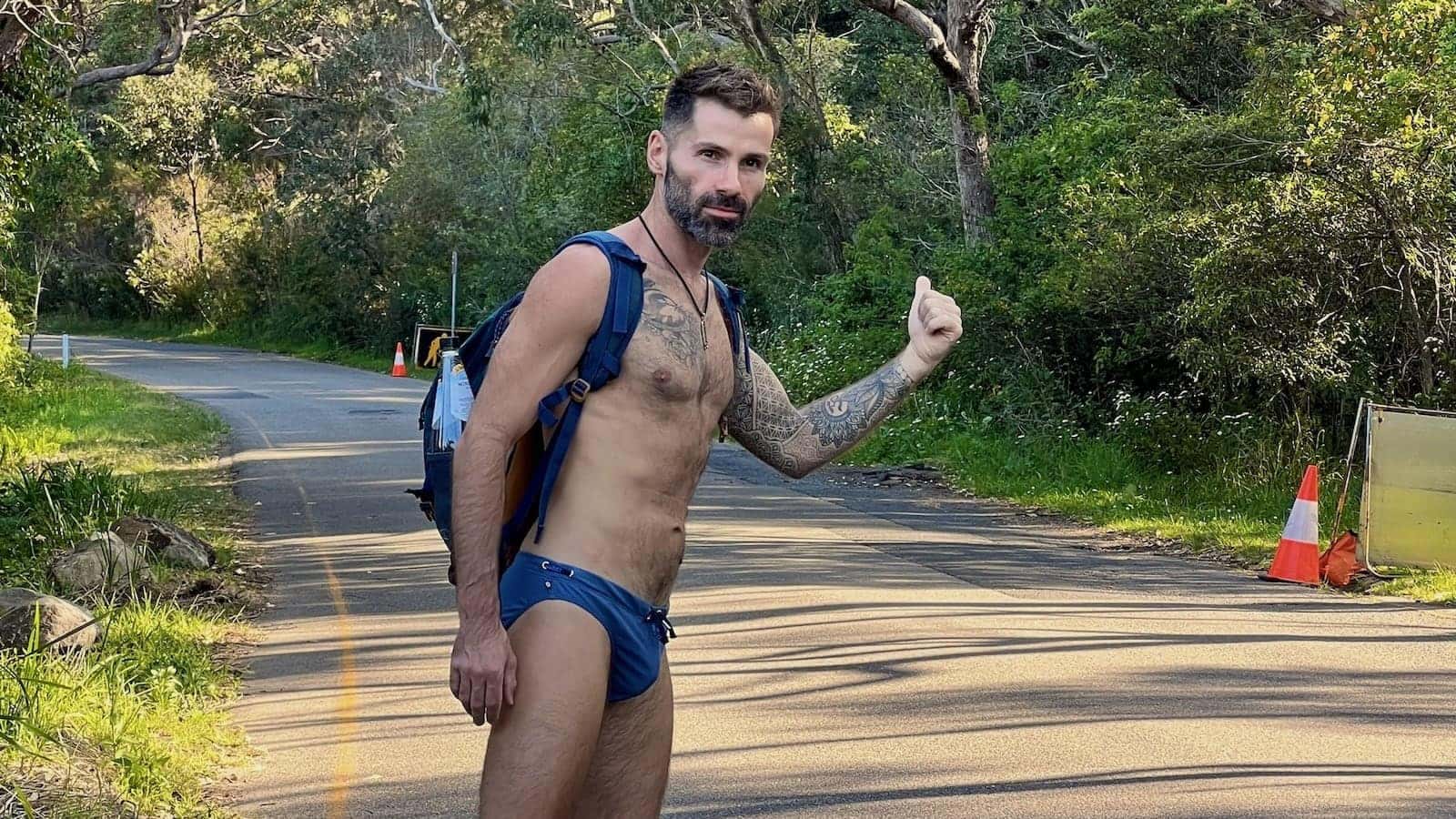 La Perouse is a suburb of Sydney, around 9 miles (15km) south of Darlinghurst and part of the Kamay-Botany Bay National Park. On the western edge of this peninsula lies Little Congwong Beach where many a gay Sydneysider ventures each day for beach fun and play. Ourselves included.
First thing to clarify, don't make the same mistake as us. Upon arrival at Congwong Beach, we were surrounded by children. WTF?! We looked at each other wondering if the Uber driver had tricked us.
Turns out there's a Congwong Beach (this is the family-friendly one) in La Perouse AS WELL as Little Congwong Beach further south where all the gays head. If you also make this mistake, worry not, it's a brisk 20-minute walk between the two.
Once we got there, we were pleasantly surprised. The views are as jaw-dropping as the guys, particularly at sunset.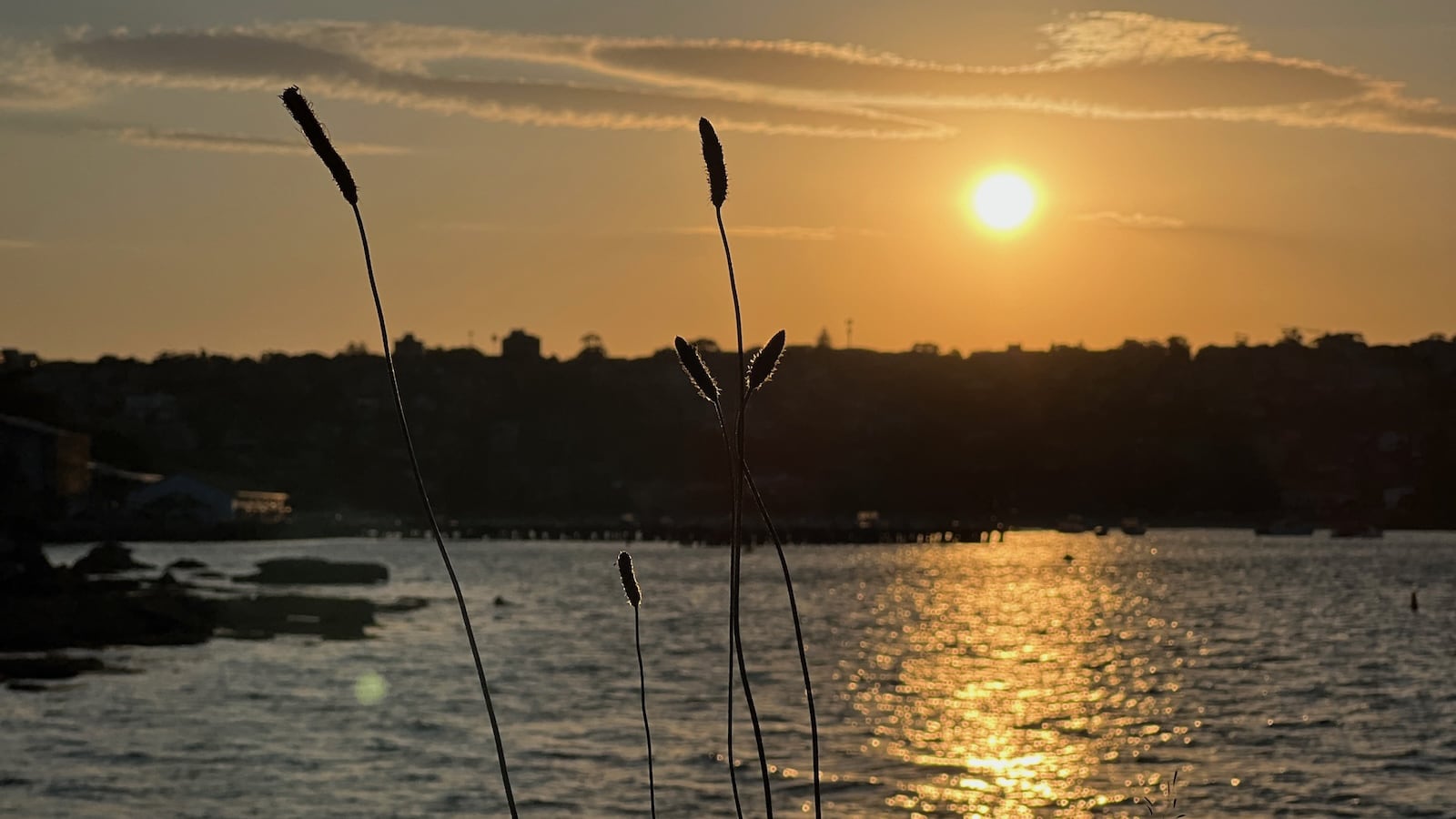 It's like Mother Nature herself decided to host a runway show, and we were living for it. It had more people than Obelisk, most likely because it has a few more facilities here – public toilets, a few shops and in the summer months, an ice cream boat even pays a visit! However, it still felt as remote as Obelisk thanks to its location in the National Park.
Whilst Little Congwong is not an official nudist beach like Obelisk and Cobblers, the Council turns a blind eye to skinny dipping here. A blind eye is also turned on all the fun going on in the surrounding bushes and woods!
Our highlight of Little Congwong Beach
The ice cream boat – it's the first time either of us has seen one before!
How to get to Little Congwong Beach
It should take around 25 minutes by Uber from Darlinghurst (but add 20 minutes to that if you end up at the wrong beach like we did!). Alternatively, it's around 1 hour by public transport via a mix of buses or light rail and bus. For this reason, we only recommend this beach if you're driving or Uber-ing here.
…or you could hitchhike your way over…
4. Lady Jane Beach in Watson Bay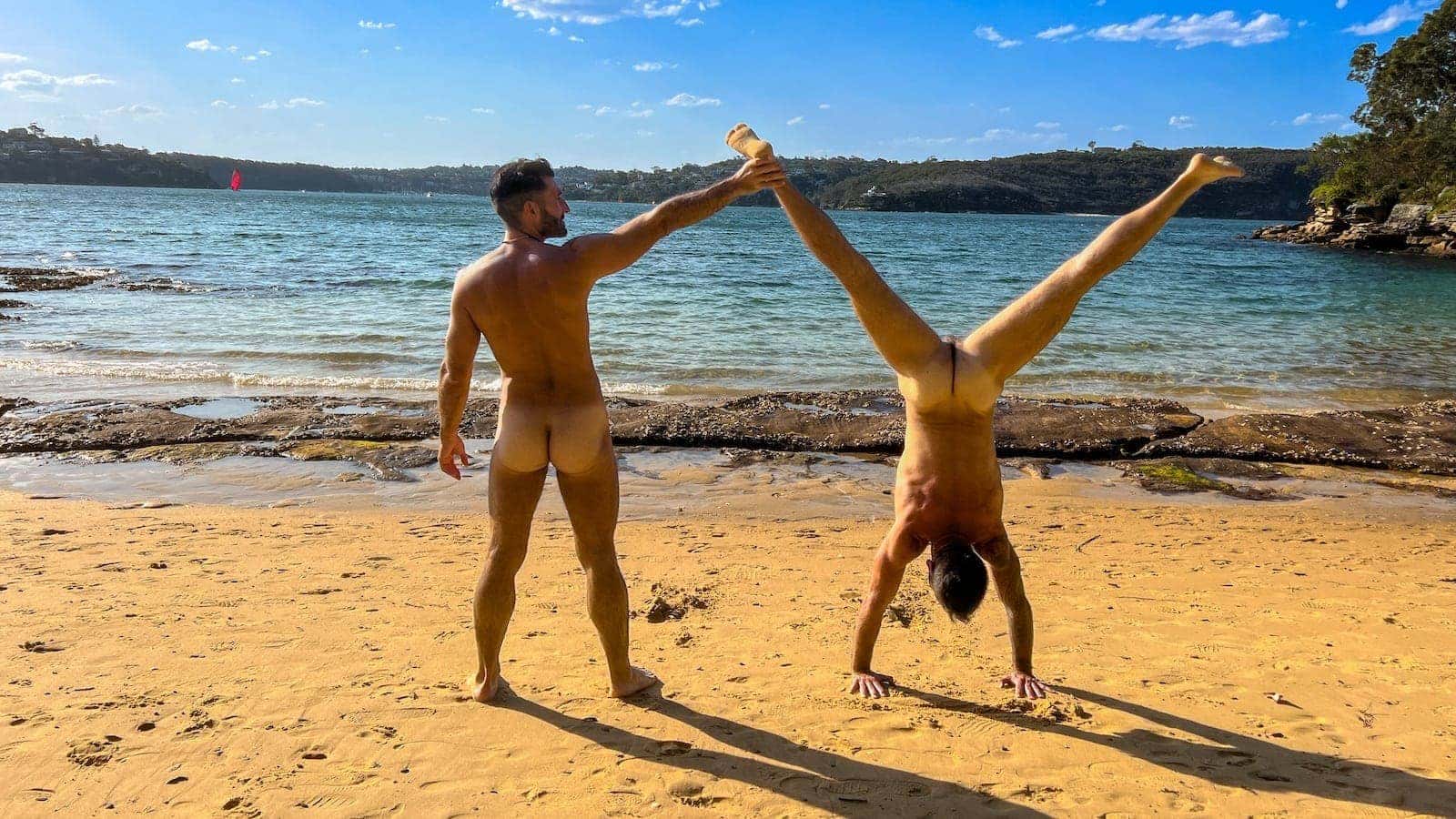 Lady Jane (aka Lady Bay) is so gay that Gaycities nominated it as one of the most iconic gay beaches of 2023! It's also one of the oldest nudist beaches of Australia dating back to 1976 when it was officially designated as clothing-optional.
Lady Jane Beach is located at the end of the South Head peninsula, East of Darlinghurst (a short 15-20 minutes drive away), so it boasts some impressive city skyline views. Its west-facing orientation also makes it an ideal spot for catching a breathtaking sunset.
The beach itself is a lot of fun! It felt like everyone we met in the Oxford Street gay bars the night before was here. As well as being super gay it's also pretty cruisy on the rocks and bushes.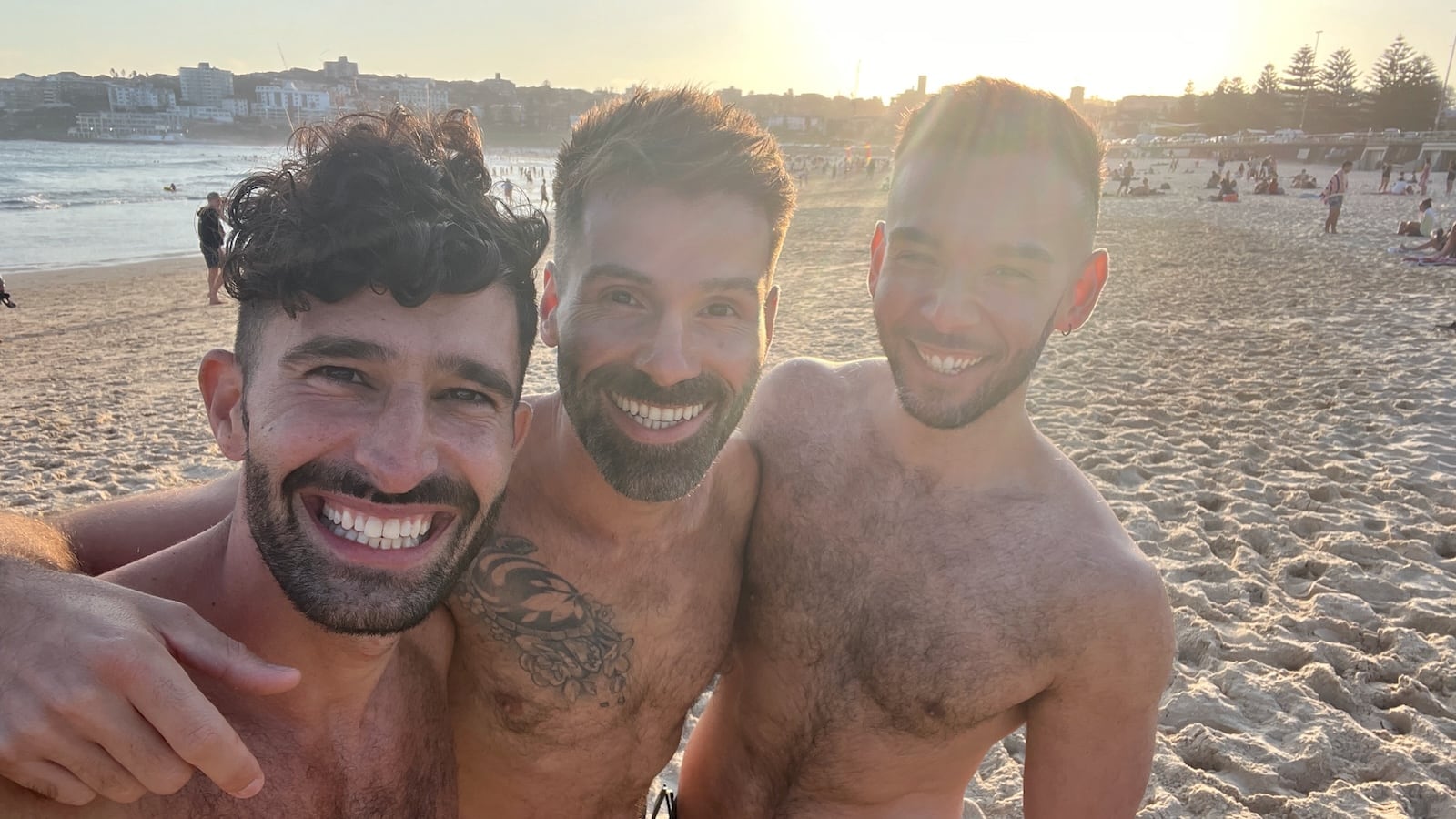 The only downside of Lady Jane is the slight lack of privacy due to the lookouts overlooking it. On one occasion we saw a large group of Chinese tourists taking photos of us as they stopped off from their tour bus! But we've encountered this before and don't take issue with it. For example, the Playa del Muerto nudist beach of the gay resort town Sitges in Spain we visited before also has a lookout around it.
Ultimately, whether you take issue with going fully naked here is a personal decision. If privacy is paramount and you're not comfortable with the public watching you sunbathe in the nude, then we suggest sticking to the more secluded gay beaches like Obelisk and Little Congwong.
We found it gets quite busy at Lady Jane gay beach on weekday afternoons and weekends, particularly on Sundays. As with most of the other gay beaches of Sydney, make sure you bring ample sunblock, water to drink, and snacks as facilities are limited.
Our highlight of Lady Jane Beach
Posing for the coach load of tourists who stopped to photograph us from the lookout up above! (Exhibitionists – us? Well maybe just a little!)
How to get to Lady Jane Beach
We recommend grabbing an Uber as it only takes 15-20 minutes subject to traffic. By bus, it's around 1 hour from Kings Cross Station to Robertson Park on Military Road (with bus #324 or #325) followed by a 15-minute walk. You can also reach Lady Jane Beach by taking a ferry to Watson's Bay and then walking over.
For more inspiration: