Larnaca Airport (LCA) is the main international airport for Cyprus and the largest on the island.
The Republic of Cyprus (south side) has another smaller international airport on the west side of the island in Paphos (PFO). Most flights will fly into Larnaca airport, but recently more and more airlines like Ryanair also use Paphos. In this article we focus on Larnaca Airport.
Larnaca International Airport is located 36 miles (58km) from Agia Napa on the East side of Cyprus. This is our comprehensive guide setting out all the options of how to reach Agia Napa from Larnaca Airport.
Pro tip: you can pre-book your direct shuttle bus to your hotel in Agia Napa online. This is the most convenient and economical way to reach Agia Napa from Larnaca airport. More info on timetables and prices here.
Airport shuttle bus
There is an Airport Shuttle Bus which runs at various times throughout the day. It goes directly from Larnaca Airport to Agia Napa in 50 minutes, then continues on to Protaras and Paralimni where it terminates. This bus started recently and is still increasing its timetables. It's a blessing for because previously the only public bus available to get from Larnaca Airport to Agia Napa involved a stop over in Larnaca town.
The first Airport Shuttle Bus from Larnaca Airport to Agia Napa starts at 04:30 with one leaving roughly every hour until the last one at 00:05. In the opposite direction, from Agia Napa to Larnaca Airport, the Shuttle Bus runs almost throughout the day from 01:00 to 23:00. The buses run every day despite holidays. Check their website for the most up-to-date timetables.
Tickets on the Airport Shuttle Bus cost €8 and can be purchased either online or at the ticket counter, which is located on the left as you come out at Arrivals.
Warning:
The Airport shuttle bus will take to
Agia Napa bus station
, not to your hotel. There is a direct bus shuttle which will take you to your hotel for 13€, you can pre-order your transfer
here
.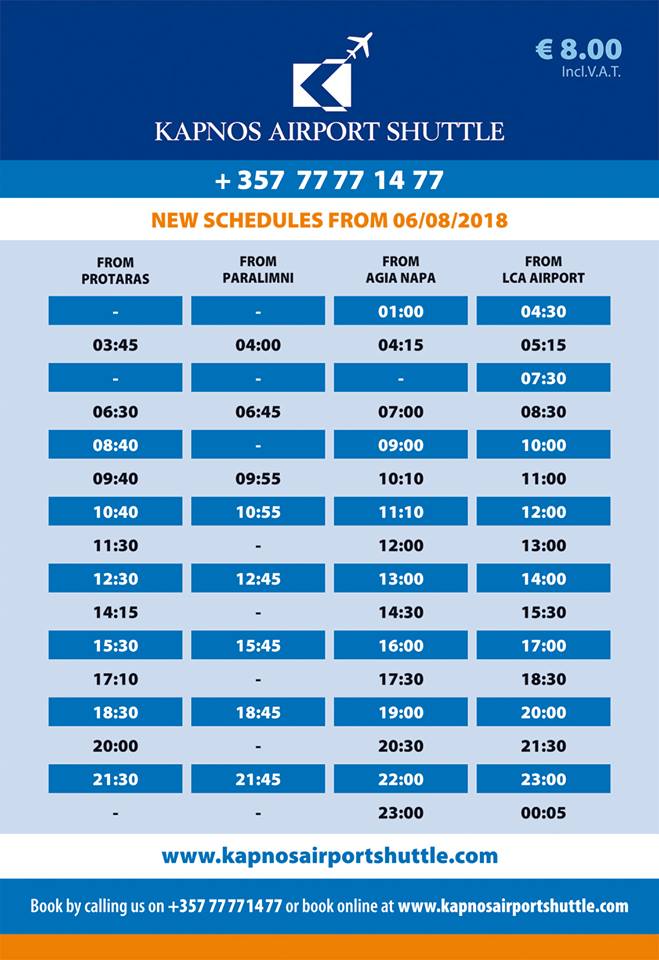 Car rental
If you plan on travelling around the island, we strongly advise renting a car for your holiday. Public transport in Cyprus is limited to public buses, which have a sporadic timetable and take longer.
If you're renting a car, then you can arrange to pick it up when you arrive at Larnaca Airport, then drive directly to Agia Napa. The distance is 36 miles (58km) and takes around 40 minutes along one straight highway. It's a very easy drive with little traffic so shouldn't be a problem for first timers.
Driving generally in Cyprus is very easy. The roads are well maintained and safe. If you're arriving from the UK, you'll be particularly fine because they also drive on the left in Cyprus. Cypriot drivers can be quite dubious on the roads(!), but thankfully police enforcement against speeding and drink driving is very strict.
Public taxis
If you choose not to rent a car in Cyprus, then the quickest, most efficient way to get from Larnaca Airport to Agia Napa is by private taxi. Licensed taxi drivers wait just outside the airport on the right as you come out from Arrivals. The average fee for a taxi from Larnaca Airport to Agia Napa is €50. The journey by taxi takes around 45 minutes.
However, during peak season (July / August), you might pay a premium for the taxi transfer and if there are many flights arriving at the same time, queues for taxis can be quite long.
If you need internet on arrival, Larnaca Airport does have public WiFi. In addition, you can buy a SIM card at the Xpress Mart located in the airport just on the right of Arrivals. It is open 24 hours a day and sells various SIM card packages starting from €2.
Private transfer
To avoid the stress and hassle of arranging an Airport Shuttle Bus, taxi queues or car rental, you can always arrange a private transfer. As soon as you land, a driver will be waiting for you at the Arrivals holding a placard with your name. We recommend booking one of the options below:
What to do if arriving late at night
If you arrive on a late flight, you will of course be fine if you have a car rental, as most offices are open 24 hours a day.
But if you're not planning on renting a car, then you will have likely missed the last Airport Shuttle Bus and taxis may be scarce. In this instance, we highly advise arranging a private transfer so you can be confident that there will be someone waiting to pick you up and take you directly to Agia Napa without any fuss.
OUR FAVOURITE TRAVEL TIPS
⭐️ TRAVEL INSURANCE — We recommend you always take out travel insurance before your next vacation. What happens if you suffer from illness, injury, theft or a cancellation? With travel insurance, you can have peace of mind and not worry. We love World Nomads travel insurance and have been using it for years. Their comprehensive coverage is second to none and their online claims process is very user friendly.
⭐️ SAFETY & SECURITY — All travelers can sometimes encounter danger when traveling. CloseCircle is your "virtual body guard" mobile app which provides security alerts and support wherever you are in the world. They have a 24/7 emergency response team monitoring their users who will contact you immediately if the SOS swipe button is activated. Support can include anything from practical advice, to free evacuation from areas with extreme weather or security risks. You can read more about CloseCircle in our article about how to stay safe whilst traveling.
⭐️ ONLINE ANONYMITY — A VPN (Virtual Private Network) is a must in many countries: it allows you to surf anonymously and maintain your privacy whilst traveling. You'll particularly need it in countries where dating apps are blocked by the government. We recommend ExpressVPN, a reliable and cost effective service which we used and loved during our travels.
⭐️ HOTELS or APARTMENTS — When we plan a trip, we always look for the best hotel deals. We love Booking.com because not only do they have a comprehensive listing of accommodation options, they also offer the best prices. Added bonus: they provide 24/7 support and free cancellation for most listings.
⭐️ SIGHTSEEING and ADVENTURES — When we travel somewhere, we like to seek out the best experiences, whether it is cooking with locals in Bangkok, hiking on a glacier in Patagonia, or going on a wildlife safari in Sri Lanka. Our favorite place to look is GetYourGuide because they have over 30,000 highly rated activities, a user-friendly booking process with free cancellation and a 24 hour customer support.
This article contains affiliate links. If you click on them, we may receive compensation which keeps our website alive and helps us bring you to more destinations.
Pin for later