We took a break from travelling for a month in Bangkok as a base to spend Christmas and plan travels for 2015. We stayed for a few nights at the excellent Lub'D Hostel and then rented a condo (with gym and swimming pool) in the suburbs via Air BnB.
Our first destination in 2015 was Myanmar, a country which only recently started to open up to tourism and is still doing so.
Visa on arrival is still not fully available so we had to apply for our tourist visa for Myanmar before arriving. We also had to ensure we had crystal clear perfect new dollars ready for our trip.
The application form and costs
You can apply online for an e-visa for $50 (around £33), or go in person to the Union of Myanmar Embassy and get it cheaper (810 bahts: around £16/$24).
The tourist visa is valid for 28 days and is for a single entry. It is valid from your first visit to the Embassy and expires after 3 months from this date.
The process involved 2 visits to the embassy, over 3 business days, unlike our experience of getting an Indian visa in Kathmandu, which took a bit longer.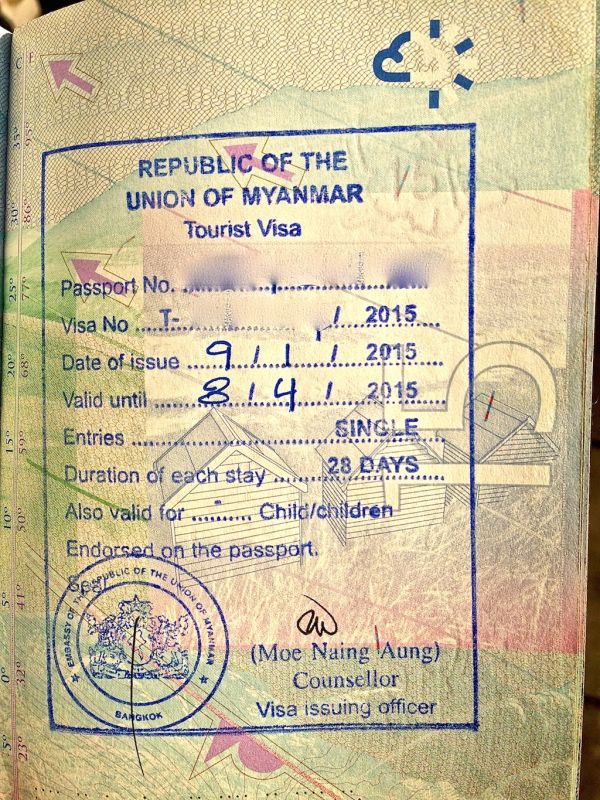 Preparing your paperwork
The paperwork we had to prepare to bring with us was:
our passports
copy of our passports
two recent (within the last 3 months) passport sized photos (48mm x 38mm)
details of our address in Myanmar / Burma and also in Thailand
evidence of entry/exit
We couldn't find comprehensive information about whether evidence of entry/exit was required. We met other travellers who didn't bother with this and still got their visa without any problems.
But we always err on the side of caution so we booked our entry in from Bangkok to Mandalay and exit out from Yangon back to Bangkok with (ahem!) Air Asia:
First visit to the Myanmar Embassy:
The Embassy of The Republic of the Union of Myanmar is located at 132 Sathorn Nua Road, Bangkok, 10500, a 5 minutes walk from the BTS skytrain station of Surasak: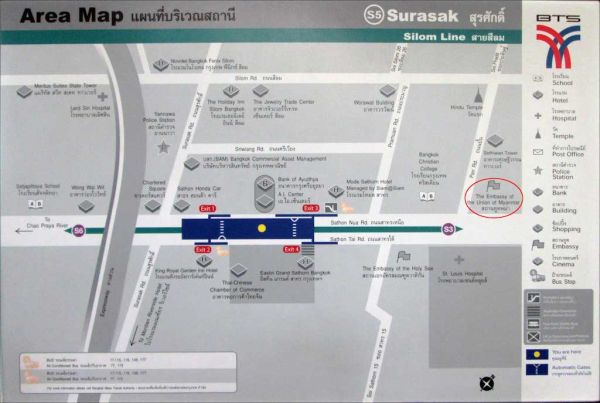 The Embassy is open for visa applications from 9am-12pm, Monday to Friday and closed on both Thai and Burmese National Holidays: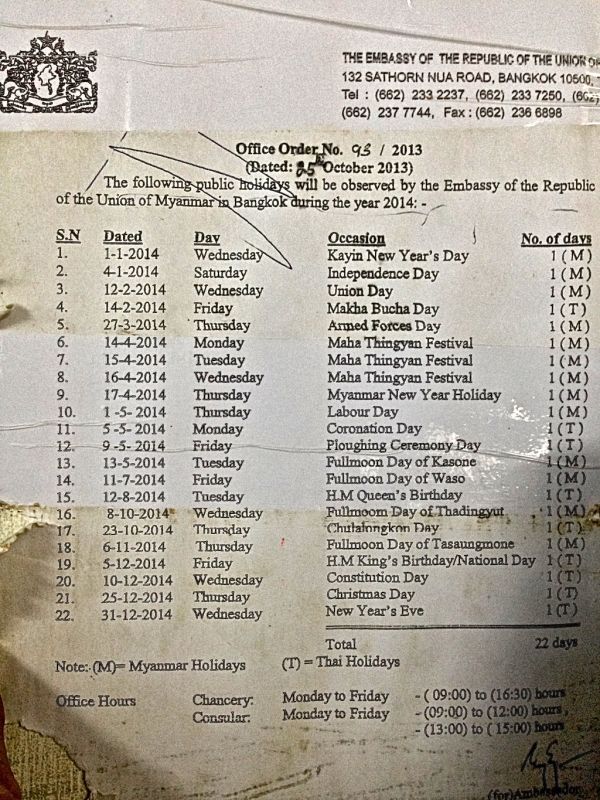 We got there just after 8am and there were around 40-50 people in front of us.
Once the doors opened, we collected the application forms and filled them out whilst waiting in the queue. The Union for Myanmar Embassy has a copy of the application form online, but you can just complete it on the day like we did.
On the application form you're asked details of your current and one previous job roles: they don't like "reporter" or "journalist" related roles so if relevant, we were advised to use "consultant" or "unemployed" instead.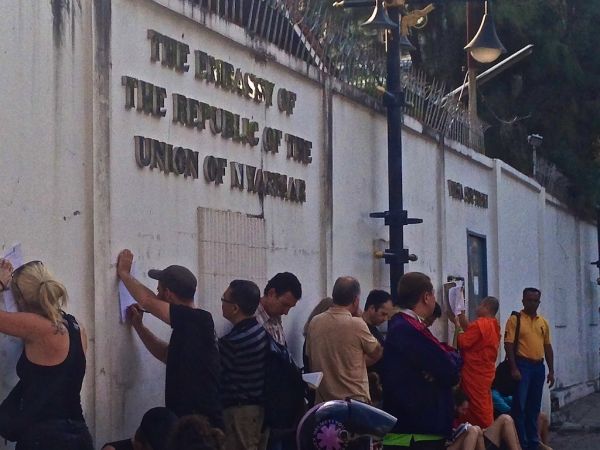 Once in, we submitted our papers and given a ticket number. We waited a further 20 minutes for our ticket to be called. At the second counter, we paid our 810 bahts fee each, given a receipt and told the day to return and collect our passports (we went Friday and told to come back the following Tuesday).
Second visit to the Myanmar embassy
The second visit was to collect our passport with visa. The pick up time is 3:30-4:30pm and the queuing was more chaotic this time. We got there just after 3pm and there was a large group already waiting.
It took until almost 4pm for the doors to open, but once in, it was very quick. We collected our passport with Myanmar visa and took our proud selfie: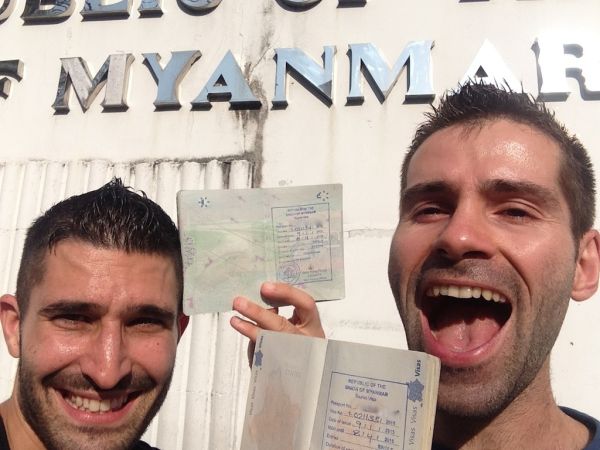 Watch our video Thailand travel video and enjoy our underwater adventures as we island hopped through this beautiful country:
OUR FAVOURITE TRAVEL TIPS
⭐️ TRAVEL INSURANCE — We recommend you always take out travel insurance before your next vacation. What happens if you suffer from illness, injury, theft or a cancellation? With travel insurance, you can have peace of mind and not worry. We love World Nomads travel insurance and have been using it for years. Their comprehensive coverage is second to none and their online claims process is very user friendly.
⭐️ SAFETY & SECURITY — All travelers can sometimes encounter danger when traveling. CloseCircle is your "virtual body guard" mobile app which provides security alerts and support wherever you are in the world. They have a 24/7 emergency response team monitoring their users who will contact you immediately if the SOS swipe button is activated. Support can include anything from practical advice, to free evacuation from areas with extreme weather or security risks. You can read more about CloseCircle in our article about how to stay safe whilst traveling.
⭐️ ONLINE ANONYMITY — A VPN (Virtual Private Network) is a must in many countries: it allows you to surf anonymously and maintain your privacy whilst traveling. You'll particularly need it in countries where dating apps are blocked by the government. We recommend ExpressVPN, a reliable and cost effective service which we used and loved during our travels.
⭐️ HOTELS or APARTMENTS — When we plan a trip, we always look for the best hotel deals. We love Booking.com because not only do they have a comprehensive listing of accommodation options, they also offer the best prices. Added bonus: they provide 24/7 support and free cancellation for most listings.
⭐️ SIGHTSEEING and ADVENTURES — When we travel somewhere, we like to seek out the best experiences, whether it is cooking with locals in Bangkok, hiking on a glacier in Patagonia, or going on a wildlife safari in Sri Lanka. Our favorite place to look is GetYourGuide because they have over 30,000 highly rated activities, a user-friendly booking process with free cancellation and a 24 hour customer support.
This article contains affiliate links. If you click on them, we may receive compensation which keeps our website alive and helps us bring you to more destinations.