This is our take on gay Bologna in 2023 – the foodie capital of Italy. We explored the gay scene and all the best things to do in and around this super hip city.
'The foodie paradise of Italy!'
That's what everyone said to us about Bologna and the surrounding region of Emilia Romagna. After a week's fill of freshly made tortellini, ragu, lasagne, tagliatelle, tortelloni, passatelli, cannelloni, lasagne… we can totally see why!
Bologna is also famous for its long corridors of porticos, the result of a large student population over centuries.
It all began in 1088 when the University of Bologna was founded. The city quickly attracted thousands of students who still today descend on the city each year.
As the student population continued to grow in Bologna over the last 10 centuries, business owners realized they could extend the upper floors of their properties outwards to accommodate more of them.
Good old students – not only are they responsible for the famous corridor of porticos throughout the city, but they've also created the cool, hip vibe that you instantly feel here. So much so that Bologna is famous for being the most tolerant and diverse place in Italy, earning it the nickname, 'The Red City'.
We had fun in Bologna. Did we have a crazy gay holiday here? Not in the least. Save that for the gay bars of Milan. Did we stuff our faces with the most delicious food ever whilst getting lost in the labyrinth of portico-lined streets? Hell yeah! Bologna truly is the foodie capital of Italy.
If we had to sum up the city in 3 words it would be: food, porticos, and hip.
Heads up: We just wanted to let you know that this post contains affiliate links. That means if you book something through one of those links, we'll get a small commission, at no extra cost to you. It helps us keep our blog going – so thank you in advance for your support! ♥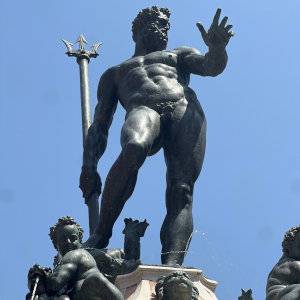 Gay tours in Italy
Want to see the best of beautiful Italy on a gay tour? Italy Gay Travels offers tailor-made gay group tours exploring some of the most exciting areas of Italy, from the fabulous Puglia region to a special White Lotus tour of Sicily! You can even choose from active tours going skiing, sailing, or cycling or take in a special opera-focused itinerary…
Can I book a hotel double bed: how gay friendly is Bologna?
It goes without saying.
This is the most liberal part of Italy largely thanks to its big student population. At first, we were apprehensive about public displays of affection (we normally are when we arrive at a new place), but within minutes we spotted several same-sex couples walking the streets holding hands and we realized we'd be just fine here!
Booking a hotel room with a double bed was never an issue for us in Bologna. The hotels here are gay friendly. Finding the right place is more an issue of what fits your needs, and of course, budget. On that note, we'd recommend booking an Airbnb or one of the many listings on Misterb&b to make life easier for you if you want to invite an overnight guest or two…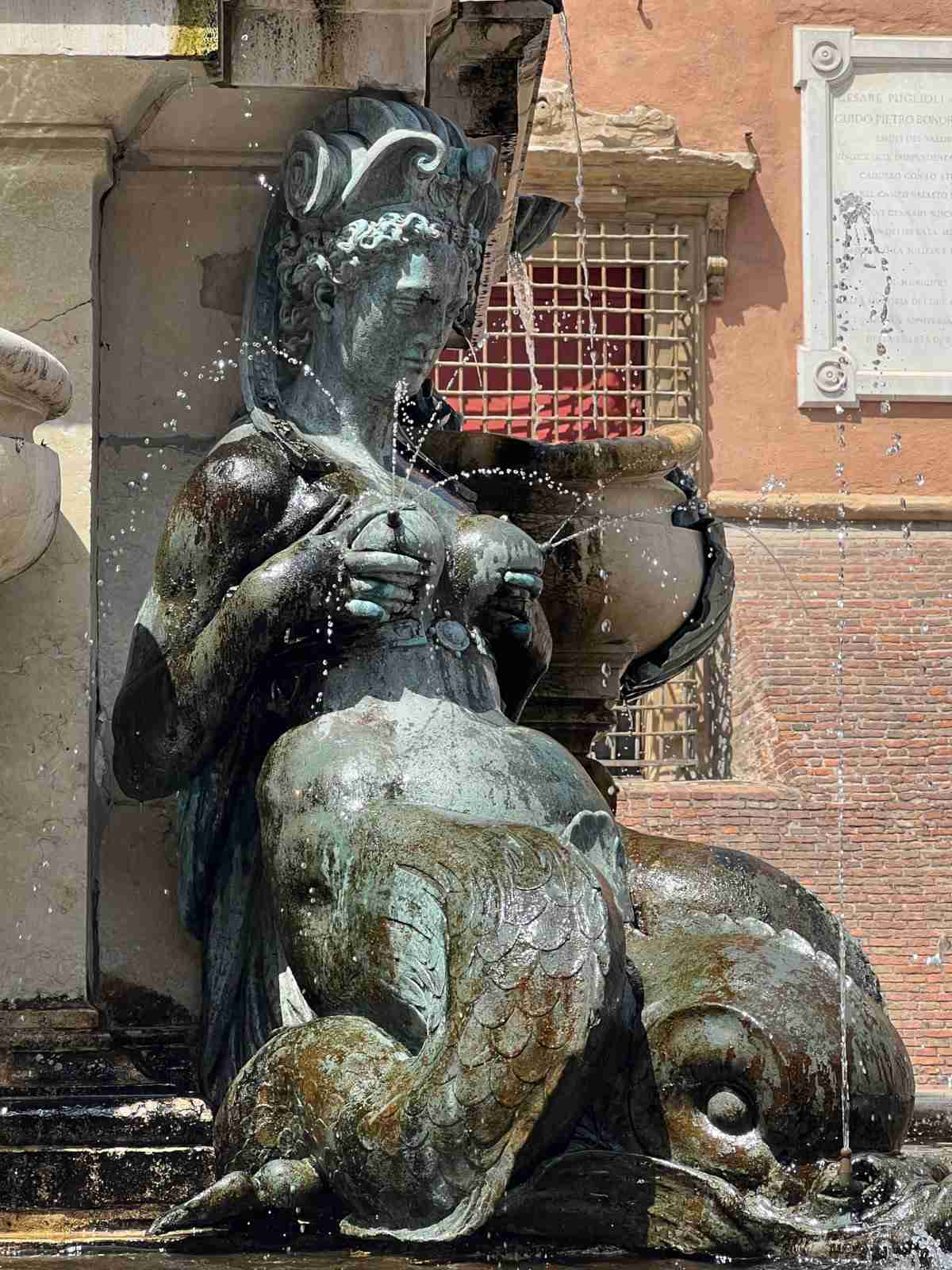 The gay scene of Bologna
…surprisingly lacking!
Large student population? The place must be crawling with gay venues and queer parties, right? That's what we thought before coming here.
Yet there is one sole gay bar in Bologna – Il Barattolo. It's a cutesy bar in the University District, great for a few drinks with friends. It's got a cool indoor space with board games, a large TV screen, and a pool table. Outside it has a few tables in its terrace area to people watch. The drinks are okay – I needed a bit more sweetener in my margarita…
There were no other gay bars in Bologna beyond Il Barattolo when we visited, which probably says more about the overall gay friendliness of the city. All bars welcome the LGBTQ community, particularly those popular with students.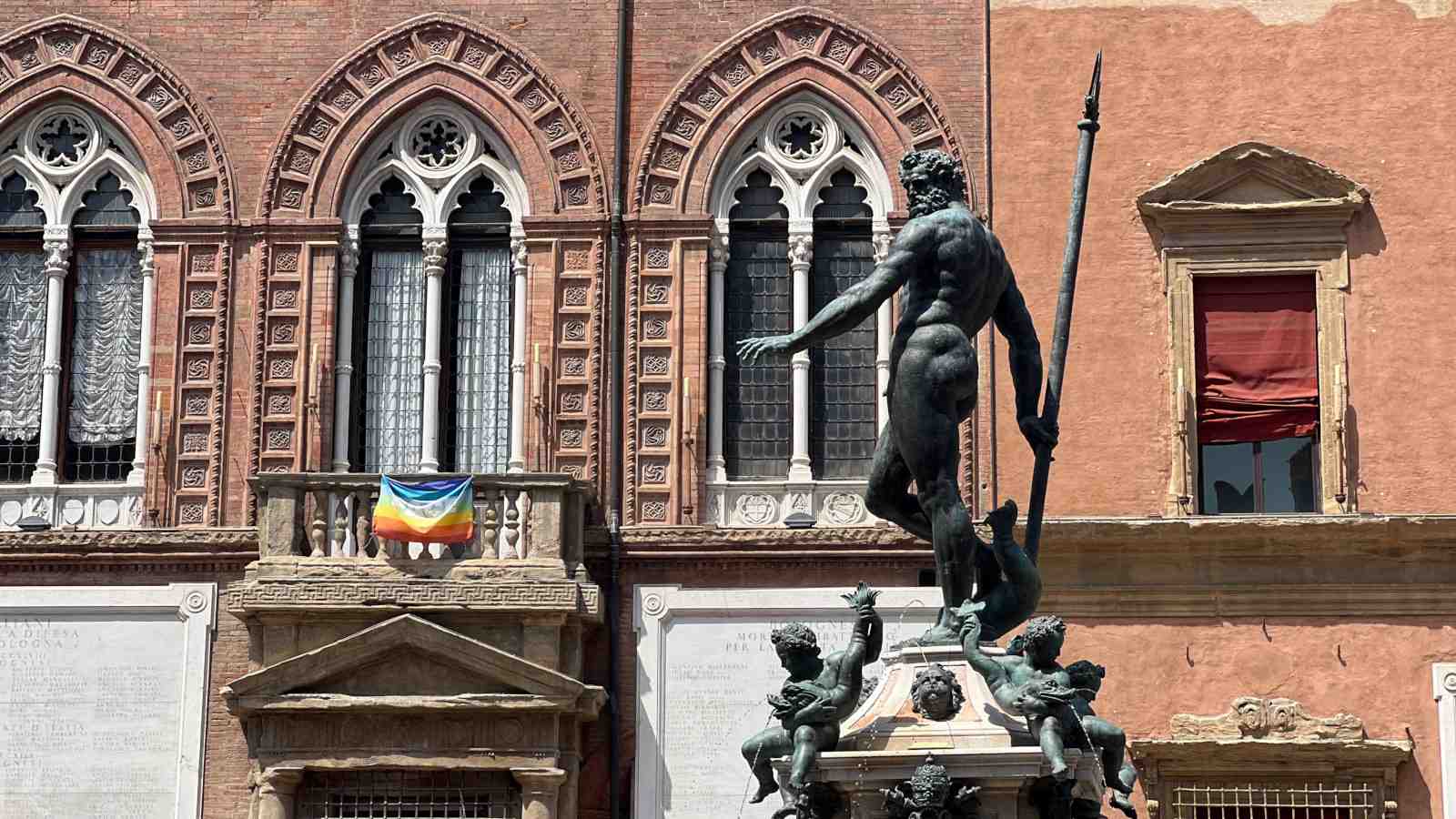 When it comes to gay clubs and saunas, Bologna has a few more options.
The main gay clubs are Bart Club and Red Gay Club. Red Club is the most popular with the best parties, like 'Tunga'. It's located in the industrial area near Zona Roveri. Bart Club is the more raunchy, with "themed" nights like Saturday's 'Men Only', and Monday's 'Underwear Party'.
The most popular gay sauna in Bologna is Cosmos Club because it's close to the train station. It's quite difficult to find: the entrance is in the courtyard of a large building opposite the Europa Hotel – a green-lit bill marks its entrance. Further north of the city center is Steam Sauna but it's less popular due to its location.
Bologna hosts a gay Pride event every June/July. It is organized by the Rivolta Pride network and includes a parade through the city followed by a concert.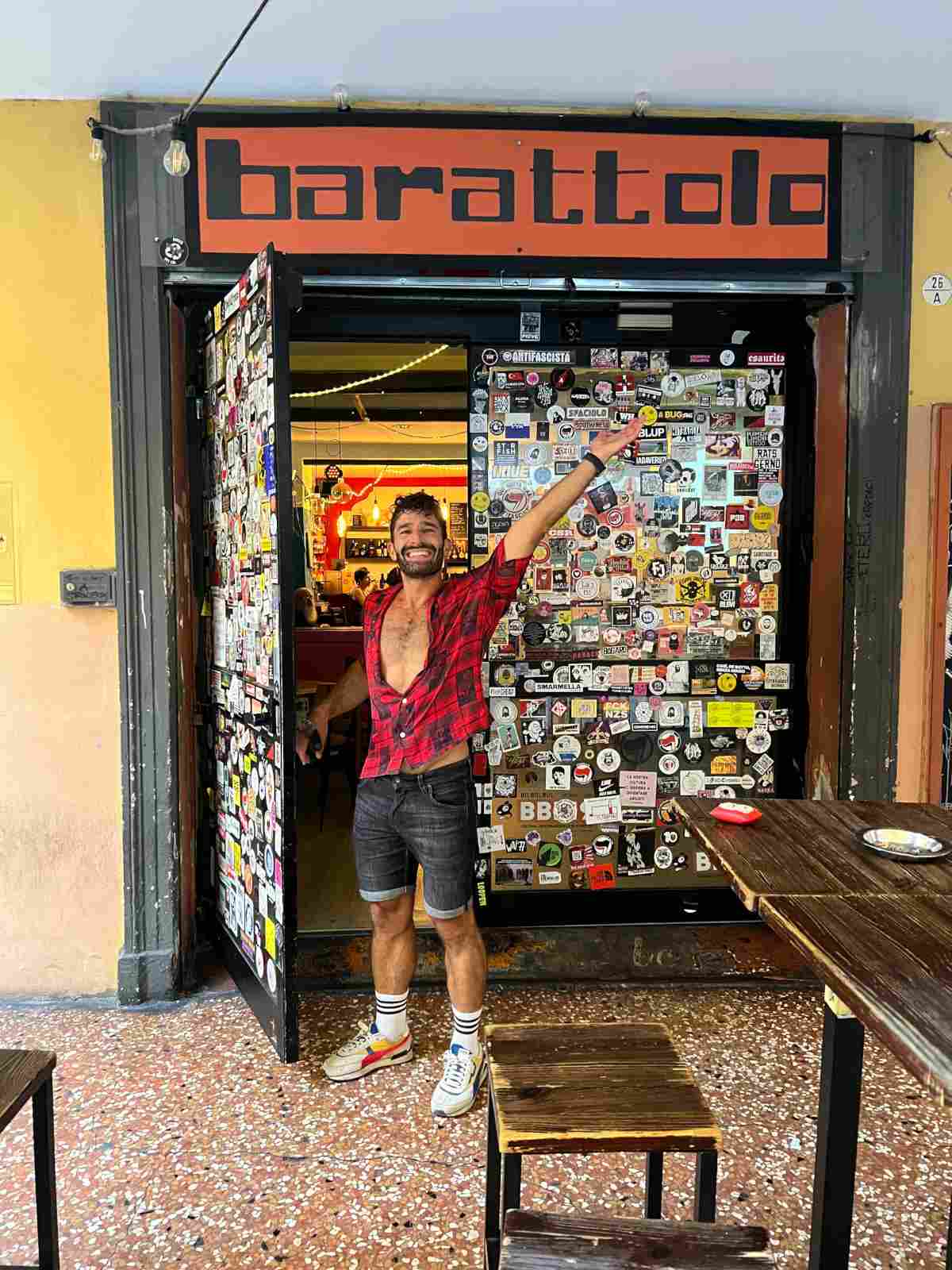 Best things to do in Bologna
We've included the best things to do in both Bologna and the surrounding region of Emilia Romagna. Please note this is not comprehensive and is based on our first-hand experience. If we've missed something out, it's simply because we ran out of time so don't hate us!
Our big tip: try to rent a car to visit the smaller towns around Bologna. It's the most rewarding way to experience Emilia Romagna.
Eat everything!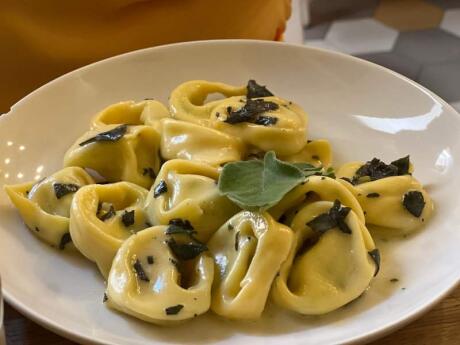 This is the foodie haven of Italy for good reason. Every type of pasta you can dream of is carefully crafted here. Don't know the difference between your tortellini and tortelloni? You will by the end of this trip! Our favorite restaurant that we discovered and recommend checking out is Sfoglia Rina. Here you can try some of the most delicious handmade pasta. We also love that their menu is divided into Bologna classics and seasonal delicacies.
---
Get lost in the Porticos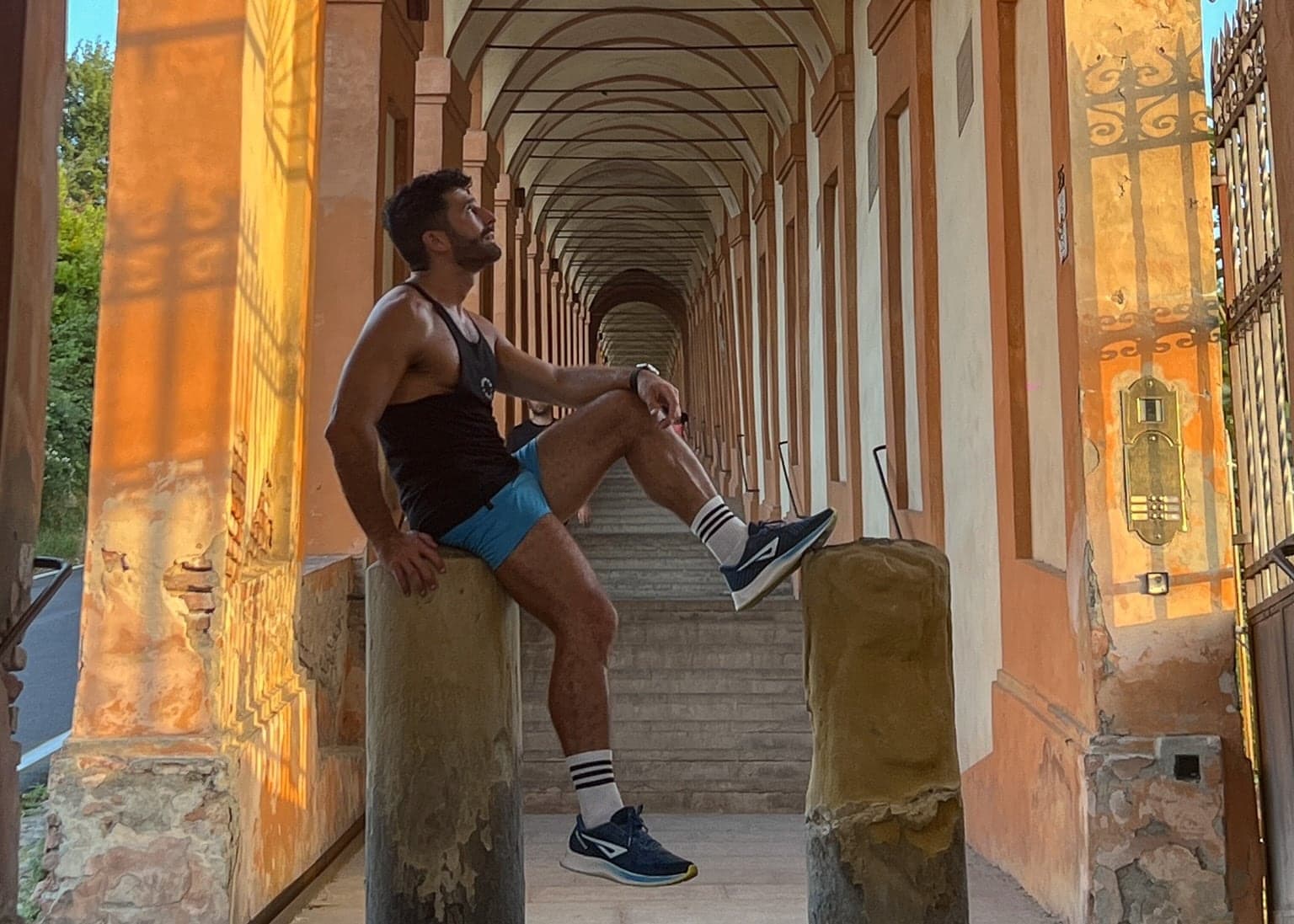 Bologna's porticos are a symbol of the city, and there is no other city in the world with so many, all together they measure almost 40 kilometers in length! They make the city truly unique and some are so pretty that they also make the perfect backdrop for a few candid Insta shots. We explored them on our morning runs, which we recommend – not only as a useful way to burn off all those tortellini calories but also as a rewarding way to see the porticos. The most famous is the Portico of San Luca, which is the longest one with no fewer than 666 arches, spanning 3,800 meters in length.
---
Modena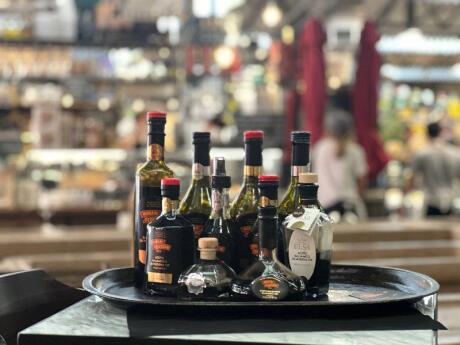 The famous balsamic vinegar is made right here! It's also where Pavarotti was born and a cute place to walk around. Located just 20 minutes from Bologna by train, Modena makes for the ideal day trip, but in our case, we visited by car. Highlights for us include Balsamic vinegar tasting (any shop selling them will offer this) and the Albinelli market for lunch. For any gays who are interested in luxury sports cars, Modena is also home to the Enzo Ferrari Museum.
---
Dozza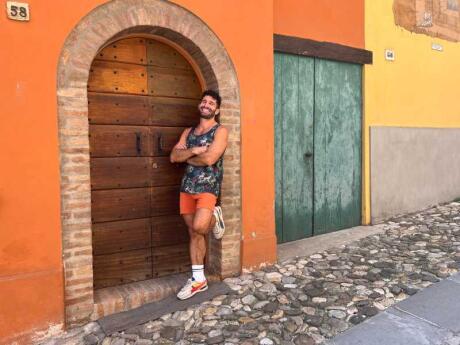 Dozza is a beautiful city about a 45-minute drive from Bologna. The medieval Dozza Castle is one of the most famous sights and is home to Enoteca Regionale Emilia Romagna – a special type of winery that's quite famous in the region. Dozza also hosts a festival of the painted wall every two years in September, during which artists from all over the world come to paint permanent murals. Even if you don't manage to time your visit during the festival, the cutesy old town is full of murals, many of which are very pretty. We had a wonderful time wandering around and seeing what we could spot!
---
Ravenna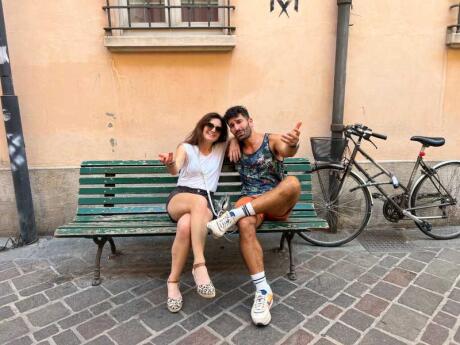 If you want to see the beach while you're in Bologna, head to the seaside town of Ravenna, about an hour's drive away. This is an excellent spot to eat delicious seafood by the Adriatic Sea. Ravenna also contains eight different buildings that comprise the UNESCO World Heritage Site "Early Christian Monuments of Ravenna". There are also a huge number of exquisite mosaics within the city, along with schools and workshops where you can learn the art of mosaic-making. If you don't have access to a car you can also join a guided tour of Ravenna from Bologna.
---
San Marino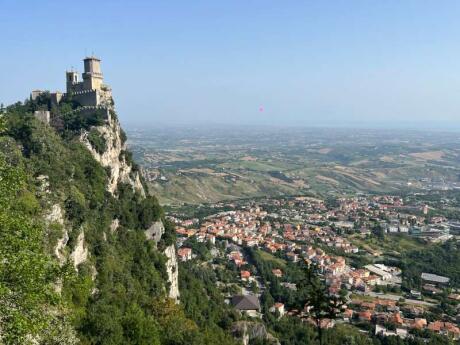 Around an hour and 40-minute drive from Bologna is the tiny but stunning Republic of San Marino. This is the fifth-smallest country in the world, covering just over 61 km2 of land. A visit here is a great way to see the mountains, especially since the capital city is perched on top of Monte Titano, the highest location in the country. San Marino is ideal for a day trip if you have a car, although you can also join a private day tour if you don't have a car and really want to see it!
---
Plan your trip to Bologna
We've put together some handy hints and tips to help you plan your own trip to Bologna. Read on to find out everything the gay traveler should know before they go.
Travel insurance: We always recommend organizing travel insurance for any trip because you just never know when something might go wrong, even in safe and gay friendly destinations like Bologna. We have used Heymondo Travel Insurance for years and have been more than happy as their coverage is comprehensive. It's also very easy to make a claim online in the unfortunate event something does end up going pear-shaped.
---
How to get there: If you're already in Italy then you can drive, catch a train or a bus to Bologna, or fly there from many European airports. Bologna is served by one main international airport, Guglielmo Marconi (Bologna) International Airport.
There's a monorail service to connect the airport to the city, as well as a couple of bus routes and taxis. If we (*cough* Stefan *cough*) have a load of luggage then we usually prefer to book a private airport transfer so we have an English-speaking driver waiting to whisk us straight to our accommodation.
---
Visa requirements: Travelers from the United States, Australia, and New Zealand don't need a visa for stays in Italy for up to 90 days, which makes visiting Bologna a breeze. Members of the Schengen Zone can also travel freely in Italy but if you're coming from elsewhere (or want to make sure) then check your personal visa requirements beforehand.
---
Getting around: The main way to get around within Bologna is via bus, foot or bicycle, although there are also taxis or the option of getting an Uber. If you want to explore a bit further afield then it's worth renting a car so you don't have to rely on the bus services, which are always so confusing when you're in an unfamiliar location!
---
Vaccinations: The CDC recommends that all travelers to Italy should be up to date with routine vaccinations like measles, mumps, rubella, chickenpox etc. You may also need vaccinations for Hepatitis A, B and rabies, so check online if you are planning to travel further than just Bologna.
---
Currency: Italy uses the Euro like most countries in Europe. Generally, €1 converts to around $1.10 US or about 89 pence in British Pounds.
---
Tipping culture: Tipping isn't really required when traveling in Italy, although it's becoming more expected as more American tourists come to visit. You won't need to tip very much in Bologna, maybe just €1 or so, if you want to. For a full guide to tipping in Italy, check out this article.
---
Internet access: It's possible to access free Wi-Fi throughout Bologna but we recommend buying an Italian SIM card when you arrive. Otherwise, you could rent a pocket Wi-Fi device for your trip if you'll need to connect multiple devices.
---
Accommodation: For more great places to stay in Bologna, make sure you check out Booking.com. We always use them when organizing our accommodation because they have excellent online support, it's really easy to book online and a lot of places even offer free cancellations, which is perfect if you like to be spontaneous.
---
Sightseeing and adventure: We also love using GetYourGuide when planning which activities and day trips we want to enjoy while we're in Bologna. Their online booking system is really easy to use and their customer support (which is excellent) is available 24/7.
---
When to visit: June, July and August are the hottest (and busiest months) in Bologna, so we recommend visiting during the cooler shoulder seasons of spring and fall between April – May and September/October. Spring can also get pretty busy though and Autumn is truffle season, so that's a great time to visit if you want to eat plenty of truffle delicacies!
---
Gay map of Bologna
We've marked all the places we've mentioned in this guide on a map so you can easily plan your own gay trip to Bologna! We hope you have a wonderful time.