We spent 3 weeks travelling in Myanmar and completely fell in love with the Burmese. They are so welcoming, always smiling that you can't help glow with happiness.
Myanmar is not the most frequented destination for travellers in Southeast Asia. As such, outside the main cities like Yangon and Bagan, the Burmese rarely see many foreigners. But when they do they are so curious and friendly, you simply cannot help feeling charmed.
As well as the fun-loving Burmese, we also fell in love with a beautiful country, desperate to be discovered by more tourists. These are our 10 interesting facts about Myanmar from our travels in the country.
1.

Learn to wear a daily thanaka face mask

The first thing we noticed when we arrived in Myanmar was the yellow powder people wore on their face in public. This is called "thanaka". It is a face cosmetic paste made from grinding water with the bark of a particular tree from central Myanmar. It is believed to act as a sunblock, anti-ageing and prevent acne all in one.

Check out our video from our home stay at the awesome Nan Bwe – The Vibe Hostel in Mandalay, where we learnt how to apply it on ourselves:
2.

Aung San Suu Kyi: love or hate her?

Aung San Suu Kyi is the famous divisive politician of Myanmar. To learn about her life in Myanmar under the oppressive military regime, watch the Luc Besson film called "The Lady" in which Aung San Suu Kye is played by Michelle Yeoh.

In short, Aung San Suu Kyi was famous for being the opposition leader against the corrupt military government who placed her under house arrest in Yangon for most of 1989-2010. This made her a Mandela-like figure internationally, and as a result she was awarded the Nobel Peace Prize in 1991. Time Magazine named her one of the "Children of Gandhi" and his spiritual heir to non-violence. The majority of the Burmese love her and even address her as "Daw Suu" or "Amay Suu" which means "Mother Suu".

However, because she became so popular with the people, the military government adopted her into their regime and made her the de facto leader of Myanmar. Her lack of response towards the recent mass executions of the Rohingya Muslims became her downfall. She has been heavily criticised by the international community for defending the military government's actions instead of criticising it, resigning and returning to house arrest. Love her or hate her? Watch her interview with the BBC and judge for yourself:
3.

Why do so many Burmese have red stained teeth?

Because they chew betel nut and tobacco all day long…

…every other Burmese we met in Myanmar had red stained lips and teeth shining brightly through their huge proud smiles. This is a result of chewing betel nut all day. It is one of the oldest traditions in Myanmar and involves chewing potent parcels of "areca" nuts mixed with tobacco, which are wrapped in a lime-coated betel leaf.
4.

Blow kisses to the waiters to get the bill

This is one of our favourite interesting facts about Myanmar and completely true. If you want to get the waiter's attention in a teahouse or restaurant, you need to make loud kissing noises to grab their attention.

The noise is not technically a kiss, but more a sucking sound into your mouth which sounds like a kiss. Watch Sebastien trying to get this waiter's attention with Burmese kisses:
5.

The longyi: the new fashion craze

The longyi is worn by most Burmese men of all ages almost everywhere, unlike in South India and in Sri Lanka where it mostly worn by the older generations.

We saw many young guys hanging out, wearing their longyis and taking selfies together. Read more from our interview with local gay boy Aung Zuy from Yangon about weather it should be worn commando or not…
6.

Ugly-fy your women to protect the tribe!

Myanmar is comprised of many different ethnic groups and tribes, each with their own unique traditions and practises. One particular practise is to "ugly-fy" their women to make them less appealing in order to prevent the neighbouring tribesmen from stealing them!

For example, in the Northern Chin states, women used to have their faces tattooed, but this practice became illegal and was subsequently banned in the 1960s. The women of the Kayan tribe in East Myanmar wear brass neck coils around their necks from a young age to elongate their necks. Over the years, the weight of the brass pushes their collar bone down, compressing their rib cage, thus becoming the "long necked women".

You can meet the long necked women at Inle Lake where they come to meet tourists to tell them more about their tribe.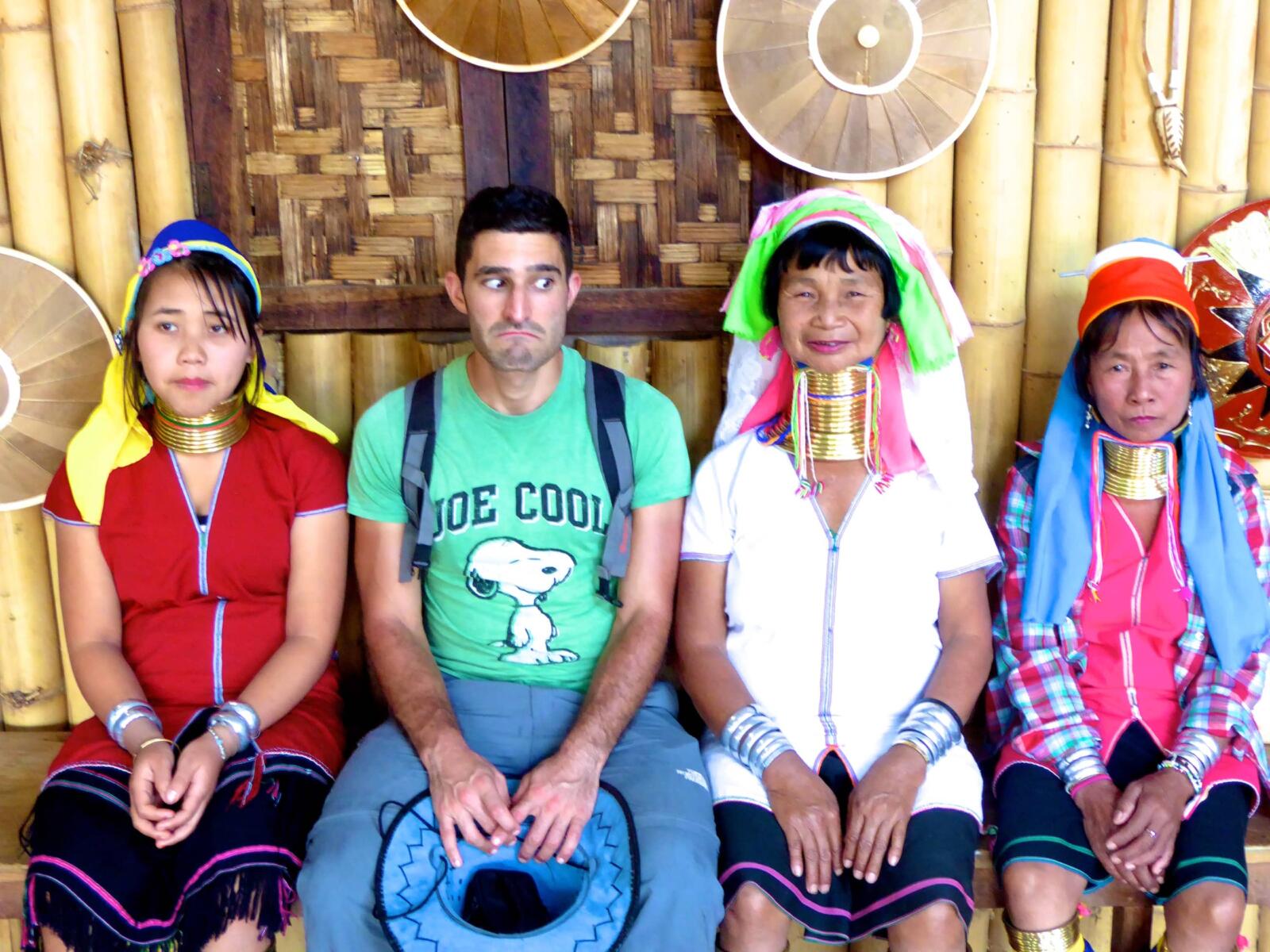 7.

No coin currency: only notes!

Just like Mongolia, Myanmar is a currency with no coins. The currency is called "kyats" with $1 worth 1,600 kyats (£1 around 2,000).

As a keen currency collector geek, Stefan made it his mission to locate a 1 kyat note (worth around $0.0006 or £0.0005).

Of course, this proved almost impossible, as the lowest note in common circulation is a 50 kyat note. However, at the very final moment before leaving the country, a delighted Stefan managed to get his hands on a 1 kyat note at Yangon airport.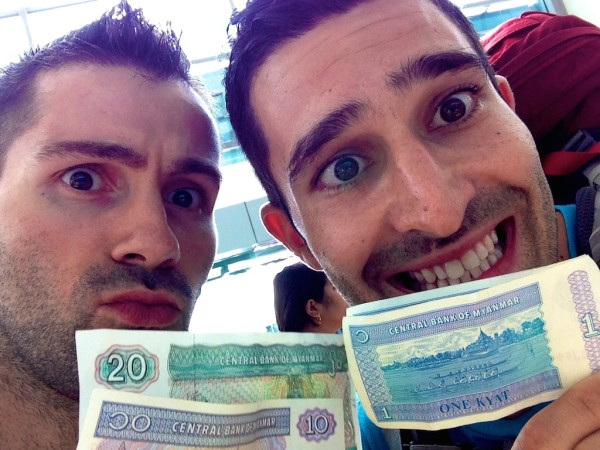 8.

The eerie ghosttown capital city

Can you guess what the capital city of Myanmar is?

Nay Pyi Daw.

It's a new city built in the early 2000s as a vanity project by the then military leader Than Shwe. It was officially opened in 2006 as the new capital city where the seat of government was moved to.

Sadly, it's become a sort of ghost-town in the middle of nowhere. The place is huge, with 20 lane highways, large golf courses, fast Wi-Fi and reliable electricity…but hardly anyone to use it. To give you an idea, Nay Pyi Daw is 4 times the size of London, a city with a population of almost 9 million, and 6 times the size of New York City, which has a population of around 8.5 million. By contrast, the population of Nay Pyi Daw is less than 1 million!

On a bright Sunday afternoon, the streets are still and silent. The hotel lobbies, cafes and restaurants totally empty – a ghost-town! This is definitely one of the most eerie and unique capital cities we've ever been to!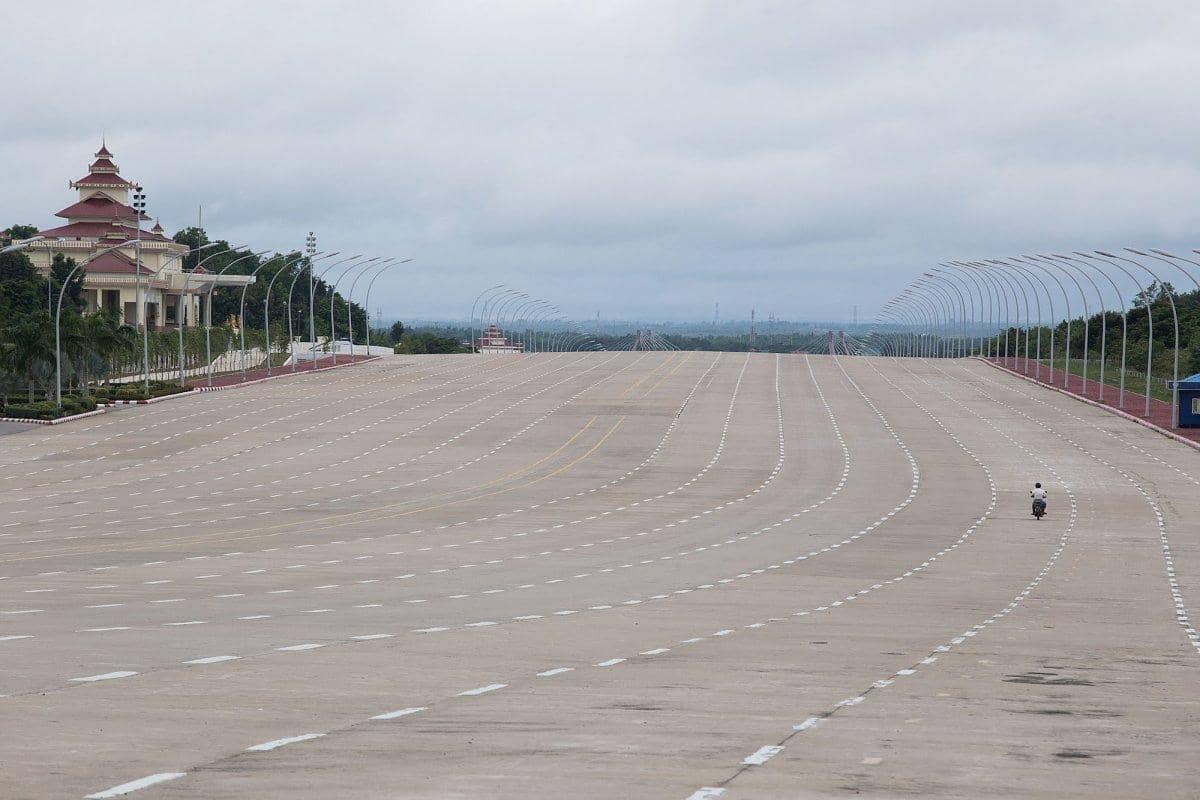 9.

The controversy of internet use

Myanmar was the only country we've visited to date on our travels where your phone's home SIM card will not work. There is no international roaming here – yet. Myanmar is changing so quickly that hopefully by the time you read this, it will have changed.

You can, of course, purchase a local SIM card to use. We highly recommend this given that most of the WiFi access in Myanmar is one of the slowest in the world.

The reason for the internet controversy is that until 2009, it was a luxury only for the rich because a SIM card was so expensive, costing around $2,000! This changed to $50 in 2012 and since November 2014 it was revised to a more affordable $1.50.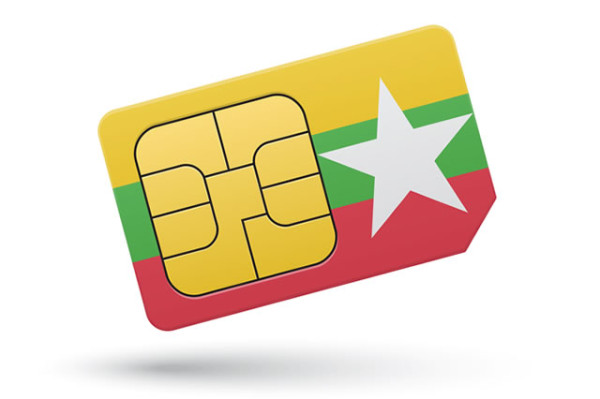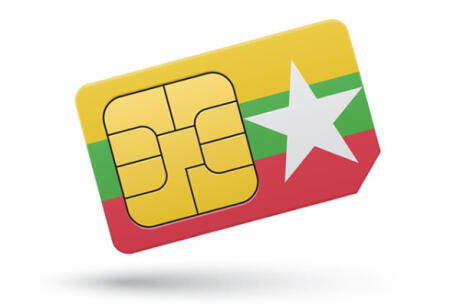 10.

Festival mania!

The Burmese love their festivals! Each month they have at least one festival to celebrate something. Here's a run down of some of our favourites, starting with April, which is month 1 in the Burmese calendar:

– April: the Thingyan water throwing festival to mark in the new year and cleanse you from evil spirits to start the new year.

– May: the Bo Tree watering festival, when the sacred Bodhi tree of Enlightenment is watered to honour it.

– June: the Tipitaka scriptual examinations of monks and lots of food offerings are made to them.

– July: the Robe Offering Festival, marking the beginning of the Buddhist lent.

– August: the Taungbyon Nat Festival near Mandalay when thousands of worshippers gather to worship the spirits.

– September: the Regatta boat racing festival, an old traditional dating back to the days of the former Myanmar Kings.

– October: the festival of lights to mark the end of the Buddhist Lent.

– November: the Kahtein Thingan festival of offerings when new robes are offered to Buddhist monks.

– December: New Year for the Karen state (Southeast Myanmar) and other Nat festivals honouring the spirits.

– January: Equestrian festival to celebrate Myanmar's Independence day (4th January 1948)

– February: the harvest festival when lots of "hta ma nae" (glutinous/sticky rice with sesame, peanuts and ginger) are made.

– March: Pagoda festivals, which centres on the mother of all pagodas: the Shwedagon Pagoda in Yangon.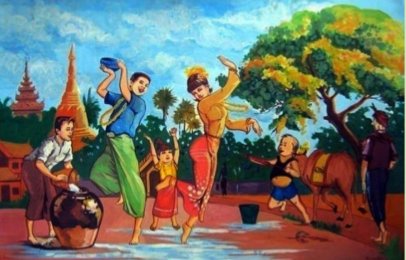 OUR FAVOURITE TRAVEL TIPS
⭐️ TRAVEL INSURANCE — We recommend you always take out travel insurance before your next vacation. What happens if you suffer from illness, injury, theft or a cancellation? With travel insurance, you can have peace of mind and not worry. We love World Nomads travel insurance and have been using it for years. Their comprehensive coverage is second to none and their online claims process is very user friendly.
⭐️ SAFETY & SECURITY — All travelers can sometimes encounter danger when traveling. CloseCircle is your "virtual body guard" mobile app which provides security alerts and support wherever you are in the world. They have a 24/7 emergency response team monitoring their users who will contact you immediately if the SOS swipe button is activated. Support can include anything from practical advice, to free evacuation from areas with extreme weather or security risks. You can read more about CloseCircle in our article about how to stay safe whilst traveling.
⭐️ ONLINE ANONYMITY — A VPN (Virtual Private Network) is a must in many countries: it allows you to surf anonymously and maintain your privacy whilst traveling. You'll particularly need it in countries where dating apps are blocked by the government. We recommend ExpressVPN, a reliable and cost effective service which we used and loved during our travels.
⭐️ HOTELS or APARTMENTS — When we plan a trip, we always look for the best hotel deals. We love Booking.com because not only do they have a comprehensive listing of accommodation options, they also offer the best prices. Added bonus: they provide 24/7 support and free cancellation for most listings.
⭐️ SIGHTSEEING and ADVENTURES — When we travel somewhere, we like to seek out the best experiences, whether it is cooking with locals in Bangkok, hiking on a glacier in Patagonia, or going on a wildlife safari in Sri Lanka. Our favorite place to look is GetYourGuide because they have over 30,000 highly rated activities, a user-friendly booking process with free cancellation and a 24 hour customer support.
This article contains affiliate links. If you click on them, we may receive compensation which keeps our website alive and helps us bring you to more destinations.
Read more about Burmese food, tips for getting clean dollars to use in Myanmar in Bangkok and whether to call the country Myanmar or Burma.
Pin to read later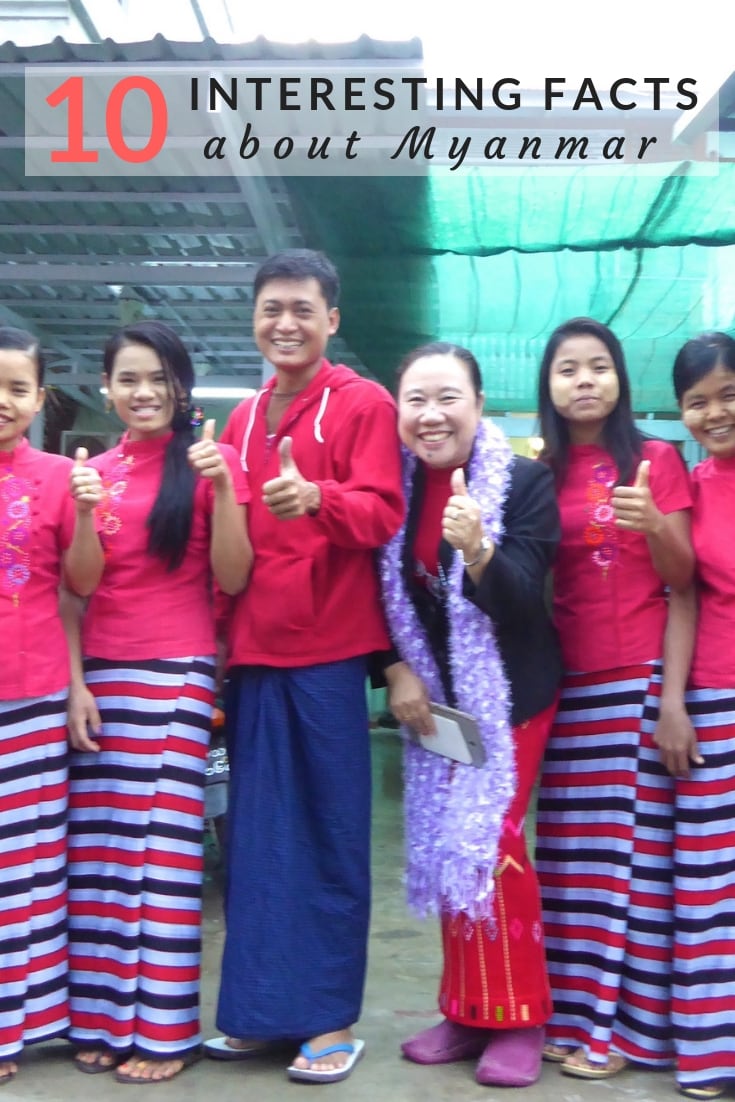 Watch our Myanmar video: