This is our 7 steps tips on what we learnt after purchasing our backpacks for our big travel adventure.
1. Size is everything
Travellers we met had backpacks which ranged from around 40 to 70 litres. Too small, and you risk being too limited with what you can carry. Too large, you are tempted to fill it with unnecessary items, which you are then stuck with.
A large number of travel bloggers like Indiana Jo have written about going from a 65l to a 38l: "Art of Packing Light". Backpacks we used in previous travels were around 65-70 litres so we decided to stick to this at least for now.
Best advice we found was to pile on your bed everything you realistically think you'll take and make an decision based on this: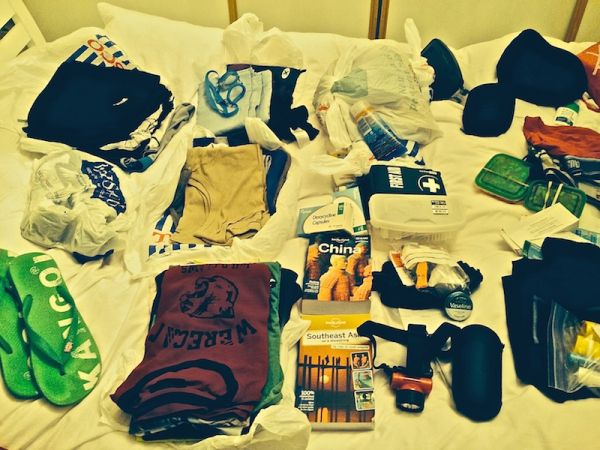 2. Top loading or side loading:
We found there are generically two types of backpacks.
The first is top loading, which you associate with most backpackers. The second is a side loading backpack, similar to how a suitcase operates.
The top loading backpacks have a dedicated support back mechanism with padding. This makes it ideal for more long term use such as trekking. The side loading ones tend not to be as complex and are recommended for travelling short distances, such as airport to hotel/hostel.
We found the Osprey Aether was a good compromise between both. It is essentially a top loading back pack but with a zip at the bottom and also in the middle for quick, easy access.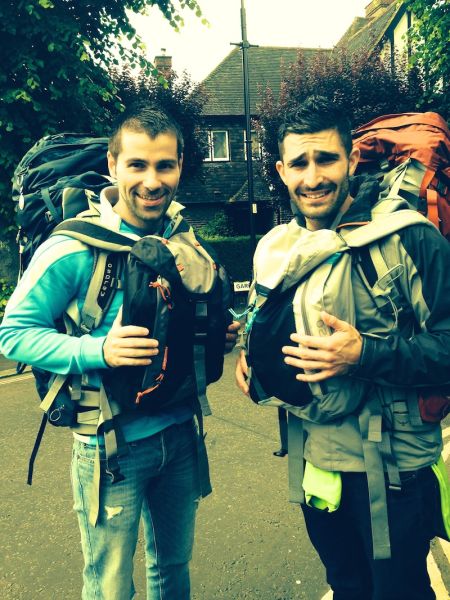 3. Try them out and get measured:
Armed with lots of online research, we then visited the travel shops to speak to the sales rep, get measured out and try out the various bags with weights.
In London, the main travel based shops for buying a good backpack are Ellis Bingham and Cotswolds. We found that the majority of these shops had their largest stores in Covent Garden, in particular: Ellis Bingham and Cotswolds.
We found Cotswolds the most helpful. The staff spent a lot of time showing us their various backpacks and then measured us to determine our size.
This is done by placing a backpack waist strap on your waist with a measurer running along your back which will determine your size.
Backpacks usually come in three sizes – Large, Medium and Small. Sebastien is a Medium and Stefan a size Small.
4. Adjustable back system:
A good backpack will have an adjustable back system so you can adjust the length according to your fit.
You wear the backpack with the waist straps covering your hip bones with the top of your hip bones ideally places in the middle of the waist strap. At first this was awkward because we are used to wearing trousers / belts below the hip bones, so this does take some getting used to.
This is very important because the point is to have the majority of the weight based on your hips and the top of the back straps touching your shoulders without a gap: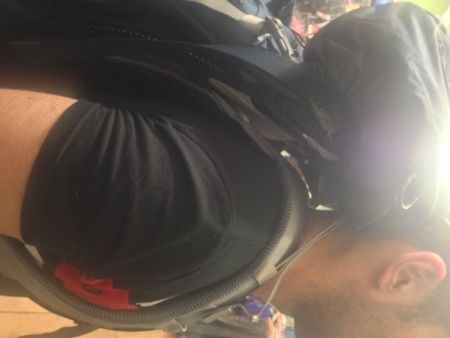 A good adjustable back mechanism will also have a slight gap between your back and the backpack to let sweat evaporate.
5. Padding:
When buying a good backpack, one of the main points to consider is the padding on the back mechanism and also on the waist straps. The greater the padding, the more comfortable the fit is likely to be.
The top loading backpacks tend to have a better mechanism for the back and also thicker padding. The Osprey Aether ticked this box nicely for us.
6. Added extra features:
One of the reasons we loved the Osprey Aether was the added features. For example, the top part is detachable and can be used as a day pack.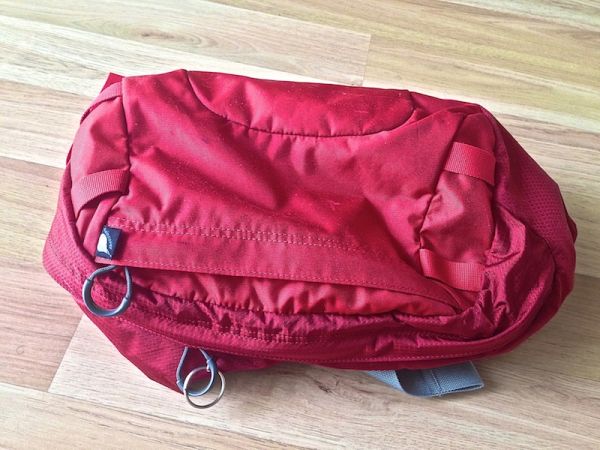 Many backpacks, our Osprey Aether included, will have very handy zip pockets on the waist straps.
The buckles on some backpacks double up as a whistle – useful if stranded in the middle of nowhere.
Some backpacks have other features like space for a hiking stick or a front compartment with holes to put a wet towel which you did not have the chance to dry.
7. Cost:
We would recommend budgeting for upwards of £100 ($165) for a good backpack.
The best advice is to visit all the shops you can, get an idea of what is recommended, note down the brand names and prices, then go compare online. For example, the Osprey Aether was £160 ($265) in Cotswolds and £190 ($315) in Ellis Bingham. Online, prices ranged from £140 ($232) upwards.
We were able to negotiate a 15% discount in Cotswolds arguing we were buying 2 backpacks. Total price came to £136 ($225) each.
A final tip is to try out the backpacks in the shops with weights. A good shop will let you do this and will have weights for you to use for this purpose. As a ballpark, we found we carry on average 10-15kg when travelling.
Our backpacks:
Sebastien bought the Medium Osprey dark blue Aether (70l):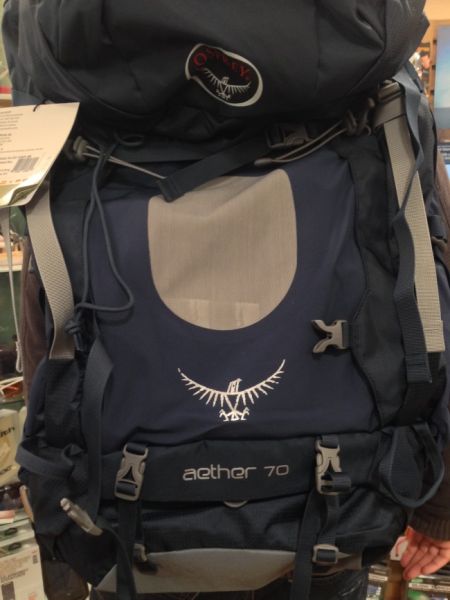 Unfortunately for Stefan, Osprey do not do small sizes for men.  However, he found that the women's medium size (65l) not only fitted him perfectly, but it came in a jazzy bright red colour…now Sebastien will never lose Stefan when he wanders off into a food market…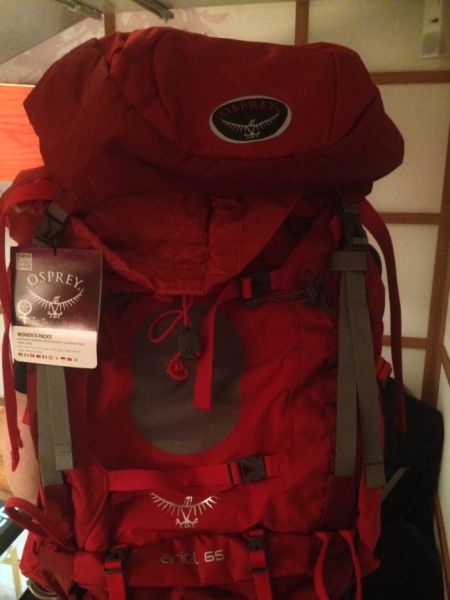 OUR FAVOURITE TRAVEL TIPS
⭐️ TRAVEL INSURANCE — We recommend you always take out travel insurance before your next vacation. What happens if you suffer from illness, injury, theft or a cancellation? With travel insurance, you can have peace of mind and not worry. We love World Nomads travel insurance and have been using it for years. Their comprehensive coverage is second to none and their online claims process is very user friendly.
⭐️ SAFETY & SECURITY — All travelers can sometimes encounter danger when traveling. CloseCircle is your "virtual body guard" mobile app which provides security alerts and support wherever you are in the world. They have a 24/7 emergency response team monitoring their users who will contact you immediately if the SOS swipe button is activated. Support can include anything from practical advice, to free evacuation from areas with extreme weather or security risks. You can read more about CloseCircle in our article about how to stay safe whilst traveling.
⭐️ ONLINE ANONYMITY — A VPN (Virtual Private Network) is a must in many countries: it allows you to surf anonymously and maintain your privacy whilst traveling. You'll particularly need it in countries where dating apps are blocked by the government. We recommend ExpressVPN, a reliable and cost effective service which we used and loved during our travels.
⭐️ HOTELS or APARTMENTS — When we plan a trip, we always look for the best hotel deals. We love Booking.com because not only do they have a comprehensive listing of accommodation options, they also offer the best prices. Added bonus: they provide 24/7 support and free cancellation for most listings.
⭐️ SIGHTSEEING and ADVENTURES — When we travel somewhere, we like to seek out the best experiences, whether it is cooking with locals in Bangkok, hiking on a glacier in Patagonia, or going on a wildlife safari in Sri Lanka. Our favorite place to look is GetYourGuide because they have over 30,000 highly rated activities, a user-friendly booking process with free cancellation and a 24 hour customer support.
This article contains affiliate links. If you click on them, we may receive compensation which keeps our website alive and helps us bring you to more destinations.