TERMS OF USE: There is a chance that some of the content on this page has changed since it was last updated. By reading this article, you consent to our Terms of Use and Disclaimer. Happy Travels!
DISCLOSURE: Some of our posts may contain affiliate links which we may receive a commission if you choose to book something through one of our links.
Camaraderie. Connection. Clothing-Optional. All-male. Come along for the voyage of a lifetime with Everything To Sea.
We first heard about them in 2019 (which seems like "forever ago" right?)…back then, we loved that they were running All-male, clothing-optional sailing trips on traditional wooden vessels through the waters of Southeast Asia.
We had recently been diving in the Komodo National Park in Indonesia, so we had just missed the chance to travel with them. But because this is unlike any other gay sailing holiday, these guys stayed on our minds.
Most recently, we took the opportunity to assess the true benefits of an Everything To Sea sailing experience.
DON'T MISS OUT!
Join our newsletter
Subscribe now to receive in-depth FREE travel guides, along with inspiring stories, savvy planning tips, and exclusive discounts on gay tours.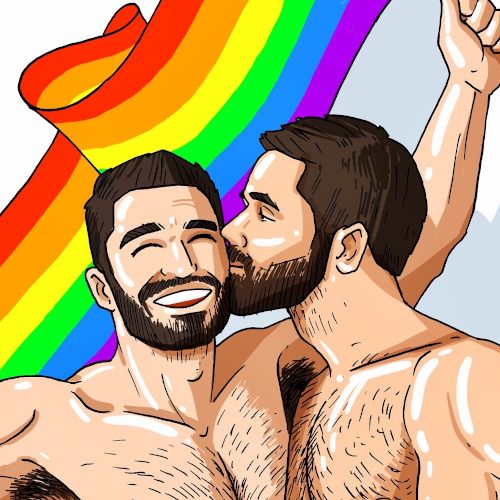 Who is Everything To Sea?
Dave Power and Maximillian Strauss are the founders of Everything To Sea. In early 2018 they met at a port in Bali, both waiting for a passenger boat in a small fishing village. Within minutes they'd realized a shared passion for unusual travel.
Their common interests were many, including the idea of how cool it would be to create an experience for men which centered around freedom, camaraderie, friendship, and honesty. And out of their relationship came not only a strong friendship but also Everything To Sea.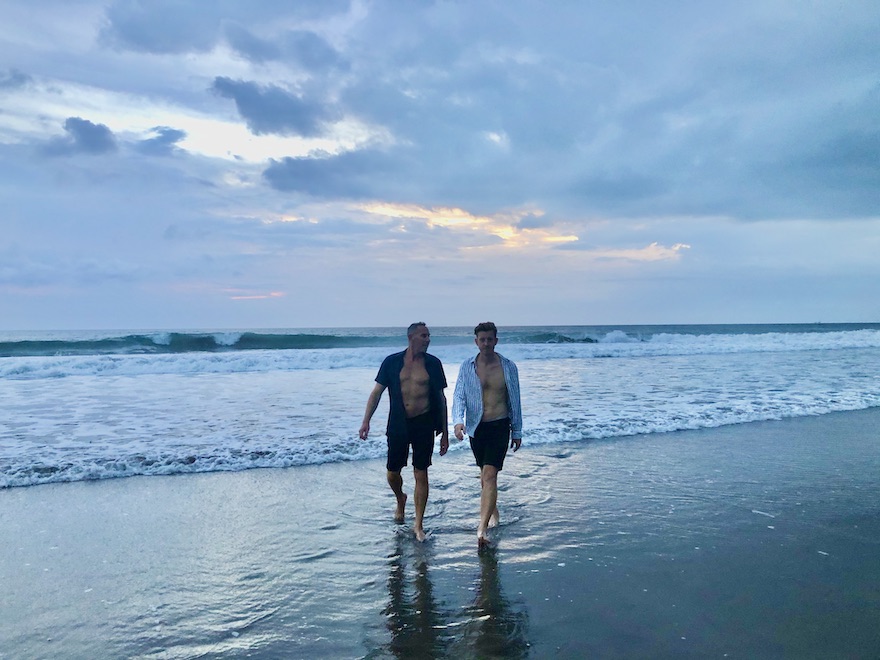 Dave's background is as an anthropologist, he can share amazing aspects of the local culture – ask him about the sexual rituals between the Sambia of New Guinea, a few islands over! Max brings a rich knowledge of the sea, the workings of the vessel itself, and his guitar – you can expect to be well-entertained by him.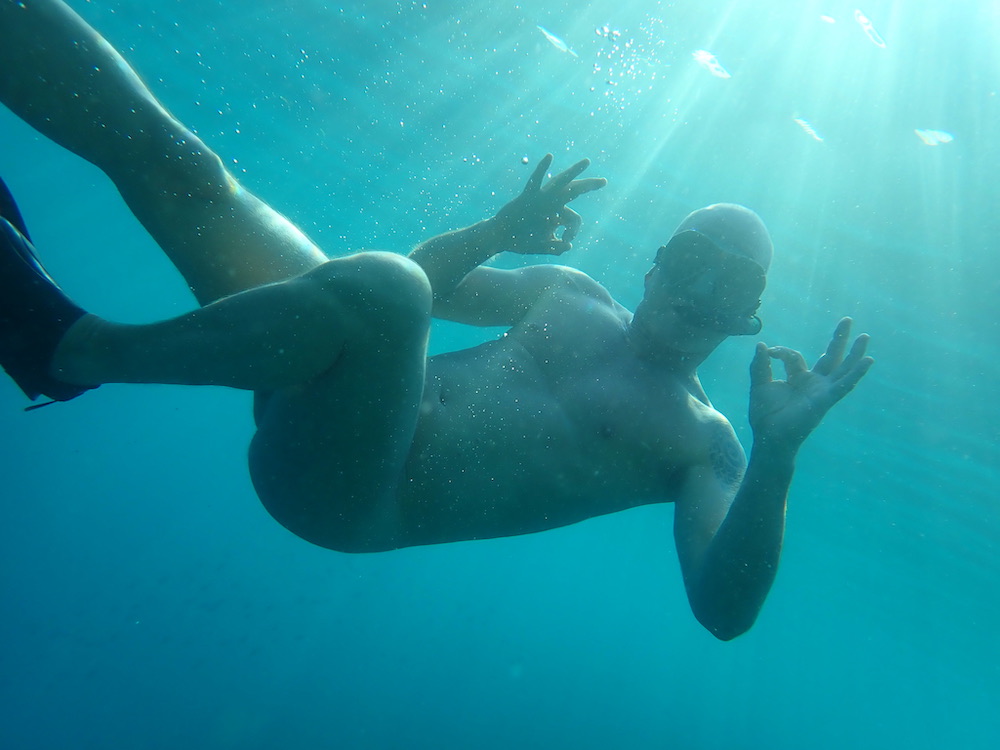 1. A welcoming, all-male clothing-optional space for men
Everything To Sea is all about male camaraderie and having fun while hanging out in the buff with other guys. It's a safe, non-judgmental space for men to connect, in nature, without the constraint of clothing, and far away from the rest of the world.
You will explore nudism with ease, and feel the elements on your body, the warmth of the sun, the rush of the water, and the ripple of a cool breeze. These sensations are magnified during sailing. You can relax nude anywhere on the boat, to soak it all in.
In addition, being nude with a partner or someone new can be exciting in other ways that sometimes lead to a desire to do more than chat. Everything To Sea affords the freedom to engage in consensual play during trips.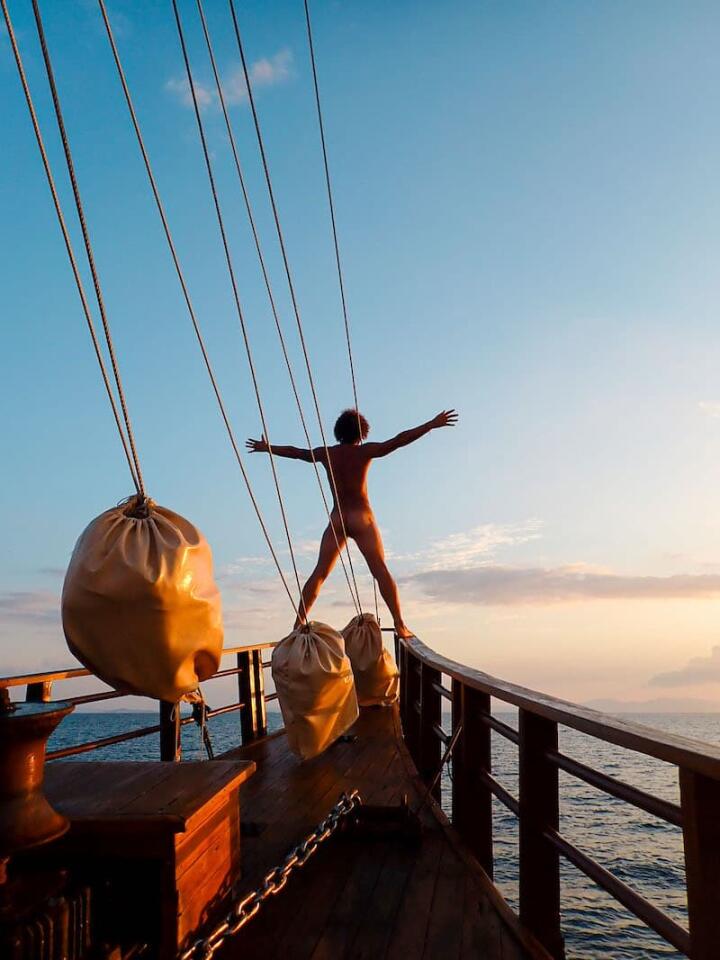 2. Three ways to travel
Everything To Sea offers 3 different ways to sail:
Scheduled Group Departures – Seven days of sailing through the Komodo Islands of Indonesia, alongside up to 12 other men.
Your Private Journey – Three guys, one ship, no clothes… and Everything To "See". It's a custom-tailored, private sail for one man, along with co-founders Max and Dave.
Your Group/Our Ship – For pre-formed groups, offering benefits such as reduced per-person prices… or a free trip for the organizer… or even the ability to earn money for the group.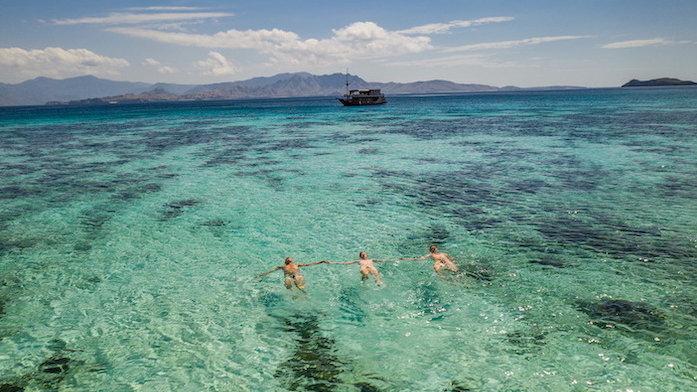 3. All-inclusive price
On Everything To Sea trips, you can go the whole time without touching a single euro, dollar, or rupiah (the local currency). Food and drink are all-inclusive, including beer, wine, arak, vodka, gin, whisky, and rum. It's like you're visiting the home of a good friend. A fresh fruit basket is available – any time of day or night.
You simply pay one price and have total peace of mind that everything is arranged. Fully-inclusive prices include all meals, a 24-hour open bar, exciting excursions, and even personal massages for every traveler. There's virtually no other operator offering this. Nobody's keeping track of your bar tab, nobody's putting money into a kitty for daily meals… and food and snacks are always available 24/7.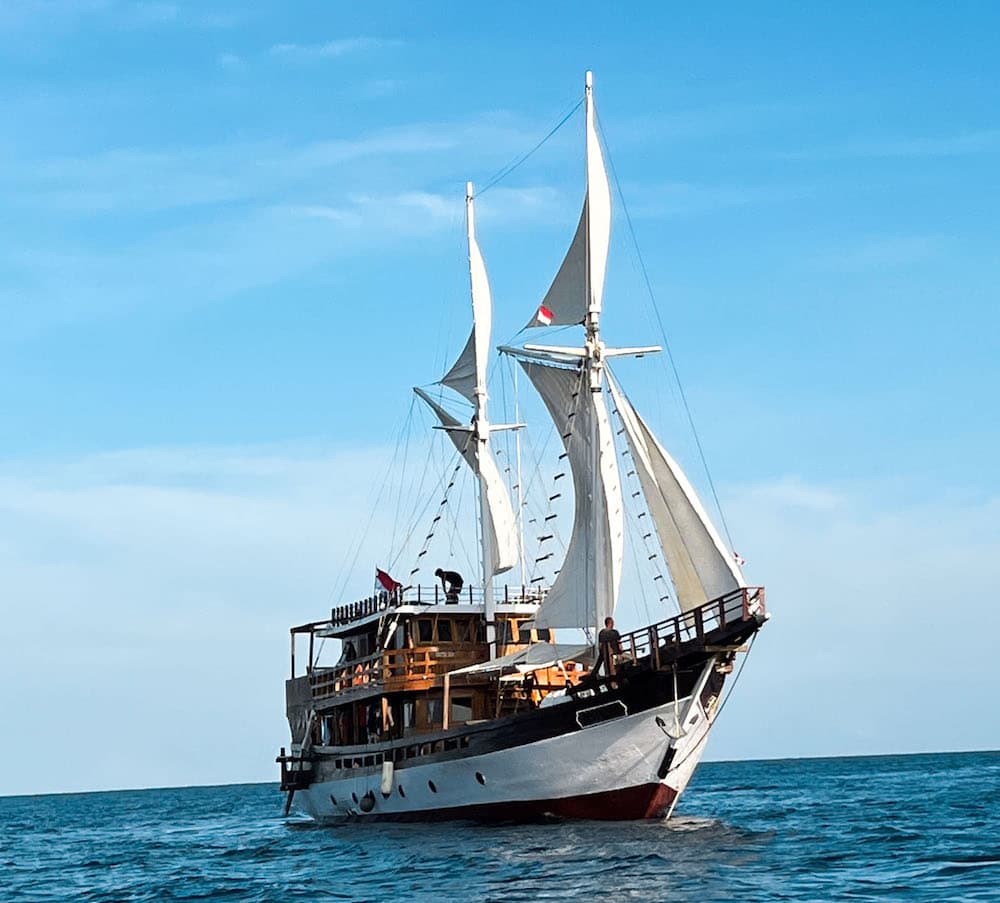 4. A unique itinerary
Their trips offer a very unique way to discover Asia and the Komodo National Park, with an all-male group in a truly friendly environment.
Now, you may be wondering – where exactly is Komodo National Park? It's just off the island of Flores, which is in the country of Indonesia. This sprawling nation is comprised of over 17,000 islands. You've probably heard of some – like Bali, Sumatra, and Java. The island of Flores is a 45-minute flight to the east of Bali. And guess what? Everything To Sea can arrange pre- or post-trip experiences with local gay guides on the "Island of the Gods" so you can also explore the gay scene of Bali.
The itinerary is off the beaten path, avoiding crowds and typical tourist spots. You will sail amongst uninhabited islands, rarely passing other boats, allowing for maximum nude time. Itineraries are well-balanced, with a combination of activities and downtime. A carefully crafted schedule that includes so much, but simultaneously feels so relaxed.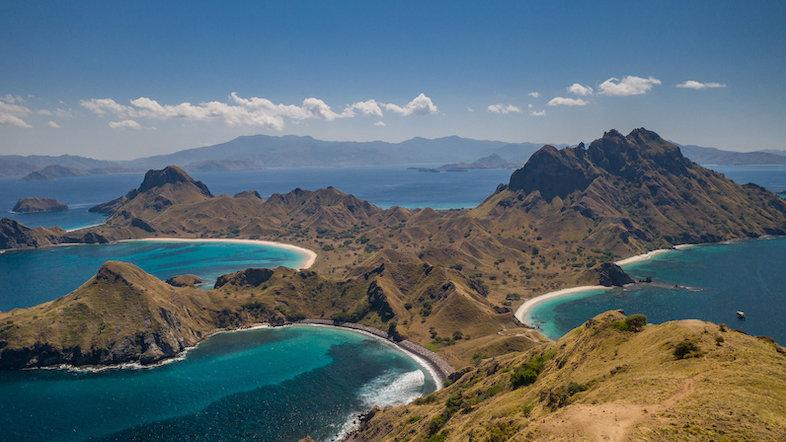 5. Snorkel in The Coral Triangle
This area is one of our favorites in the world for discovering underwater life. Whether it's by diving, snorkeling, or just swimming together, you'll be in one "corner" of the world-famous Coral Triangle.
This is literally the most biodiverse marine environment in the world. You can snorkel, nude in crystal clear waters, alongside mesmerizing creatures such as gentle manta rays and sea turtles, and swirling schools of tropical colorful fish.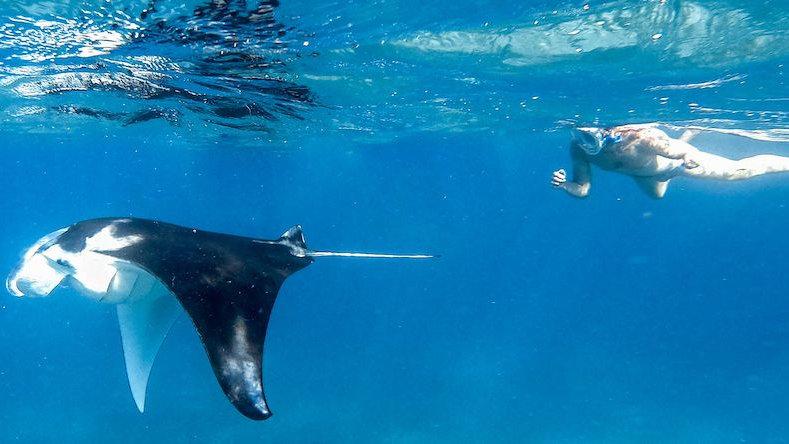 6. Meet like-minded, relaxed travel companions
The vibe? Relaxed, friendly, and affording the greatest feeling of freedom you may have yet to experience. Travel experiences simply don't get better than this!
Everything To Sea tends to attract men who share similar values and are seeking a connected experience. Regardless of specific interests, travelers joining the cruise are often relaxed, open-minded and down-to-earth guys.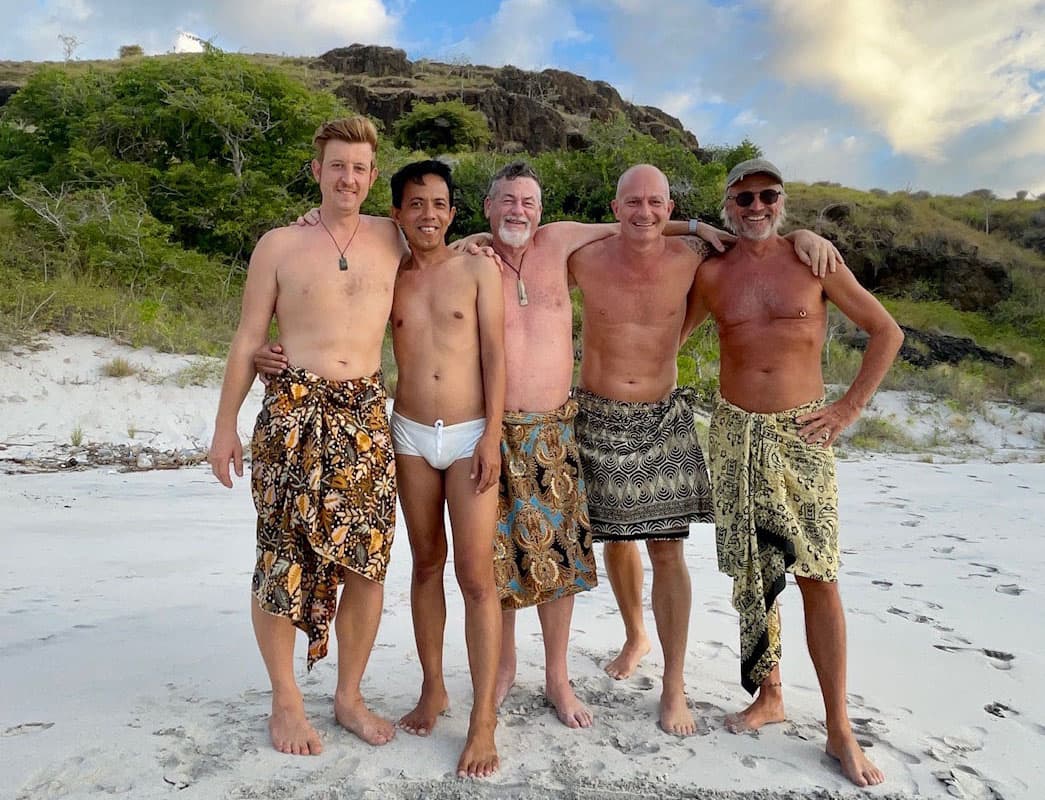 7. Welcoming for all orientations, all ages, all shapes, sizes, and nationalities
Trips welcome every sexual orientation: Gay, Straight, Bi, Questioning, Fluid, Asexual, and Celibate.
Everything To Sea is all-embracing and non-judgmental. They don't care how old you are, where you come from, or what your ethnic background is. They don't care if your body is in shape or out of shape, if you're a handsome devil or just an average-looking guy, or if you're a raw foodie or a carnivore. In addition, Everything To Sea offers select departures for men who identify as gay and for men who identify as straight or bisexual.
Trips are all about bringing men together in camaraderie while cruising around in the buff. You can engage with men from all walks of life. Imagine the interesting conversations that can arise among men from different backgrounds and life experiences. It's truly what makes each of the trips unique.
Everything To Sea believes every guy who comes aboard has something to contribute, to form an amazing voyage.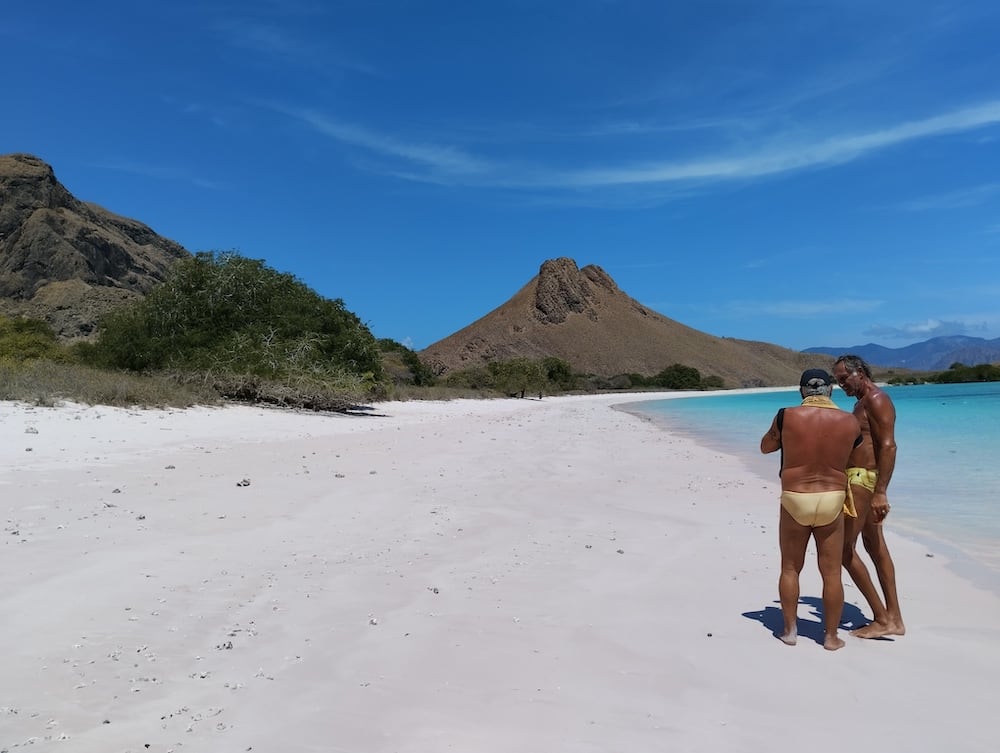 8. A friendly, expert team onboard
The Everything To Sea crew are lovely guys – smiling, welcoming, and completely tolerant of gay men. Now that's our kind of crew!
The crew manages all the technicalities of sailing so you don't have to. Polite, trustworthy, and accommodating, they keep things tidy, cook delicious meals, navigate the boat, and make sure everyone's comfortable.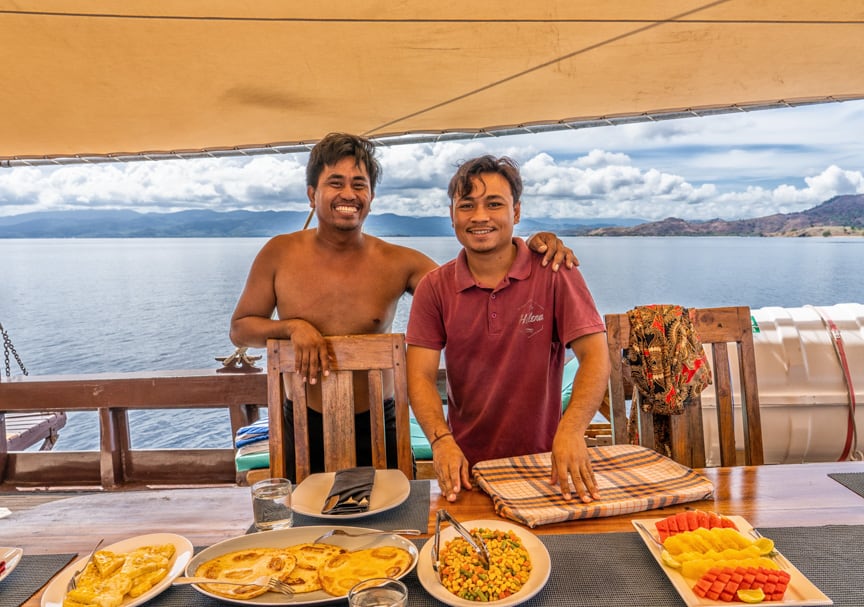 Meanwhile, two Group Leaders ensure excellent customer service and personal attention. To ensure everyone feels well-prepared to explore the underwater world, Dedicated Snorkeling Accompaniment provides attentive and responsible men at your side.
You'll be sailing on a beautiful wooden Pinisi boat, with a skilled crew in the hull – and nothing else(!!)
Pinisi boats have been crafted in the same tradition for over a thousand years. Made without a single nail, UNESCO recently designated Pinisi as an art of Intangible Cultural Heritage. The Everything To Sea ships has preserved their traditional ambiance but still offer modern, clean, and safe spaces.
You have the option to share with other travelers by reserving a special cabin or ensure to have a private room for one if you prefer privacy. Men can also opt for randomly assigned roommates, and anticipate the excitement of sharing a cabin with other guys.
Reserving a private cabin may allow for extra privacy, "alone time" with a new friend, or even just additional space to unpack belongings.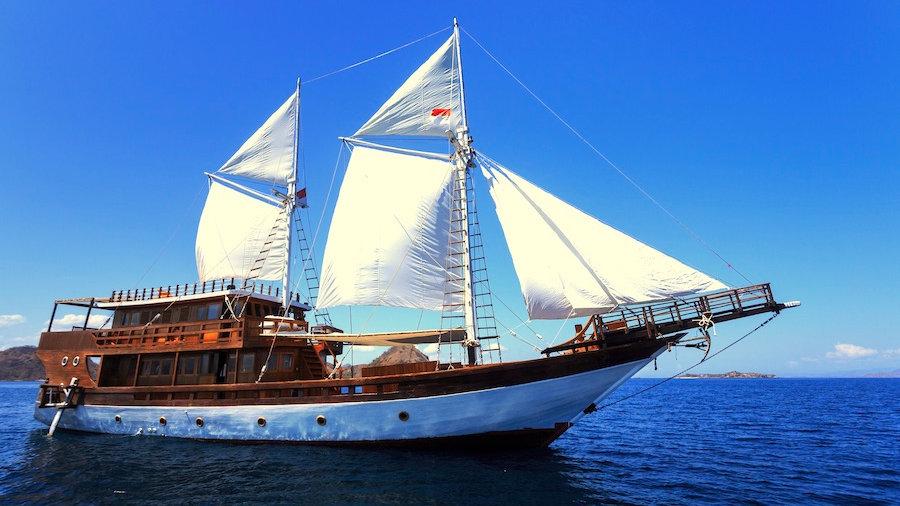 10. Healthy, delicious food
Two private chefs make it their job to ensure that you're never hungry. They serve three freshly-cooked meals per day, with multiple choices. Afternoon snacks debut daily, as well as the Juice-of-the-Day each morning. Allergies and specific dietary needs can be accommodated.
The food is delicious and colorful. Between meals, you will be offered little snacks like krupuk (local seafood crackers), and mornings welcome their own touches of French-pressed coffee and the juice of the day. I always find it hard to refuse a glass of fresh mango juice.
And if that's not enough…
Does a dinner on the beach with the catch of the day, nude Twister games, music, and drinks sound like fun? It sure does to us! How about snorkeling with peacefully-gliding manta rays and magnificent marine turtles? Sunbathing on one of the world's ten pink beaches? Or seeing wild Komodo dragons in their natural environment?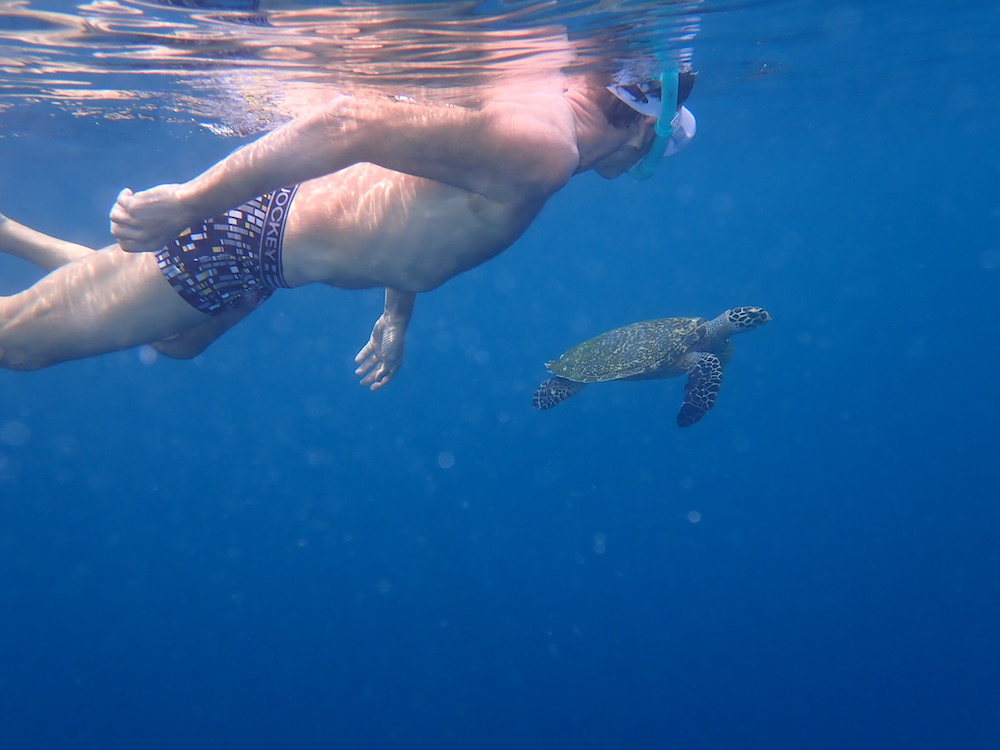 We actually can't think of a more fun, relaxed and connected way to have a vacation. Still unsure? Check out the Everything To Sea website so you can discover more benefits.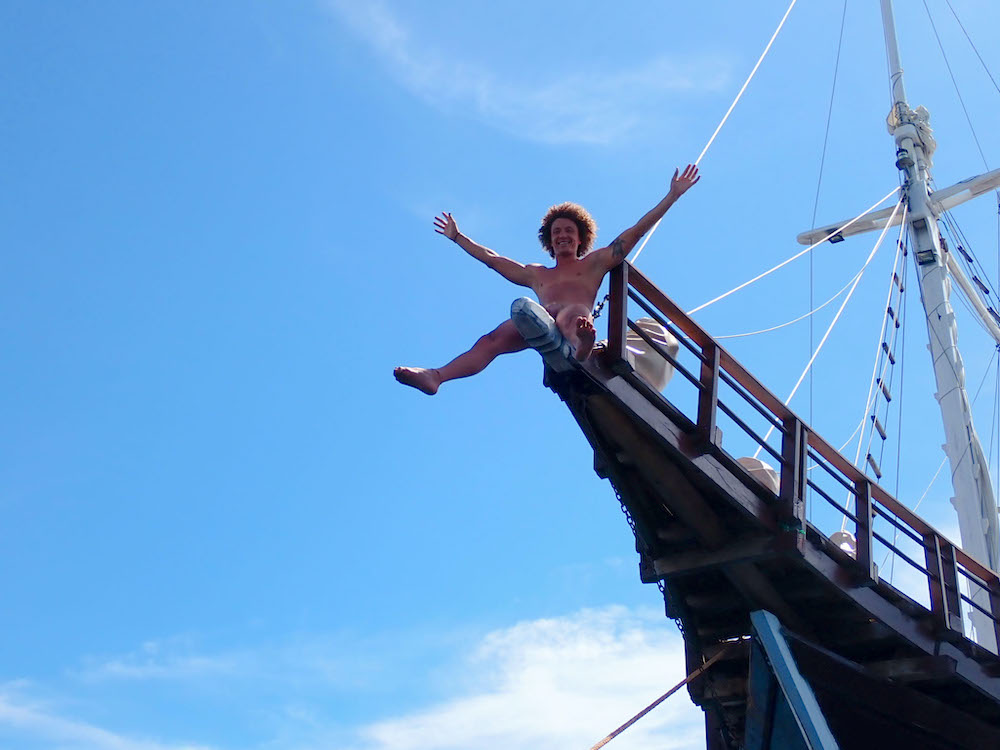 DON'T MISS OUT!
Join our newsletter
Subscribe now to receive in-depth FREE travel guides, along with inspiring stories, savvy planning tips, and exclusive discounts on gay tours.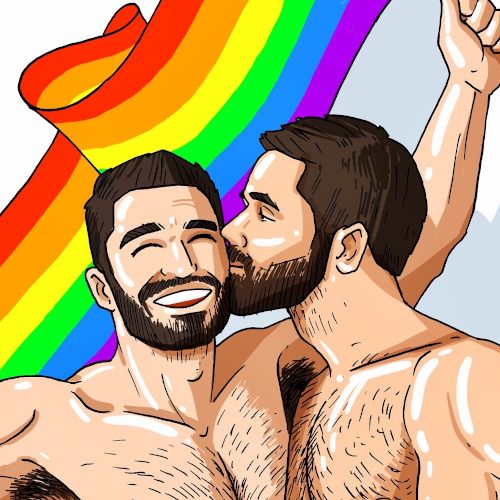 ---