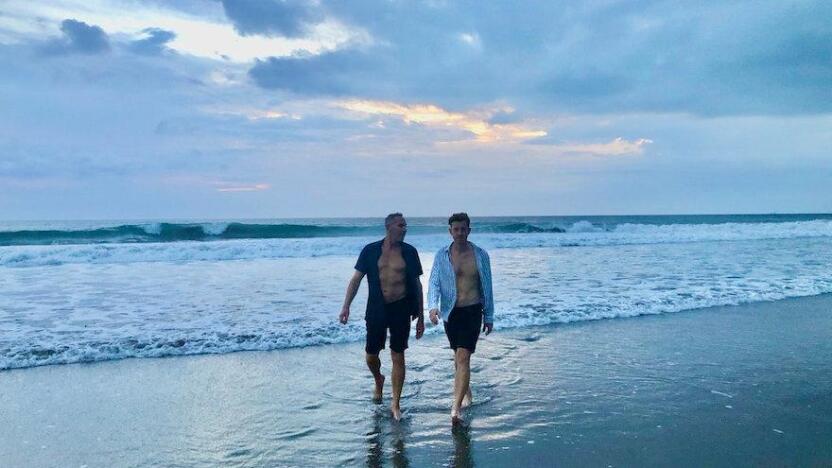 This is our review of the Everything to Sea gay sailing cruise for couples called "Your Private Journey".
Everything To Sea caught our interest again!
We first heard about them in 2019 (which seems like "forever ago" right?)…back then, we loved that they were running clothing-optional sailing trips for men. We had recently been diving in the Komodo National Park in Indonesia, so we had just missed the chance to travel with them. But because this is unlike any other gay sailing holiday, these guys stayed on our minds.
Now they've launched a new product, called "Your Private Journey". It may be the perfect answer for men who want to travel but, due to concerns about Coronavirus, don't want to be in group settings.
DON'T MISS OUT!
Join our newsletter
Subscribe now to receive in-depth FREE travel guides, along with inspiring stories, savvy planning tips, and exclusive discounts on gay tours.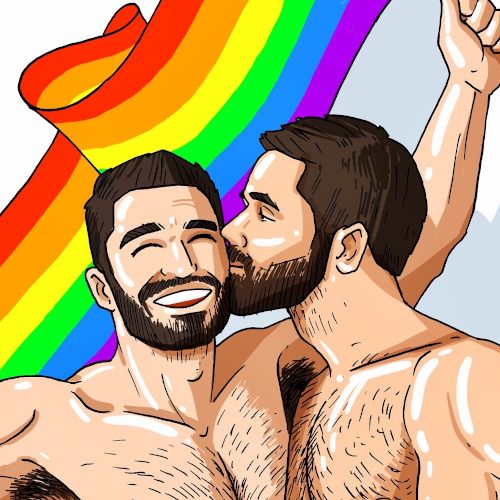 Why is this trip so unusual?
The trip is basically done with one traveler, plus Dave and Max – two good-looking men who own the company. Imagine, the three of you, traveling together on a beautiful wooden Pinisi boat, with a skilled crew in the hull – and nothing else(!!)
Pinisi boats have been crafted in the same tradition for over a thousand years. Made without a single nail, UNESCO recently designated Pinisi as an art of Intangible Cultural Heritage. The Everything To Sea ships have preserved their traditional ambience but still offer modern, clean, and safe spaces.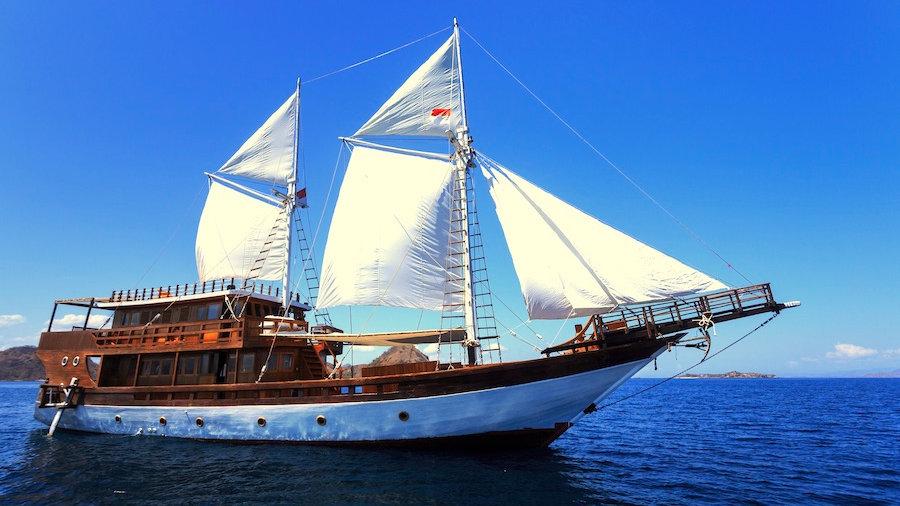 Dave and Max are all-embracing and non-judgmental. They don't care how old you are, where you come from, or what your ethnic background is. They don't care if your body is in shape or out of shape, if you're a handsome devil or just an average looking guy, or if you're a raw foodie or a carnivore.
Dave's background is as an anthropologist, he can share amazing aspects of the local culture – ask him about the sexual rituals between the Sambia of New Guinea, a few islands over! Max brings a rich knowledge of the sea, the workings of the vessel itself, and his guitar – you can expect to be well-entertained by him.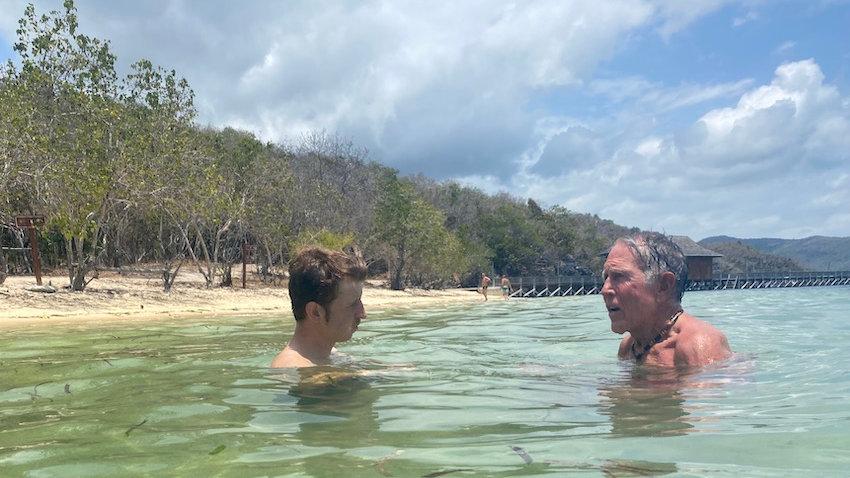 This area is one of our favorites in the world for discovering underwater life. Whether it's by diving, snorkeling, or just swimming together, you'll be in one "corner" of the world-famous Coral Triangle. Your Private Journey includes time exploring the Rangko Cave with Max and Dave, and it's not your ordinary cave: expect a sun-lit, stalactite-filled cavern with the bluest of waters. There's literally no other cave on earth like this one. Later, the three of you can enjoy a delightful dinner under the stars. You can lounge together on the back deck discussing nothing – or everything under the sun. Leisurely enjoy drinks and meals. And take in the magnificence of nature – all, au naturel!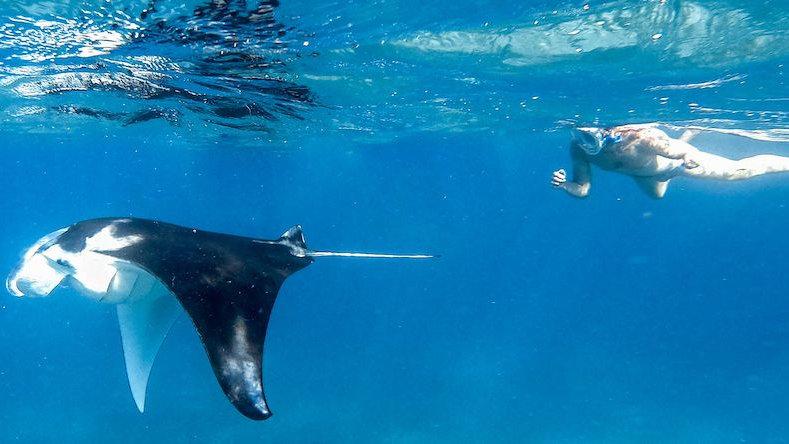 So who are Dave and Max?
To start with, Dave Power and Maximillian Strauss are the founders of Everything To Sea. In early 2018 they met at a port in Bali, both waiting for a passenger boat in a small fishing village. Within minutes they'd realized a shared passion for unusual travel. Their common interests were many, including the idea of how cool it would be to create an experience for men which centered around freedom, camaraderie, friendship, and honesty. And out of their relationship came not only a strong friendship, but also Everything to Sea.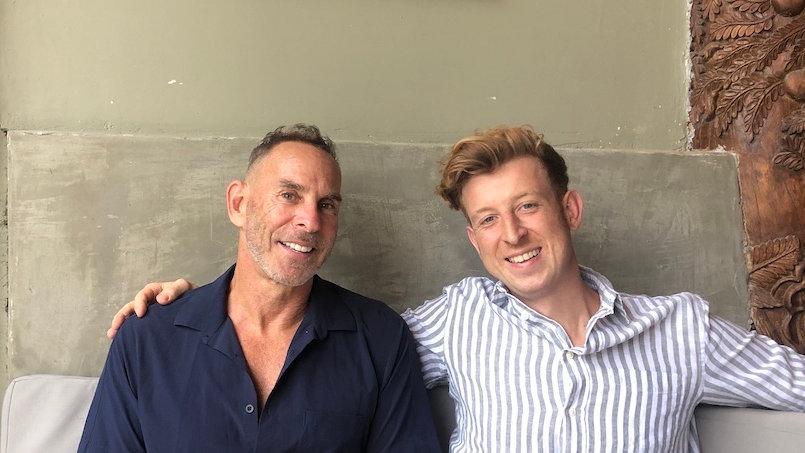 On one level, they're simply two men, from two different countries, different generations, and different socio-cultural backgrounds. But on another level, they're also two guys with commonalities, including a love of travel, a thirst for knowledge and true enjoyment of getting to know new friends on deeper levels.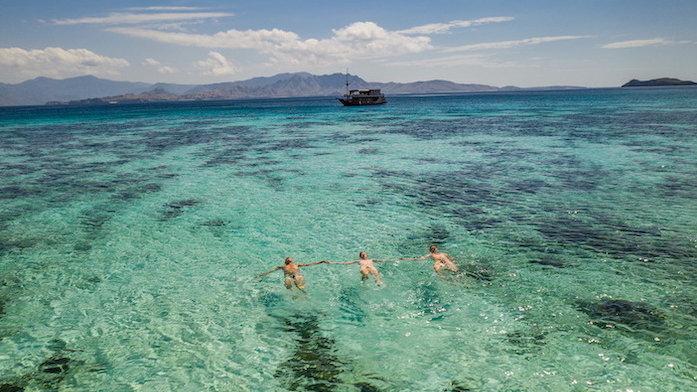 The three of you can sleep together in the top deck cabin. Sure, there are other cabins below deck, and the fact is, you guys could even try out different cabins each night. Are you more of an "I-need-to-sleep-alone" sort of guy? No problem, they are most understanding, on all sorts of things. Hey – you could even sleep under the stars! The cool air at night is sooooo refreshing…
Now, you may be wondering – where exactly is Komodo National Park? It's just off the island of Flores, which is in the country of Indonesia. This sprawling nation is comprised of over 17,000 islands. You've probably heard of some – like Bali, Sumatra, and Java. The island of Flores is a 45-minute flight to the east of Bali. And guess what? Everything To Sea can arrange pre- or post-trip experiences with local gay guides on the "Island of the Gods" so you can also explore the gay scene of Bali.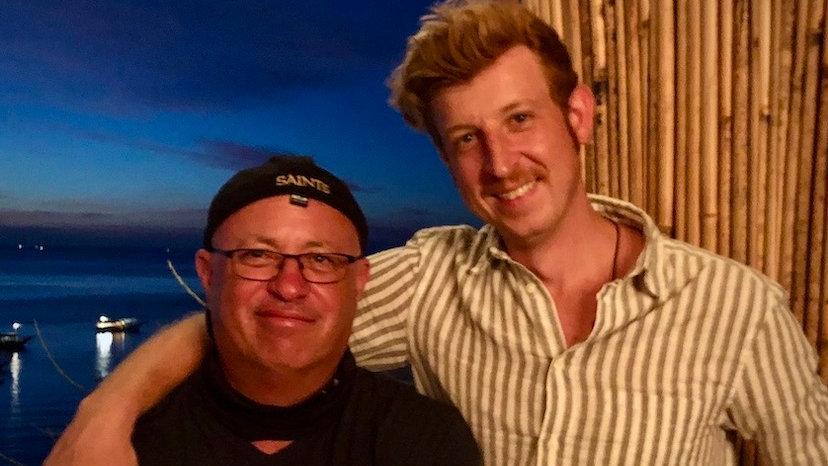 Things you can do
With Your Private Journey, you can tailor your trip in many ways, from deciding your own length of travel (6, 9, or 12 days), to choosing the best dates for you, to picking one of two vessels: either The StandardPlus Boat or The Deluxe Boat. The itinerary's malleable, so the three of you can pursue your interests (Max and Dave are pretty much up for anything). You can even decide if you want it clothing-optional or clothed – for just you, or just them, or all three of you!
Does a dinner on the beach with the catch of the day, oiled-up Twister games, music, and drinks sound like fun? It sure does to us! How about snorkeling with peacefully-gliding manta rays and magnificent marine turtles? Sunbathing on one of the world's ten pink beaches? Or seeing wild Komodo dragons in their natural environment?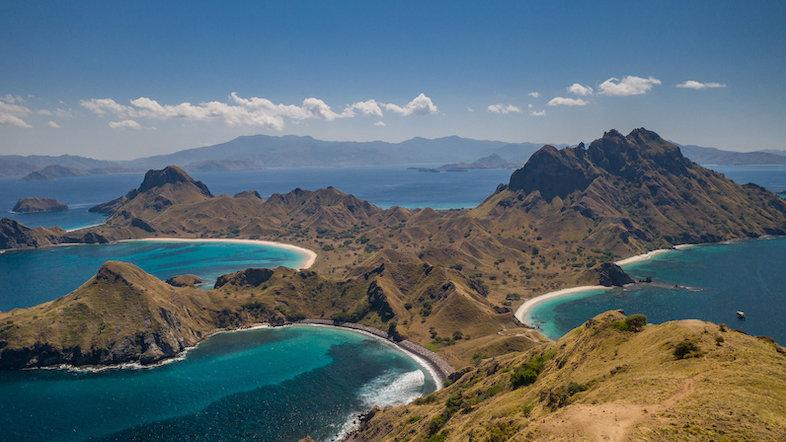 What is included?
On Everything To Sea trips, you can go the whole time without touching a single euro, dollar, or rupiah (the local currency). Food and drink are all-inclusive, including beer, wine, arak, vodka, gin, whisky and rum. It's like you're visiting the home of a good friend. A fresh fruit basket is available – any time of day or night. In addition, there's WIFI on board, Dave's body shaving services for wherever you need shaving, and daily massages from these two guys. We know what you're thinking: this could easily be the trip of a lifetime!
How much does it cost?
Your Private Journey is surprisingly affordable. Prices start from 6 days on The StandardPlus Boat for $13,990. 9 days costs $19,990 and 12 days is $25,990. This vessel was built in 2018 and has five cabins: one above deck and four below. Additional space for socializing includes three decks on three different levels and an indoor lounge. All cabins are air-conditioned and have their own en-suite bathrooms.
For The Deluxe Boat, 6 days is $19,490, 9 days costs $28,290 and 12 days is $38,990. The Deluxe Boat was built in 2019 and has six cabins: two above deck and four below. Picture this: Massage Cabins, Sleeping Rooms, Places for Solitary Times, and more! Space for socializing includes four decks on multiple levels – the upper deck is right out of a Hollywood movie. There's also a spacious indoor lounge, where you can snuggle up and watch a Hollywood movie, in the "on-board cinema". All cabins are air-conditioned and have their own en-suite bathrooms with stone sinks.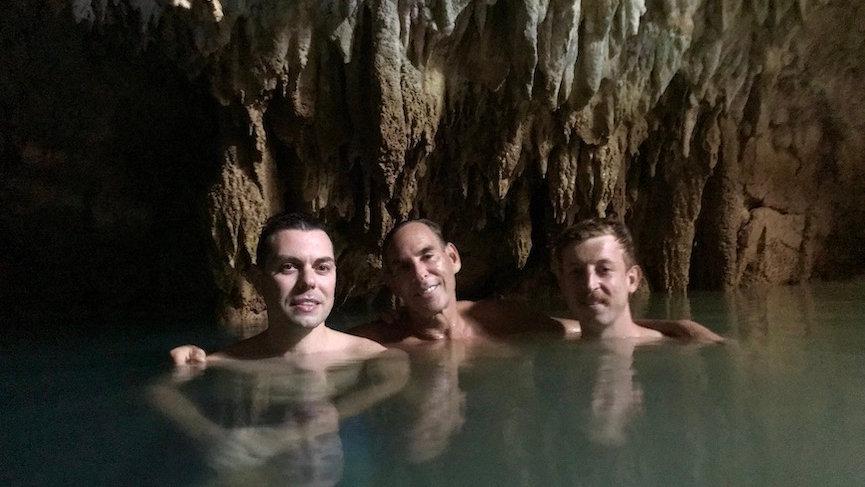 What's it really like?
The food? Delicious and colorful. Between meals are dotted with little snacks like krupuk (local seafood crackers), and mornings welcome their own touches of French-pressed coffee and the juice of the day. I always find it hard to refuse a glass of fresh mango juice.
The crew? Lovely guys – smiling, welcoming, and completely tolerant of gay men. Now that's our kind of crew!
The vibe? Relaxed, friendly, and affording the greatest feeling of freedom you may have yet to experience. Travel experiences simply don't get better than this!
Past travelers have raved about what an awesome time they've had with these two guys. Everything To Sea will even put you in touch with other men who've traveled with Dave and Max, so you can get a perspective from previous clients.
Want more info on Your Private Journey, including some hot pics of Max and Dave? Visit them here.
This post is sponsored by Everything To Sea, a company we know very well and love! As always, all opinions and ideas are entirely our own.
DON'T MISS OUT!
Join our newsletter
Subscribe now to receive in-depth FREE travel guides, along with inspiring stories, savvy planning tips, and exclusive discounts on gay tours.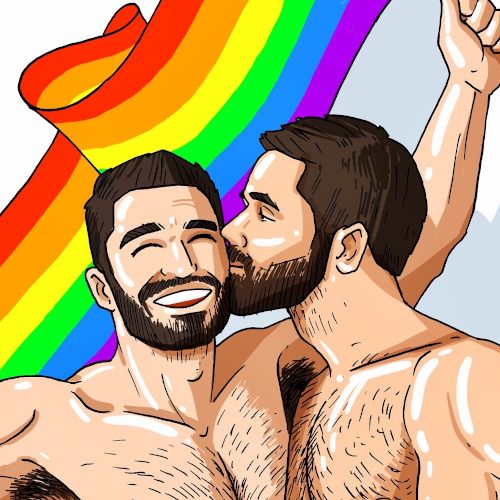 ---
Like this post? Pin it