The Maldives has always been one of those luxury tropical getaways we've always dreamed of visiting but dismissed due to the high costs.
But, since 2009, the Maldivian government officially allowed tourists to stay with the local population rather than just on the privately owned pricey resort islands. This has allowed backpackers and budget travellers to enjoy the pristine waters of the Maldives.
Although not as cheap as say India or Nepal, it is still very possible to visit Maldives on a budget especially now that locals are allowed to have guesthouses.
So, we decided we would go and find Nemo in this tropical paradise in between our travels to India and Sri Lanka.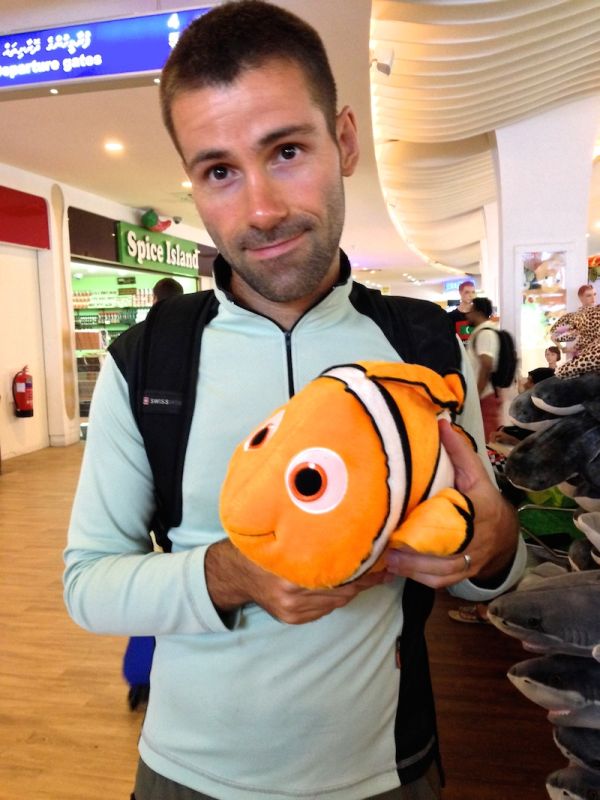 The Maldives: where is it?
The Maldives is a country made up of around 1,192 coral reef islands, straddling the equator in the middle of the Indian Ocean. It is the smallest country in Asia, located just off the Indian sub-continent, south west from India and Sri Lanka: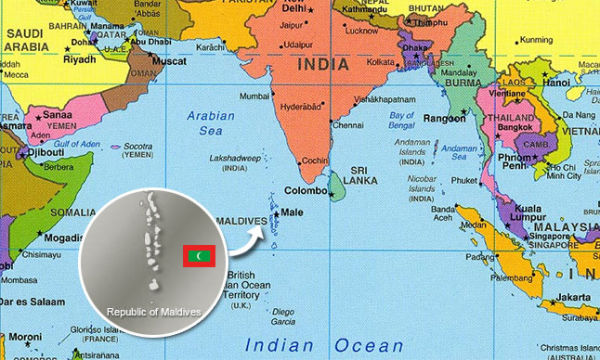 The Maldives comprises around 1,200 coral reef islands. Around 200 of these islands are inhabited and 90 of them have been developed as privately owned expensive tourist resorts, like the beautiful Gili Lankanfushi charging upwards of £1,400 a night.
We stayed on a local island called Thoddoo, based in the Ari Atoll, some 67km from the capital city, Male: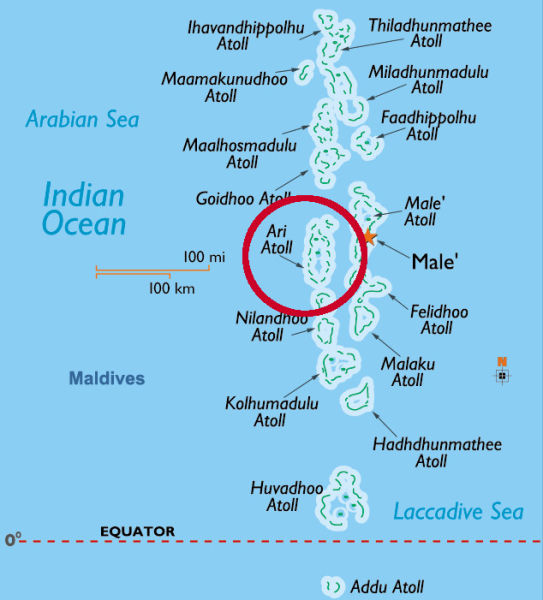 Getting a cheap flight to the Maldives
Flights from Europe to the Maldives are pricey and not the cheapest. However, if you book your tickets in advance, you may find some surprisingly good deals: the cheapest return flight we found from London to Male on Skyscanner was £460 ($700) per person.
But the real bargain is to make a trip to the Maldives part of your travels to India or Sri Lanka. We flew from Kochi airport (south India) to Male for £55 ($85) per person. Our return flight from Male to Colombo (Sri Lanka) cost us £65 ($100) per person.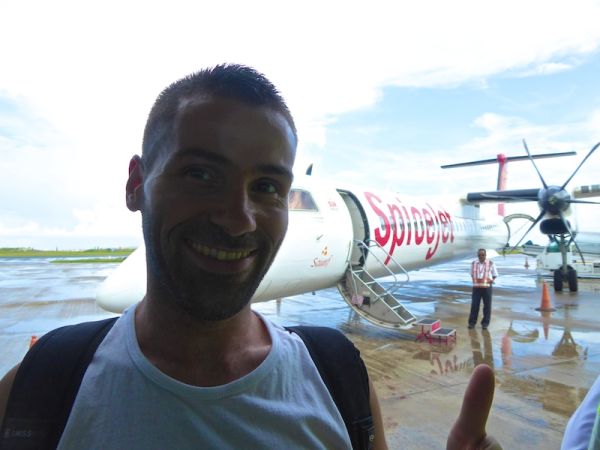 How to choose which island to visit?
When planning a budget holiday to the Maldives it's important to choose the right island. For example, if you like scuba diving, ask if there's a good diving school on the island or on an easy to reach nearby island.
If you're a snorkeler, you'll love islands which have house reef close by to avoid the expense of a boat trip.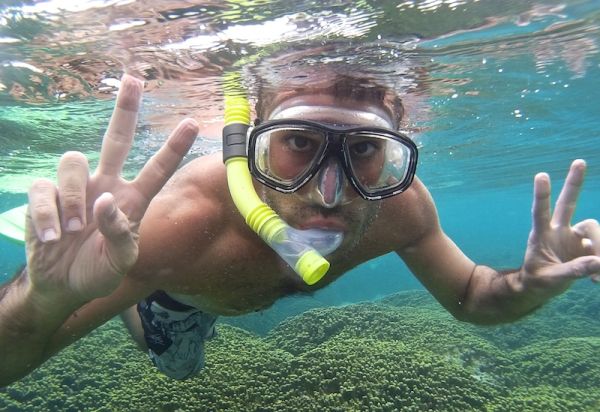 For women, we advise you book a guesthouse on an island which has a private 'bikini' beach, ie where you don't have to swim fully clothed (this is a Muslim country after all and women are required to be fully covered at all times, even when swimming).
Finally, check the transfer fee from Male. The further away the island is from Male, the more expensive it will be to reach it:
Private boat transfer or the public Maldivian ferries
We stayed on Thoddoo island, around 67km from Male and took the overnight public ferry to and from Thoddoo island (3-4 hours, $10 per person each way).
The only downside to the public ferry is that it's very basic: you will sleep on the floor on a thin cover with pillow supplied to you with the cargo (fruit exports, motorbikes etc) next to you. But at $10 a ticket, you can't really complain…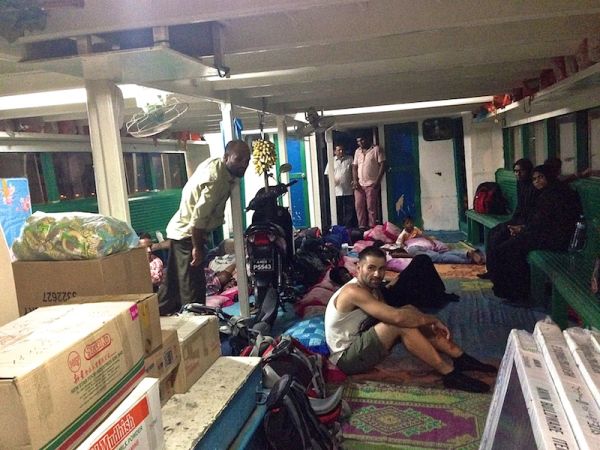 Finding advance information about the public ferry timetables can be tricky as they are weather dependant. Therefore, exact times are not advertised until the day before. But we learnt that they usually operate during the night so that the boats can be used for other activities during the day. Our ferry left around midnight each way.
Ask your guesthouse before booking if there's a direct public ferry from Male as the transfer cost of getting to the islands with a private boat can be upwards of $300 per person.
Remember this is a Muslim country so Friday is a religious day with few public services running, so avoid booking flights scheduled to arrive in Male on Fridays.
The public ferries are used by locals as a way to travel between the islands and to export their produce and goods:
Finding a cheap guesthouse is EASY!
You will find plenty of good quality and cheap accommodations for less than $50 / night. We stayed on Thoddoo Island, a small island perfect for those who want to experience the local life and healthy coral reefs.
We chose to stay at Serene Sky guesthouse, attracting tourists varying from honeymooners on a budget, backpackers and scuba/snorkelling enthusiasts.
We paid £42 (around $65) a day for an ensuite room with breakfast and other perks like free snorkelling gear rental, a fishing boat ride, one water sports session, fruit, free tea/coffee and water and it included a communal kitchen to cook.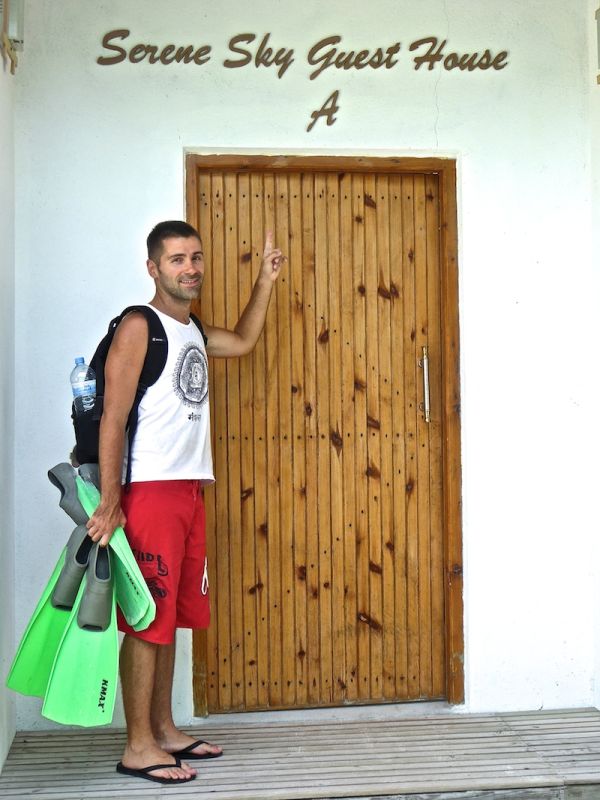 Tourism is still very new to most of the local islands like Thoddoo. This will work to your benefit because you will be spoilt rotten. When we went there (November 2014), there were just 6 tourists on the entire island.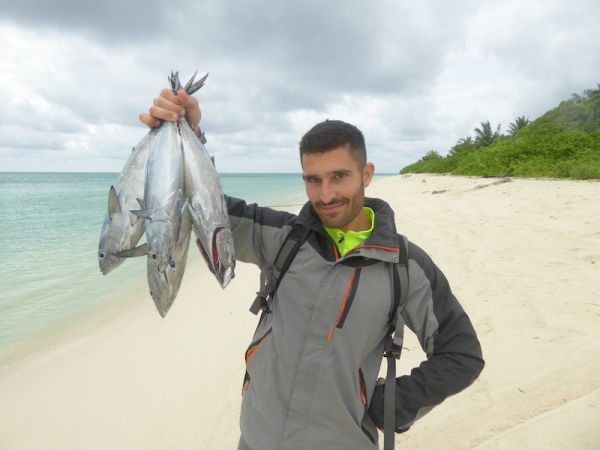 Thoddoo island is small, around 1km across with a population of around 1,400. Wherever you are on Thoddoo, you're never far from the beach.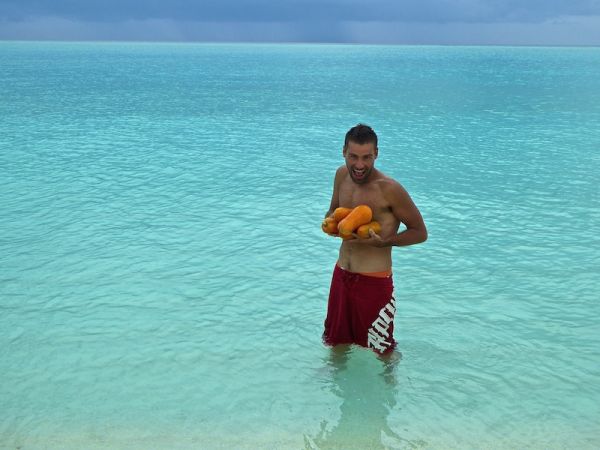 Eating cheaply in the Maldives
Food in the big resorts is expensive. For example, a simple green salad can cost around $30. But on the local islands, food is a lot cheaper. Local Maldivian restaurants are affordable. A meal in the local 'cafe' restaurant on Thoddoo island (called "Ice Tea") cost us $11 for two.
On Thoddoo island there are several small supermarkets where you can buy the basics to cook your own meals.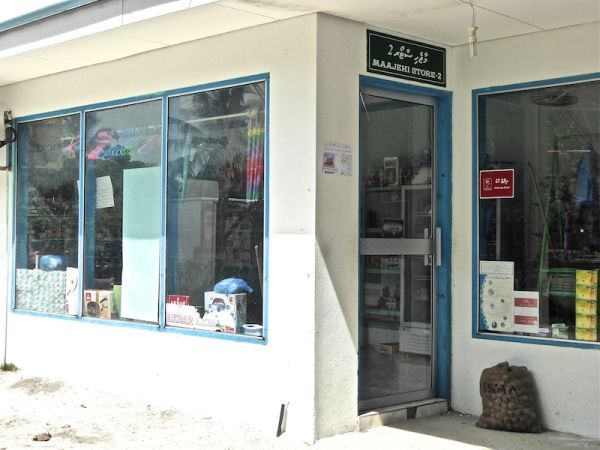 Our breakfast was included in our accommodation package and was a hearty mix of omelette, mashuni, roshis and lots of fruit. For lunch and dinner we normally cooked our own meals.
Our total food budget during our 10 days stay in the Maldives came to £47 ($72) for 2 people. This averaged just over £2 ($3) pp each day.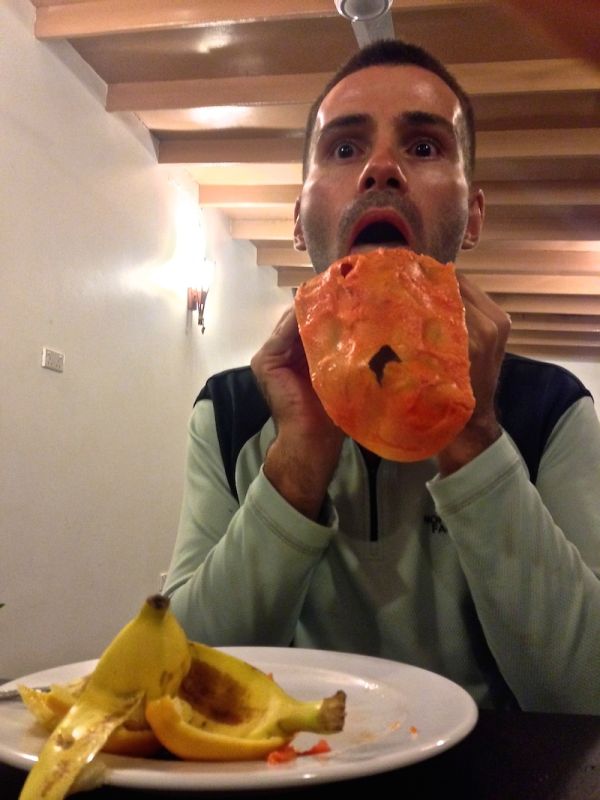 The splurges
We did some scuba diving on Thoddoo, which blew our Maldives budget above our daily £30/$50 aim. Other water activities will also be pricey, so it's worth trying to negotiate some of these into the 'package' you will agree on with your guesthouse.
On Thoddoo, we paid $50 pp per dive including all equipment and boat ride. Whilst this is a lot cheaper than the average price for scuba diving in the Maldives, it was still a splurge for us.
As part of our accommodation package, we had some water sports included: an opportunity for Sebastien to show off his jet ski skills.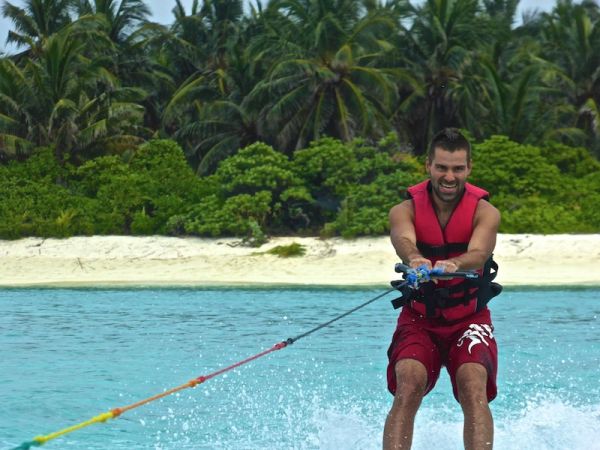 Dual currency: dollars and rufiyaa
Taxes in the Maldives have to be paid in dollars. We were therefore asked to pay our accommodation in dollars only.
The Maldivian currency is the rufiyaa: £1 is around 23 rufiyaa and $1 is around 15 rufiyaa (November 2014).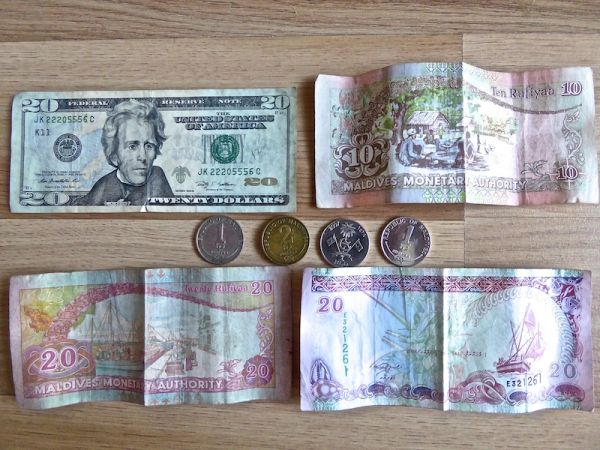 There are unlikely to be any cash machines on the local islands (Thoddoo had none). Cash machines in Male will give you rufiyaa not dollars, so we had to stock up on dollars in India before arriving.
In the Maldives, we found that we could pay everywhere in dollars and would receive change in rufiyaa.
Visa for the Maldives
The visa for the Maldives is easy. We (Stefan has UK passport, Seb, French) got a free 30 days visa on arrival at the Ibrahim Nasir airport in Male.
But they did ask to see Seb's onward ticket and evidence of accommodation because his passport is almost 10 years old.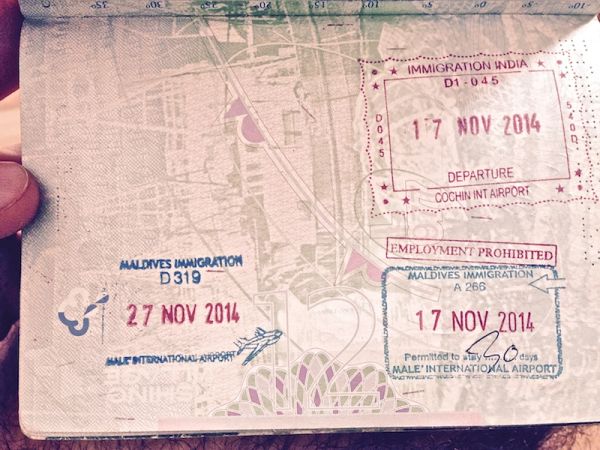 The weather in the Maldives
The Maldives has a tropical climate so getting good weather is a massive gamble, especially in these days of climate change. The season we visited (end of November) was supposed to be the start of the peak hot/sunny season.
Instead we experience quite a bit of heavy thunderstorms for most of the time we were there, the cause of a few tantrums:
With hindsight we discovered that the south Asia area experienced a late monsoon in 2014, hence the stormy weather we experienced in the Maldives (which irritatingly continued into our onward travels to Sri Lanka).
On the upside, the sea water will always be warm despite the rain and we found that if the waves were choppy on one side of Thoddoo island, they would be completely calm on the other side.
Sunblock cream and mosquito repellant
You will need sunblock cream in the Maldives as the sun is very strong, even when it's stormy. We cannot stress the importance of buying your sunblock cream before you arrive. It is all imported and therefore very expensive (for example, a bottle of Nivea Suncream will set you back $40).
Also, there are mosquitos everywhere, so stock up on good mosquito repellant and long loose fitting clothes to wear at dawn and dusk.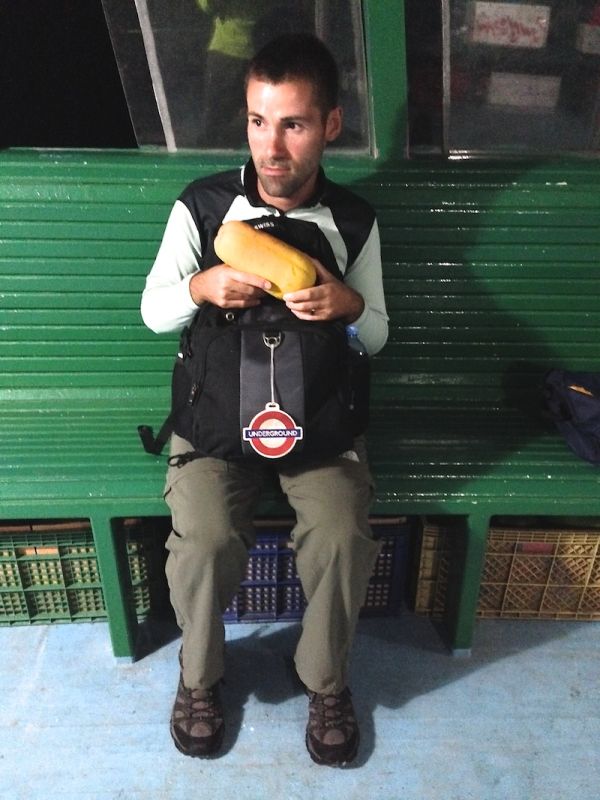 So, how much in total?
During our 10 days stay in the Maldives we spent a total £994 ($1,523) for 2 people: around £50 ($77) pp per day.
Without the flights, this figure comes to £694 ($1,063): around £34 ($52) pp per day.
For snorkel lovers, remove our scuba diving expenses and this figure comes to £409 ($626): around £20 ($30) pp per day.
Not bad for your dream holiday in the Maldives, right?
OUR FAVOURITE TRAVEL TIPS
⭐️ TRAVEL INSURANCE — We recommend you always take out travel insurance before your next vacation. What happens if you suffer from illness, injury, theft or a cancellation? With travel insurance, you can have peace of mind and not worry. We love World Nomads travel insurance and have been using it for years. Their comprehensive coverage is second to none and their online claims process is very user friendly.
⭐️ SAFETY & SECURITY — All travelers can sometimes encounter danger when traveling. CloseCircle is your "virtual body guard" mobile app which provides security alerts and support wherever you are in the world. They have a 24/7 emergency response team monitoring their users who will contact you immediately if the SOS swipe button is activated. Support can include anything from practical advice, to free evacuation from areas with extreme weather or security risks. You can read more about CloseCircle in our article about how to stay safe whilst traveling.
⭐️ ONLINE ANONYMITY — A VPN (Virtual Private Network) is a must in many countries: it allows you to surf anonymously and maintain your privacy whilst traveling. You'll particularly need it in countries where dating apps are blocked by the government. We recommend ExpressVPN, a reliable and cost effective service which we used and loved during our travels.
⭐️ HOTELS or APARTMENTS — When we plan a trip, we always look for the best hotel deals. We love Booking.com because not only do they have a comprehensive listing of accommodation options, they also offer the best prices. Added bonus: they provide 24/7 support and free cancellation for most listings.
⭐️ SIGHTSEEING and ADVENTURES — When we travel somewhere, we like to seek out the best experiences, whether it is cooking with locals in Bangkok, hiking on a glacier in Patagonia, or going on a wildlife safari in Sri Lanka. Our favorite place to look is GetYourGuide because they have over 30,000 highly rated activities, a user-friendly booking process with free cancellation and a 24 hour customer support.
This article contains affiliate links. If you click on them, we may receive compensation which keeps our website alive and helps us bring you to more destinations.