A trip to Santa Fe, a city that breathes art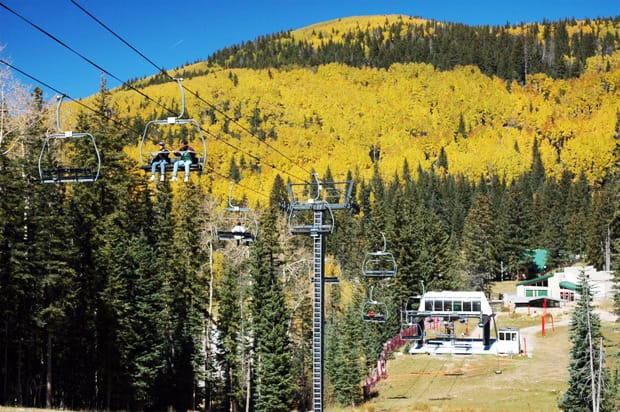 In 2015 the United States received more than 77 million visitors.
New York, Orlando, Miami, Los Angeles, Las Vegas, San Francisco, New Orleans, Washington and Texas are among the most popular tourist destinations. Naturally however, a country with 3.8 million square miles has many more spectacular and surprising places to offer.
While most choose to do a cross-country trip by car, or more rapidly by plane, train travel is an underestimated but highly recommended way to traverse the United States, offering both comfort and reasonable pricing.
One route we especially love begins in Trenton and ends in Santa Fe, New Mexico taking 57 hours. Passengers get a chance to relax and enjoy the intimate view of the rolling countryside, witnessing both climate and cultural changes as they pass through Pennsylvania, Ohio, Indiana, Missouri, Oklahoma, Texas, and New Mexico.
Santa Fe is a city that breathes art with plenty of indigenous art blended with American and hispanic tradition. It is the second oldest city in the country, rising to 7,198 feet above sea level with really colourful and unique architecture.
A trip to Santa Fe is an ideal destination for couples with a variety of romantic experiences and places to visit:
La Casa Vieja de Analco: walking in La Casa Vieja de Analco is like taking a step back in time. It was built on an 800 years old foundation, inhabited by Spaniards, Native Americans, and at one point, even a witch. Residents even claim it is the oldest house in the United States!
Museums: there's a variety of excellent museums to learn more about the indigenous culture, like the Georgia O'Keeffe Museum, the Museum of Indian Arts and Culture, and the International Museum of Folk Art, which houses one of the largest collections of folk art in the world.
Farmer's Market: stop by the traditional Saturday Farmer's Market in the Railyard, where you can find typical local fresh and spicy ingredients.
The Palace of Governers: visit the Palace of Governers, built in 1610, which served as the seat of governor of New Mexico for centuries.
Bandelier National Monument: this is one of the iconic sites, located outside of the city, protecting more than 32 thousand acres of ravines and platforms. It features petroglyphs and structures constructed by indigenous cultures dating back more than 11,000 years.
Loretto Chapel: the Loretto Chapel is now a museum and wedding venue, famous for its "miraculous" spiral staircase. Legend has it that the helix was created in just 3 months by an unknown carpenter without the use of any central supports or nails.
Food heaven: Santa Fe is renowned as the gastronomic capital of the Southwest. Look out for Mexican food trucks in the city centre, especially the pozole (a traditional soup) and of course the red and green chilis.
Candy paradise: nip into the candy stores located around the historic centre, where you can find everything from Belgian chocolates to ancient Meso-American style drinks.
Canyon Road: the place to come for galleries selling indigenous and contemporary art.
SWAIA Indian Market: if you're visiting in August, don't miss this excellent market, where thousands of artisan tribes from throughout North America gather in more than 600 booths to sell food, crafts, books and other curiosities. Every year more than 15 thousand people visit this spectacle.