Sushi mania: discovering the best sushi in Tokyo
When you first think of Japanese cuisine, sushi is probably the first thing that comes to mind.
Tokyo is one of the best places in the world for an intense sushi #foodporn experience, mainly as a result of having the world's largest fish market.
We set out to discover some of the places to enjoy the best sushi in Tokyo and also stumbled on a few more obscure discoveries.
WHAT IS SUSHI?
Sushi is raw fish, sliced into small pieces and served on cooked vinegared rice. When it's served without the rice it's called sashimi. 
Sushi literally means, sour tasting in Japanese and comes from the old tradition of preserving raw fish by fermenting it by wrapping it in soured fermenting rice. The fish proteins are then broken down via the fermentation.
WHERE TO EAT THE BEST SUSHI IN TOKYO?
THE TOYOU FISH MARKET!
Toyosu is famous for being the largest fish market in the world. Daily auctions start from 4am, drawing huge crowds. This is serious fish business. The most expensive fish (222kg of bluefin tuna) was sold here for $1.8m (155.4 million yen) on 5 January 2013.
You can come at the crack of dawn to watch the auctions, or if like us you struggle with waking up that early, you can instead turn up a little bit later in the day before the market shuts at 1pm.
Toyosu fish market caters to the surrounding restaurants, so come here, pick one and enjoy the tastiest, super fresh sushi ever.
SUSHI SURPRISES!
There were quite a few WTF?! moments during our sushi adventures in Tokyo…
#1 CHICKEN SASHIMI
You read right. Raw chicken goodness.
Actually not as bad as it sounds. It's very chewy. But obviously try it in a place popular with locals. A good tour company like Arigato Food Tours will point you in the right direction.
#2 WILD BOAR SASHIMI
Another one that raised eyebrows, but not as bad as you think.
#3 HORSE MEAT SUSHI
Basashi is sushi with raw horse meat. Another one to look out for in your sushi discoveries.
And – you can even get basashi ice cream…!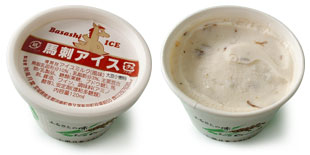 Travel recommendations to Japan
Train saving tips: Depending on how many trains you plan to take in Japan, it may be worth investing in a 7 days JR Pass ($250), which allows you unlimited travel throughout the country for 7 consecutive days. But you must buy it from an agent before you go.
We personally used Japan Rail Pass. They offered the best prices and would definitely recommend them.
Tour operator: We travelled independently to Japan but we're often asked if we can recommend a good tour company. We've partnered up with Out Asia travel who offer luxury private tours and tailored itineraries to Japan. These guys are locals, passionate travellers and have a real insight of Japanese culture. They are offering our readers an exclusive 5% discount for bookings of 7 days or more when you quote NOMADIC5 in your enquiry.
Fill out this form to enjoy your 5% discount to your holiday to Japan
Travel insurance: Whether you go diving, hiking or just lay on the beach all day long, you need travel insurance. We use World Nomads because they offer considerable coverage especially for adventurous travellers. They also make it easy to make a claim as it's all done online.
Flights: To fly to Japan and within, we recommend Skyscanner. Their website is very easy to use and they always offer the best prices. You can even search for the cheapest flights for any given month.
Hotels: Japan has a huge diversity of accommodation options. It is not the cheapest country to travel in but we found that quality is consistent with the price you pay. When we plan a holiday, we use Tripadvisor to research about the best places to stay and activities to do. We also use Booking.com to find the best deals and to book accommodation online.
Internet access: Japan has public WiFi available in most hotels, restaurants and of course airports. But if like us you want unlimited internet on the go, be sure to invest in a pocket WiFi router for your trip.
FOR MORE INSPIRATION:
IF YOU ENJOYED READING, PLEASE PIN ME: