Soluxe Hotel: excellent budget hotel in Kota Kinabalu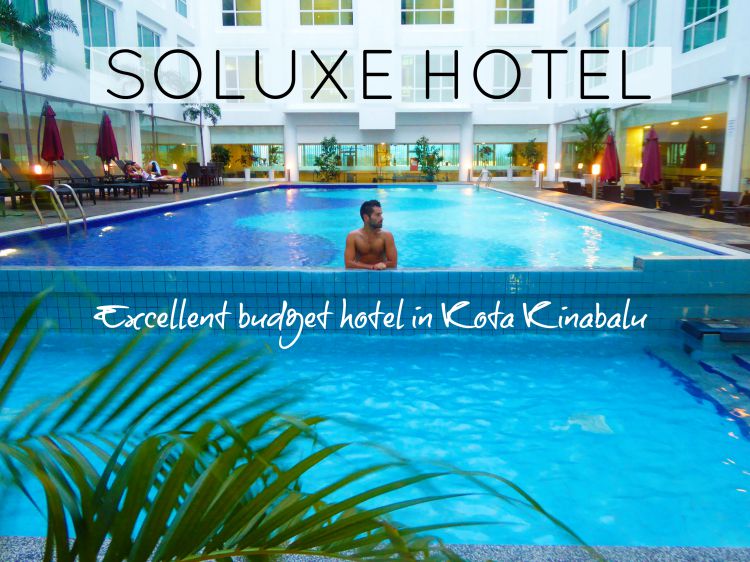 Soluxe Hotel is a new hotel in Kota Kinabalu located in the business district of Putatan.
We thought it was an excellent budget hotel in Kota Kinabalu and made it our base during our stay in this city.
CONVENIENTLY LOCATED NEAR THE AIRPORT
Soluxe is located very near the international airport of Kota Kinabalu. It is a popular transport hub into the rest of Sabah, which makes the location ideal. The hotel also offers a free shuttle bus into the city centre for guests.
Soluxe Hotel is located above the One Place Mall, which also makes a perfect base for shopping.
ALL THIS FOR $26 A NIGHT?
Soluxe Hotel is an absolute bargain. For 110 ringgit (£17 / $26) a night you get a very decent ensuite room, buffet breakfast included, as well as access to a big swimming pool and a gym.
You just can't beat that.
OUR SOOO LUXE ROOM
Our room was on par with high range hotels we've stayed elsewhere in our travels. It was big, tastefully decorated with plenty of space in both the bedroom and bathroom.
The big seller for us in the room was the large window, with a stunning view across town and the South China Sea. It made an excellent base for us to work.
KEEPING FIT AT SOLUXE: THE POOL AND GYM
We always try to keep trim and in shape during our travels, so a hotel offering gym and pool use to guests is always a massive plus.
The swimming pool at Soluxe is in an outdoor terrace area where you can also sit and enjoy a cocktail or swim laps to burn off the many calories you will no doubt acquire eating your way around Malaysia.
The gym is large with various cardiovascular machines (cycling and treadmills) as well as weights machines, a variety of free weights, yoga mats and Swiss balls.
GAY FRIENDLY STAFF
The staff were very accepting to us as a gay couple. We were offered a double bed without any eyebrows raised and everyone made a real effort to know our name.
The in house restaurant is where breakfast is served and has an excellent barbecue buffet every Friday evening for 50 ringgit (around £8 / $12) per person.
We absolutely loved the restaurant staff: like the hotel staff, they were always willing to help, really smiley and friendly.
If you wish to book your stay at Soluxe Hotel, you can do so on their website or on their Tripadvisor page.
For more about our adventures through Malaysia, please check out our Malaysia travel video: