9 interesting facts about Nepal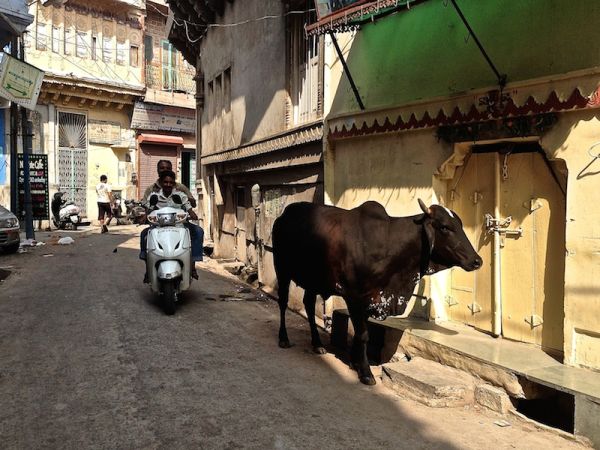 We were WOWed by Nepal.  Like most tourists who visit, we definitely plan to return.  It's a very beautiful country and the really charming smiley Nepalese people are the icing on the cake.   Here's our 9 observations about Nepal:
#1

THE NEPAL STANDARD TIME ZONE

Nepal is the only country in the world with its own time zone: the Nepal Standard Time!  The NST has a +45 minutes (or -15 minutes) difference from the neighbouring time zone, and it's 5 hours and 45 minutes ahead of UK.

So say it's 12 midday in London, it will be 5:45pm in Kathmandu.

The Chatham Islands (New Zealand territory) is the only other location in the world which uses a +45 minutes time difference.

India and various other countries have a 30 minutes difference from a neighbouring time zone and research on why Nepal has that extra 15 minutes added suggests (amongst lots of technical science) it's Nepal's way of saying "We are not India, we are unique!"

Damn right!
#2

HAPPY NEW YEAR 2071!

As well as its own time zone, Nepal has it's own calendar!

Yes the Bikram Sambat Nepali Calendar, which is no less then 56 years and 8 months ahead of our Gregorian Calendar.

The current year in Nepal is 2071.  The Nepalese calendar starts from the middle of April (as opposed to 1st January) and the months change yearly.

The maximum number of days in a month in our Gregorian calendar is 31, but in the Nepalese Bikram Sambat calendar, it can have up to 32 days.
#3

NEPALESE BOYS HAND TO HAND

They are cute – almost disproportionally so!  But this observation refers more to Nepalese boys being really comfortable and affectionate with each other.

One of the first things we noticed when we arrived in Kathmandu was what we thought was gay pride: boys walking the streets holding hands, sitting in each other's laps, stroking each other…

In fact, we quickly realised this is how most Nepalese boys (both straight and gay) generally act with each other in public.

No it's not a gay thing at all as we first thought, just an incredibly cute cultural norm we're not used to seeing in the West:
#4

THE POWER CUTS

Power cuts are an unfortunate reality in Nepal due to shortages in electricity supply.  Nepal's power sector lacks investment which means most households face power cuts for over 80 hours a week.

In Nepal it's called "load shedding" and unfortunately looks like it will continue to be the norm until some drastic government action is taken to help boost the power sector.

Most good hotels and restaurants will have generators for emergency supply, but we found our battery packs invaluable for charging smart phones and cameras during a power cut.
#5

HOLY COW – 12 YEARS IN PRISON?!!

That was our reaction when we found out how long you could theoretically face imprisonment for if you killed a cow in Nepal.  One woman got sentenced to 12 years for slaughtering a cow.  Another Nepalese pastor also got the 12 years sentence (but was released after 2 years).

Cows are of course considered holy and sacred to Hindus and are not to be harmed or killed.  They are free to roam wherever they want in Nepal (and also of course in India):

Hindus make up around 82% of Nepal's religions with Buddhists at around 9% (taken from the 2011 census), so being a predominantly Hindu population, beef is off the menu when in Nepal.

During our Annapurna circuit trek, Sebastien got friendly with this very cute calf:
#6

NEPAL HAS 8/10 OF THE WORLD'S HIGHEST MOUNTAINS
Yup – of the 10 highest mountains in the world, 8 of them are in Nepal – Nepal is often nicknamed 'the ceiling of the world'.
And because Stefan is a statistics geek, here are the top ten in order – 8 in Nepal (the other 2 in Pakistan):
Everest – 8,848m / 29,029 ft (Nepal)
K2 – 8,611m / 28,251 ft (Pakistan)
Kangchenjunga – 8,586m / 28,169 ft (Nepal)
Lhotse – 8,516m / 27,940 ft (Nepal)
Makalu – 8,463m / 27,838 ft (Nepal)
Cho Oyu – 8,201m / 26,864 ft (Nepal)
Dhaulagiri – 8,167m / 26,795 ft (Nepal)
Manaslu – 8,156m / 26,781 ft (Nepal)
Nanga Parbat – 8,126m / 26,660 ft (Pakistan)
Annapurna – 8,091m / 26,545 ft (Nepal)
#7

SPOT THE FRENCH…NO…WHOOPS…BUDDHIST (!) FLAG
During your trek in the Himalayas in Nepal, you will see what at first looks like the blue/white/red flag of France flying high on a tree/pole of the various villages you pass:
Look carefully and it is in fact the five colours of the Buddhist prayer flag: blue, white, red AND green with yellow (always in that strict order):
The five colours of these Buddhist prayer flags represent the five elements: blue for sky/space, white for air/wind, red for fire, green for water and yellow for earth.  According to traditional Tibetan medicine, health and harmony are produced through the balance of these five elements.
Also note each flag has mantras on them.  These prayer flags were sold in villages along the way during our Annapurna trek to be placed on the various summits or passes trekkers succeeded in reaching (like Thorong La Pass in our case):
#8

GOATS ON THE BUS

We were fortunate to visit Nepal during their colourful "Dashain" festival (late September / mid October).  This is Nepal's longest festival, symbolising the victory of good over evil.

On the 8th day, goats are sacrificed to appease the blood thirsty Hindu goddess of empowerment, time, change and destruction: Kali (ironically in Greek, "kali" means 'a good person'):

During this time, people return to their family home/villages usually with a goat to hand:

For us, this made our bus journey from Kathmandu to Besi Sahar village to start our Annapurna trek quite exciting as we shared the bus with both people and their goats:
#9

 HINDU TRADITIONS IN NEPAL

This is one colourful country.  The saris the women wear are incredibly beautiful:

Nepalese Hindus also have really charming rituals for good luck.  For example, every morning, Hindu women in Nepal rise early to carry a (copper) plate of goodies to their local temple as an offering to the gods.  The goodies are usually red powder, rice and flowers.  They then return to their homes and leave the remainder outside their front door for good luck:

Other colourful Hindu rituals we came across in Nepal included the red tika dot painted on foreheads and the beautiful yellow marigold flower necklaces, particularly popular during festivals like Dashain.

Stefan was particularly blessed for his birthday celebrations in Kathmandu by the Nepalese Cooking School, with one giant tika on his forehead:

Watch more from our travel in Nepal in our awesome video: