Keftethakia recipe – Greek meatballs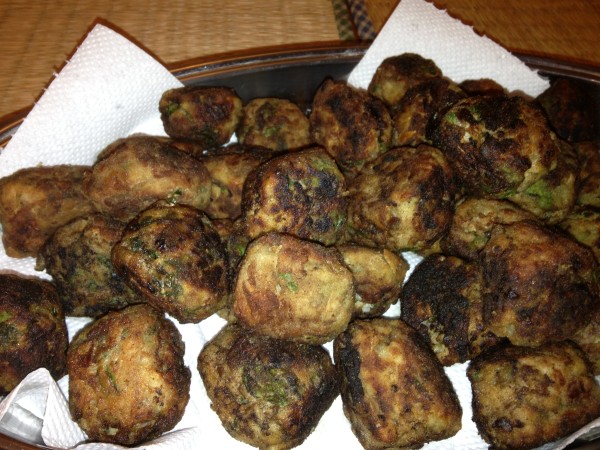 This is an old family recipe for one of the more well known Greek dishes, "keftethakia"  ("kεφτεδάκια" in Greek), or meat balls. They are made from pork mince and taste great.
Keftethakia are usually referred to as "keftethes".  The word,  "keftethakia", literally means a smaller version "keftethes" ("akia" at the end of a word in Greek means "small" in the plural).
Ingredients for keftethakia:
500g pork mince (ideally veal if you can find it)
x2 tablespoons of wine vinegar
x3 tablespoons of ouzo (if have any to hand)
Plain flour to dust the balls
vegetable oil for frying
1 egg (beaten)
1 onion (chopped)
x2 large potatoes
bunch of parsley
bunch of mint
x1 tablespoon of fresh basil leaves
oregano (x1 teaspoon)
x4 slices of bread
salt and pepper
x2 tablespoons of ground cinnamon powder
How to make keftethakia:
1. Mix the meat in a bowl with vinegar and some ouzo if have it (alcohol turns meatballs fluffy).
2. Make a well in the middle and the chopped parsley, chopped mint, oregano, salt, pepper and cinnamon. 
3. Grate the onion and add to the mixture in the middle.
4. Peel then grate the x2 potatoes and add to the mixture, in the middle, including any liquid from the potato.
5. Remove the crusts from the bread, soak in water and squeeze dry with your hands, then add this to the mixture in the middle.
6. Lastly, beat the egg and add this to the mixture in the middle of the bowl.
7. Scrunch the mixture and mix it up well.
8. Cover the bowl and put in fridge for around 30 minutes for the ingredients to bind.
4. Shape the mixture into balls either round or finger shaped.
5. Dust with flour.
6. Pre-heat oil on a saucepan then reduce heat to medium.
7. Fry the meat balls until they take a brown colour (not black).
8. When removing each keftethakia from the pan, place them on a plate covered with a kitchen towel to absorb excess oil.
Keftethakia go very well with our recipe for "tzatziki" (Greek yoghurt/cucumber based dip).