10 interesting facts about Sri Lanka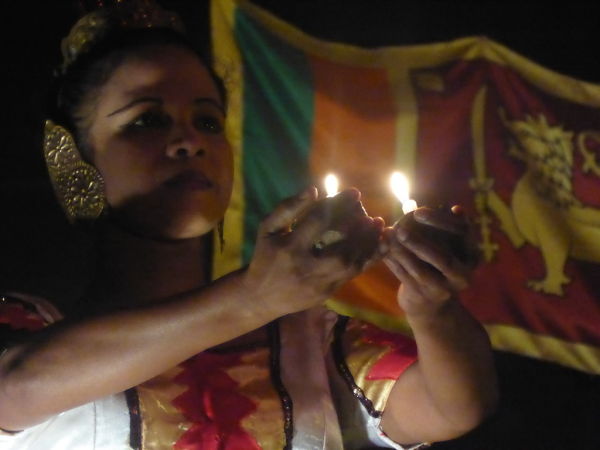 We completely fell in love with Sri Lanka, an island nation south of India in the Indian Ocean.
We came here completely unprepared with no expectations and left with fond memories of stunning treks in the hill country at Ella Rock, delicious curries, exciting train journeys and impressive wildlife safaris.
These are our 10 interesting facts about Sri Lanka following our trip from Colombia to Nuwara Eliya, Yala, and along the southern coast.
1.

 The official languages of Sri Lanka

The Sri Lankan population is around 21 million and is mainly comprised of Sinhalese (Buddhists) who make up 75% of this figure. The Tamil (Hindu) are the country's second largest ethnic group, comprising around 11%. The remainder are a mix of various other ethnicities.

There has always been tension between the Sinhalese and Tamil communities, which led to a long drawn out civil war that lasted from 1983-2009. Since the war ended, relations have soothed and the communities moved forward together. The result of this is that Sinhalese and Tamil are the country's official languages, along with English, which is a "recognised language" as a nod to the Colonial days when Ceylon (former name of Sri Lanka) was part of the British Empire.

As a result, most signs in Sri Lanka will be written in 2, sometimes 3 languages:
2.

 Some very draconian strict laws

When you arrive at Colombo international airport, you are met with this sign at the immigration desk warning you that you may face the death penalty if you're caught using drugs. Whilst we do not condone illegal drug use, coming from western Europe, we are so used to seeing the death penalty as an inhumane and degrading punitive measure. So when this is the first thing that greets you when you arrive in the country, you can't help feeling a little intimidated!

In reality, the death penalty has not been enforced since 1976. Any death penalty sentences passed by the courts since then were just converted to life imprisonments.

Another very sad draconian law in Sri Lanka are the laws banning homosexuality inherited from the British colonial era. This has validated open discrimination to the Sri Lankan LGBTQ community by both the police and governmental authorities, which you can read more about in our interview with Kaluu from Colombo.
3.

 Respect Buddha or else!

In May 2013, British tourist, Antony Ratcliffe was deported because he had a Buddha tattoo on his arm. In 2012, three French tourists were arrested in Galle for having their photo taken posing by a Buddha statue and pretending to kiss it.

The singer, Akon, was refused a visa to Sri Lanka in 2010 because one of his videos ("Sexy Chick" by David Guetta featuring Akon singing) had scantily clad women dancing around a Buddha statue at 01:22.

The UK foreign office guidelines for Sri Lanka local laws and customs have since been amended to state:

"The mistreatment of Buddhist images and artefacts is a serious offence and tourists have been convicted for this. British nationals have been refused entry to Sri Lanka or faced deportation for having visible tattoos of Buddha. Don't pose for photographs standing in front of a statue of Buddha."
4.

 Malaria eradicated in Sri Lanka

Sri Lanka is a shining beacon to other countries that have a malaria risk. It is the first tropical country that has completely eradicated malaria as a result of government investment, global funding and strong support from the WHO.

Unfortunately Dengue fever remains a problem in Sri Lanka, so do take care against mosquitos when travelling here and bring an effective spray.
5.

 The famous Ceylon tea

For its size, Sri Lanka certainly packs a punch when it comes to tea. It is one of the world's top exporters of tea (along with China, India and Kenya), accounting for over 19% of the world's tea exports.

In 1824, a tea plant was brought to Ceylon (the colonial British name for Sri Lanka) by the British from China and this massive industry took off from there.

The Ceylon tea industry was so big that it led to the construction of the current railway system in 1864, to bring the tea from the hill country to Colombo so it could be exported abroad.

Today, these train journeys through the tea plantations of Sri Lanka are some of the most incredible you will ever experience. The views over the tea plantations are absolutely stunning! 
6.

Sri Lankans like to Google "sex" a lot!

One of the more comical interesting facts about Sri Lanka is that they are the world's #1 nation who Googles the word "sex" according to Google Trends.

In case you were wondering, India, Ethiopia, Bangladesh and Nepal were next on the list.
7.

 The oldest human planted tree in the world

The Jaya Sri Maha Bodhiya (or the Bo Tree) is over 2,500 years old and is the world's oldest living human planted tree with a known planted date. It is located in Anuradhapura, towards the north of the country.

The Bo tree is in fact a fig tree, which was planted in 288 BC by King Devanampiya Tissa. It is  also considered to be one of the most sacred Buddhist relics because it is believed to be the southern branch of this tree where Buddha gained Enlightenment.
8.

 Colombo airport: buy your fridges, washing machines, ovens etc!

Another comical interesting fact about Sri Lanka was the large numbers of shops at Colombo Airport selling pretty much everything you need to redecorate you kitchen! That's right, after you collect your suitcase, you can purchase a new fridge freezer, washing machine, ovens and more!

For us this definitely makes Colombo Airport one of the most unique airports we've ever been to in our travels.
9.

 Sri Lanka used to share a land border with Antarctica

Today Sri Lanka is quite far away from Antarctica. But around 300 million years ago when all the continents were linked together ("Pangea"), Sri Lanka was not only joined to India, but also to Madagascar, Mozambique and to…Antarctica!
10.

 The first female Prime Minister in the world

On 20 July 1960, Sirimavo Bandaranaike (1916-2000) became Sri Lanka's first female prime minister. In doing so, she also became the modern world's first female head of government.

She was so popular that she became Prime Minister of Sri Lanka 3 times: 1960-65, 1970-77 and 1994-2000.

Her government was responsible for declaring Sri Lanka a Republic and for changing the name from "Ceylon" to "Sri Lanka" in 1972.

Sirimavo Bandaranaike died on election day on 10 October 2000 after casting her vote for her last time. Her daughter, Chandrika Bandaranaike Kumaratunga became Sri Lanka's fifth President from 1994 to 2005, making her the country's first female President.

The role of President was introduced in 1978 and over time replaced the role of Prime Minister as the head of state figure. Today the Prime Minister is subordinate to the President.

Watch our travel video diary of our adventures through Sri Lanka as we ate our way through this tropical island, took some beautiful train journeys and enjoyed excellent safaris spotting leopards at Udawalawe and blue whales at Mirissa.
Sri Lanka travel recommendations
Transportation: first, there is no need to stress about getting taxis around the capital. Uber is heavily used in Colombo Airport and in Colombo. If you've never used it before, we give you your 1st ride for free using this link. To get to Kandy, Nuwara Elya or Ella, we highly recommend you take the train because the landscapes are stunning, tickets are cheap and it is an amazing adventure.
Travel insurance: whether you go on a safari in Yala National Park, scuba diving in Unawatuna, hiking at Ella Rock or just lay on the beach all day long in Hikkaduwa, you need travel insurance. We use World Nomads because they offer considerable coverage especially for adventure travellers. They also make it easy to make a claim as it's all done online.
Flights: flying domestically in Sri Lanka doesn't make much sense because the train has more comprehensive coverage across the country and is far cheaper. For international flights, flying to Sri Lanka can be expensive. We recommend Google flights to search for the cheapest fares, and Momondo for booking airfares. In addition, flights from Sri Lanka and India to The Maldives are very affordable, so don't miss out on the opportunity!
Hotels: Sri Lanka has a huge diversity of accommodation options. Make sure you check out our Sri Lanka content for hotel recommendations first. TripAdvisor is also a good place to start researching places to stay and find the best activities to do. Going to the hotel in person and negotiating the price face to face will most of the time result in a cheaper price compared to what you find online. But if like us, you're a bit of a control freak and like planning ahead, we recommend using Booking.com to find the best deals and book your accommodation online.