10 interesting facts about Nepal which will surprise you
Nepal ranks as one of the most beautiful countries we've visited in Asia. The treks like the Annapurna Circuit will blow your mind due to the incredible landscapes you pass in the Himalayas.
The icing on the cake are the Nepalese people. They are warm hearted, humble and love welcoming foreigners.
These are our 10 interesting facts about Nepal following our long trip around the country, which you can also watch in our video:
1.

The ceiling of the world

Nepal is nicknamed "the ceiling of the world" because it has 8 of the 10 of the world's highest mountains. Here's the full top 10 list in order, 8 of which are in Nepal:
Everest: 8,848m / 29,029 ft (Nepal)
K2: 8,611m / 28,251 ft (Pakistan)
Kangchenjunga: 8,586m / 28,169 ft (Nepal)
Lhotse: 8,516m / 27,940 ft (Nepal)
Makalu: 8,463m / 27,838 ft (Nepal)
Cho Oyu: 8,201m / 26,864 ft (Nepal)
Dhaulagiri: 8,167m / 26,795 ft (Nepal)
Manaslu: 8,156m / 26,781 ft (Nepal)
Nanga Parbat: 8,126m / 26,660 ft (Pakistan)
Annapurna: 8,091m / 26,545 ft (Nepal)
2. 

Dal Bhat power 24 hour!

This is the staple, national food of Nepal. It means lentils (dal) with rice (bhat). When served, it consists of a large tray with several curries (a mix of meat or vegetables), served with rice, lentil soup, pickles and spinach.

We fell in love with dal bhat because it's always a guaranteed foodie orgie. There is no one common recipe for making the curries so it never gets boring. In addition, it's super healthy.

After a while in Nepal, you'll quickly pick up on the phrase "dal bhat power 24 hour", which plays on the fact that this is the main food you'll eat throughout the day in Nepal. Just prepare for the extra special less savoury dal bhat power wind that comes out the other end after ingesting all those lentils…!
3.

The unique Nepalese time zone

Nepal is the only country in the world with its own time zone: the Nepal Standard Time. The NST has a +45 minutes (or -15 minutes) difference from the neighbouring time zone. Interestingly, the Chatham Islands (New Zealand territory) is the only other location in the world which uses a +45 minutes time difference.

Therefore when travelling around South Asia, make sure you set your clocks correctly to avoid being 15 minutes too early or late!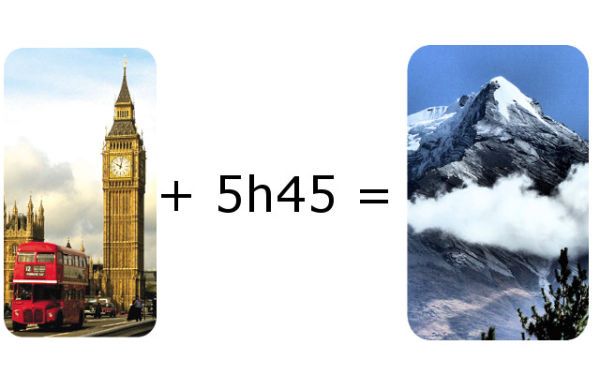 4.

 The Nepalese calendar: 56 years ahead

As well as its own time zone, Nepal also has its own calendar called the "Bikram Sambat".  The Nepali Bikram Sambat Calendar is a full 56 years and 8 months ahead of the Gregorian calendar we use in the West and starts in mid April.

Another interesting facts about the Nepali calendar is that each month can have up to 32 days as opposed to the 30/31 days that we have in ours.
5.

 Nepalese guys holding hands in public

This is one one interesting fact about Nepal we found completely endearing. Very similar to India, Nepalese guys are very docile and affectionate with each other, whether straight or gay.

One of the first things we noticed when we arrived in Kathmandu was boys and grown men walking the streets holding hands, sitting in each other's laps and stroking each other. It's one of those cultural norm that we're not really used to in the West and we love it!
6.

 Lots of power cuts

One of the downsides to travelling in Nepal are the daily power cuts. It is caused by shortages in electricity supply due to Nepal's power sector lacking investment. As a result, most households face power cuts for over 80 hours a week.

In Nepal the power cuts are referred to as "load shedding" and unfortunately looks like it will continue to be the norm until drastic action is taken by the government to help boost the power sector.

Most upmarket hotels and restaurants will have generators for emergency supply during the power cuts. Despite this, we highly advise having battery packs to hand for charging smart phones and cameras during a power cut.
7.

 Holy cow…12 years in prison?!!

That was our reaction when we found out how long you could be imprisonment for if you killed a cow in Nepal: 12 years!

Cows are considered very holy and sacred to Hindus, so are not to be harmed or killed. As such they are free to roam the streets of Nepal wherever and whenever they want!
8.

 Similarities between the French and Buddhist flag
During your treks in the Himalayas in Nepal, you will see what at first looks like the blue/white/red tricolor flag of France flying high.
This is in fact the Buddhist prayer flag with 5 colours not 3: blue, white, red with the addition of green and yellow (always in that order).
Each colour represents the 5 elements: blue for sky/space, white for air/wind, red for fire, green for water and yellow for earth. According to traditional Tibetan medicine, health and harmony are produced through the balance of these five elements.
9.

 Watch out for the goats on public buses

The Nepalese "Dashain" festival takes place in late September/mid October. It is the country's longest festival, symbolising the victory of good over evil. On the 8th day, goats are sacrificed to appease the blood thirsty Hindu goddess of destruction called "Kali".

During this time, people return to their family villages from the big cities with lots of goats to hand to prepare for the festivities. Therefore buses during this period will be packed full of people…and their goats:
10.

 Colourful Hindu traditions

Nepal is one really colourful country. The saris alone will impress. Other colourful Hindu rituals we came across in Nepal included the red tika dot painted on foreheads, and the beautiful yellow marigold flower necklaces, which are particularly prevalent during the Dashain festival.

Nepalese Hindus also have really charming rituals for good luck. Our favourite is the one you'll see outside people's houses during the day – every morning, Hindu women in Nepal wake up early to carry a (copper) plate of gifts to their local temple as an offering to the gods. This includes red powder, rice and flowers. They leave some of it in the temple, then bring the rest back home and place it outside their front door for good luck:
IF YOU ENJOYED READING, PLEASE PIN ME: