Vietnam is a heaven for foodies, with every region boasting its own unique yummy prizes.
Our favourite part of Vietnam for local food was around the centre of the country in Hoi An, where we experienced some of the tastiest noodles ever and a variety of delicious street food…on a vespa!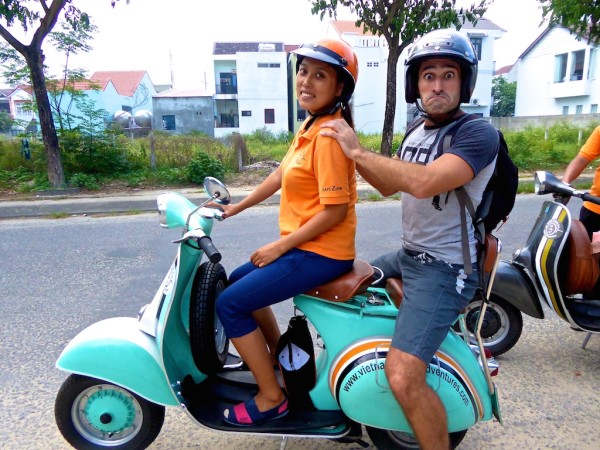 VESPA ADVENTURES WITH TRINH AND TONIC
We took a food tour in Hoi An with the excellent Vespa Adventures.
Our guide, nicknamed, "Trinh and Tonic", showed us some of the highlights of central Vietnamese local food.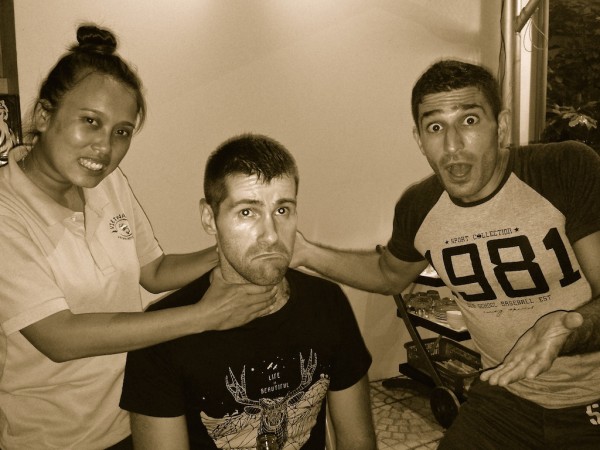 #1

A HEAVY STARTER: BANH CAN

Banh can is a popular local food snack. Read "snack" lightly as these are heavy and very filling.

The banh cans are small cup sized pancakes (made from rice batter), which are deep fried in plenty of vegetable oil to make them crispy.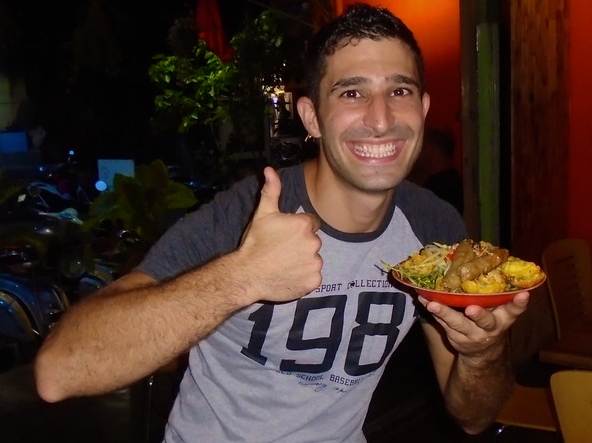 The banh cans are served with shrimps, quails eggs, shredded papaya and stuffed minced pork, which resembles a sausage.
A plate of herbs, lettuce and fish sauce is also commonly served alongside the banh can.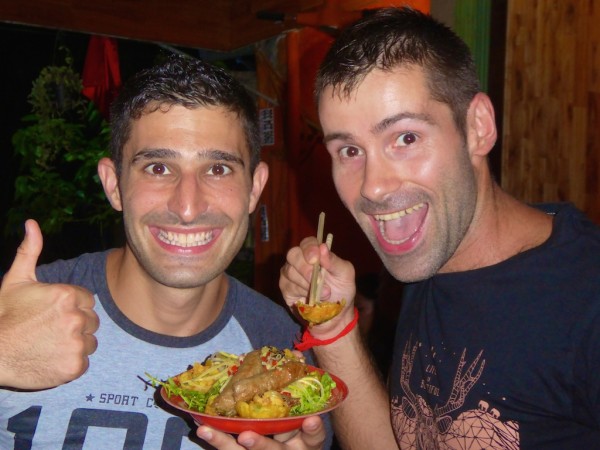 #2

MASTERING THE ART OF THE WHITE ROSE

White rose, or "banh bao vac" is a shrimp like based dumpling, carefully bunched up to resemble a rose, then steamed.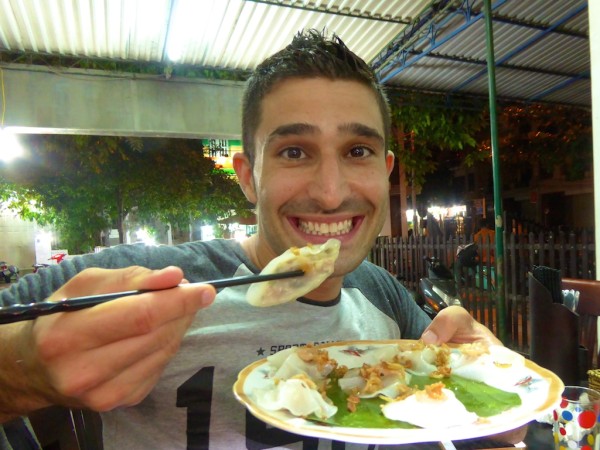 We tried to make white roses. The folding technique takes years to master, but we didn't do too badly for first timers…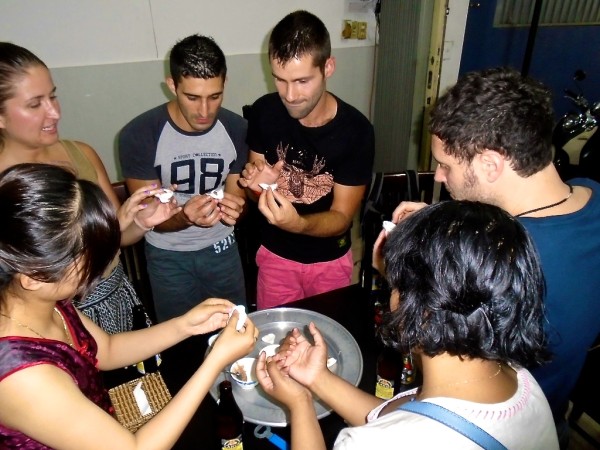 #3

VIETNAMESE WON (HOANH THANH)

The "hoanh thanh" are Vietnamese won tons, cooked in a similar way to the white roses, but with pork.

The won tons are usually served in a soup and are considered comfort food, or eaten as a delicious dumpling snack on a bed of lettuce.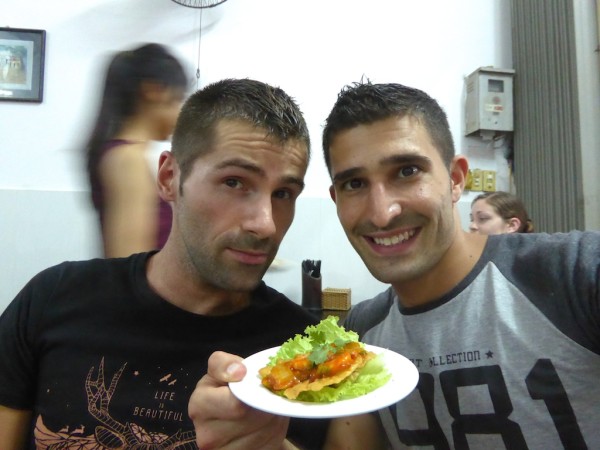 #4

HOT POT GALORE!

Bo Nhung Giam is a Vietnamese hot pot. The broth is soured with vinegar, into which thin slices of beef are dipped and cooked. This reminded us a lot of the various hot pots we tried in Beijing.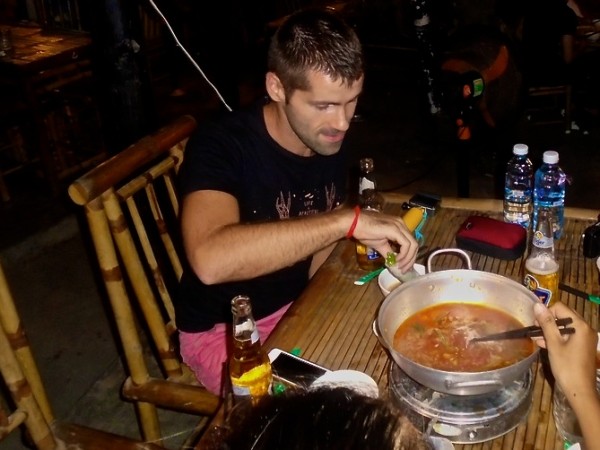 The beef is then wrapped in rice paper, vegetables added, rolled up and eaten like a fresh spring roll.
Just take care when eating near Sebastien otherwise your food will quickly go missing…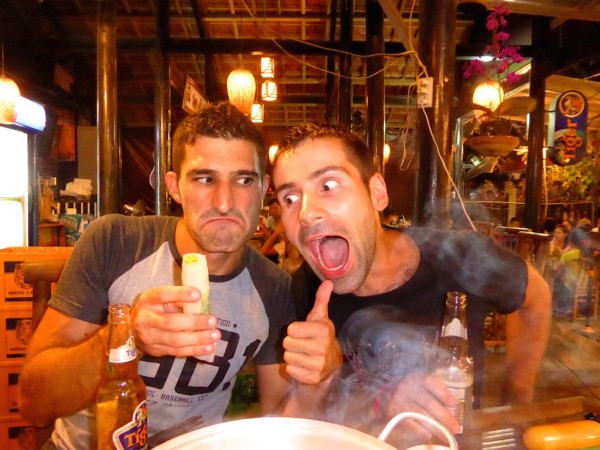 #5

A SWEET CONCLUSION FOR A FULL BELLY

Our awesome foodie tour concluded with banh flan: a light version of crème caramel. This is one of many influences in Vietnam from the French colonial times.

Sometimes coffee is poured over the top, giving it a unique and distinctive Vietnamese flavour.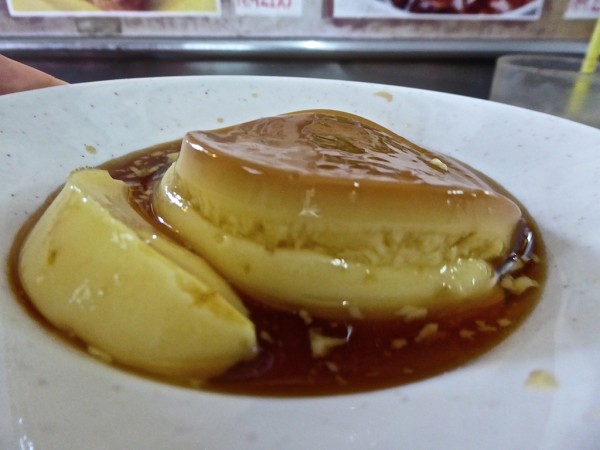 Travel recommendations to Vietnam
Flying in Vietnam: Airfares in Vietnam can be very cheap if you do your research and book in advance. For example, flights from Ho CHi Minh to Hanoi come as low as $30 (£25) one-way. We recommend using Skyscanner to find the best prices for any given month.
Visa in Vietnam: Depending on your nationality and the number of days you plan to stay in the country, entry requirements may be different. We recommend using the services of a reputable agency such as www.vietnam-visa.com to obtain your visa.
Travel insurance: Whether you go diving, hiking or just lay on the beach all day long, you need travel insurance. We use World Nomads because they offer considerable coverage especially for adventurous travellers. They also make it easy to make a claim as it's all done online.
Hotels: Vietnam has a huge diversity of accommodation options. We recommend Tripadvisor to research about the best places to stay and activities to do. Use Booking.com to find the best deals and book your accommodation online.
Tour operator: We travelled independently to Vietnam but we're often asked if we can recommend a good tour company. We've partnered up with Ocean Travel, a gay friendly tour company who offer luxury private tours and tailored itineraries to Vietnam. They also offer gay tours to Saigon. We have negociated for our readers an exclusive 5% discount for bookings of 7 days or more when you quote NOMADIC5 in your enquiry.
For more inspiration, read about what other things you can do in Vietnam and watch our video of our local food tour through Hoi An with Vespa Adventures:
OUR FAVOURITE TRAVEL TIPS
⭐️ TRAVEL INSURANCE — We recommend you always take out travel insurance before your next vacation. What happens if you suffer from illness, injury, theft or a cancellation? With travel insurance, you can have peace of mind and not worry. We love World Nomads travel insurance and have been using it for years. Their comprehensive coverage is second to none and their online claims process is very user friendly.
⭐️ SAFETY & SECURITY — All travelers can sometimes encounter danger when traveling. CloseCircle is your "virtual body guard" mobile app which provides security alerts and support wherever you are in the world. They have a 24/7 emergency response team monitoring their users who will contact you immediately if the SOS swipe button is activated. Support can include anything from practical advice, to free evacuation from areas with extreme weather or security risks. You can read more about CloseCircle in our article about how to stay safe whilst traveling.
⭐️ ONLINE ANONYMITY — A VPN (Virtual Private Network) is a must in many countries: it allows you to surf anonymously and maintain your privacy whilst traveling. You'll particularly need it in countries where dating apps are blocked by the government. We recommend ExpressVPN, a reliable and cost effective service which we used and loved during our travels.
⭐️ HOTELS or APARTMENTS — When we plan a trip, we always look for the best hotel deals. We love Booking.com because not only do they have a comprehensive listing of accommodation options, they also offer the best prices. Added bonus: they provide 24/7 support and free cancellation for most listings.
⭐️ SIGHTSEEING and ADVENTURES — When we travel somewhere, we like to seek out the best experiences, whether it is cooking with locals in Bangkok, hiking on a glacier in Patagonia, or going on a wildlife safari in Sri Lanka. Our favorite place to look is GetYourGuide because they have over 30,000 highly rated activities, a user-friendly booking process with free cancellation and a 24 hour customer support.
This article contains affiliate links. If you click on them, we may receive compensation which keeps our website alive and helps us bring you to more destinations.