Spending Diwali in Jaipur: "the Pink City" – India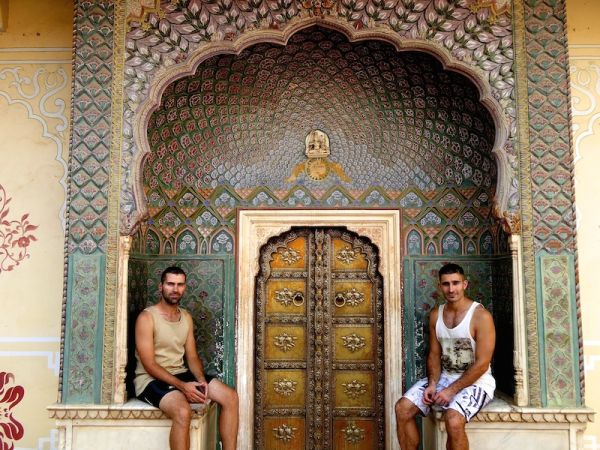 Diwali is a popular Hindu festival celebrated over 5 days in October or November all over India and the Hindu community around the world.
Diwali is also called the 'festival of lights', celebrating the victory of light over darkness as well as marking the start of a new financial year.
Lakshmi, the goddess of fortune and prosperity is the main deity honoured during Diwali: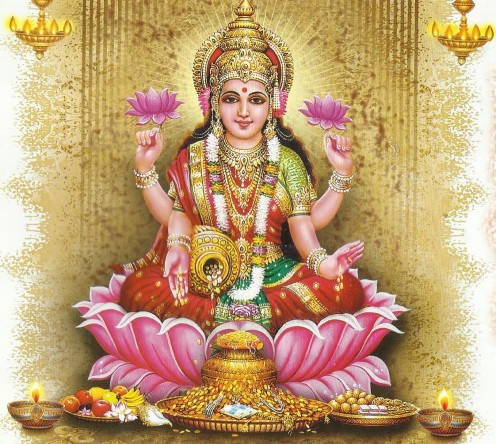 For us, it means lots and lots and lots of fireworks – everywhere, over 5 days!
To prepare for Diwali, Hindus spring clean and decorate their homes and businesses. On the main Diwali night, Hindus dress up in their best outfits, light up diyas (lamps and candles) inside and outside their homes and participate in family pujas (prayers) mainly to Lakshmi.
Then more fireworks follow and the partying begins.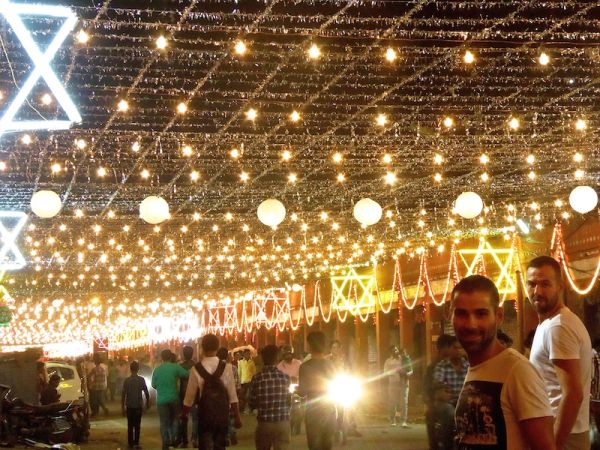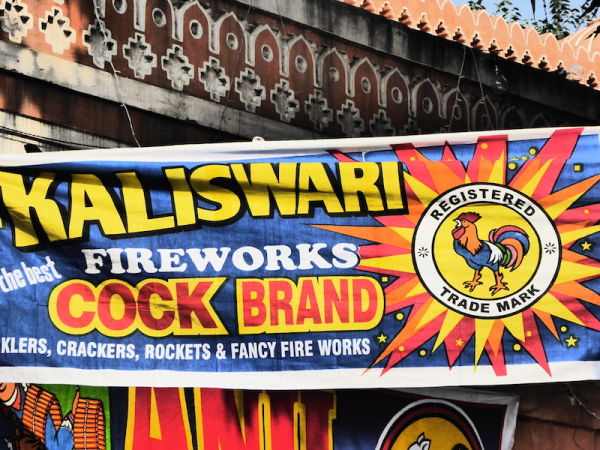 Diwali in Jaipur: the Pink City
We spent Diwali in Jaipur, nicknamed, the Pink City.
Unfortunately, this nickname has nothing to do with the LGBT community but instead relates to a law requiring all buildings to be painted the colour of hospitality (ie pink)!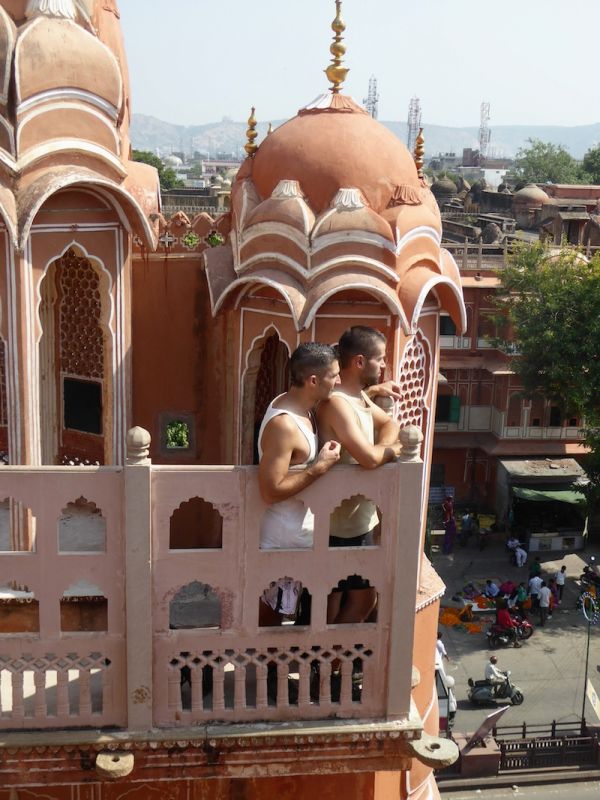 This law in fact dates back to Queen Victoria's visit to Jaipur in 1876: to prepare for her visit, the then Maharaja of Jaipur (Ram Singh) ordered the whole city to be painted the colour of hospitality (pink) to welcome her and her entourage.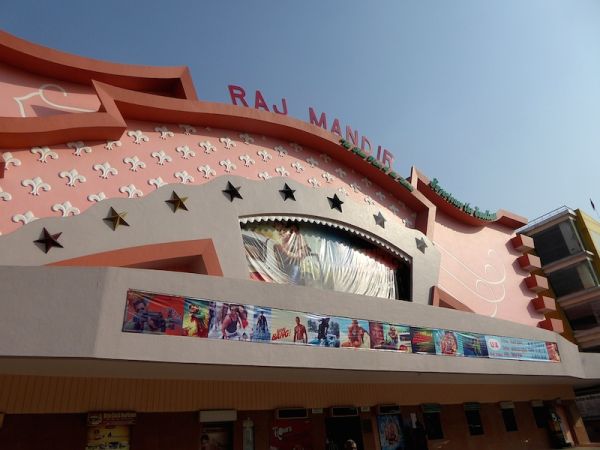 Diwali in Jaipur was really special for us. Diwali in itself is a colourful and quite spectacular Indian festival, but to be in the pretty Pink City during Diwali made it even more memorable.
Every day during the 5 days of the Diwali festival we experienced a friendly outdoor festival atmosphere as people took to the streets to celebrate, with fireworks going on till late in the night.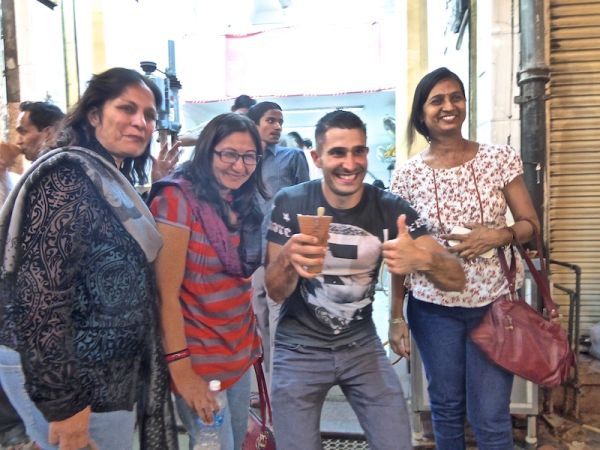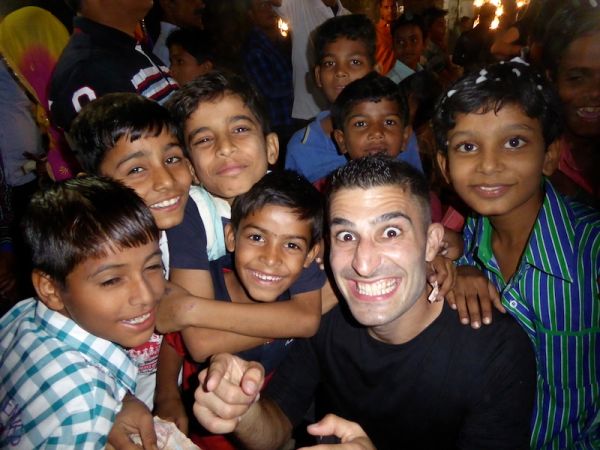 Avoid elephant rides up to Amber Fort!
Jaipur's Amber Fort is the big stand out attraction in Jaipur where the old Maharajas used to live. It dates back to 1592 when it was built by the Rajah Man Singh I.
The Amber Fort is located on the top of a hill but sadly elephant rides are offered, which we strongly advise to avoid. Sebastien instead found a more innovative way to enter the Amber Fort with this very unique elephant: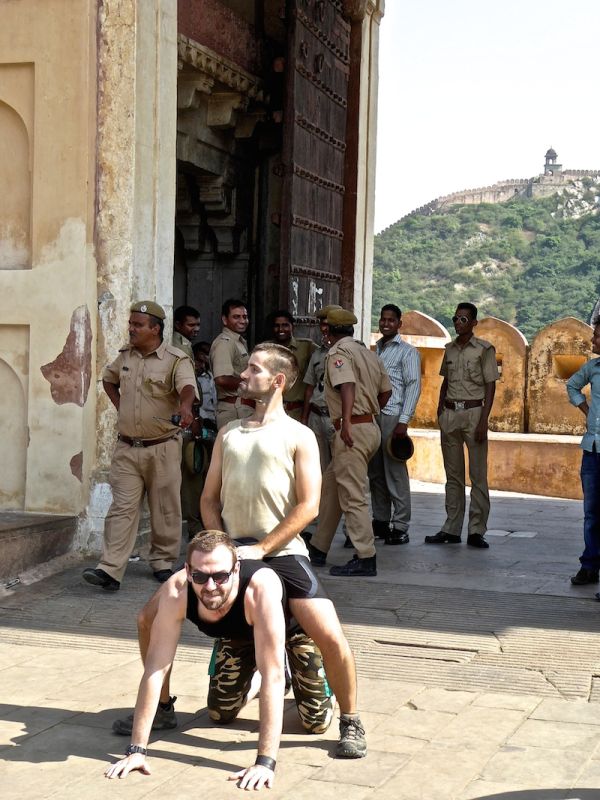 We were really impressed by the Amber Fort's elaborate architecture and interior decoration: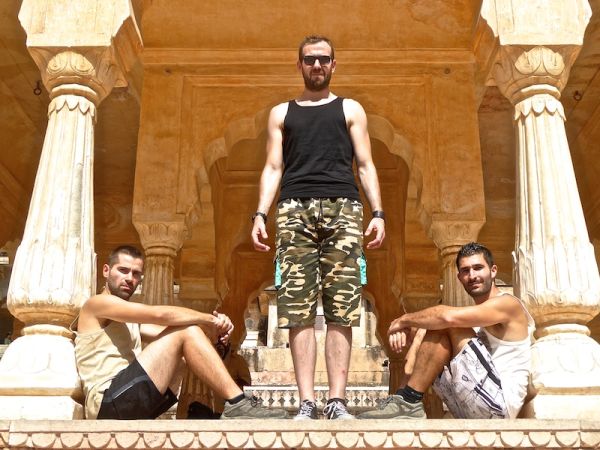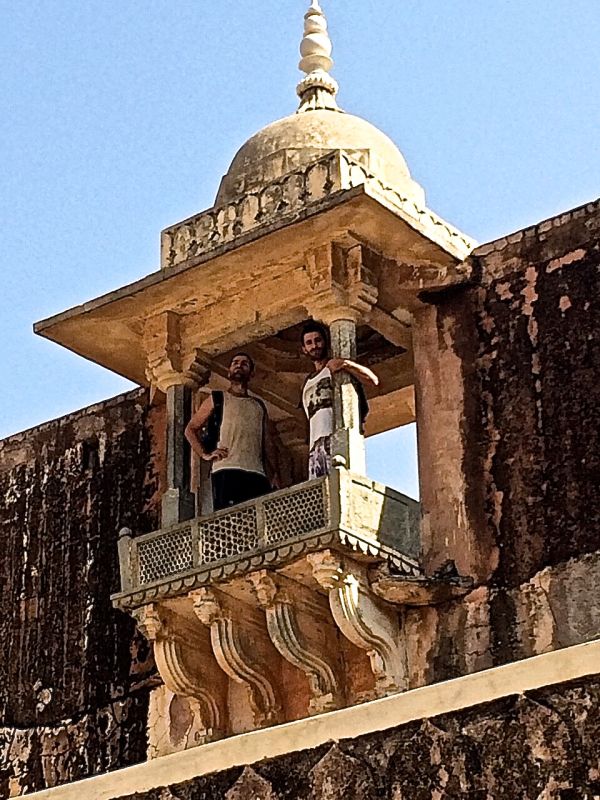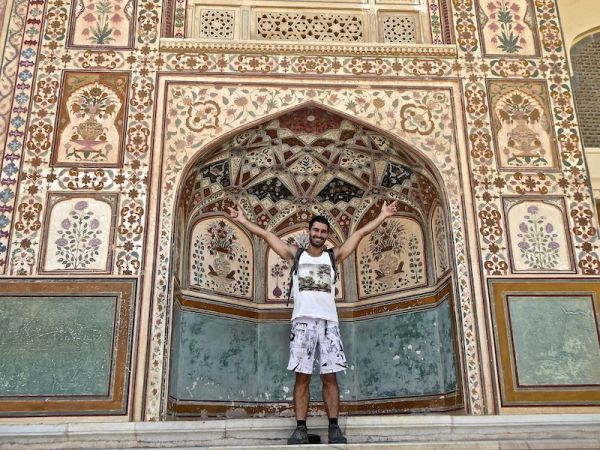 The Hawa Mahal Palace
The Hawa Mahal is another popular palace in Jaipur.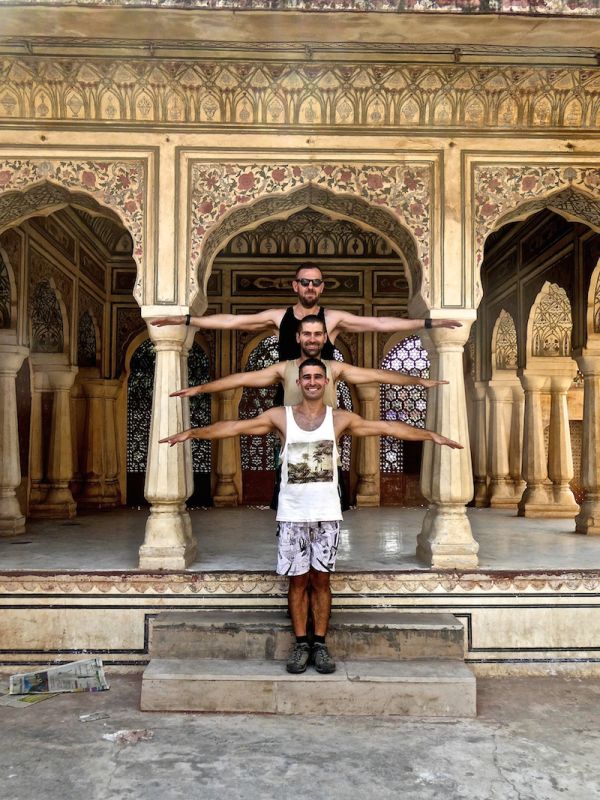 The Hawa Mahal Palace was built in 1799 made with a high screen wall to allow royal ladies to observe every day life outside without being seen.
The intricate design of this palace as well as the views over the Pink City from up above were beautiful: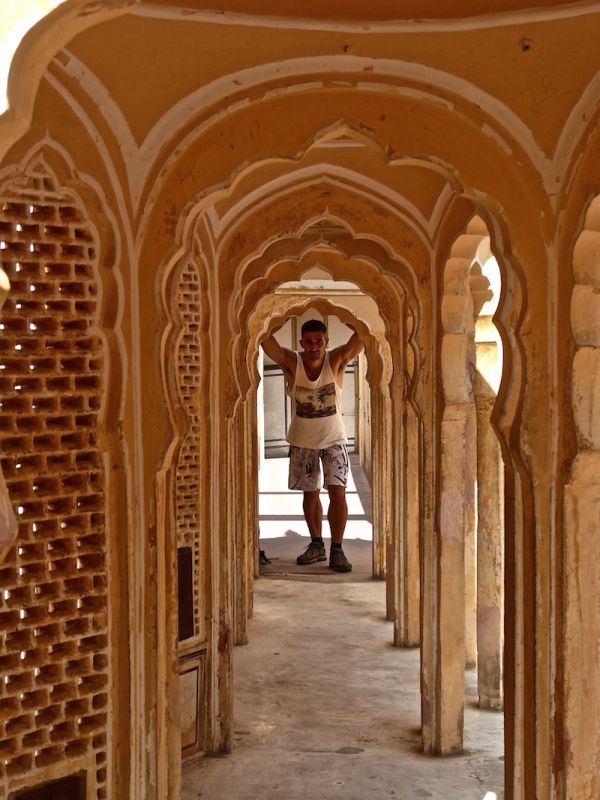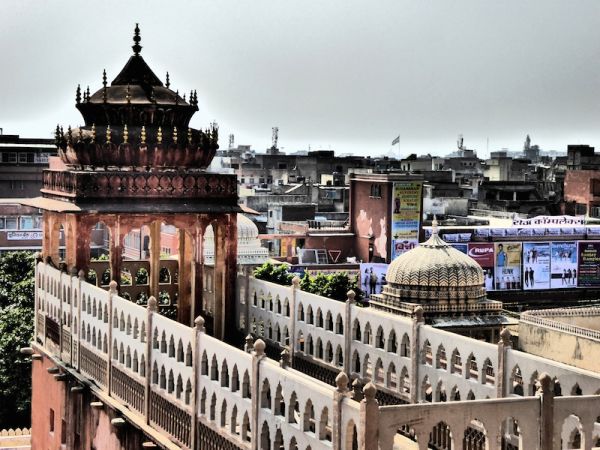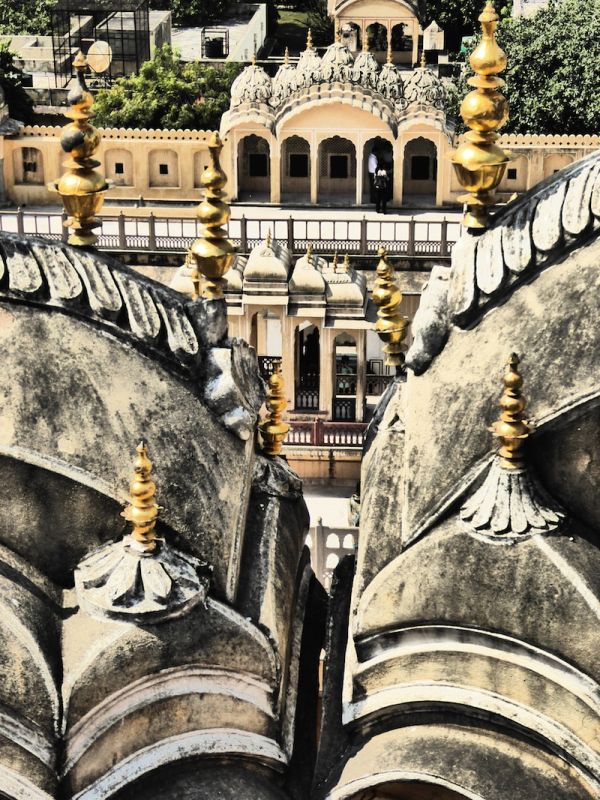 Indian wedding during Diwali
In the midsts of all the Diwali excitement in Jaipur, we were invited to attend a Muslim Indian wedding in a nearby village.
Indian weddings are big affairs and the entire village gets involved. The wedding begins with the groom on his horse, covered with beautiful decoration as he (and the rest of the village) make the journey to the bride's house where she is waiting for him.
During the wedding procession through the village, people are dancing, music is playing and money is offered to the groom and his family for good luck.
The procession eventually reaches the bride's house where the couple are united and married, and the (very hungry) followers are fed: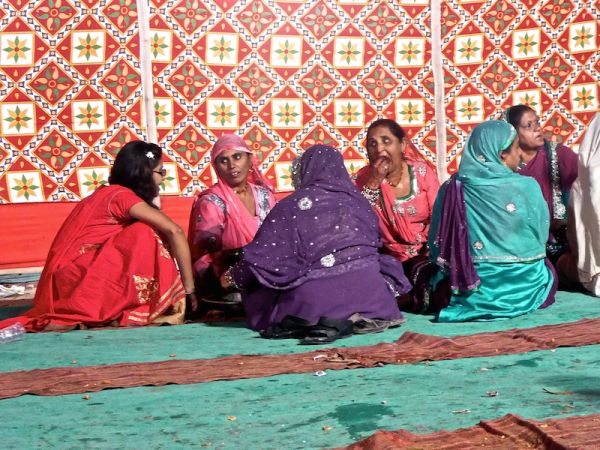 This was a lovely way to round of our Diwali experience in Jaipur, but after so much tourism, we were quite knackered.
Luckily we stumbled on this gem: Hotel Meghniwas, which has a lovely pool area and perhaps some of the best North Indian food we've had. Surprisingly it was incredibly cheap and we definitely recommend to all travellers looking for some relaxing time when in Jaipur.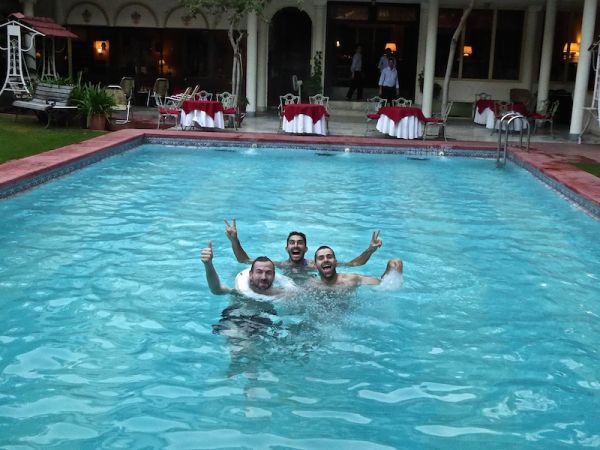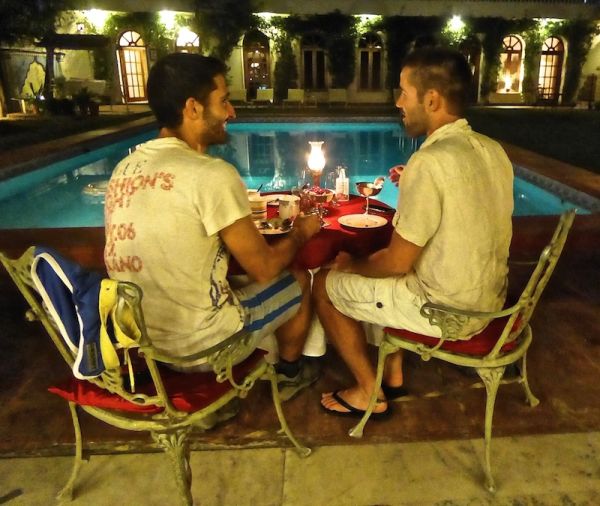 For more information about awesome festivals in India, check out Sid's awesome post about Holi in India.
Watch our video as we danced our way through this incredible country:
FOR MORE FROM OUR TRAVELS IN INDIA, CHECK OUT OUR VIDEO:
OUR FAVORITE TRAVEL RECOMMENDATIONS
⭐️ TRAVEL INSURANCE — We recommend you always take out travel insurance before your next vacation. What happens if you suffer from illness, injury, theft or a cancellation? With travel insurance, you can have peace of mind and not worry. We love World Nomads travel insurance and have been using it for years. Their comprehensive coverage is second to none and their online claims process is very user friendly.
⭐️ SAFETY & SECURITY — All travelers can sometimes encounter danger when traveling. CloseCircle is your "virtual body guard" mobile app which provides security alerts and support wherever you are in the world. They have a 24/7 emergency response team monitoring their users who will contact you immediately if the SOS swipe button is activated. Support can include anything from practical advice, to free evacuation from areas with extreme weather or security risks. You can read more about CloseCircle in our article about how to stay safe whilst traveling.
⭐️ ONLINE ANONYMITY — A VPN (Virtual Private Network) is a must in many countries: it allows you to surf anonymously and maintain your privacy whilst traveling. You'll particularly need it in countries where dating apps are blocked by the government. We recommend ExpressVPN, a reliable and cost effective service which we used and loved during our travels.
⭐️ HOTELS or APARTMENTS — When we plan a trip, we always look for the best hotel deals. We love Booking.com because not only do they have a comprehensive listing of accommodation options, they also offer the best prices. Added bonus: they provide 24/7 support and free cancellation for most listings.
⭐️ SIGHTSEEING and ADVENTURES — When we travel somewhere, we like to seek out the best experiences, whether it is cooking with locals in Bangkok, hiking on a glacier in Patagonia, or going on a wildlife safari in Sri Lanka. Our favorite place to look is GetYourGuide because they have over 30,000 highly rated activities, a user-friendly booking process with free cancellation and a 24 hour customer support.
This article contains affiliate links. If you click on them, we may receive compensation which keeps our website alive and helps us bring you to more destinations.