Burmese food startled us at first because it can be quite oily.
And just as we started to get used to spicy foods (particularly after Sri Lankan food), we were surprised to find that Burmese food is quite mild – by Asian standards of course!
The tea houses and street food scene of Yangon and variety of Burmese curries we tried in Mandalay kept these two greedy boys very happy.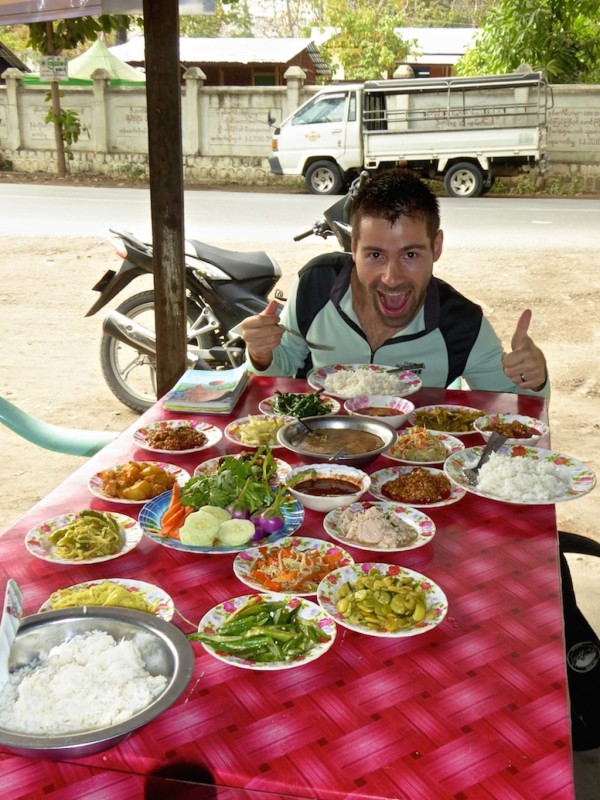 #1

Burmese food: curries in Mandalay

In Mandalay we stayed at the excellent Nan Bwe – The Vibe Hostel with the really sweet owner Nan Bwe, who taught us about Burmese food, in particular how to prepare a Burmese meal.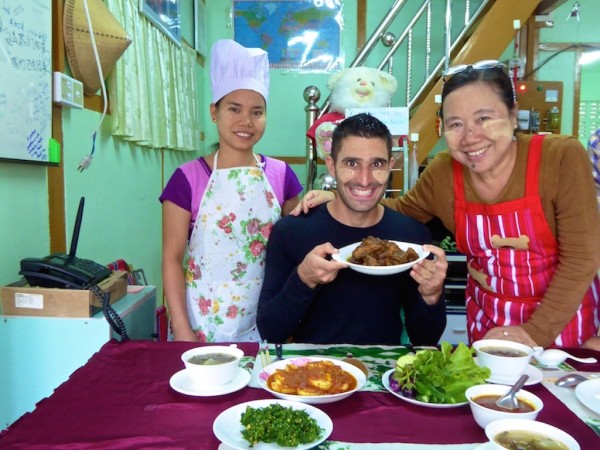 Burmese meals usually evolve around rice and many different curries. It reminded us a lot of the Sri Lankan 'rice and curry' whereby a meal involved many many little dishes of excitement.
These many little dishes would include a variety of different vegetable and non vegetable curries. Our favourite recipe was Burmese chicken curry, which involved large amounts of garlic.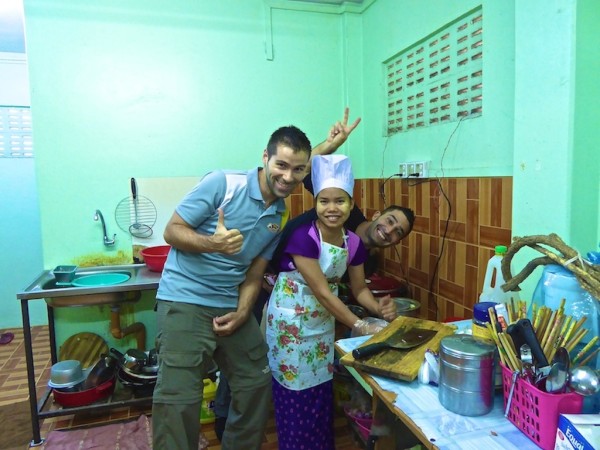 Burmese curries are served with rice, a soup broth (usually lentils or other vegetable), a plate of quickly boiled raw vegetables and a fish based sauce to dip the raw vegetables into. Unlimited green tea is usually also served alongside it.
We also learnt that there is no real uniform recipe for each curry. So each Burmese meal was a new culinary journey of flavours.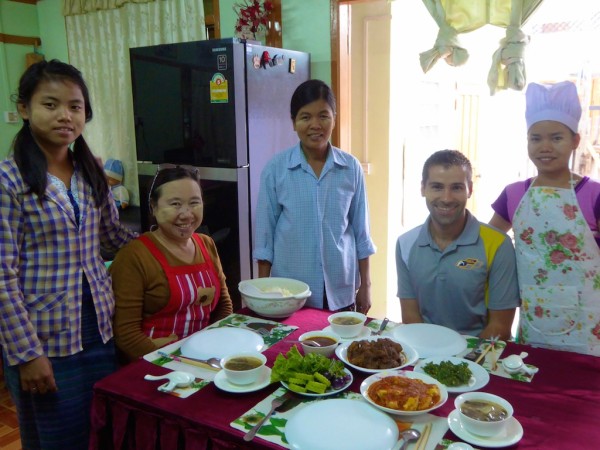 #2

Street food in Yangon

In Yangon we loved the variety of delicious street food on offer. Meals here are commonly taken on the streets creating quite a buzzy atmosphere:

Along with all the different fruits, noodles and curries available, we particularly liked the freshly squeezed sugar cane juices and samosa salads available on the streets of Yangon.
#3

Samosa salad

We love samosas. But the Burmese have taken this to a whole new level, chopped it up and served it in a delicious salad with more vegetables added and fresh mint tossed in.

Sebastien went face down in quite a few of these…
#4

Freshly squeezed sugar cane juice

We saw many stalls in Yangon with large sugar cane sticks and wondered what they were for. We discovered the sticks are pressed and a sweet, sticky juice is squeezed out, creating a very yummy drink.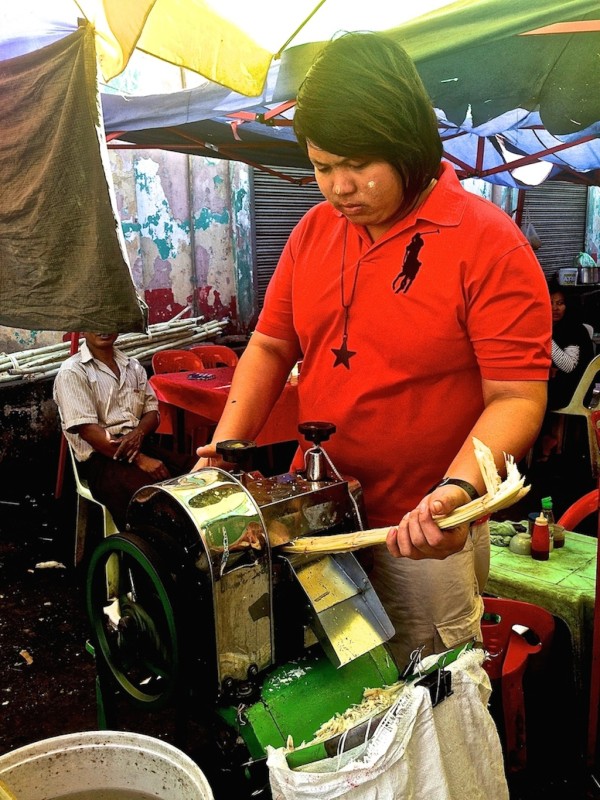 No ice, water, extra sugar is needed. It's plain and simple, and one of the tastiest natural drinks we've ever tried. Stefan's sweet tooth loved these!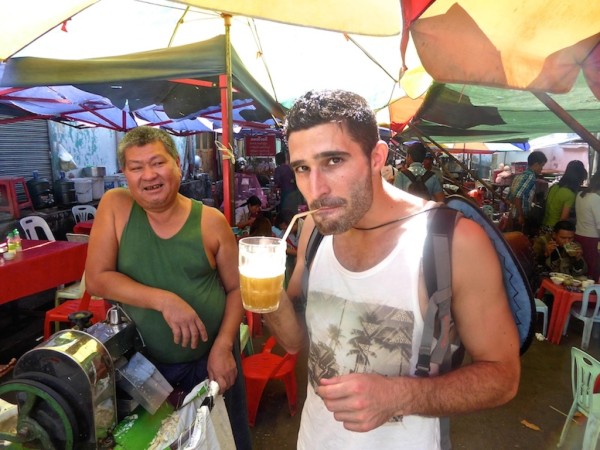 #5

Semolina cakes in Yangon tea houses

Tea houses are prevalent in Myanmar, especially in Yangon where we noticed there was one on every other block. But the real highlight for us in a Burmese tea house were the delicious freshly made prizes placed on each table.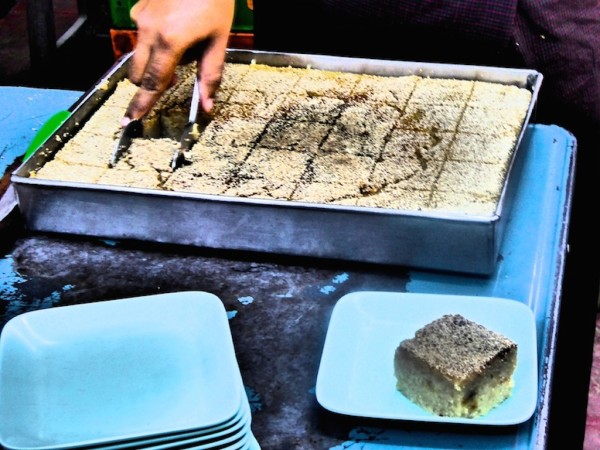 Our favourites were the freshly made semolina, coconut cakes topped with poppy seeds called "shwe kyi". This was one of the tastiest treats we tried in Myanmar and again, appealed nicely to Stefan's sweet tooth…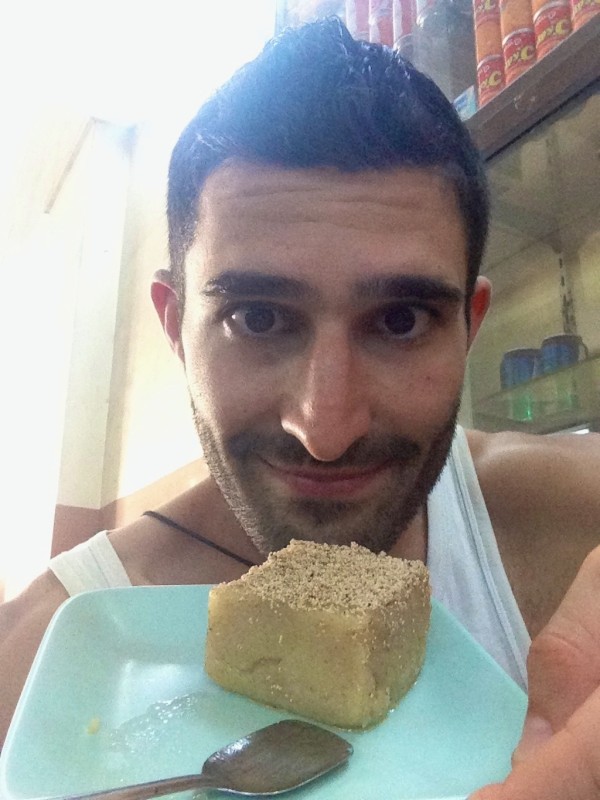 #6

Myanmar beer

Finally, no post by us about food is complete without a mention of the country's national beer.

In this case, it was particularly important as it was the deciding factor in determining why we call this country Myanmar and not Burma.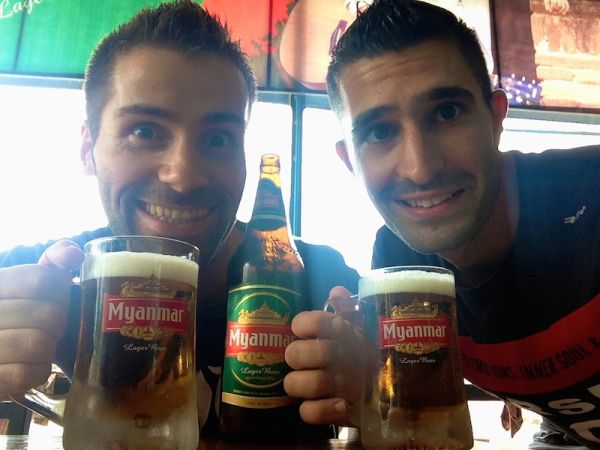 Watch our video Myanmar travel video as we made our way from Mandalay to Bagan, Inle Lake and Yangon:
OUR FAVOURITE TRAVEL TIPS
⭐️ TRAVEL INSURANCE — We recommend you always take out travel insurance before your next vacation. What happens if you suffer from illness, injury, theft or a cancellation? With travel insurance, you can have peace of mind and not worry. We love World Nomads travel insurance and have been using it for years. Their comprehensive coverage is second to none and their online claims process is very user friendly.
⭐️ SAFETY & SECURITY — All travelers can sometimes encounter danger when traveling. CloseCircle is your "virtual body guard" mobile app which provides security alerts and support wherever you are in the world. They have a 24/7 emergency response team monitoring their users who will contact you immediately if the SOS swipe button is activated. Support can include anything from practical advice, to free evacuation from areas with extreme weather or security risks. You can read more about CloseCircle in our article about how to stay safe whilst traveling.
⭐️ ONLINE ANONYMITY — A VPN (Virtual Private Network) is a must in many countries: it allows you to surf anonymously and maintain your privacy whilst traveling. You'll particularly need it in countries where dating apps are blocked by the government. We recommend ExpressVPN, a reliable and cost effective service which we used and loved during our travels.
⭐️ HOTELS or APARTMENTS — When we plan a trip, we always look for the best hotel deals. We love Booking.com because not only do they have a comprehensive listing of accommodation options, they also offer the best prices. Added bonus: they provide 24/7 support and free cancellation for most listings.
⭐️ SIGHTSEEING and ADVENTURES — When we travel somewhere, we like to seek out the best experiences, whether it is cooking with locals in Bangkok, hiking on a glacier in Patagonia, or going on a wildlife safari in Sri Lanka. Our favorite place to look is GetYourGuide because they have over 30,000 highly rated activities, a user-friendly booking process with free cancellation and a 24 hour customer support.
This article contains affiliate links. If you click on them, we may receive compensation which keeps our website alive and helps us bring you to more destinations.